January is almost over, and I am ready for February! 2021 has been such a weird year so far, in that it's basically been an extension of 2020. For February, I wanted to do a fun, pretty theme, and I also wanted to try out a few new layouts. My theme this month is cherry blossoms, and I love how it turned out. This was also my first month creating a Dutch door, and I also included a new page that will hopefully help me get organized this month! Keep reading for my February 2021 bullet journal setup, and to watch the video on how I created this month's spread.
February 2021 Bullet Journal Setup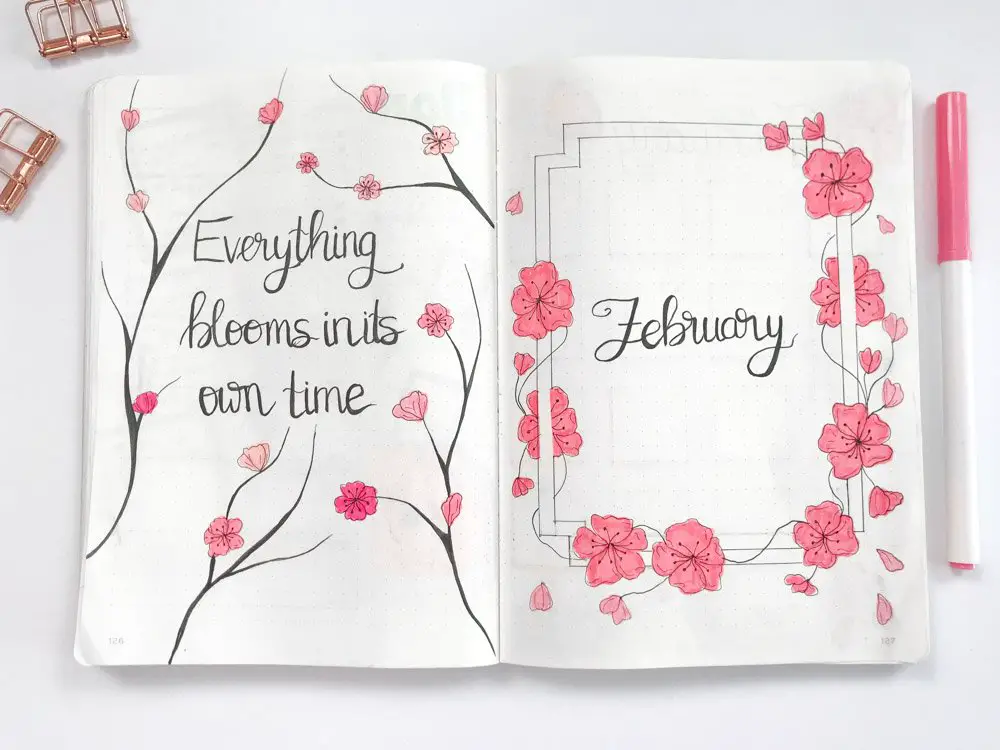 Some of the links below are affiliate links. If you choose to make a purchase, I may receive a small commission, at no extra cost to you. Thank you for your support!
Watch the Video
Check out my Febryar 2021 bullet journal setup below, and be sure to subscribe to my YouTube channel!
Bullet Journal Supplies
Quote Page
Everything blooms in its own time.
This quotes fits nicely with the cherry blossom theme, and I also think it's a nice quote for everyday life.
I drew all the cherry blossoms first with my Crayola Supertip markers, then outlined them with a Sigma Micron 02 pen and added some details to the flowers with the black pen. Drawing the flowers with the pink markers first then adding the black outlines gives the flowers more of a wild, whimsical look.
I drew the cherry blossom branches with a Tomow brush pen, then thickened the branches near the bottom of each branch and where the branches intersect. This adds dimension to the branches and makes them look more realistic.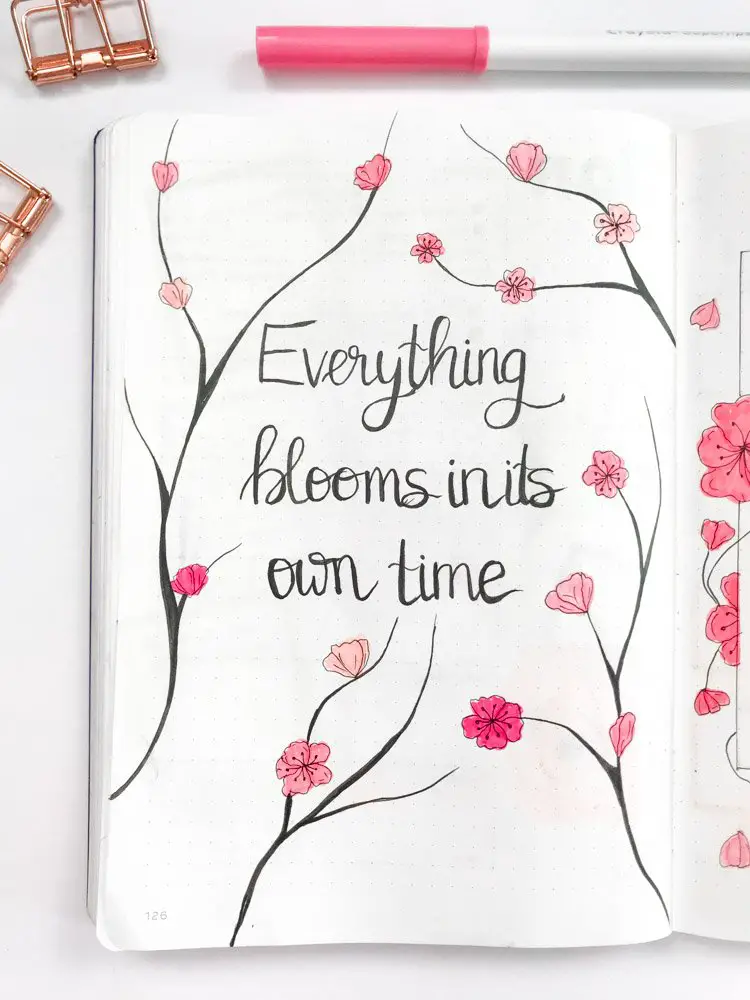 Cover Page
For this month's quote page, I wrote February in the middle of the page, and surrounded it with a decorative border. I also added cherry blossoms around the border.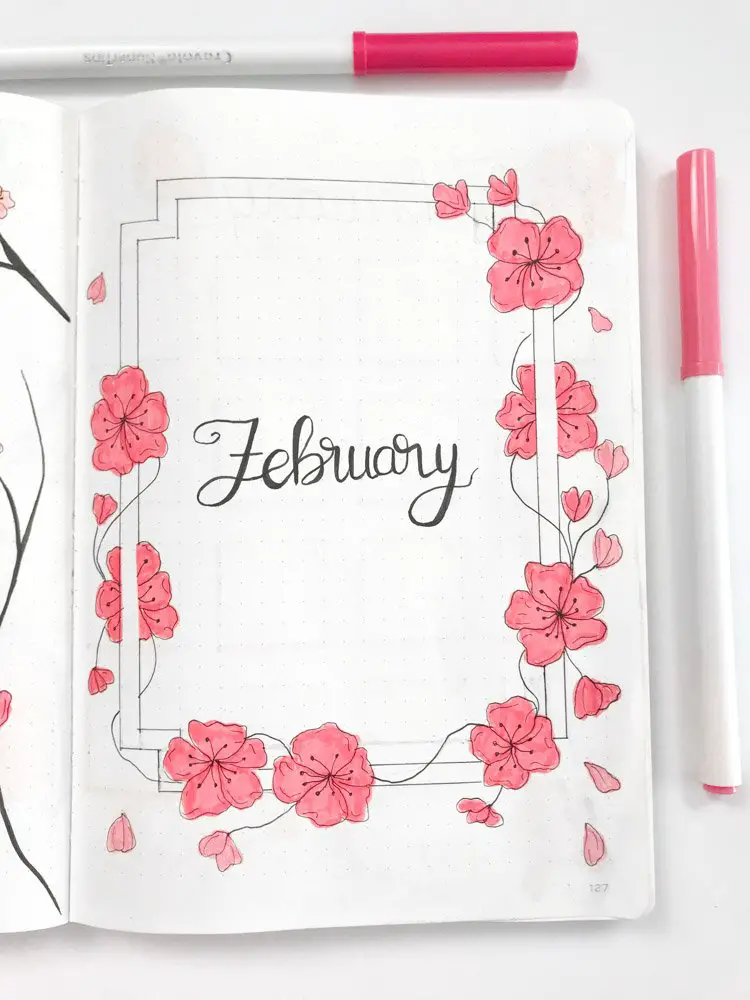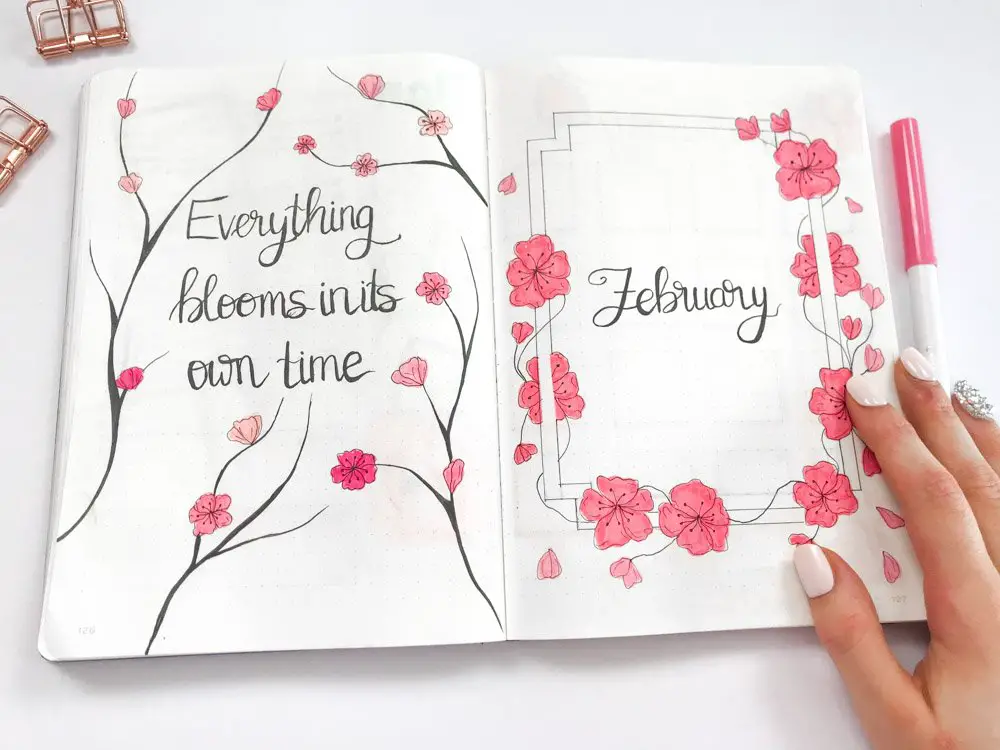 Monthly Calendar
For my February calendar, I created a two page spread, with a separate box for each day of the month. I used a pink marker to create drop shadows for every box. Along with the cherry blossom doodles, I added a couple strips of washi tape to the bottom of the spread.
I also cut off the edge of the second page to create a Dutch door. The tasks column you see on the right side of the spread is actually on the next page, but you can see it poking through because of the Dutch door.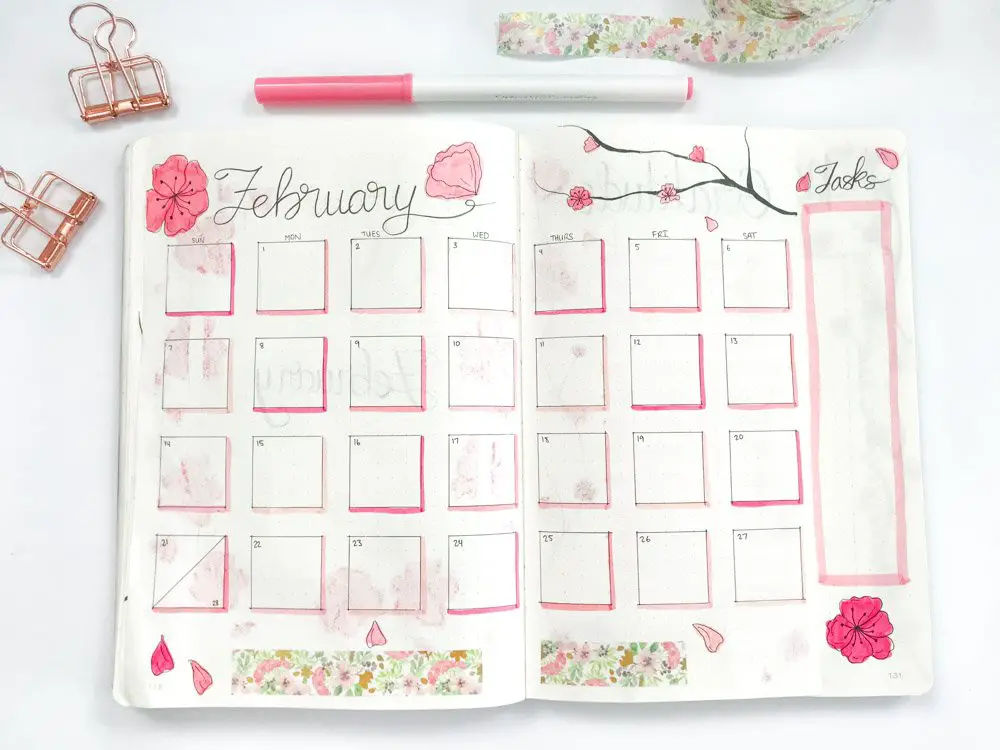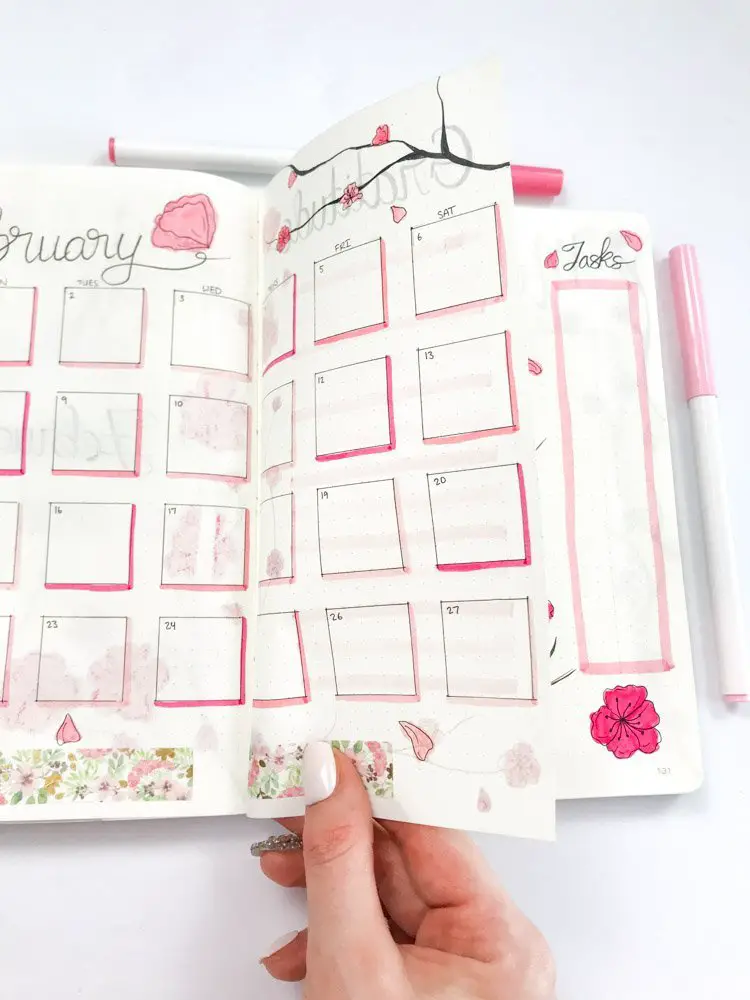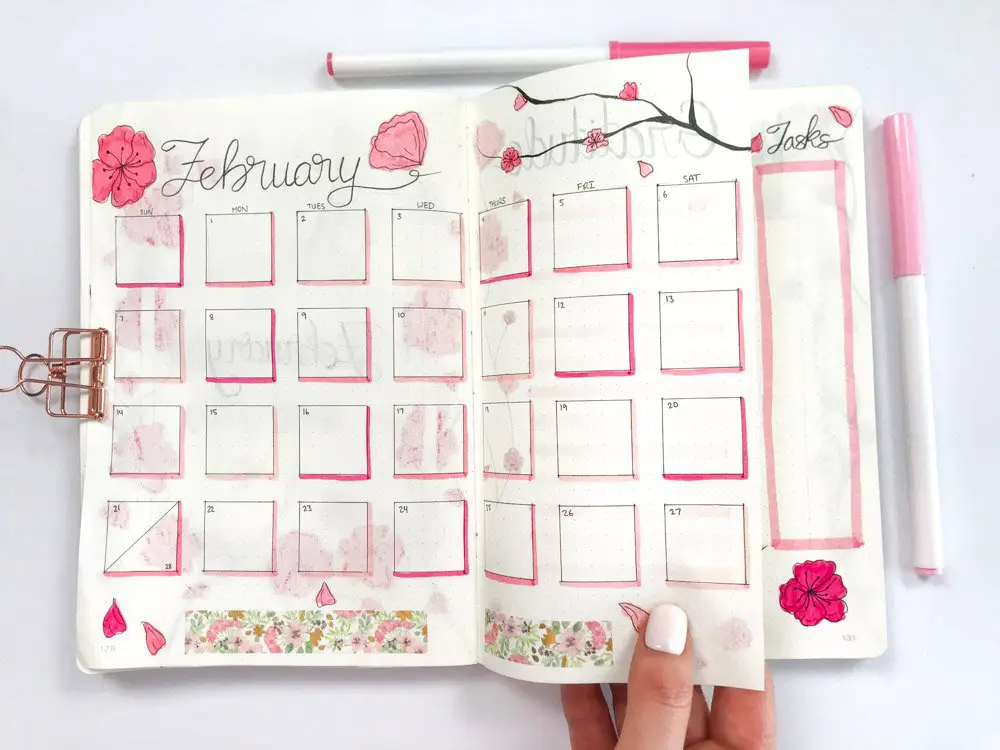 Gratitude Log
On the inside of the Dutch door, I created a space for a gratitude log. With two of my Crayola markers, I highlighted a bunch of lines where I will write down things I am grateful for. I didn't make a line for every day of the month because I wanted it to be a low pressure place to jot things down.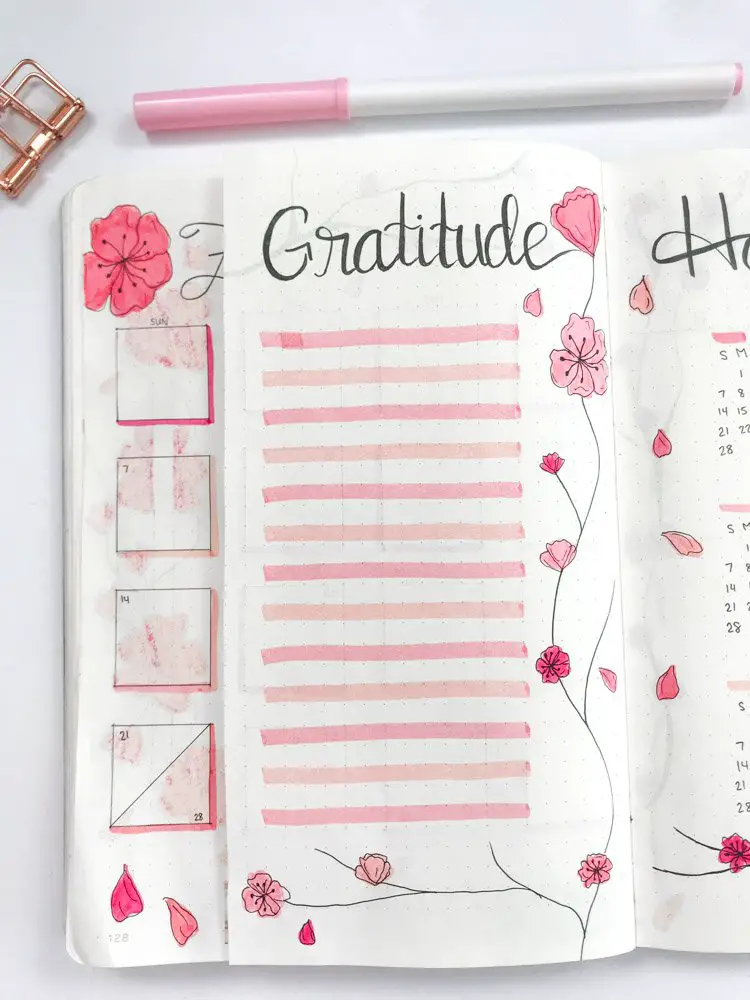 Habit Tracker
This month, I am keeping my habit tracker very simple and I'm only tracking three habits. I created three mini calendars for each habit: workout, phyio and share/schedule. What I mean by share/schedule, is either creating content to share that day or to schedule for another day. This could be pins for Pinterest, videos for TikTok, anything like that.
Mood Tracker
February's mood tracker is a brand new layout for me. This month I created a mood tracker graph, with five moods across the top and each day of the month down the side.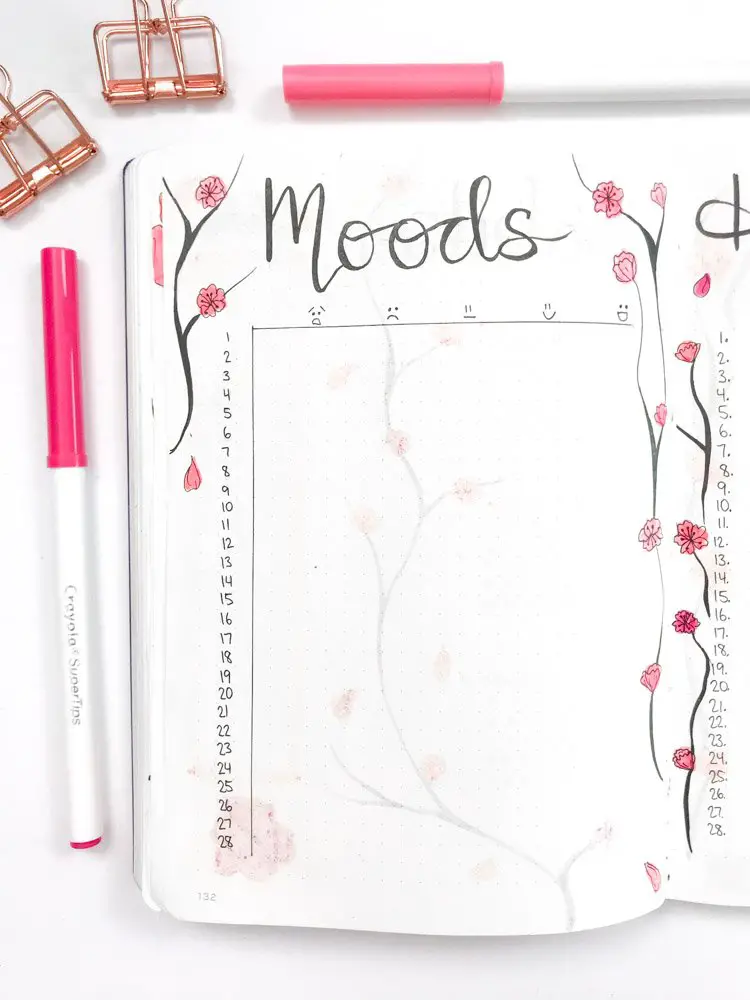 Highlights of the Day
For my monthly highlights of the day page, I wrote 1 through 28 down the side of the page, and filled the rest of the page with cherry blossoms.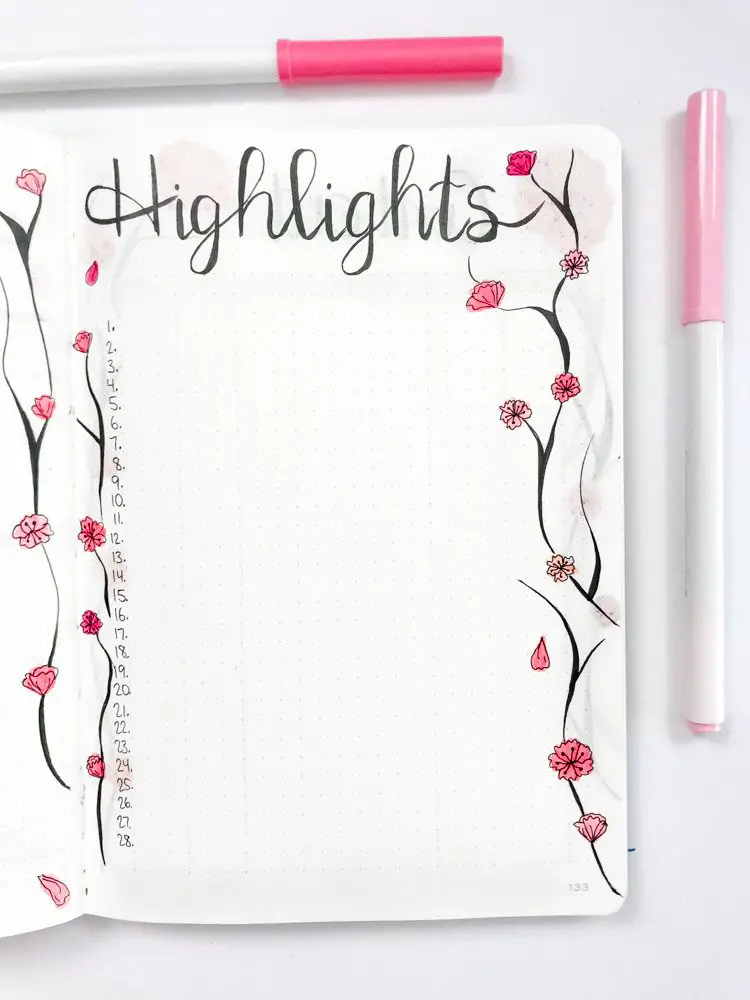 Content Planner
This is a new page for me this month, that I am hoping will help me get more organized. This is my content planner spread, but this could also be adapted for school, or any other kind of projects or things you have going on.
Across the top, I have: video, blog post, plan, film, write, photos, edit, links, thumbnail, pins, schedule, share and engage.
I will be using this spread as a checklist for when I am creating YouTube videos and blog posts.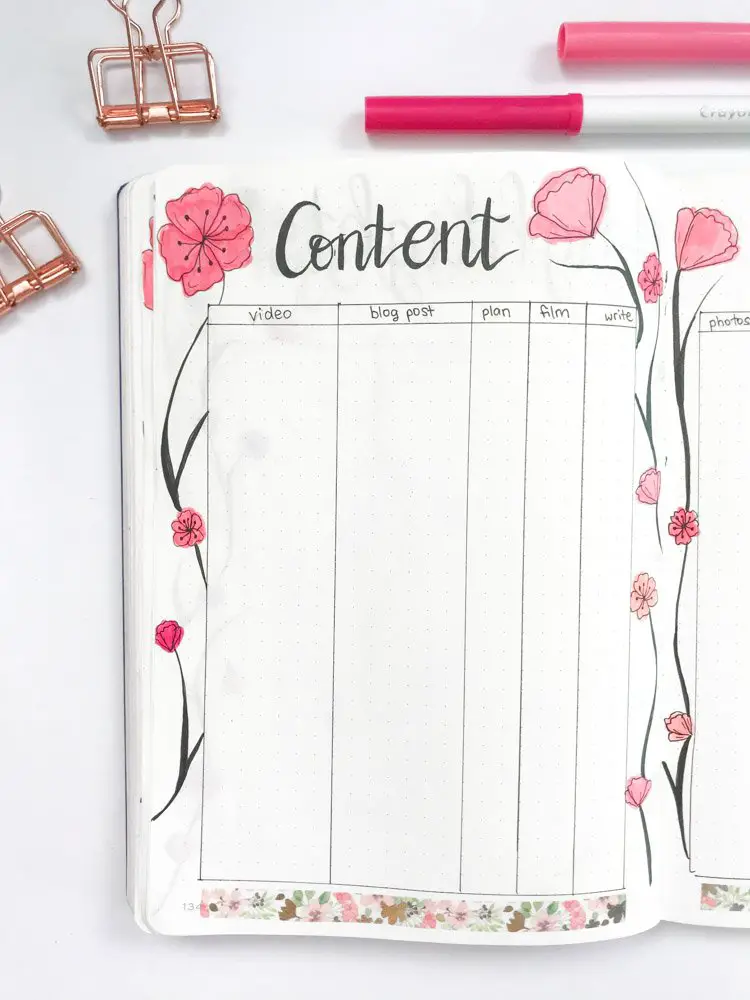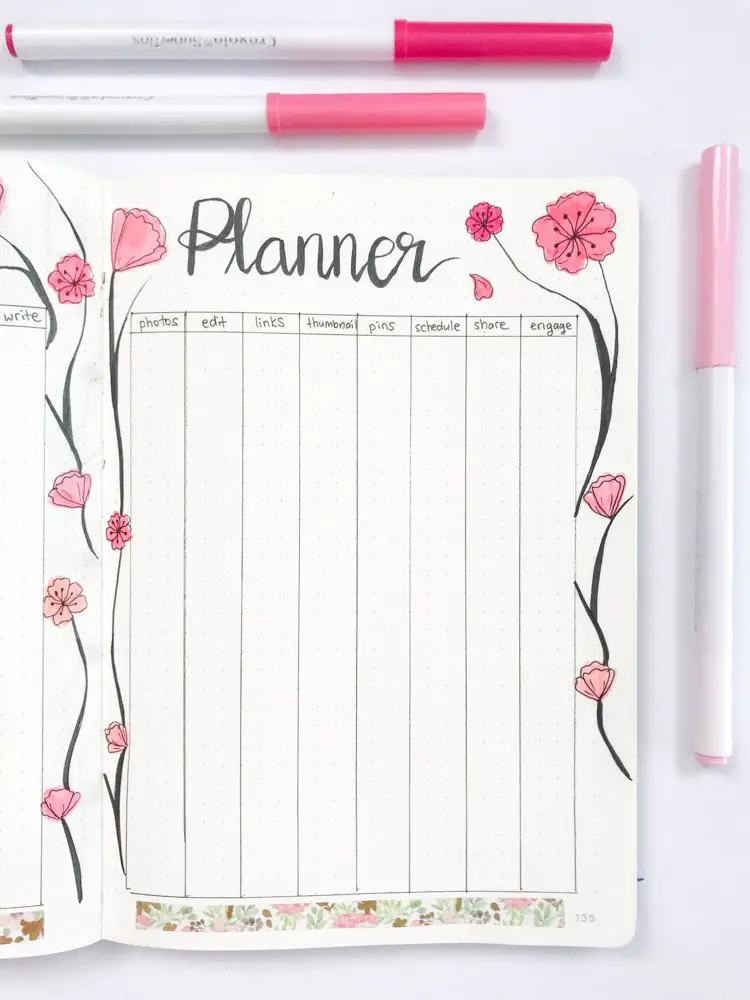 Weekly Layouts
I created four weekly spreads for February, two of which were two-page spreads and the last two were one-page spreads. I had fun playing around with different designs and layouts for these weekly planners.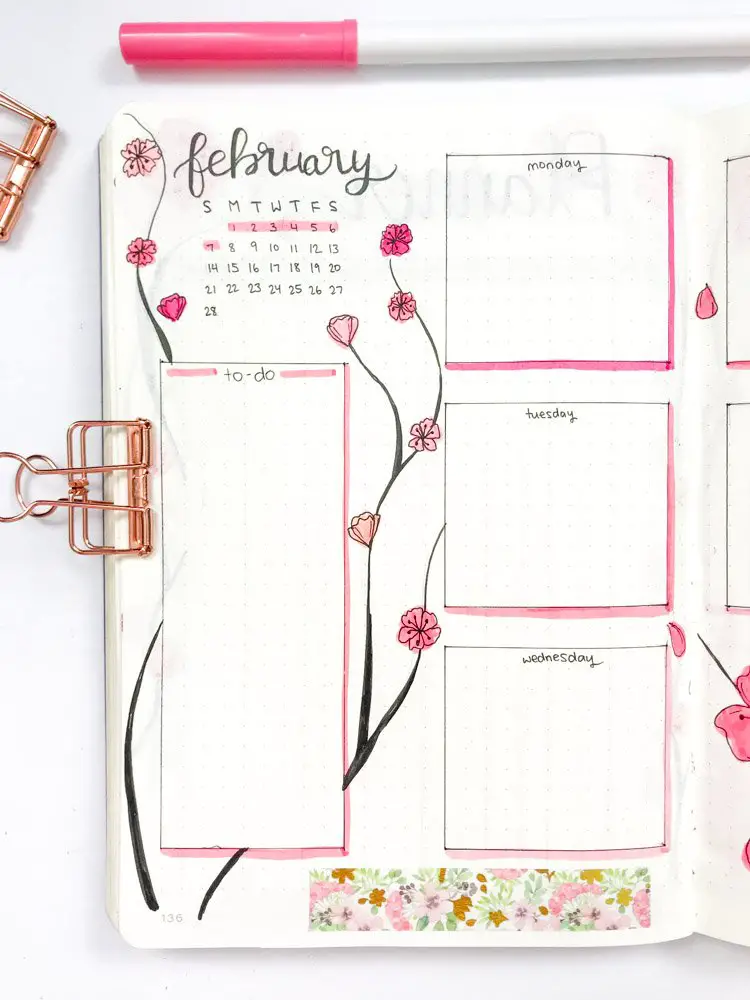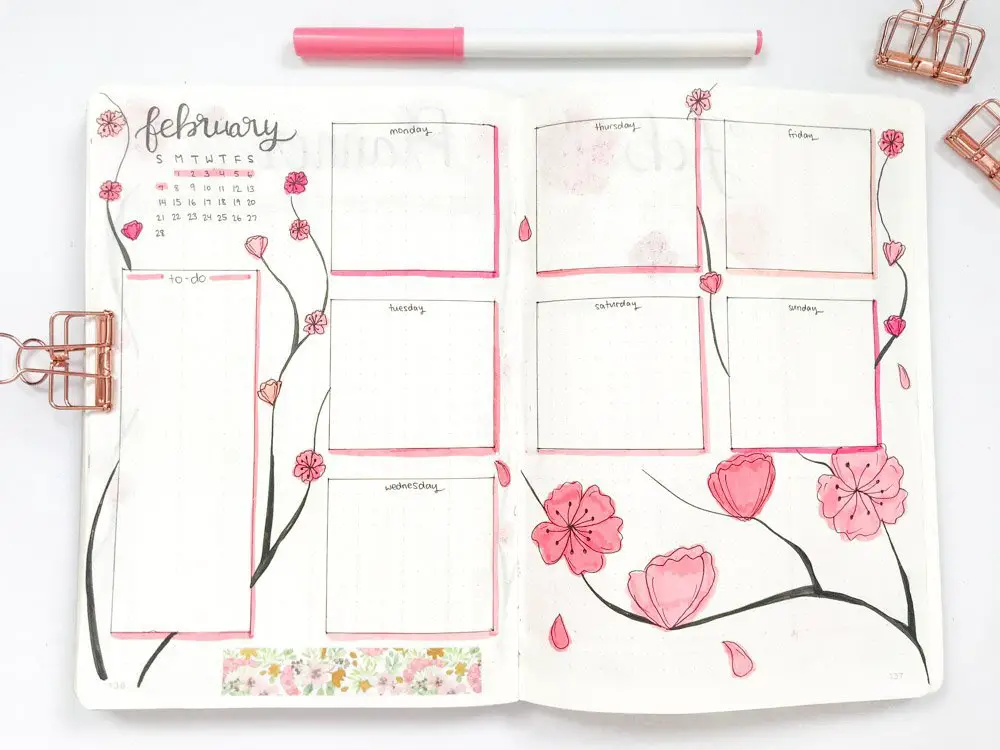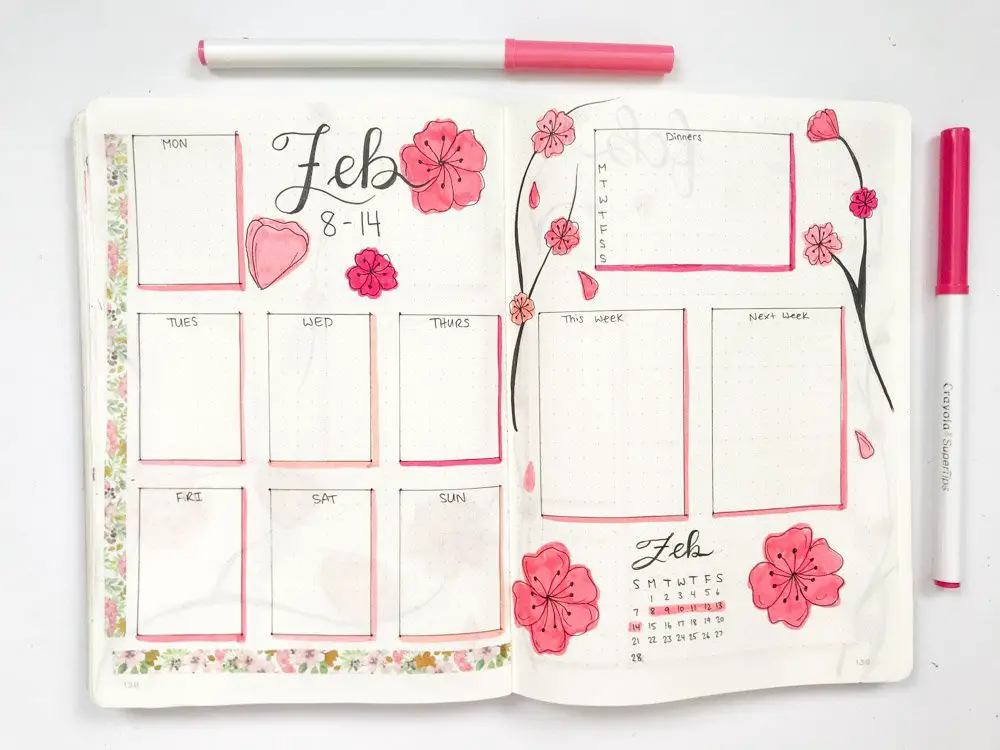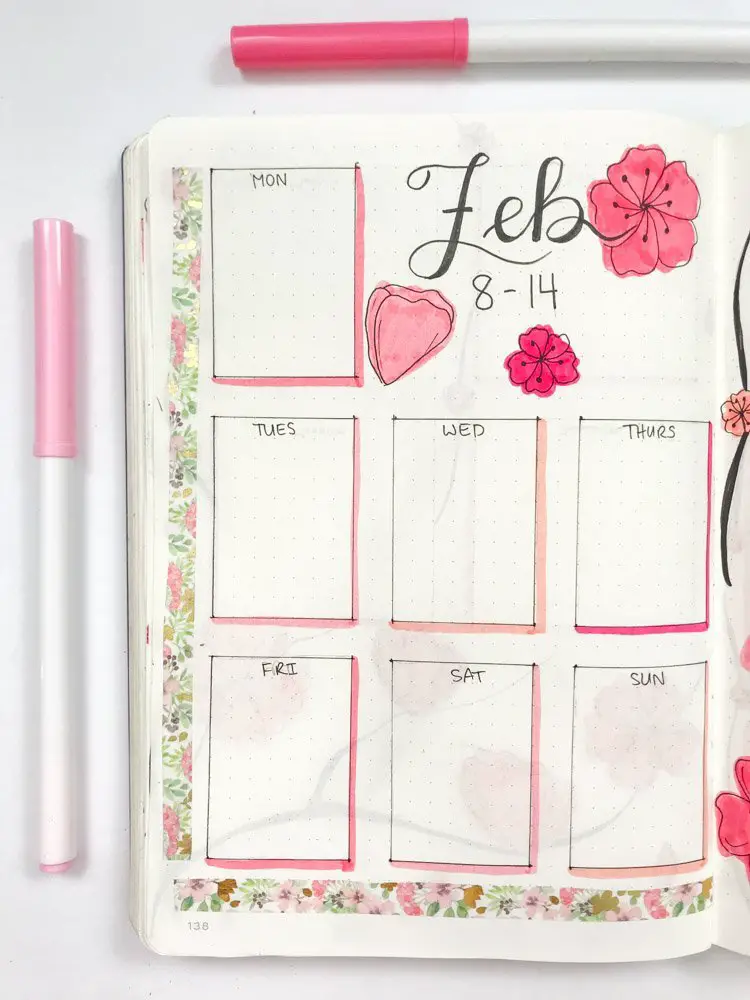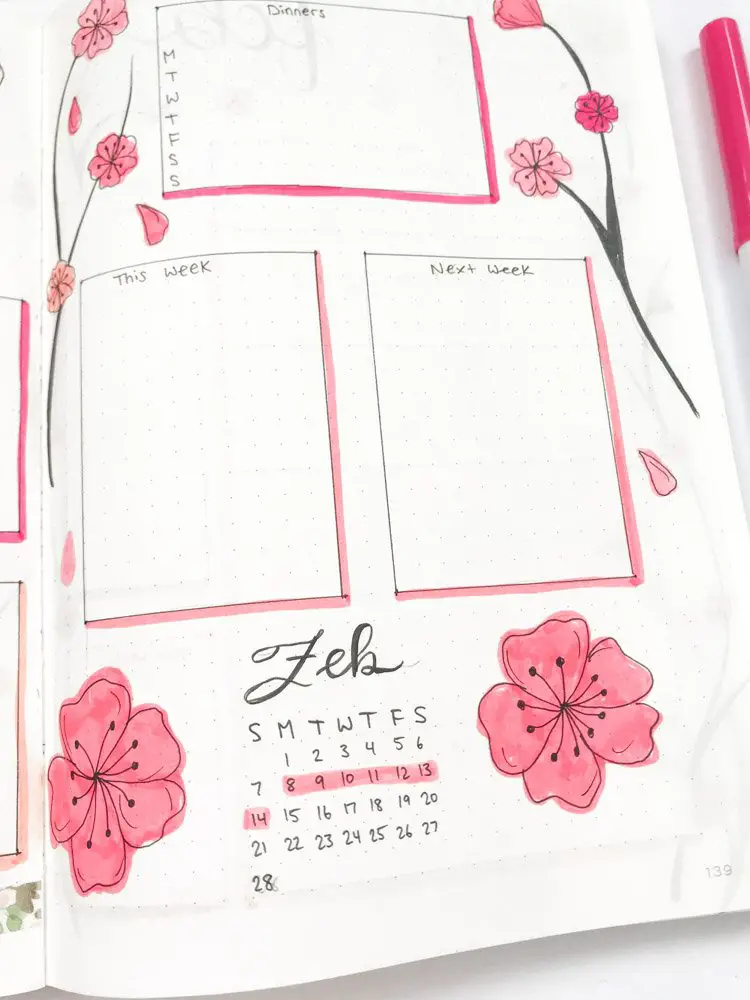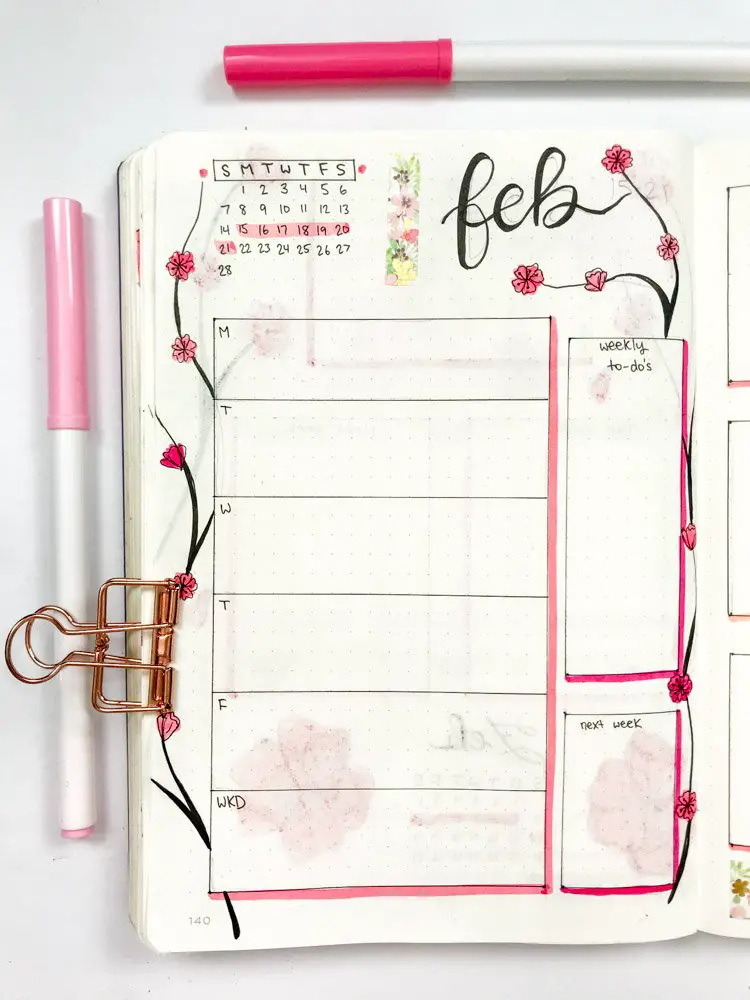 \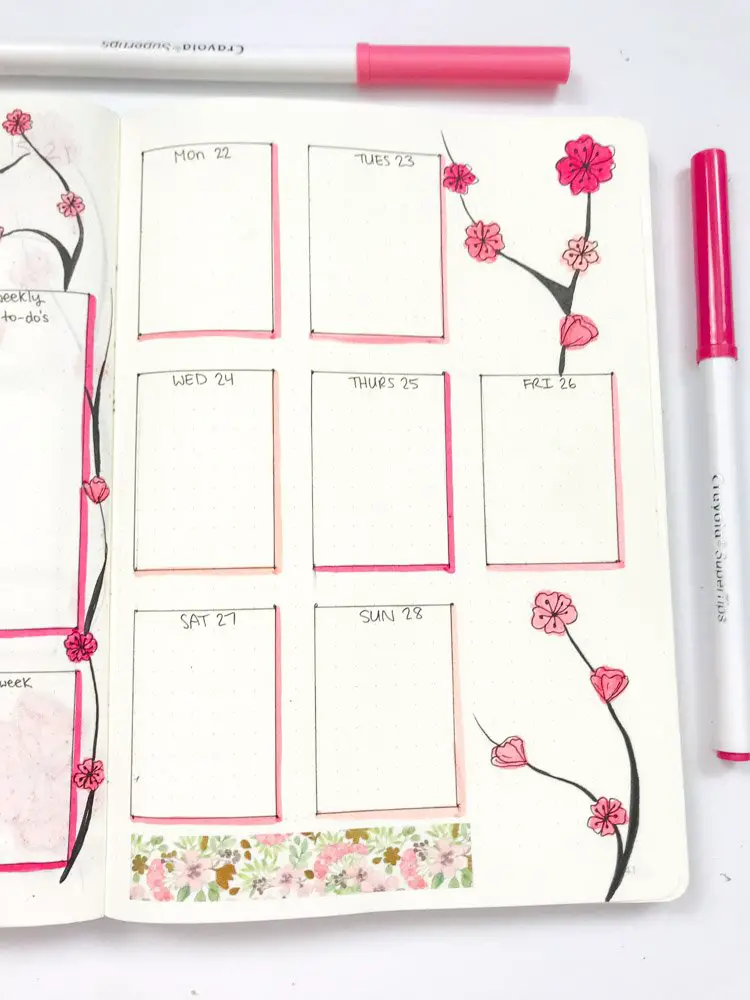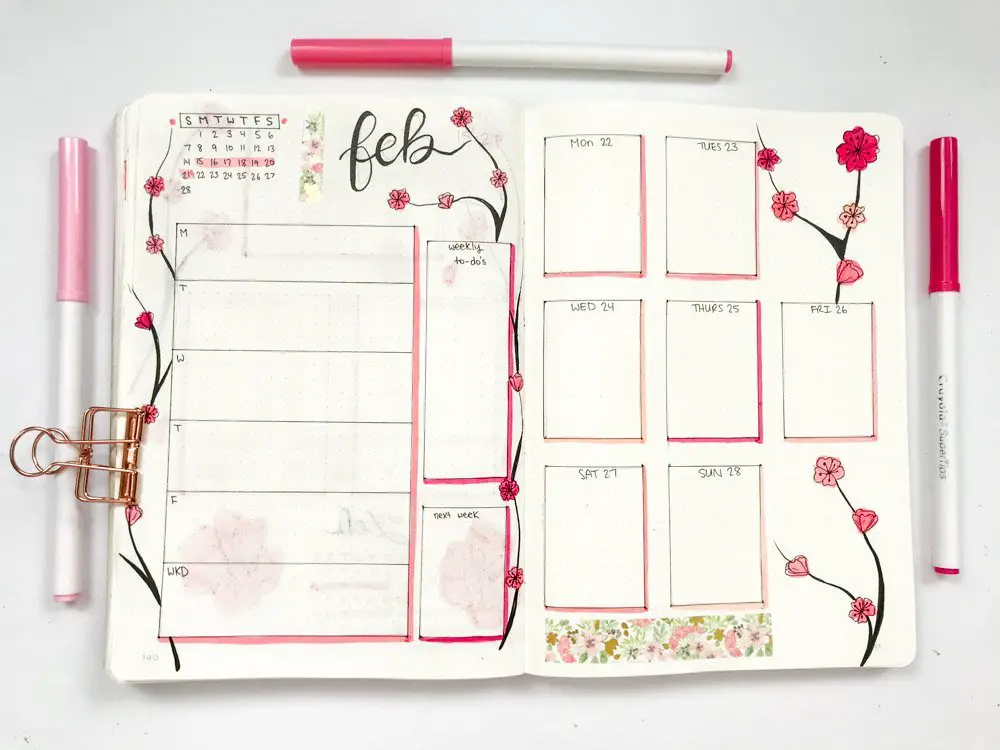 Thank you for reading this cherry blossom-themed February 2021 bullet journal setup! Don't forget to check out my YouTube channel and subscribe!
Save this Post for Later!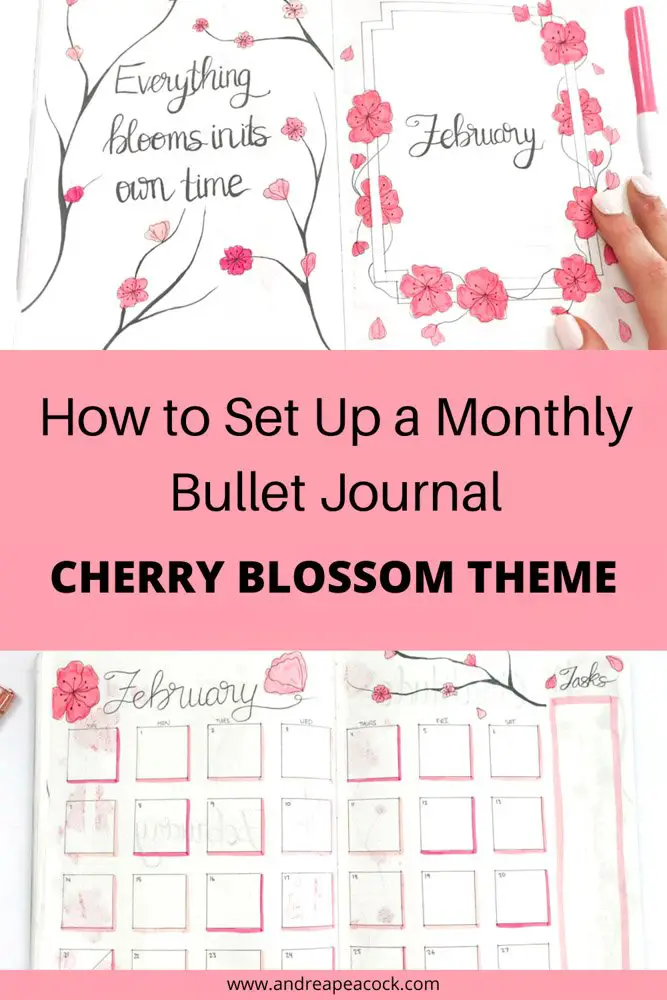 In need of some more bullet journal inspiration? Check out these posts:
January Bullet Journal Setup: Polaroid Camera Theme
How I Set Up My Bullet Journal for 2021
December Bullet Journal Setup: Christmas Theme
November Bullet Journal Setup: Reading Theme
October Bullet Journal Setup: Fall Theme
How to Set Up a Minimalist Bullet Journal for Beginners
Follow Me!
Instagram | Pinterest | Twitter | Facebook | TikTok | YouTube
xo,
Andrea