Hello! It has been a while since I've written a blog post, because I have been so busy with my YouTube channel! If you have not subscribed to my channel yet, you totally should! I am still posting monthly bullet journal setups over there, but I have also expanded to include a lot of dollar store DIYS. Thank you so much for more than 1,000 subscribers!
I still wanted to share my December bullet journal setup here, even though it's late! You can always save this to your Pinterest board for next December. 😉 Along with the typical monthly layouts, I am also including specific Christmas pages to help get you ready for Christmas and in the holiday spirit!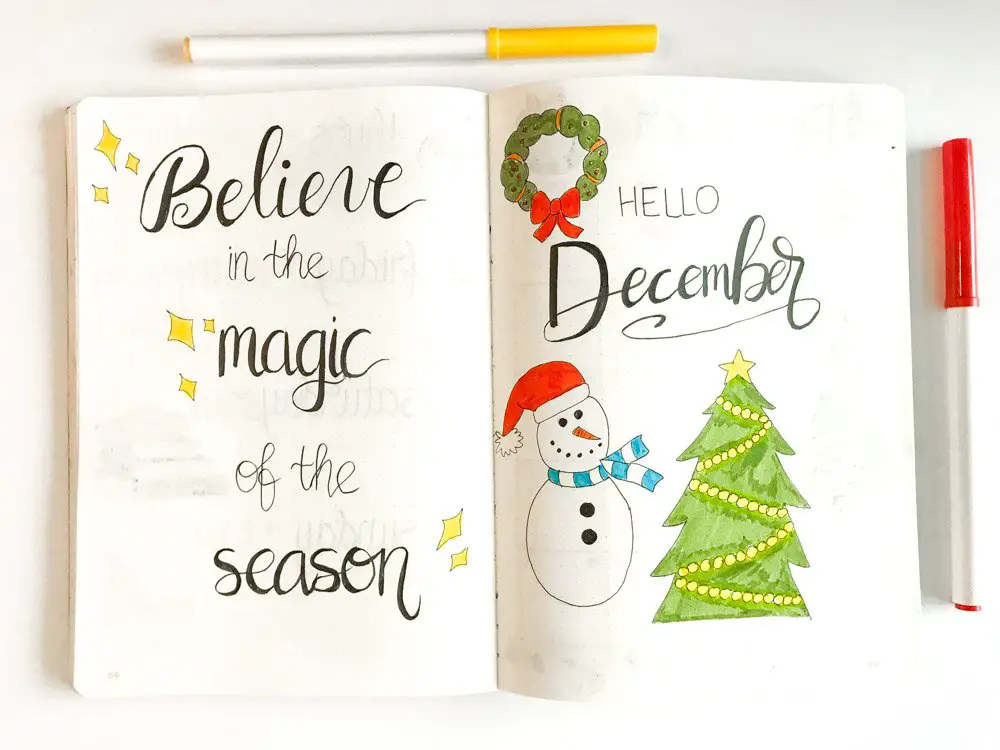 Some of the links below are affiliate links. If you choose to make a purchase, I may receive a small commission, at no extra cost to you. Thank you for your support!
Videos
Watch my December bullet journal setup below!
Watch as I create my Christmas spreads in my bullet journal!
Bullet Journal Supplies
Quote Page
Believe in the magic of the season.
December is always the most magical time of year, so this month I picked a quote to reflect that! Even though 2020 has been so messed up and everything has been canceled, I think it is possible to still experience some of the magic, even if it looks a little different.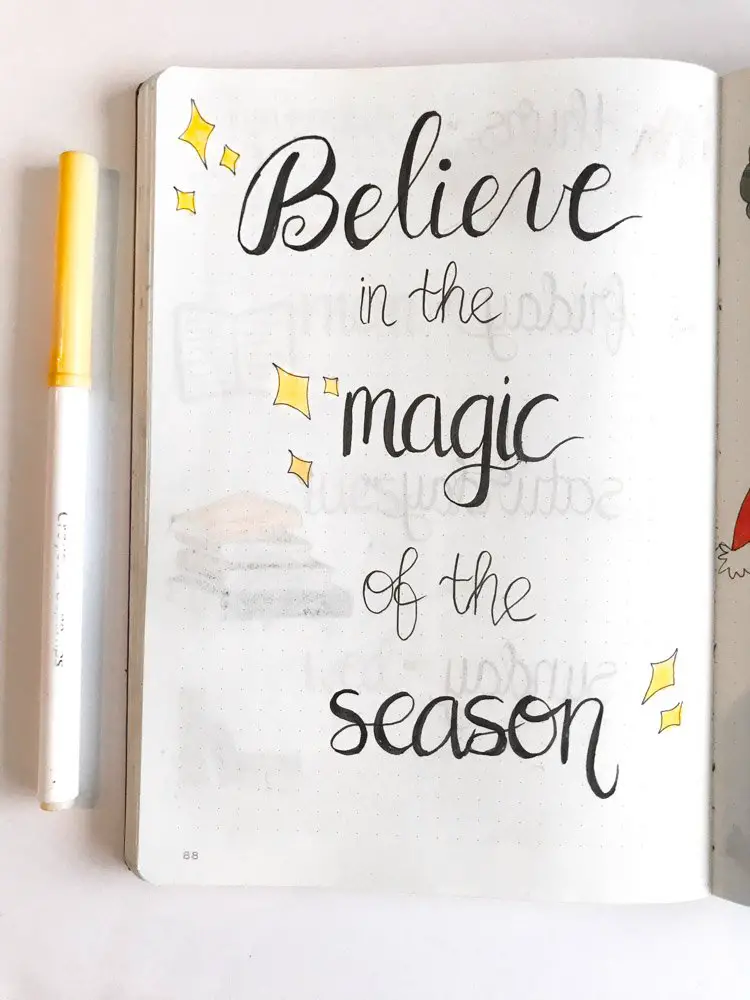 Cover Page
For my December cover page, I wrote Hello December in the middle of the page. This month is all about Christmas-related doodles, so I filled the page with a wreath, a snowman and a Christmas tree.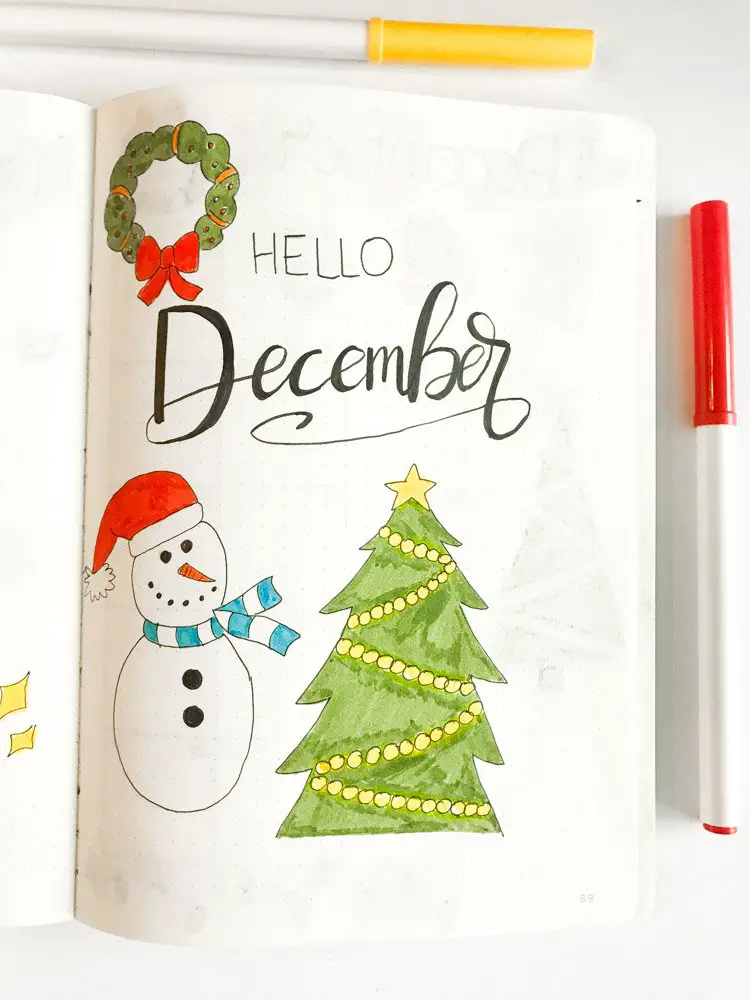 Monthly Calendar
My monthly calendar for December is a two-page spread. Each square is six spaces wide by six spaces high. The rest of the spread is filled with Christmas doodles, including presents, Christmas ornaments, a toque, a Christmas tree, and more.
I also drew a string of Christmas lights along the bottom.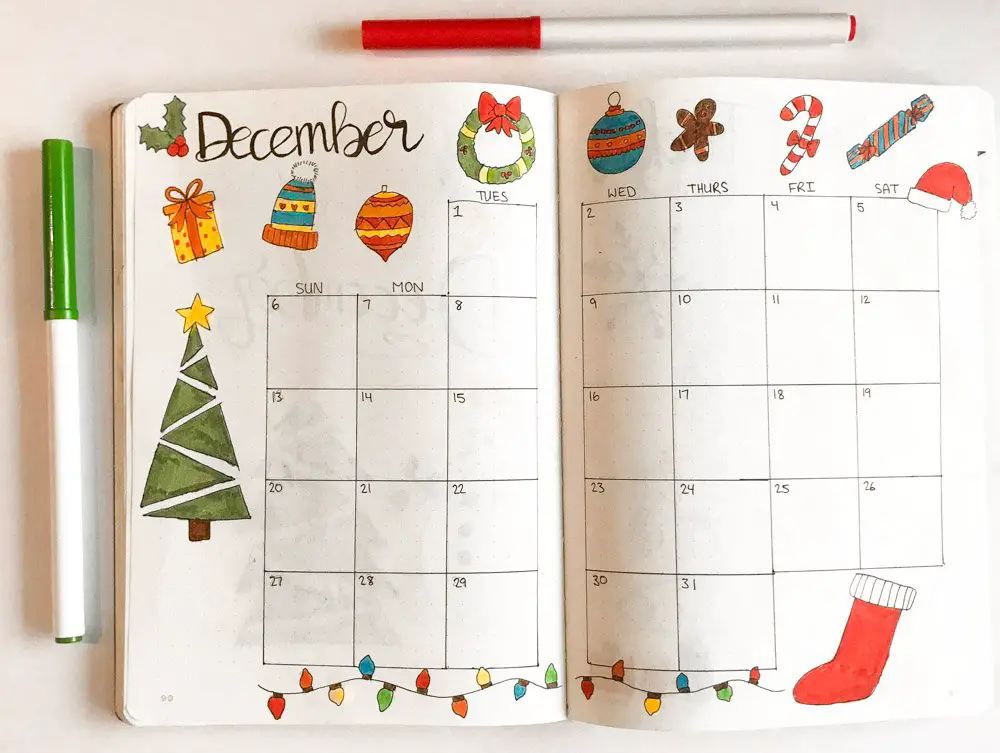 Mood Tracker
For my mood tracker this month, I drew 31 Christmas ornaments along a squiggly Christmas tree. I used five presents to create my key, and every day I filled in an ornament with the colour that corresponded with the mood of the day.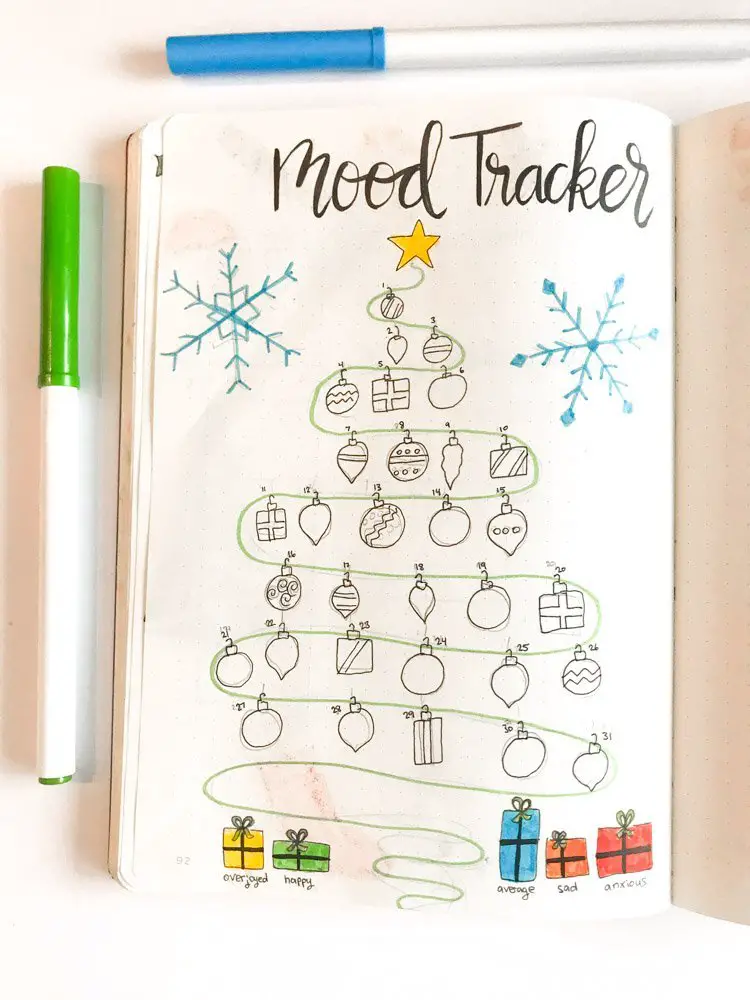 Weekly Layouts
In December, I created five weekly layouts. The first three were two-page weekly spreads, and the last two were one-page weeklies.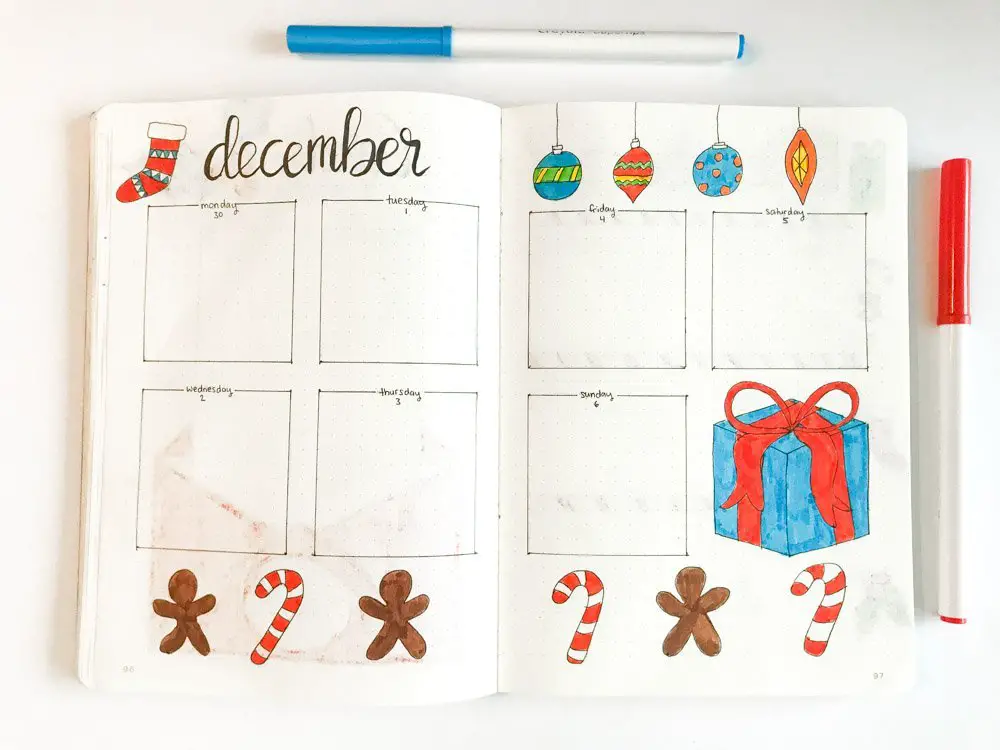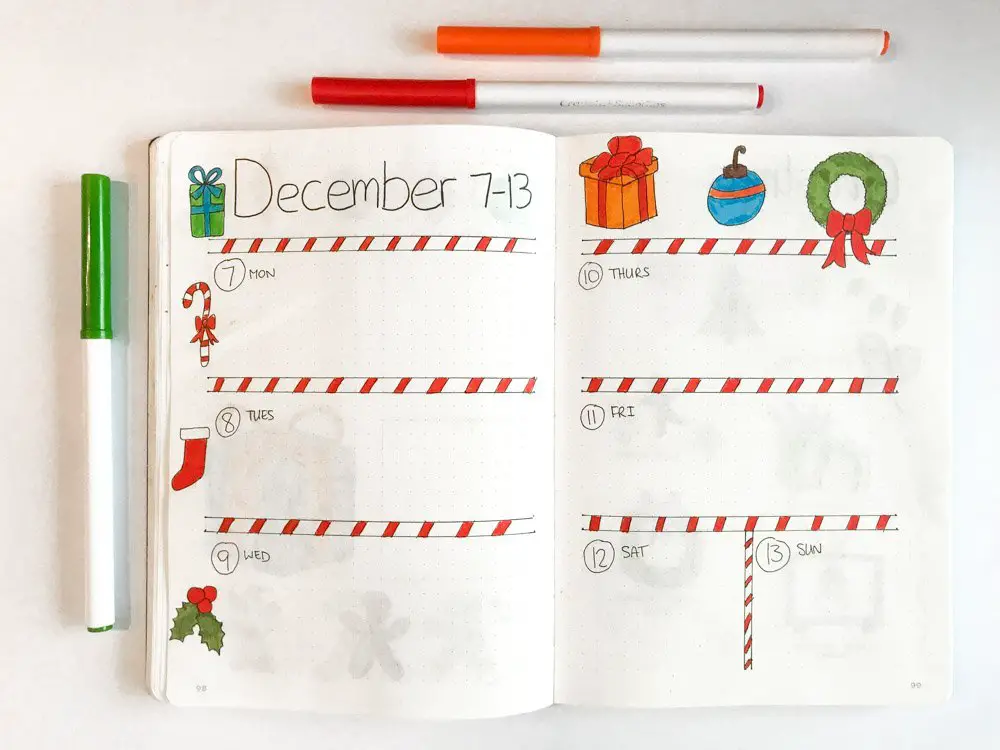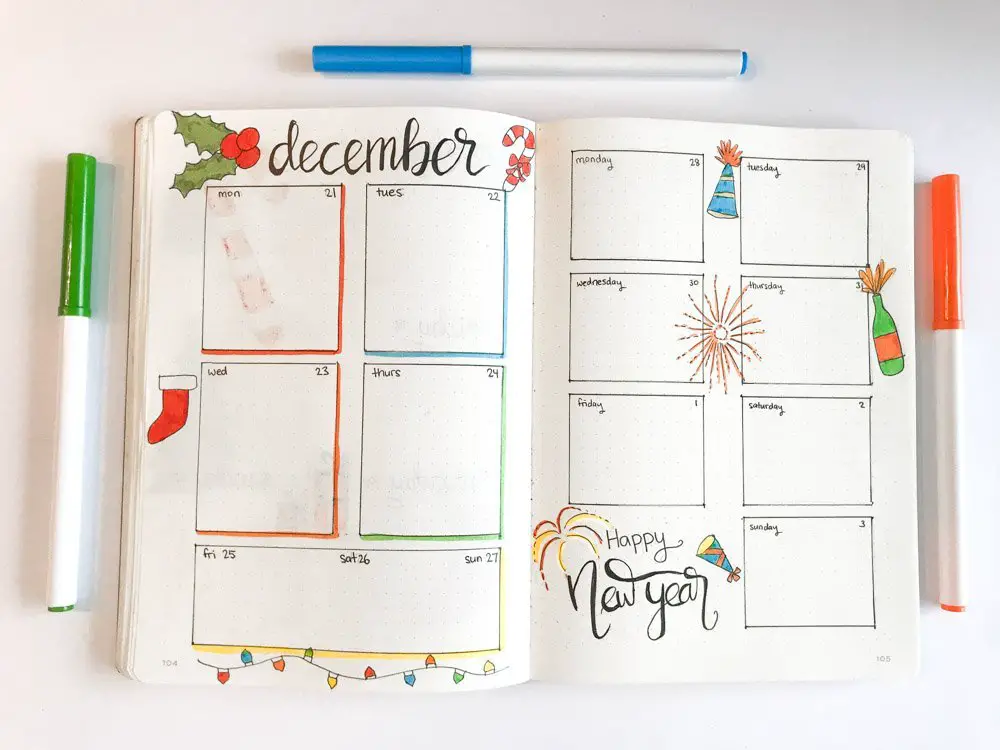 Days 'Til Christmas Countdown
As part of my Christmas spreads for the month, I created a Christmas countdown with a giant candy cane.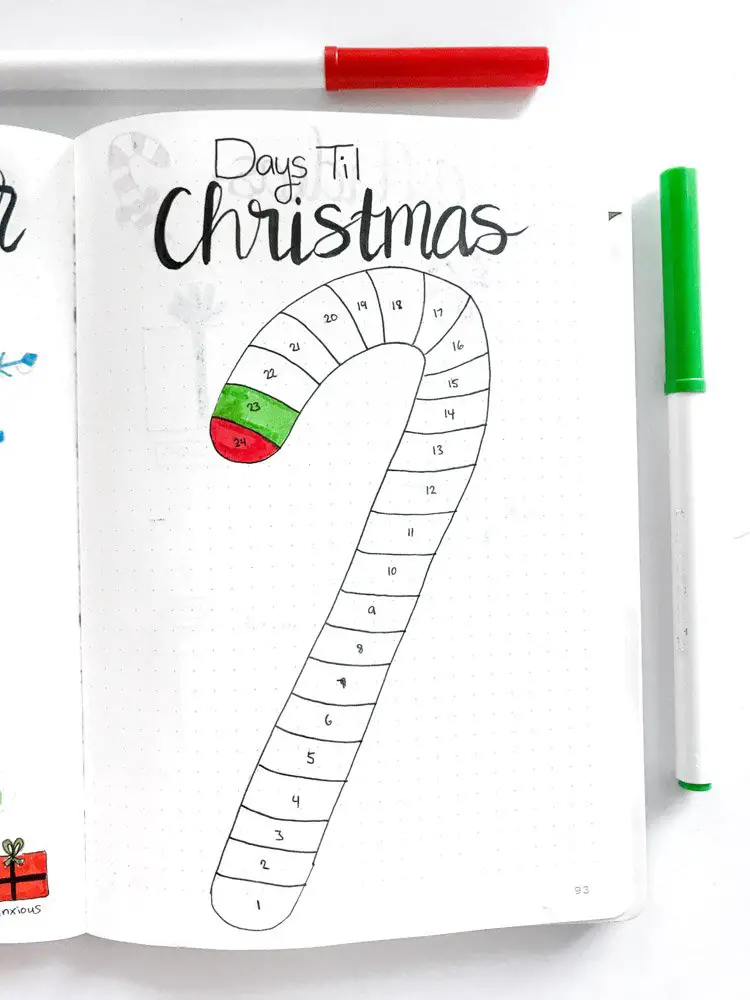 Gift Ideas Page
Having a place to keep track of gift ideas is so helpful during the holidays! I wrote the names of the people I was buying gifts for on each of the gift tags, and wrote my gift ideas on the presents themselves.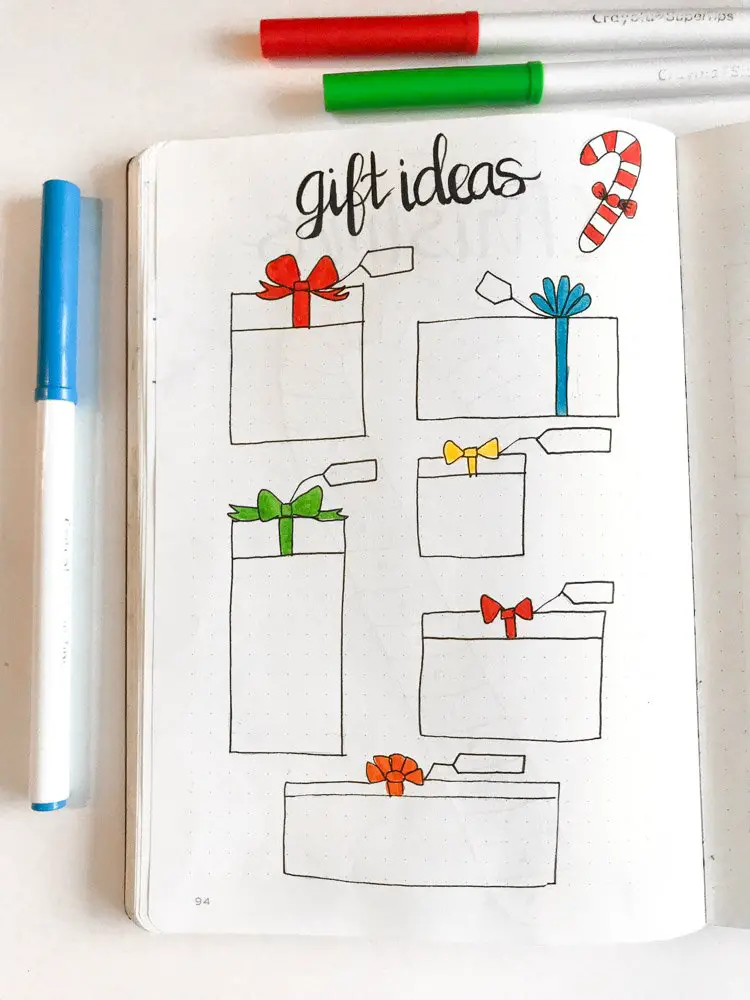 Cards to Send Page
I don't usually send Christmas cards, but this year I wanted to, since I couldn't see any of my friends or family in person. I used this page to keep track of everyone I wanted to send a card to, and whether or not I had sent it yet.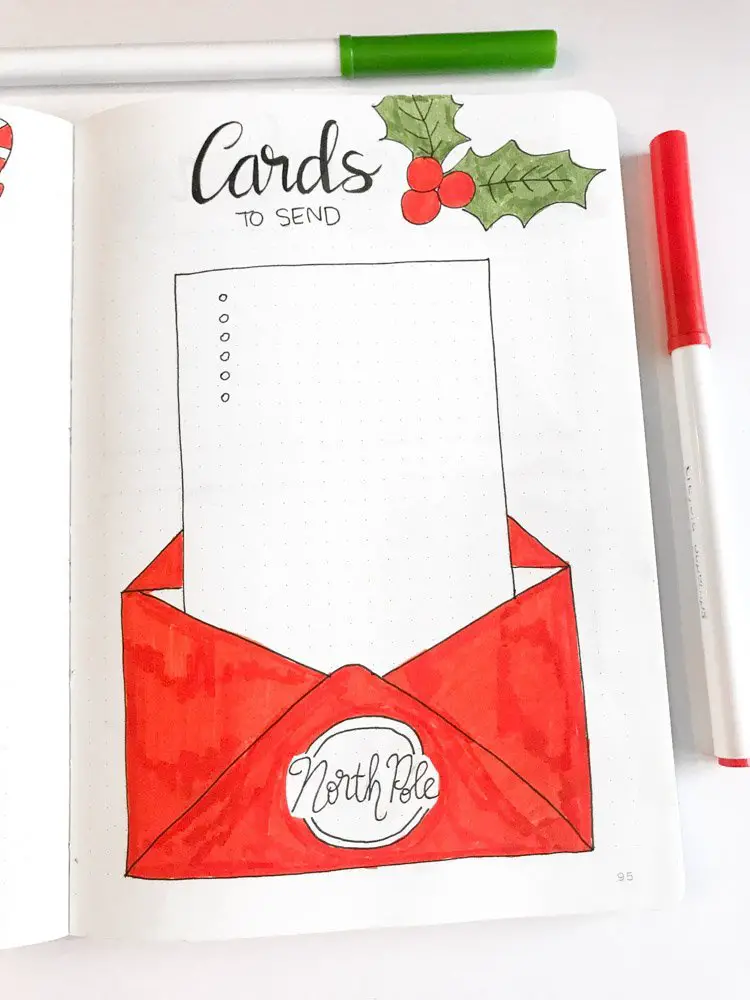 Christmas Bucket List
Even though all the typical Christmas activities were canceled in 2020, there were still plenty of fun things to do. I created this Christmas bucket list to remind me of all the festive activities I could do to get into the holiday spirit.
On my bucket list was looking at Christmas lights, decorating the Christmas tree, going snowshoeing, baking cookies, wrapping presents, making Christmas crafts and watching Christmas movies.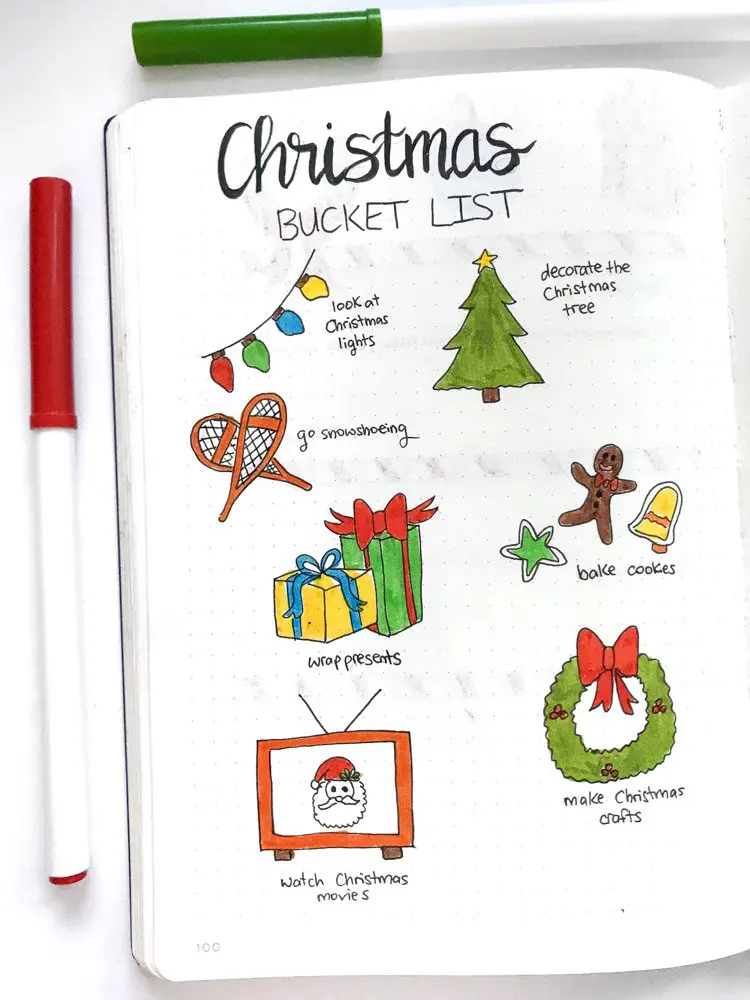 Stocking Stuffer Ideas Page
My last Christmas-related spread was a stocking stuffers idea page. I drew a large stocking and used it to write down ideas for my husband's stoicking.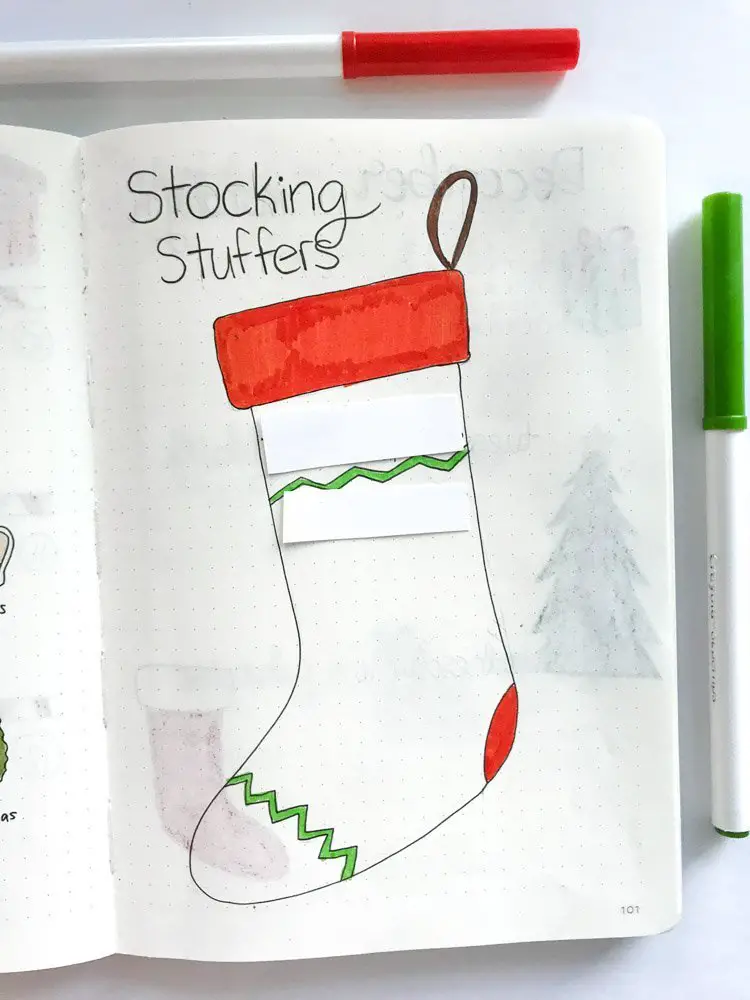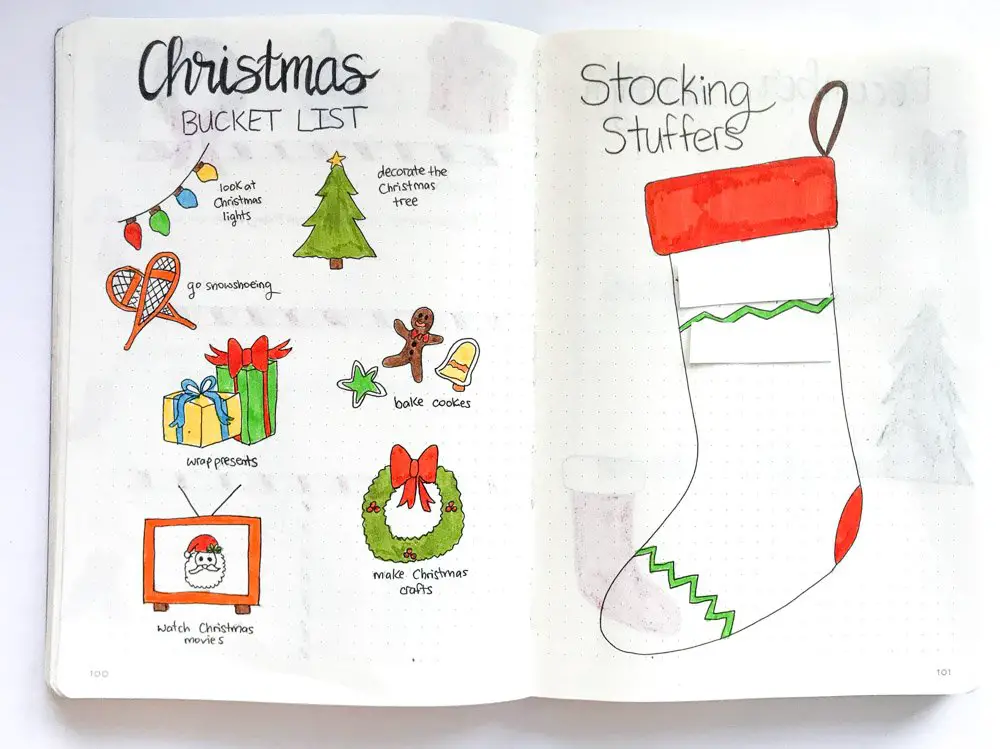 Thank you for reading this Christmas-themed December bullet journal setup! Don't forget to check out my YouTube channel and subscribe!
In need of some more bullet journal inspiration? Check out these posts:
November Bullet Journal Setup: Reading Theme
October Bullet Journal Setup: Fall Theme
September Bullet Journal Setup: Honeybee Theme
August Bullet Journal Setup: Summer Fruit Theme
How to Set Up a Minimalist Bullet Journal for Beginners
Follow Me!
Instagram | Pinterest | Twitter | Facebook | TikTok | YouTube
xo,
Andrea