Happy Fall! I can't believe it is already fall. Where did summer go?? As sad as I am to say goodbye to the hot, sunny weather, there are many things to look forward to this season. The leaves have already started changing colour here in Vancouver, and it is looking gorgeous outside! For my October bullet journal setup, I am embracing the changing season and going with a fall theme. My spreads this month feature lots of fun fall doodles, including pumpkins, leaves, pie and more!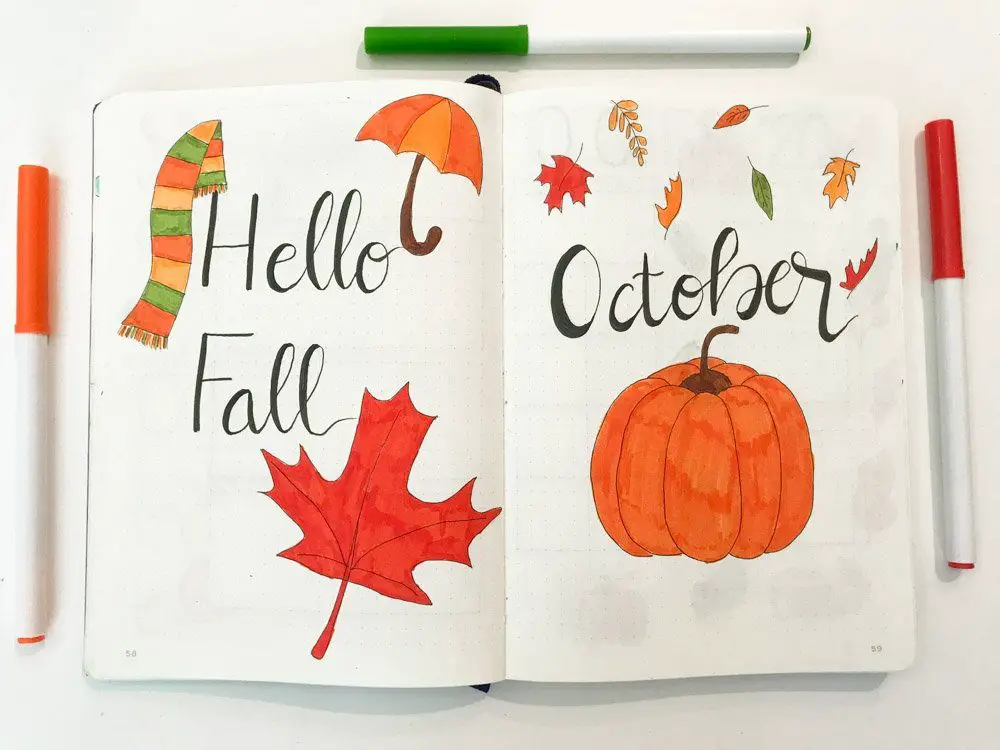 Some of the links below are affiliate links. If you choose to make a purchase, I may receive a small commission, at no extra cost to you. Thank you for your support!
Watch the Video
Subscribe to my YouTube channel, where I share monthly bullet journal setups, organization videos and more! I passed 100 subscribers in September, so thank you so much!
Bullet Journal Supplies
Quote Page
Hello Fall!
I don't know if you could really call this a quote, but I thought "hello fall" was super cute and fitting for this month and my theme.
Around the words, I drew a large red maple leaf, a striped scarf and an umbrella.
In Vancouver, fall brings lots of beautiful colours on the trees, but it also brings a lot of rain. Are umbrellas a sign of fall where you live?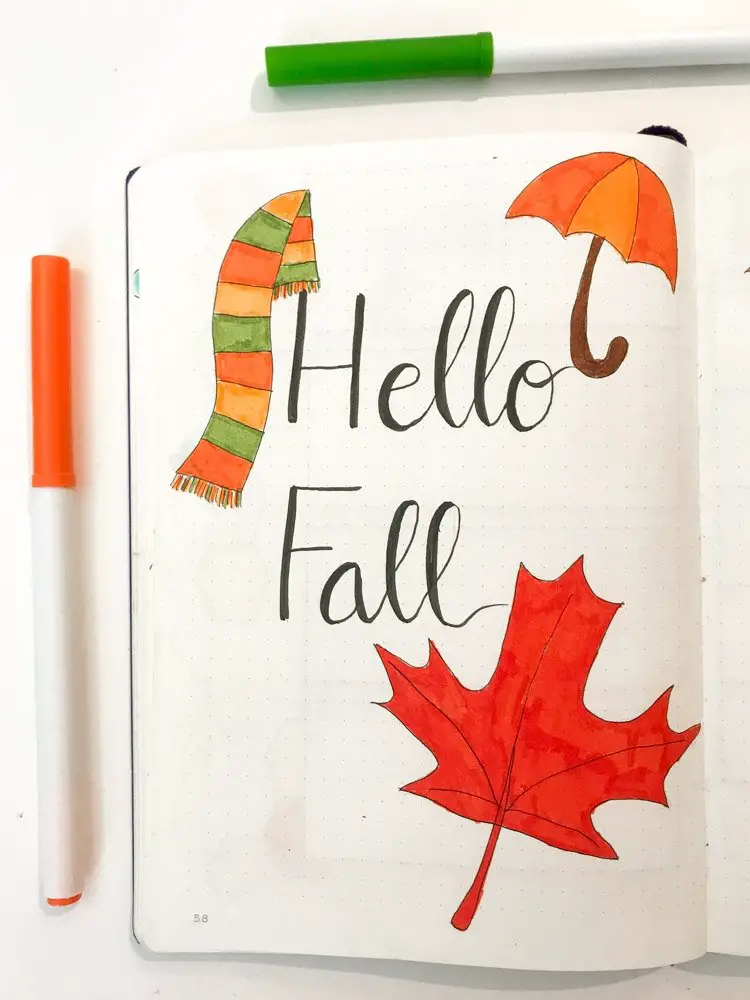 Cover Page
For my October cover page, I wrote October in the centre in script lettering. I drew a large pumpkin underneath, and lots of falling leaves at the top of the page.
The colours I am using this month are red, orange, yellow, green, blue and brown. To make sure all the colours will look nice together, I swatch them on a separate piece of paper before I commit to using them in my journal.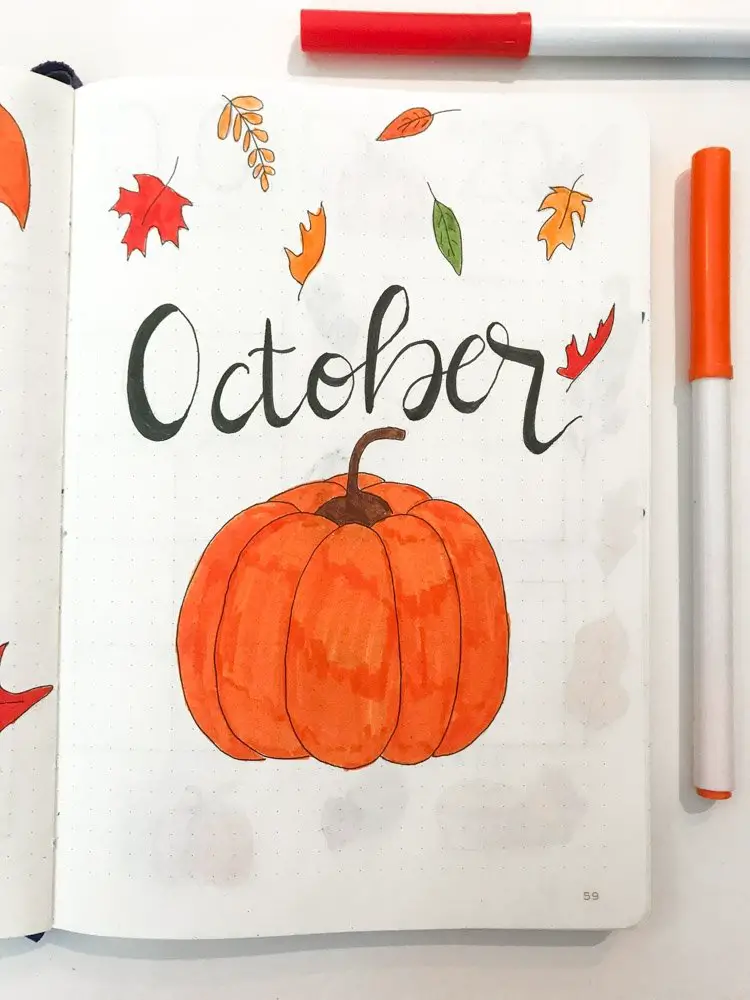 Monthly Calendar
For my monthly calendar, I created a two-page spread where Sunday and Monday are on one page and Tuesday to Saturday are on the other page. Each of the boxes are five spaces wide by five spaces high, with a one space section at the top for the days of the week.
This month, instead of creating a brain dump page or a monthly to-do list page, I created a section on the side of this spread for a to-do list. This will be a place I can write down any tasks I know I want to get done this month.
Below the to-do list, I also created a section for a monthly focus. This could be anything you are wanting to focus on for the month, such as learning a new skill, exercising daily, anything you want to be a focal point of the month.
I love this spread, because I filled it with lots of fun fall doodles, and I think it turned out really cute!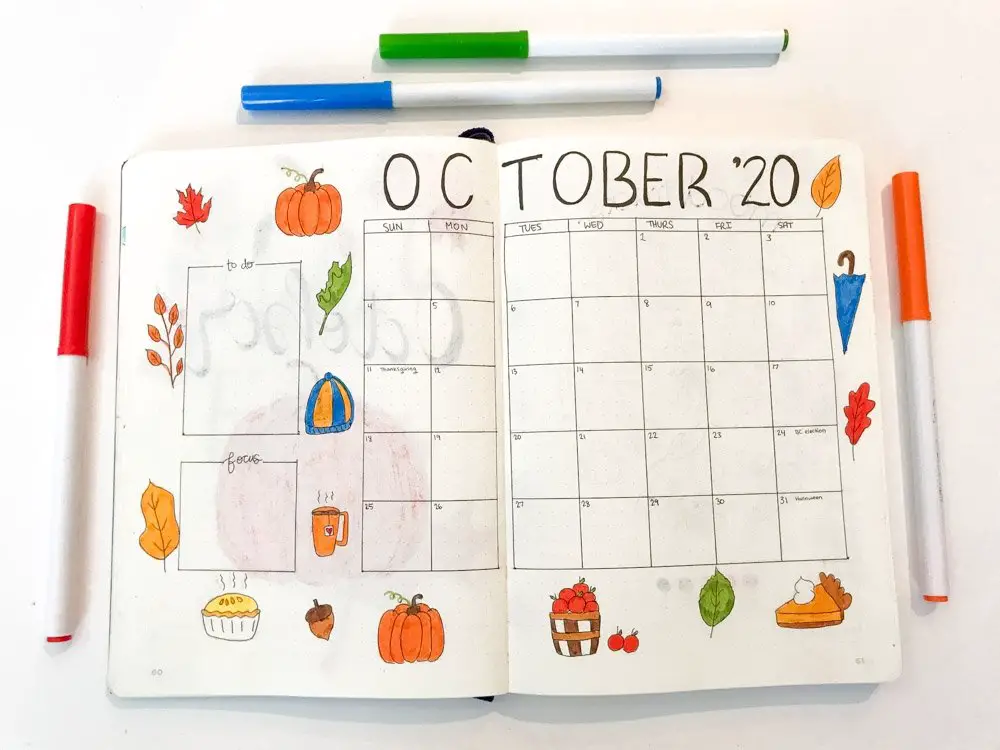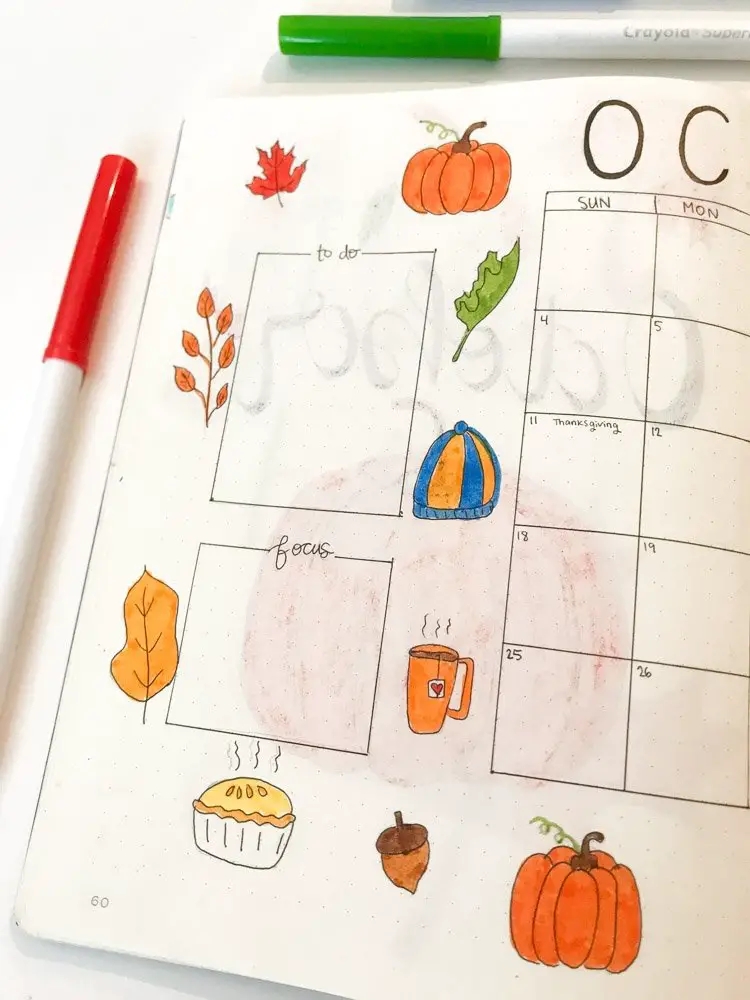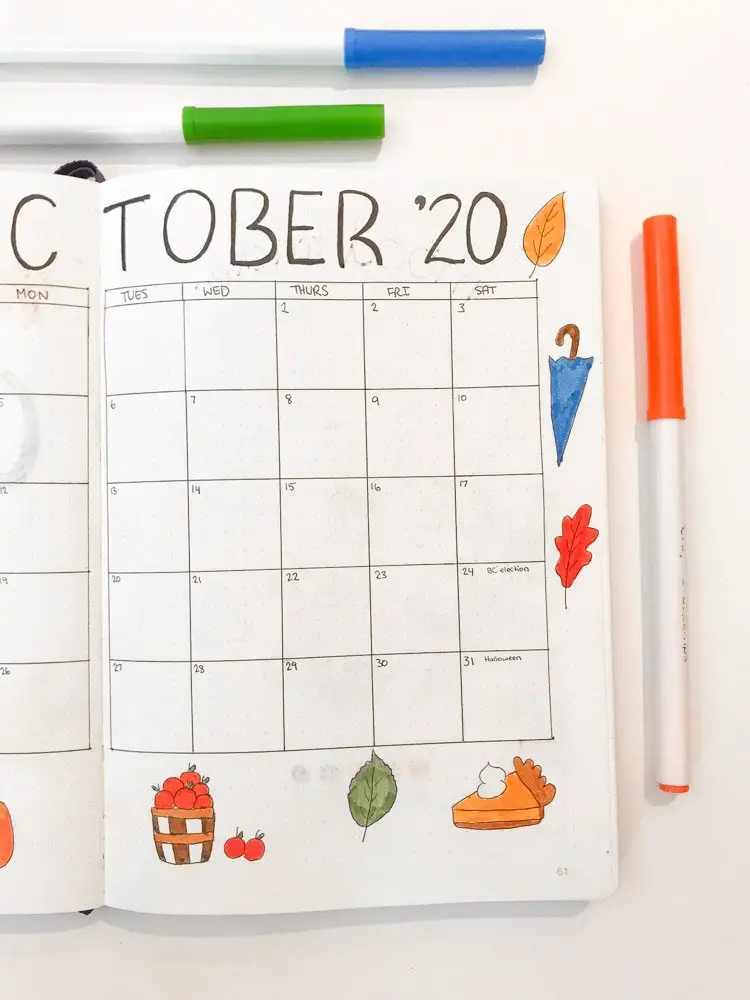 Mood Tracker
For my mood tracker this month, I drew a circle in pencil, then filled the circle with lots of fall-inspired doodles. I drew 31 things, one for each day of the month.
Every day in October, I will colour in each item with the colour that corresponds to my mood that day. I created a key at the bottom of the page so I know which colour corresponds to which mood.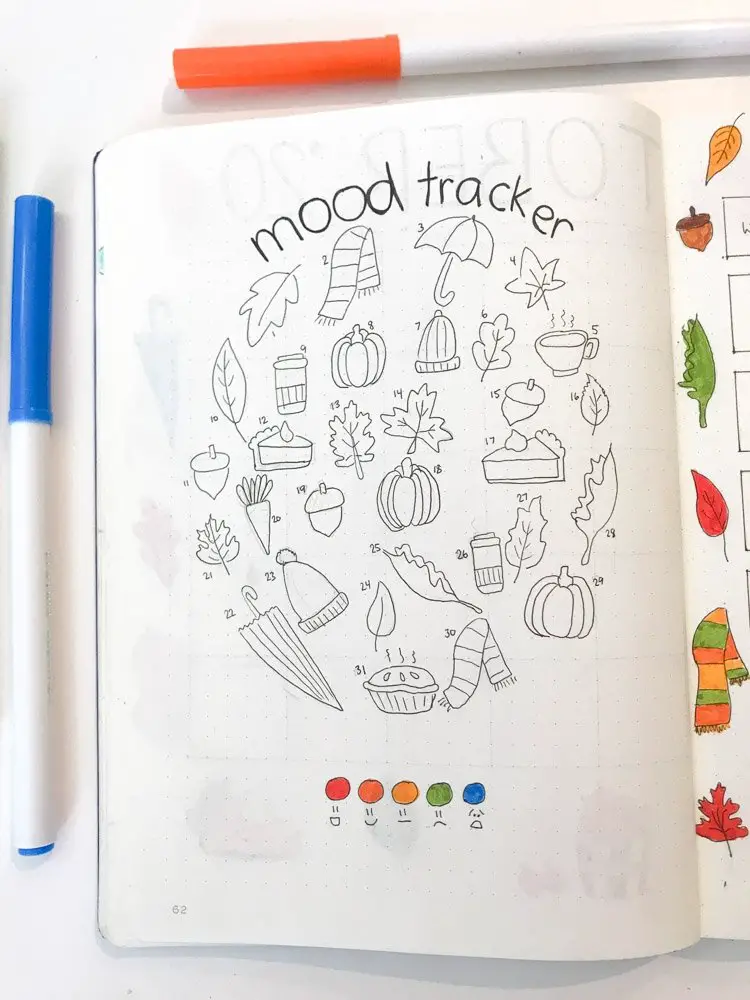 Habit Tracker
My habit tracker this month is another new layout for me. The seven habits I am tracking in October are: working out, eating less than 25 grams of sugar, eating less than 100 grams of sugar, reading, working on my blog and/or YouTube channel, working on Instagram and working on Pinterest.
I intended each section to be 23 spaces wide and three spaces high, but after the first section I accidentally made the rest of the sections four spaces high. I didn't notice until I finished drawing all the lines and I did not want to use white out on the whole page, so I just left it.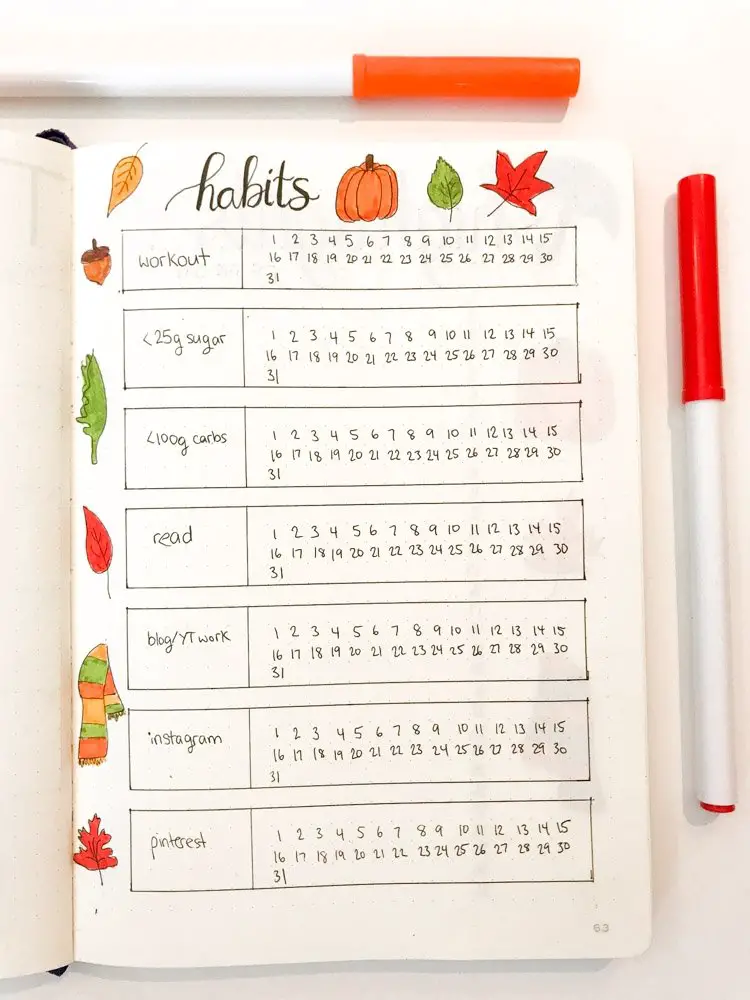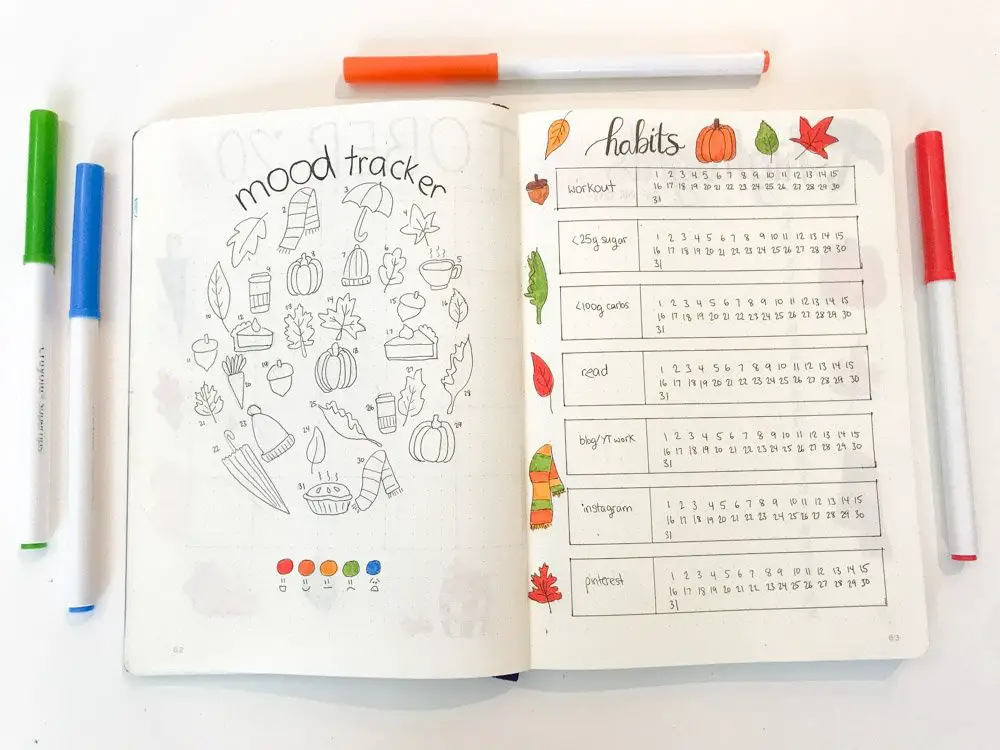 Highlights of the Day
For my monthly highlights of the day page, I wrote 1-31 down the middle for each day of the month. I then filled the rest of the page with more fall-themed doodles.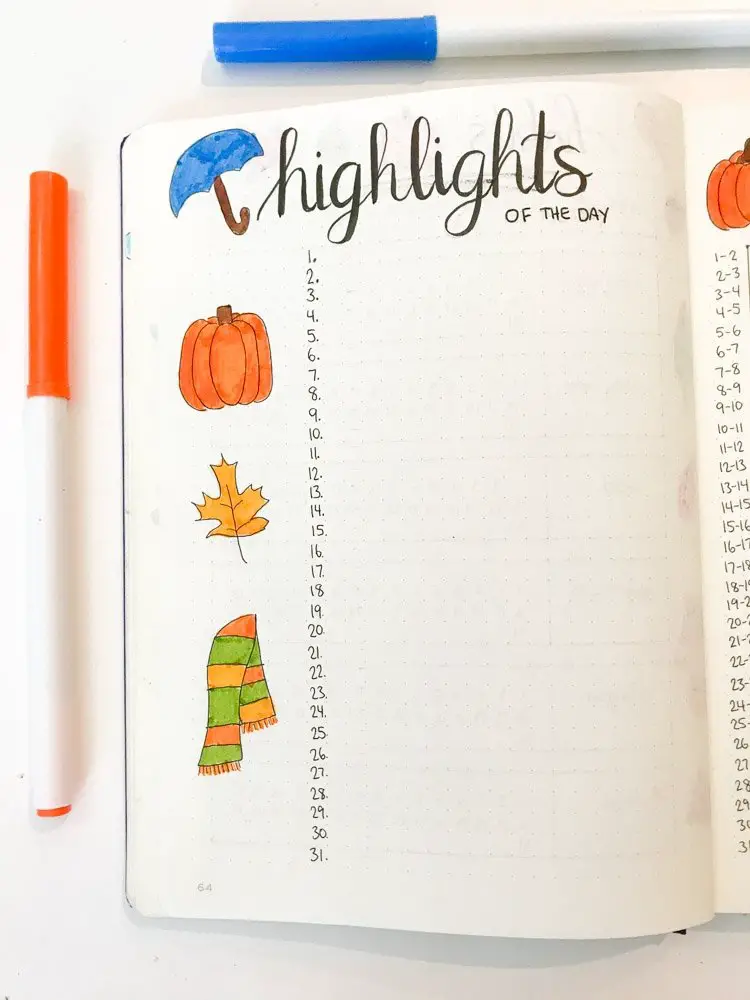 Sleep Tracker
This is the first time I have included a sleep tracker in my bullet journal since June. I stopped doing it for a while, but I decided to bring it back this month.
This is the most useful layout for a sleep tracker that I have found, with the time of day along the top and the days of the week down the side.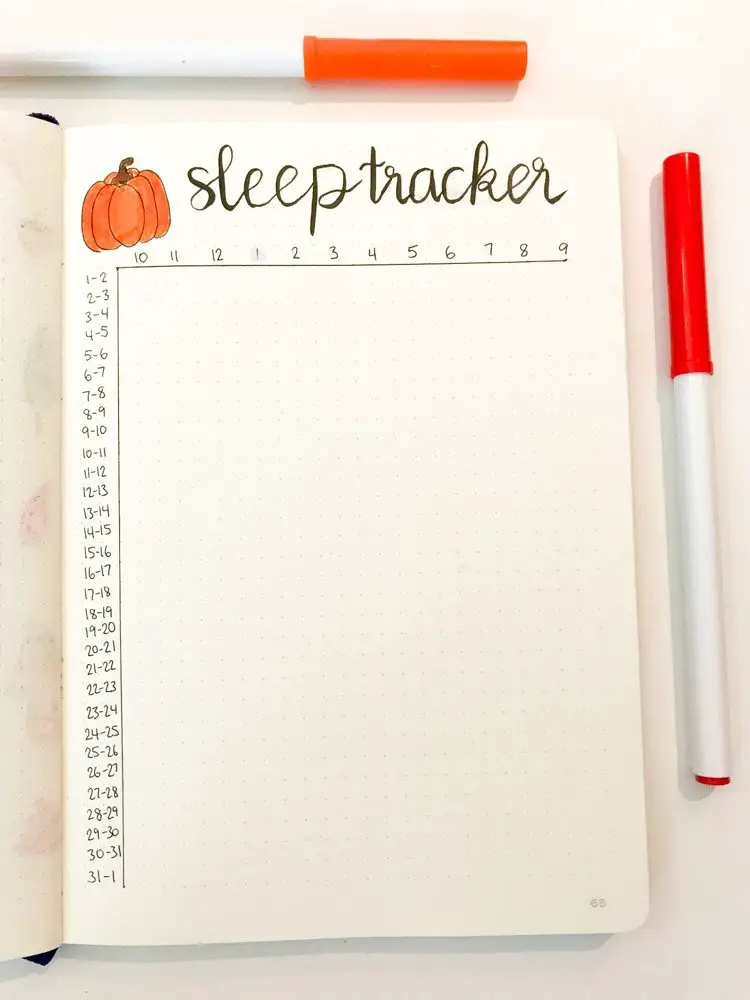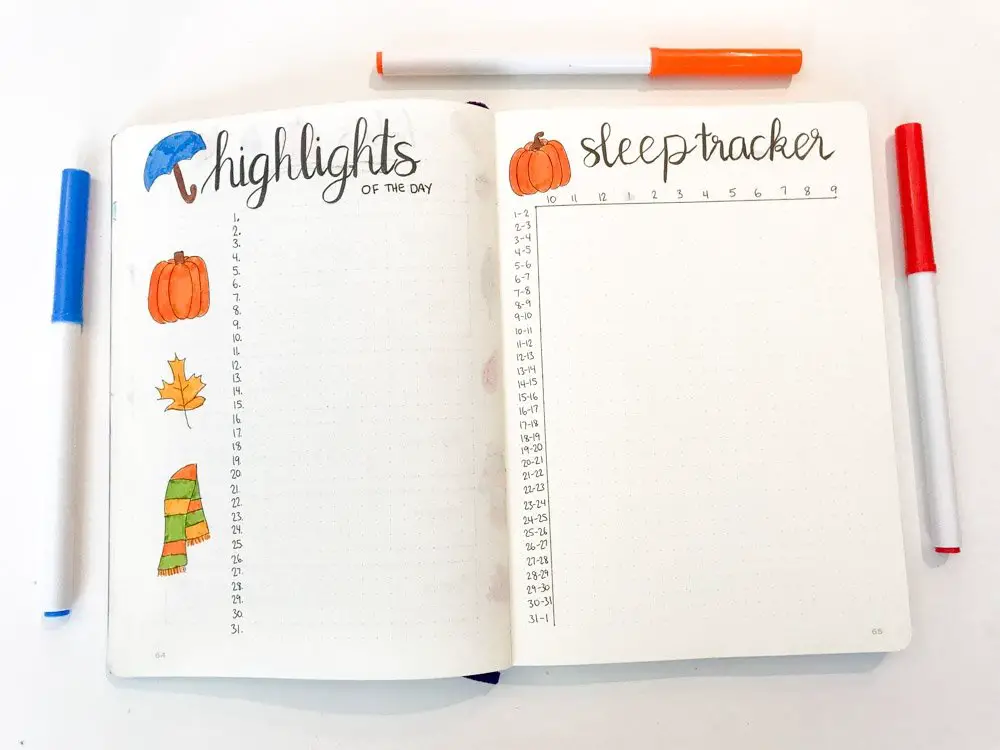 Weekly Spreads
Watch my latest video featuring my four weekly spreads for October. All of my weekly layouts this month are two-page spreads.
I continued with the fall theme in these pages, but I added some Halloween doodles to the last week.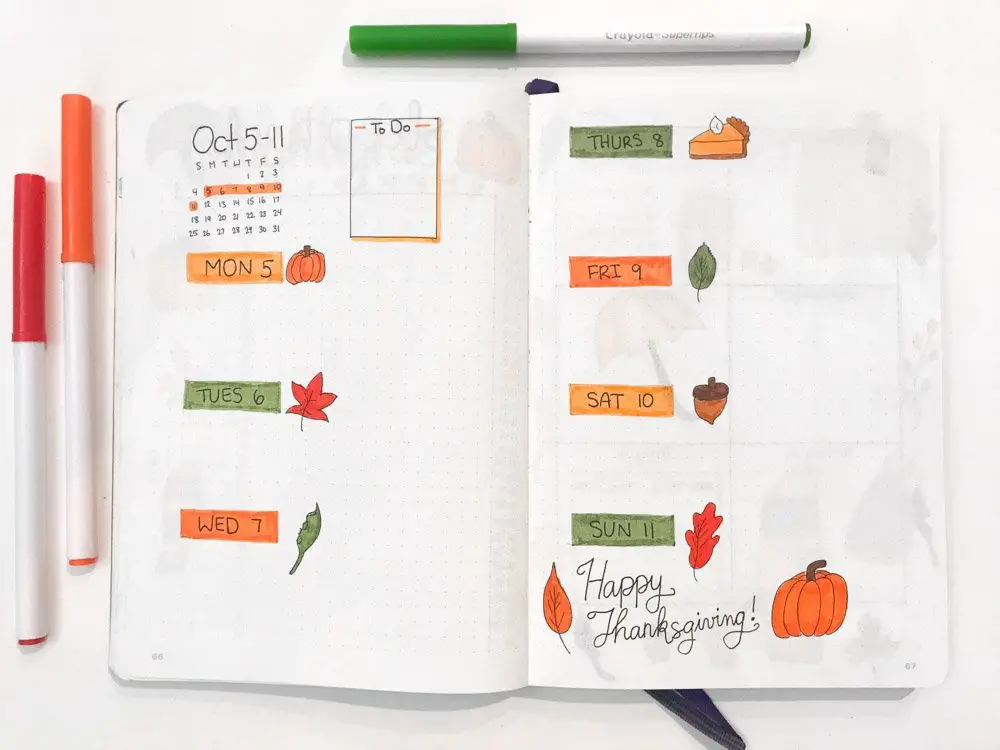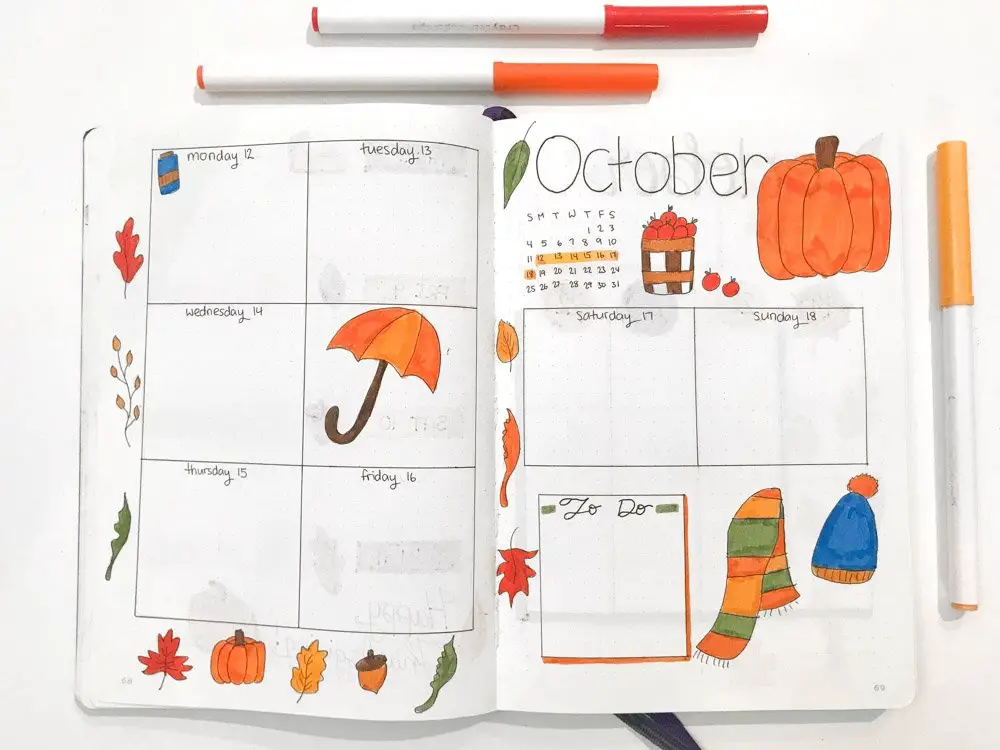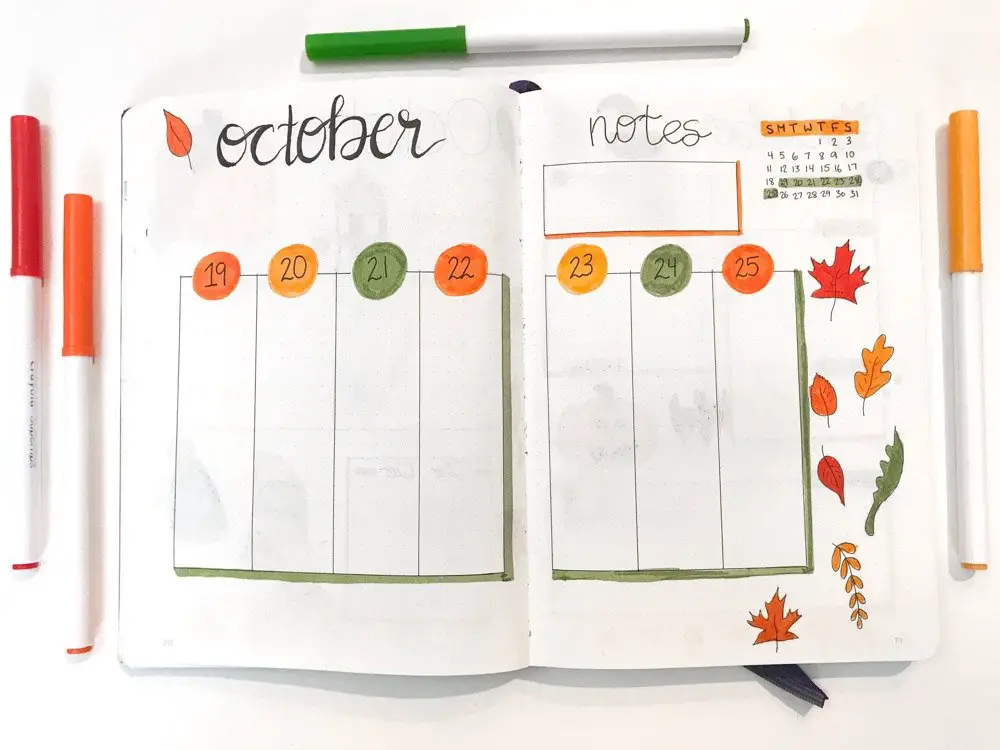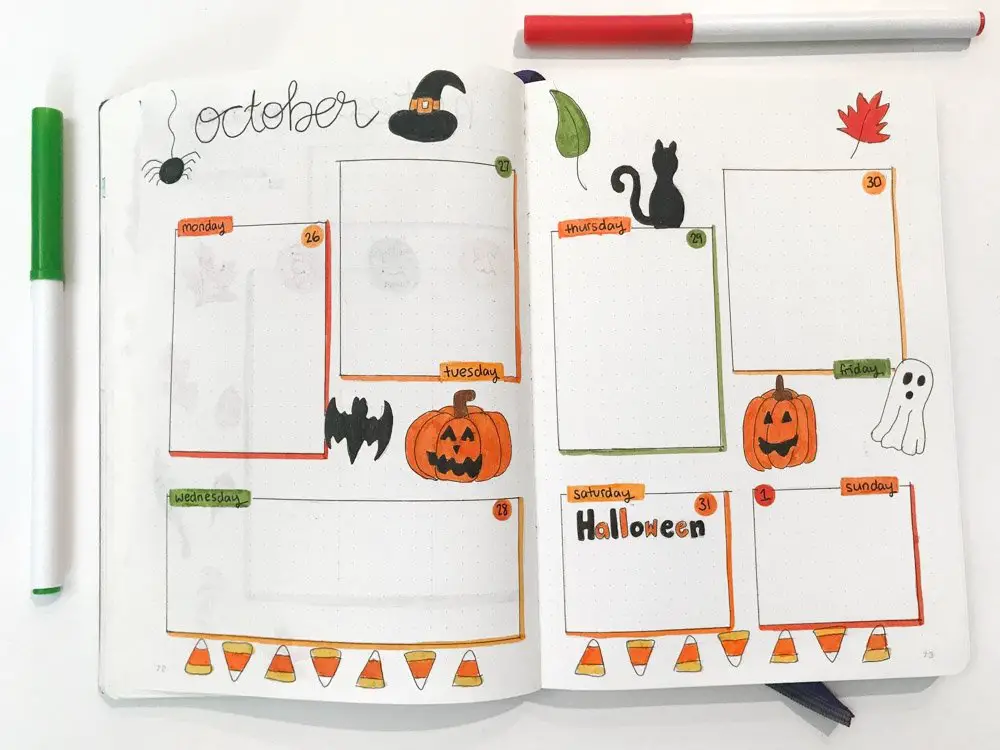 Thank you so much for reading this fall-themed October bullet journal setup! Don't forget to check out my YouTube channel and subscribe so you don't miss out on videos twice a week!
In need of some more bullet journal inspiration? Check out these posts:
September Bullet Journal Setup: Honeybee Theme
August Bullet Journal Setup: Summer Fruit Theme
July Bullet Journal Setup: Ice Cream Theme
How to Set Up a Minimalist Bullet Journal for Beginners
Stationery Haul: Trying New Bullet Journal Supplies
Follow Me!
Instagram | Pinterest | Twitter | Facebook | TikTok | YouTube
xo,
Andrea