Welcome to 2021! I'm sure we are all thrilled to be done with 2020, even though much of 2021 is probably going to be pretty similar. Today I am sharing how I set up my bullet journal for 2021. Whenever I'm setting up a bullet journal for a new year, I like to keep it pretty minimal, because I'm going to be using these pages all year. Keep reading for my guide to a 2021 bullet journal setup for beginners.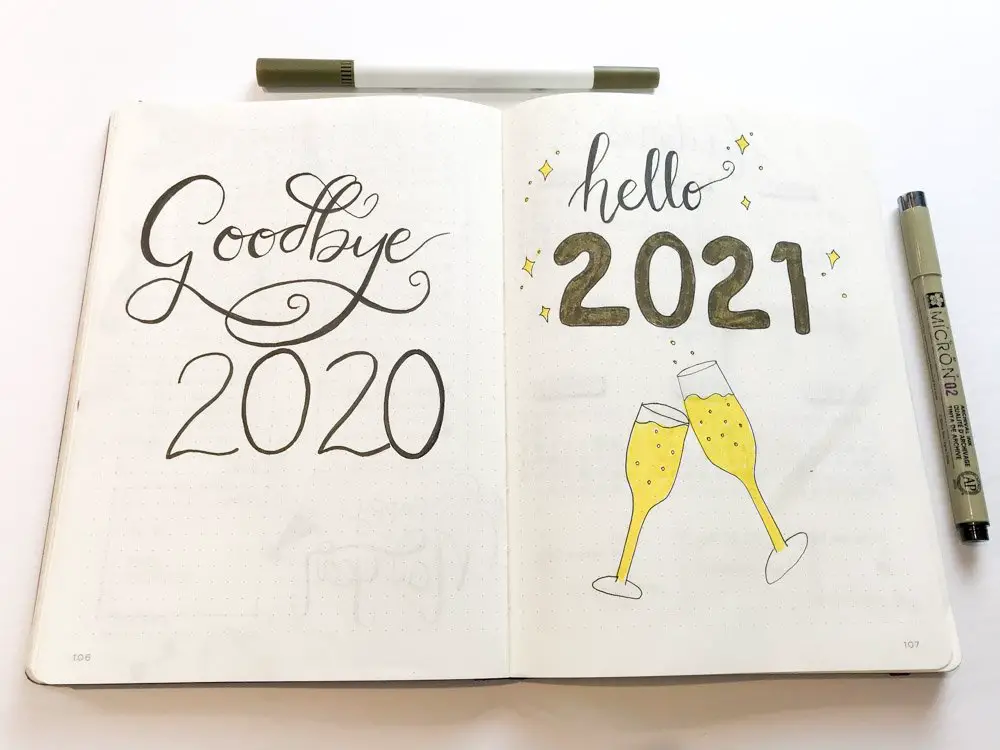 Some of the links below are affiliate links. If you choose to make a purchase, I may receive a small commission, at no extra cost to you. Thank you for your support!
Watch the Video
Bullet Journal Supplies
Cover Pages
For my 2021 cover pages, I started with a Goodbye 2020 design on one side, and Hello 2021 on the other. I wrote out goodbye 2020 in a fancy script font, but I did not include any colour or doodles on the page.
On the hello 2021 page, I covered it in stars and two champagne glasses.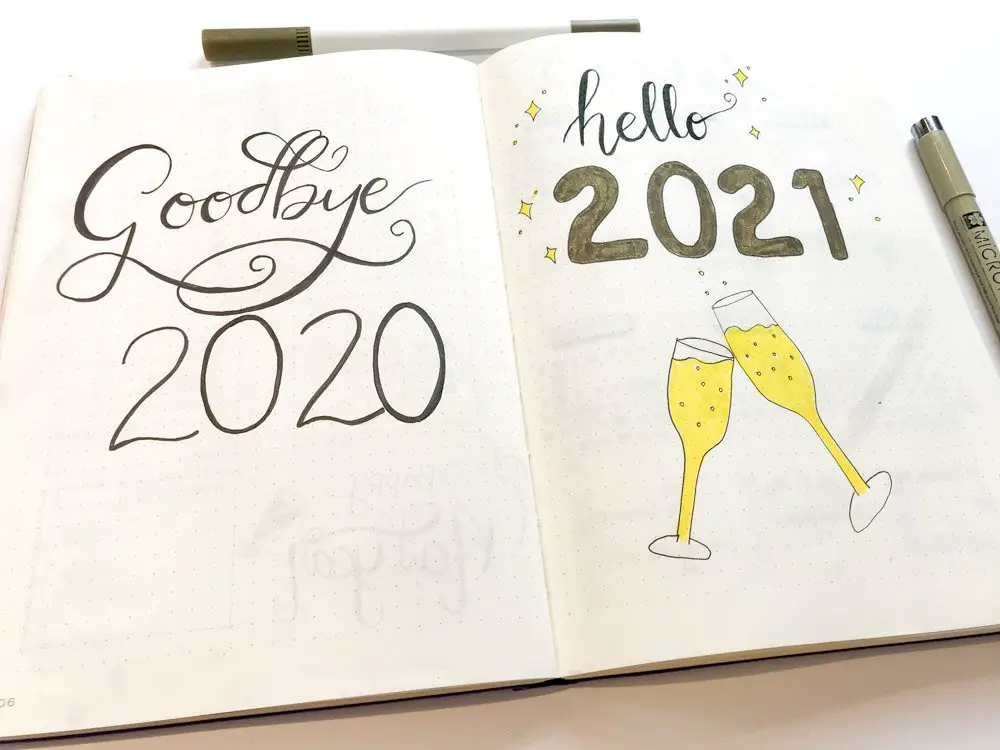 Future Log
For my 2021 future log, I wrote out mini calendars for each month of the year across two pages. I also left space below each of the calendars to write out important dates, including birthdays, anniversaries and holidays.
I also used a Zebra mildliner highlighter to highlight the dates on the calendars with something going on.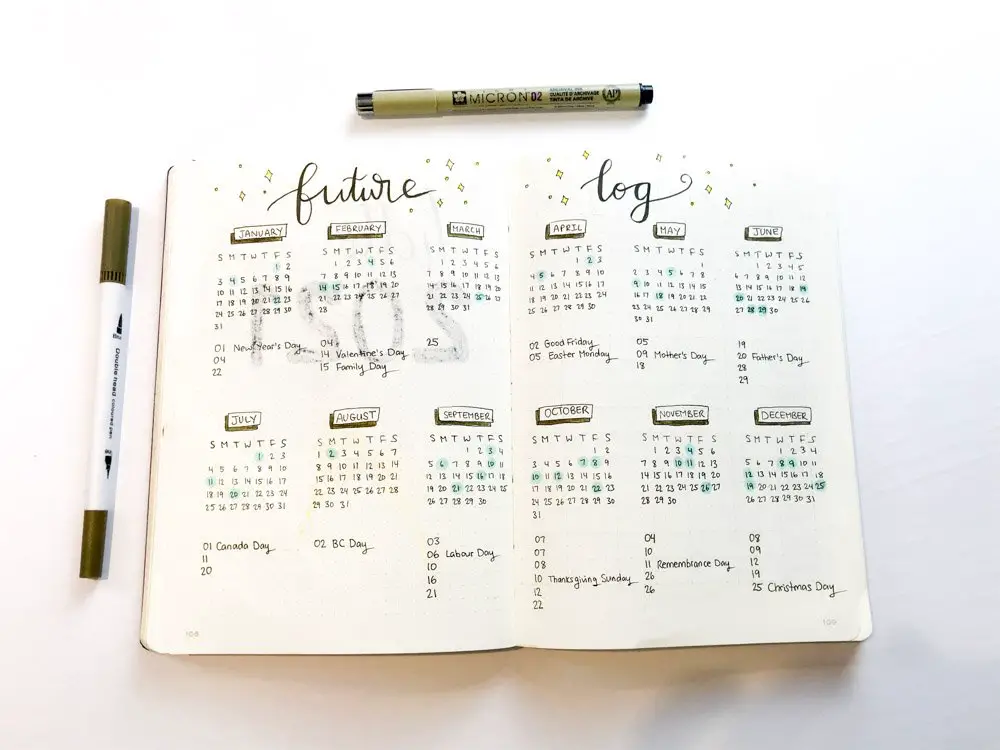 2021 Statistics
I love tracking statistics for my blog, YouTube channel and various social media platforms so much. Every year, I make a statistics chart to keep track of growth, but I usually make it a one-page spread. This year I decided to make it two pages, because I often find I don't have enough space.
This year, I am tracking: blog monthly views, blog monthly sessions, Instagram followers for my two Instagram accounts, Pinterest link clicks for my pins, Pinterest saves for my pins, YouTube subscribers, YouTube monthly views, TikTok followers, TikTok monthly views, Google Ad Sense revenue, Amazon affiliates revenue.
I also included a total section at the bottom so I can write down how many views I got in the whole year, or how many Instagram followers I gained over the year, that kind of thing.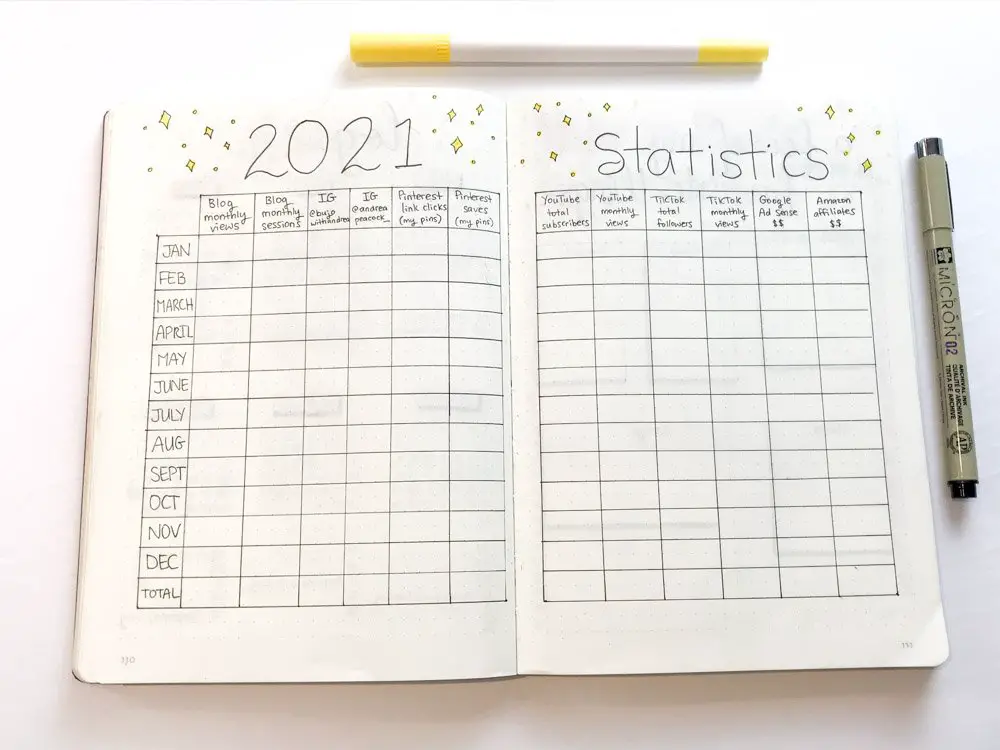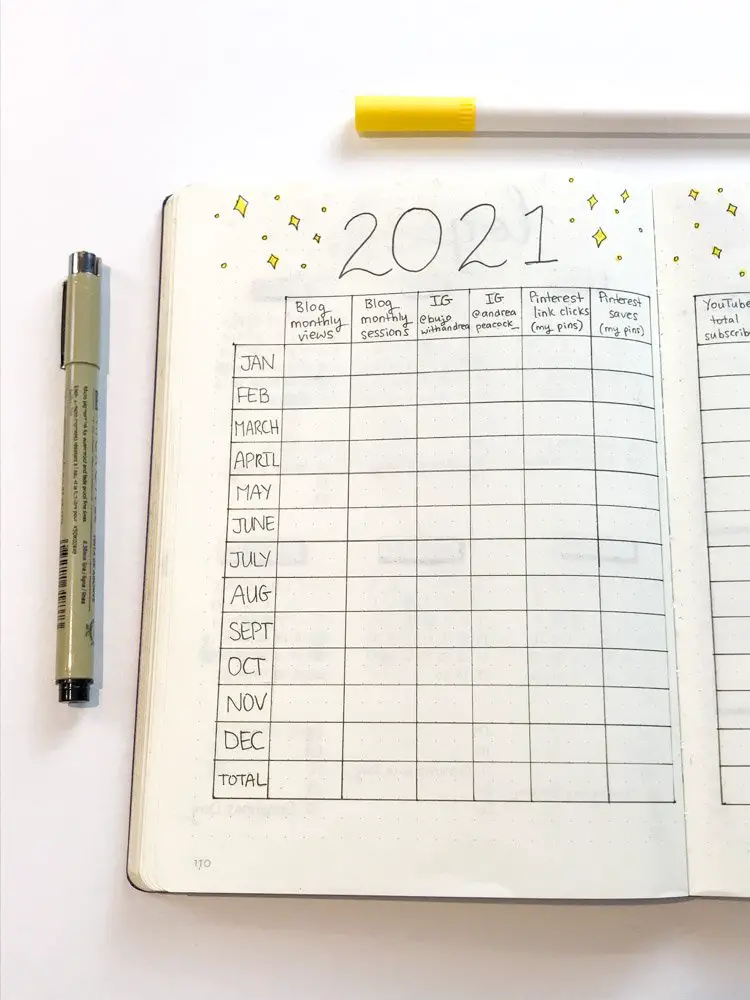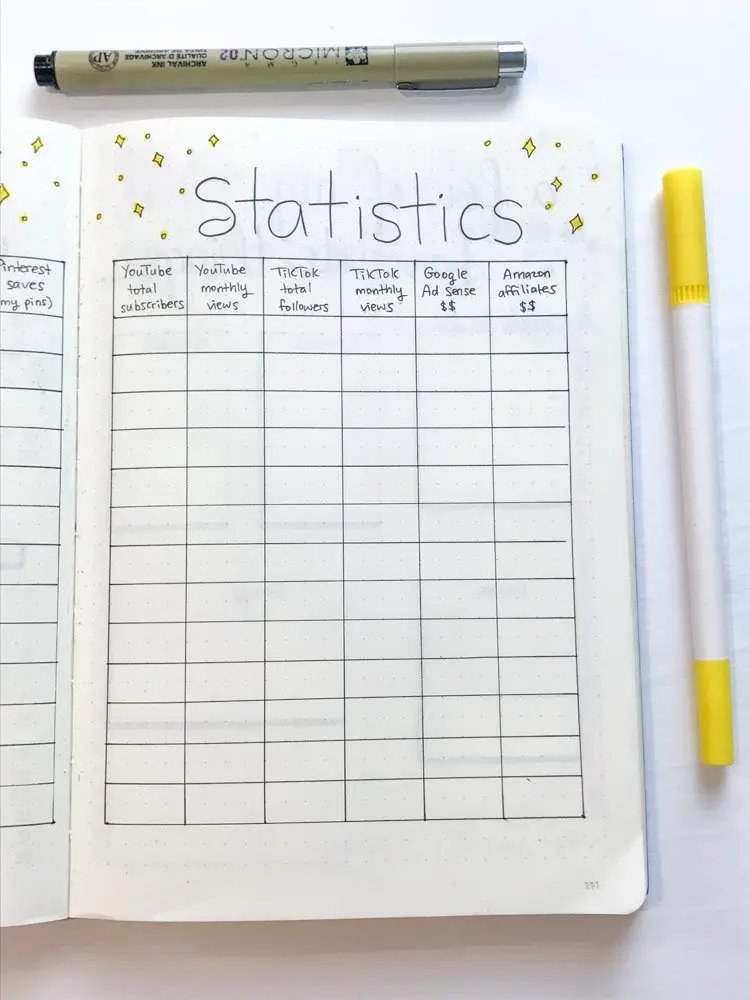 A Few of My Favourite Things
This is a fun page I will be using as a place to write down some of my favourite YouTube channels, TV shows, podcasts, movies and songs. I like the idea of having a page full of my favourite things, and it is also a nice way to keep track of things I am enjoying.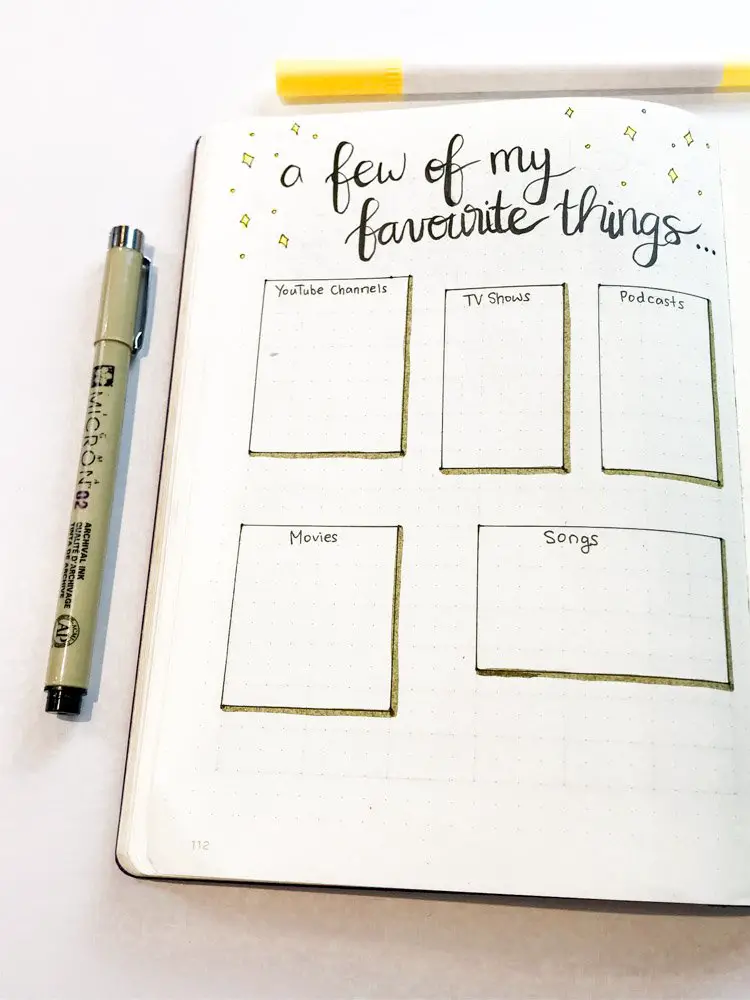 Year in Pixels
I created my first year in pixels page in 2020. I wasn't sure if I would keep up with it all year, but I actually did, and I loved how it turned out. You can see the completed year in pixels page on my Instagram account.
This year's annual mood tracker is a little different than last year in a few ways. Last year, I drew a grid so each day of the year was a little box. This year, I decided not to draw all the lines, and leave it open. Instead, I will be using the dots as a guide when I fill in my mood each day.
Also new this year is my inclusion of a "best part of the month" section. Each month, I will write the best thing that happened that month. By the end of the year, I think this will be a fun page to look back on and reminisce on the best parts of the year.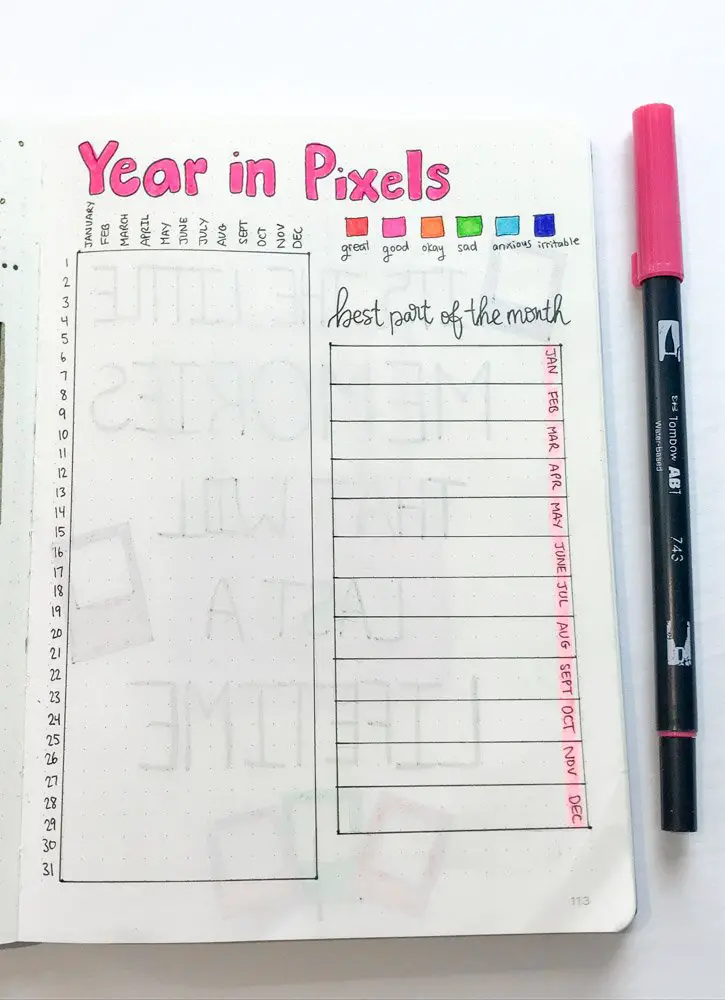 Thank you for reading this 2021 bullet journal setup for beginners! Don't forget to check out my YouTube channel and subscribe!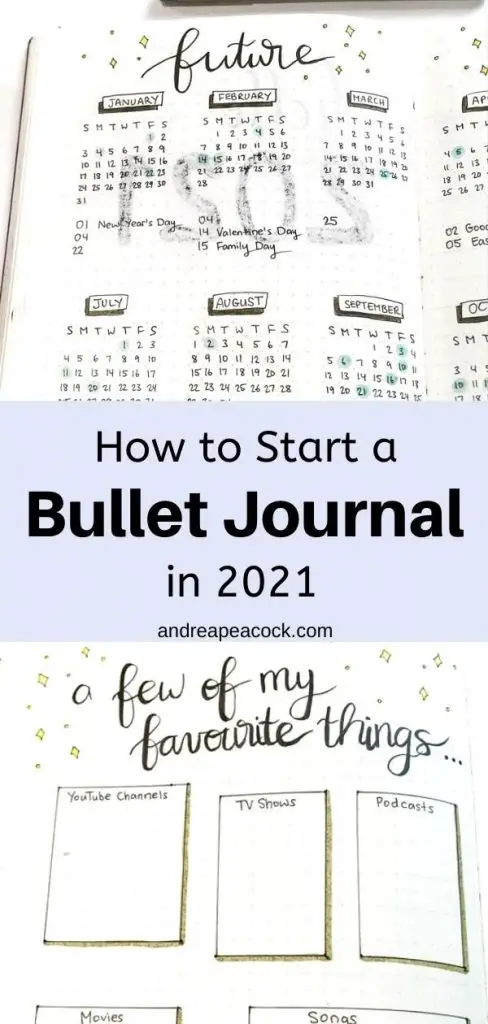 In need of some more bullet journal inspiration? Check out these posts:
December Bullet Journal Setup: Christmas Theme
November Bullet Journal Setup: Reading Theme
October Bullet Journal Setup: Fall Theme
September Bullet Journal Setup: Honeybee Theme
August Bullet Journal Setup: Summer Fruit Theme
How to Set Up a Minimalist Bullet Journal for Beginners
Follow Me!
Instagram | Pinterest | Twitter | Facebook | TikTok | YouTube
xo,
Andrea