Welcome to November! I never really know what to think of November. It always seems like a blah month to me. One good thing about 2020 so far is everyone has been embracing Christmas so much earlier than normal. I typically don't think about anything to do with Christmas before December, but I think we all need a little extra joy where we can get it this year. I already posted two DIY Christmas craft videos on my YouTube channel if you are also getting into the Christmas spirit! Today I am taking a step back from Christmas-related content to share my November bullet journal setup. November is a transition month between fall and winter, so I decided to go with a cozy reading/book theme.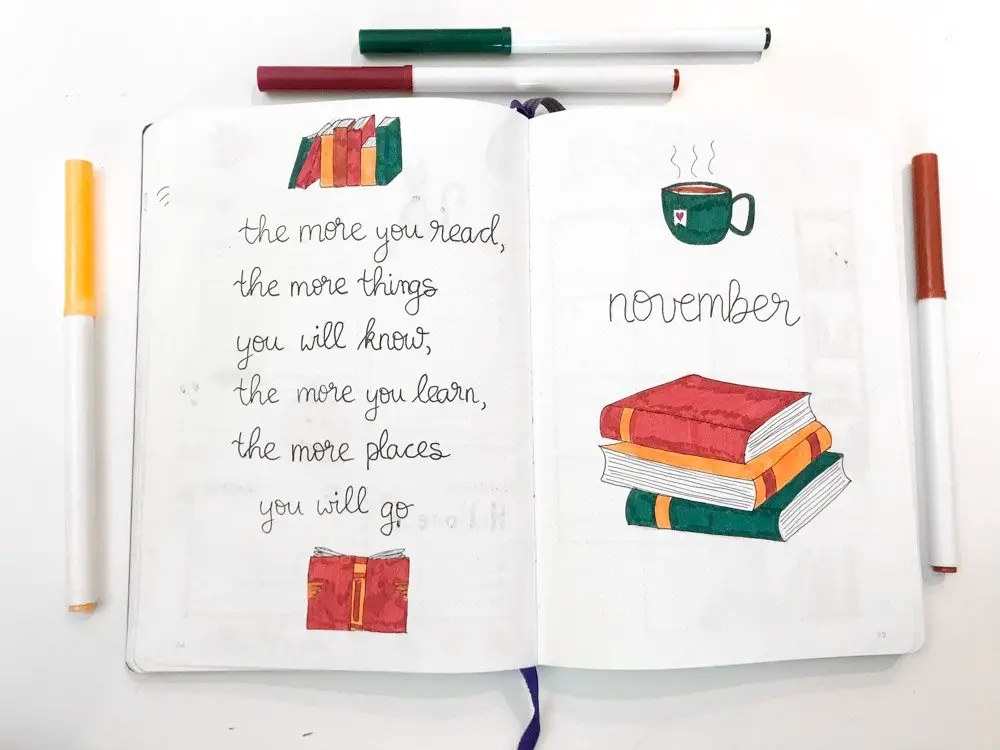 Some of the links below are affiliate links. If you choose to make a purchase, I may receive a small commission, at no extra cost to you. Thank you for your support!
Watch the Video
Subscribe to my YouTube channel, where I share monthly bullet journal setups, DIY videos, cleaning routines and more! Check out my November bullet journal setup below.
Bullet Journal Supplies
Quote Page
The more you read, the more things you will know, the more you learn, the more places you will go.
When I was a kid, I was always reading a book. I would go through them so quickly! It was definitely one of my favourite hobbies. In the last 10 years though, I have not been a consistent reader. I find it so much more difficult to make the time to read, but it is something I want to get better at prioritizing.
If you've been following my bullet journal setup posts and videos for a while, you may know I always put reading as one of my habits on my habit tracker pages. I rarely fill in that many days in a month, but it is something I want to do. Last month I read Me and White Supremacy by Layla F. Saad, and I highly recommend it to everyone. It is such an important book, and has made me realize how much learning and unlearning I have to do to be a better human.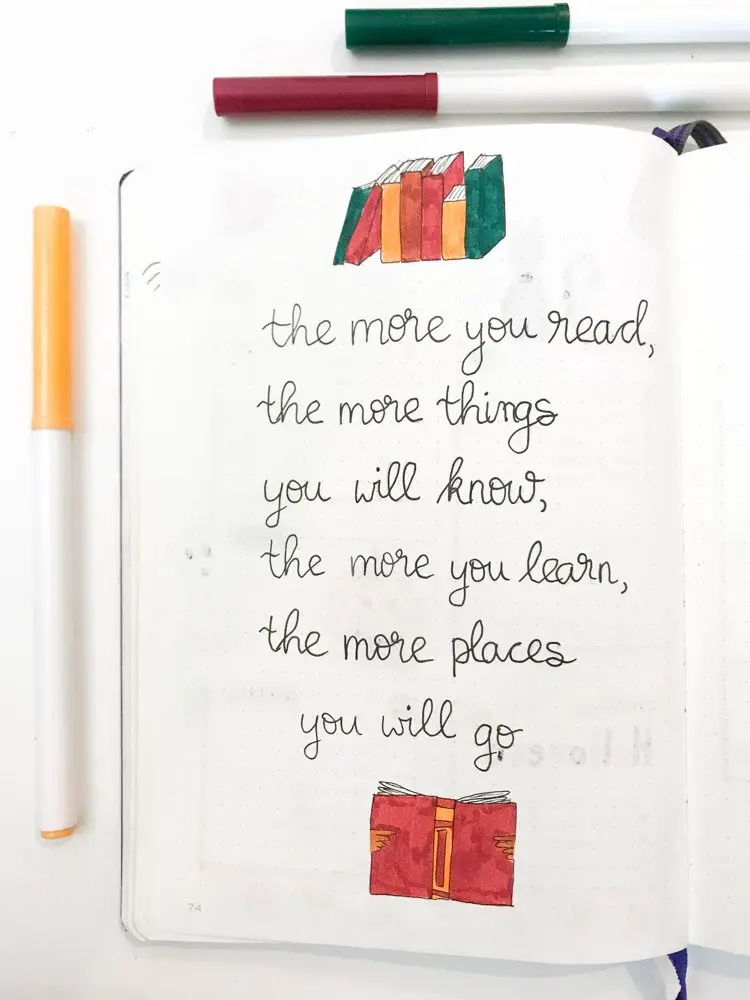 Cover Page
For my cover page this month, I wrote out the word November in cursive writing, with a big stack of books underneath. To go with my cozy vibe of the month, I also added a tea cup at the top of the page.
I do not drink tea or coffee (hot chocolate for me!), but I liked the look of the little tea bag sticking out, so I went with it!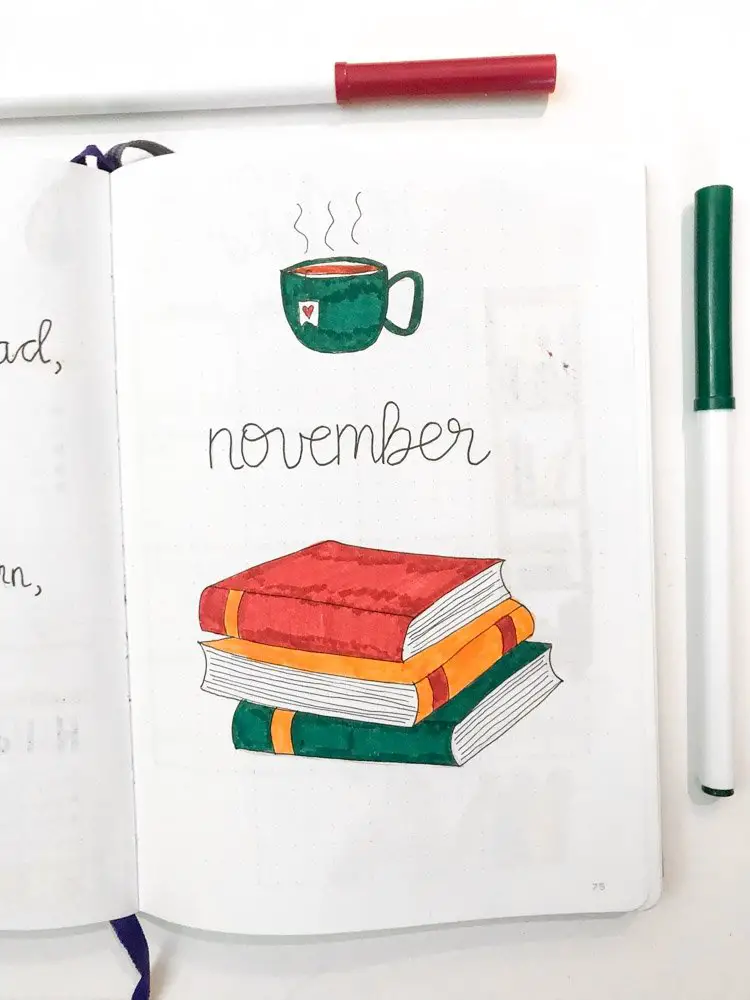 Monthly Calendar
For my calendar this month, I created a two-page spread. I like doing two-page spreads for my monthly calendars, because I I use the squares as a form of a diary. I like writing what I did that day, or if anything significant happened.
To fit in with the reading theme, I added a bookshelf to the left side of the spread and filled it with books. I also drew a stack of books in the top right-hand corner, and a woman reading a book at the bottom of the page.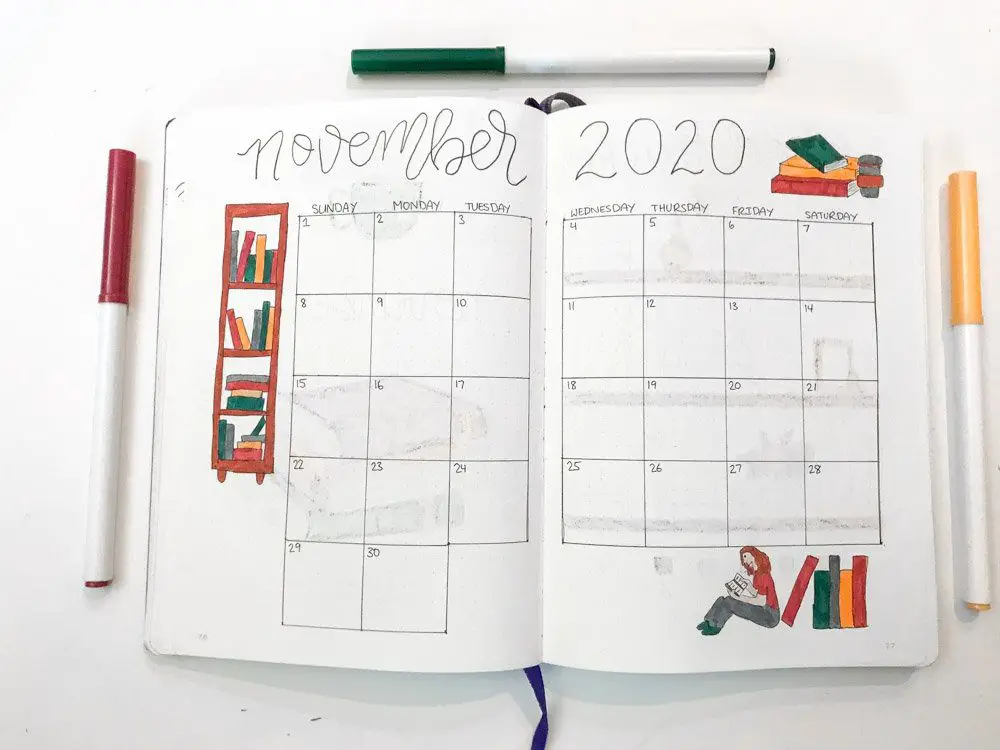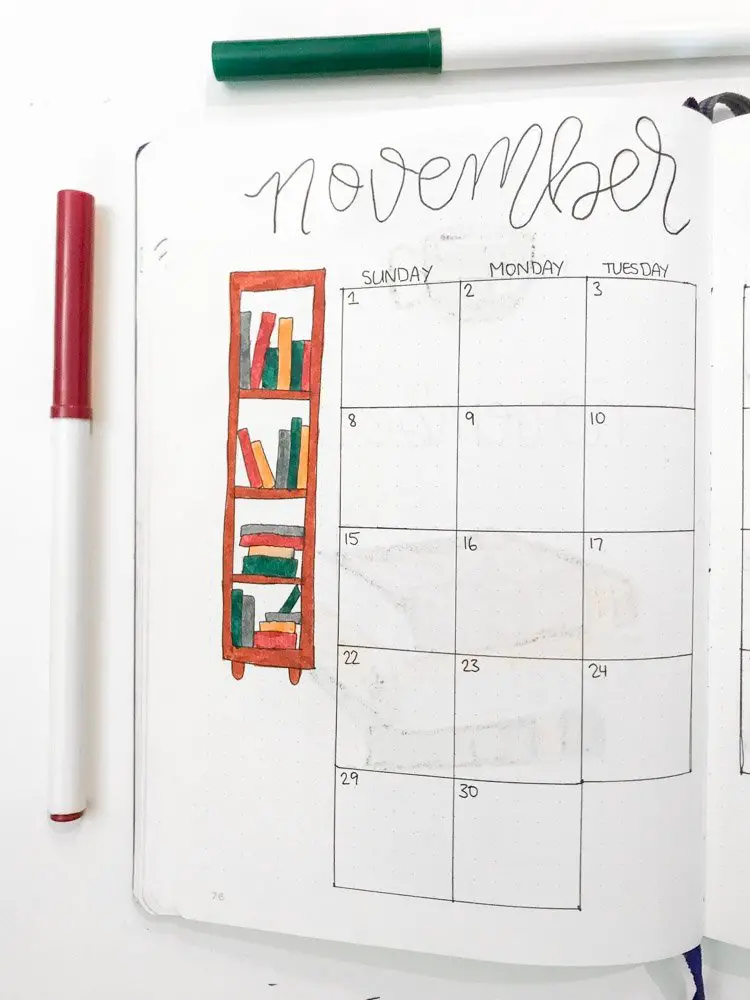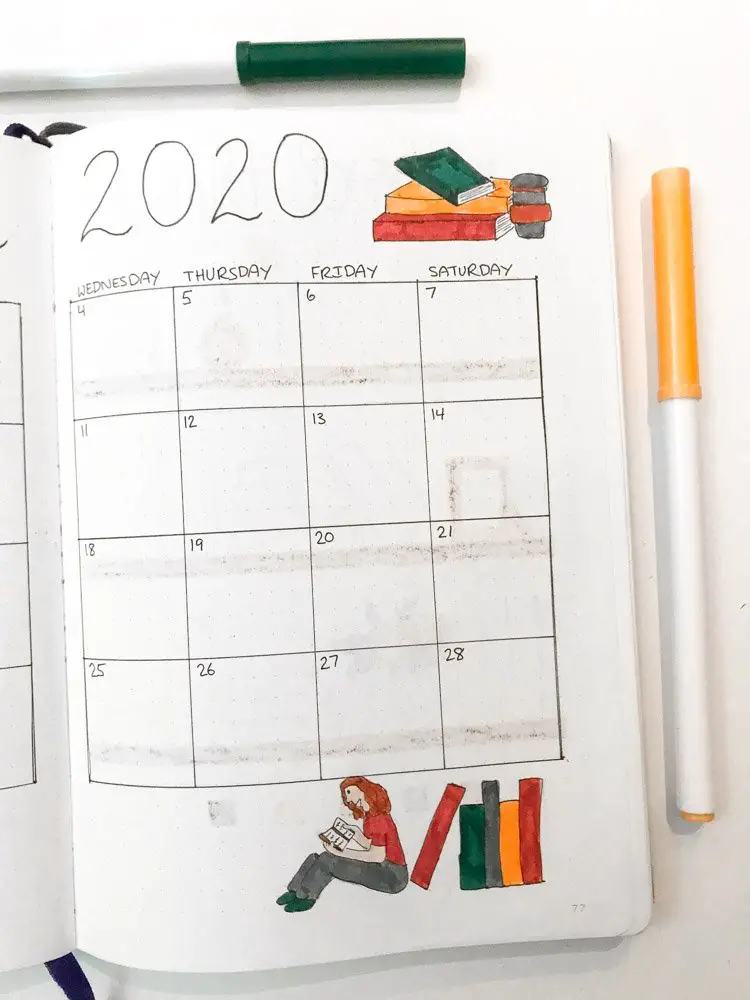 Mood Tracker
For my mood tracker this month, I drew three large shelves and filled them with books. I drew 30 books, one for each day of the month.
Every day, I will colour in one of the books with the colour that corresponds to my mood that day. At the bottom of the page, you will see the key I made, showing which colour is associated with which mood.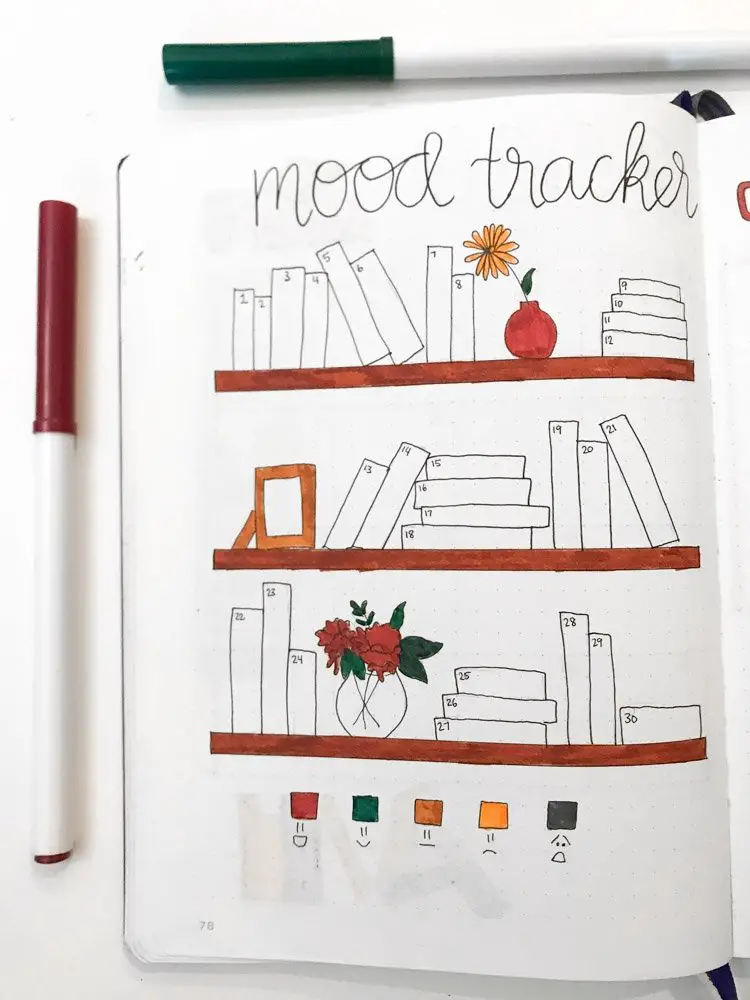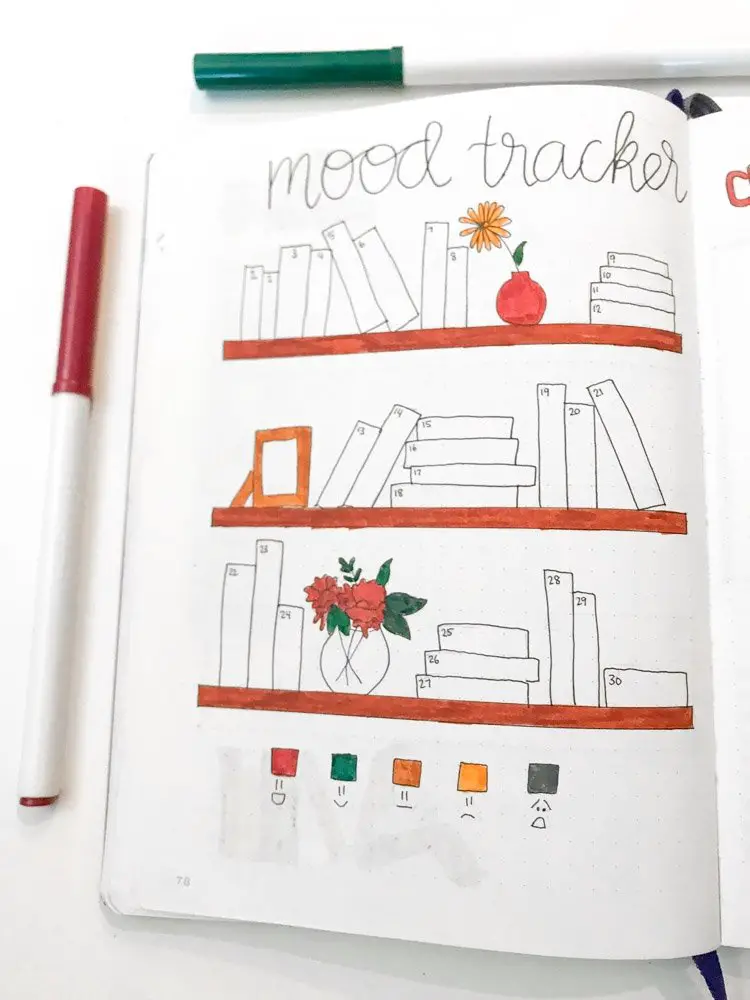 Habit Tracker
This month, I am tracking six habits: working out, eating less than 25 grams of sugar, eating less than 100 grams of carbs, reading, and doing work for Instagram and Pinterest.
I drew outlines of the month for each habit, and every day I complete each habit I will colour in the appropriate square.
I kept the rest of this page pretty simple, with a teacup and a girl reading a book at the top, and a stack of books at the bottom.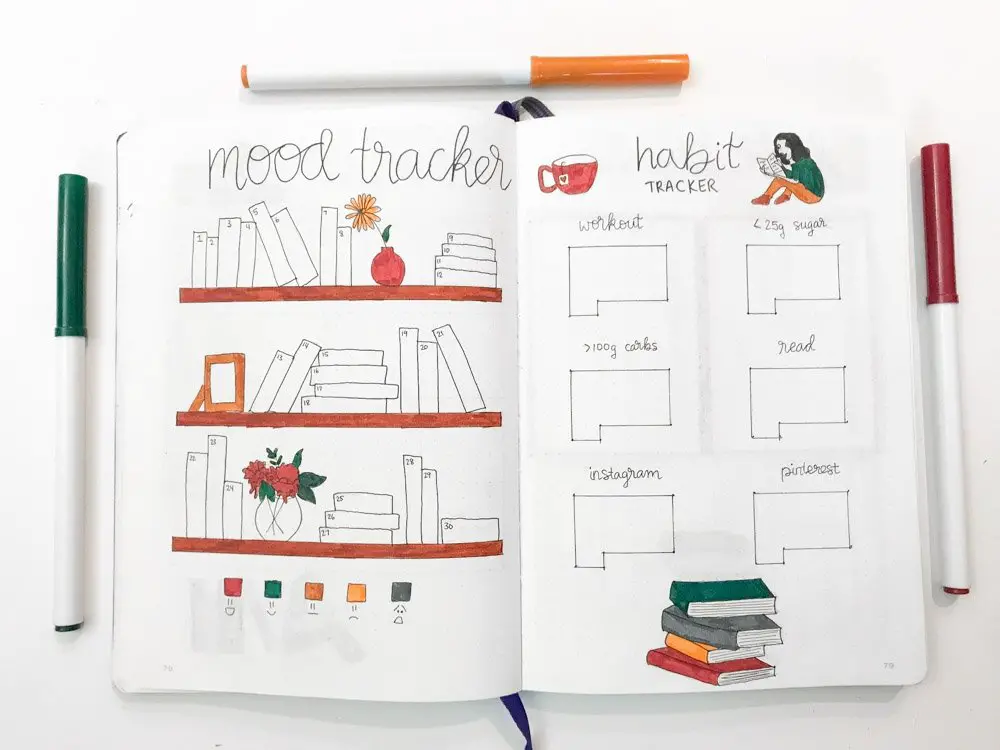 Highlights of the Day
To make my highlights of the day page fit with the reading theme, I drew a large book in the middle of the page. I wrote out the numbers 1 to 15 on one side of the book and 16 to 30 on the other side.
Every day, I will write down a highlight of my day. I have said this many times before, but this is one of my favourite things to do. Sometimes when I am having a bad day, it can be easy to think nothing good happened that day. However, there is ALWAYS something to be grateful for, some piece of goodness.
Whether it was a TV show that made me laugh, or getting to go for a walk with a friend, anything goes when it comes to this page.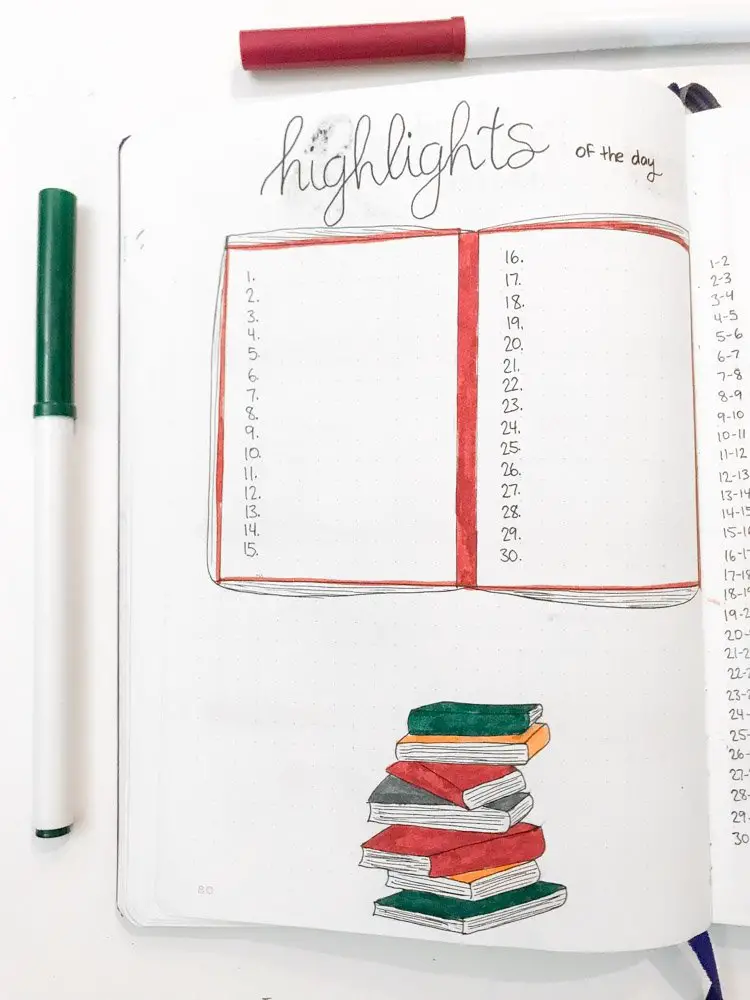 Sleep Tracker
If you have seen my previous sleep tracker spreads, you will know I keep it the same every month. This month I decided to try something a little different.
Normally I write the hours of the night across the top of the page, from 10pm to 9am. However, this month I wrote 10pm to 9 am for every single day of the month. The concept is the same, but it gives the page a much different look.
I have to say, by the time I was halfway done writing all the 10s, I was kind of regretting my decision! I like how it ended up looking, but I don't know if I'd do it again…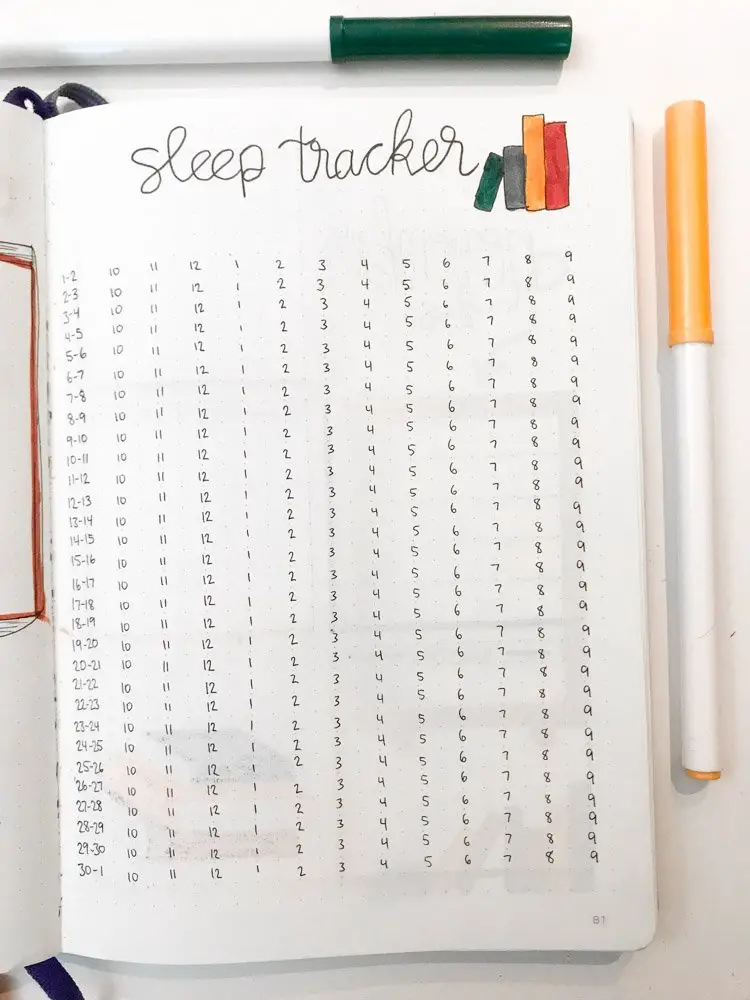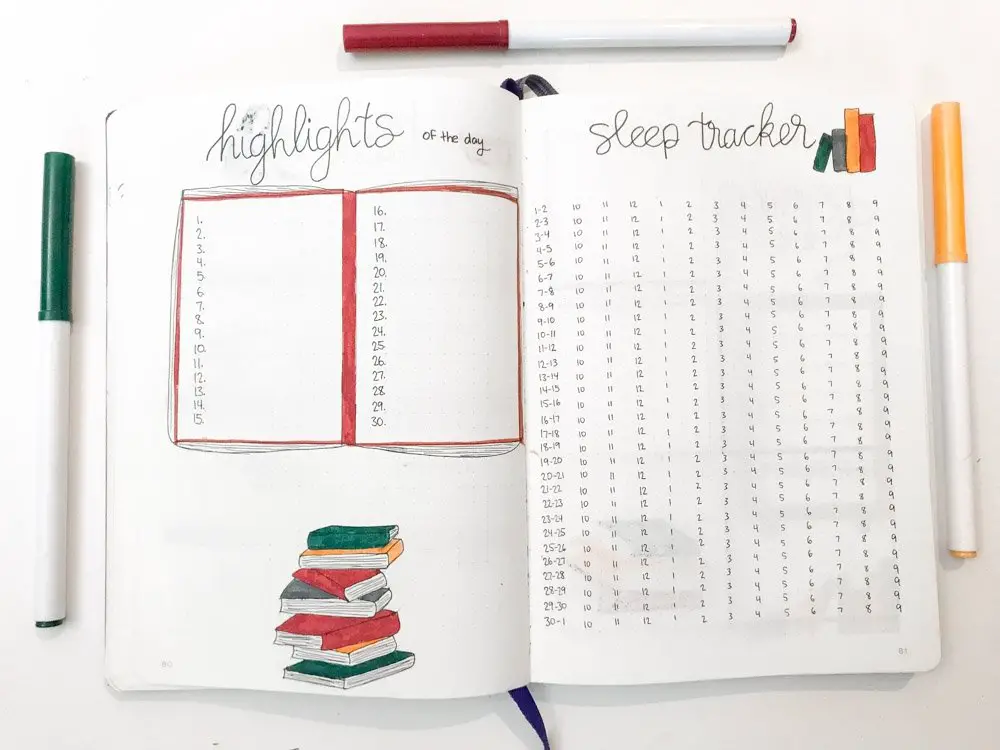 Weekly Spreads
In this month's plan with me video, I only showed my first weekly spread. To see the rest of my weekly layouts this month, be sure to follow me on Instagram. I post a new weekly over there every Monday.
For this weekly spread, I drew seven squares, one for every day of the week. I also added a daily focus section, which is new for me. In this space, I am going to try writing a topic I want to focus on every day. Sometimes I spend so much time working on certain things that I forget about others. I'm hoping this might help me direct my focus.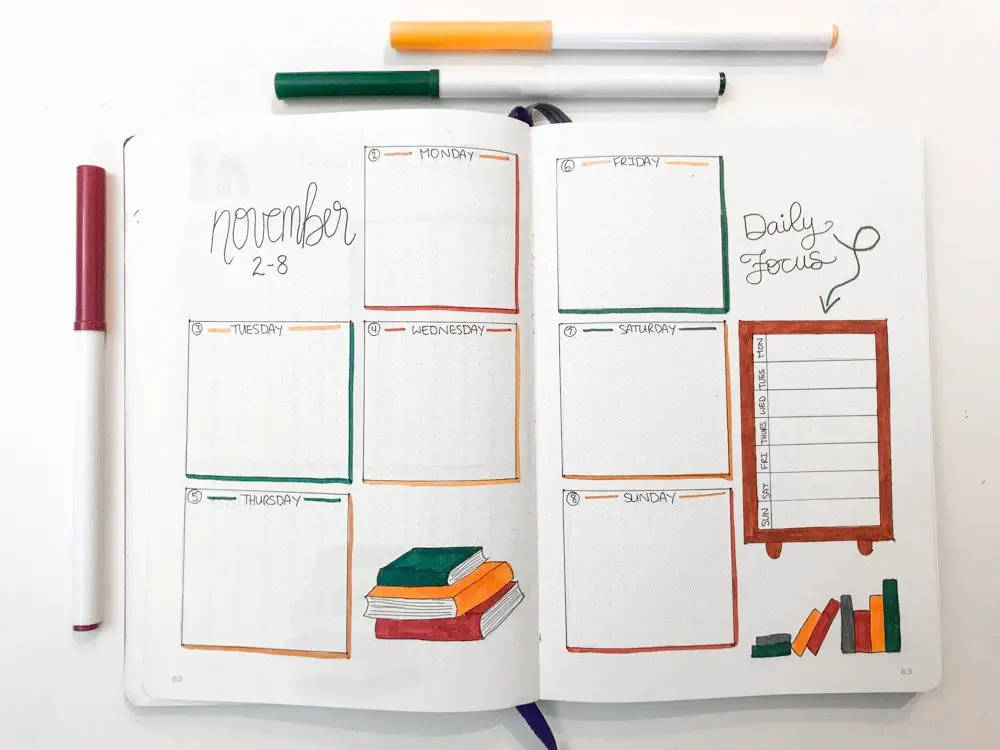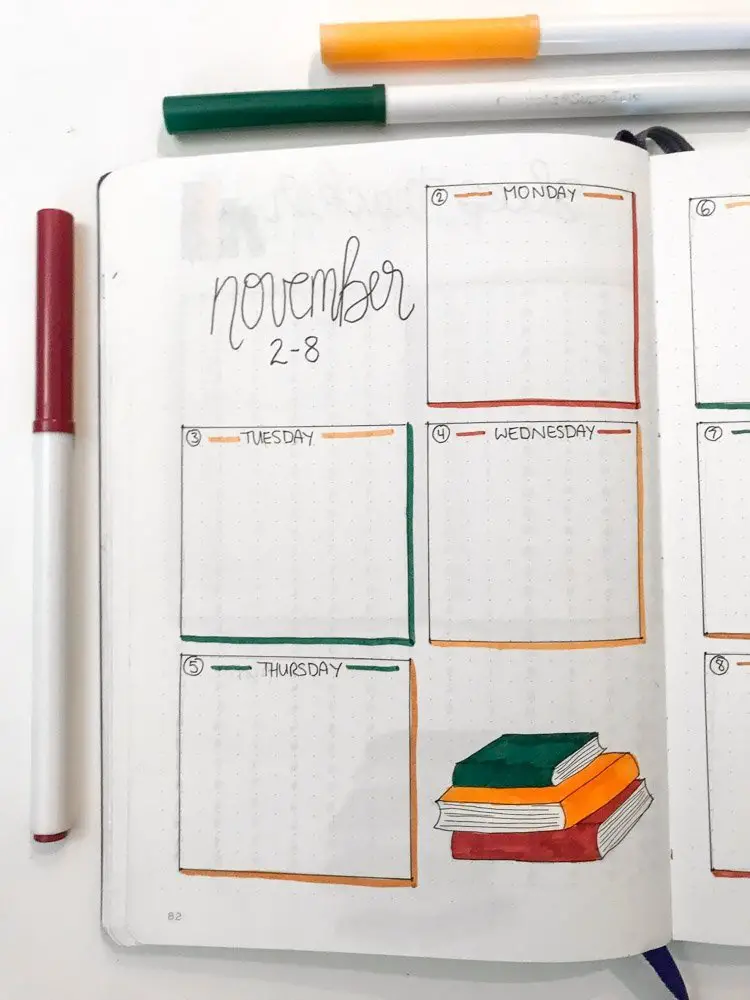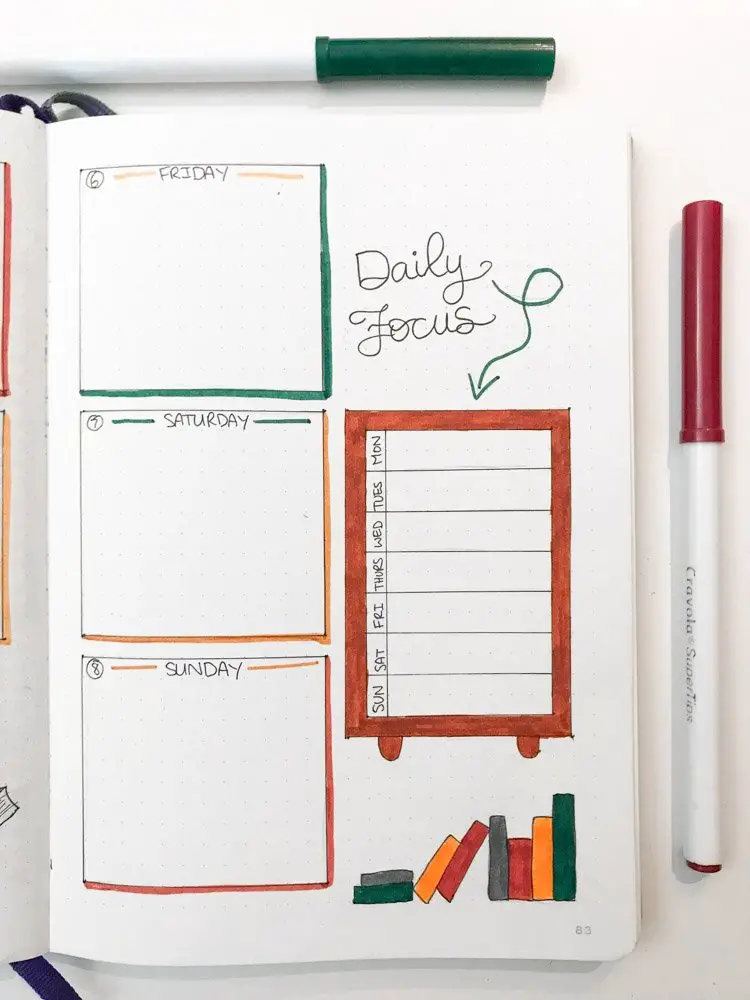 Thank you for reading this book-themed November bullet journal setup! Don't forget to check out my YouTube channel and subscribe so you don't miss out on videos twice a week!
In need of some more bullet journal inspiration? Check out these posts:
October Bullet Journal Setup: Fall Theme
September Bullet Journal Setup: Honeybee Theme
August Bullet Journal Setup: Summer Fruit Theme
July Bullet Journal Setup: Ice Cream Theme
How to Set Up a Minimalist Bullet Journal for Beginners
Follow Me!
Instagram | Pinterest | Twitter | Facebook | TikTok | YouTube
xo,
Andrea