Thank you so much for all the love on my 2021 bullet journal setup! Those posts are always the most popular, because people are often looking for beginner's posts on how to start a bullet journal. If you have recently set up a new bullet journal, this post is the next step! Today, I will be sharing how I set up my bullet journal for January. However, no matter when you are reading this, you can use this layout as inspiration for any month of the year. My theme for January is Polaroid cameras. Keep reading for my January bullet journal setup, and to watch a video on how I created this month's spread.
January Bullet Journal Setup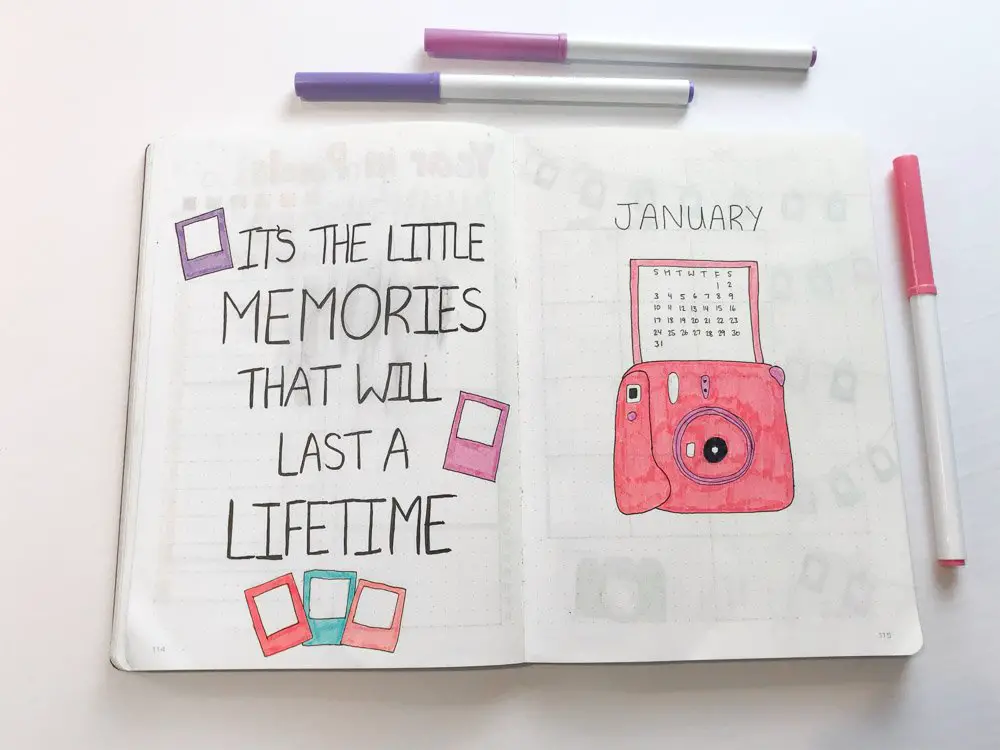 Some of the links below are affiliate links. If you choose to make a purchase, I may receive a small commission, at no extra cost to you. Thank you for your support!
Watch the Video
Check out my January bullet journal setup below, and be sure to subscribe to my YouTube channel!
Bullet Journal Supplies
Quote Page
It's the little memories that will last a lifetime.
My theme this month is Polaroid cameras, and I thought this quote was so cute. I took up most of the page with the quote, then filled the rest with a few Polaroid pictures.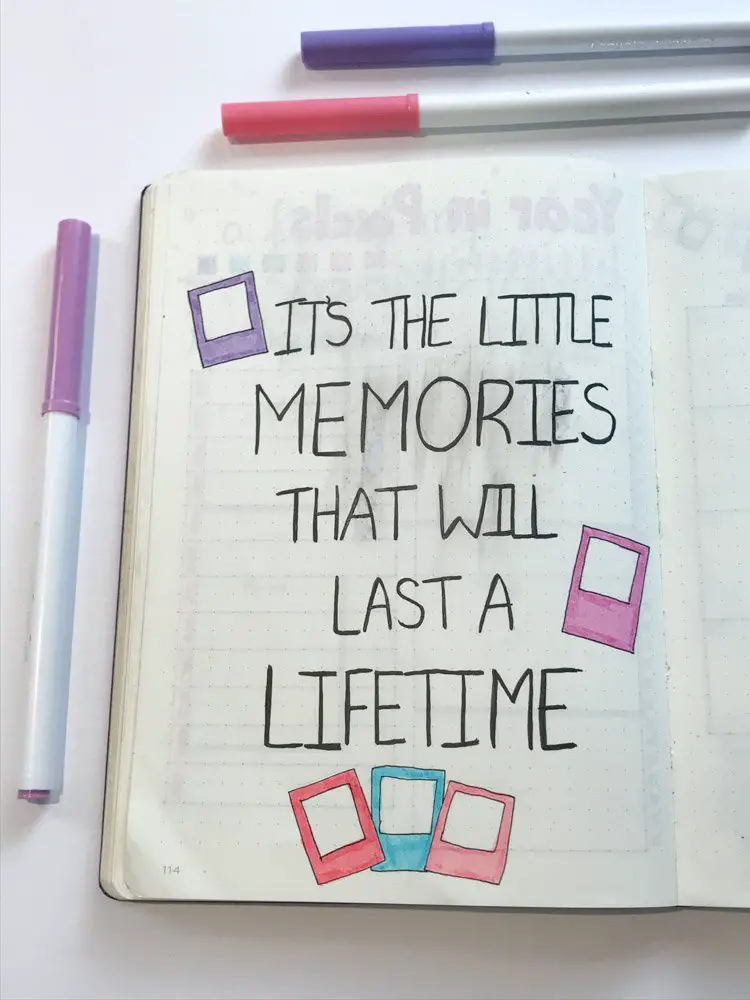 Cover Page
For my January cover page, I drew a Polaroid camera with a Polaroid photo coming out from the top of it. I also wrote out a mini calendar on the photo.
My colour scheme this month is pink, purple and blue. These are not very "January" colours, but I wanted something totally different that did not remind me of January at all. January can be such a dreary month, so I wanted colours that would bring a little more cheer to my days.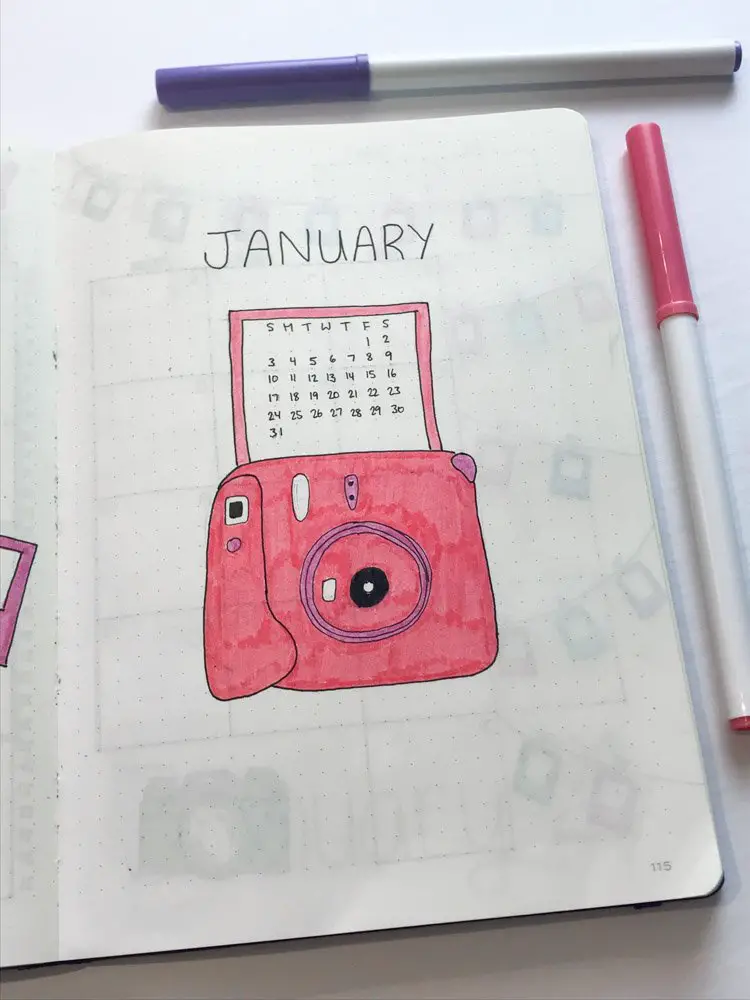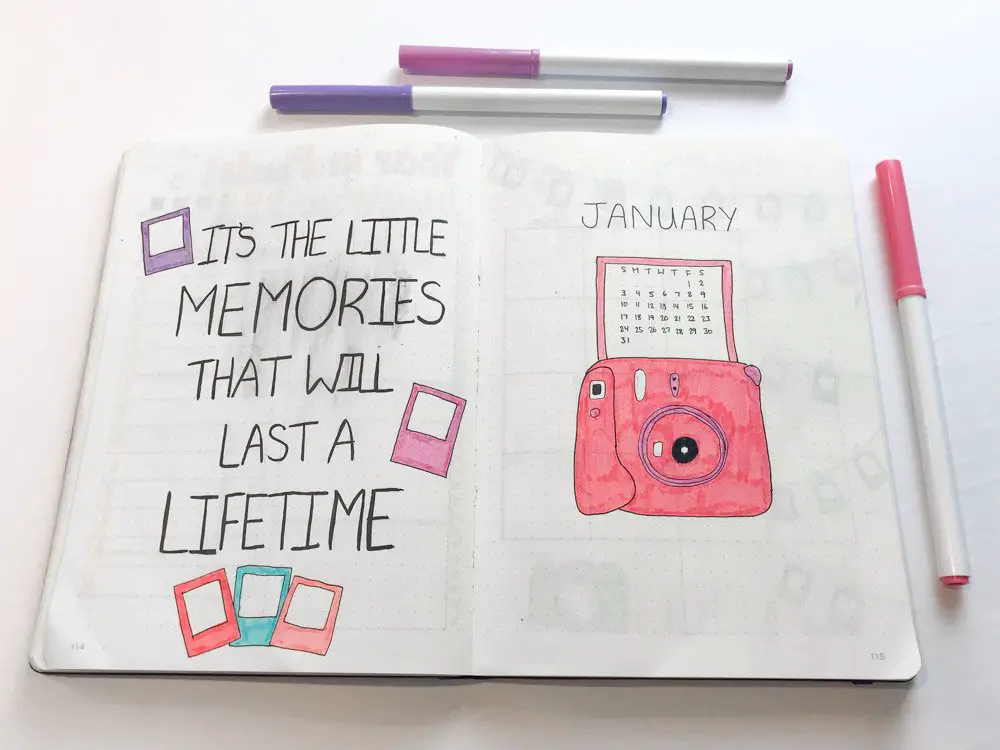 Monthly Calendar
I created a two-page spread for my January calendar, and decorated the page with hanging Polaroid photos. I also wrote January '21 at the bottom of the spread, along with a doodle of a camera.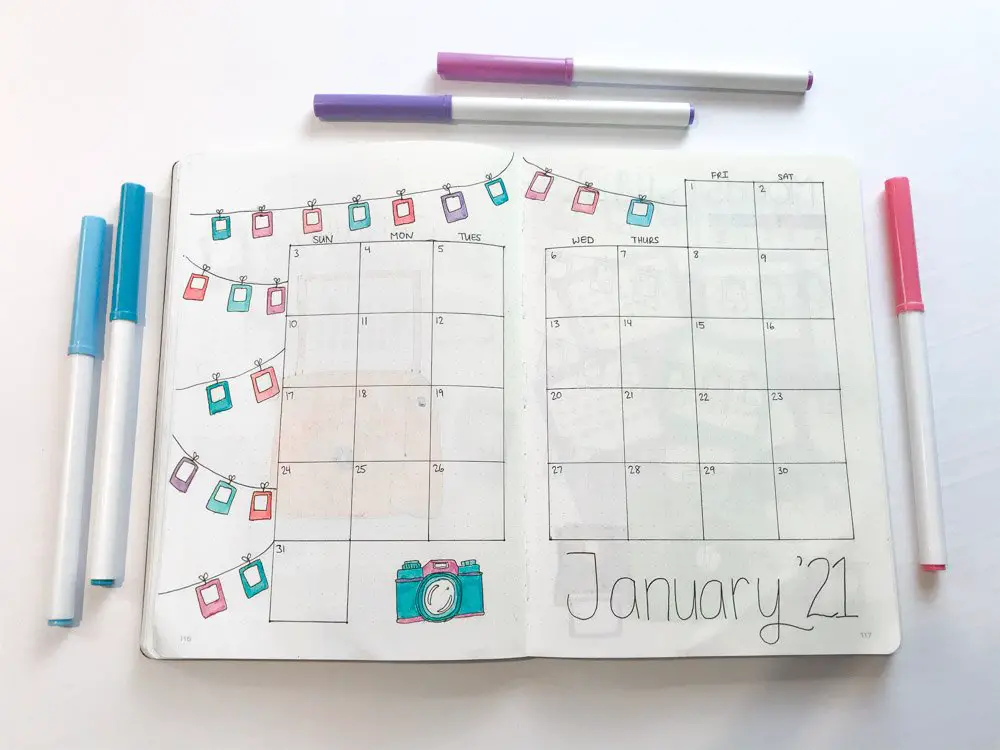 Mood Tracker
One of my favourite spreads to make every month is a good mood tracker. To go with my Polaroid theme this month, I drew 31 Polaroid photos on string to represent each day of the month.  I created a key at the top of the page with five moods, and each day I will colour in a Polaroid photo with the mood that corresponds with that day.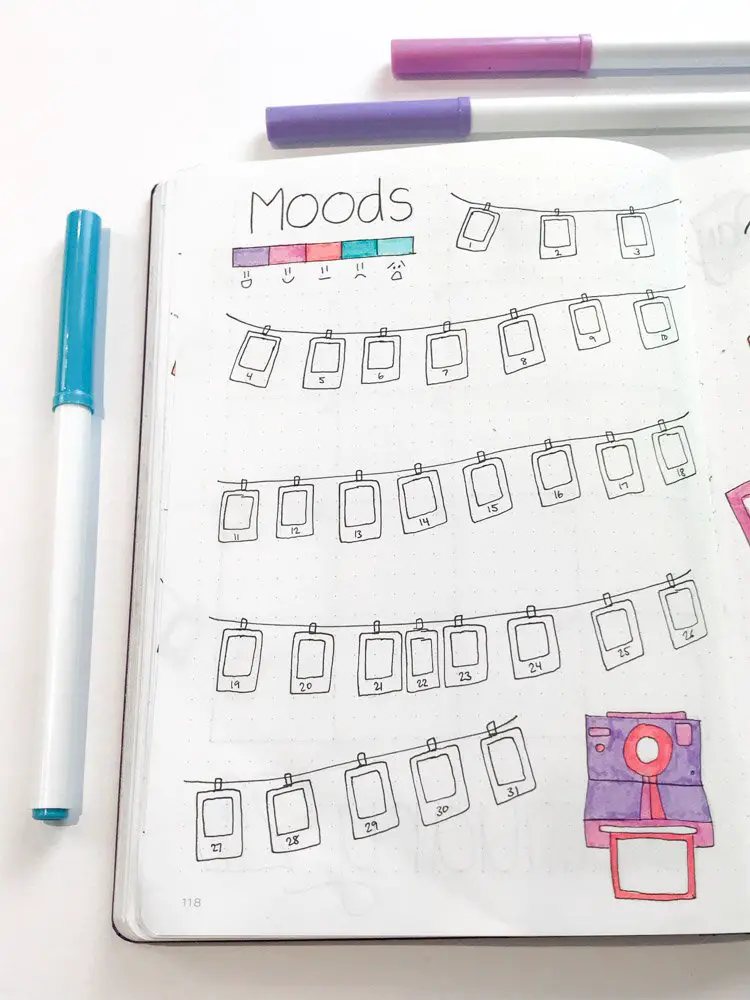 Habit Tracker
This month I am tracking four habits: going outside, Pinterest, physio exercises and working out. You'll see in the photo below I wrote eating less than 25 grams of sugar a day as one of my habits, but I have since replaced that with doing my daily physio exercises.
Going outside is a new habit for me this month, because as someone who works from home, I can easily stay inside and not leave my house for days. I definitely want to be getting out as much as I can, whether it's going for a walk, or going to a store, anything to get out of the house.
I have also included Pinterest as a habit, because I want to make sure I am consistent in creating content for Pinterest. Pinterest is a huge driver of traffic to my blog and my YouTube channel. It is a lot of work to create new pins and promote them, but it is so worth it!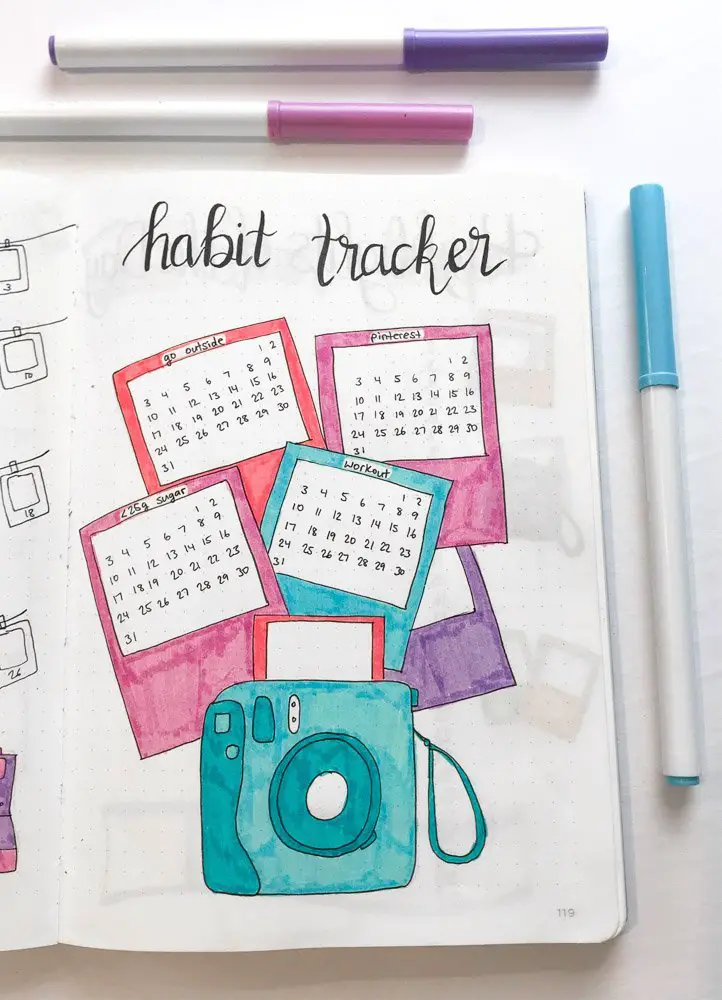 Highlights of the Day/Brain Dump Pages
Last month I did not include a highlights of the day page, and I have to say, I regretted it. These pages are always so much fun to look back on as a way to remember all the little things that happened throughout the month.
I also created a brain dump page this month, which serves as a monthly to-do list, and also a place to jot down ideas.
I forgot to take photos of these pages before I started writing on them, so you'll have to check out my January plan with me video to see how they turned out!
Weekly Layouts
This month I created four weekly layouts. Each of my weekly layouts for January are one-page spreads. I incorporated the Polaroid theme into each page differently, which was a fun challenge. Sometimes I added little doodles to the corners of the pages, and one week I made each day of the week into a Polaroid photo.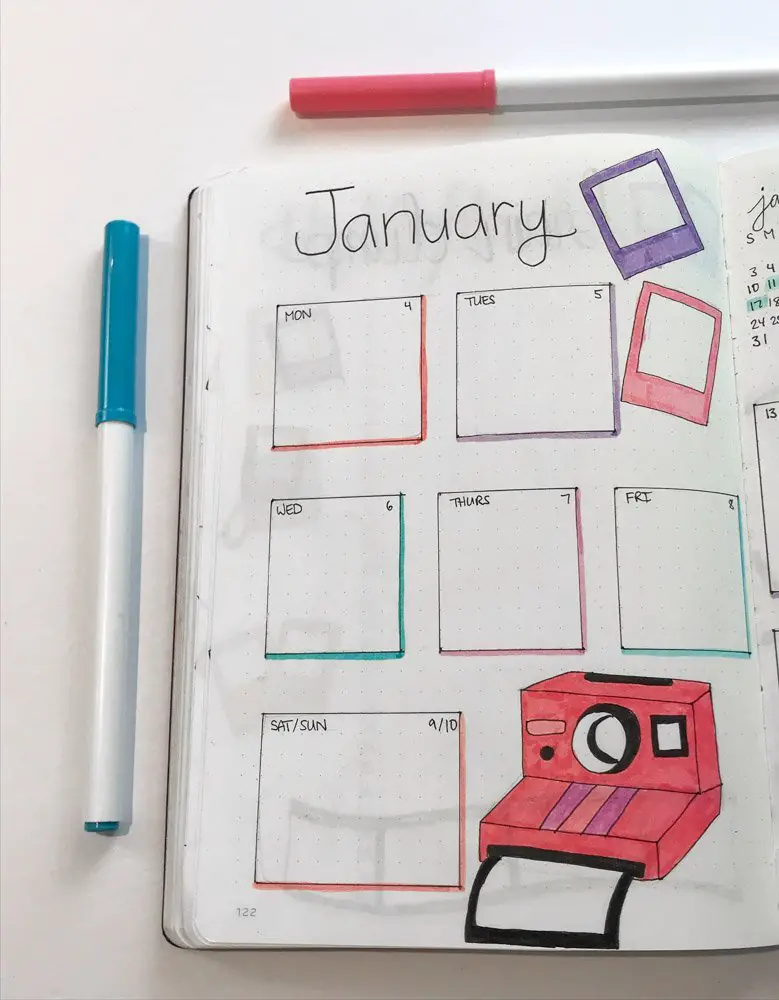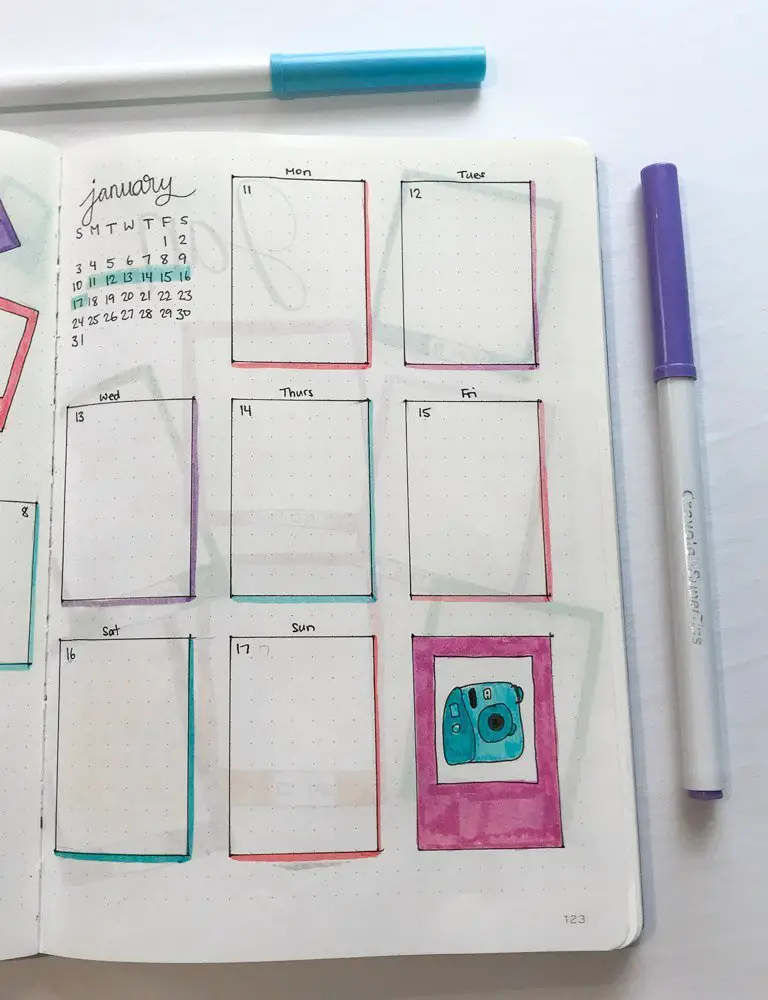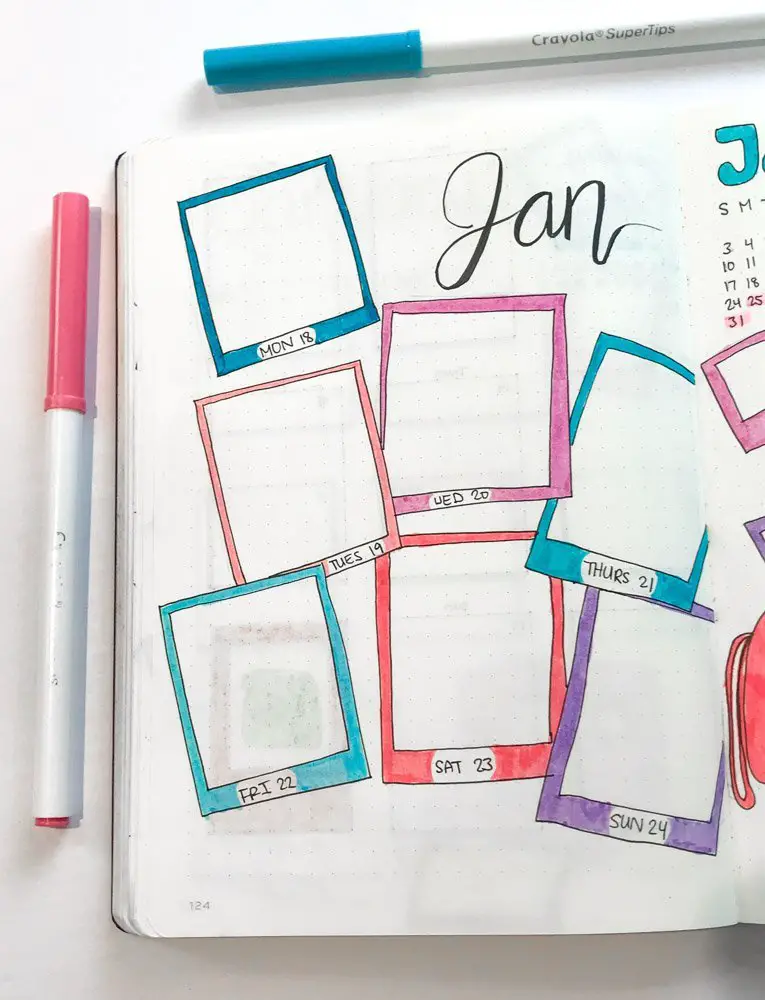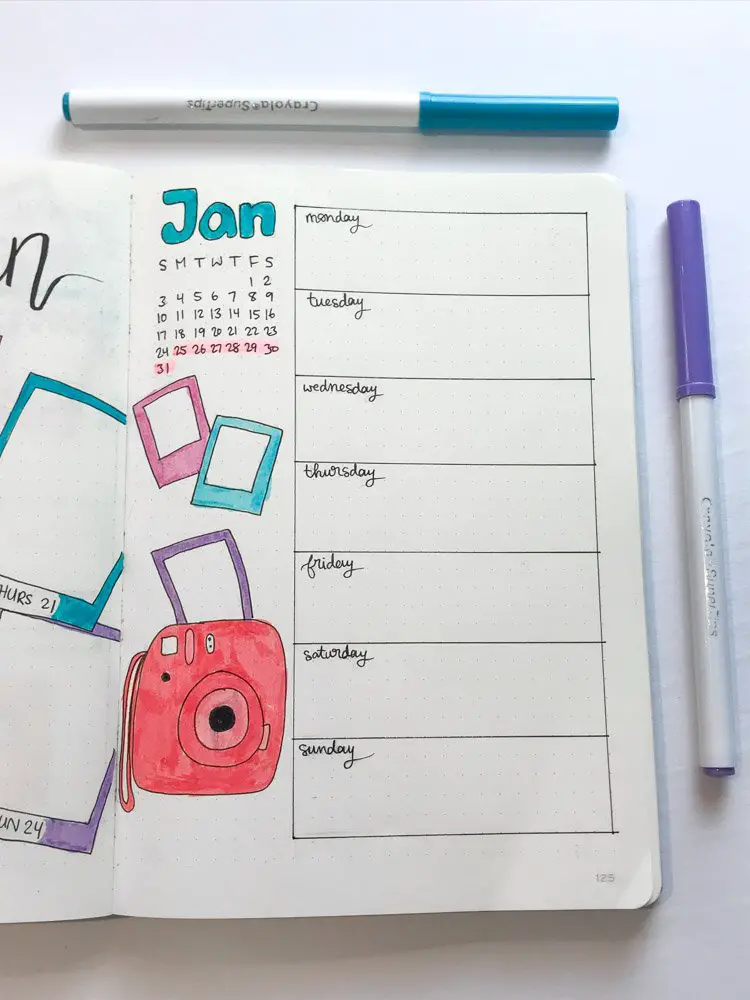 Thank you for reading this Polaroid camera-themed January bullet journal setup! Don't forget to check out my YouTube channel and subscribe!
In need of some more bullet journal inspiration? Check out these posts:
How I Set Up My Bullet Journal for 2021
December Bullet Journal Setup: Christmas Theme
November Bullet Journal Setup: Reading Theme
October Bullet Journal Setup: Fall Theme
September Bullet Journal Setup: Honeybee Theme
How to Set Up a Minimalist Bullet Journal for Beginners
Follow Me!
Instagram | Pinterest | Twitter | Facebook | TikTok | YouTube
xo,
Andrea