I can't believe March is already over! This post is very late, but I thought it was still worth it to post now since a daisy theme could work for anytime in the spring or summer. I also decided to stop posting plan with me videos on my YouTube channel since I have been focusing more on DIY videos lately. However, if you follow me on Instagram, then you will have already seen all of these pages! I love how this theme turned out, and it may be the easiest one I've ever done. Keep reading to check out my daisy theme bullet journal setup for March 2021.
March 2021 Bullet Journal Setup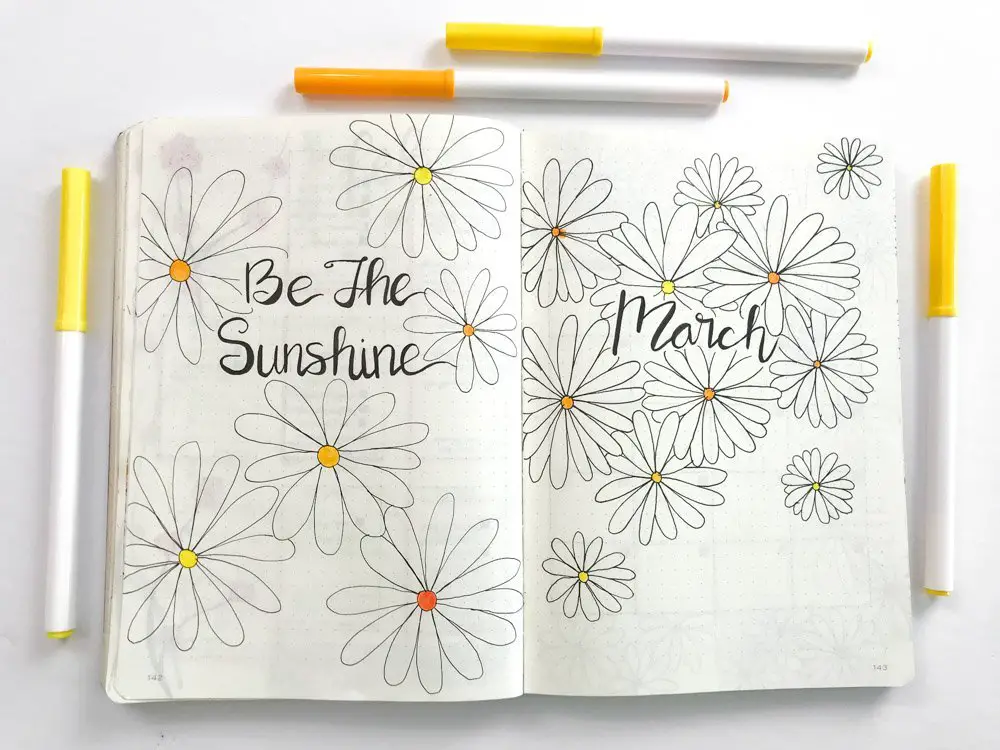 Some of the links below are affiliate links. If you choose to make a purchase, I may receive a small commission, at no extra cost to you. Thank you for your support!
Bullet Journal Supplies
Quote Page
Be the sunshine.
My favourite part about spring is when the sun comes out and all the flowers start blooming. I live in Vancouver, so we really don't get much winter. We even had flowers start blooming in January! However, with March comes longer days, and I have been appreciating the extra sunlight so much! Not every day is going to be sunny and happy though, so I think sometimes we have to be our own sunshine and choose happiness even in hard times.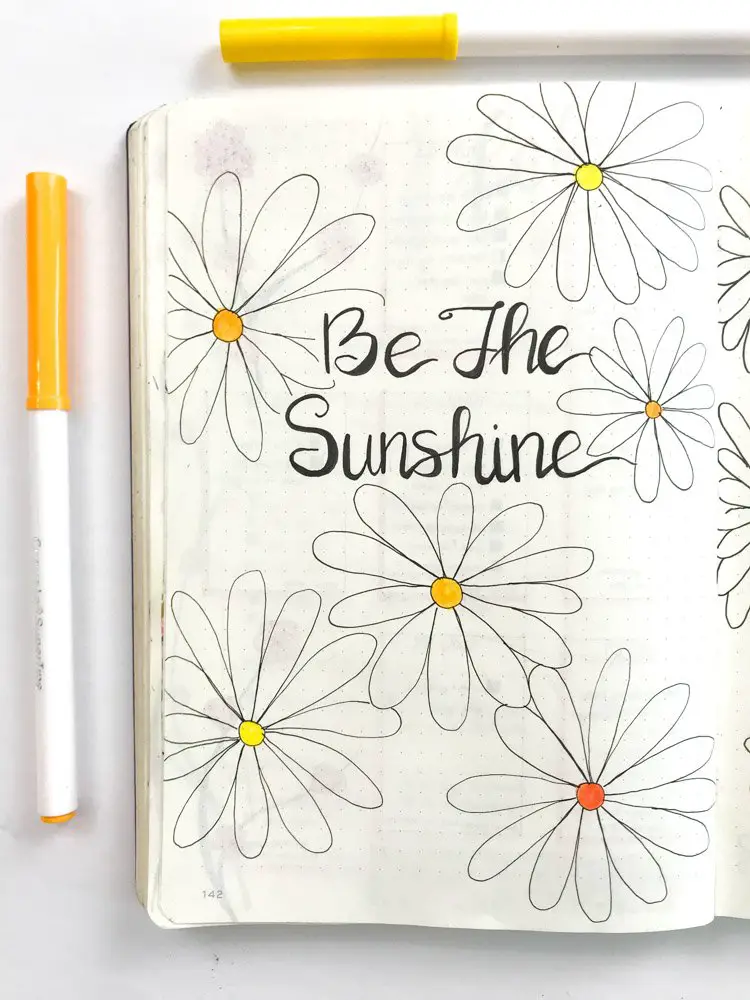 Cover Page
I cannot stress how easy this theme is. All I did was write out the word March in the middle of the page, then I filled the rest of the page with doodles of daisies! And since daisies have white petals (at least the ones I'm drawing this month), all I had to do was colour the centre of the flowers yellow.
I choose a few different yellow and orange markers as my colour scheme for the month and switched it up between the different flowers.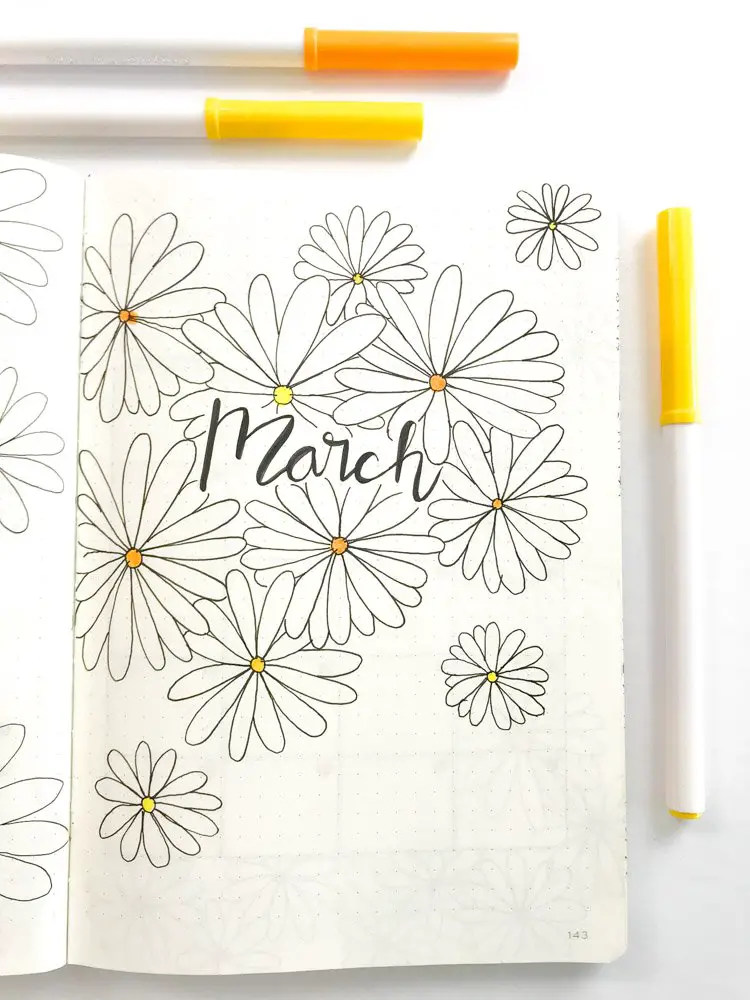 Monthly Calendar
For this month's calendar spread, I split it into two pages, with Sunday to Wednesday on one side and Thursday to Saturday on the other. Each box is six spaces wide by five spaces high.
I filled the edges of the pages with daisies, then I coloured over each date with a yellow or orange dot. I felt like this spread needed a bit more colour, and adding those yellow and orange dots made such a difference!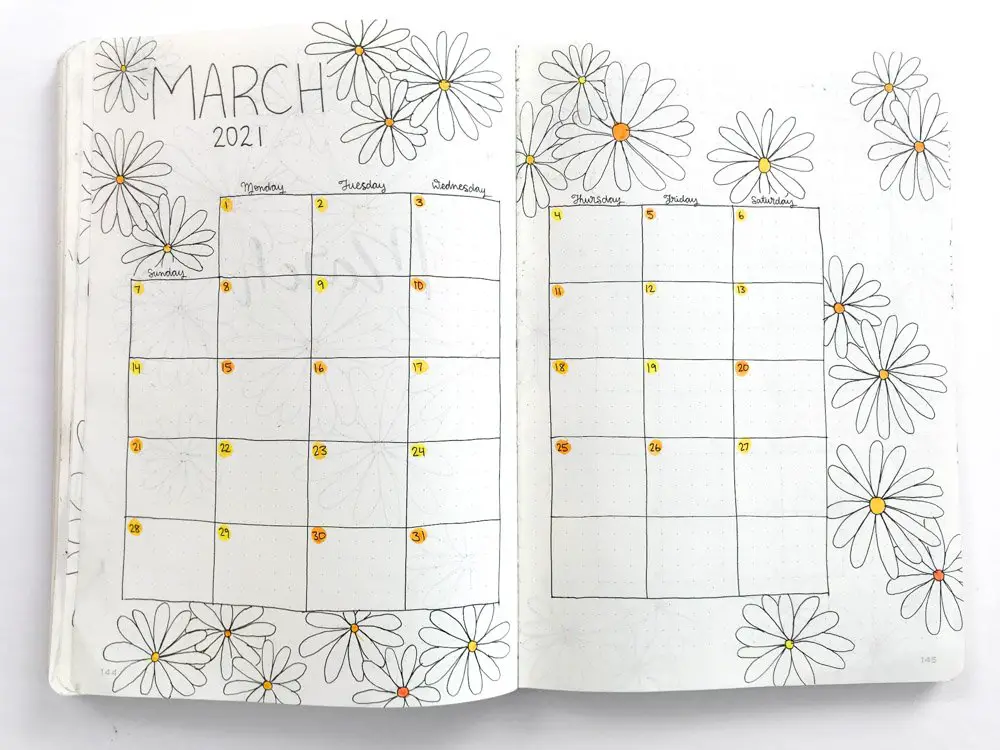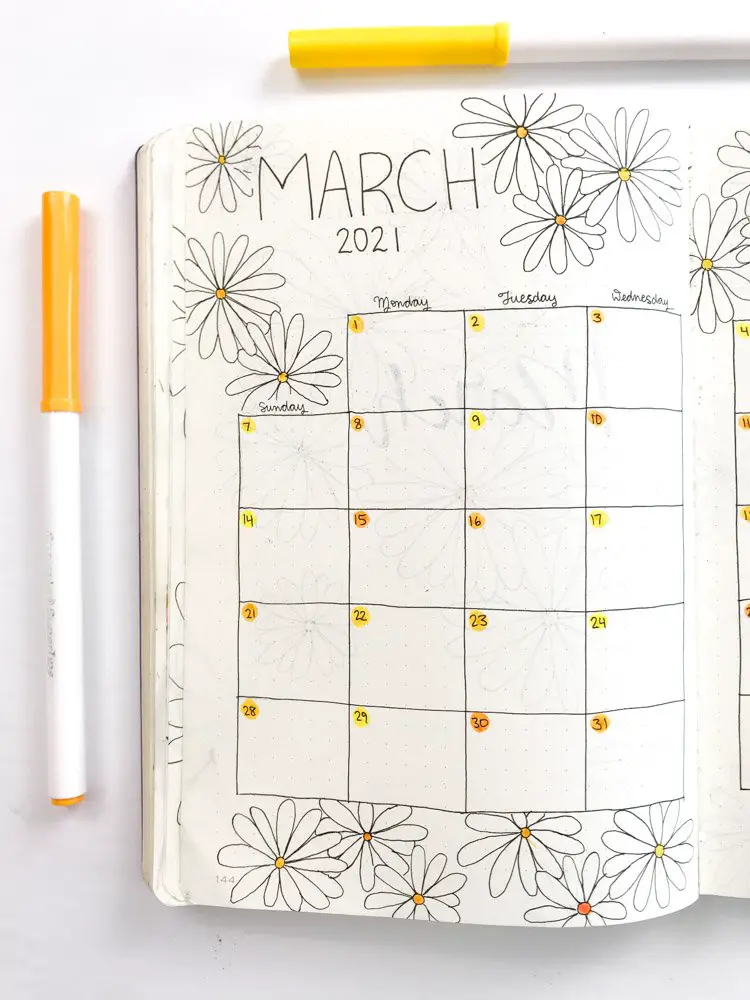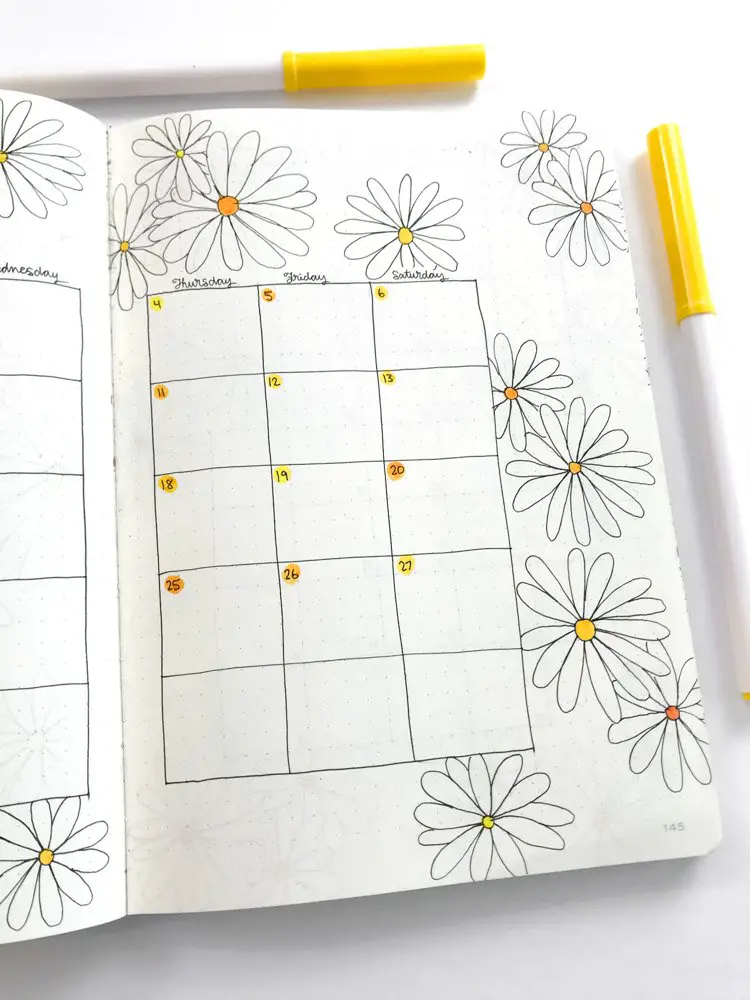 Content Calendar
Every month I draw a separate calendar onto a scrap piece of paper to plan out my Instagram content. This month I thought, why don't I include that in my bullet journal? I didn't need a two-page spread for this, so I fit it all onto one page by turning the calendar sideways.
With my bullet journaling Instagram page, I know exactly which photos I have to post throughout the month. Having a place to write it all down and figure out which photos I'm going to post when really helps.
I sometimes also used this to plan my Instagram content for my DIY page, but that content is not planned as far in advance, so it's not as necessary.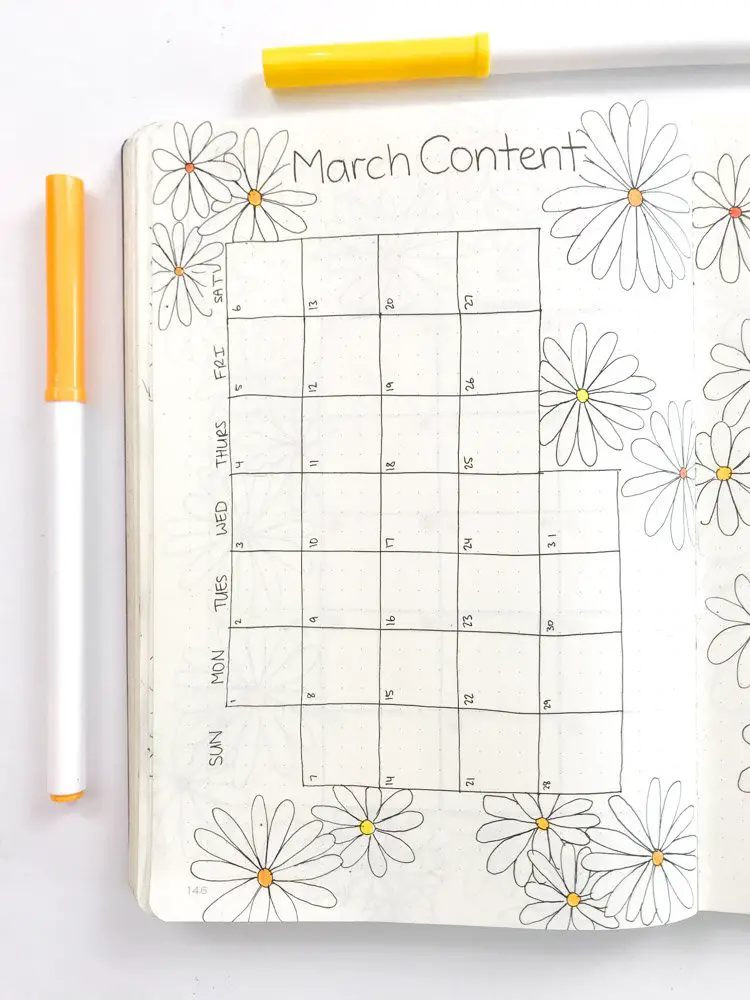 Habit Tracker
I stuck with a pretty basic habit tracker this month by drawing out four mini calendars for each of my habits. This month my habits were: reading, working out, doing my physio exercises and doing 6,000 steps a day.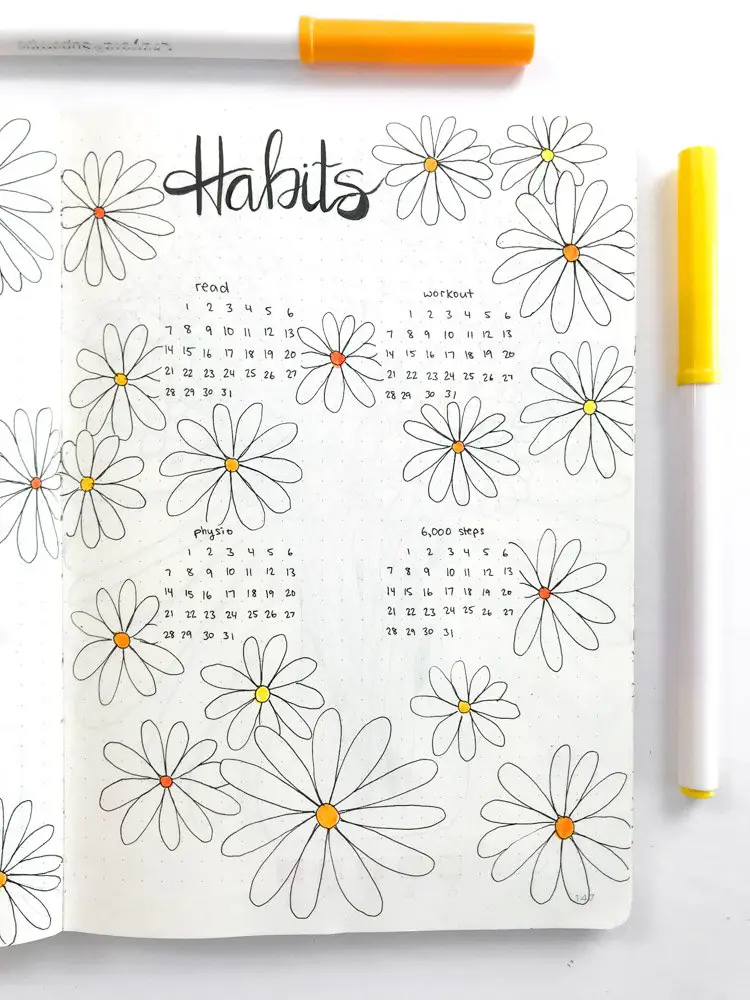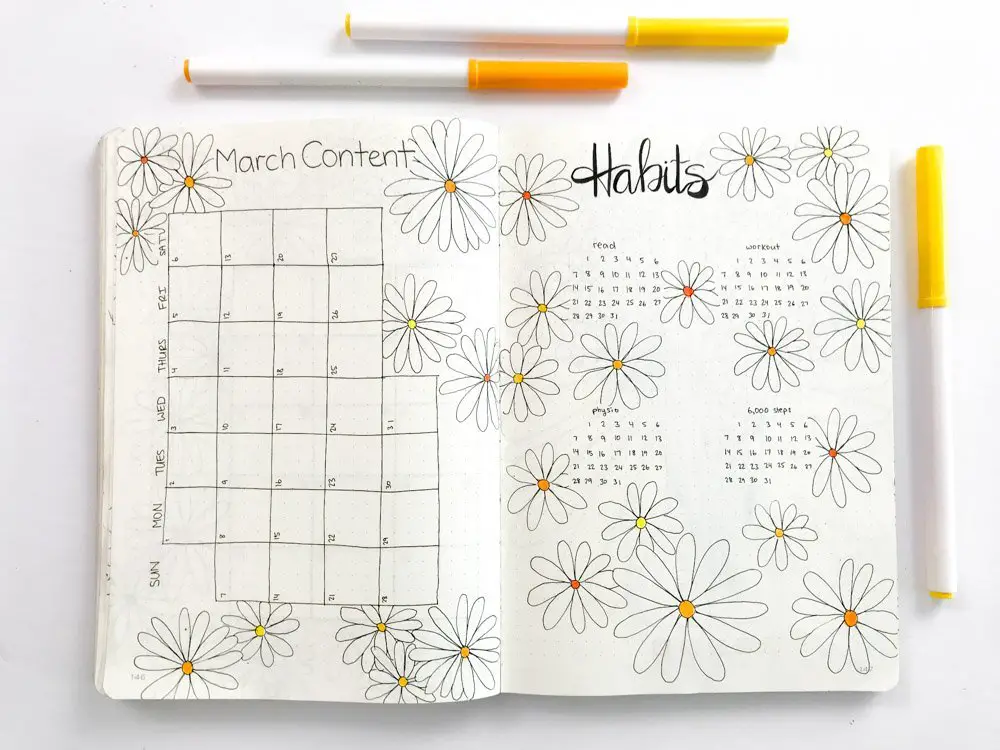 Mood Tracker
For my mood tracker this mont, I drew 31 daisies for each day of the month inside of a vase. Every day, I coloured the centre of the daisy with the colour that corresponded to my mood that day.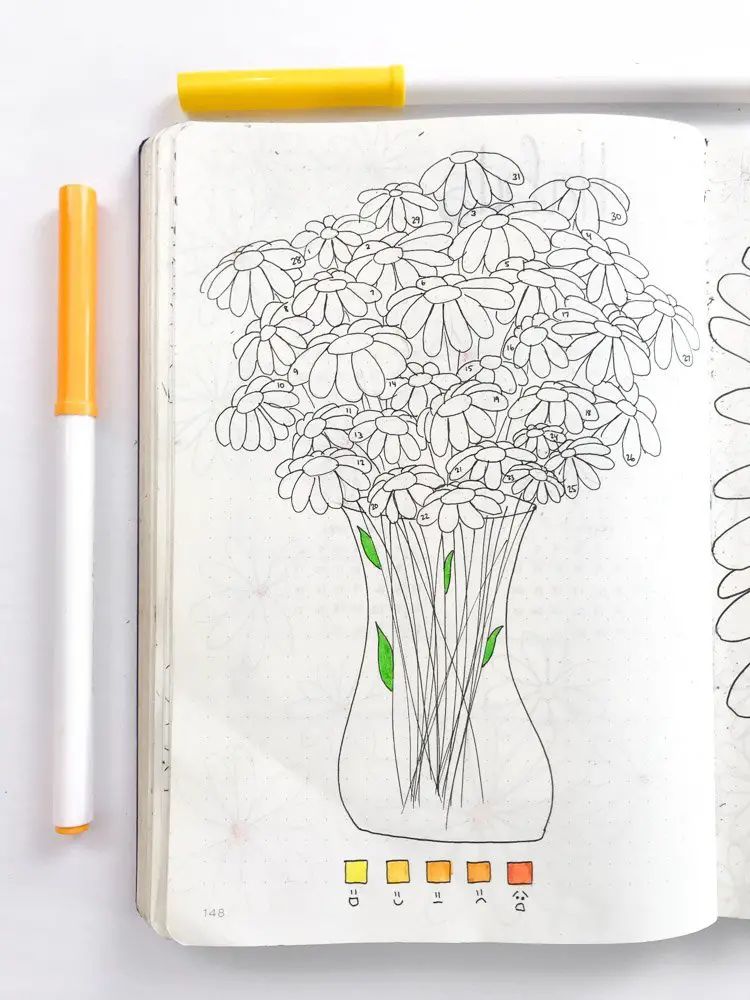 Highlights of the Day
For my highlights of the day page, I drew a large daisy with 31 petals. Every day I wrote out my highlight of the day on one of the petals.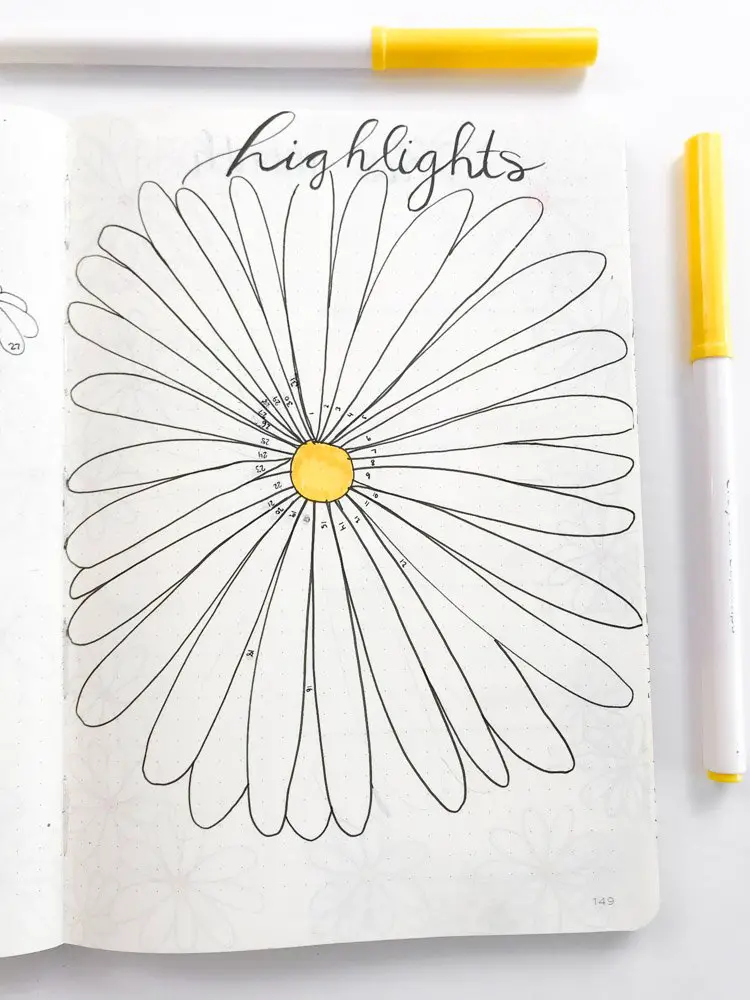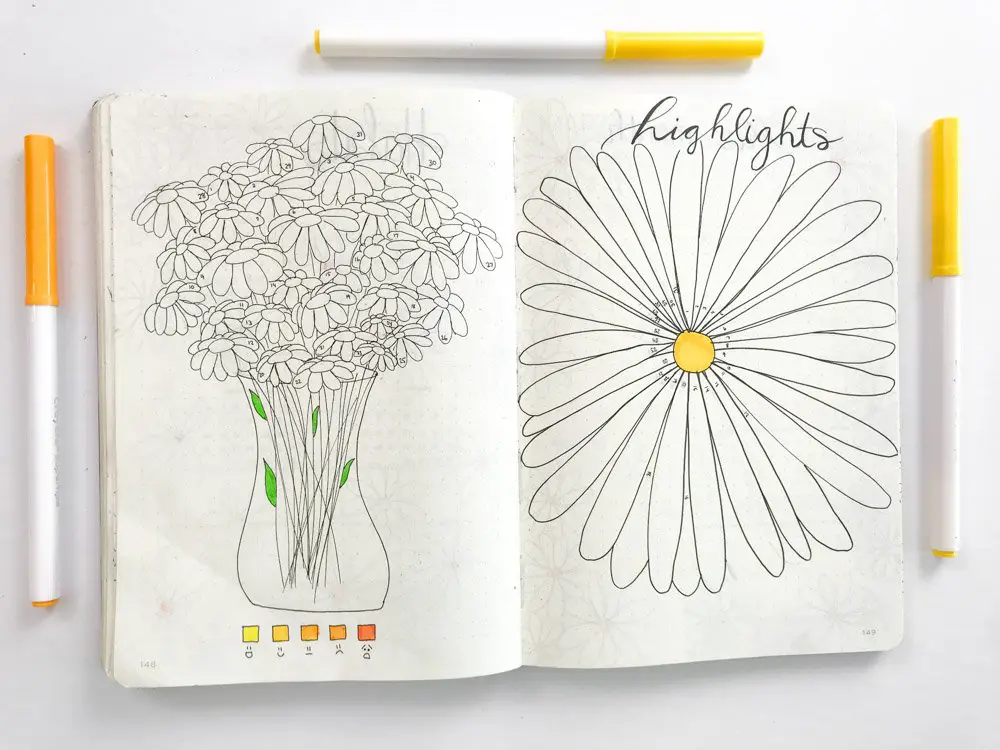 This Month
My "this month" page is similar to a brain dump page, where I wrote out anything happening this month or anything I needed to get done. Later I also added a "next month" section to the bottom of the page, which was super helpful to keep track of events happening in April.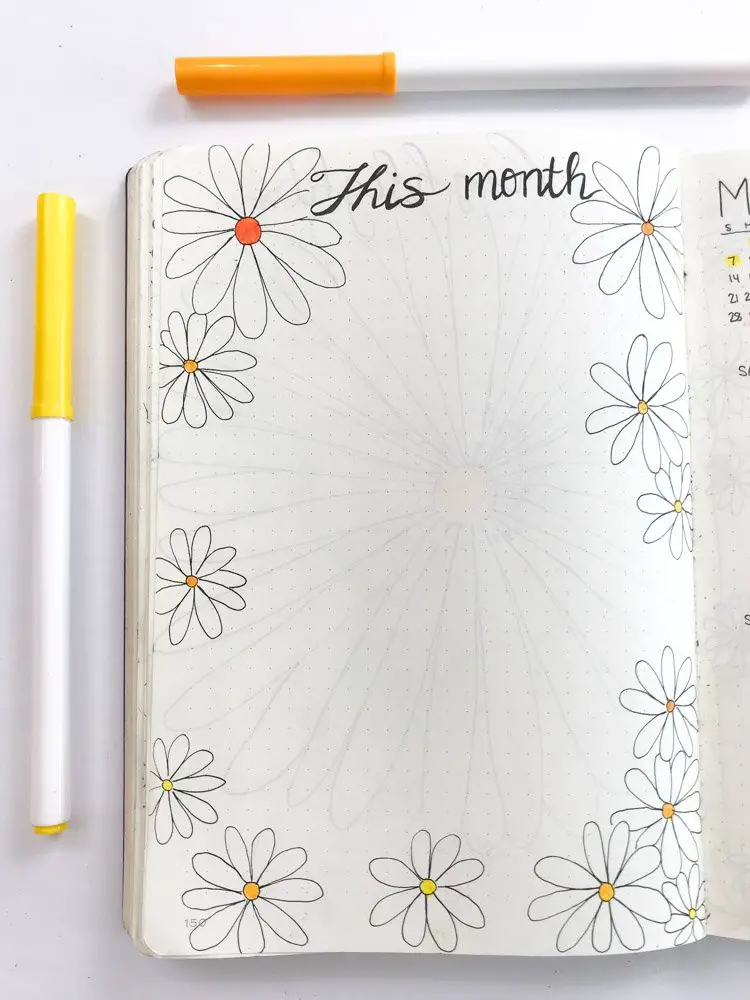 Weekly Spreads
In March, I created five one-page weekly spreads. I made each of them a little different, and I filled all the pages with little daisies.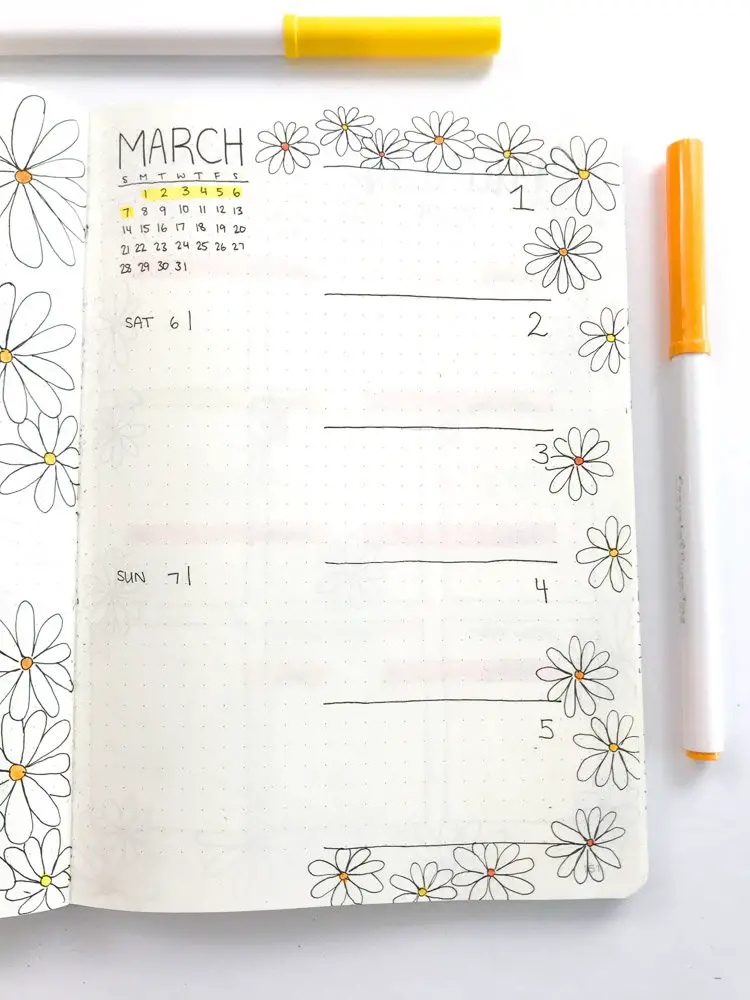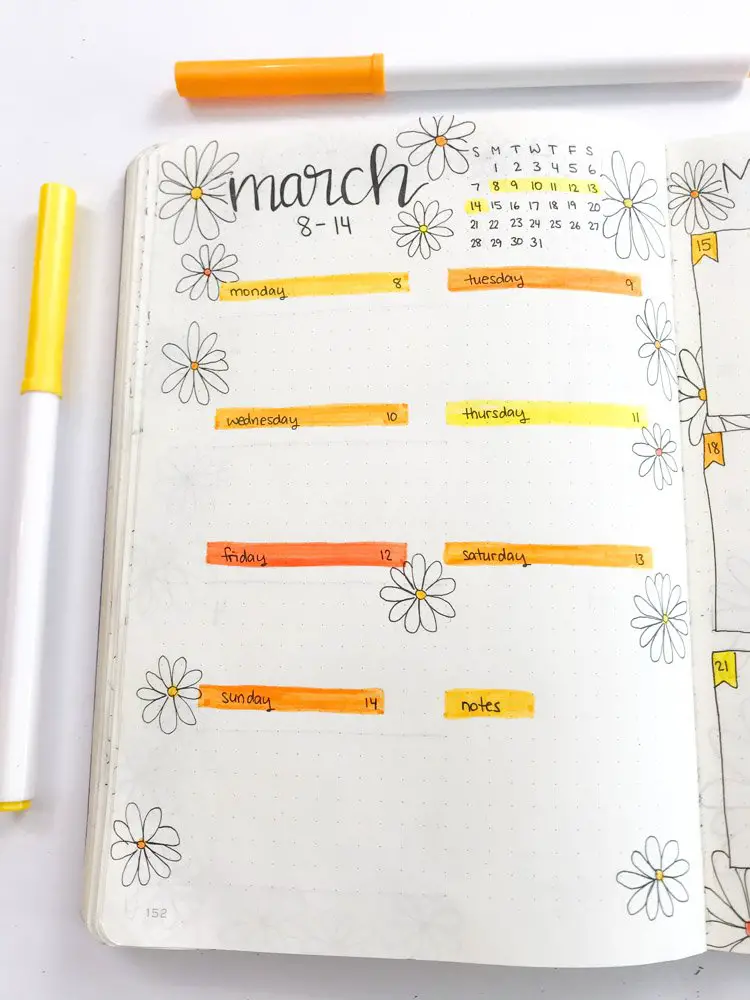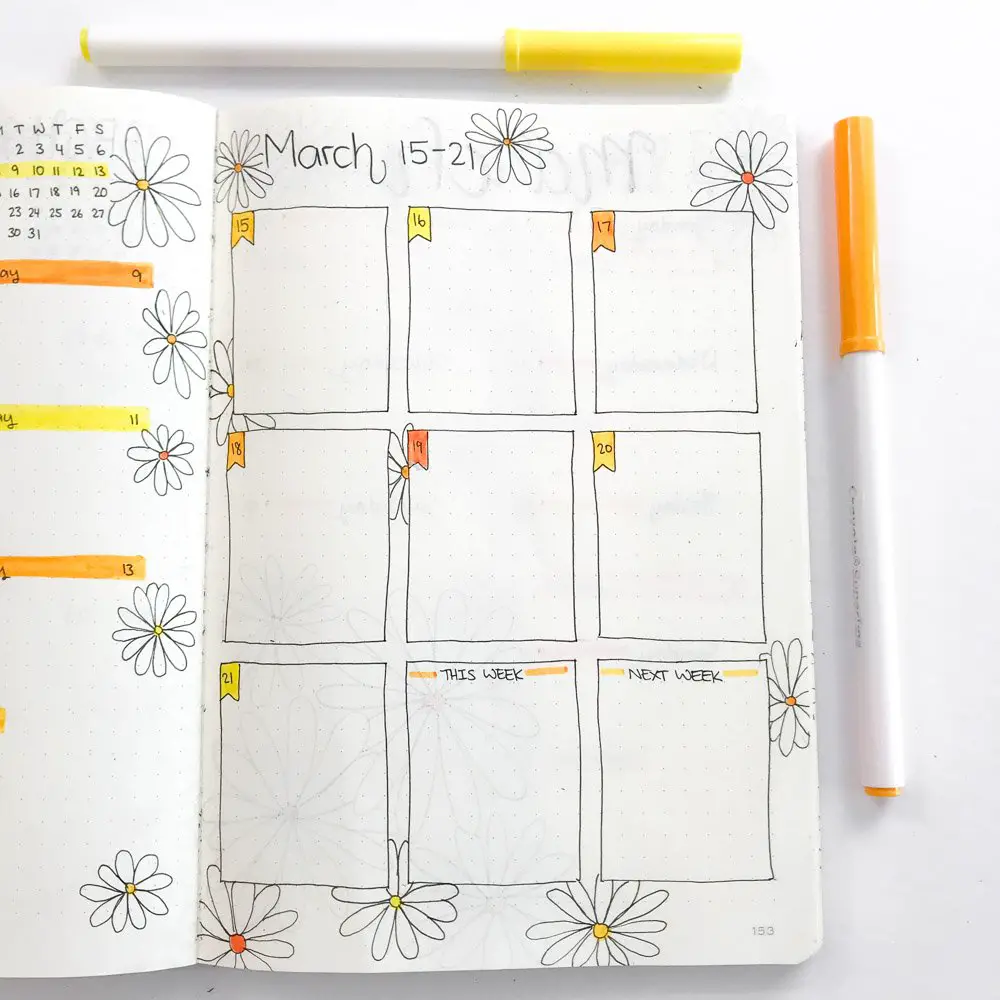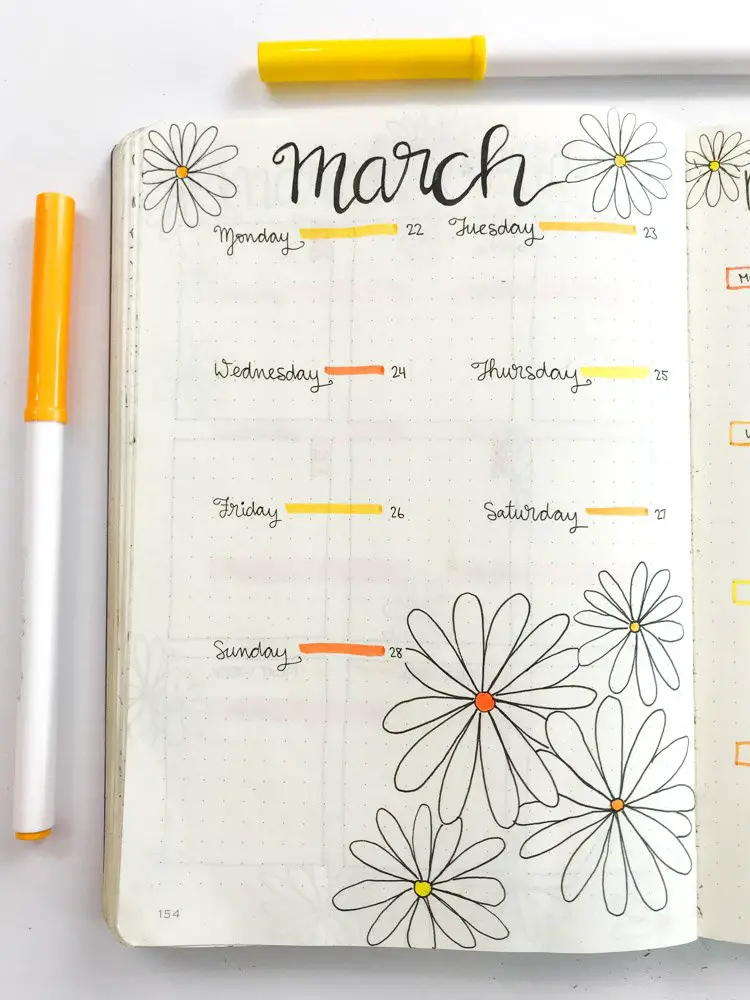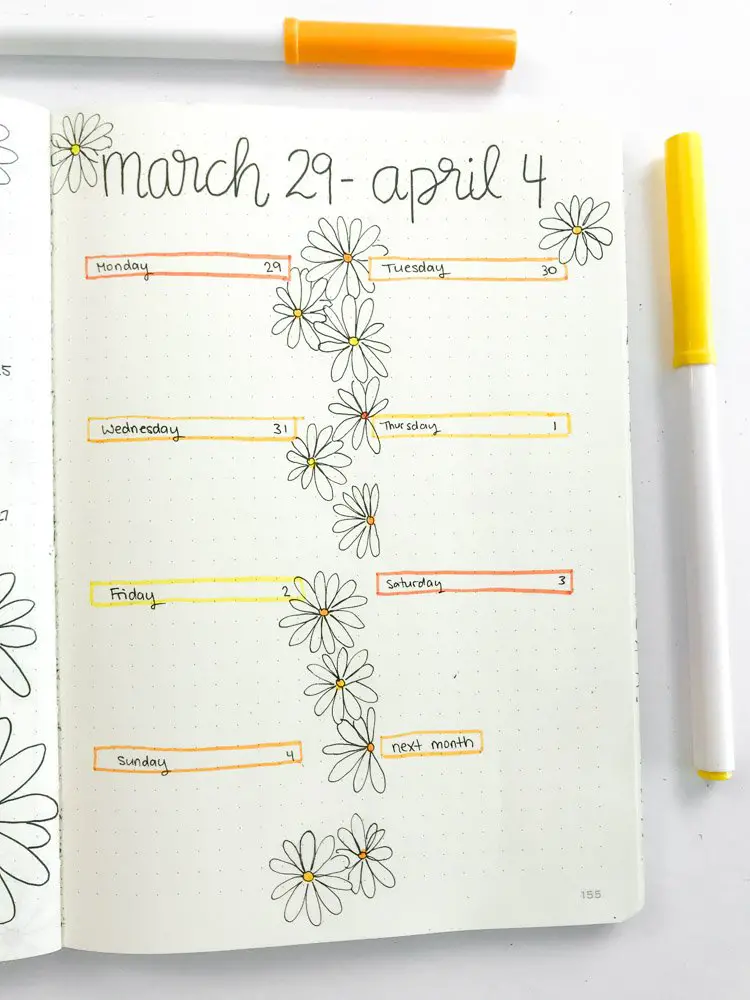 Thank you for checking out this daisy theme bullet journal setup! I loved this theme so much. It is so easy, and it looks so pretty!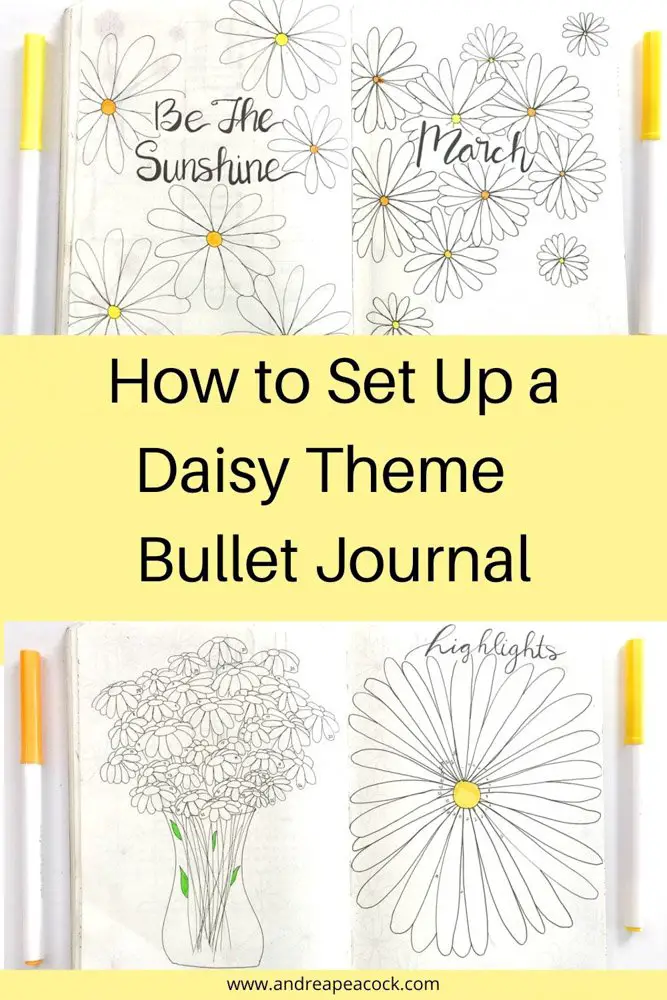 In need of some more bullet journal inspiration? Check out these posts:
February Bullet Journal Setup: Cherry Blossom Theme
January Bullet Journal Setup: Polaroid Camera Theme
How I Set Up My Bullet Journal for 2021
Follow Me!
Instagram | Pinterest | Twitter | Facebook | TikTok | YouTube
xo,
Andrea