Easter trees are popular in Germany, and other European countries, but anyone can get a tree and decorate with colourful eggs for Easter! In today's post, I'll be sharing how I made an Easter tree using sticks and decorated it with some DIY Dollar Tree Easter eggs. This DIY Dollar Tree Easter tree is fun and colourful and a perfect addition to your home this Easter season.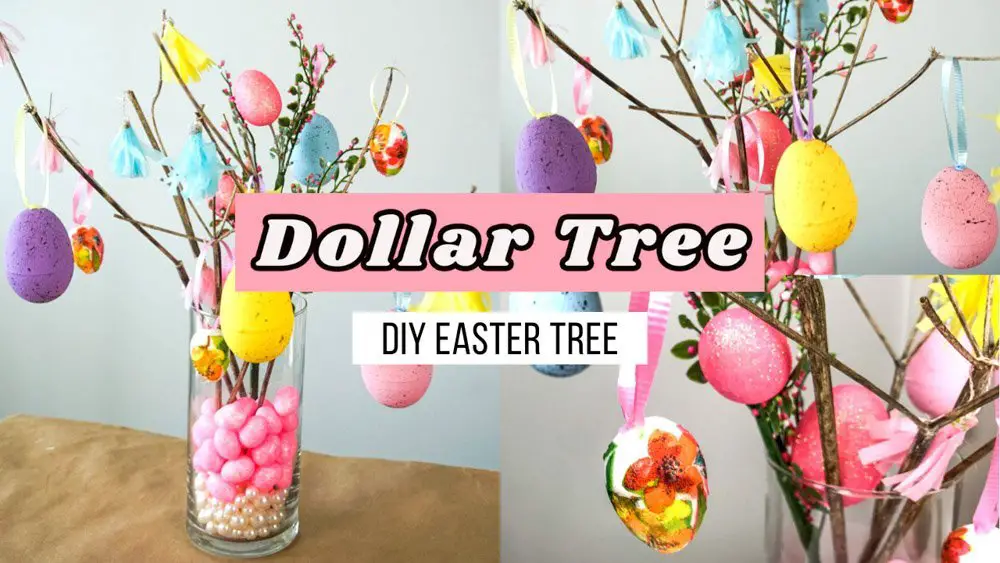 Watch the Video
Check out the video below to see how I made DIY pastel speckled Easter eggs, decoupaged floral eggs and colourful tissue paper tassels. Subscribe to my YouTube channel for more Dollar Tree DIYs!
DIY Speckled Easter Eggs
Supplies
Plastic Easter eggs
Pastel Acrylic Paint
Brown Acrylic Paint
Foam Brush
Old Toothbrush
Ribbon
Hot Glue Gun + Glue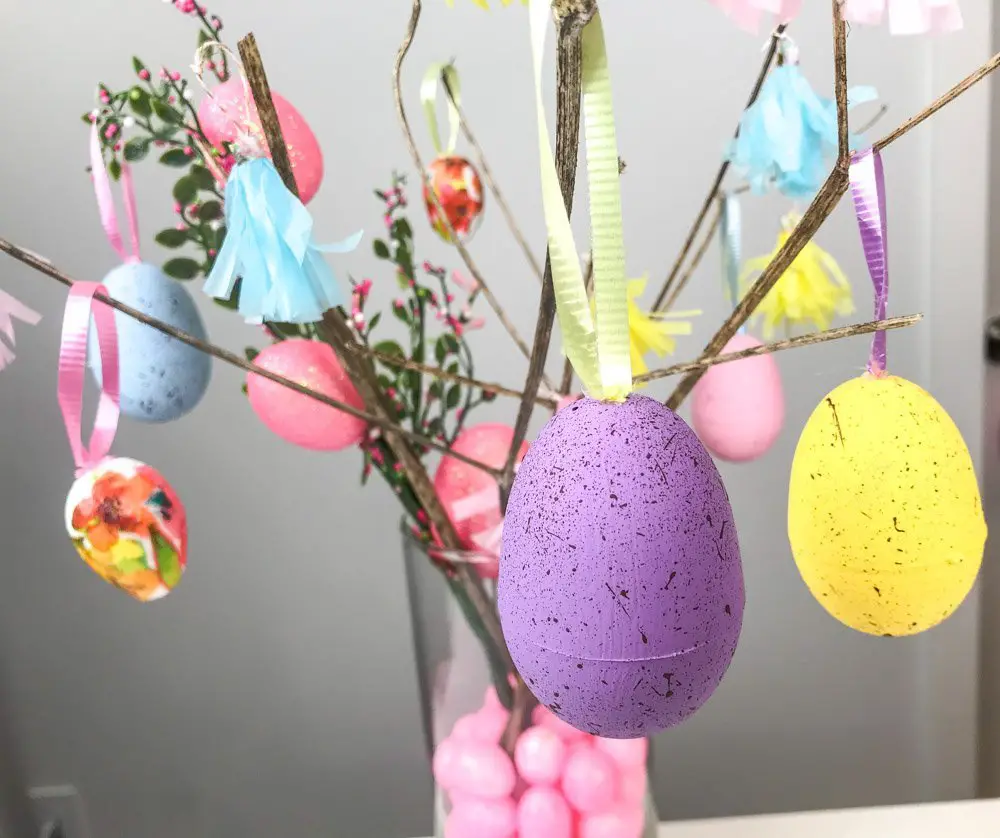 Steps
Open plastic eggs and paint outside of eggs in pastel Easter colours. Let dry between coats.
Put brown paint on a toothbrush and use your fingers to flick paint onto the eggs, giving them a speckled look.
Cut pieces of ribbon and glue on top of the eggs.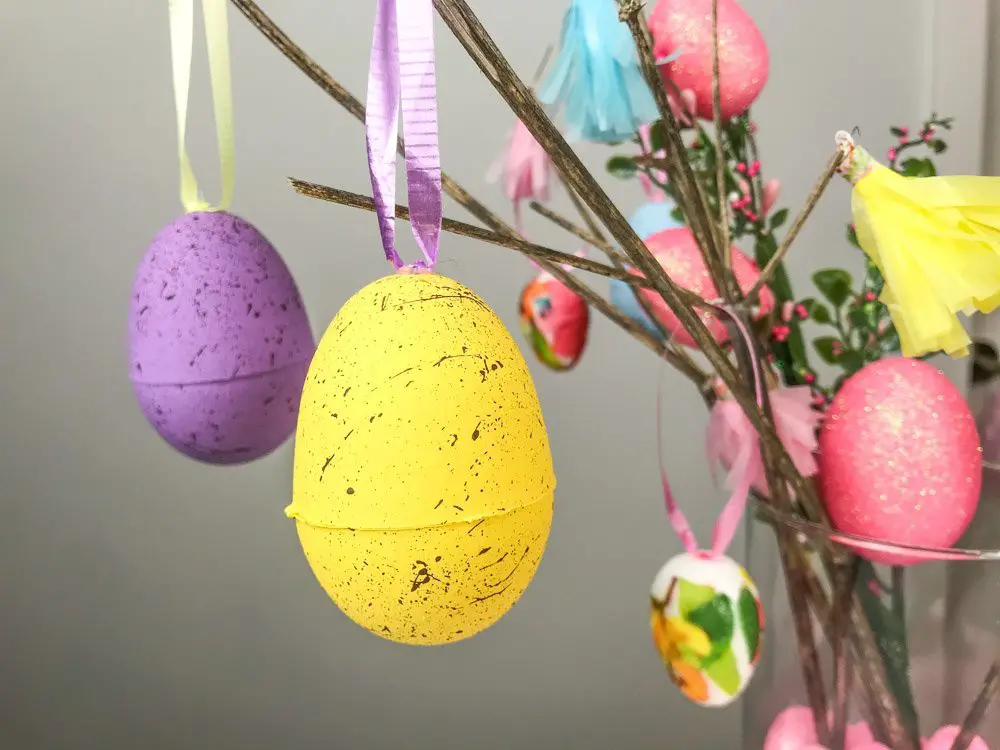 Decoupage Floral Easter Eggs
Supplies
Foam Easter Eggs
Floral Napkin
Mod Podge
Foam Brush
Sandpaper
Ribbon
Hot Glue Gun + Glue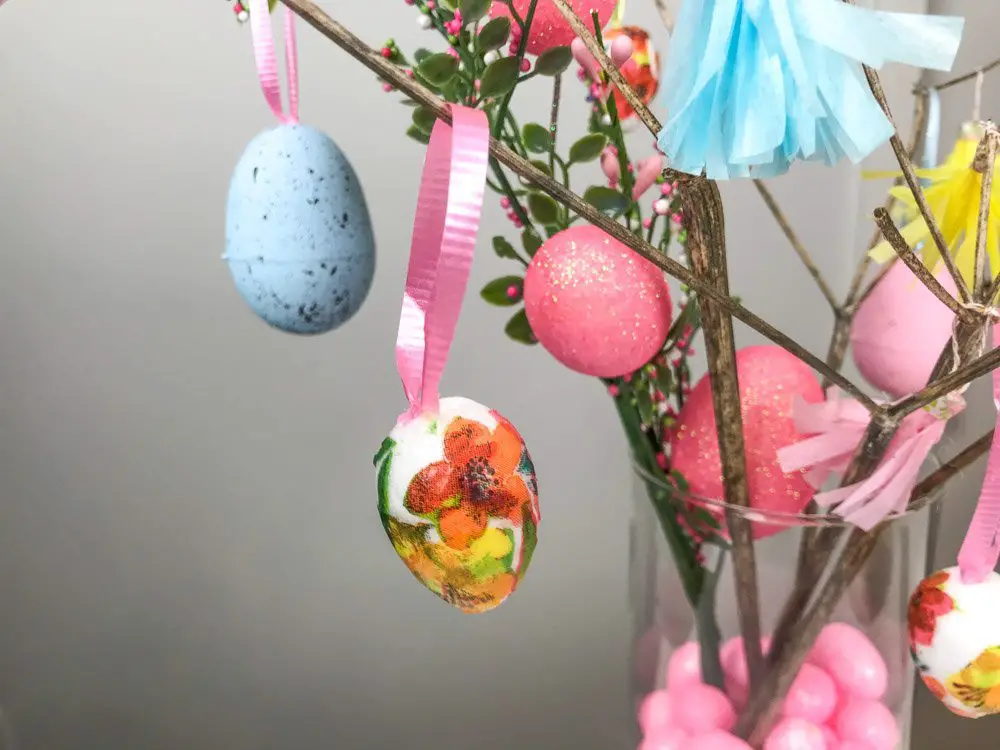 Steps
The foam eggs I had were very glittery, so I used a piece of sandpaper to sand off all the coloured glitter first.
Cut out flowers from the floral napkin, separating the top layer from the rest of the napkin.
Brush mod podge onto the egg and press the flowers onto the egg, and cover with another layer of mod podge.
Once the egg is dry, cover the egg with another layer of mod podge.
Cut off a piece of ribbon and glue to the top of the egg.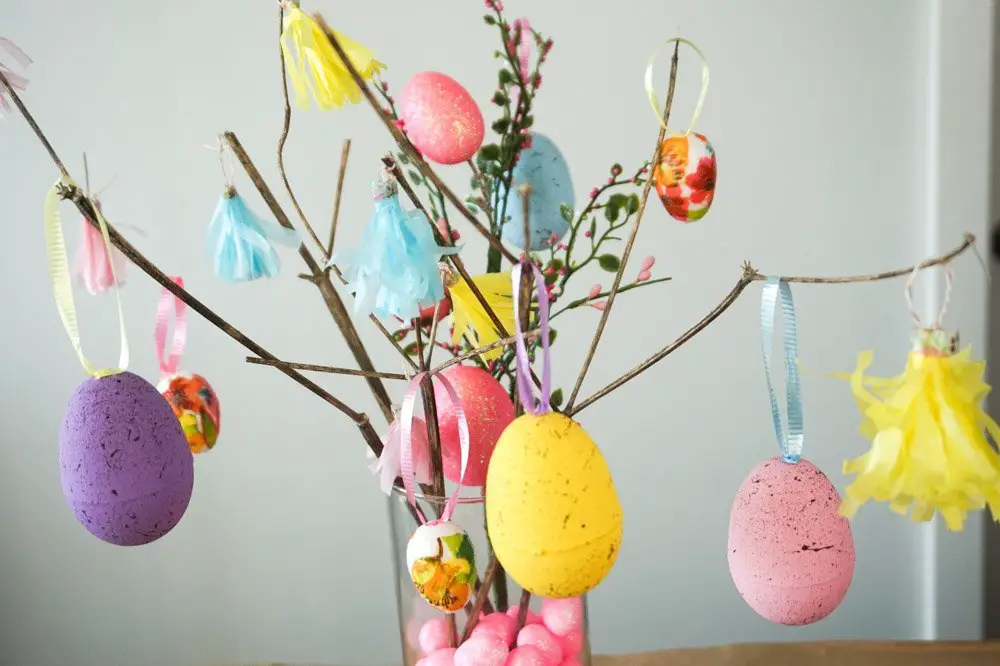 Tissue Paper Tassels
Supplies
Coloured Tissue Paper
String
Washi Tape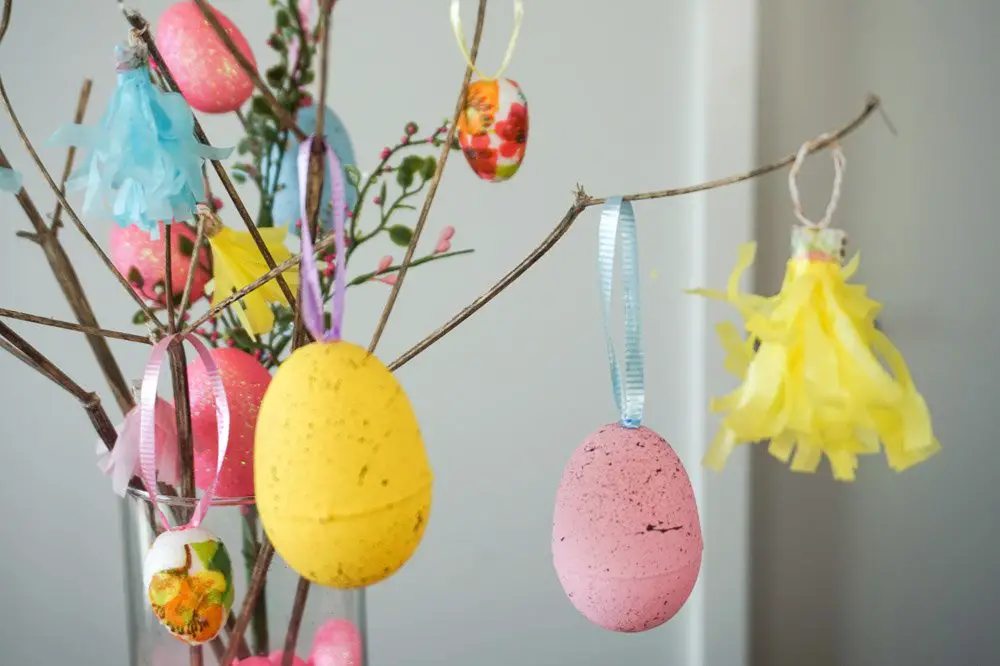 Steps
Cut out a piece of tissue paper, 5 inches by 3 inches.
Fold tissue paper in half lengthways.
Cut slits into the tissue paper toward the fold, but not all the way through.
Open tissue paper up, and roll so the slits are on either side.
Tie string around centre of the tissue paper.
Fold tissue paper in half so the slits are on the same side.
Wrap a small piece of washi tape around the top of the tassel (this is not necessary, but it adds a bit of colour and design).
Putting it all Together
Once you have all your decorations made, it's time to put it all together! I collected a branch in my neighbourhood and broke it down into a few sticks.
I filled a Dollar Tree vase with small foam Easter eggs and white pearls, then added the sticks.
Add all your decorations onto the branches, and you have a finished Easter tree!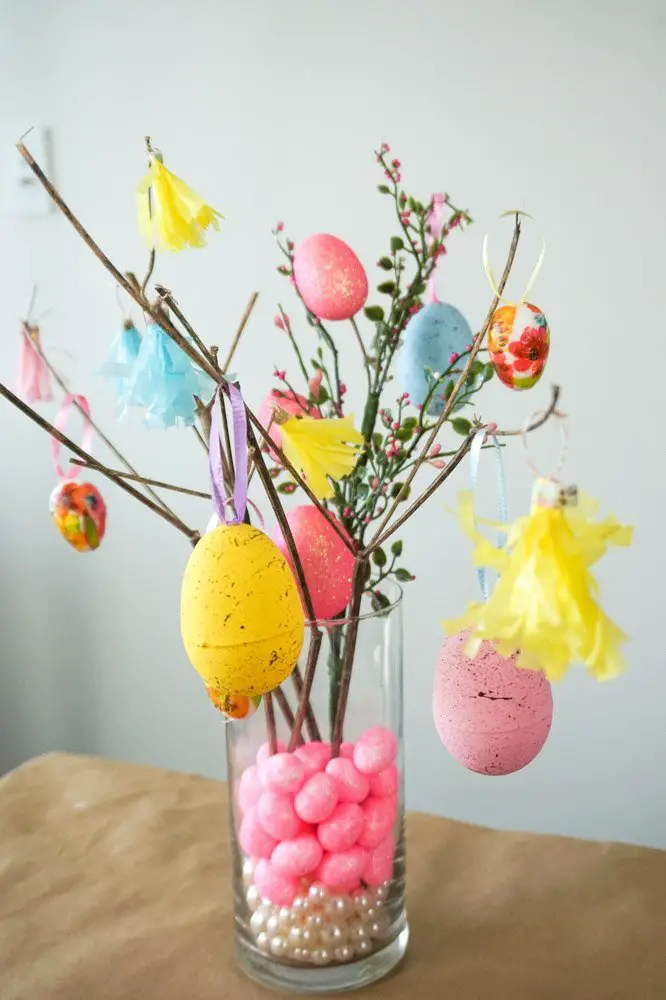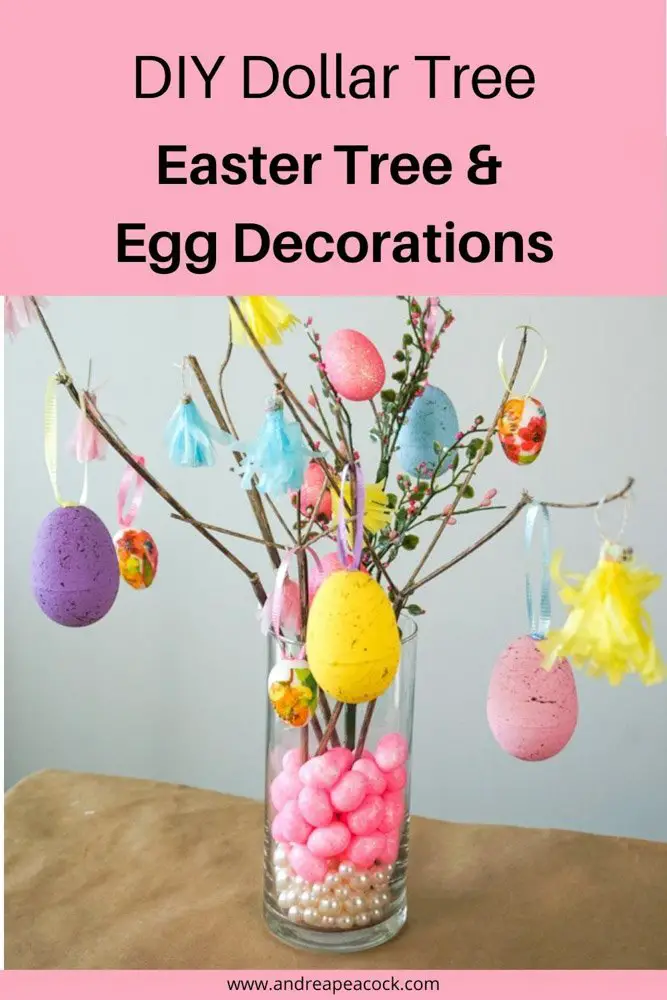 Need more DIY inspiration? Check out these posts!
Dollar Tree Spring Farmhouse DIYs
High-End Dollar Tree Home Decor DIYs
Follow Me!
Instagram | Pinterest | Twitter | Facebook | TikTok | YouTube
xo,
Andrea