I have another Instagram mural guide for you today, and this time we are featuring Kelowna! Kelowna is the largest city in the Okanagan Valley in British Columbia, Canada. It is most known for the lake, wineries and the ski hill — and now there are lots of incredible murals to discover as well! I say this every time, but murals really are my favourite. There is nothing better than a giant, colourful mural brightening up an otherwise dreary alley or parking lot. Keep reading for my guide on Kelowna's most Instagram-worthy murals, including a custom Google map to help you find them all.

Rutland
This past summer, the Uptown Rutland Business Association hosted the Uptown Rutland Mural Project, which added seven new murals around Rutland, a neighbourhood in Kelowna. I actually lived in Rutland for four years, and I am so happy to see it has gotten a makeover with all these incredible murals!
Characters
Artist Mono Sourcil painted this mural on the side of Christman Plumbing & Heating, at 255 Rutland Rd. N. This mural features many unique characters in primarily blues, purples and reds. I love how bold and interesting this mural is. (I could not find the actual name of this mural, so if you know, please let me know!)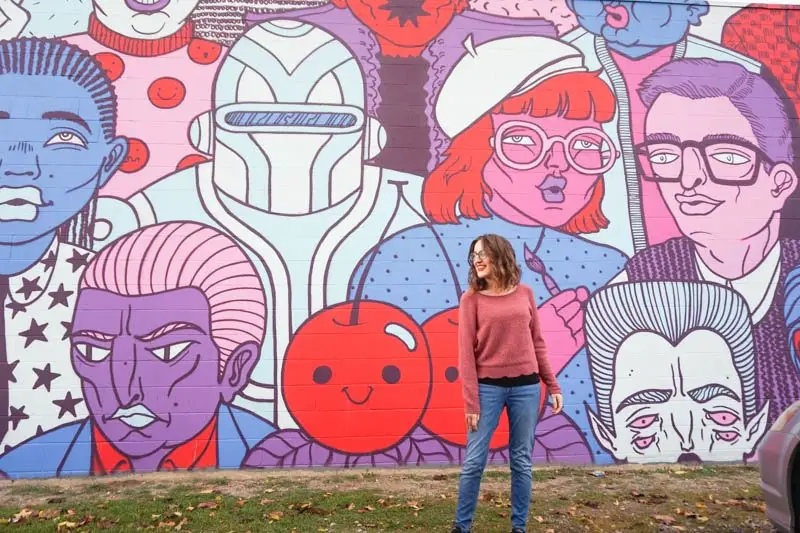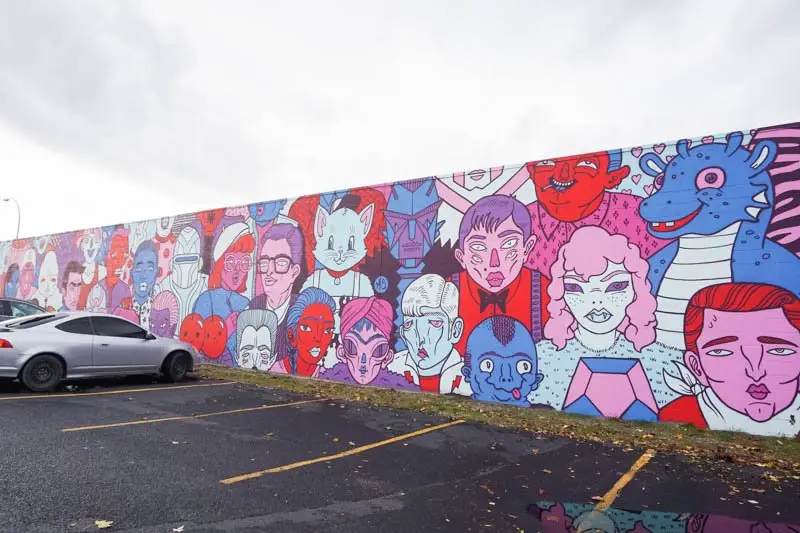 Fire Season
Artist Kevin Ledo painted this mural on the side of Save More Pawn & Thrift, at 184 Asher Rd. This massive mural features a boy's face against a mostly orange and red background. Kevin has said this mural was inspired by a photo he took of a boy at the beach.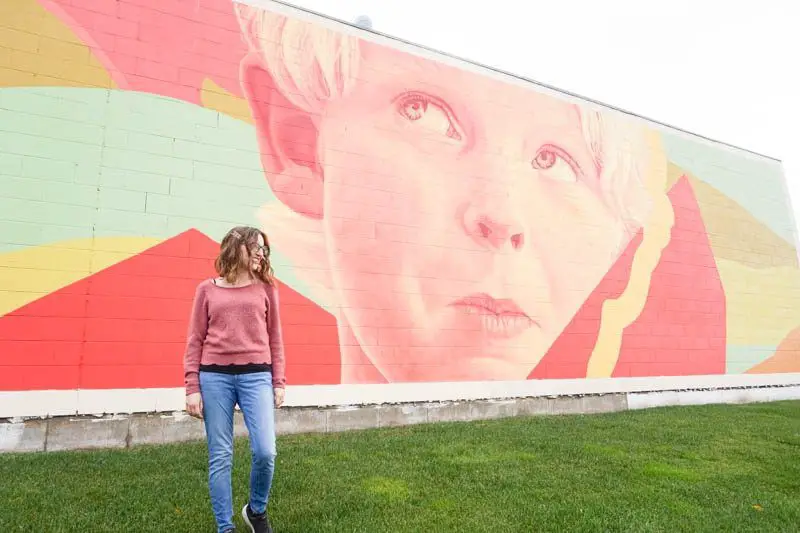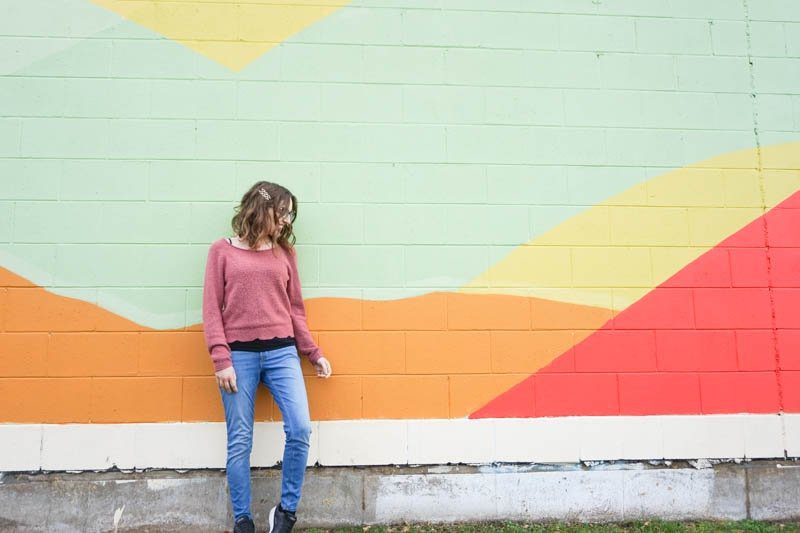 Animals
I instantly recognized the style of this mural as being similar to a bull mural in Vancouver, both of which were done by artist Taka Sudo. If my animal identification is correct, this colourful mural features a moose, a deer, a bighorn sheep and an antelope. This beautiful mural is on the side of the building at 160 Rutland Rd., across from Burger Baron. Again, I do not have the actual name of this mural.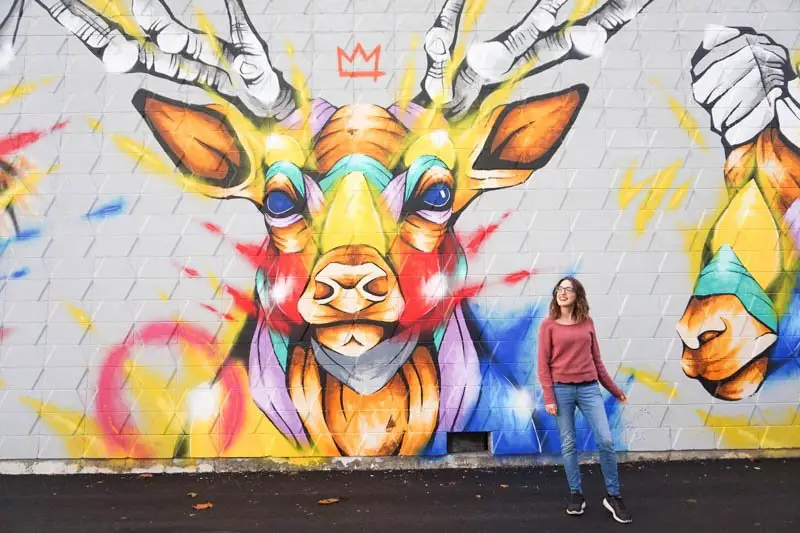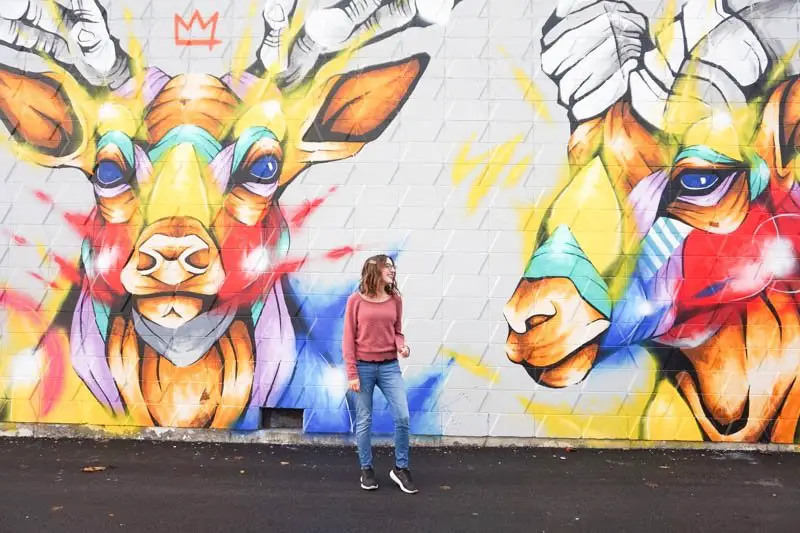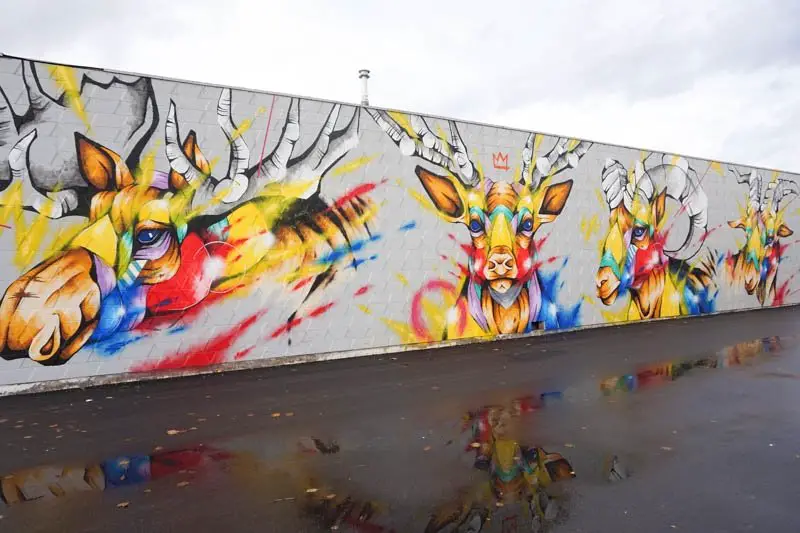 Full Circle
Artist Sandheep Johal painted six murals in the drive thru of Valley First Credit Union at the corner of Highway 33 and Rutland Road. Aren't they beautiful?? I love the bold, bright colours.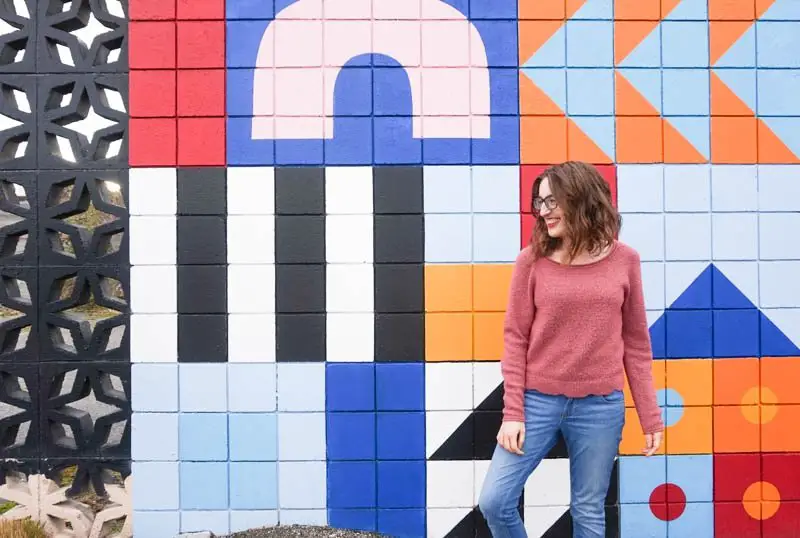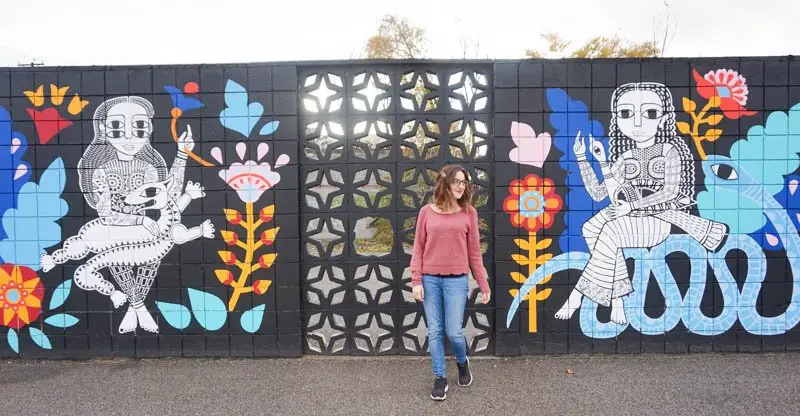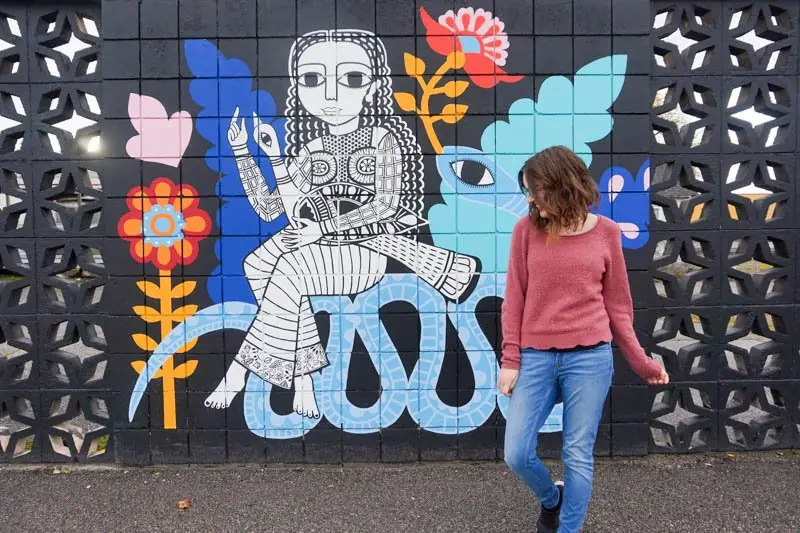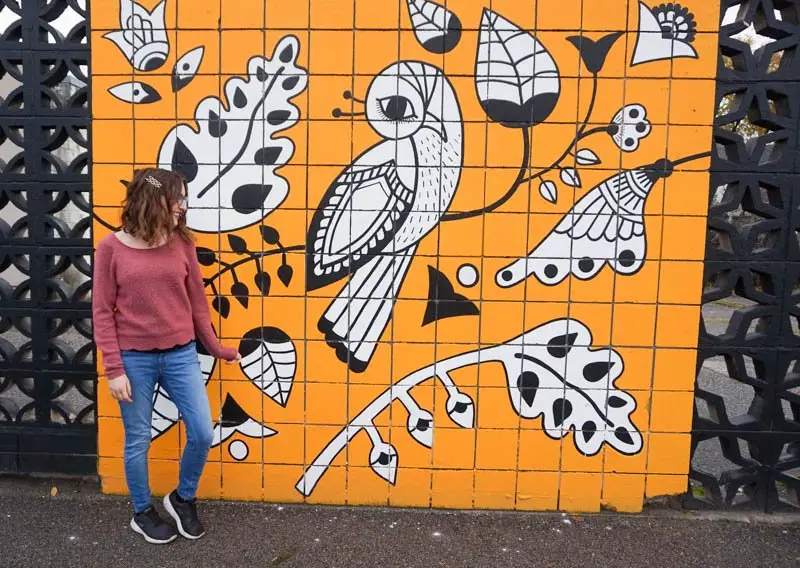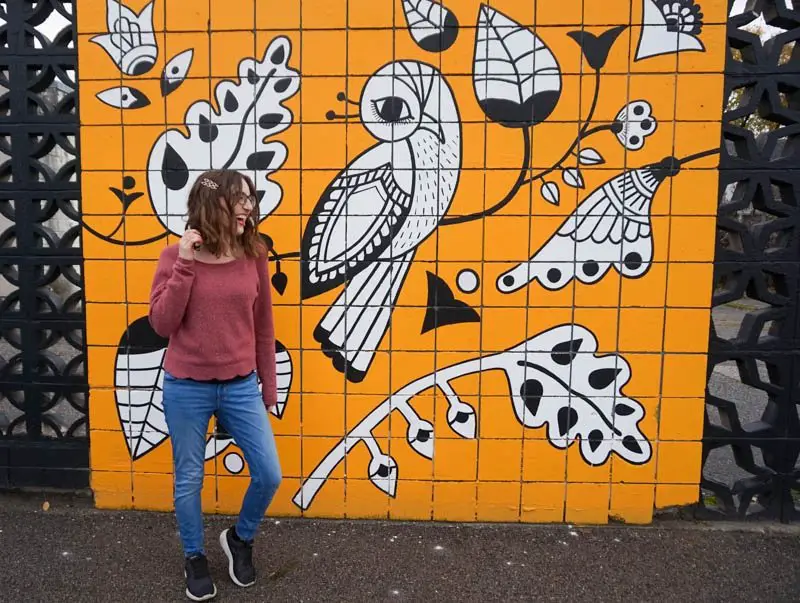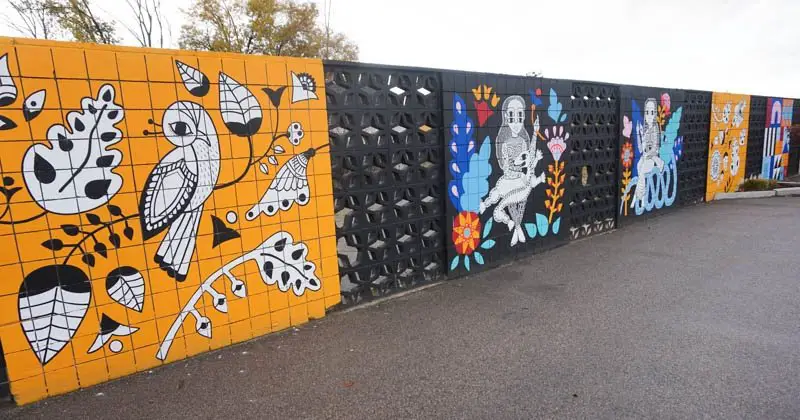 Wonderful
This bright rainbow-coloured mural with big white daisies was done in partnership by artist Jorden Doody and Rutland Senior Secondary. It is in Lions Park, at 175 Gray Rd.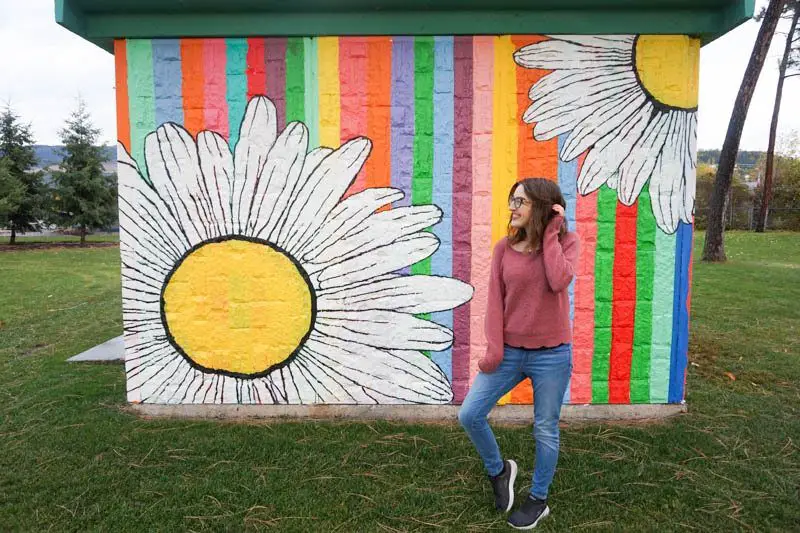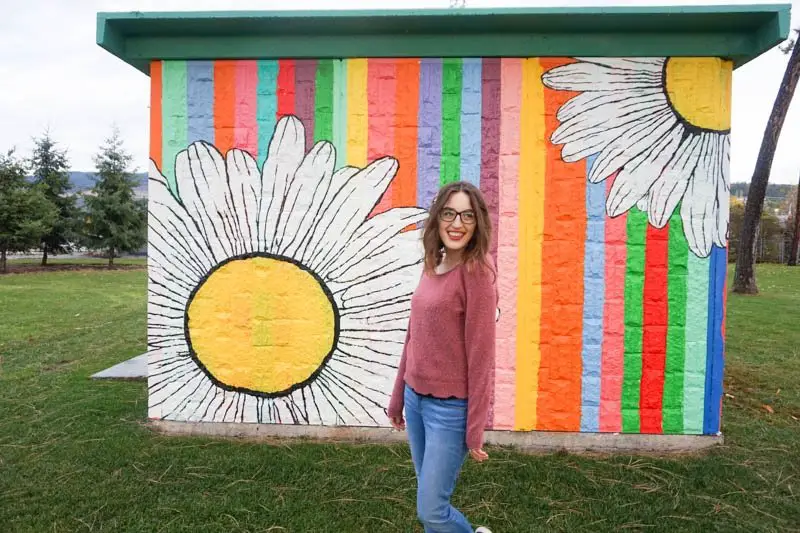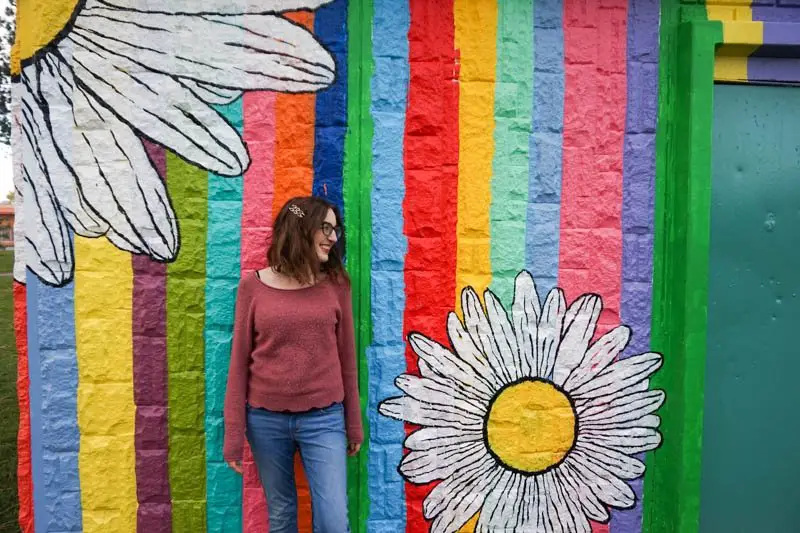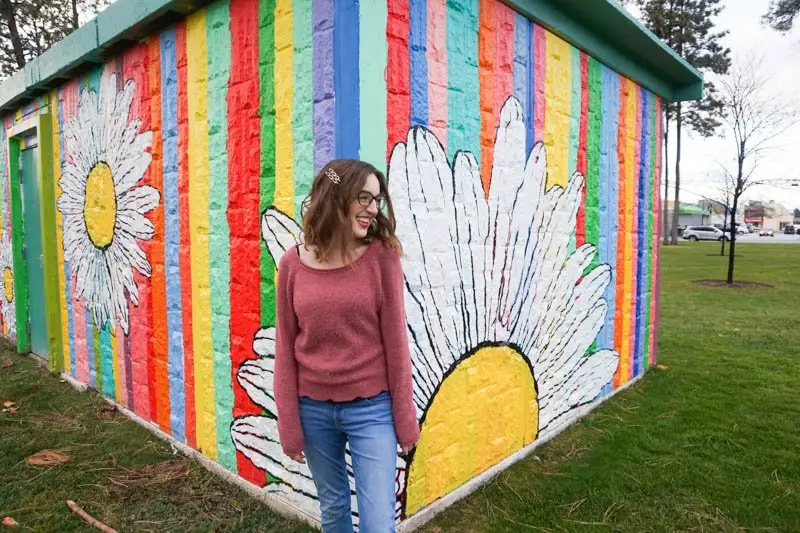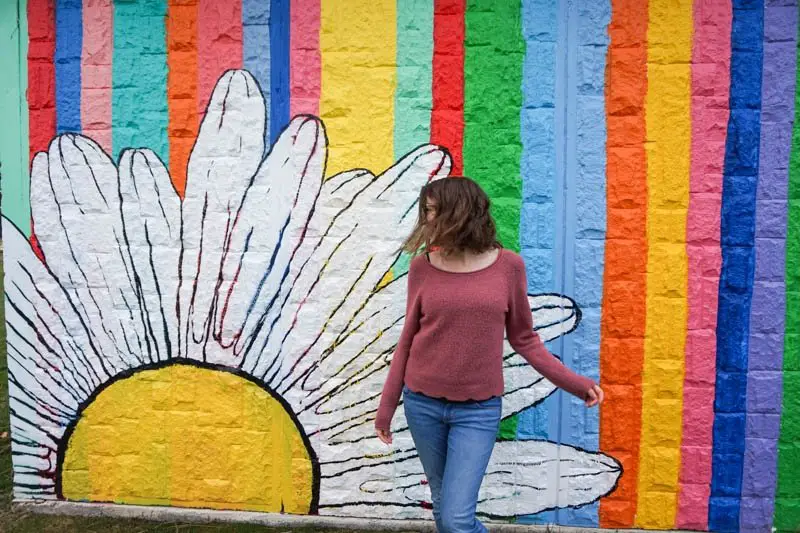 Sueños
Artists Jeremy Shantz and David Doody painted this large, abstract mural on the side of the Uptown Rutland Business Association building, at 158 Valleyview Rd.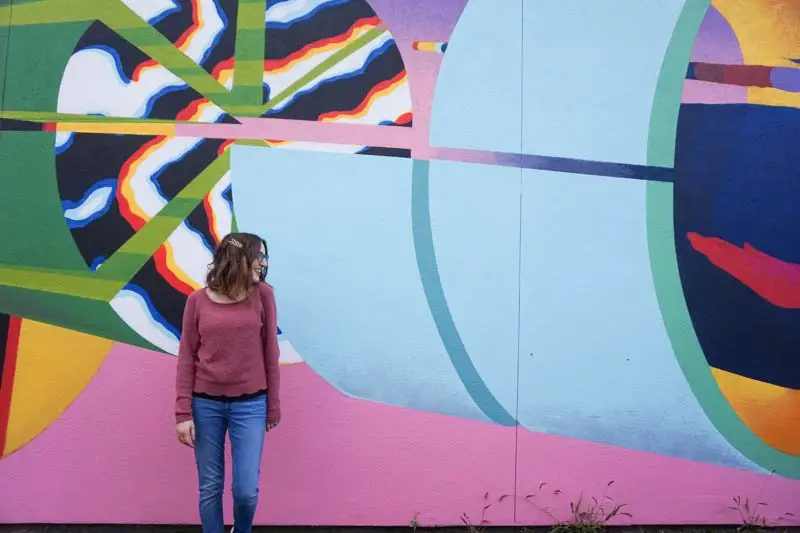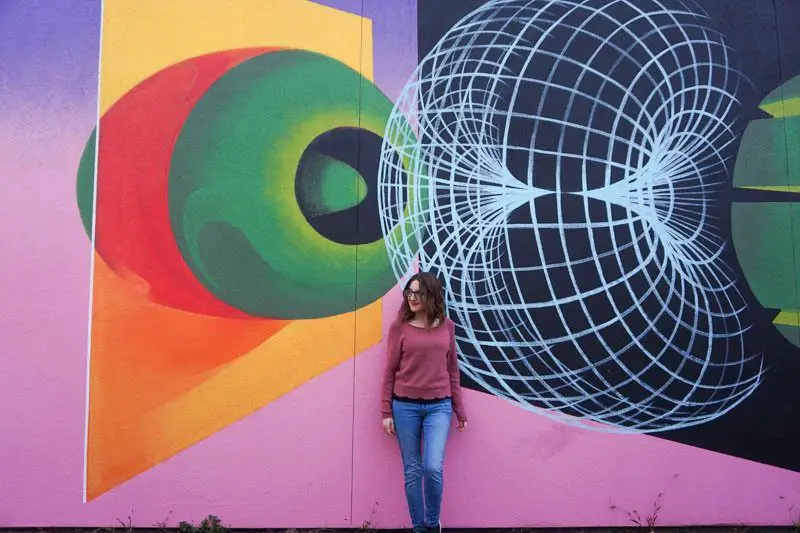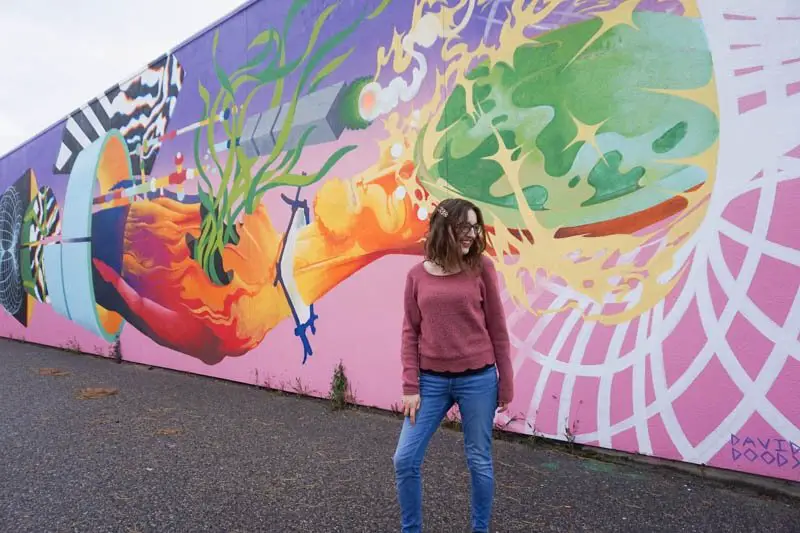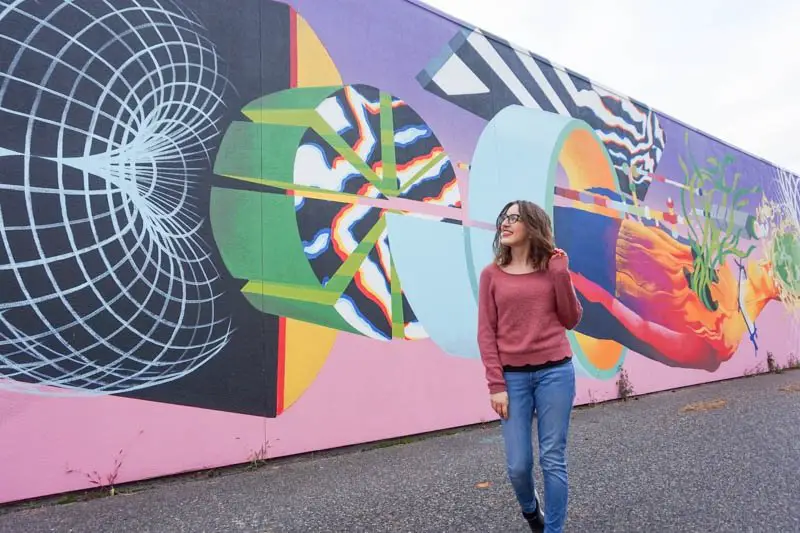 Lifted
Just down the steps from the previous mural is this mural by artists David Doody, Jorden Doody and Jeremy Shantz. Find this mural on the side of Valleyview Chiropractic, at 160 Valleyview Rd. It is also accessible from Highway 33 next to Willow Park Church. This mural appears to feature a hand coming down to a flower.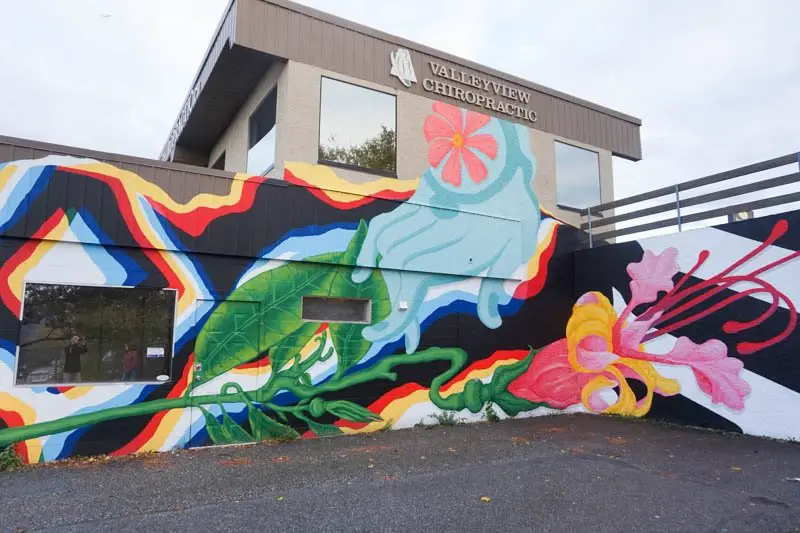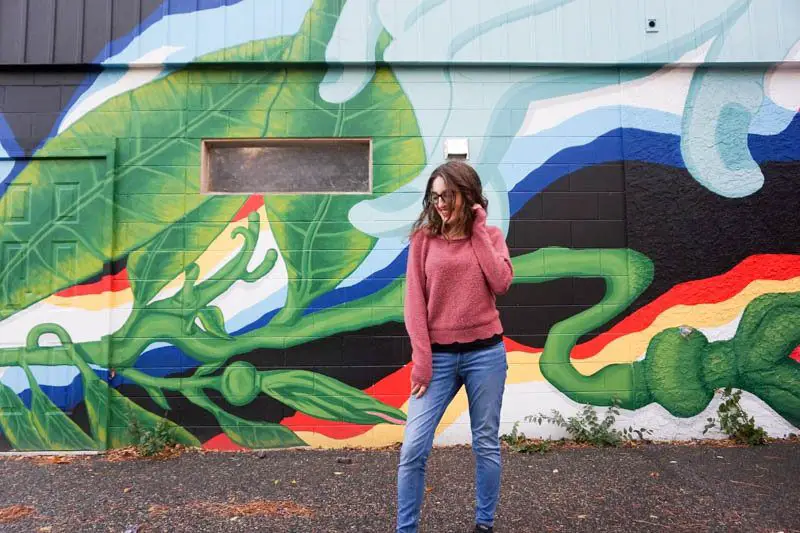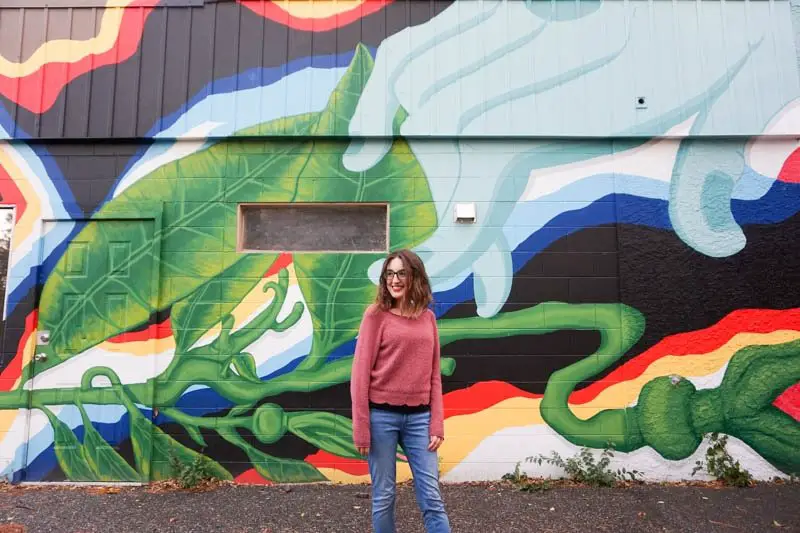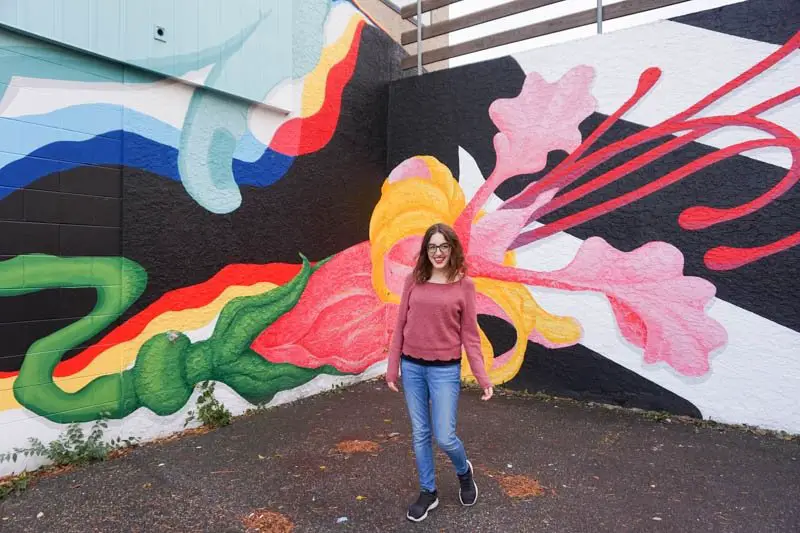 Downtown
The rest of the murals in this post are found in and around downtown Kelowna.
Laneway Canteen
This mural is in the alley beside Earls, at 211 Bernard Ave. Laneway Canteen, also known as E-Taco for its connection to Earls, is an outdoor taco stand. The mural is in the patio portion of the restaurant. When I was here all the tables and chairs were gone, since it was closed for the winter.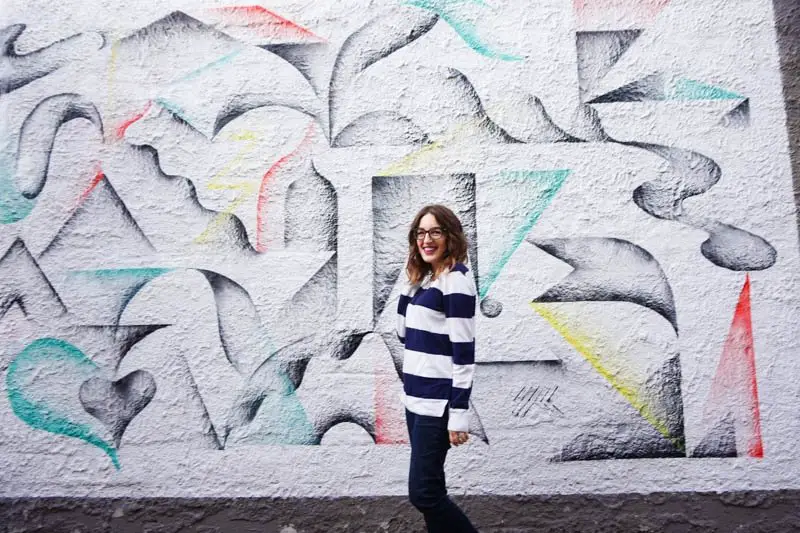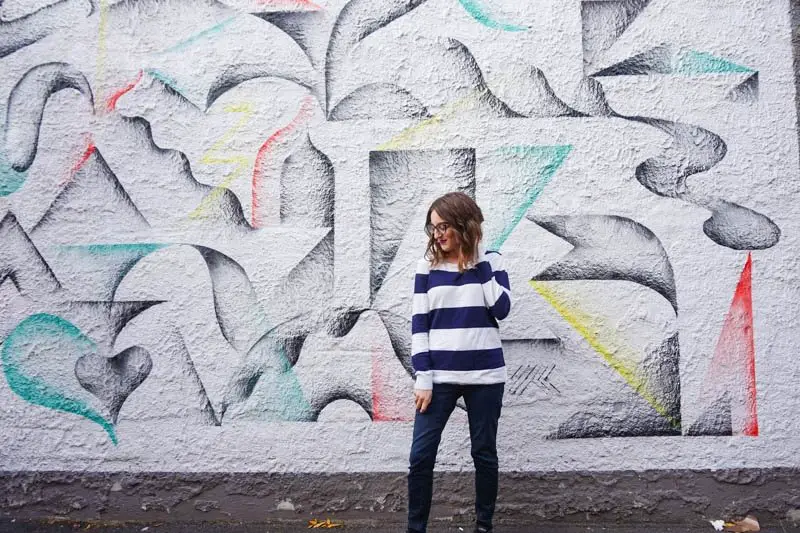 Hotel Zed
This mural of a giant rooster, a bear, a wolf and a woman is on the wall in the alley behind Hotel Zed, at 1627 Abbott St. These big, bold paintings were done by Clandestinos Art in 2016.
Note, there is also a giant batman mural across the alley from this one, painted by Def3. I didn't get a photo of it, but it's pretty cool!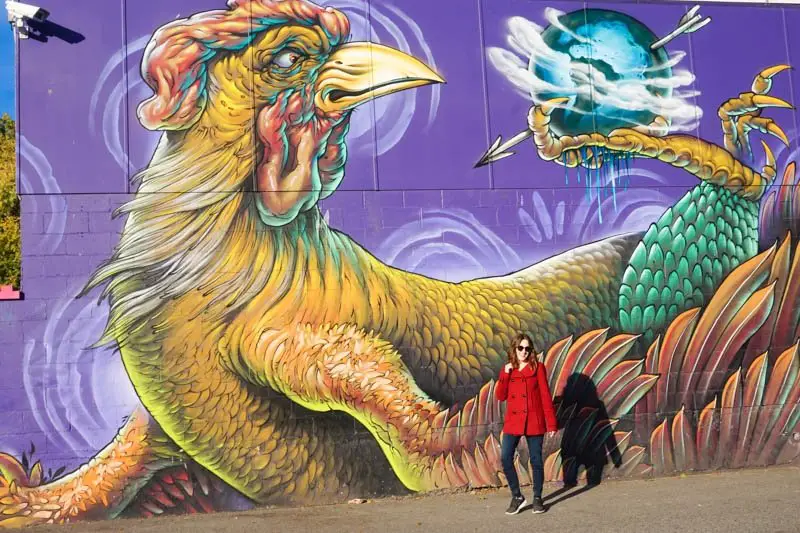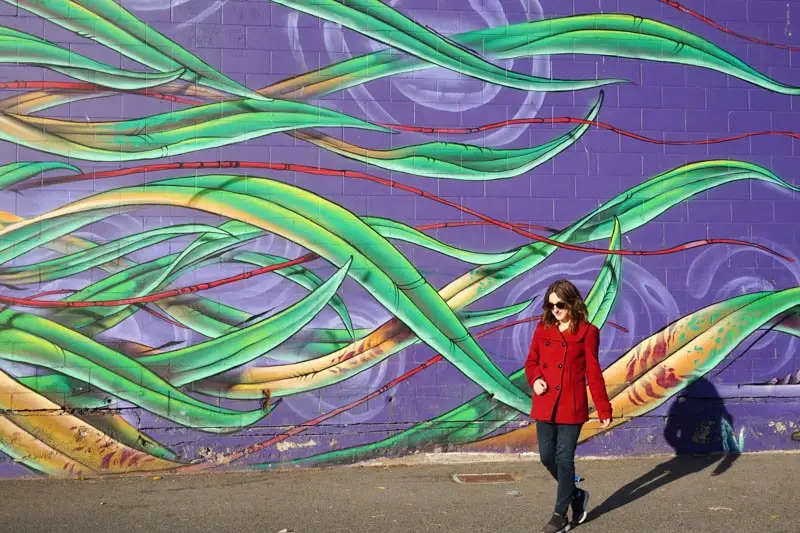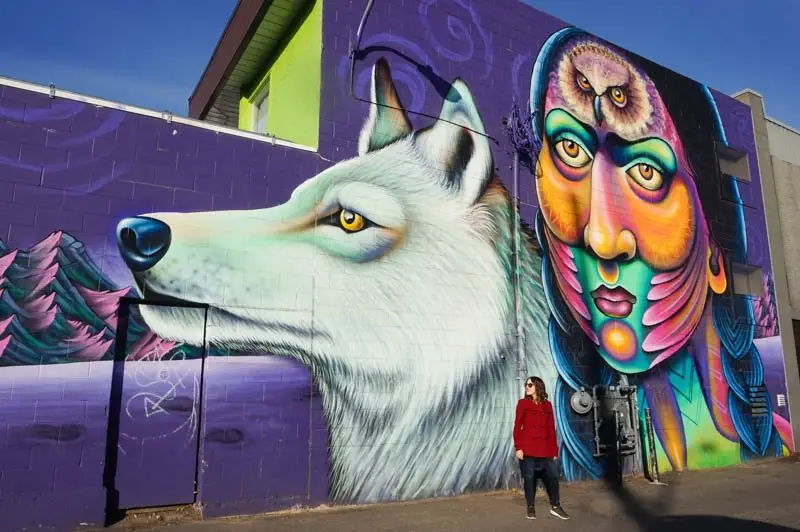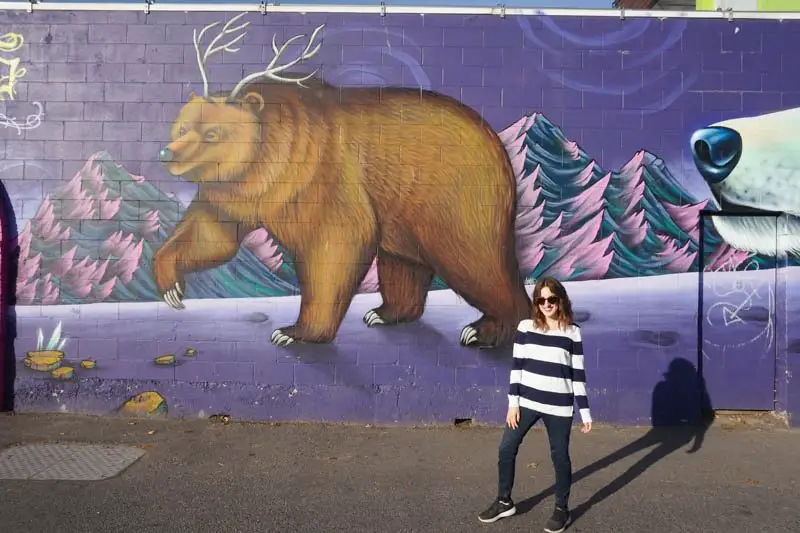 If you turn your back on the previous mural and walk forward down the alley, you will find the following mural, painted by Bruno Smoky. Bruno is one half of Clandestinos Art, the team responsible for the previous mural.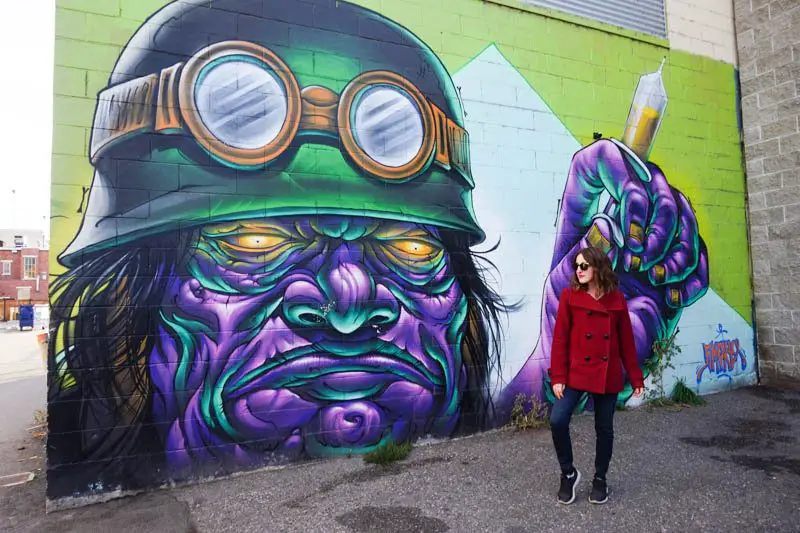 Film Factory
This colourful mural is on the side of The Film Factory, at 1126 Richter St.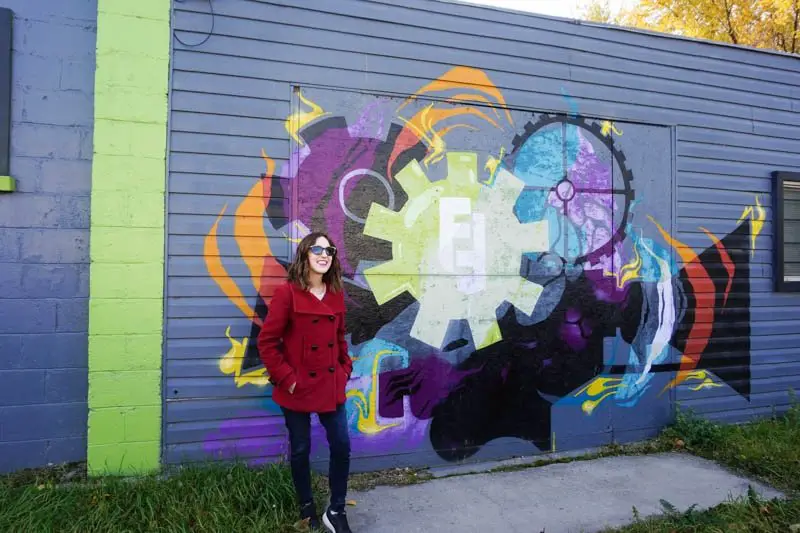 Red Bird Brewing
This red and white mural takes over the whole front of Red Bird Brewing, at 1086 Richter St.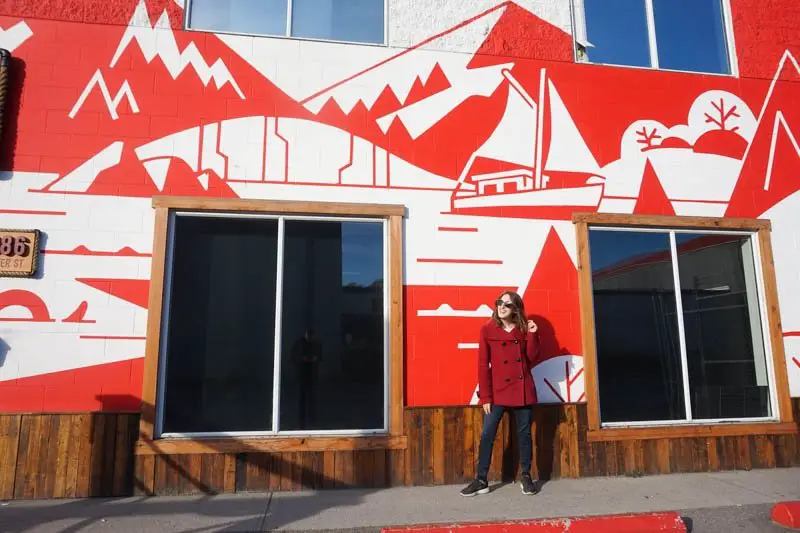 Kettle River Brewing
This fun, bright mural of people enjoying a drink is on the patio of Kettle River Brewing, at 731 Baillie Ave.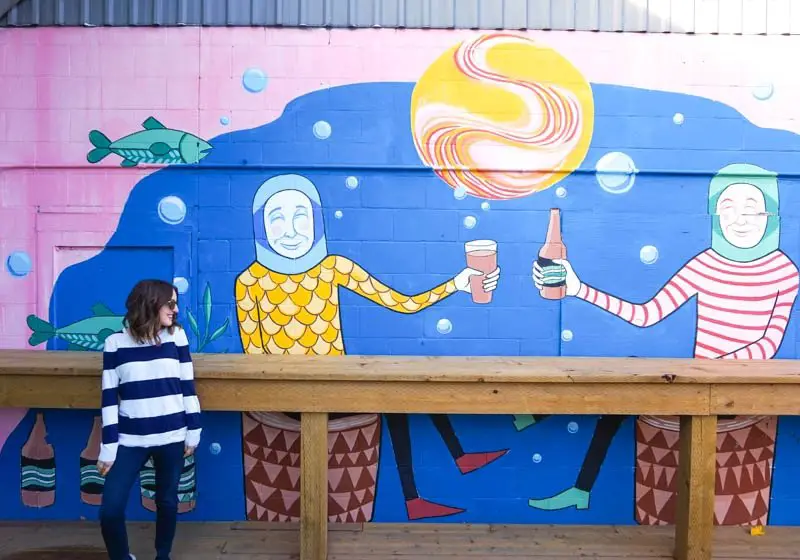 History of Kelowna
Artist Eric Blais painted this impressive mural, which is more than 200 feet long and 30 feet high! It features many elements of Kelowna's history, including the Kettle Valley Railway, the SS Sicamous, the former floating bridge across Okanagan Lake, Ogopogo, wineries and the Kelowna Rockets. This mural is on the side of Fripp Warehousing, at 975 1015 Crowley Ave.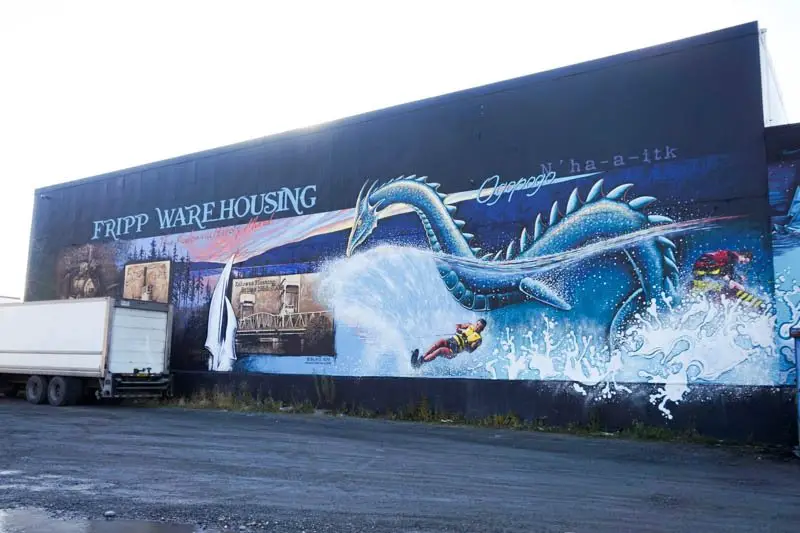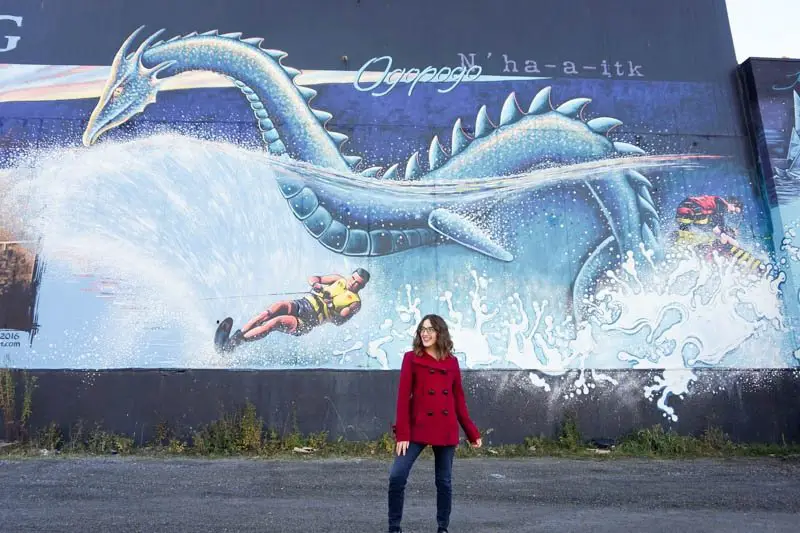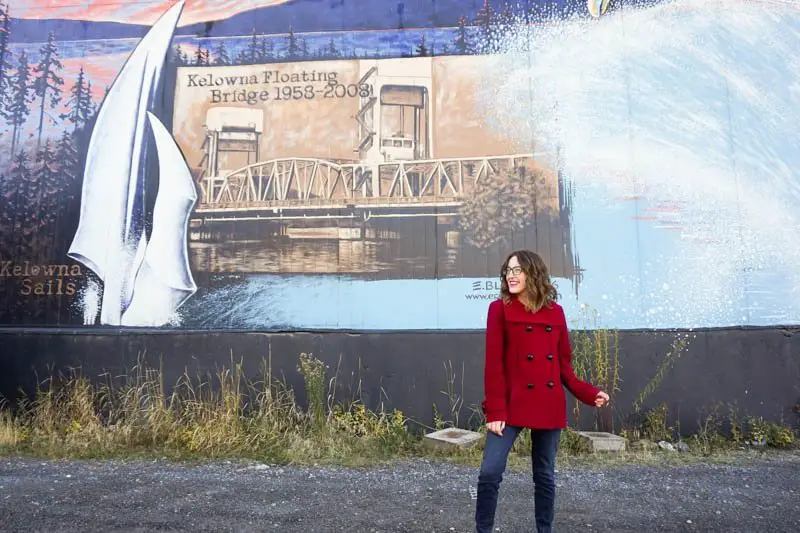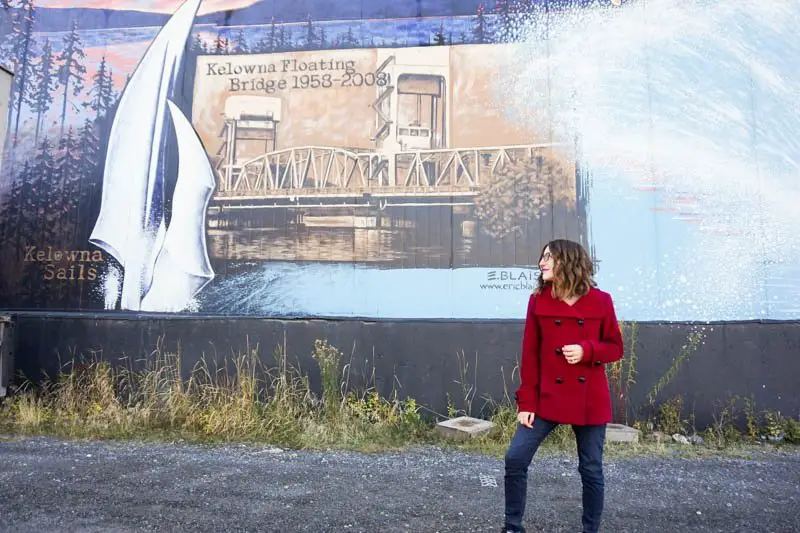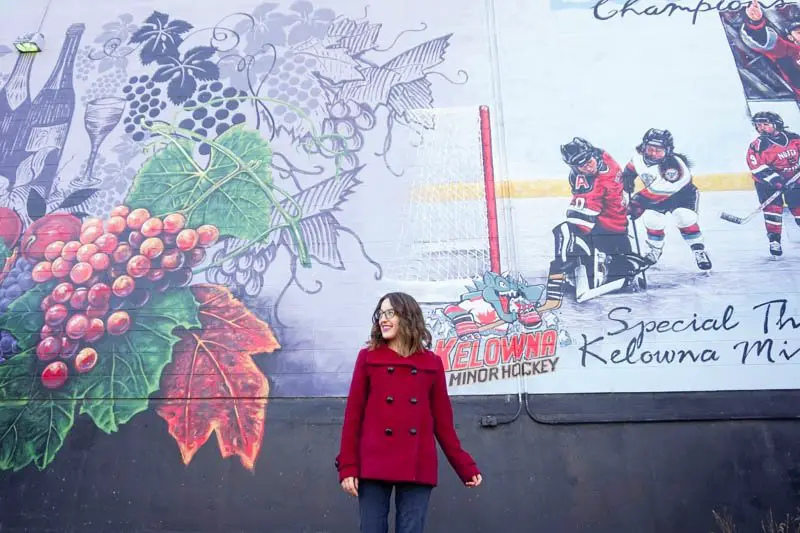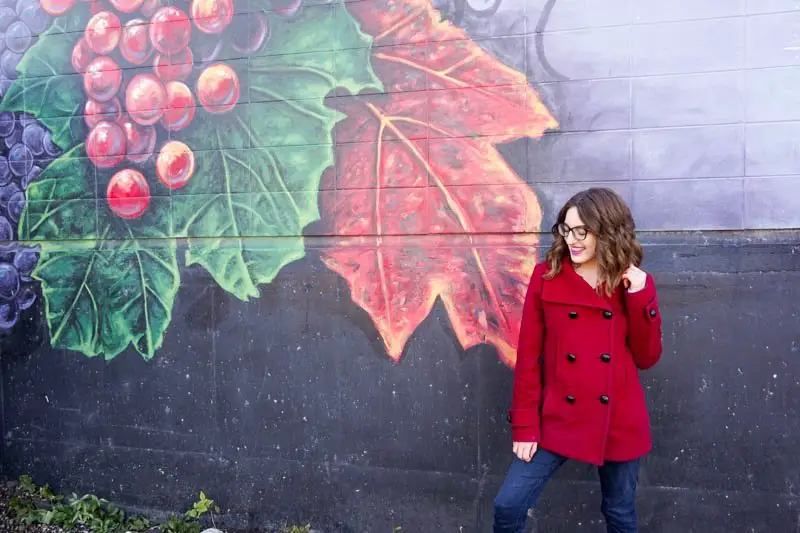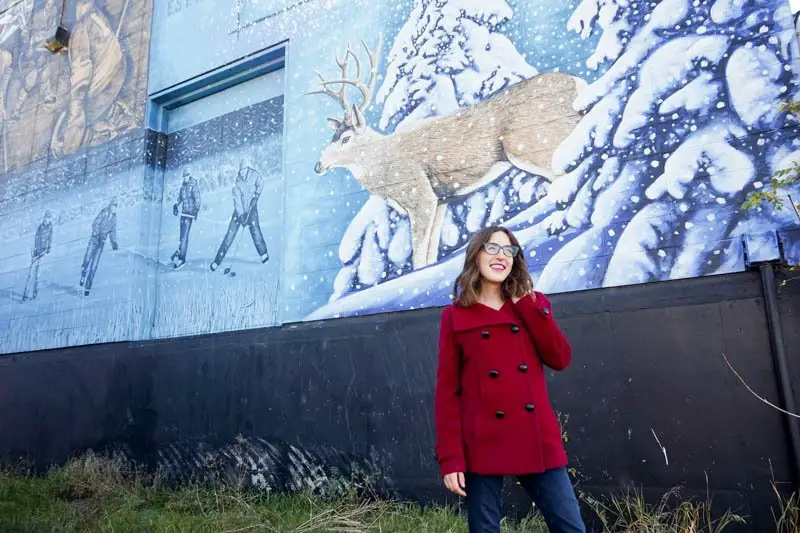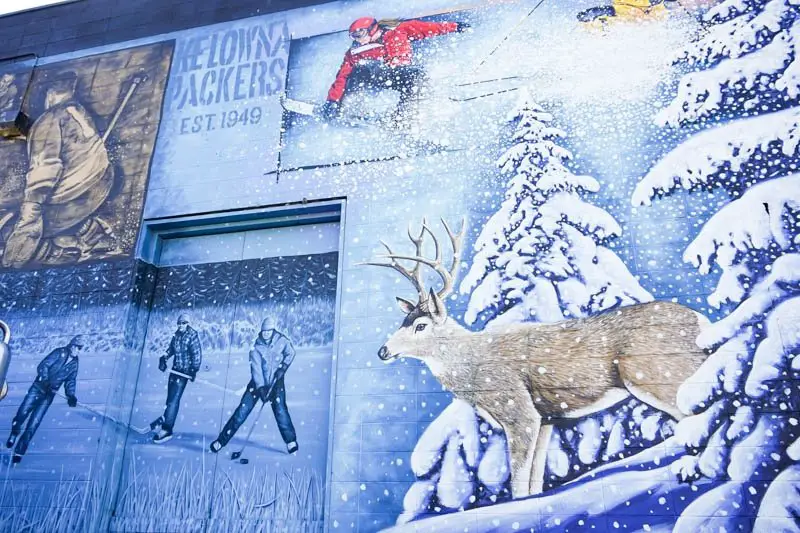 I created the following map for you to use on your next mural hunt in Kelowna!
Thanks for reading my guide to Kelowna's most Instagram-worthy murals! Which one is your favourite?
Click on one of the photos below to save this post to Pinterest!
Check out these posts next:
Guide to Instagrammable Murals in Kamloops, British Columbia
Vancouver's Most Instagram-Worthy Murals
Calgary's Most Instagram-Worthy Murals
Instagrammable Murals in Honolulu, Hawaii
xo,
Andrea
Follow Me!
Instagram | Pinterest | Twitter | Facebook | Bloglovin