It's almost September, which means it is time for another plan with me blog post! Although September is the end of summer, I am not quite ready to let it go. My bullet journal theme for the month is honeybees and honeycomb, with a bright yellow and orange colour scheme. This theme is easy to do, so if you are not super into drawing or if you are new to the creative bullet journaling world, this post is for you! Keep reading for my September bullet journal setup, which also includes a plan with me video.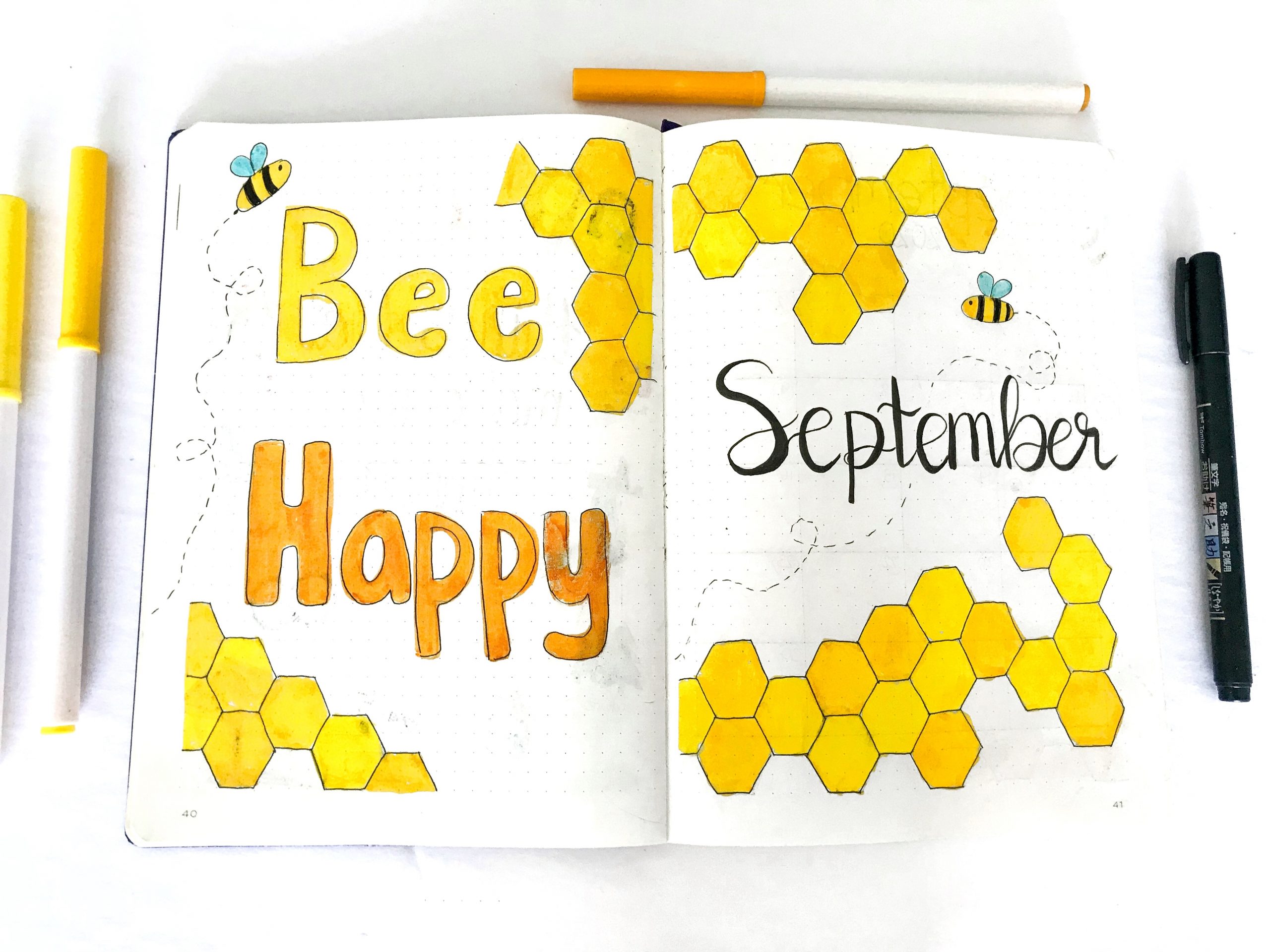 Check out my August plan with me video below, and subscribe to my YouTube channel!
Some of the links below are affiliate links. If you choose to make a purchase, I may receive a small commission, at no extra cost to you. Thank you for your support!
Bullet Journal Supplies
Stickers (gifted)
Quote Page
Bee Happy!
Yellow is one of the happiest colours, and since my theme this month is bees, I thought this was quite fitting!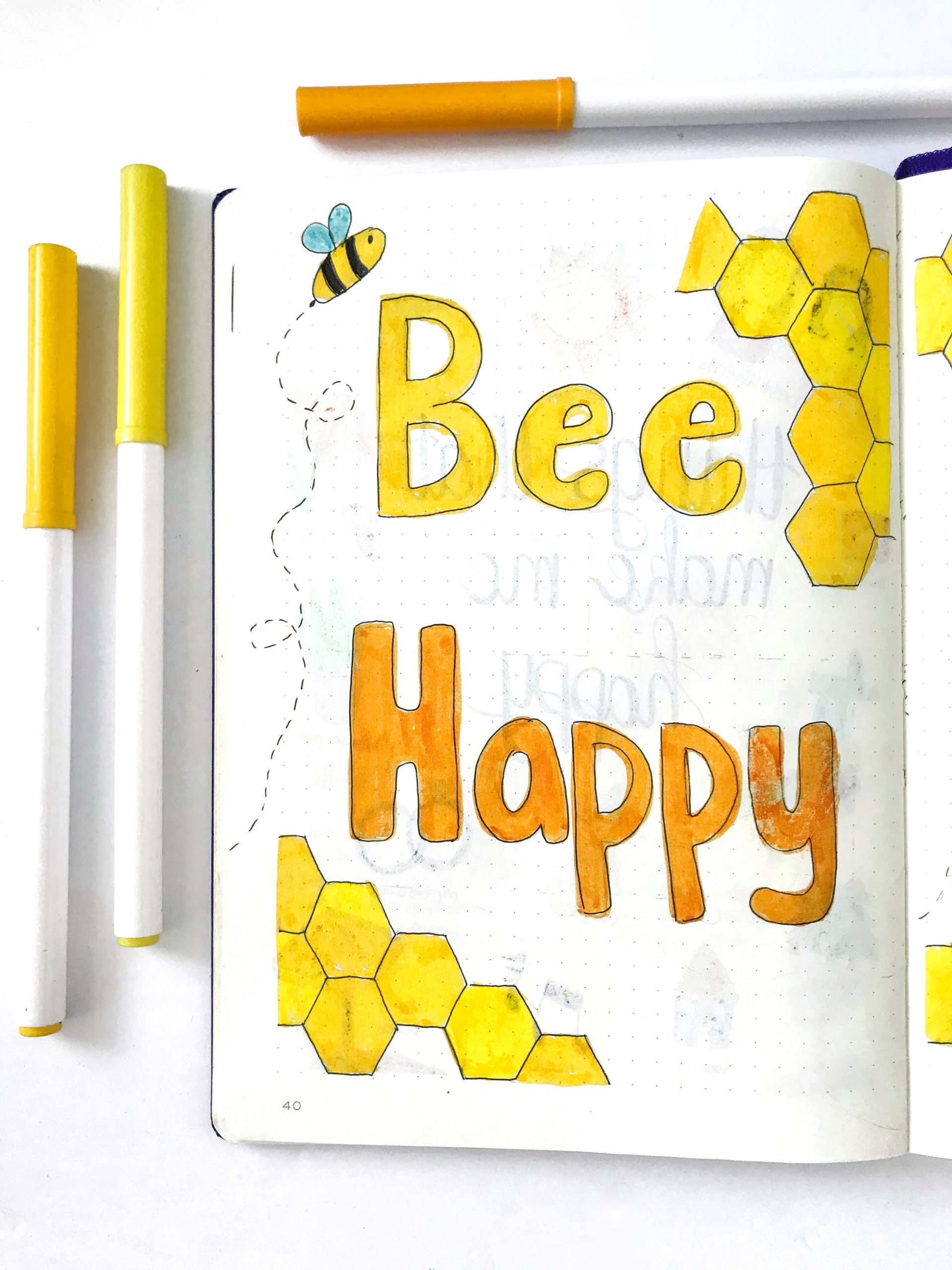 Cover Page
For my cover page, I wrote out September in calligraphy font and filled the rest of the page with honeycombs and a little bee. I love this theme so much, because it is so easy to do and it looks so cute.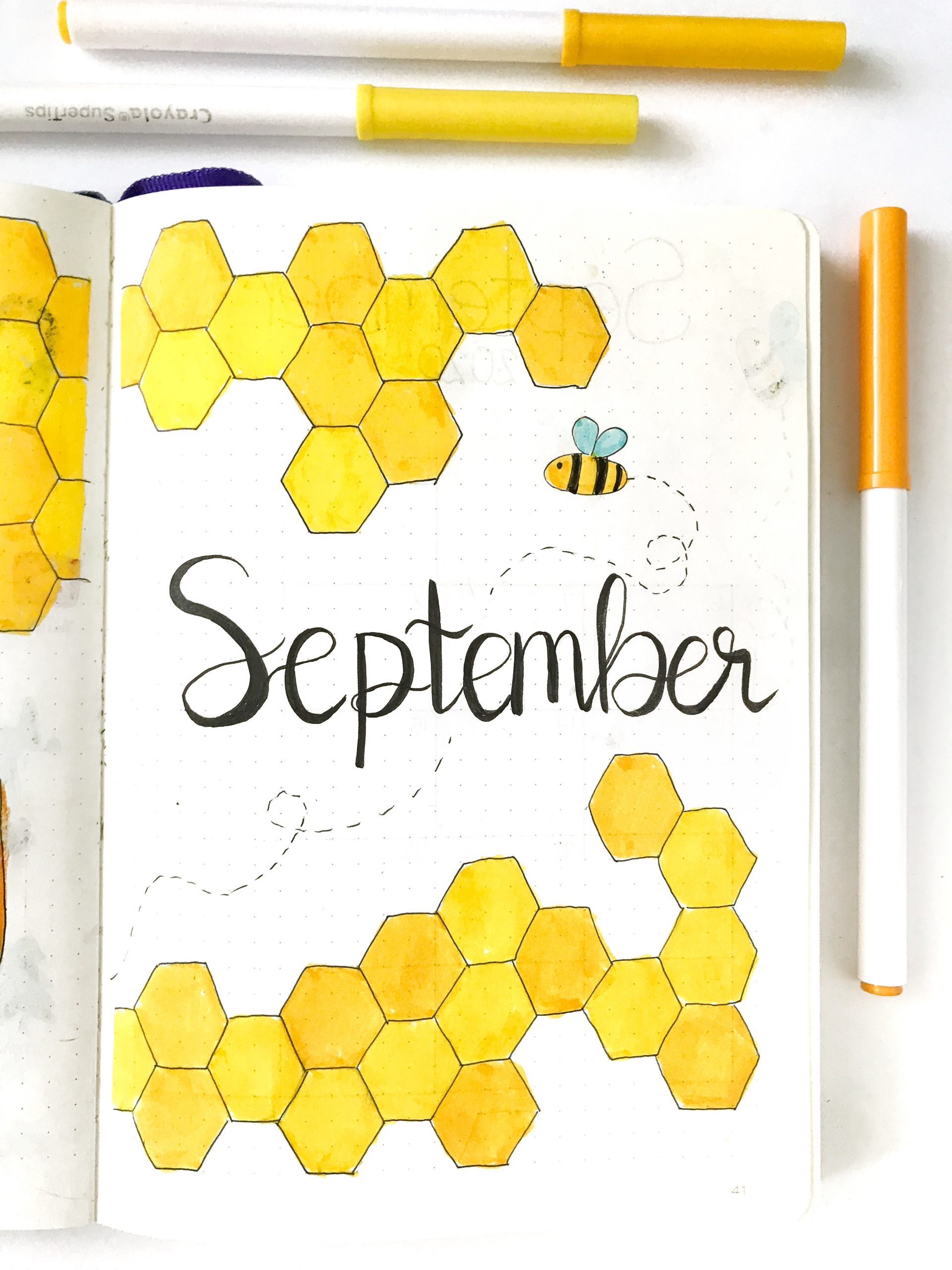 Calendar
My monthly calendar for September is over two pages, with Sunday to Wednesday on one page and Thursday to Saturday on the other. Each of the sections is five spaces high and six spaces wide.
For the days of the week, I am using stickers that were gifted to me by Svidia Design. She sent me lots of her stickers from her Etsy shop, and they are all so beautiful! If you want to see the rest of the stickers, head over to my Instagram page.
I filled the edges of the pages with more honeycombs and honeybees. I wanted to add something to the page, so I drew orange hexagons around each date to tie in the honeycomb theme.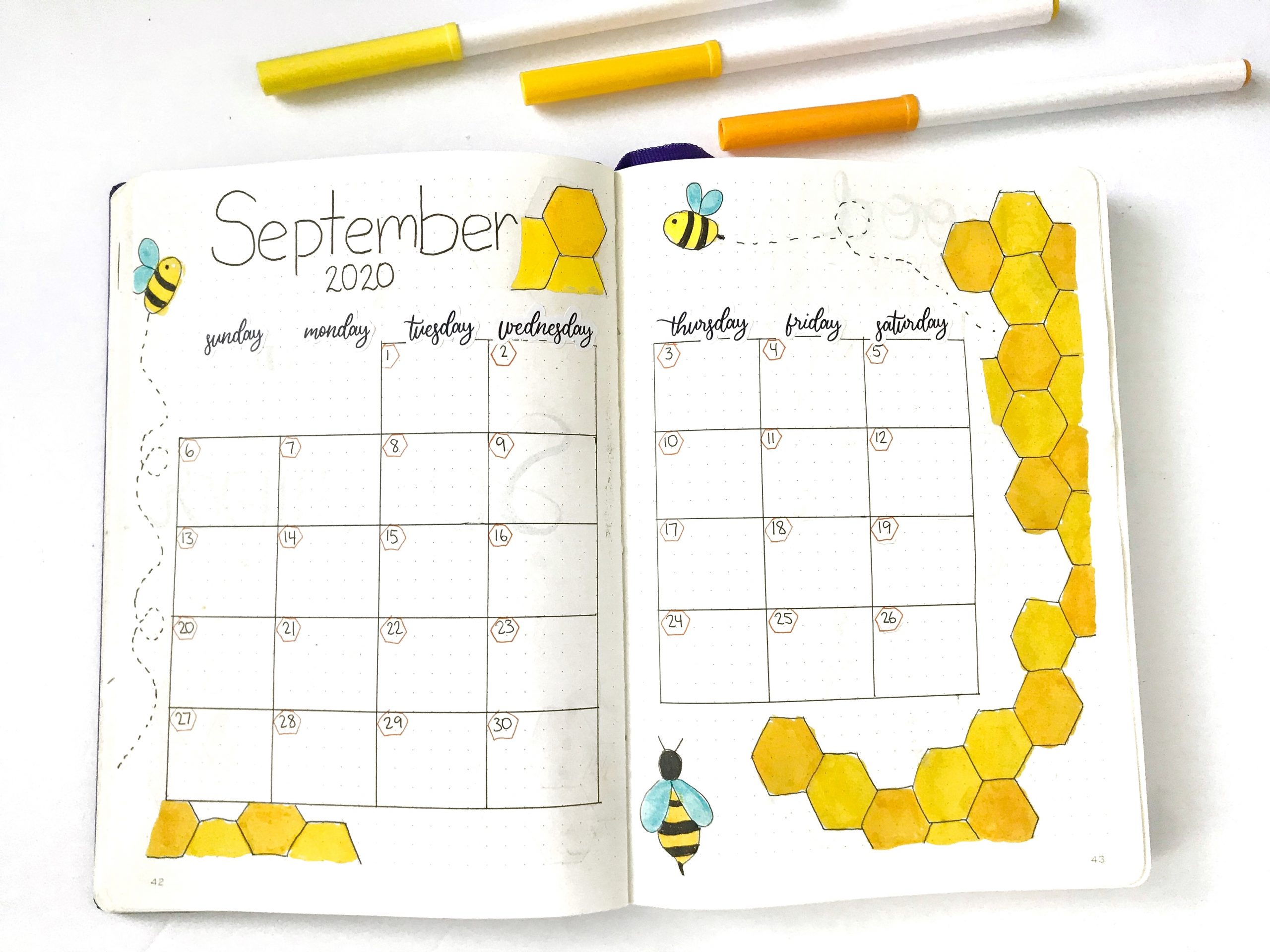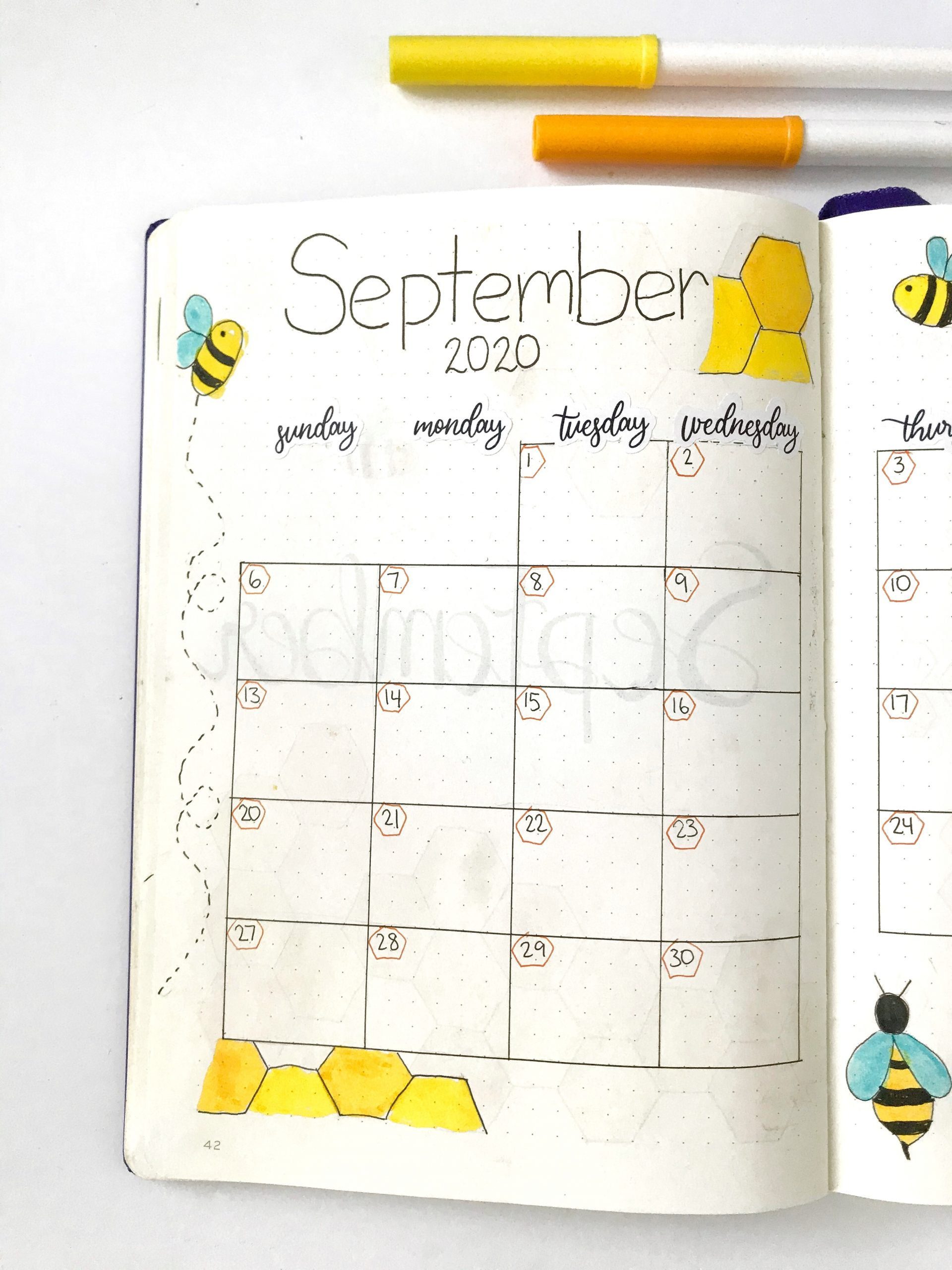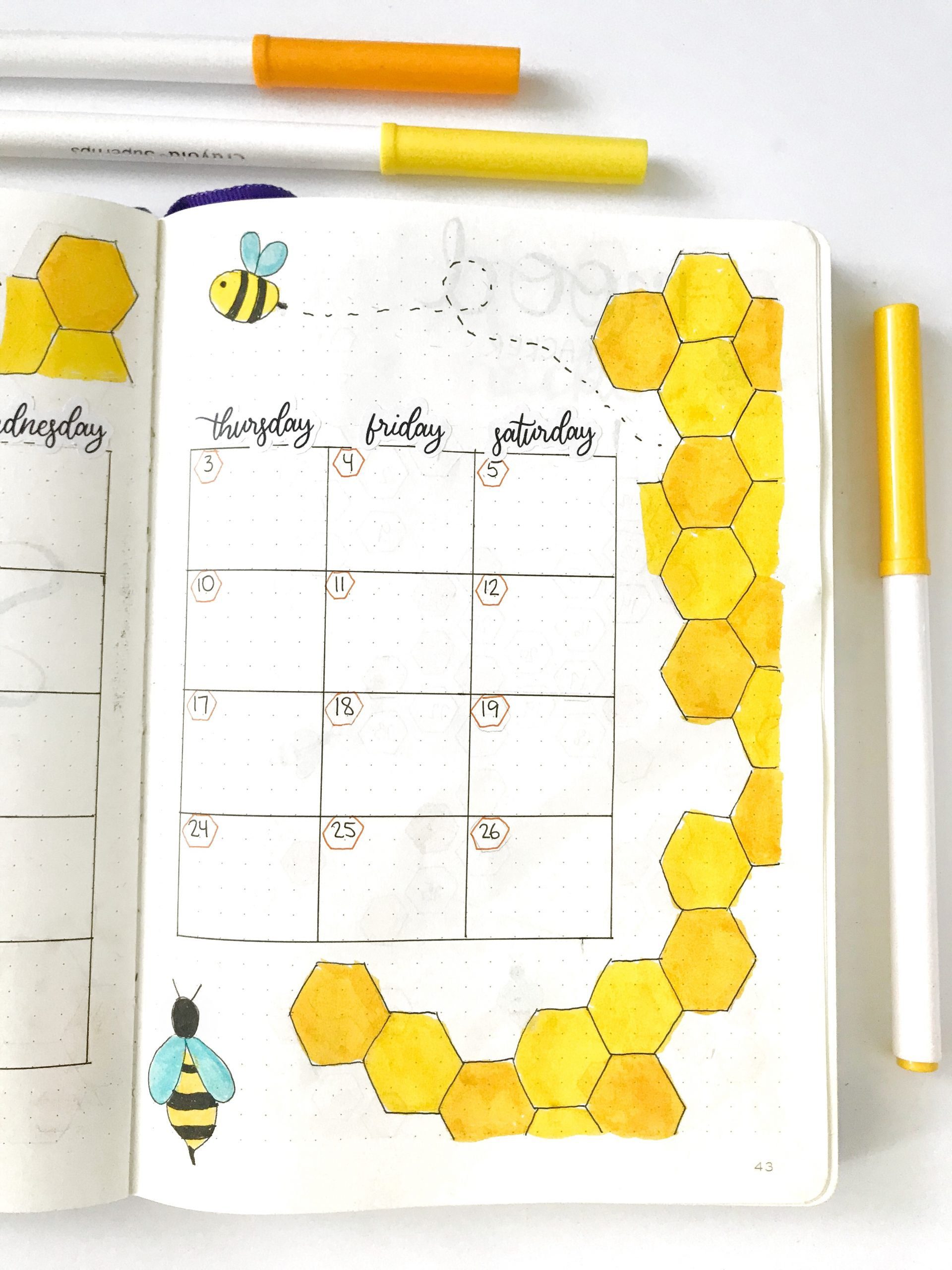 Mood Tracker
My mood tracker this month was inspired by @bujo.stefanie on Instagram. Every day in September, I will colour in one section of the honeycomb with the colour that corresponds to my mood that day.
Instead of drawing 30 honeycombs for each day of the month, I drew many more than I needed and coloured in the extras.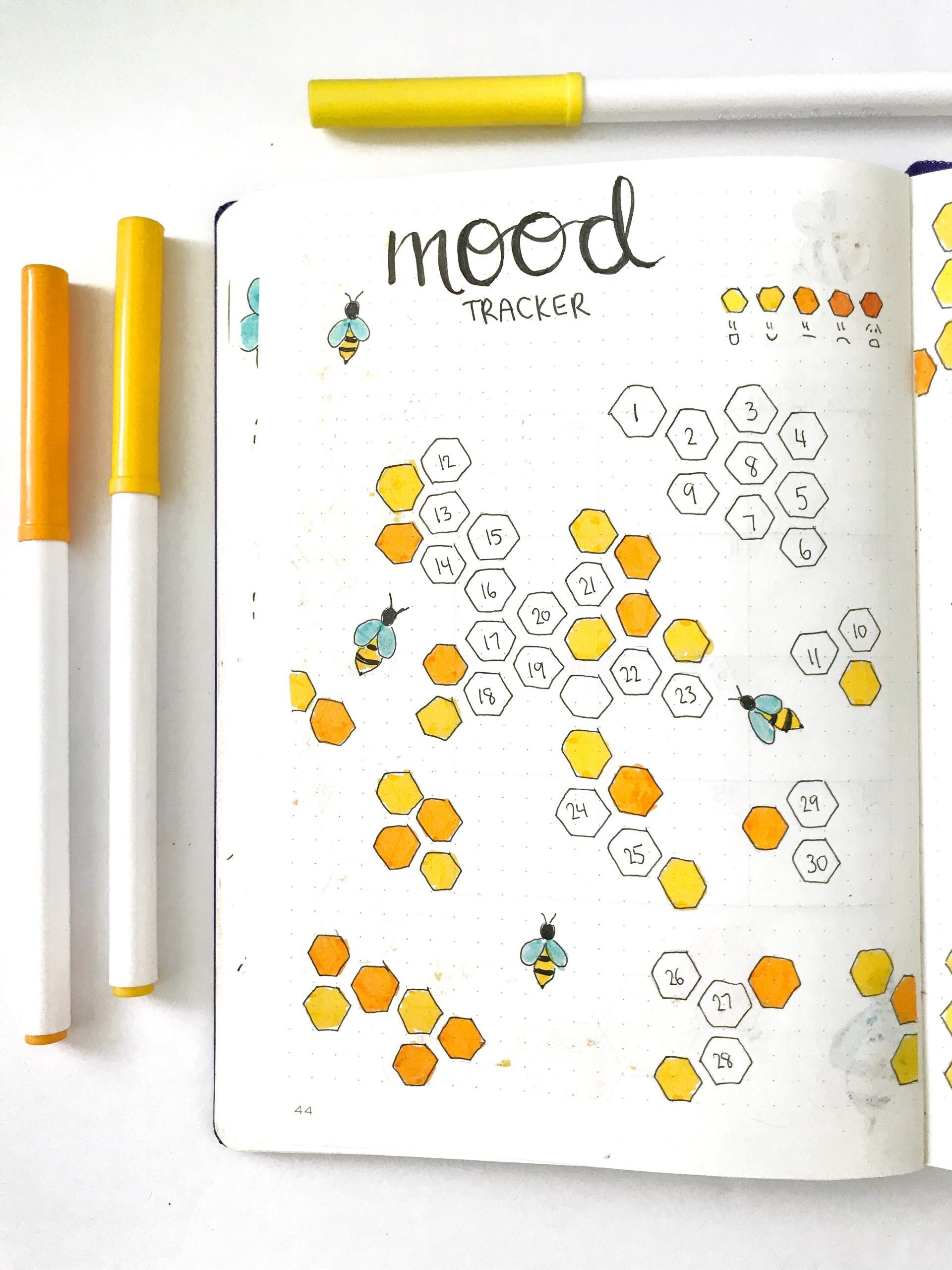 Habit Tracker
This month, I am tracking nine habits, which is more than I usually do. However, I was inspired by one of @blossom_bujo's habit trackers, so I decided to recreate it.
The habits I am tracking in September are working out, eating less than 25 grams of sugar, eating less than 100 grams of carbs, reading, learning, Pinterest work, blog work, YouTube work, and posting on Instagram.
For the learning habit, I am focusing on improving my skills around blogging, YouTube, and content creation in general. Keeping on top of everything can be overwhelming because there is so much to learn, but I want to make sure I am doing my best!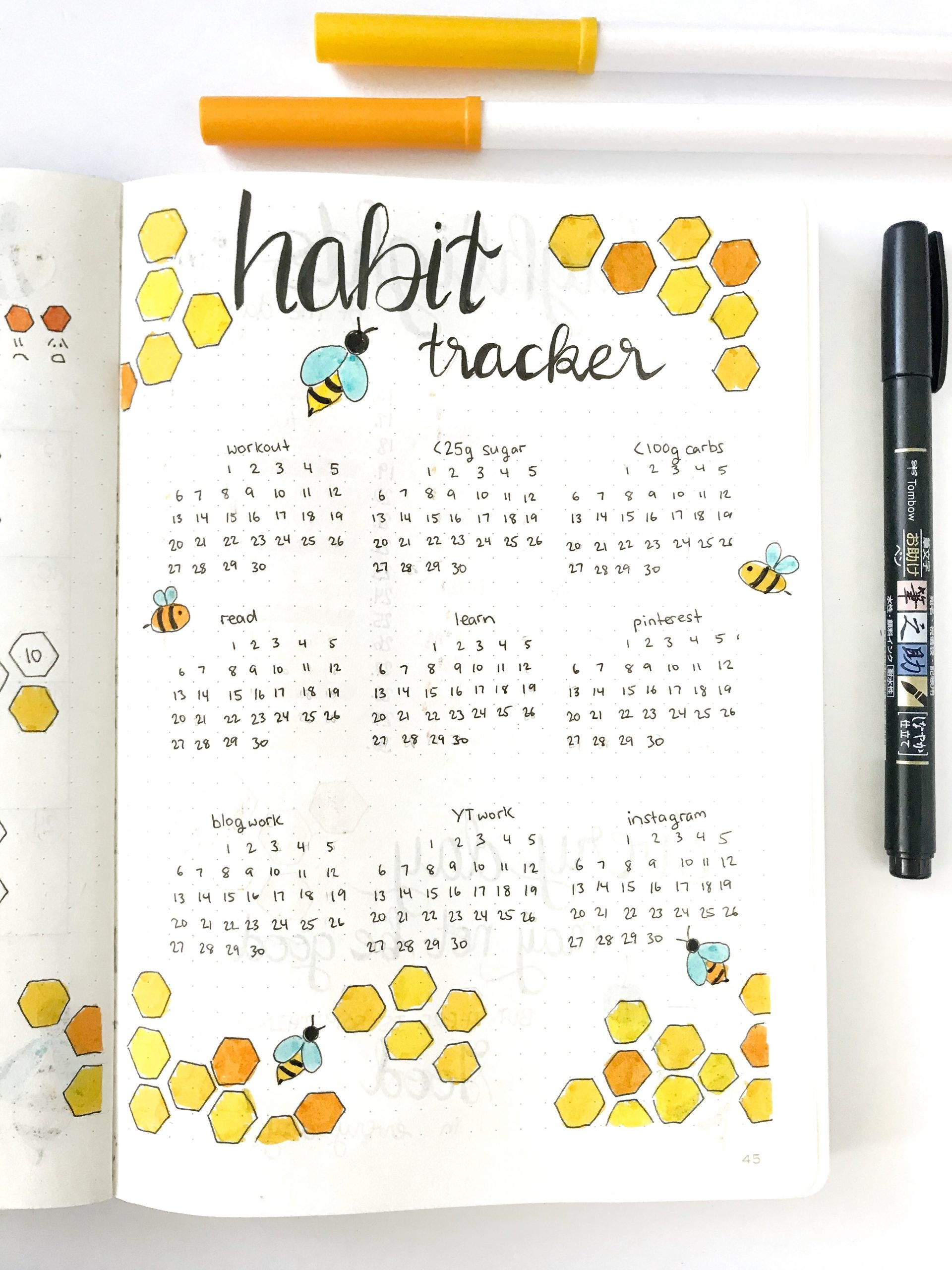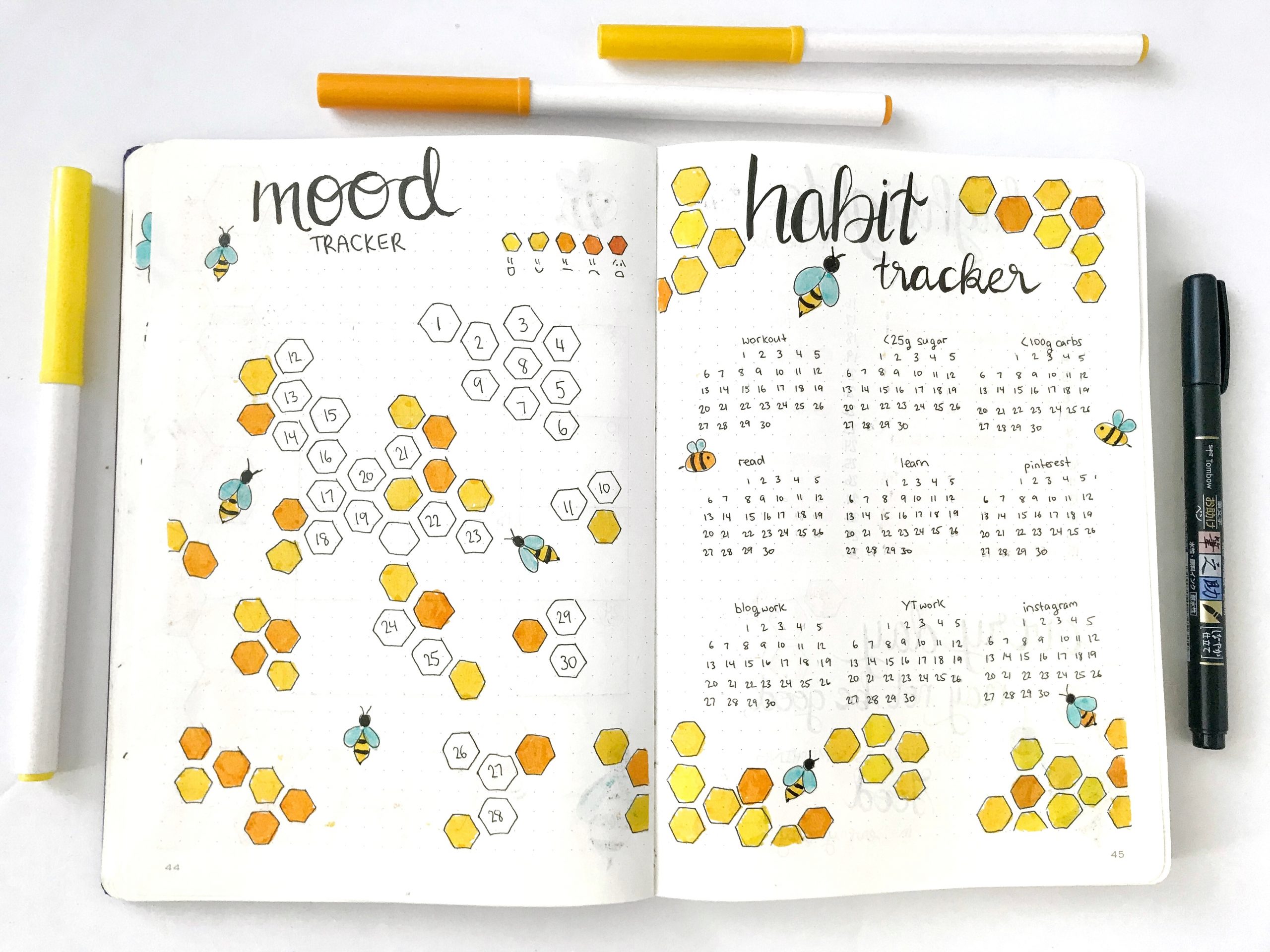 Highlights of the Day
Every month I include a highlights of the day page, but this month I am changing up the layout. I cannot remember where I got the inspiration for this page, but I love how it turned out.
I split the month into two columns, with 15 days in each column. I also highlighted each line with a different colour and I will write my highlight of each day in black ink overtop.
At the bottom of the page, I included the quote: every day may not be good, but there is good in every day.
This really is the point of these highlights of the day pages for me. Whether it is writing down something amazing that happened one day or if it is something mundane that made me smile, I love documenting everyday joys.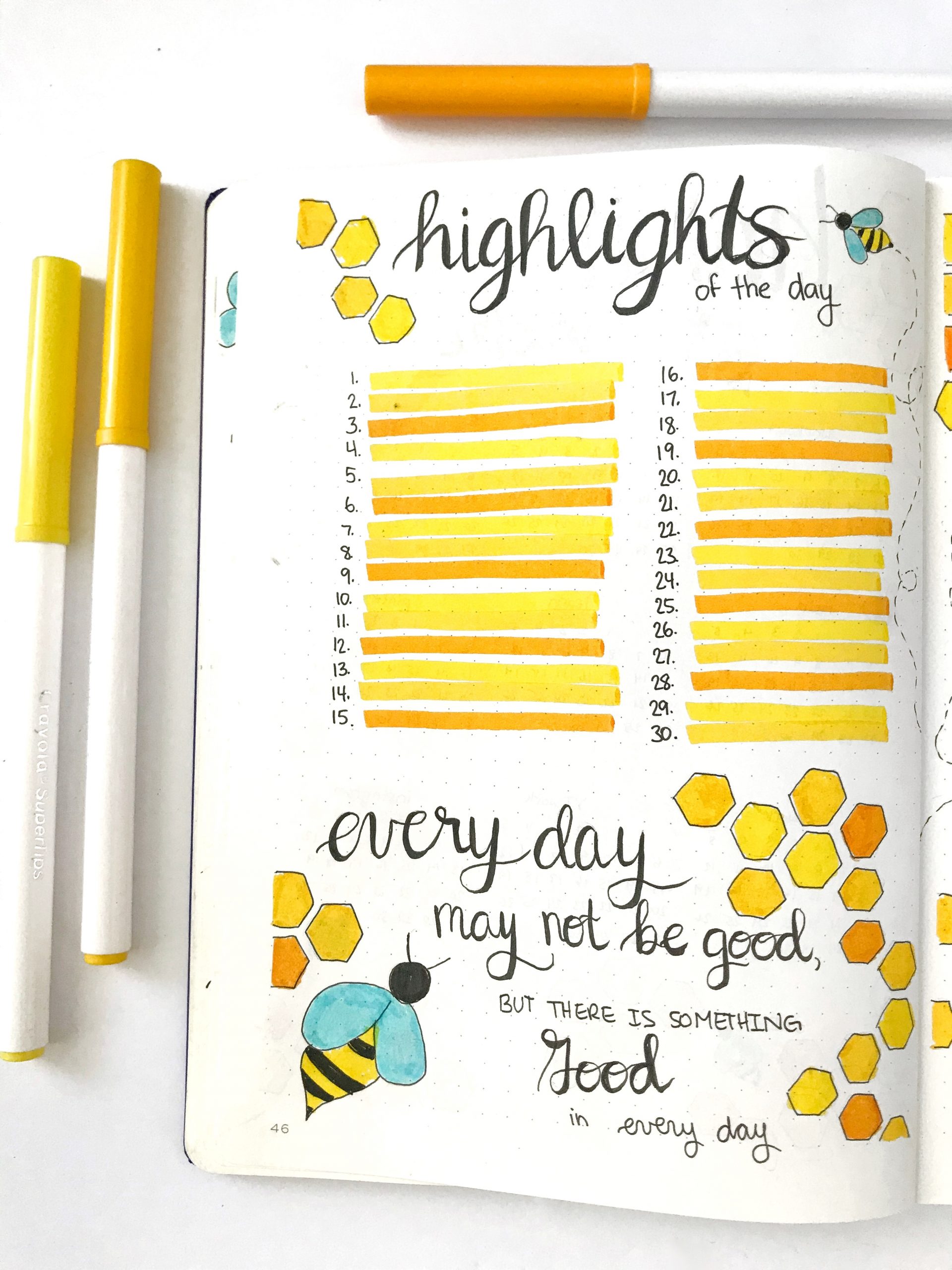 Brain Dump
A monthly brain dump page is so useful, because it is a place to write down anything you want to get done or that you want to remember during the month. I find it so helpful to get ideas or to-do lists out of my head and onto paper.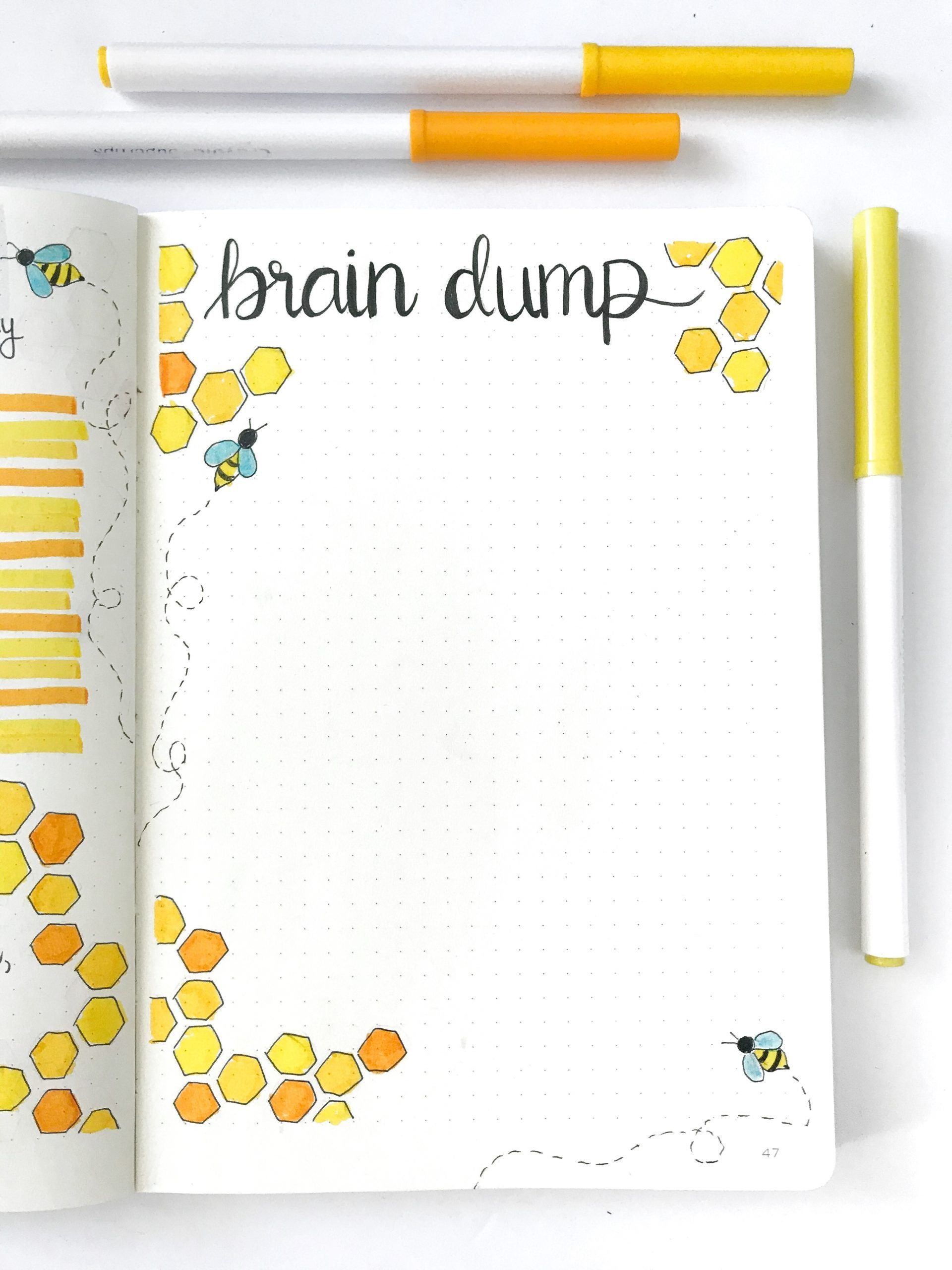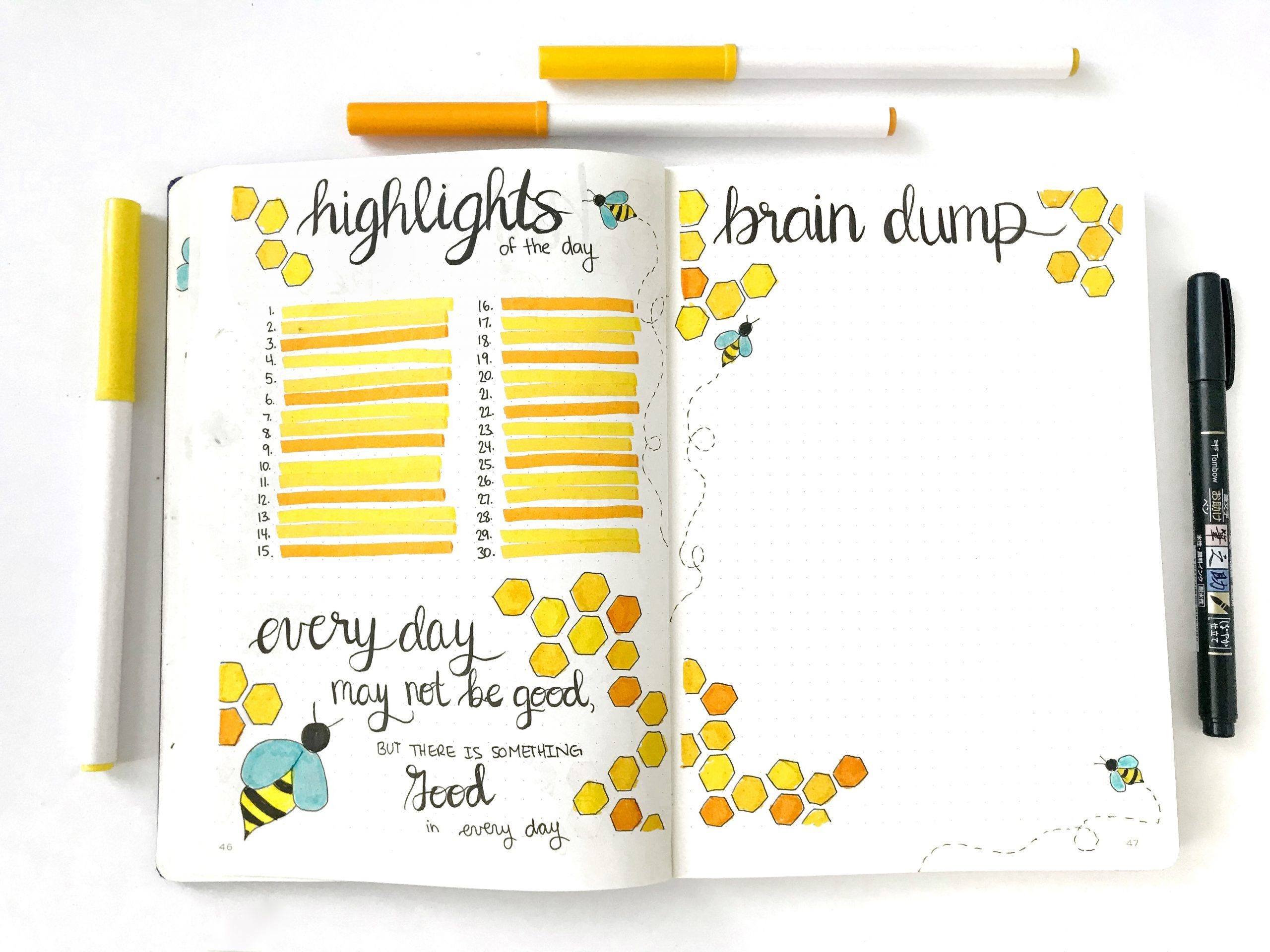 Weekly Layouts
This month, I created five weekly layouts that are each two-page spreads. Last month I created all one-page weekly spreads, so I decided to switch it up.
Click the video below to watch me make my weekly spreads for September. Even though they are all two-page spreads, they are all super easy to make and can easily be adapted to any theme.
Be sure to subscribe to my YouTube channel for more fun bullet journaling videos!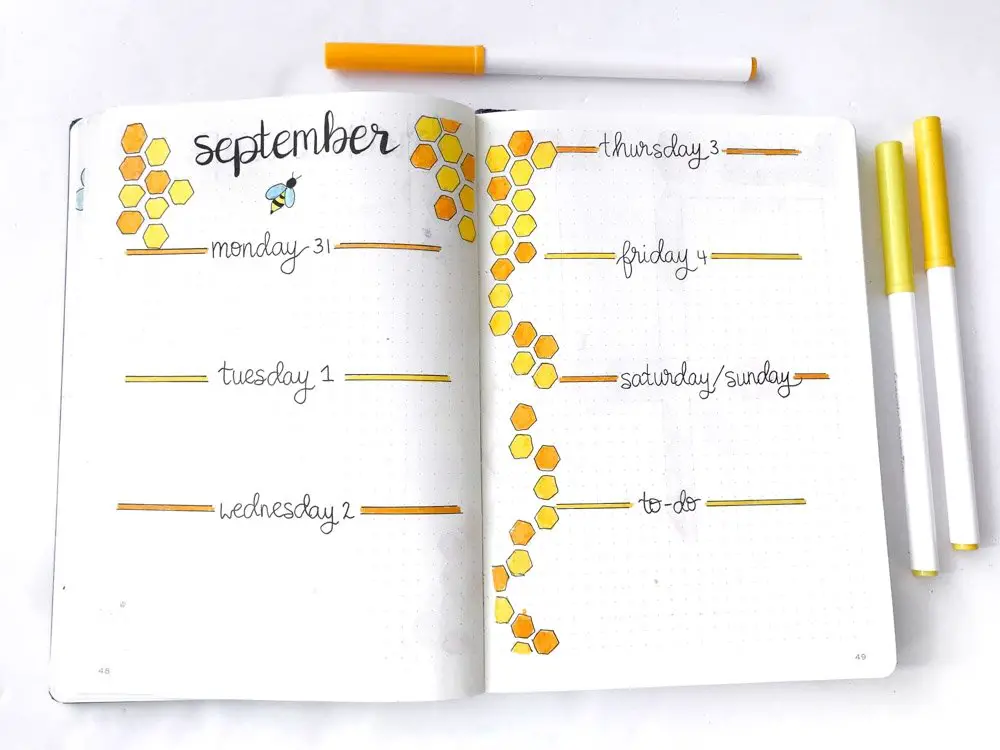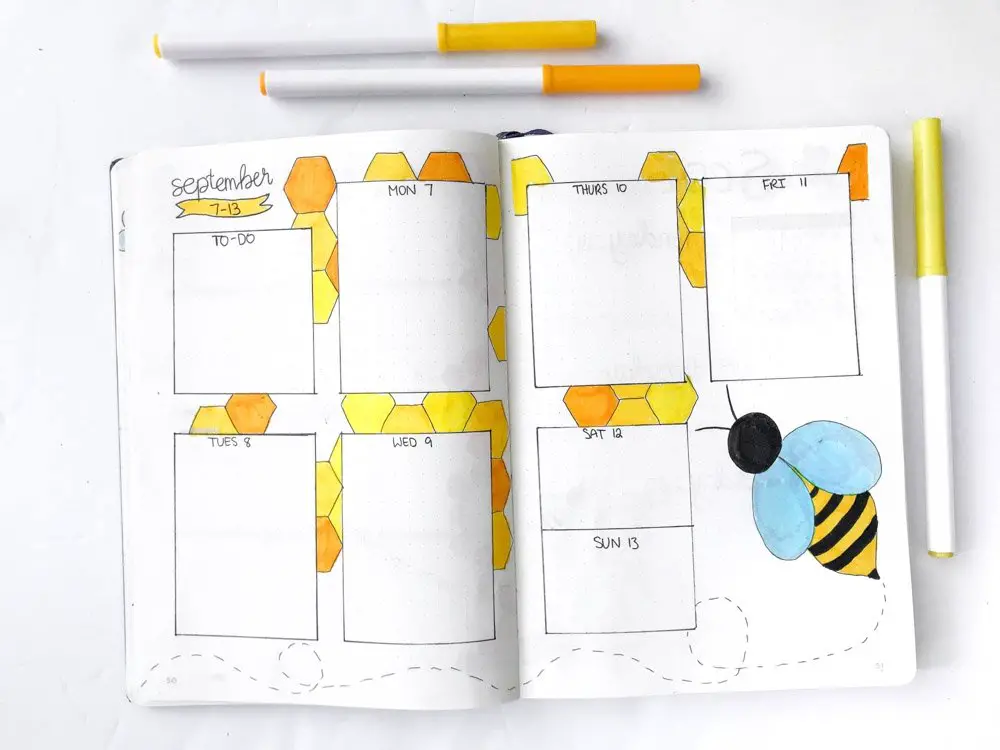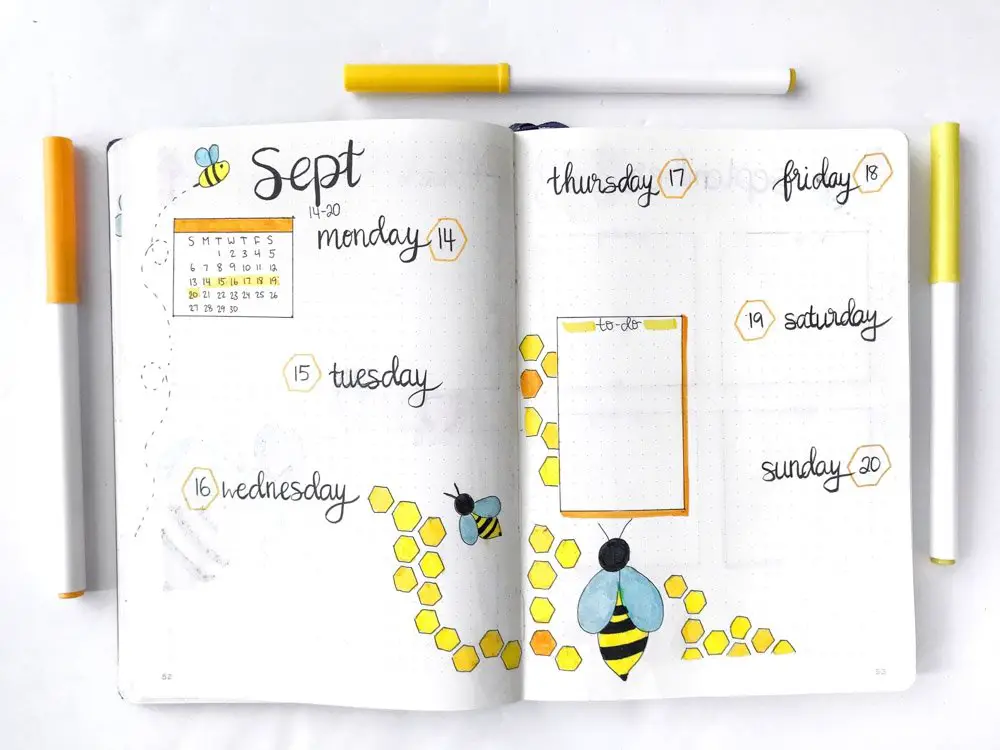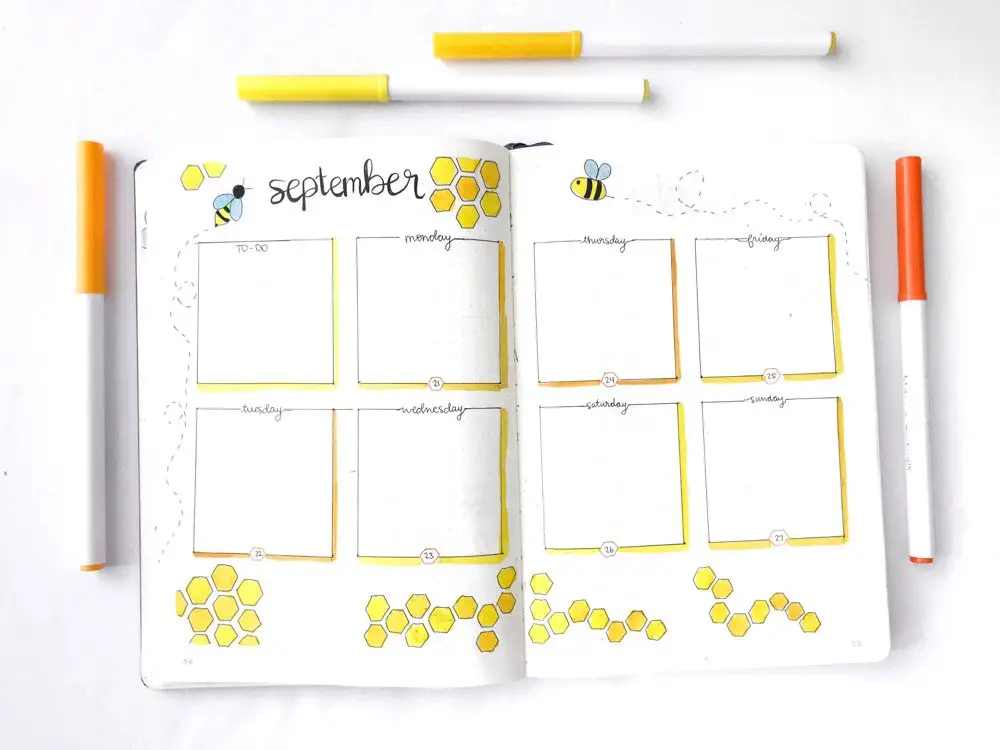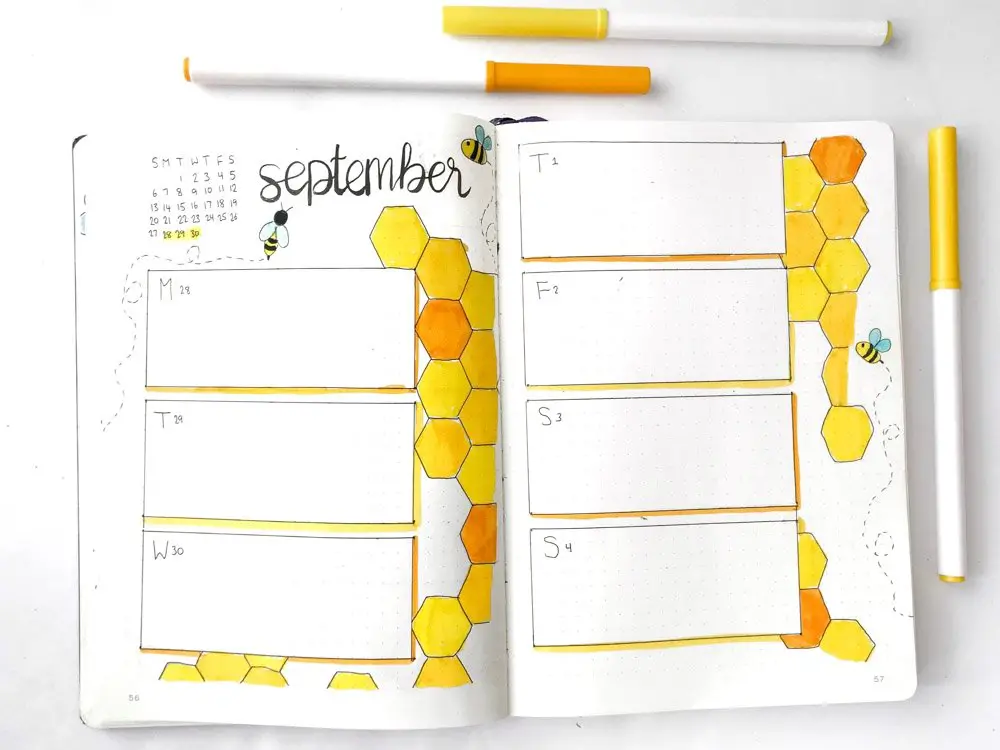 Thank you for reading this September bullet journal setup!
In need of some more bullet journal inspiration? Check out these posts:
August Bullet Journal Setup: Summer Fruit Theme
July Bullet Journal Setup: Ice Cream Theme
How to Set Up a Minimalist Bullet Journal for Beginners
Stationery Haul: Trying New Bullet Journal Supplies
Completed Bullet Journal Flip Through
Follow Me!
Instagram | Pinterest | Twitter | Facebook | TikTok | YouTube
xo,
Andrea