For the past two years, my husband and I have gone to Halcyon Hot Springs near Nakusp, B.C. for a holiday around Christmastime. Halcyon is a gorgeous resort and it's even more magical in the winter when it's covered in snow! There is something so amazing about sitting in a hot spring pool while the snow is falling down on you. In this post I am sharing some tips for making the most of your winter getaway to Halcyon Hot Springs.
*This blog post was updated on Jan. 9, 2020, to include a recent change regarding breakfast at the resort.*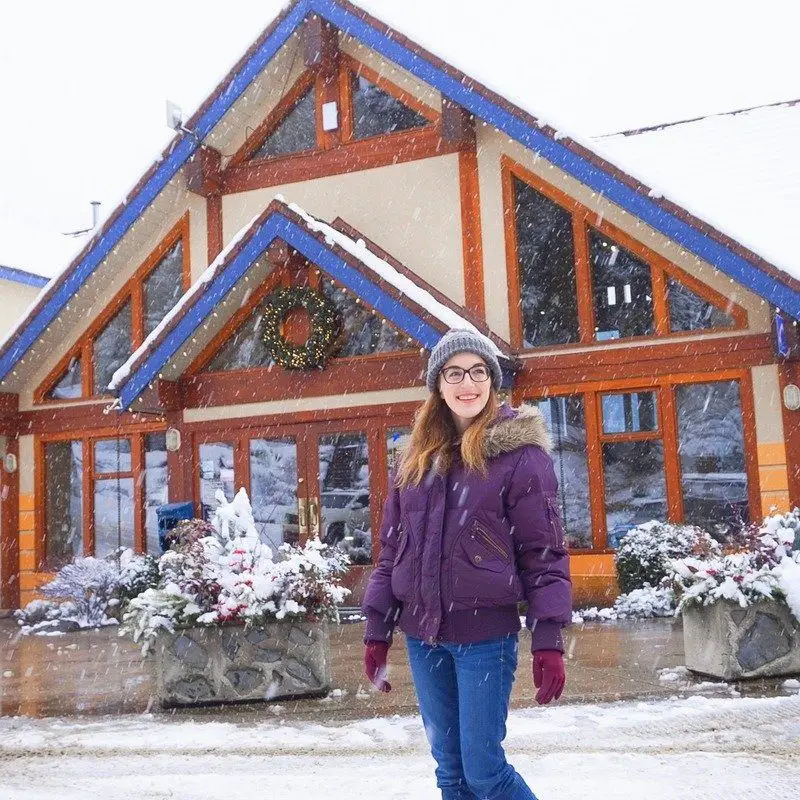 No snowflakes were added to the making of this photo! 😉 This was a real snowstorm our last day at Halcyon!
Where is Halcyon Hot Springs?
Halcyon Hot Springs is about half an hour north of Nakusp and an hour south of Revelstoke in the West Kootenay region of British Columbia, Canada.
From Kelowna, there are two options to get there. We much prefer the first option because the road isn't as windy, and we like stopping in Revelstoke on the way there.
1: Take Highway 97 up to Sicamous, then take Highway 1 to Revelstoke. From there, take Highway 23 to the Shelter Bay ferry terminal. The ferry is free to drive on and it takes about 20 minutes to get to the other side. From there, drive 10 minutes to Halcyon! (3.5 hours)
2: Take Highway 97 up to Vernon, then take Highway 6 to the Needles ferry terminal. This ferry ride is much quicker, only about five minutes to get across. From the other side, drive to Nakusp, then continue along Highway 23 to Halcyon. (4 hours)
From Vancouver:
Take Highway 1 to Hope, then take the Coquihalla (Highway 5) to Kamloops. From there, take Highway 1 to Revelstoke, then Highway 23 to the Shelter Bay ferry terminal. The ferry is free to drive on and it takes about 20 minutes to get to the other side. From there, drive 10 minutes to Halcyon! (7 hours)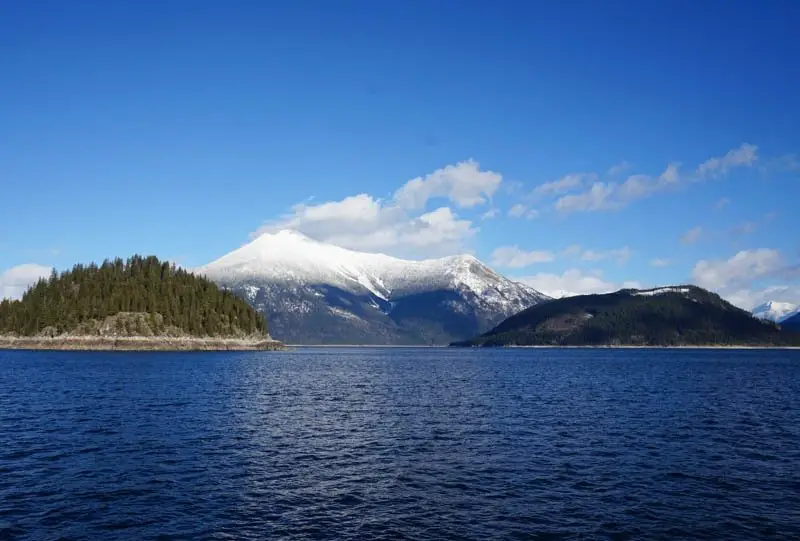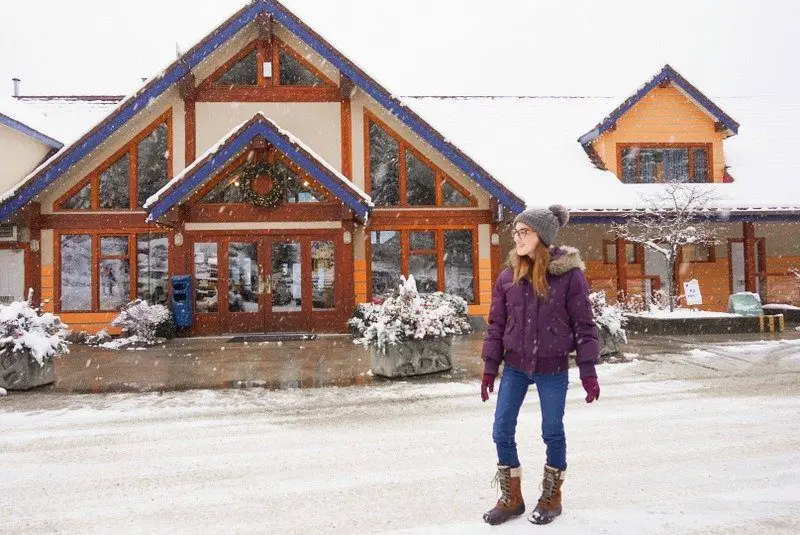 The Pools
At Halcyon Hot Springs, there are four pools to choose from: hot, warm, cold and the seasonal swimming pool. The hot, warm and cold pools are all on the same level, just as you exit the change rooms. The seasonal swimming pool is on the lower level and is only open in the warmer months.
We usually go in the warm pool first then transition to the hot one. The pools are incredible and so relaxing! We were there just before Christmas and the pools were never super crowded. We were even the only ones there when we went one morning! Being outside in the cold weather surrounded by snow in the warm pools is just pure magic.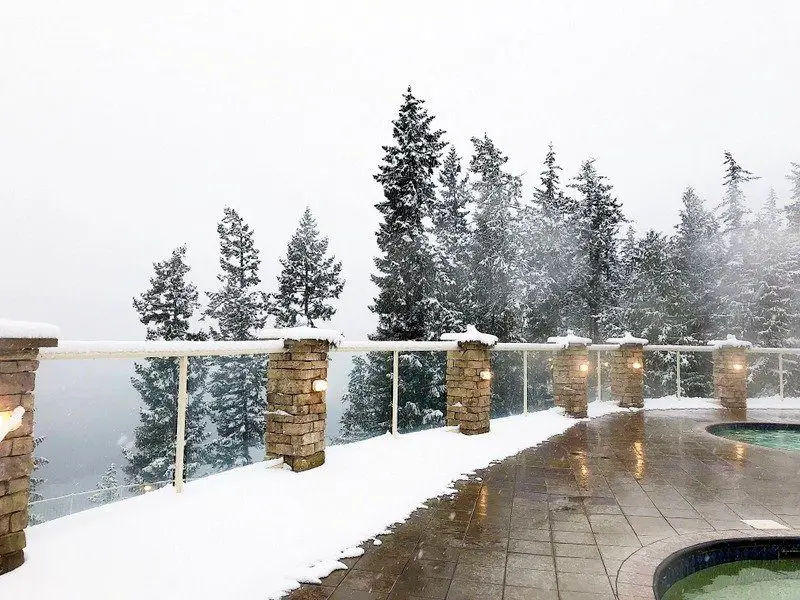 Tips for enjoying the pools in the winter
While being in the pools in the winter is incredible, getting to the pool from the change room and back can be a bit painful depending how cold it is.
Bring flip flops

Before you enter the change room, you have to leave your outside shoes on a shoe rack. There are blue floor mats inside the change room and just before you exit to go to the pools, which are super uncomfortable to walk on with bare feet. If there is ice and snow on the ground around the pools, it will also be very painful to walk on, so bring your flip flops to the side of the pool where you're hanging out. Your feet will thank you.

Take your towel to the edge of the pool

If you hate being cold, this is a must. When we went in December 2017 it was our first time being there in the winter, and it was COLD. For me, having to get out of the hot pool into the freezing air kind of made me not want to go to the pool as much. This time around, we left our towels at the edge of the pool and wrapped them around ourselves as soon as we got out. Even if the towels got snowed on, it actually still made the biggest difference! So much nicer!
Top Tip for anytime of year
A super cool part of the change rooms at Halcyon is this contraption in the photo below. This is a bathing suit dryer! You stick your bathing suit inside this machine, then press down the lid and it vibrates intensely and totally dries it. No more wet swim suits!
*January 2020 update: There is a new drying machine in the changing room, which is almost identical to the one pictured below. I think the lid on the new one is easier to hold down, which is great!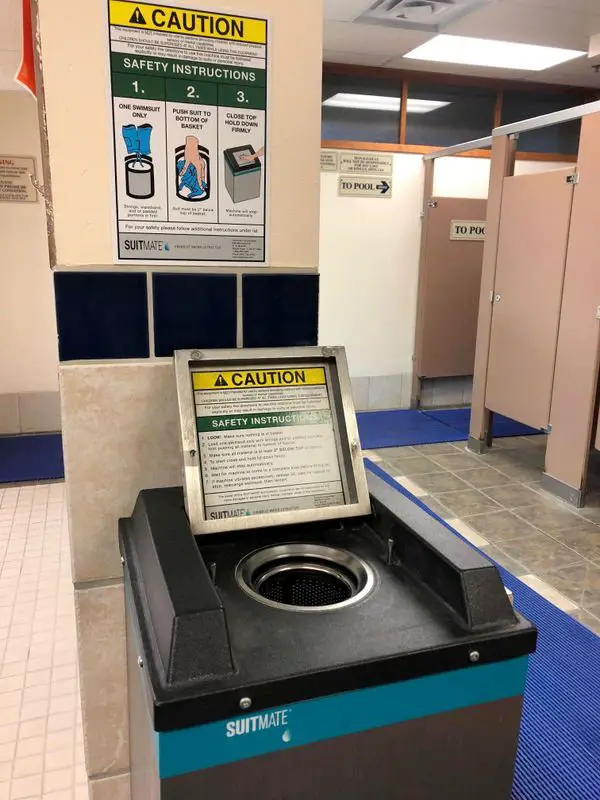 The Accommodations
One thing that is super unique about Halcyon Hot Springs is there isn't a hotel. All the accommodations are cabins, cottages and chalets, and they are so adorable. Staying in your own cabin really adds to the experience and makes it feel so much more special.
This time around we stayed in Odin, which is a Queen Cottage. The Queen Cottages include a queen-sized bed, a bathroom with a shower, a microwave, small fridge, kitchen sink, coffee maker and a TV.
For details on all the different options, go to the Halcyon Hot Springs website.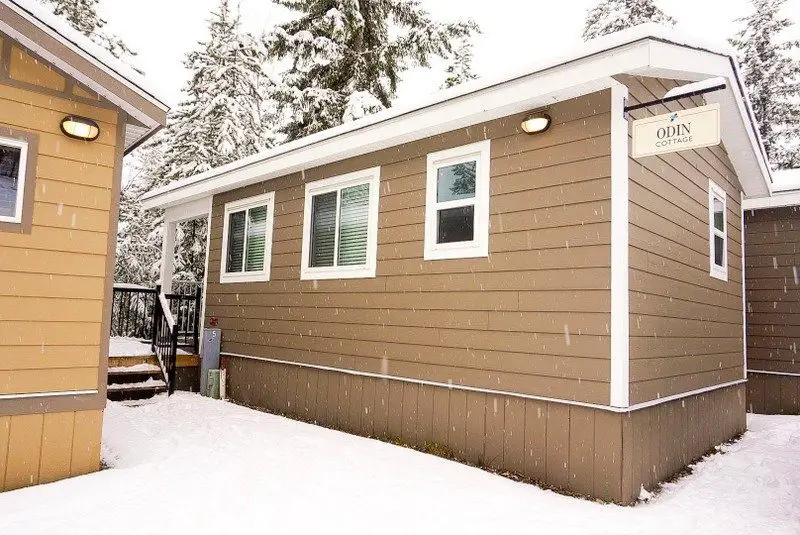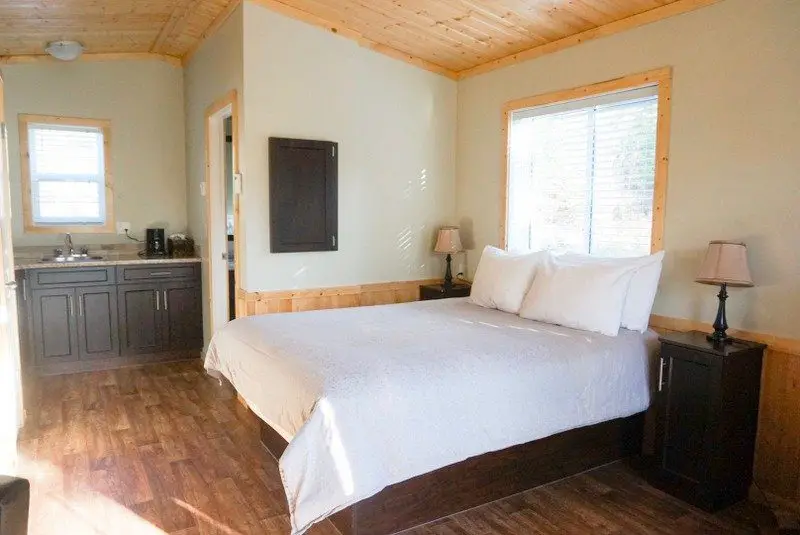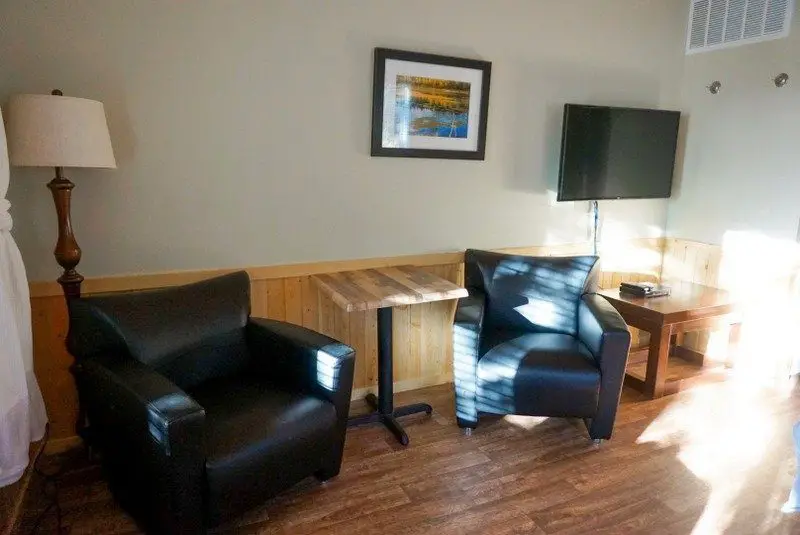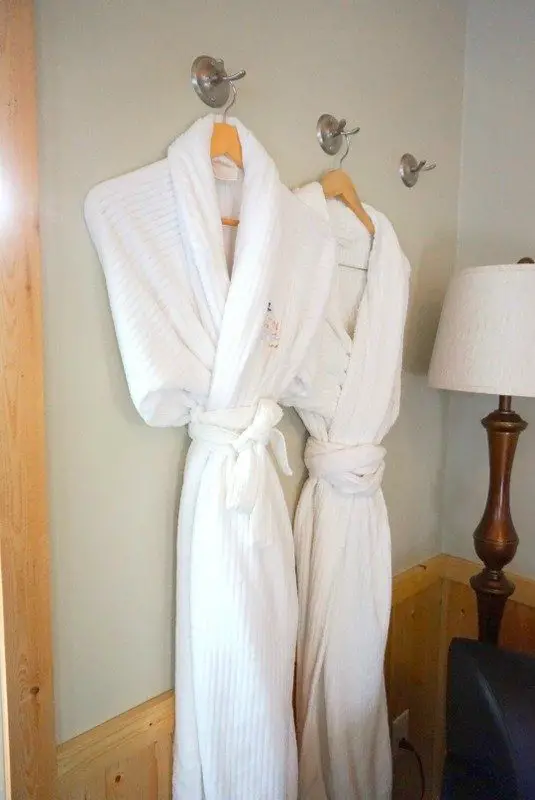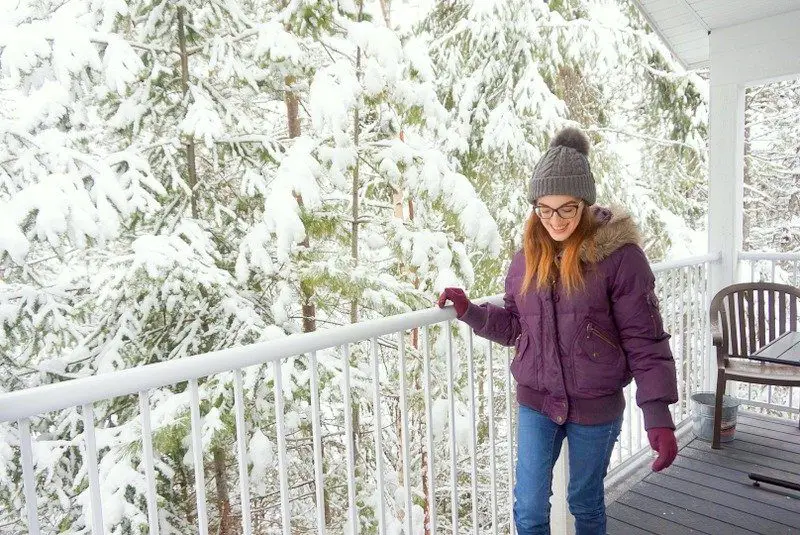 Food
Kingfisher Restaurant
The on-site restaurant at Halcyon Hot Springs is Kingfisher. It is a beautiful restaurant with huge windows that overlook Upper Arrow Lake and the Monashee Mountains. The food is amazing, but it is on the pricey side.
*January 2020 update: As of Jan. 3, 2020, breakfast is now included in the price of your stay at Halcyon. The breakfast buffet is served every morning from 8 a.m. to 11 a.m. The buffet is fairly standard. Options include scrambled eggs, bacon, sausage, potatoes, muffins, croissants, bagels, toast, granola, yogurt and fruit.
Nakusp
There are also a few restaurants in Nakusp, 25 minutes south of Halcyon. On our last trip, we went to Arrow Lake Tavern, and we really enjoyed it.
If you're looking to pick up any grocery items, there is a Save on Foods in Nakusp.
The Lake
Along with the amazing pools, Halcyon Hot Springs overlooks Upper Arrow Lake. The photo below looks like it was taken at a completely different time than all the snowy pictures I've shown so far, but this was actually on our first day at Halcyon, when there was no snow! Amazing how things can change in one day.
If you come here in the summer, you can rent kayaks, canoes and paddle boards and explore this gorgeous lake.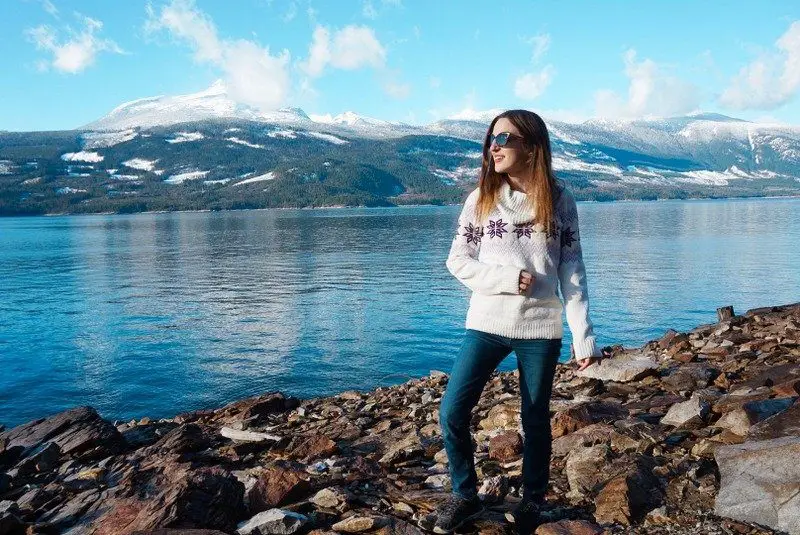 Nakusp
One of my favourite parts about going to Halcyon Hot Springs is taking a drive to Nakusp, which is an adorable village nearby. It has a huge boardwalk all along the lake, surrounded by stunning views. There are several cute local coffee shops to hang out in, and a couple of shops to wander into.
One thing I love about Nakusp is there are actually no chain restaurants and no fast food places. I think it really adds to the charm of the town. The only chain is Save on Foods, which is a B.C.-based grocery store.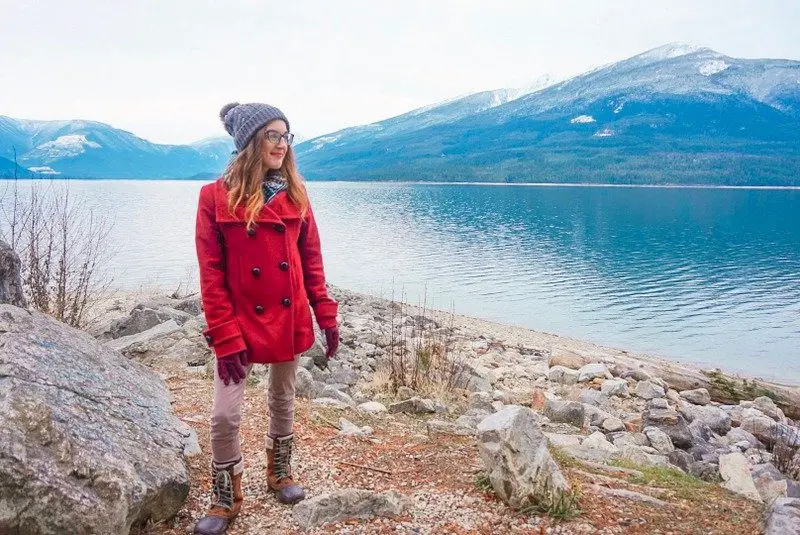 Nakusp Hot Springs
Even though we stayed at Halcyon Hot Springs, we decided to take a drive up the road to check out Nakusp Hot Springs. It is about a 15 to 20 minute drive from Nakusp. Since it is much higher in the mountains than both Nakusp itself and Halcyon, we found tons of snow here before it had snowed lower down.
We didn't go in the pools, but we did have a peek at them. There are two pools, a hot one and a warm one.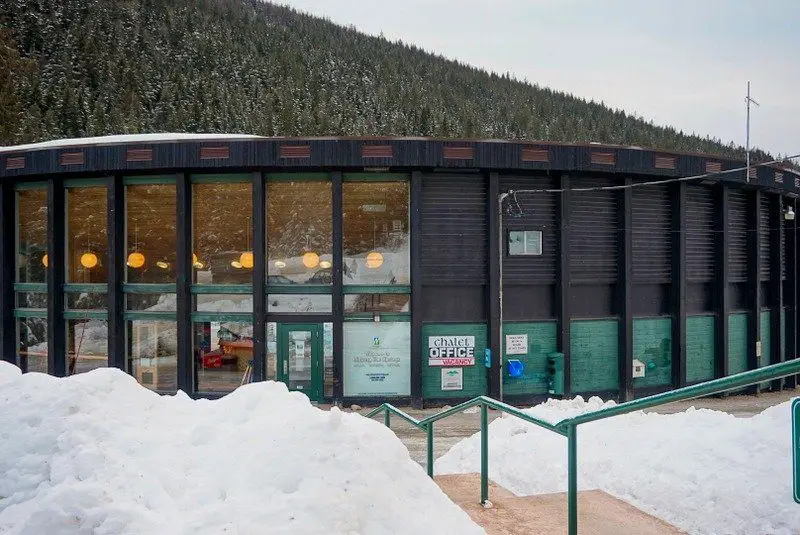 While at Nakusp Hot Springs, we went on a walking trail and found this amazing covered bridge just a few minutes down the path.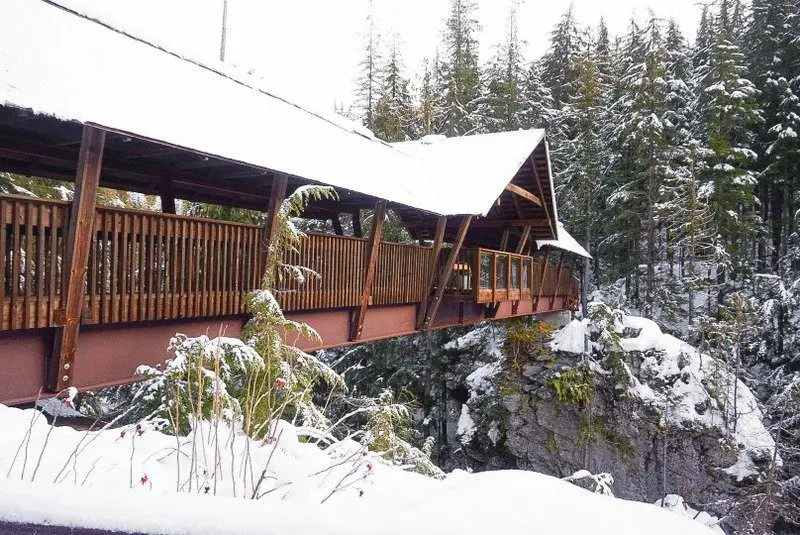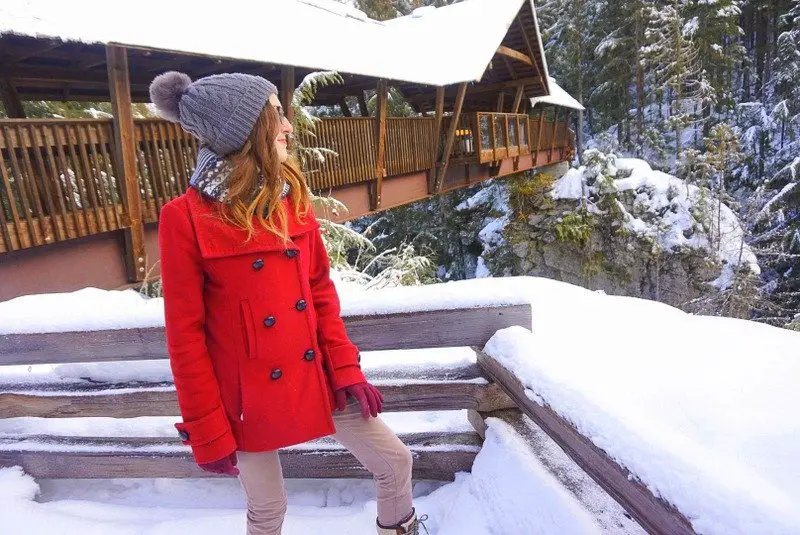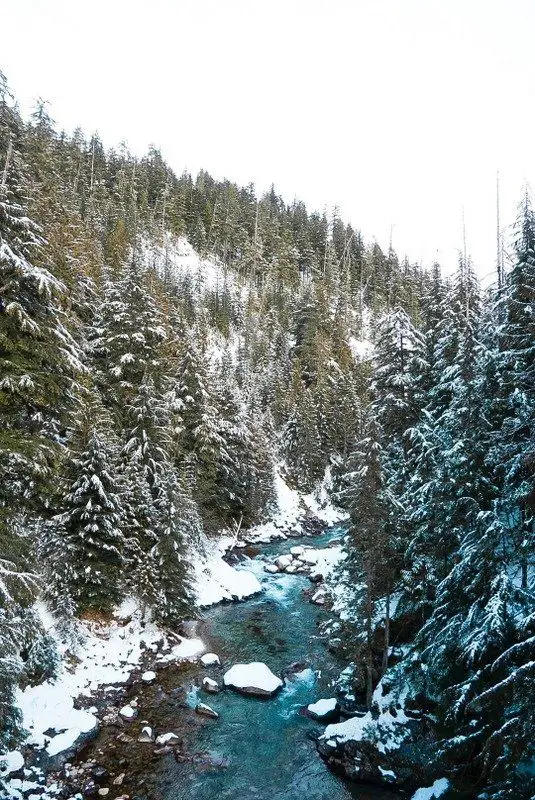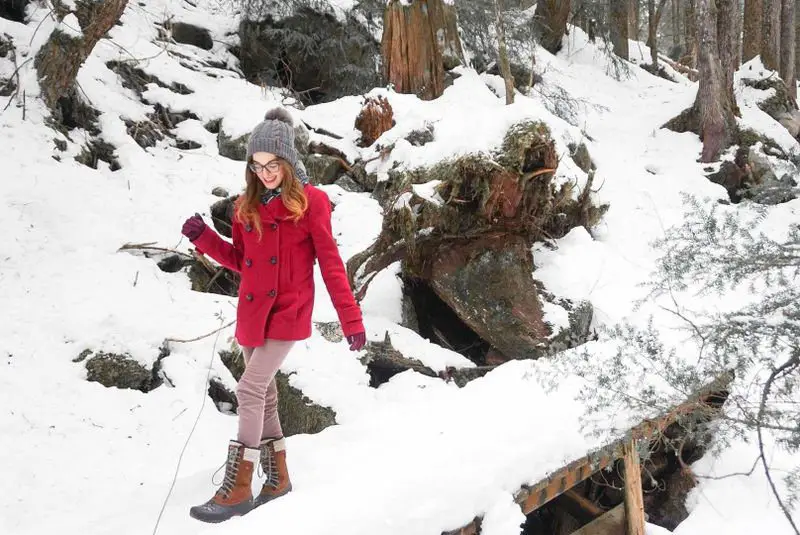 Have you ever done a winter getaway to a snowy location? Kelowna hasn't been very snowy this winter, so this was the perfect way to get us in the holiday spirit before Christmas. There's nothing quite like snow in December, especially when you're at a gorgeous hot springs resort!

Check out these posts next:
5 Waterfalls to Discover Near Revelstoke, British Columbia
Visiting the Tulip Festival Near Vancouver
Guide to Visiting Niagara Falls
Vancouver's Most Instagram-Worthy Murals
 xo,
Andrea
Follow Me!
Instagram | Pinterest | Twitter | Facebook | Bloglovin