Bullet journaling is a great way to not only keep track of daily and weekly tasks, but I find it is awesome for tracking goals and habits throughout the month. Last month, I showed you how I set up my first bullet journal. Since I am still very new in the bullet journal world, I take a very minimalist approach to my bullet journal. I totally admire the fancy designs people come up with, but I do not believe you have to be super artistic to have a bullet journal! In today's post I am sharing my bullet journal habit tracker and how I am tracking my goals this month. I am also looking back at January's setup to show you how I did with my habit and gratitude log.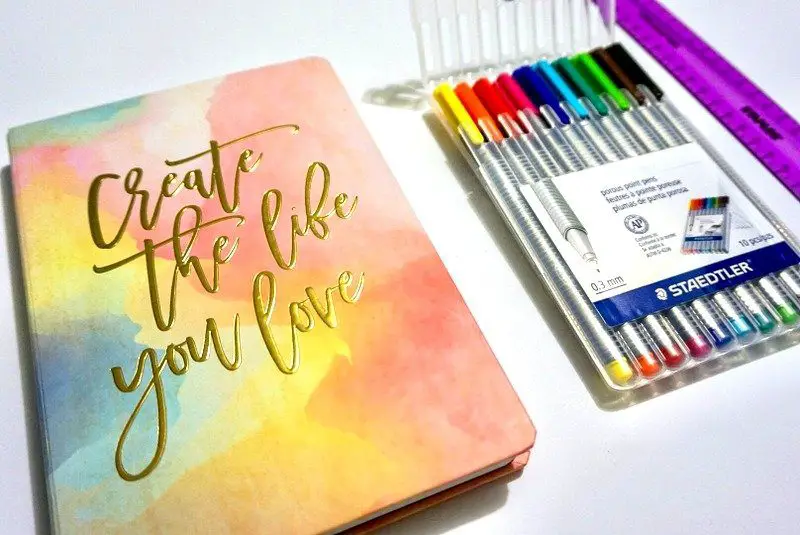 ***JUNE 2020 UPDATE: I have started a YouTube channel! I will be sharing monthly bullet journal setups, stationery hauls, doodling tutorials and more! Check it out and don't forget to subscribe!
Some of the links below are affiliate links. If you choose to make a purchase, I may receive a small commission, at no extra cost to you. Thank you for your support!
Supplies
January Bullet Journal Setup: Habits and Gratitude
Last month I was tracking four goals: a daily devotional, mindfulness, retainer and posting on Instagram. Things kind of went awry because I had an endoscopy on Jan. 3, then gallbladder surgery on Jan. 17. I kept up with the daily devotional, but after the surgery the mindfulness and retainer-wearing went out the window.
There were also days where I forgot about writing something I was grateful for, but for the most part I really enjoyed that exercise and will be continuing that this month.
February Bullet Journal Setup
This month I set up the calendar the same as in January, because I found it worked out really well. I use this space to write big events and holidays as an overview to see what's coming up.
Monthly Goals
I plan to use this page as a point of reference to look at throughout the month as inspiration and direction. Often I have things in mind I want to do, but I think having them written down somewhere I am going to see every day is going to be a big help. It will also be interesting to look back at the end of the month to see how I did!
Bullet Journal Habit Tracker and Gratitude Journal
This page is the same idea as the habits and gratitude page I had in January, but I went with a slightly different layout. This month I'm going to focus on the two habits I didn't do so well with in January: doing a daily mindfulness exercise and wearing my retainer every night. I am also going to continue writing one thing I am grateful for every day.
Do you have a bullet journal? If not, it's never too late to start!
Interested in starting a bullet journal? Check out these posts:
How I Set up My First Bullet Journal
Bullet Journal Setup for Beginners
February Plan With Me: Monthly Bullet Journal Setup
xo,
Andrea
Follow me:
Instagram | Pinterest | Twitter | Facebook | Bloglovin