I have always been a paper and pen kind of person. I love writing lists on paper instead of my phone, and I much prefer using paper planners instead of digital ones. For the past couple of years, I had been using a planner with month and week page inserts. This year I decided to take the plunge into the world of bullet journaling I've been hearing so much about. Keep reading to see how I've set up my very first bullet journal, and what supplies I'm using.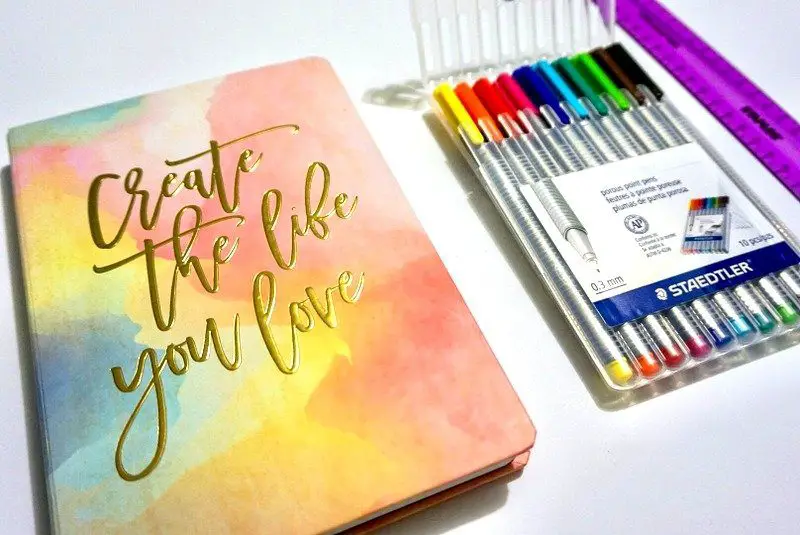 ***November 2021 UPDATE: I started a YouTube channel! I will be sharing monthly bullet journal setups, stationery hauls, doodling tutorials and more! Check it out and don't forget to subscribe!
Bullet Journal Supplies
It's easy to get caught up in believing to start a bullet journal you need a drawer full of fancy washi tape, brush pens and whatever else talented artistic types are using to beautify their bullet journals. I am all for creativity and pretty things, but I am also here to tell you it's not necessary when getting started. All you really need is a notebook and a pen.
I chose a dotted journal over a normal lined one, because of the flexibility it offers. In my view, the point of the bullet journal is to be flexible, and that is more difficult to do if there are lines across your pages.
Yes, any pens will do. However, I was really excited to get started bullet journaling, and I thought I'd be more likely to follow through with it if I had some nice, fun pens. (it's totally working by the way)
A ruler, eraser and pencil are also must-haves when it comes to bullet journaling!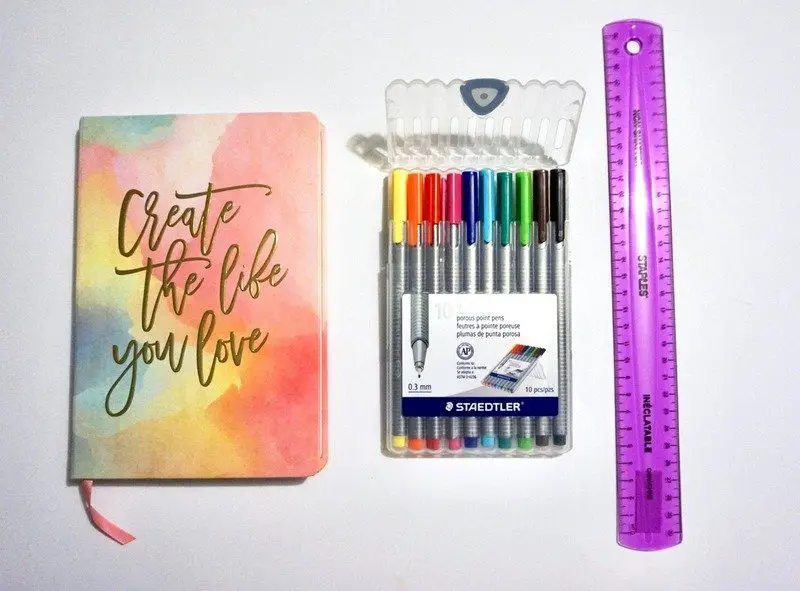 How to Set up a Bullet Journal
Looking online for bullet journal ideas can be a little intimidating because of how artistic everyone seems to be. Don't get me wrong, I love all of the amazing creativity! However, it is totally ok to take the minimalist/simple approach too.
Since this is my first bullet journal, there will be some trial and error with respect to how I set it up as I figure out what works for me and what doesn't. This is such a cool part of the bullet journal though, because you can be flexible and switch things up as you go, depending on your needs.
Index
Every bullet journal guide will tell you to start with an
index
. I wasn't sure if I wanted to do this, but I decided to go ahead with it anyway. I haven't referred back to it at all yet, but perhaps once I start filling in more pages it will come in handy. I'll check back later in the year on this.
My index is also already wrong, because my blog statistics/passwords page came out…#fail. Luckily I had an extra page I had left blank, so I put my statistics on that page, and I didn't bother with another passwords page.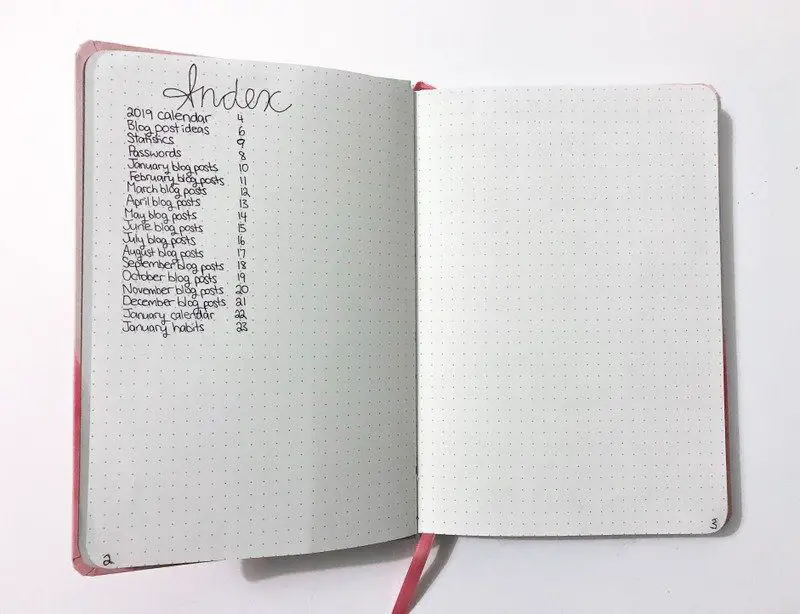 Yearly Calendar + Events
The first real page in my journal is my
year-at-a-glance calendar
. Sometimes you just want to know what day of the week a certain day is going to fall on, you know? This took a lot of dot counting and line drawing (with calculation help from my husband who is much more patient than I), but I'm pretty happy with the result.
The next page is kind of a continuation of the year-at-a-glance thing, with important dates written down to remember holidays and birthdays. I still have to fill in a bunch of dates for this page.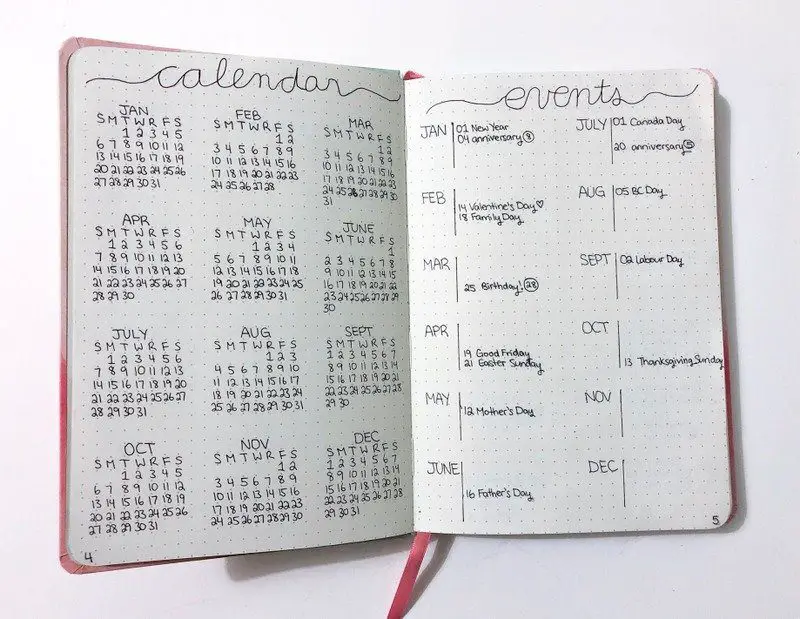 Blog Post Ideas + Statistics
Next up is a page for jotting down blog post ideas. As someone with a lot of lists all over the place, it'll be nice to contain my blog ideas to one place.
The statistics page is going to be where I track my monthly blog and social media stats. I think it will be a useful tool to see how it changes over the year.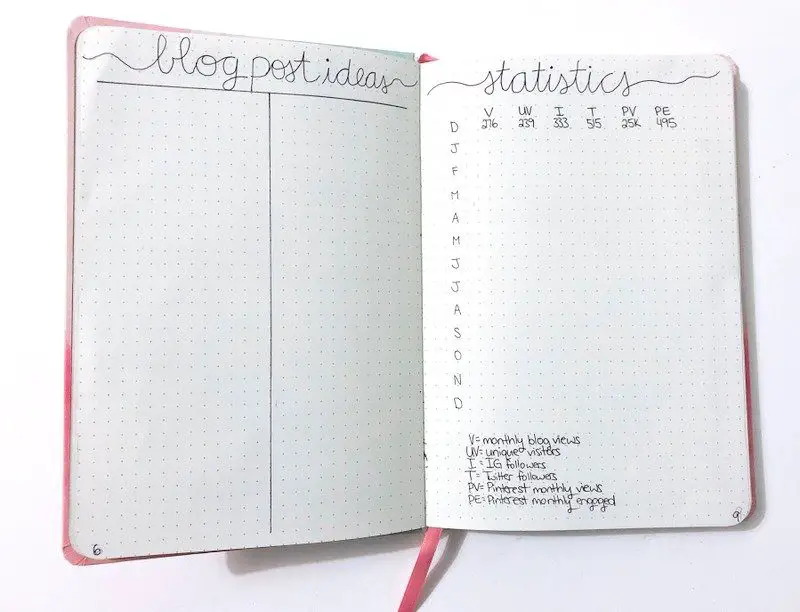 Blog Content
I've set up this monthly blog post content calendar, but I'm not too sure how I feel about it yet. I set aside 12 pages for this, but I've only done the first one in pen. I might change up the design for future months, but I'm not sure what the best format is for me yet.
For this page though, I've written out every day of the month, and I plan to write which blog post is going up on which day. I will also mark off when I have done a certain task for a post on the right-hand side, such as the text, photos, etc.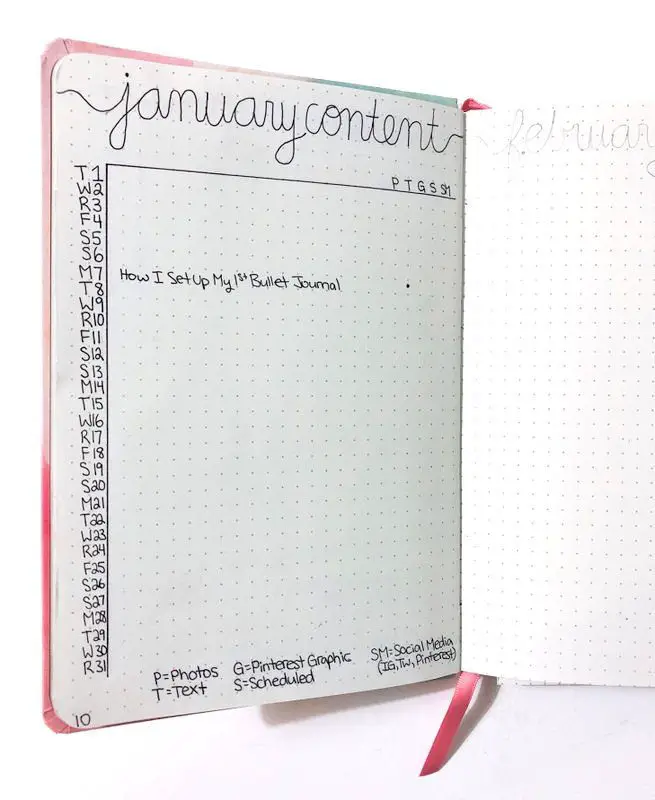 Monthly Calendar
This page shows the month at a glance. It's the place I plan to write in events I know are happening that month, and a way to look ahead at what's to come. I've also left a place at the bottom for notes. I think that will be a place where I write something that has to get done that month, but doesn't apply to a certain day.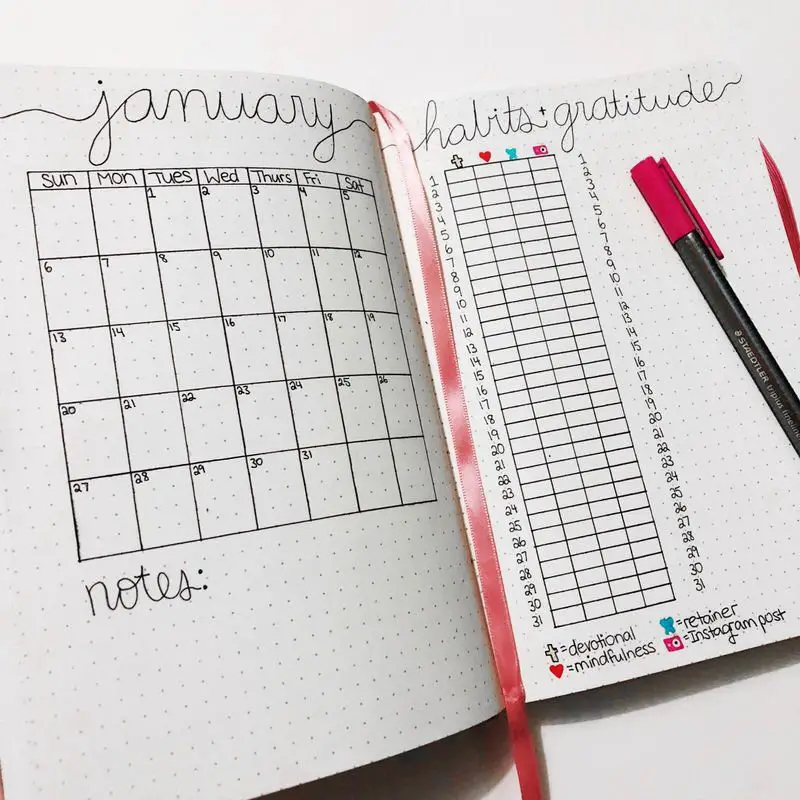 Habits + Gratitude
This is a page I'm really excited about. They say it takes 21 days to make something a habit, and I need all the push I can get to keep me on track and consistent. Filling in the rectangles when I complete a task has been so rewarding haha. Whatever it takes, right??
I've created a key at the bottom, but the habits I've chosen to target this month are reading a daily devotional, doing a daily mindfulness exercise, wearing my retainer (anyone else struggle with this??) and posting on my blog Instagram account.
Gratitude is such an important part of life, and the other half of this page is dedicated to writing one thing I am grateful for every day. Last January I had a whole gratitude journal where I would write down as many things I could think of every day, and I loved it! It really made me realize how many things I take for granted every day. However, the habit of filling that out every day didn't last long. This month I'm starting smaller with just one thing a day. This is definitely a practice I recommend to everyone!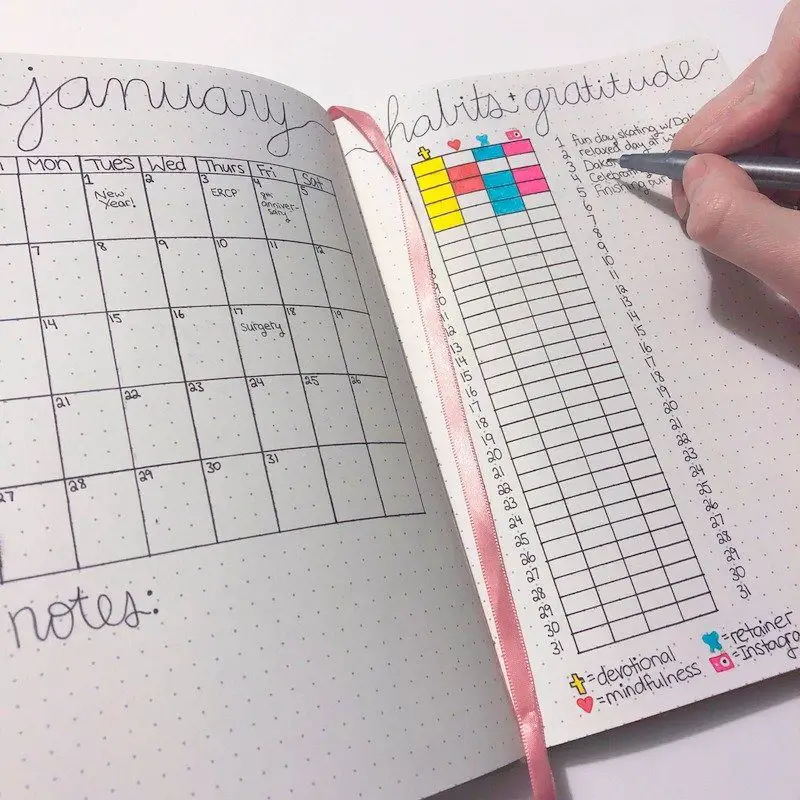 Daily/Weekly Logs
One thing I didn't love about regular planners was the wasted space if I didn't have anything to write for a particular day. The method I am trying right now is writing one day at a time with that day's tasks. This gives me the freedom to make one day's space bigger than another's depending on what's going on. We'll see how this goes. I may go back to more of a weekly view style for some weeks, but I like having the option.
This particular week I'm showing is a little odd because I had to go to the hospital for an endoscopy, hence the no eating after midnight haha.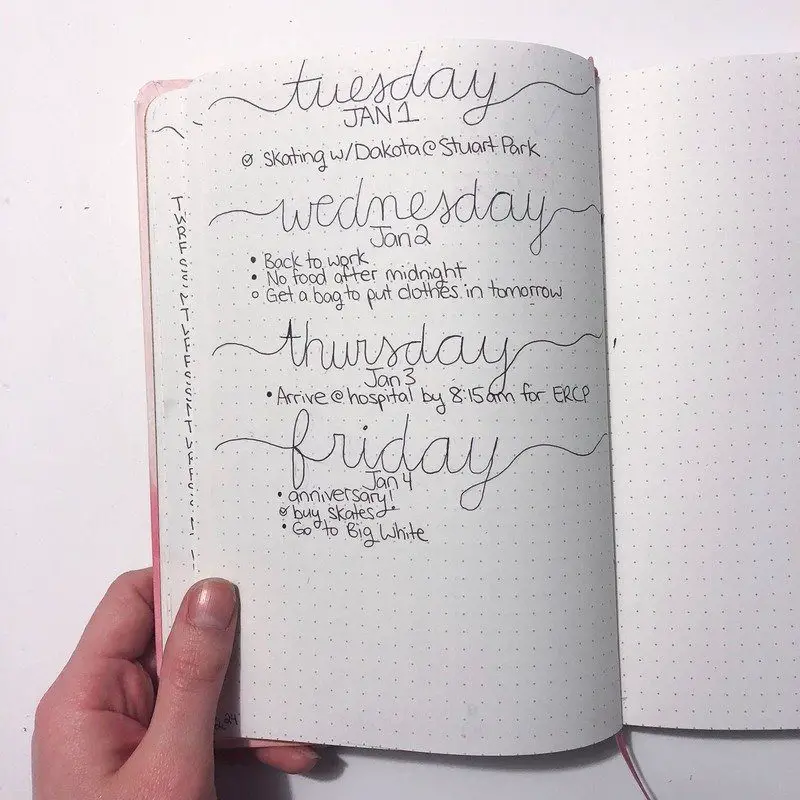 Have you delved into the world of bullet journaling? Do you go for the super artsy vibe, or are you more of a minimalist?