It's finally May! April was definitely a weird month for me, as I'm sure it was for all of us. April was my first full month spent at home since starting self-quarantine in mid-March. What are you doing to stay sane? Getting outside for a walk around the neighbourhood has been vital for me. It's so rejuvenating being outside in the sunshine! I wanted to recreate that springy feeling in my bullet journal this month, which leads me to my May theme….wildflowers! I am super excited to share this month's spread with you. Keep reading for my May bullet journal setup, which I hope will inspire you and bring you some joy in these difficult times.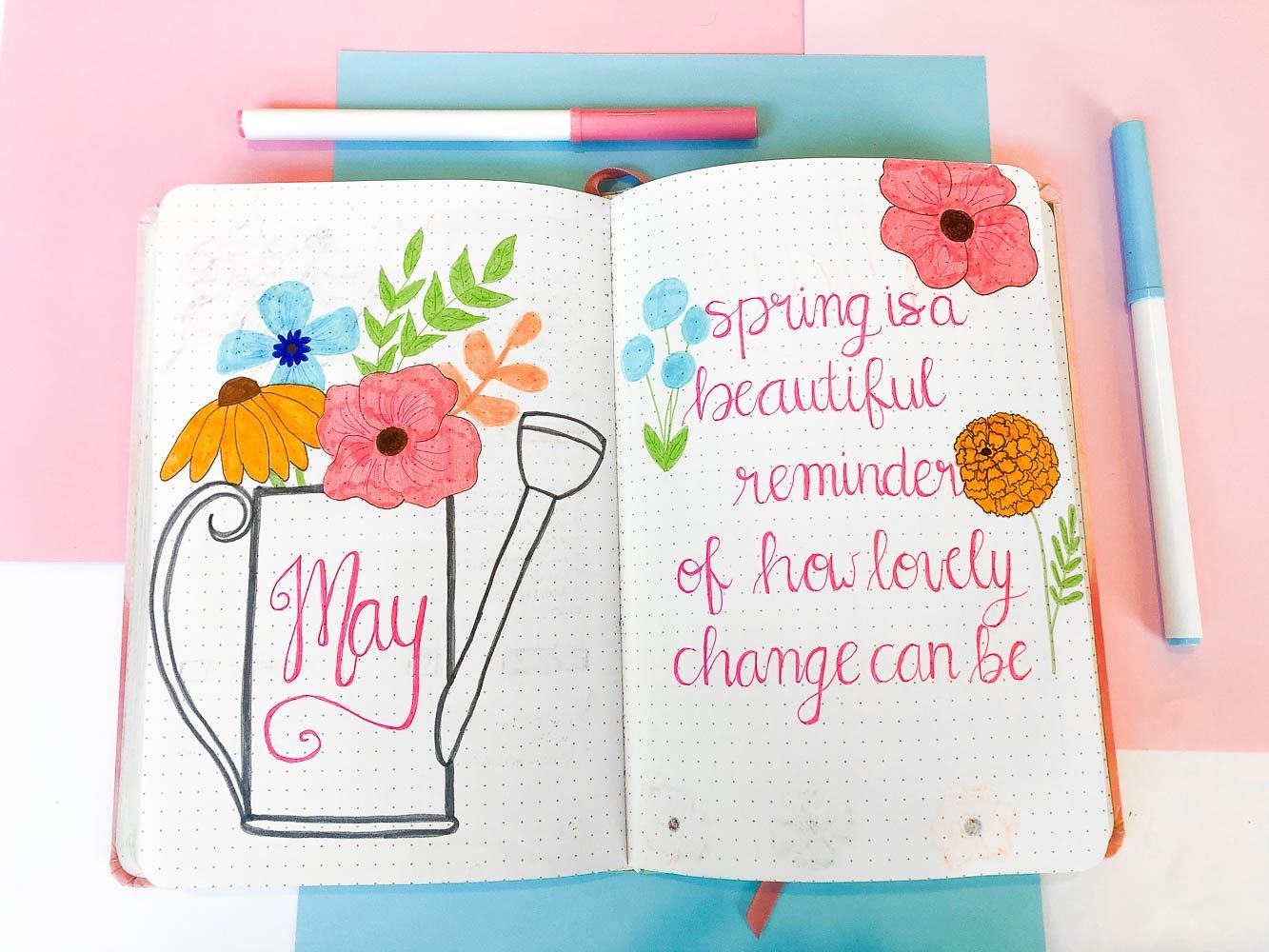 Some of the links below are affiliate links. If you choose to make a purchase, I may receive a small commission, at no extra cost to you. Thank you for your support!
May Bullet Journal Setup
Supplies
Cover Page
This month's theme is wildflowers, and I decided to go with a variety of colours. This is the first month I didn't outline anything in black. I think outlining with brown or nothing at all gives the flowers a much softer and more whimsical look, perfect for spring!
For the cover page, I drew a watering can and filled it with flowers.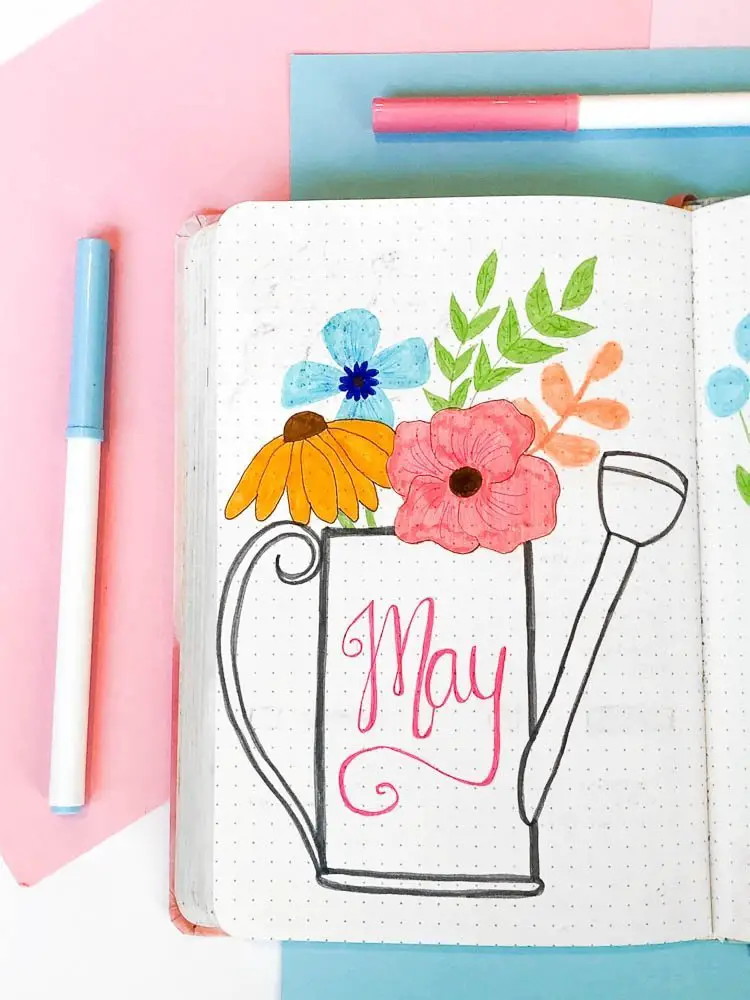 Quote Page
Spring is a beautiful reminder of how lovely change can be.
This quote is so fitting for this time of year! As someone who isn't a fan of change, it is such a good reminder of how positive change can be, and the good it can bring.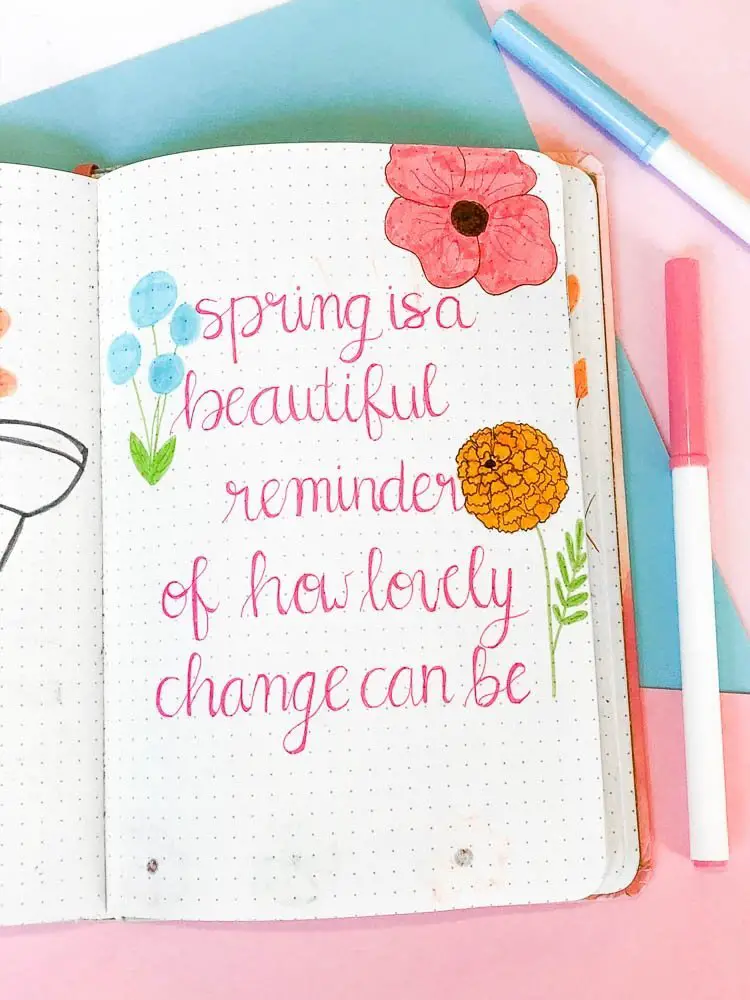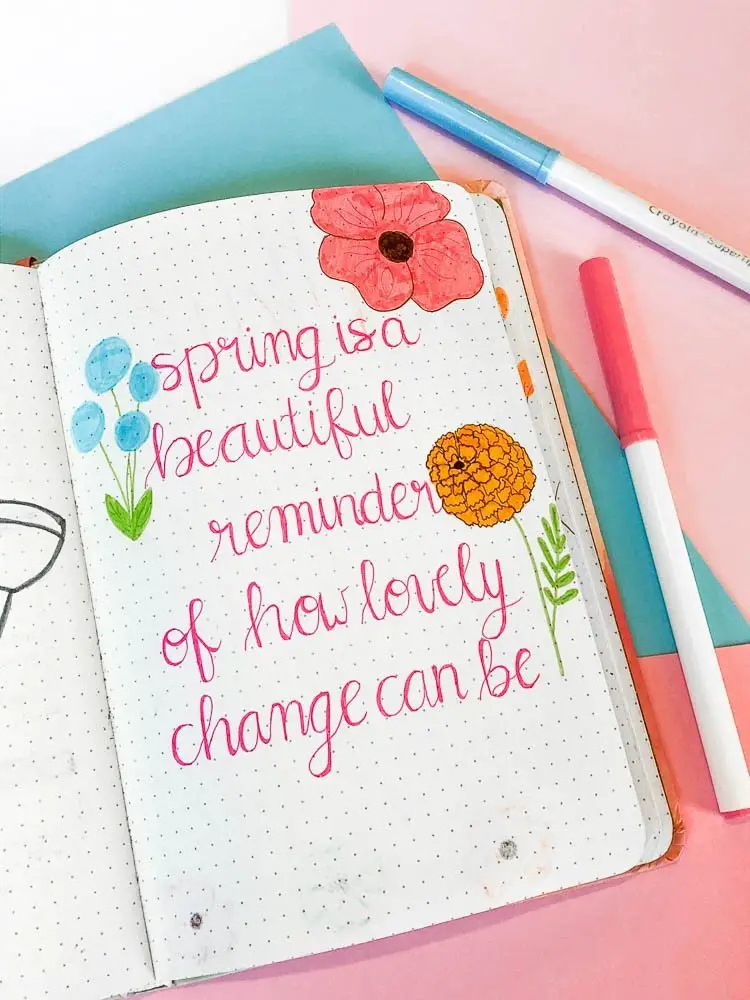 Monthly Calendar
This month's calendar is another new look for me. It is similar to my April calendar with the separate boxes for each day of the week. However, I outlined each of the boxes this month with a different colour, giving it a pretty look for spring. I also slightly rounded the edges of the boxes for a softer look.
Around the edges, I drew a vine with leaves and some cute little flowers along the bottom. To finish it off, I added some floral washi tape. You will see I've used washi tape on a few of my pages this month. I'm loving playing around with it!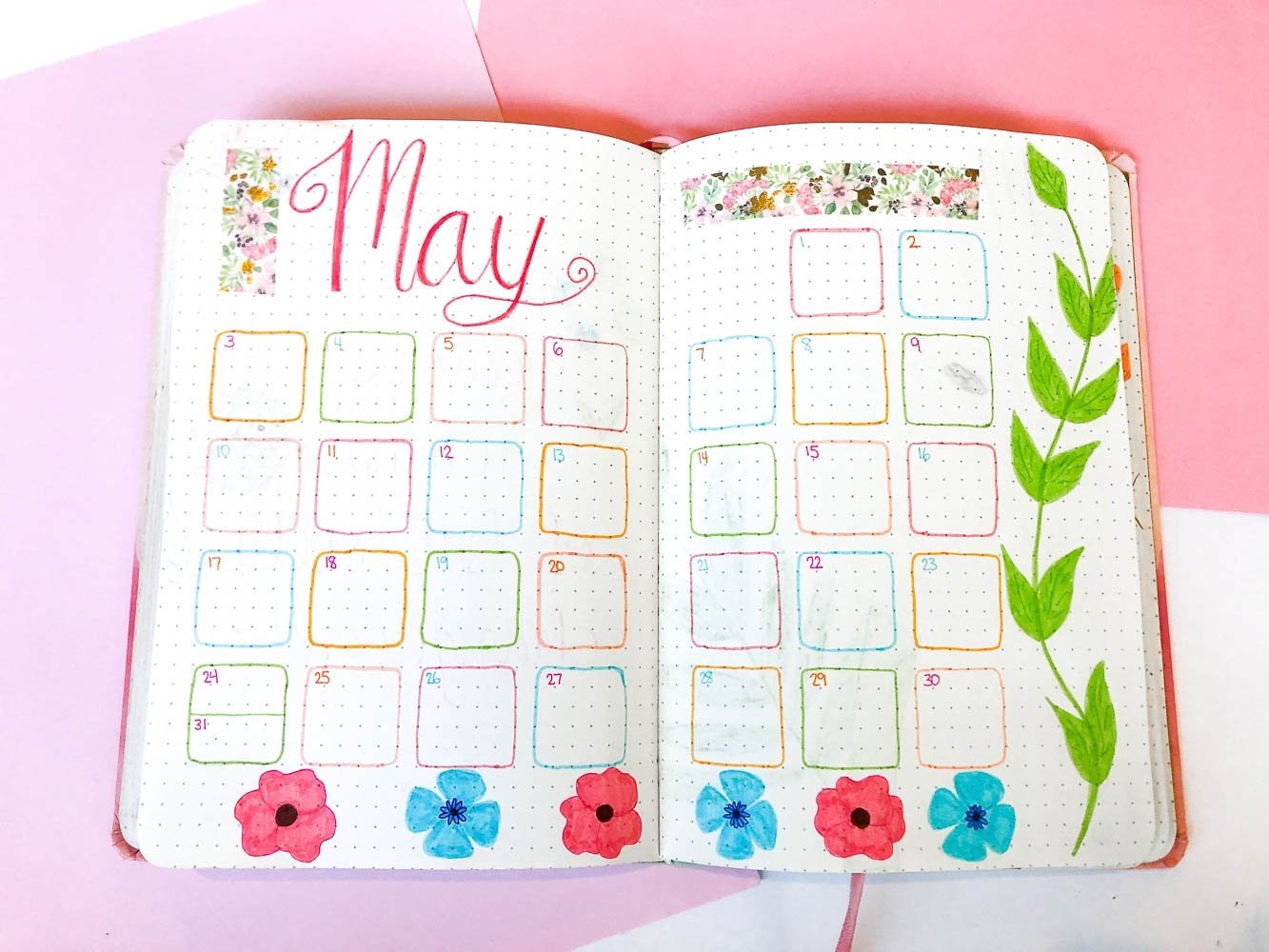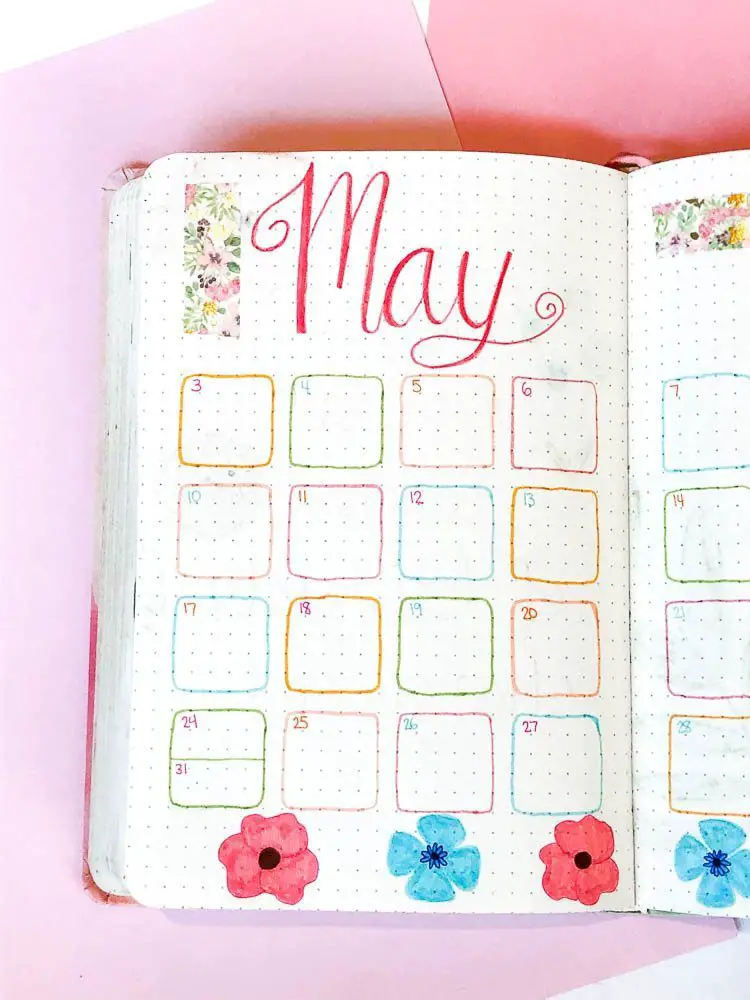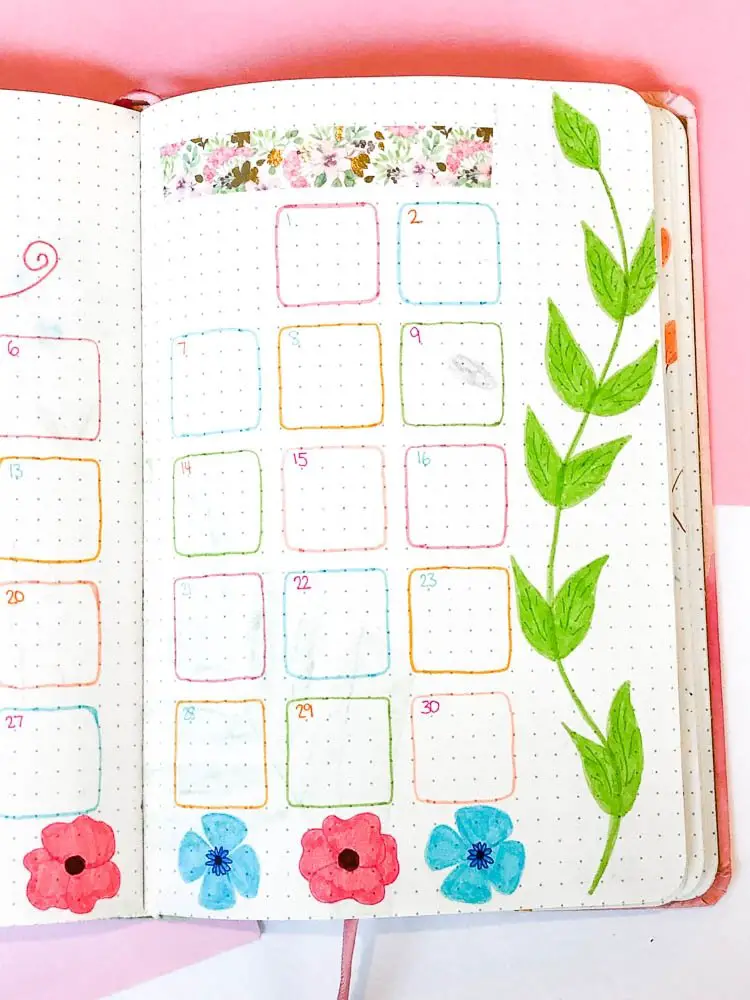 Mood Tracker
This mood tracker is my take on a marigold. I split up the flower into 31 petals, representing the 31 days of the month. Each day, I will fill in the colour with the corresponding mood. I did a similar mood tracker in March, where I drew two large leaves and split them up into segments for each day of the month. I loved how that one turned out, and I am excited to see what this flower looks like at the end of the month.
To keep up with how all my monthly trackers turn out, be sure to follow me on Instagram. At the end of every month, I post the updated pages all filled out.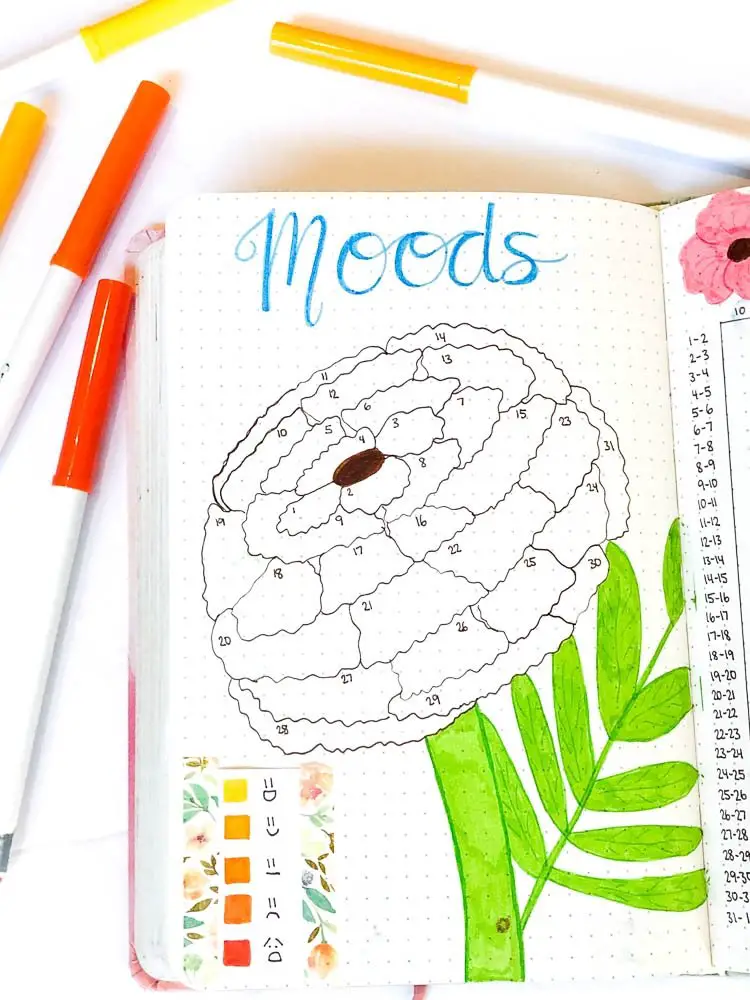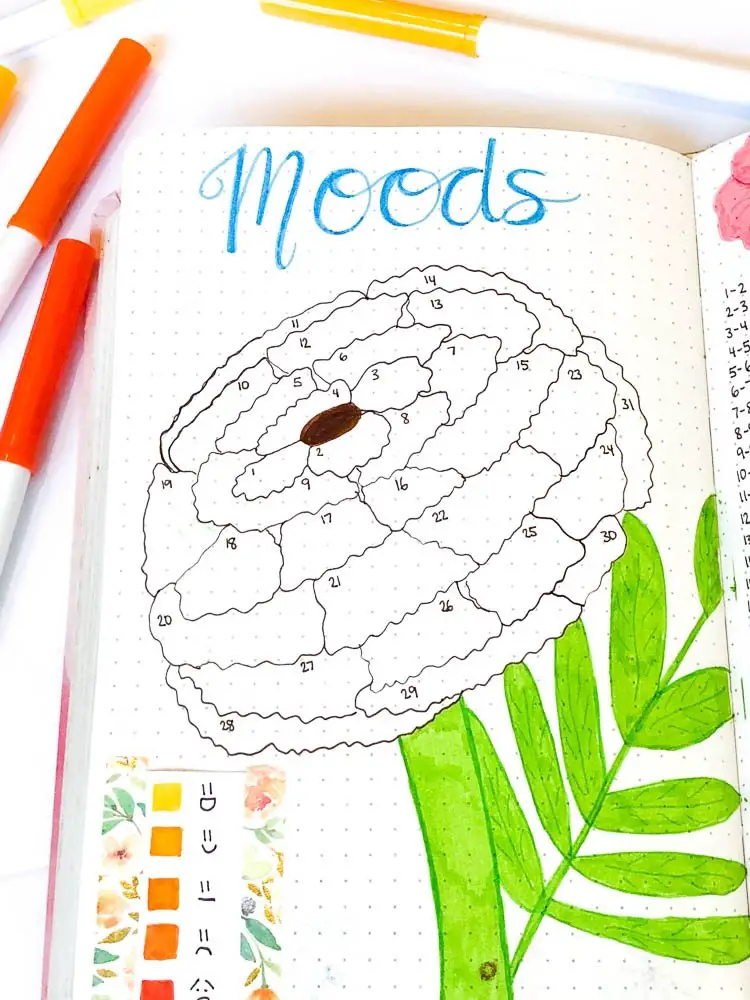 Sleep Tracker
I've done this sleep tracker layout for the last couple of months, and it's worked out well for me. It's also a really simple layout to do since the tracker takes up most of the page. I added a couple of flowers at the top. This is another spread that looks a lot cooler once it's all filled out. Check out last month's completed sleep tracker on Instagram.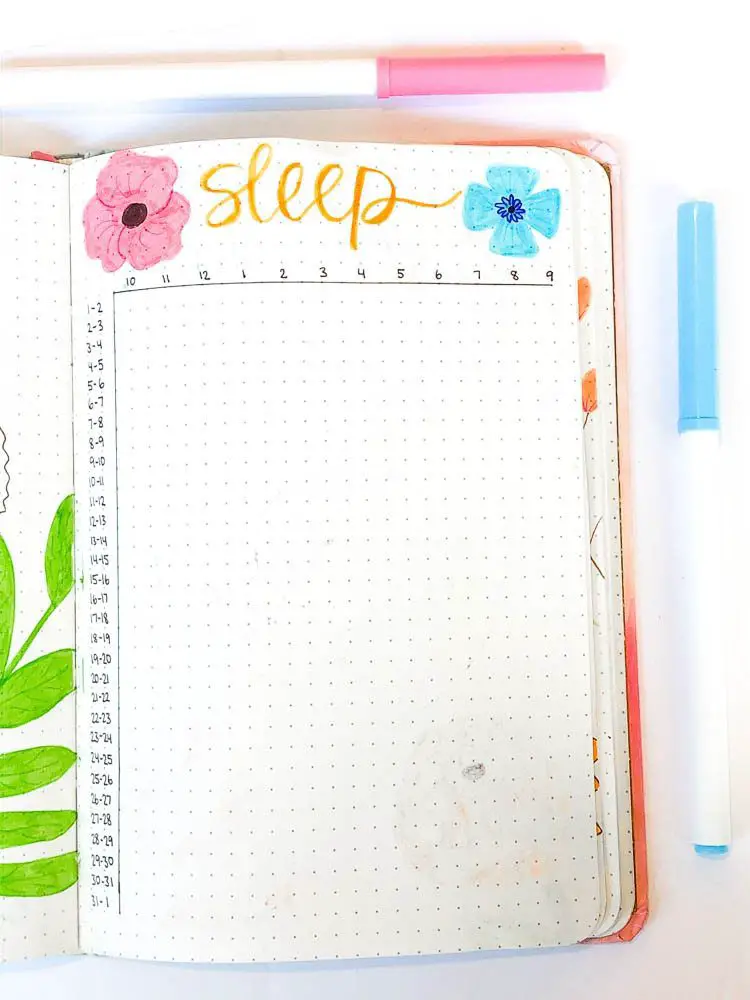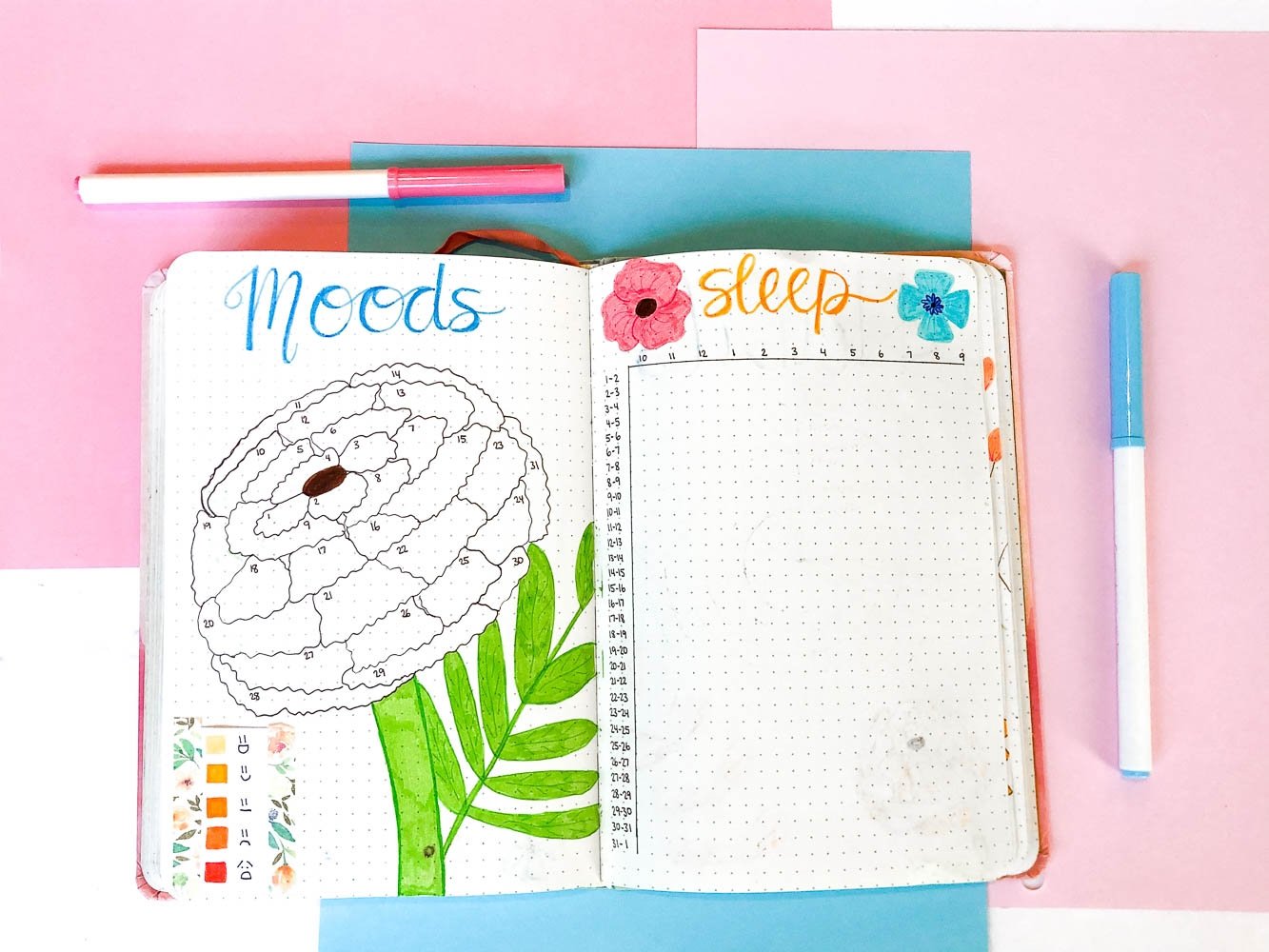 Habit Tracker
If you saw my March bullet journal setup post, you will have seen my first attempt at a circular habit tracker. This month I calculated how big to make each segment to make them all the same size, which makes it look a bit better.
I did make some mistakes and had to use white out in a few areas, but I am happy with how it turned out. I will definitely be playing with the circle maker more and trying to get better at using it.
For the month of May, I will be tracking the following habits: working out, mindfulness (I use the Smiling Mind app), reading a book, reading a devotional, and eating less than 25 grams of sugar a day.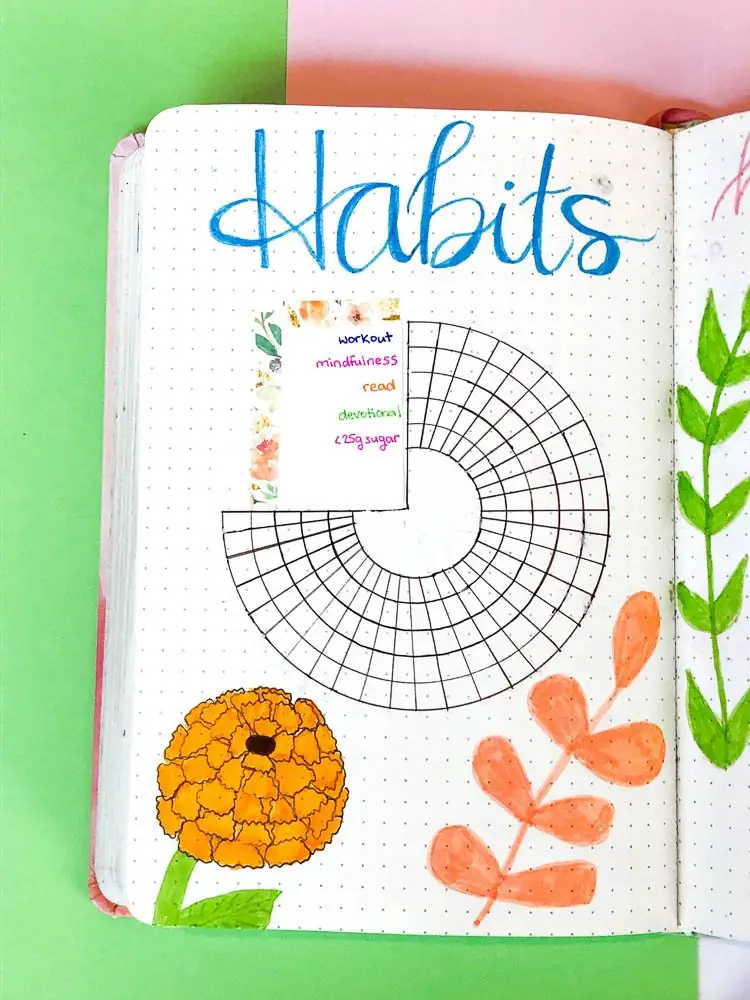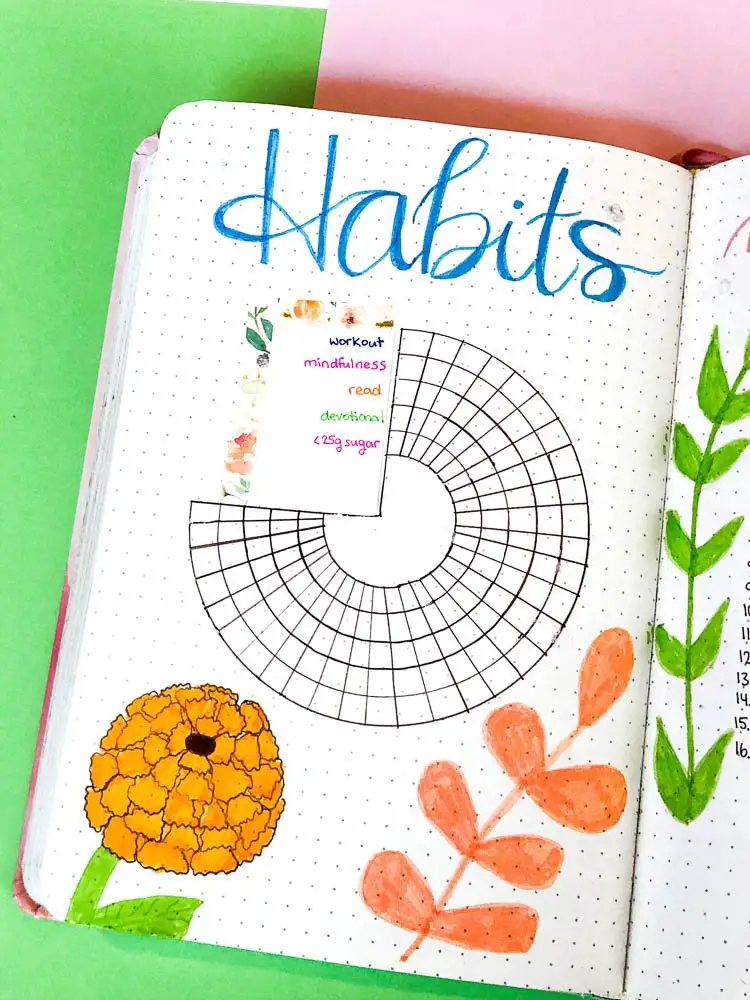 Highlights of the Day
Taking a moment to write down a highlight of the day or something I am grateful for has been such a good exercise for me. During this time of quarantine/self-isolation, it's so easy to get caught up in negativity or boredom. I think it's so important to realize there is so much good in our daily lives. Let's celebrate the small things!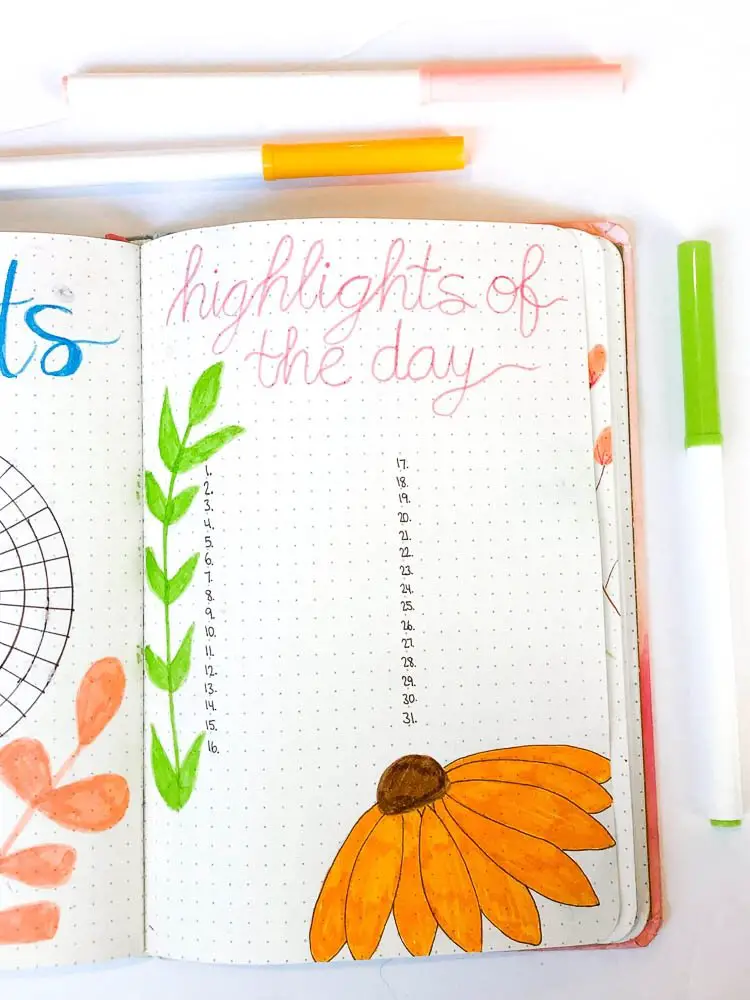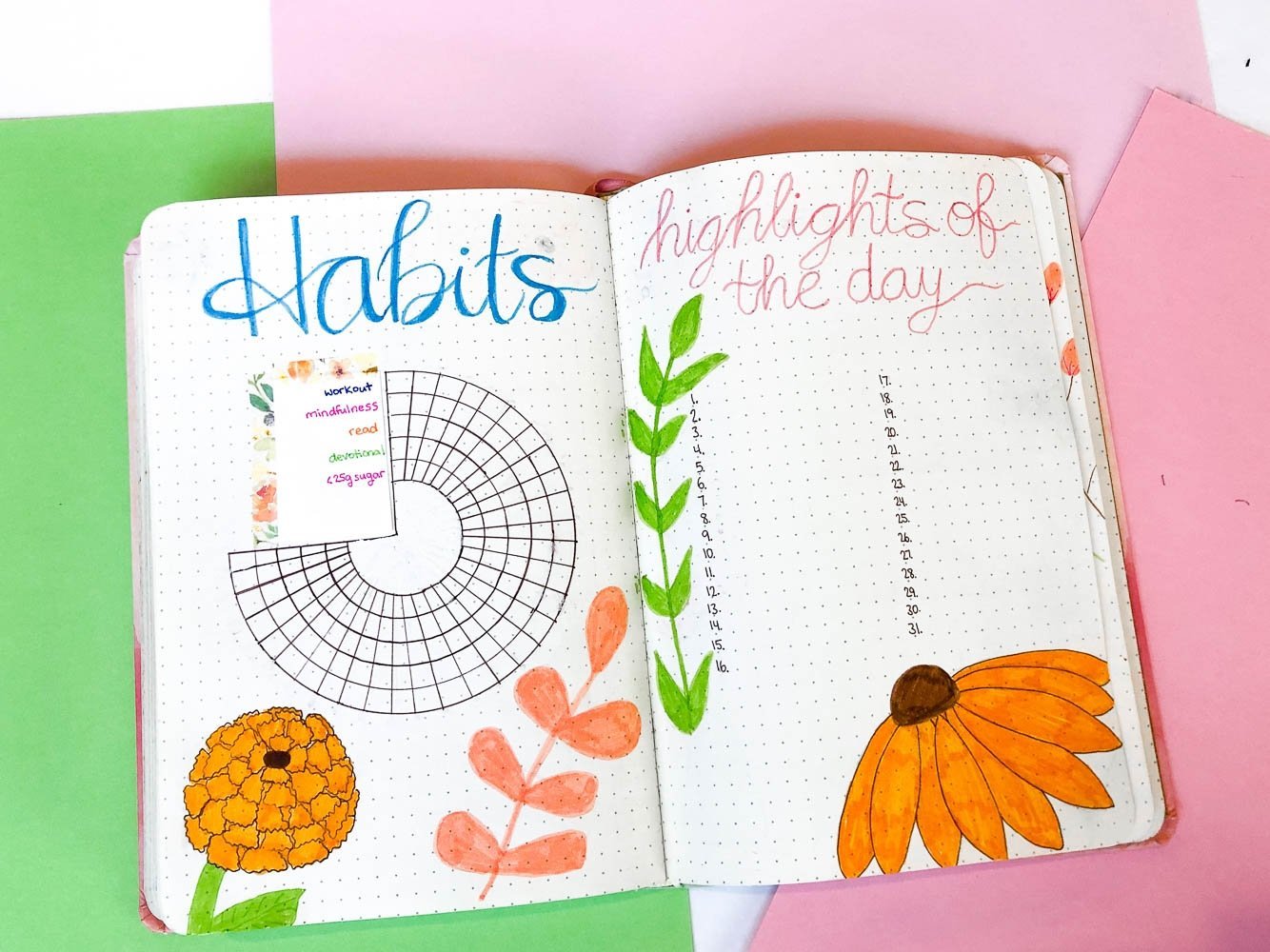 Weekly Spread
Every month on the blog, I share my first weekly spread of the month. I took inspiration from Pinterest for this first weekly, but I could not find the original creator. I love how the days of the week are part of the top lines of the boxes. Since my theme is wildflowers, I drew the flowers all over the place, in no kind of order. Bright and wild!
For more weekly layout ideas, follow me on Instagram! I post my new weekly every Monday, followed by the "after the pen" version every Sunday.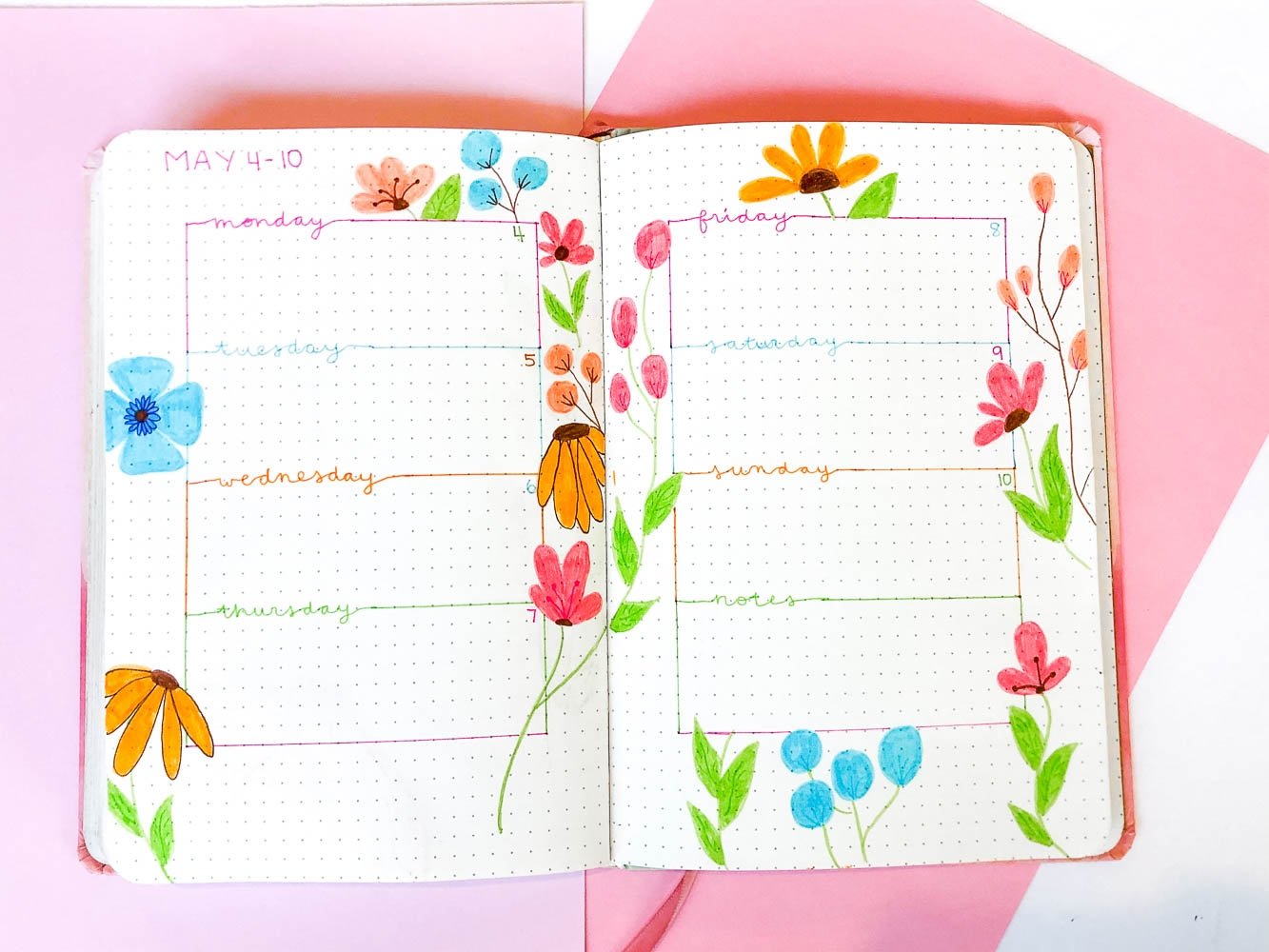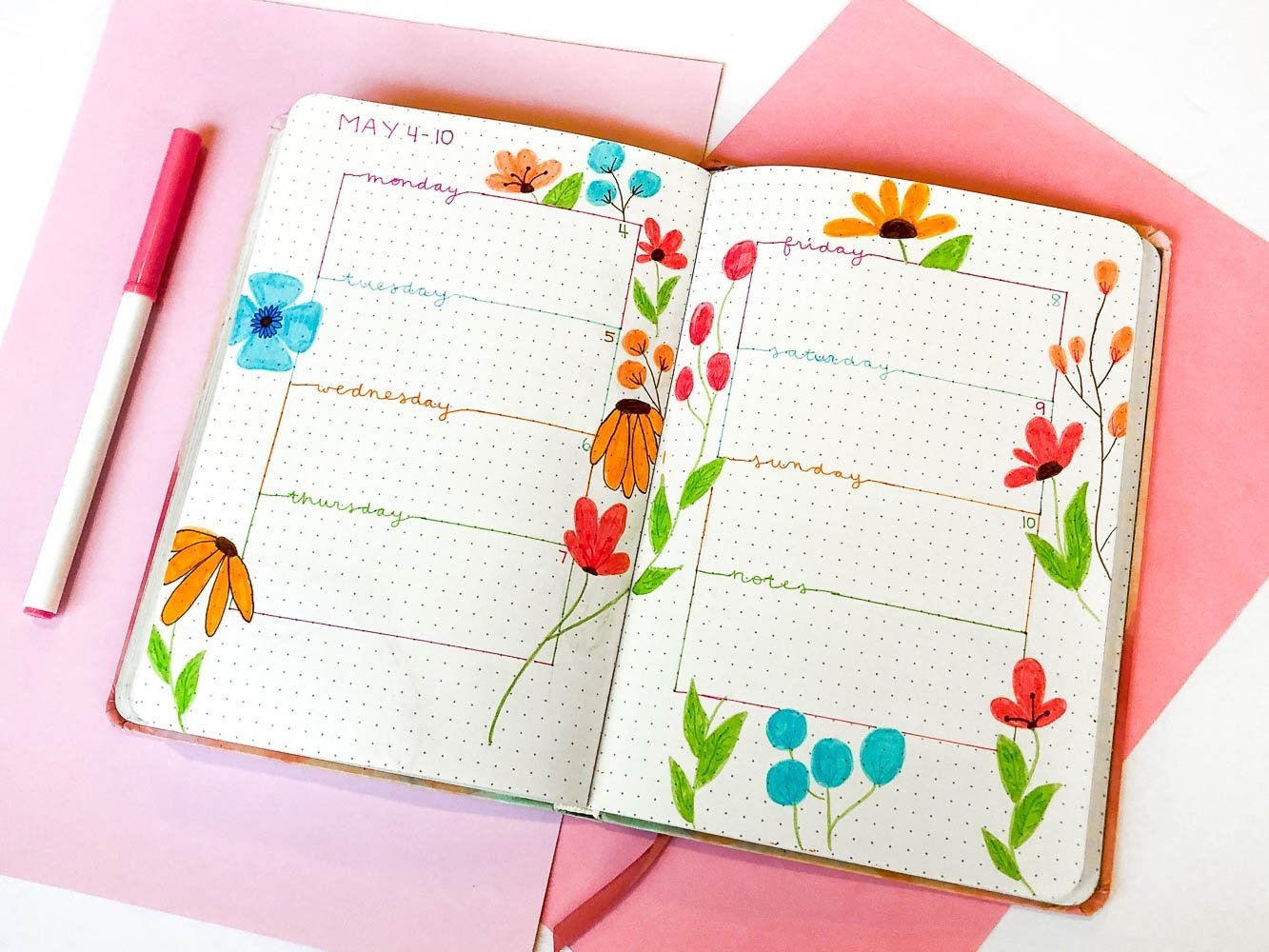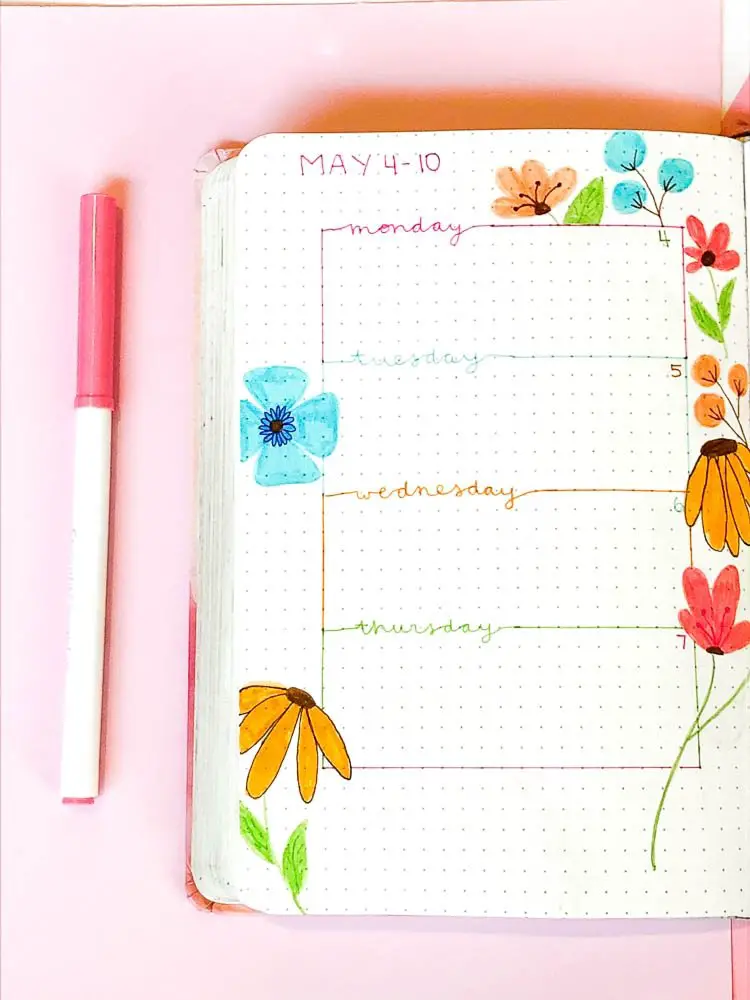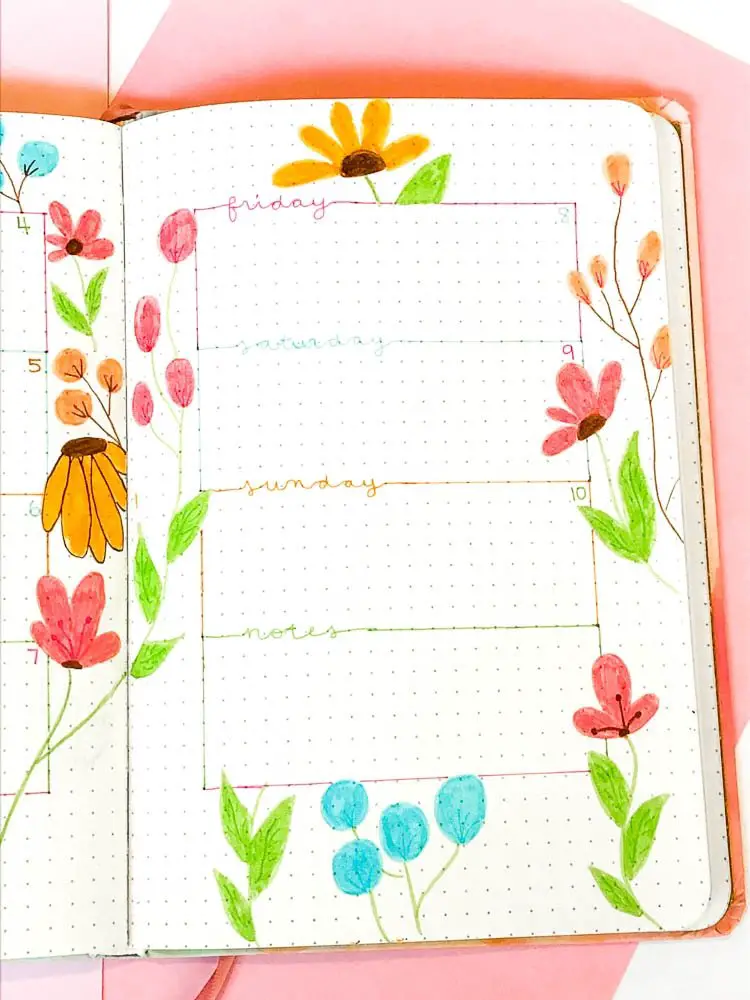 Thank you so much for reading this May bullet journal setup post!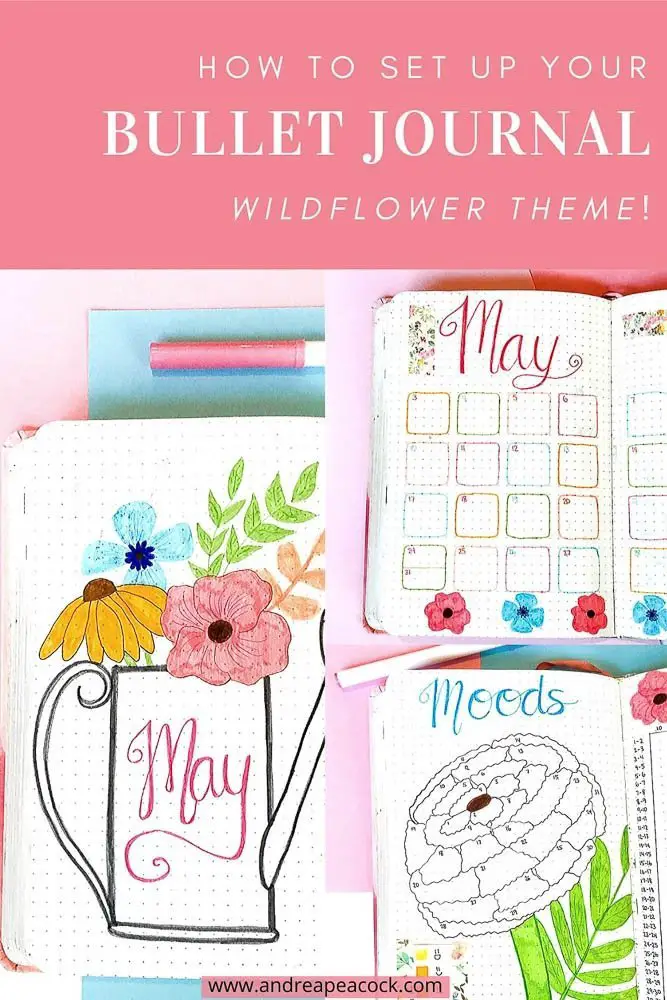 In need of some more bullet journal inspiration? Check out these posts:
April Bullet Journal Setup: Butterfly Theme
March Bullet Journal Setup: Houseplant Theme
February Bullet Journal Setup: Rose Theme
Bullet Journal Setup for Beginners
xo,
Andrea