Hello everyone! Today I am excited to share my June bullet journal setup. For June, I wanted to do something really colourful and fun. I also wanted to challenge myself with my drawings and do something totally different to my previous themes. So this month, I am doing an under the sea theme! I also have a HUGE announcement that I am so excited to share with you! Keep reading to check out my June bullet journal setup, and to discover the big news!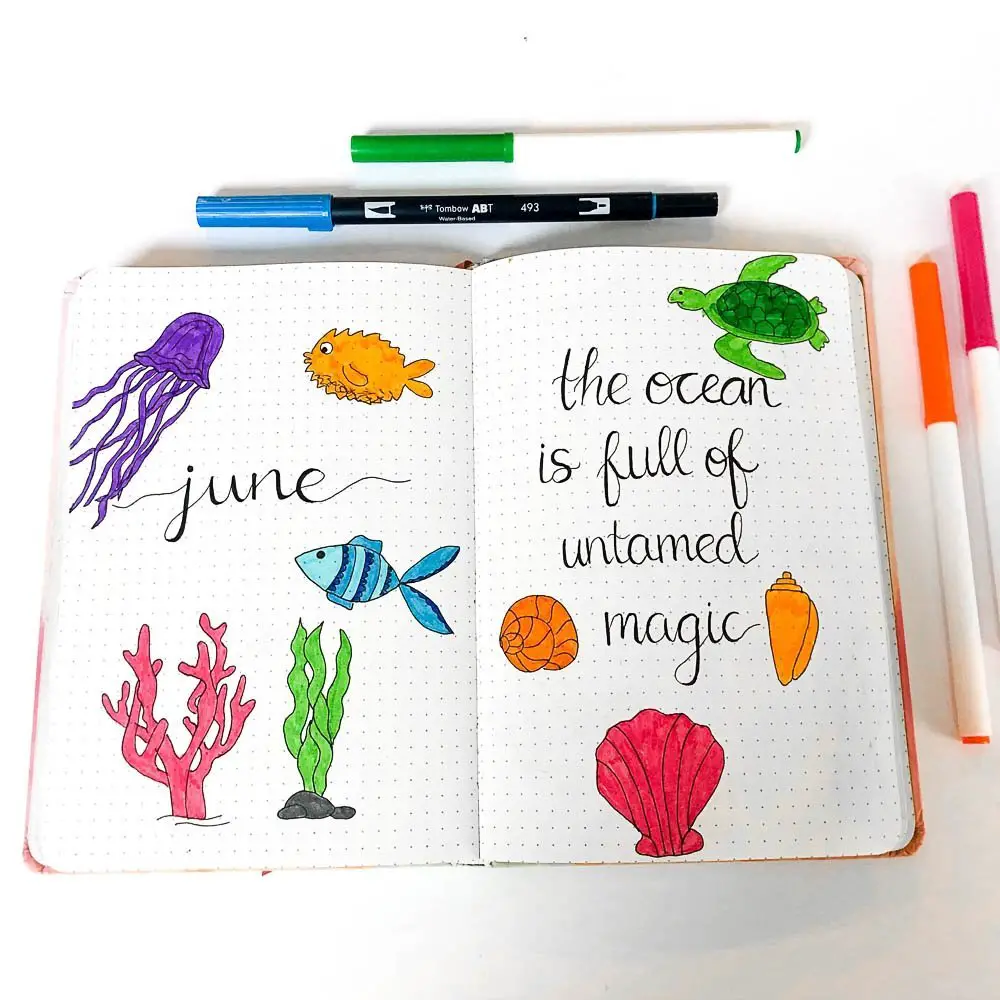 Some of the links below are affiliate links. If you choose to make a purchase, I may receive a small commission, at no extra cost to you. Thank you for your support!
June Bullet Journal Setup
Supplies
Cover Page
This month's theme is under the sea, so I filled my June cover page with lots of sea creatures!
I used my Crayola Supertip markers and my Tombow brush pens to colour all my pages this month. I love how bright and bold the colours are! The brush pens are useful because you can use the brush side to colour in large spaces and the finetip marker side to colour more detailed areas.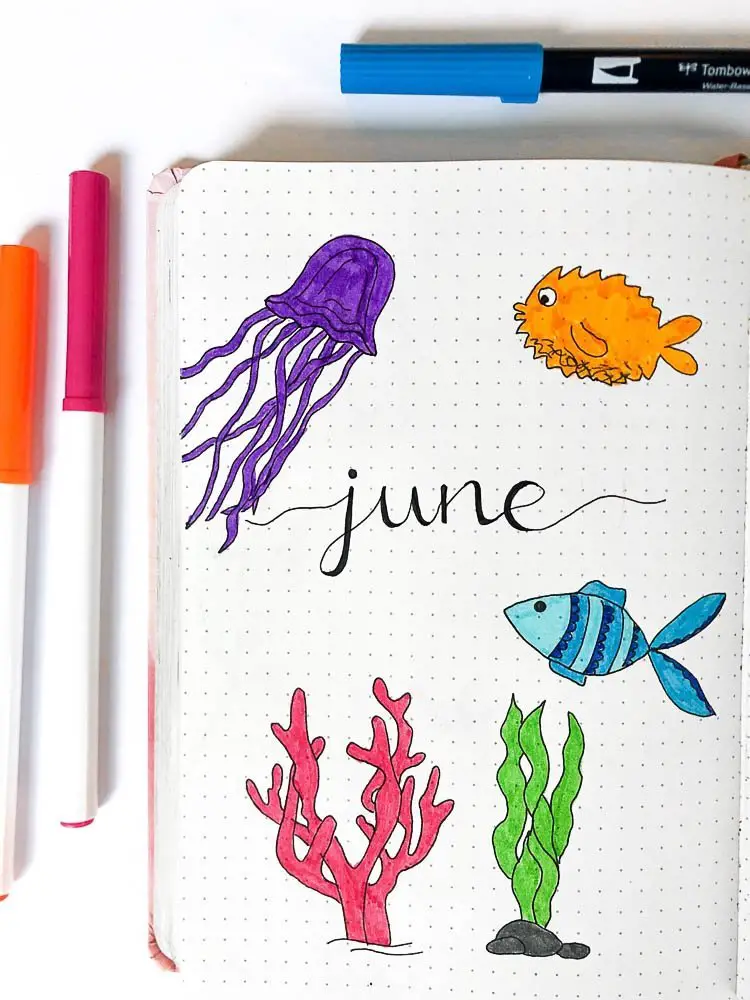 Quote Page
The ocean is full of untamed magic.
As soon as I found this quote, I fell in love! The ocean is full of so much mystery and wonder. It's like a whole other world! I decorated this page with doodles of sea shells and a sea turtle.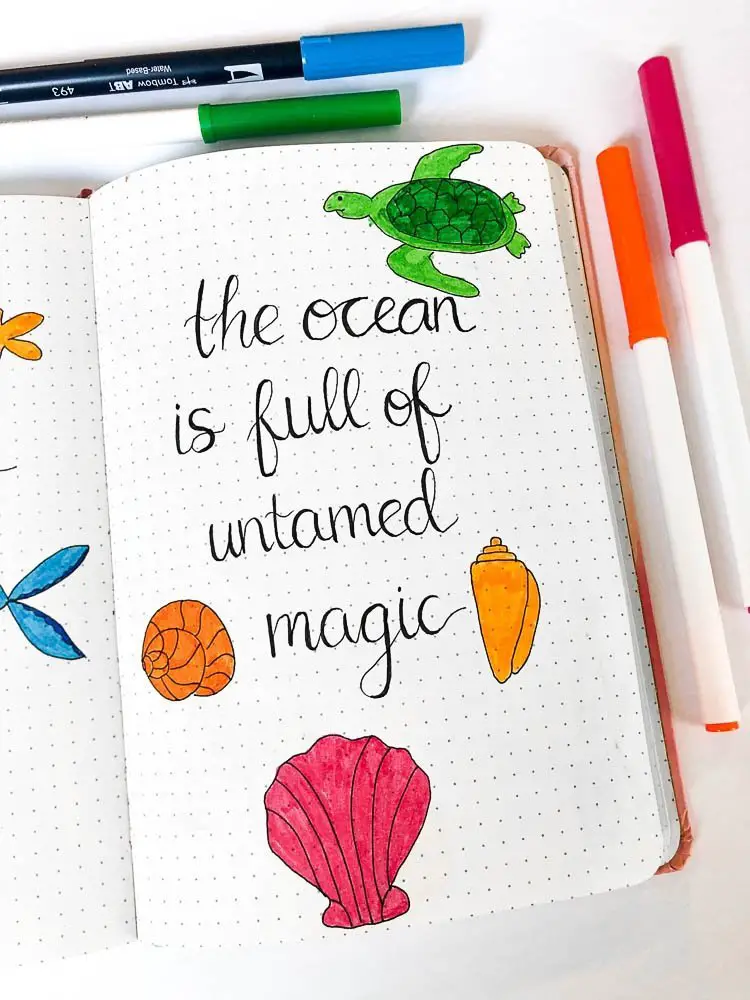 Monthly Calendar
This month I tried a new layout for my monthly calendar, with five days of the week on one side and two days on the other. I also decided to just write the letter j instead of the word June for a more minimal look.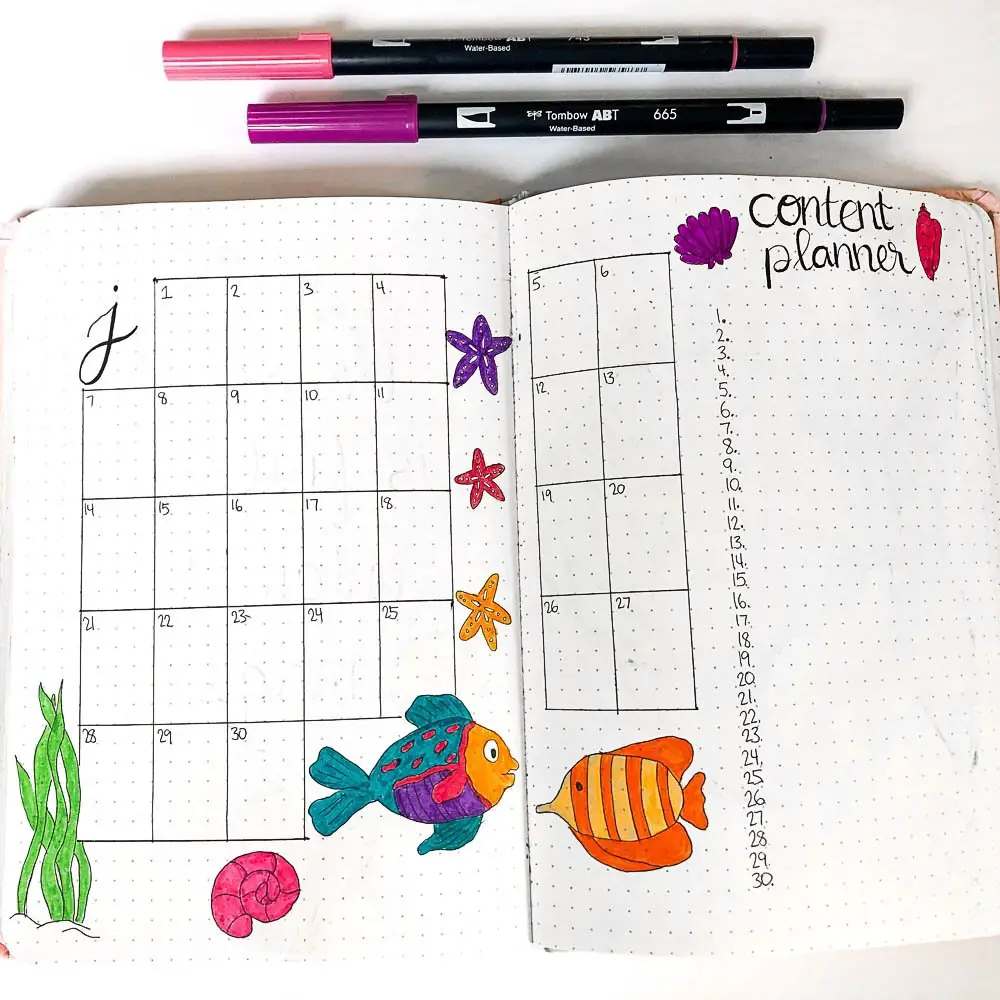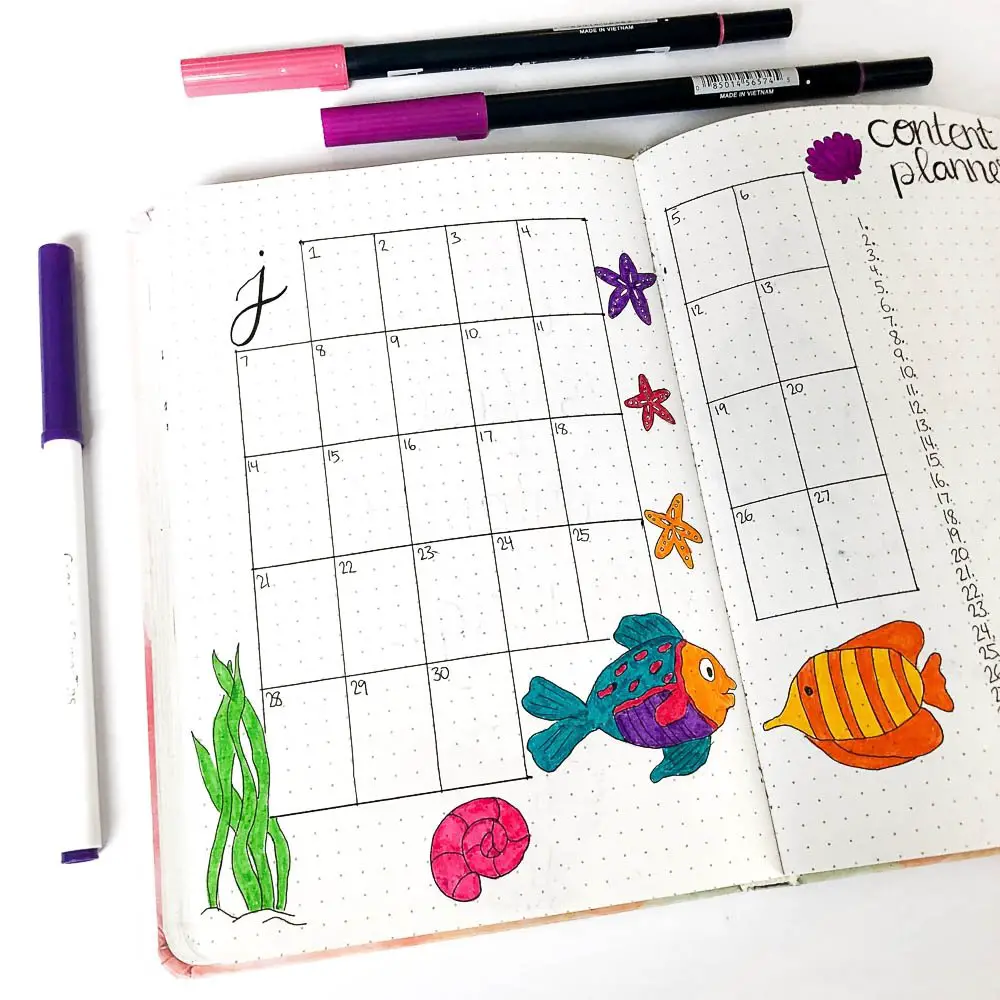 Content Planner
On the right side of this spread, I created space for a content planner. I plan to use this page to plan my blog content, Instagram pictures and YouTube videos (hint at the announcement coming!). Whether I am posting something that day or I need to take photos or edit something, I think this will be a good place to keep track of everything.
This section could also be used as a monthly to-do list or a place to keep track of upcoming events.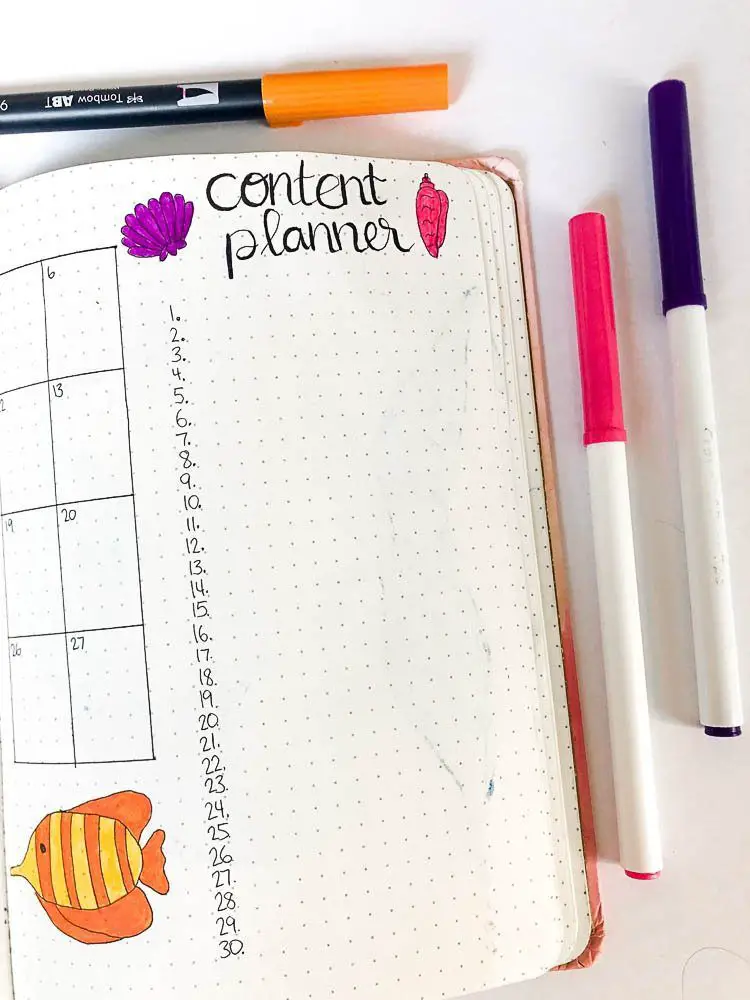 Mood Tracker
As you know if you have been following my blog or Instagram, I love making unique mood trackers. Last month was a giant marigold, and this month it's a fish! I drew diamond-shaped scales for every day of the month, and I will be filling in each section with the colour that corresponds to my mood each day.
I also included a key at the bottom of the page, so you can see which colours I will be using. Be sure to check out my Instagram page at the end of the month to see what this page looks like all filled out!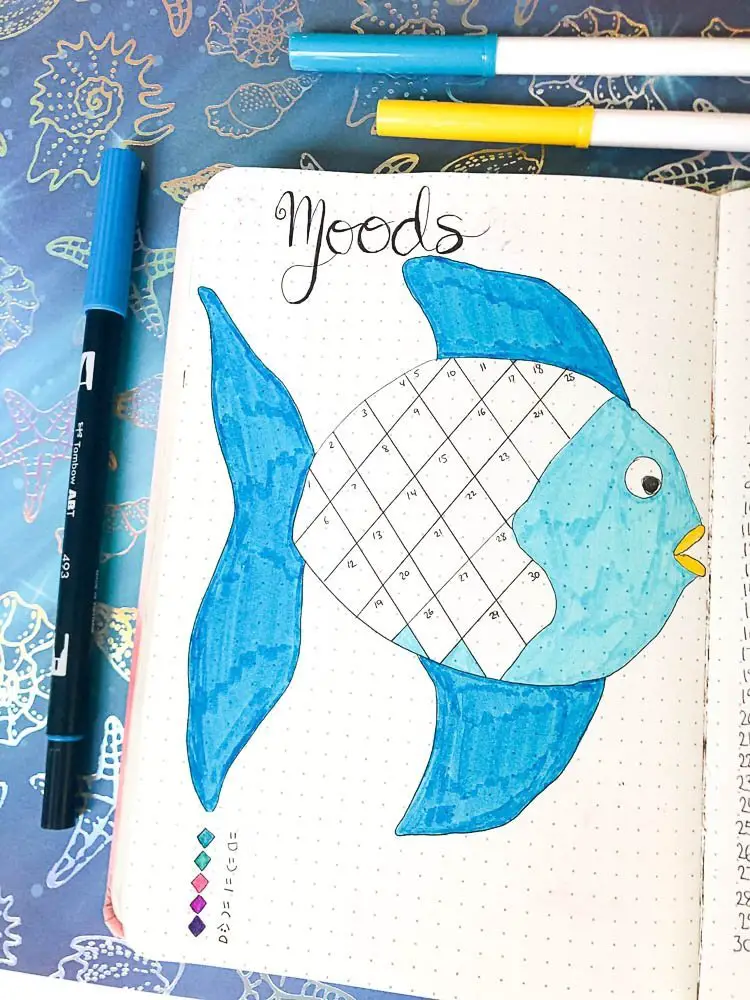 Sleep Tracker
I have used this format for my sleep tracker for a couple of months now, and it is working well for me. I have the time across the top, from 10 p.m. to 9 a.m., and down the side I have the dates.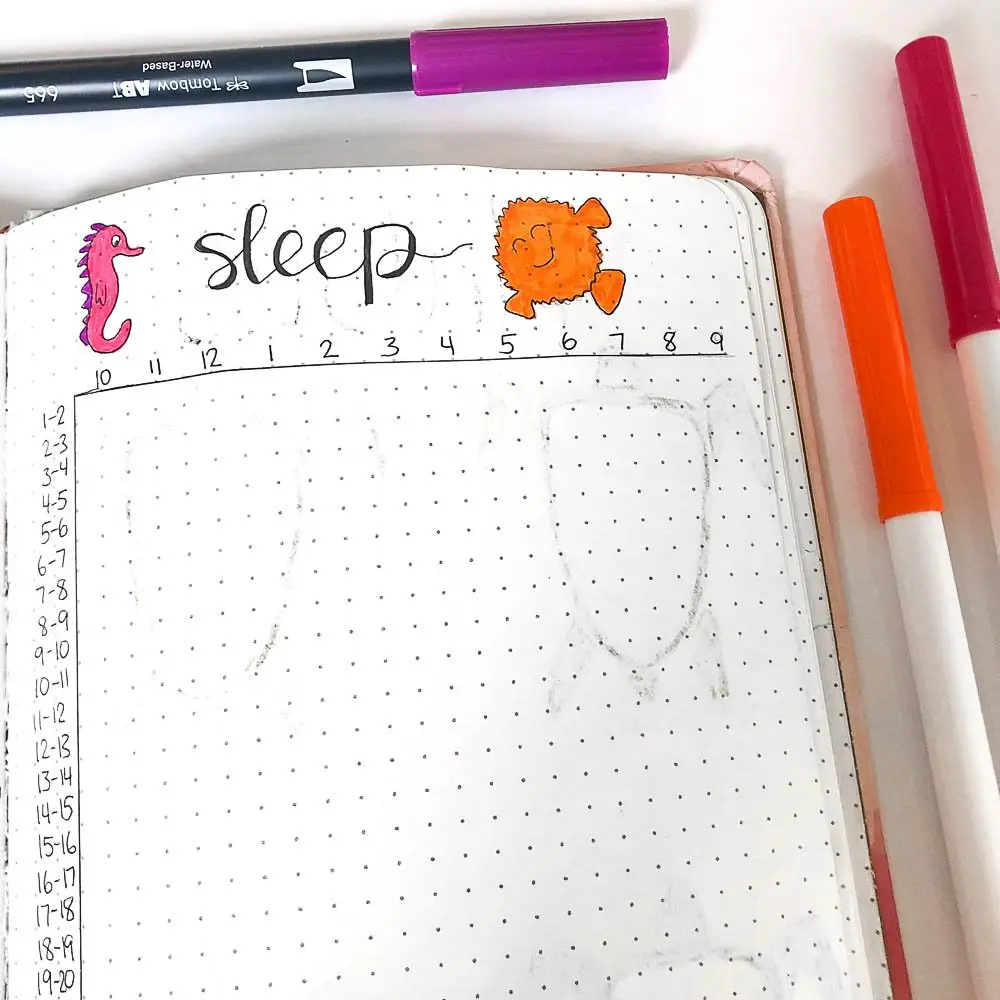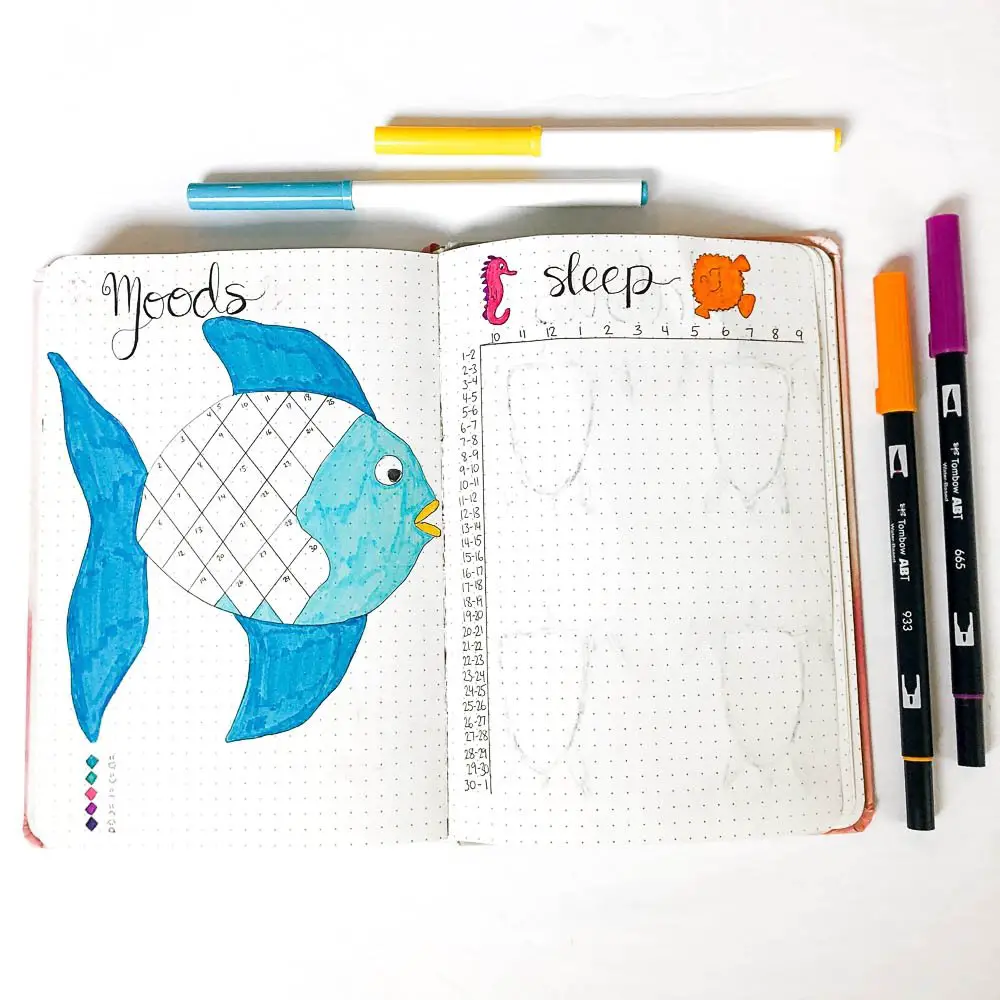 Habit Tracker
To go with my under the sea theme, this month's habit tracker features sea turtles! I will be tracking four habits this month: working out, mindfulness, reading and eating less than 25 grams of sugar a day.
I drew one turtle for each habit, and I drew 30 circles on each turtle to represent each day of the month. Every time I complete a habit, I will fill in one of the circles.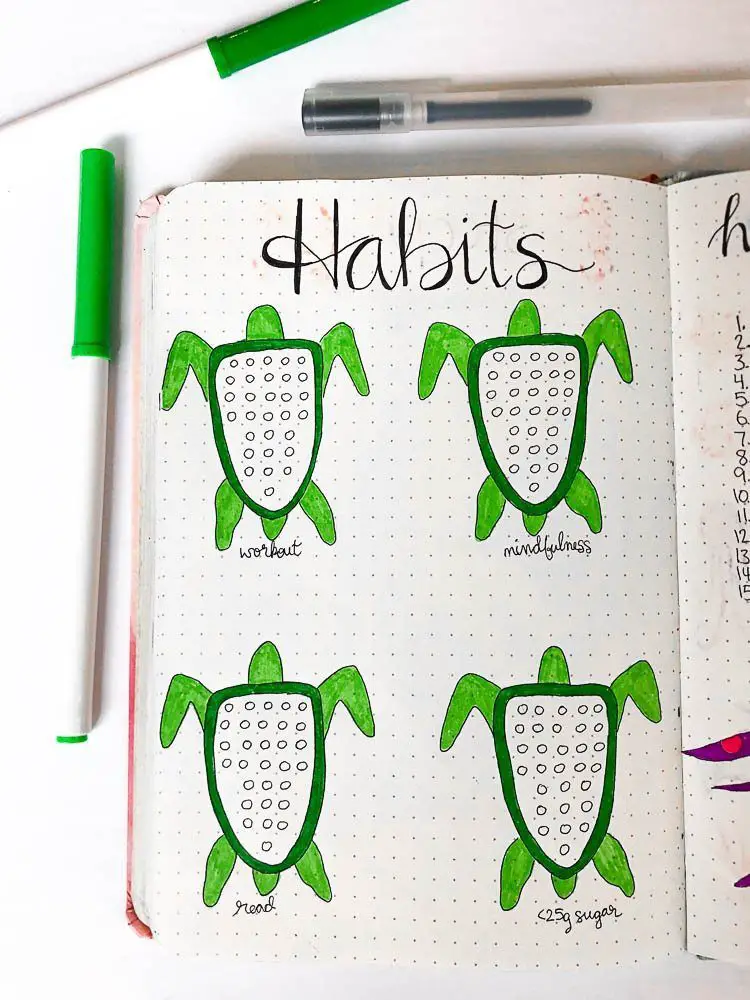 Highlights of the Day
My highlights of the day page is similar to a gratitude journal. Every day, I write down the best thing that happened that day, no matter how big or small.  This is a page I love looking back on, because it is always full of so many good memories.
I also drew a purple octopus at the bottom of the page to go with the theme.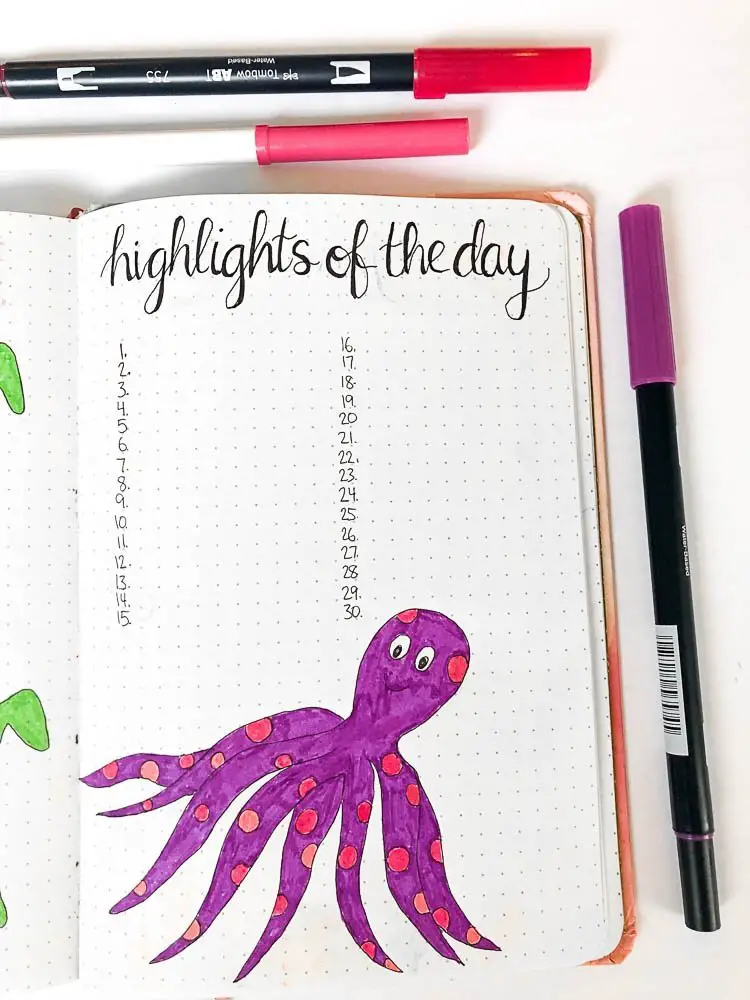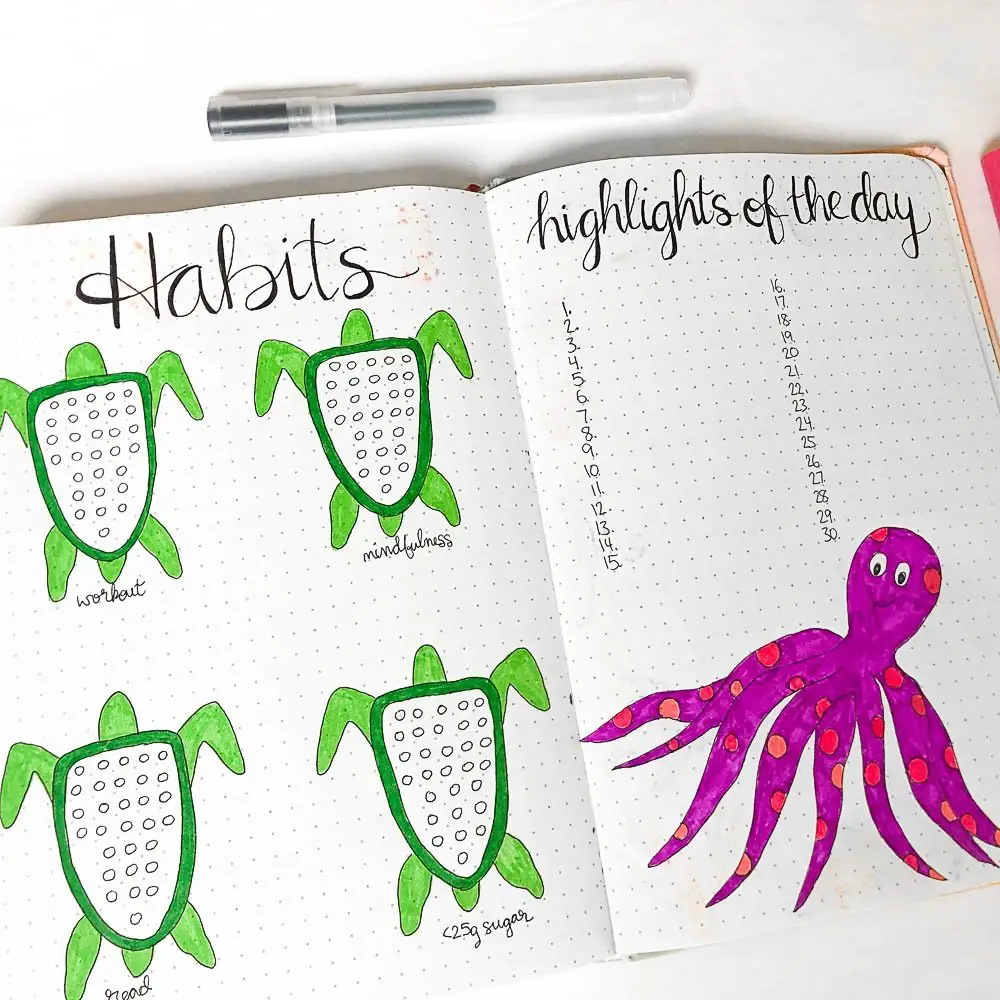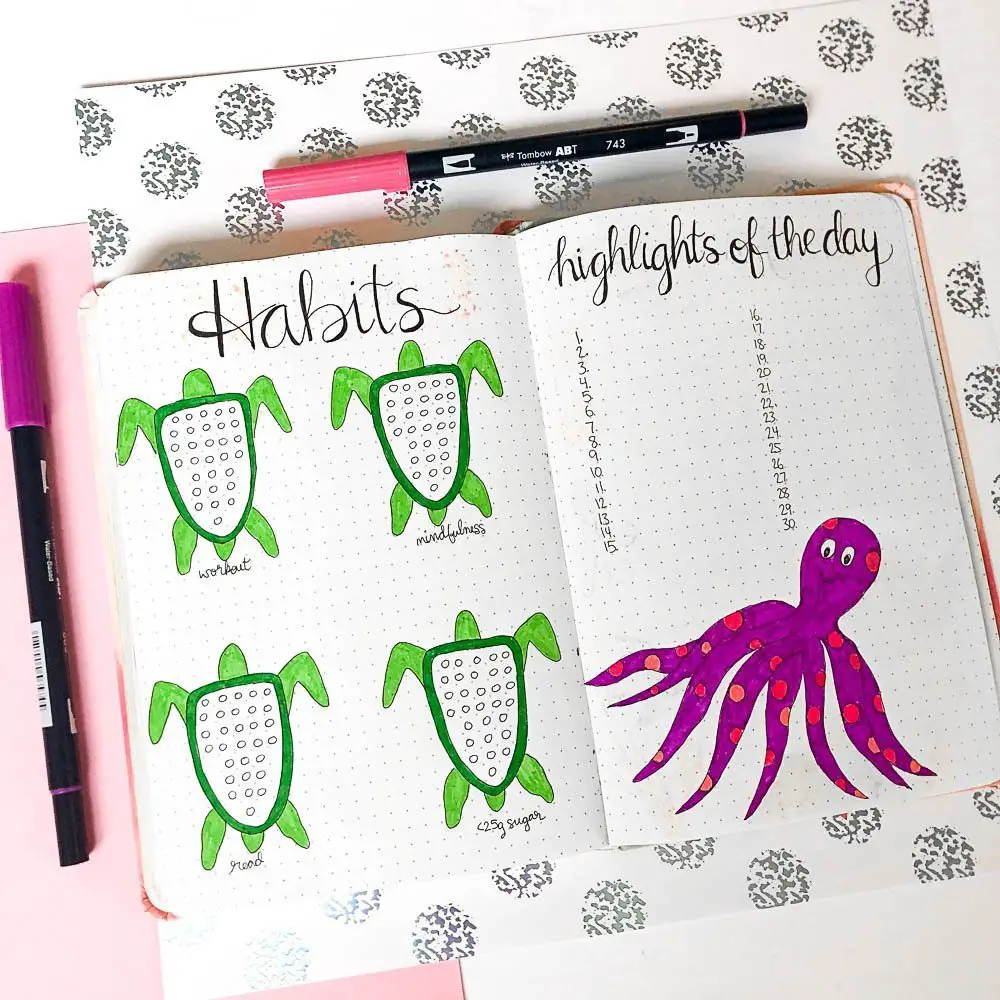 Weekly Spread
Every month on the blog I share my first weekly spread of the month. If you are ever looking for more weekly spread ideas be sure to check out my Instagram page where I share a new one every Monday.
For this week's spread, I drew a diagonal line down the right side of the page. I filled that space with sea creatures and coral. I split the page into six sections, with Saturday and Sunday sharing the last section.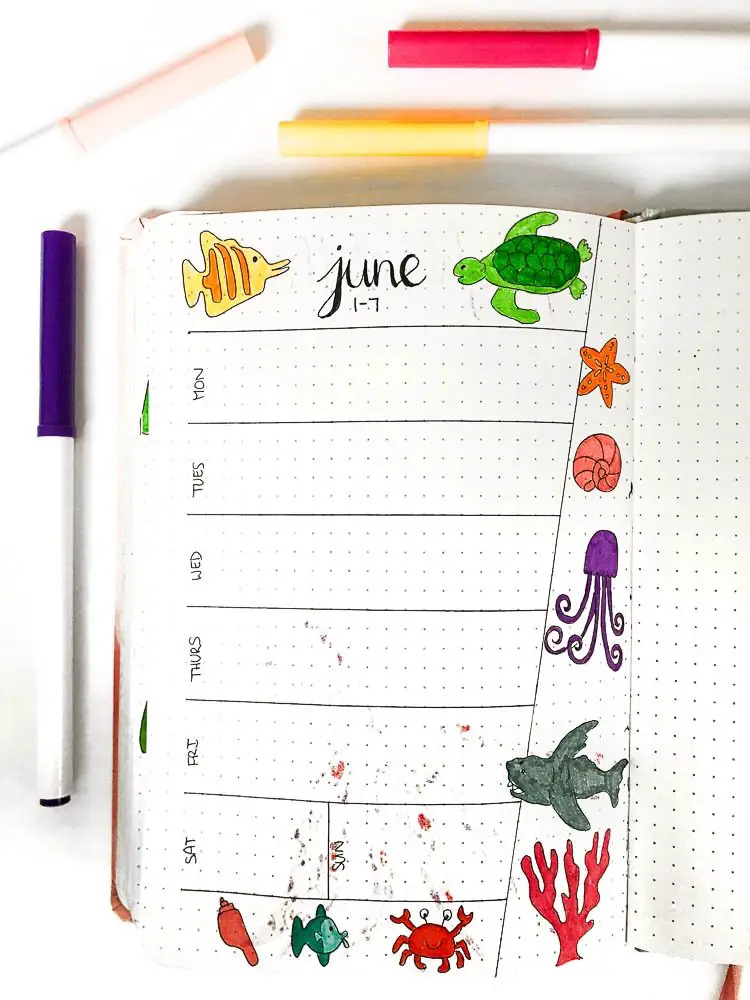 BIG ANNOUNCEMENT
If you didn't catch the hint above…..I STARTED A YOUTUBE CHANNEL!
I have been having so much fun making videos on TikTok lately, that I decided to expand to YouTube. My first video is up NOW! It would mean so much to me for your to check it out and to subscribe to my channel.
***November 2021 Update: Since my original bullet journaling YouTube channel transformed into a DIY crafts channel, I recently started a brand new bullet journaling channel again! Check it out at Bujo with Andrea for lots of bullet journaling content.***
Thank you so much for reading my June bullet journal setup, and thank you for all of your support!
In need of some more bullet journal inspiration? Check out these posts:
May Bullet Journal Setup: Wildflower Theme
April Bullet Journal Setup: Butterfly Theme
March Bullet Journal Setup: Houseplant Theme
February Bullet Journal Setup: Rose Theme
xo,
Andrea