Welcome to April! In this crazy, stressful, scary time around the world, I have found joy in being creative. My bullet journal has been a welcome distraction for me. I hope this post can be an inspiration for you to try something new and get doodling! And because we're all in need of some happiness and hope, this month my bullet journal theme is purple and pink butterflies. Keep reading for my April bullet journal setup, which includes new layouts and designs I have not shared before.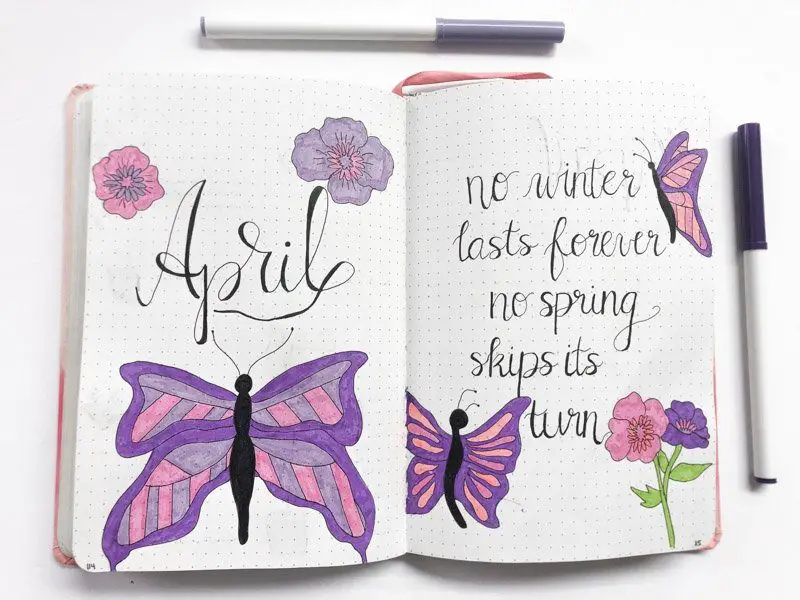 Some of the links below are affiliate links. If you choose to make a purchase, I may receive a small commission, at no extra cost to you. Thank you for your support!
Supplies
Cover Page
This month's theme is purple and pink butterflies. For my cover page, I drew a big, bold butterfly along with a couple of flowers. While butterflies are my main focus for this month's bullet journal, I thought flowers fit in nicely with the theme.
If you want tips on how I fake my calligraphy (shhh!), check out my TikTok page! I've been creating a ton of bullet journal videos there recently, including drawing tutorials. My username is @bujowithandrea. Let me know if you check it out!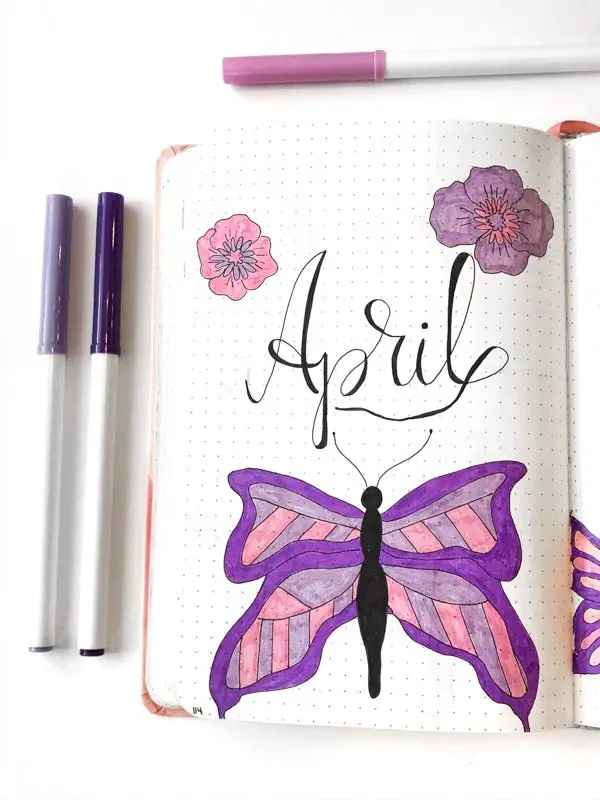 Quote Page
No winter lasts forever, no spring skips its turn.
When I found this quote, I thought it was so perfect, not just because spring is finally here, but because of the season of life we're all in right now. Nothing lasts forever, let's remember that!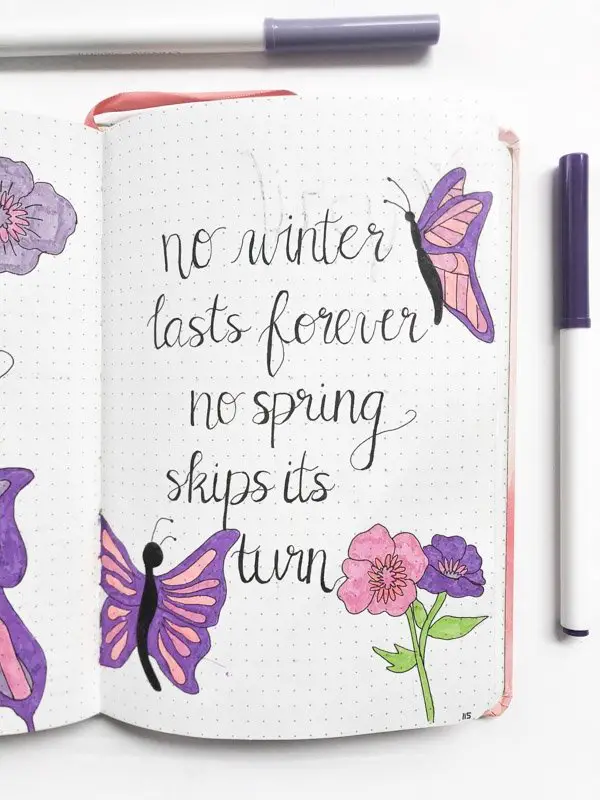 Monthly Calendar
I thought I might do a one-page calendar this month because there obviously isn't much going on right now, but I really wanted to try out this layout. I drew a separate box for each day of the month, so the days look like they're floating.
This was also my first time using washi tape, which I got for my birthday last month. I think it filled in the empty spaces perfectly and added an interesting element to the spread, along with the butterflies of course.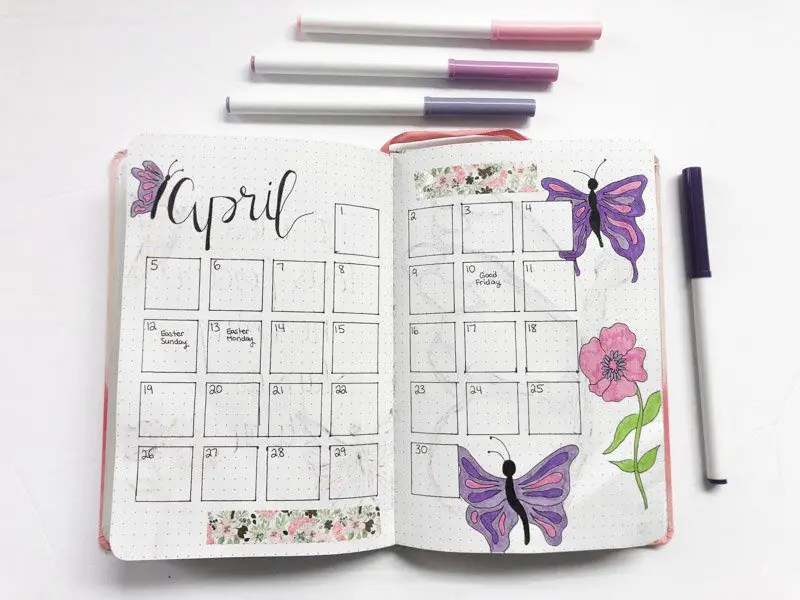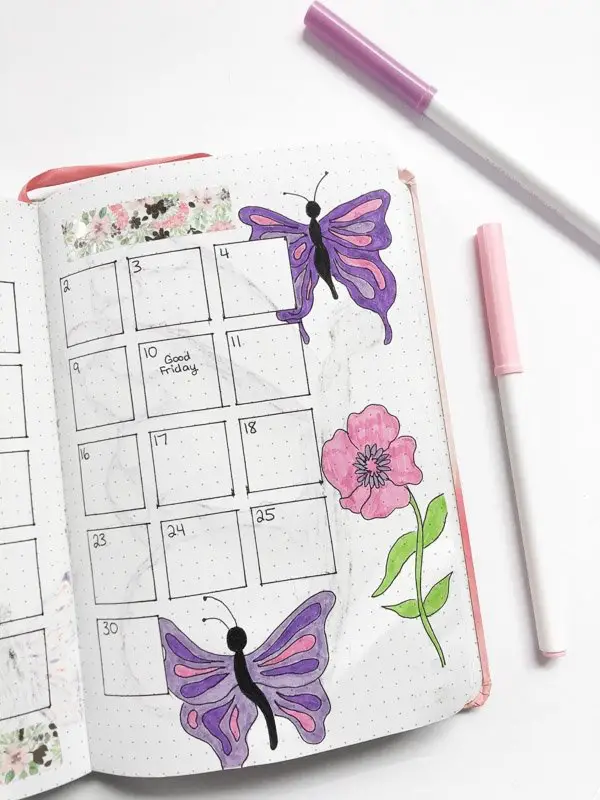 Mood Tracker
Last month for my houseplant theme, my mood tracker was two large leaves, and I loved how it turned out. I tried to recreate a similar effect this month with a big butterfly. I will fill in each section of the wings with the colour that corresponds to my mood each day.
Looking back though, I regret colouring in the outer edges. I think it might be confusing, especially since I will be using that purple marker as one of my mood tracker colours. If I could change it I would make the sections on the wings bigger so they took up the entire wing. I still like the big butterfly though. 🙂
If you're curious how any of my spreads end up looking after they're filled in, I always share those on my Instagram page near the end of each month.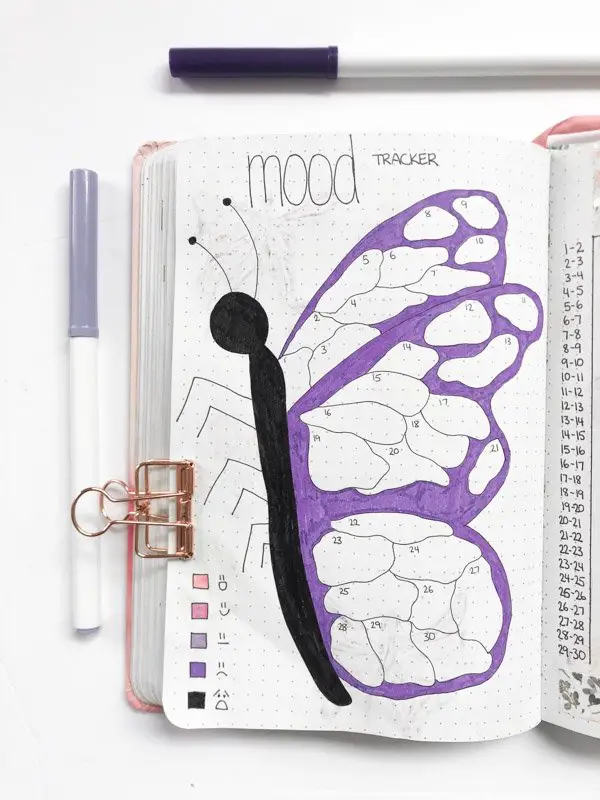 Sleep Tracker
Since the sleep tracker takes up so much of the page, I kept it super simple with just one butterfly and a couple strips of washi tape. I am loving the effect washi tape gives with so little effort!
To see how this type of sleep tracker looks at the end of the month, check out my almost finished sleep tracker from March on Instagram.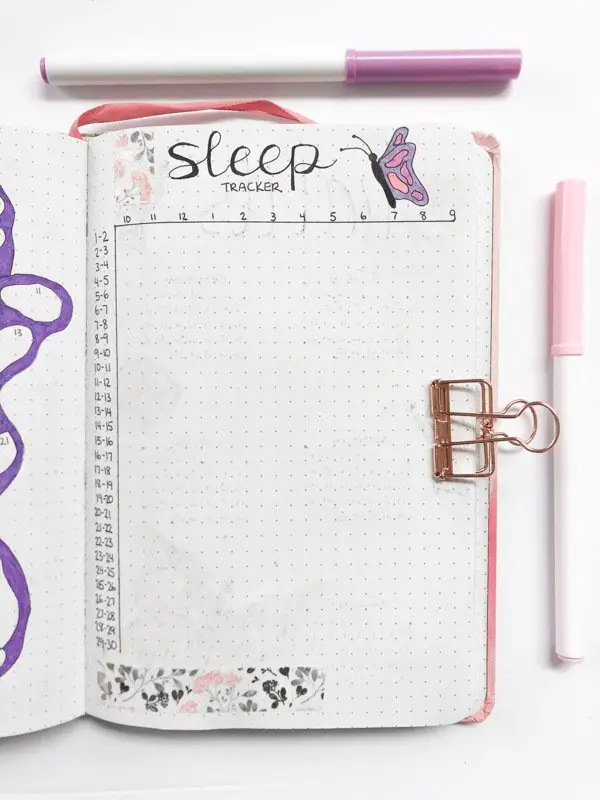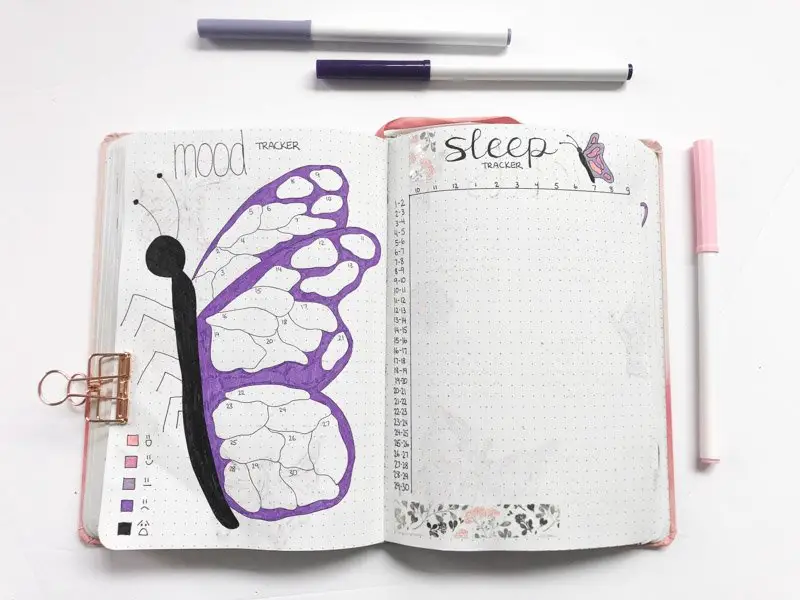 Habit Tracker
For this month's habit tracker, I drew outlines of the April calendar for each habit, surrounded by butterflies and flowers.
I love switching up my layouts, so if you want more inspiration for habit tracker spreads, check out my previous bullet journal posts linked at the end of this post.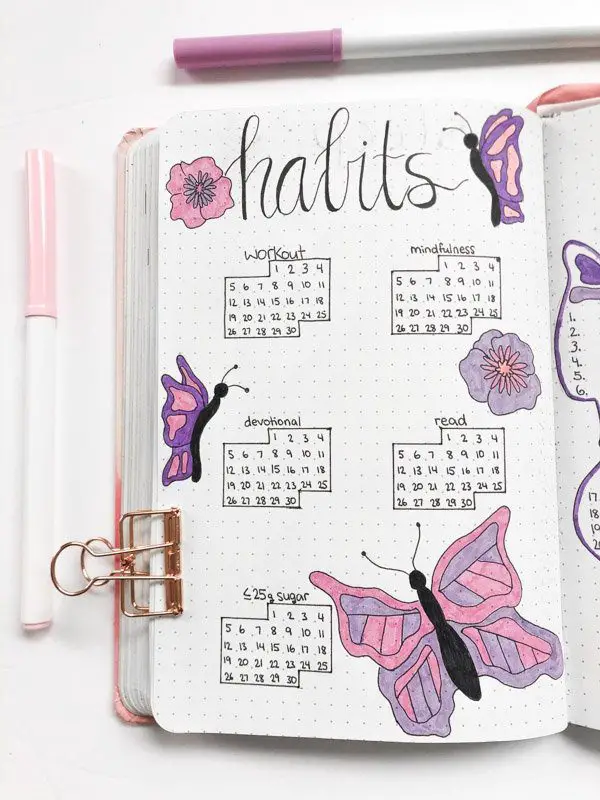 Highlights of the Day
For the last few months, I have included a gratitude page or a highlights of the day page, both of which I think are super valuable. This month I drew a large butterfly, and I will be writing the highlight of each day on a line on the wings. I decided not to colour in the body of the butterfly on this page, because I liked how it looked outlined in purple instead.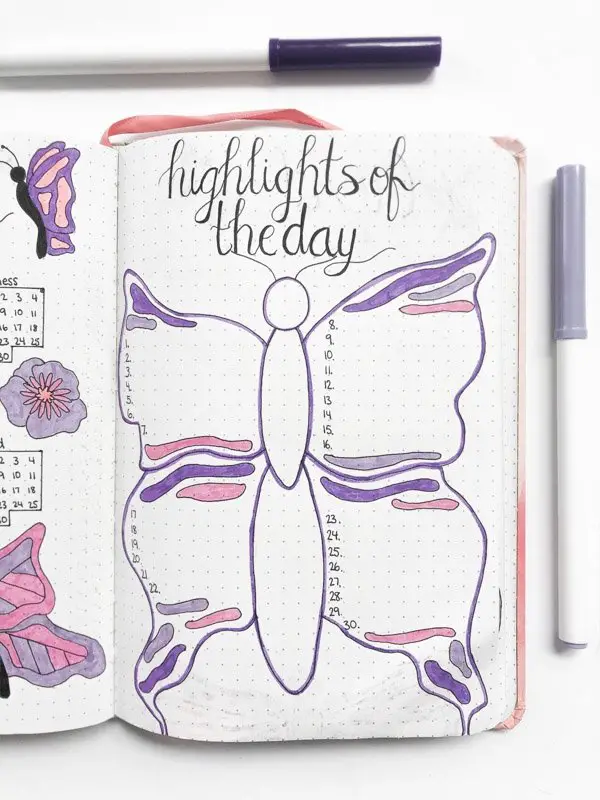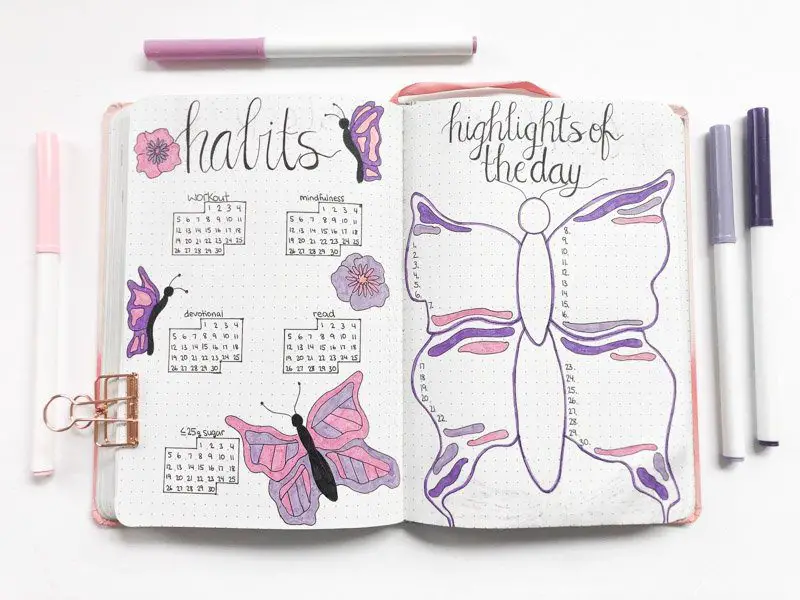 Weekly Spread
If you follow me on Instagram you will know I always switch up my weekly layouts, and this is another new one for me. This layout is similar to my monthly calendar for this month, with the floating boxes.
Every Monday on Instagram I share my new weekly spread, and every Sunday I share the "after the pen" version, showing what the layout looks like all filled in.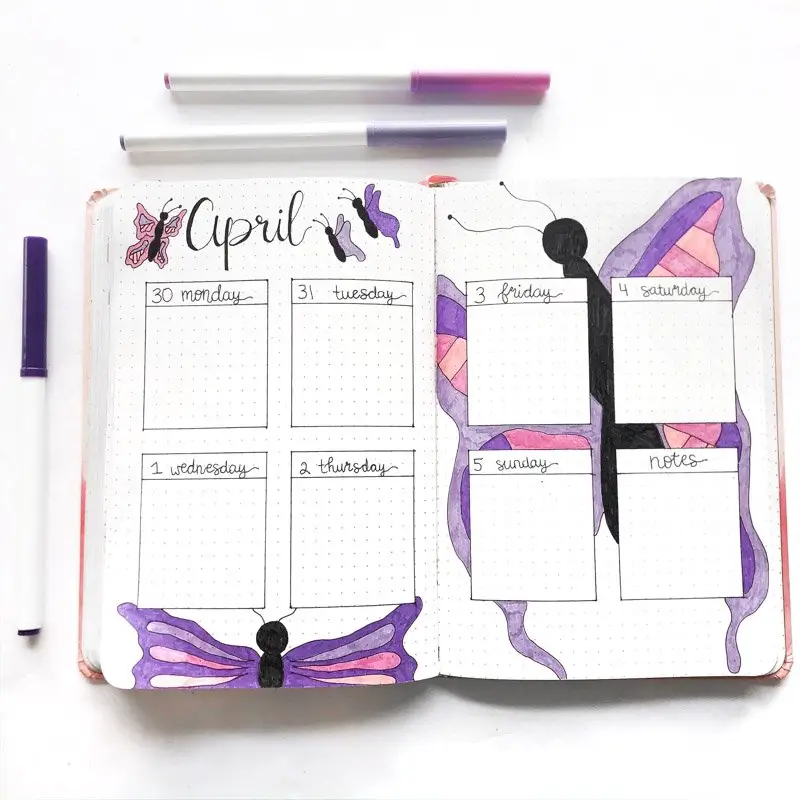 Thank you so much for reading this April bullet journal setup post!
In need of some more bullet journal inspiration? Check out these posts:
March Bullet Journal Setup: Houseplant Theme
February Bullet Journal Setup: Rose Theme
Bullet Journal Setup for Beginners
How I Set Up My First Bullet Journal
xo,
Andrea