Vancouver is one of the most beautiful cities in the world with its mix of an urban landscape, mountains, forests and the ocean. There are endless places to take amazing photos, such as the Seawall, Stanley Park, English Bay, Gastown, the list goes on! However, in this post, I am going to share with you more unique Instagrammable spots you may not have seen before. Keep scrolling for 18 of Vancouver's most Instagram-worthy murals that are the perfect backdrops for your feed!
Kits Wings
These huge Kitsilano wings are on a 40-foot by 20-foot wall at the corner of Burrard Street and West 4th Avenue. It's definitely hard to miss! Artists Sandy and Steve Pell created this mural, inspired by the bald eagles living near Kits Beach. I love that there's a designated pathway leading straight to the middle of the wings. Too perfect!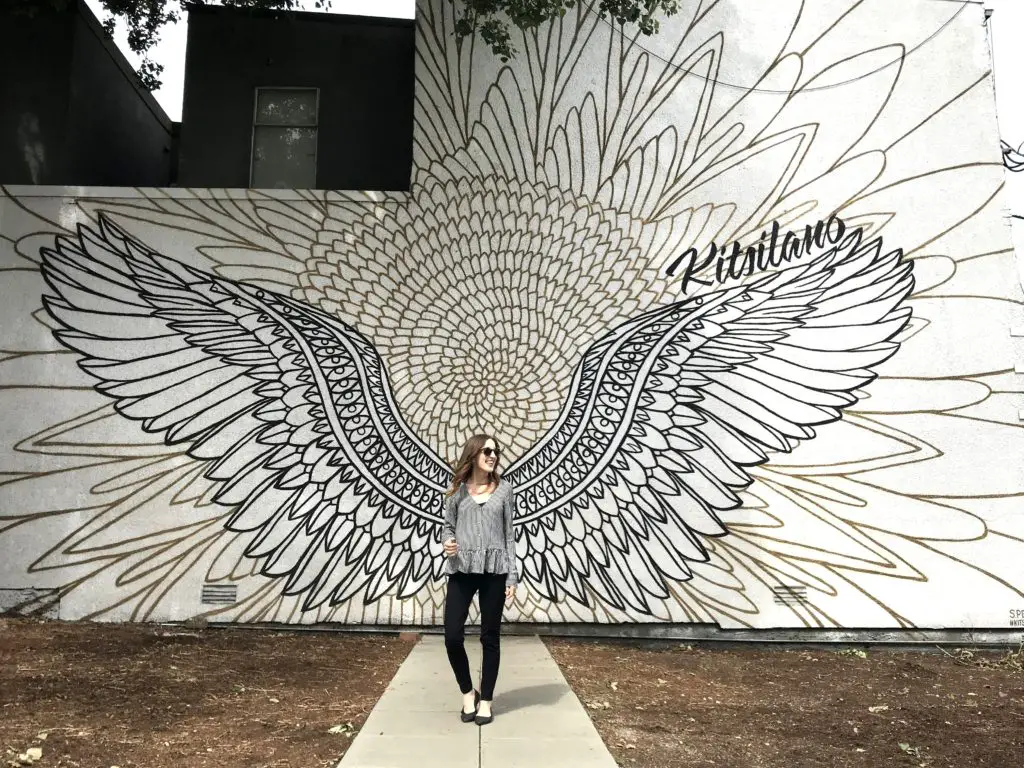 Olive + Ruby
Olive + Ruby is a cafe in Kitsilano (2839 West Broadway) that has amazing smoothie bowls and adorable decor. My favourite part is actually two white swings they have hanging by the front window, which are perfect for photo-ops in and of themselves (see HERE), but this post is all about murals, and this shop has a beautiful one inside! I love the colours in this painting so much. They are so bright and fun but flow together so well.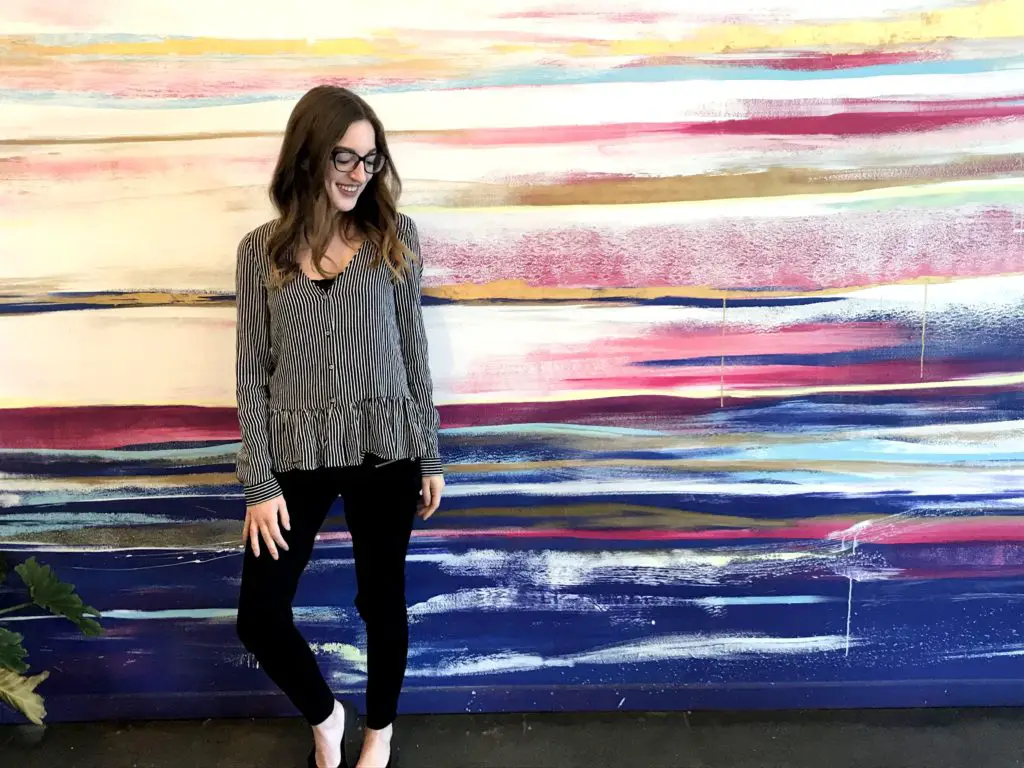 Stable House Bistro
The South Granville Business Improvement Association commissioned artist Ola Volo to paint this fabulous mural in 2016. It is on the outside wall of the Stable House Bistro at 1520 West 13th Avenue. I love that this one has neutral tones, but also a whimsical design.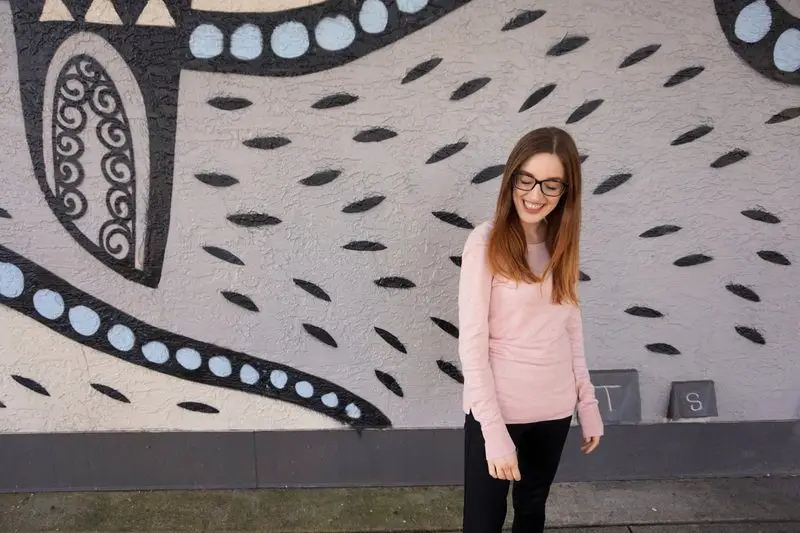 Hootsuite
This colourful mural covers the entire outside of Hootsuite's office building in Mount Pleasant at 5 East 8 Avenue. It was painted by Scott Sueme as part of the 2016 Vancouver Mural Festival. The colours are bright and bold, and there are lots to choose from!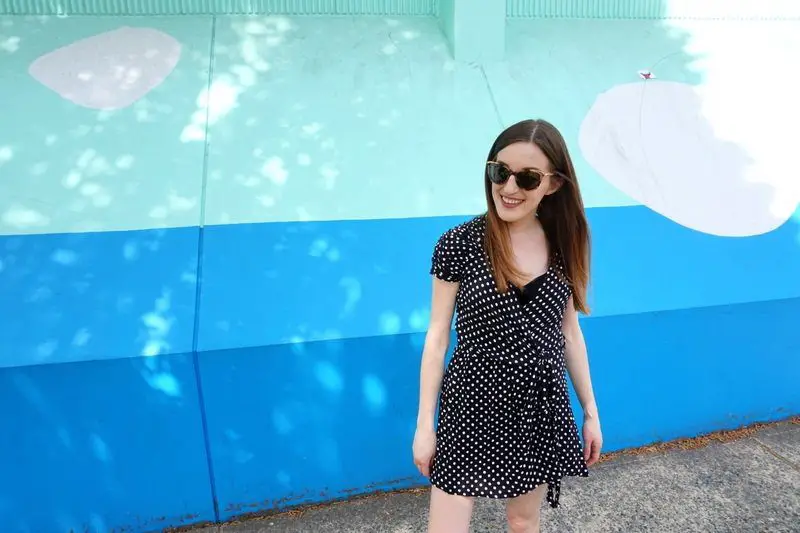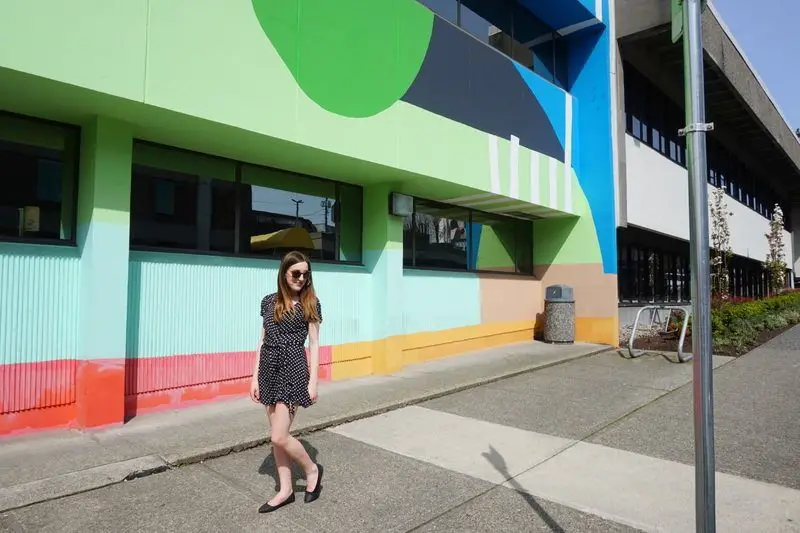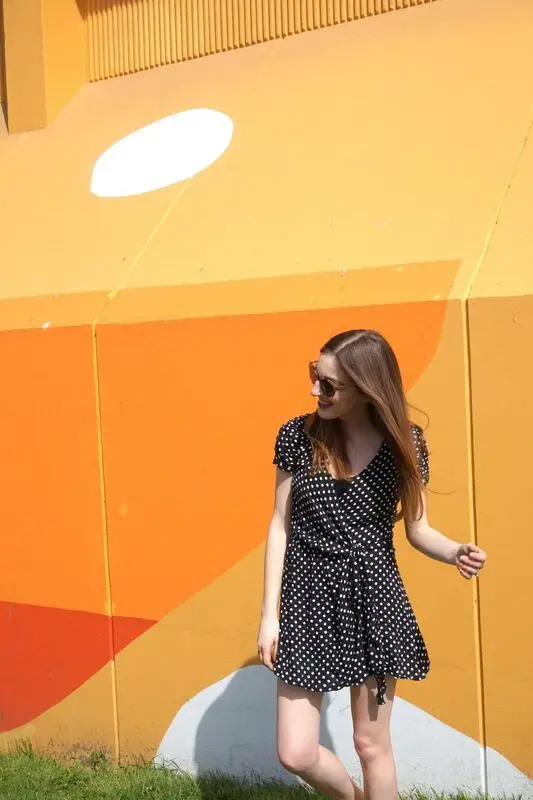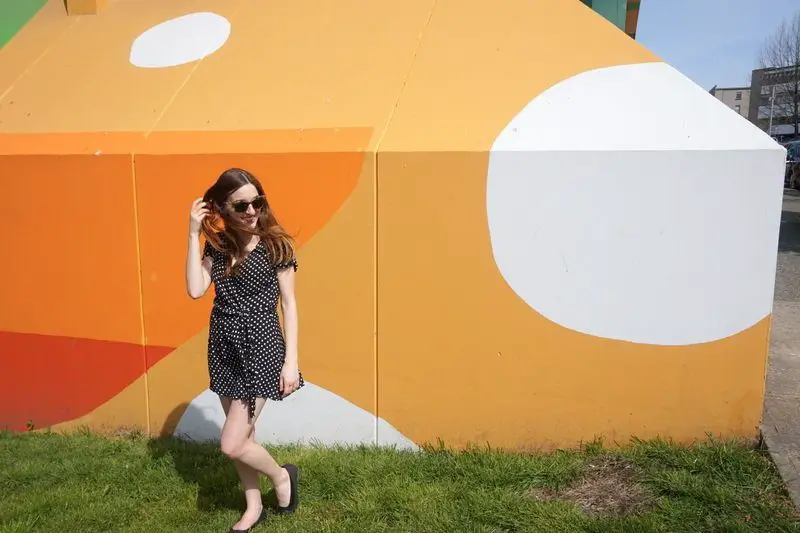 City Centre Motel
This mural is a great example of how public art can really liven up an otherwise not-so-attractive area. The majority of this motel (at 2111 Main Street) is a really ugly green, but you will find the mural on the corner of Main Street and East 5th Avenue. Part of it is behind/beside the bus stop on Main Street, and the majority of it is around the corner along East 5th Avenue.
This was one of my favourite locations to shoot at in Vancouver. I loved the tones and the colours so much. This was another mural that was commissioned during the 2016 Vancouver Mural Festival and was painted by an art duo called Low Bros.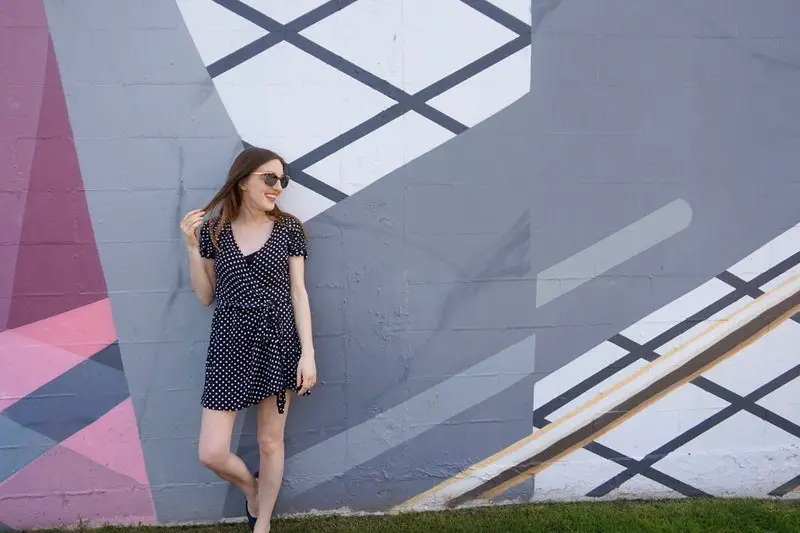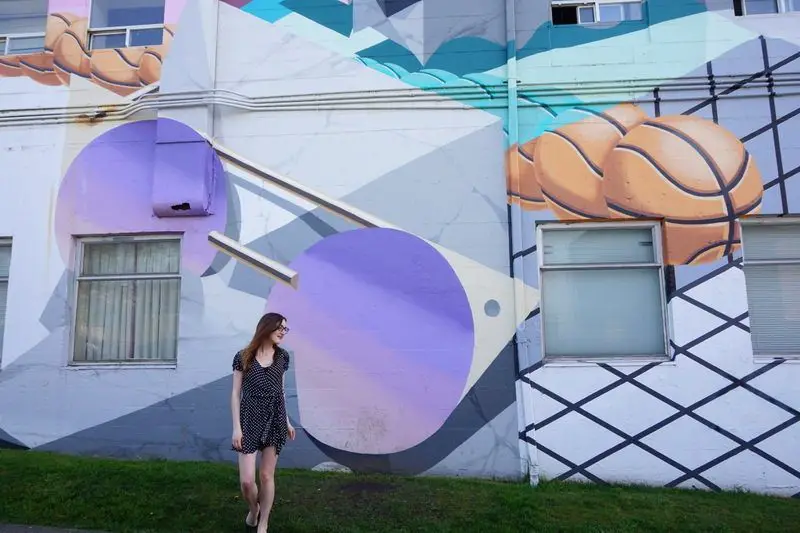 Bello Wedding World
This gorgeous pink mural is on the side of Bello Wedding World on the corner of Main Street and East 16th Avenue.  It was painted by Sarah Delaney as part of the 2017 Vancouver Mural Festival.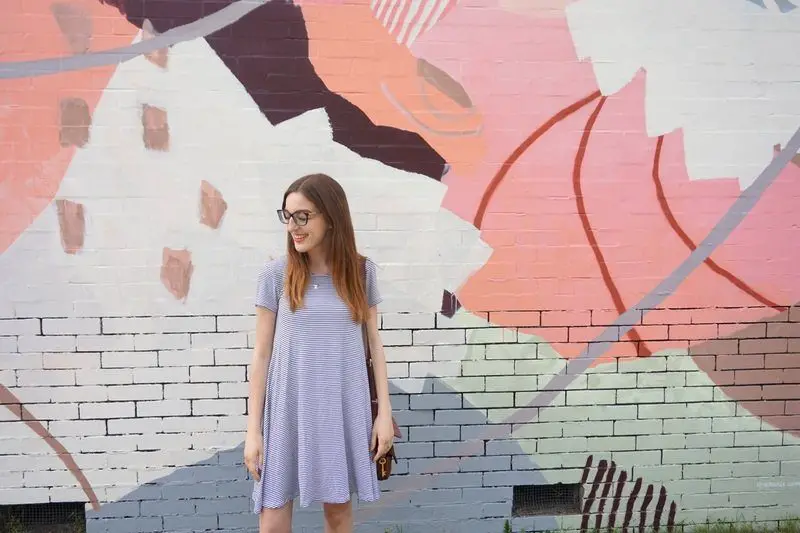 In Bloom
This giraffe/floral mural is SO beautiful! It almost feels wrong this is in an alley with dumpsters, but if anything can liven up an ugly alley, it's this mural. It's huge (100 feet wide!) and colourful and bright, and you can't help but smile when you see it. Ilya Viryachev painted this in 2016 in collaboration with the City of Vancouver and the Mount Pleasant Business Improvement Association. It is in an alley off East 8th Avenue near the corner of Main Street and East 8th Avenue.
[edit: as of 2019, this mural has been torn down. Such a shame, this giraffe was beautiful!]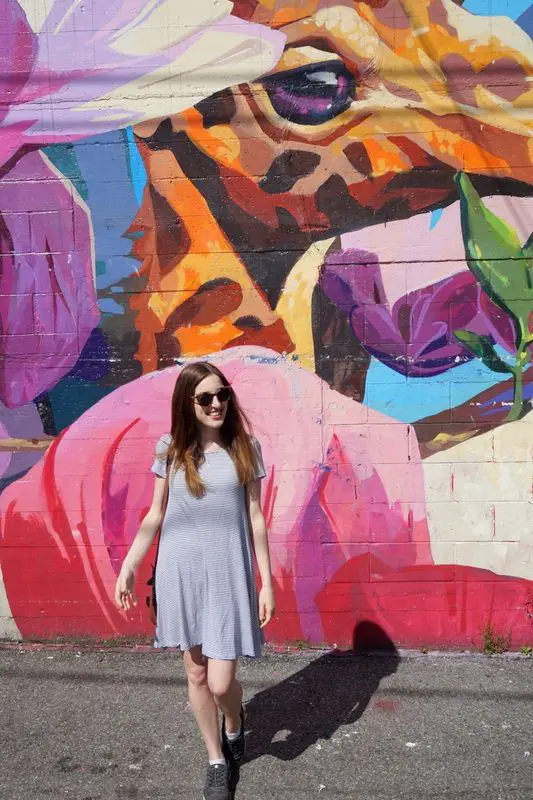 Dance the Dance My Girl
This mural is located outside La Casa Del Artista at 150 East 3rd Avenue. It was painted by Irving Cano and Ari De La Mora as part of the 2017 Vancouver Mural Festival. It features Indigenous Mexican people and culture, and is so different to any other mural I've seen. The colours and details are amazing, and this mural is huge!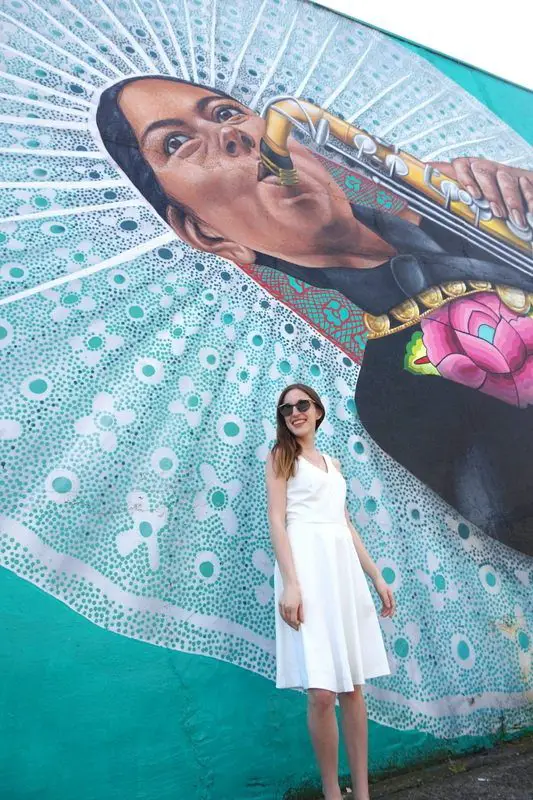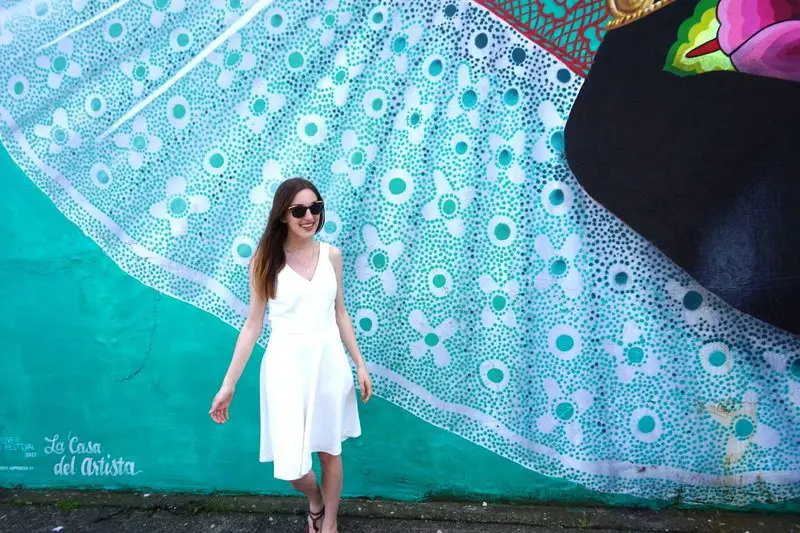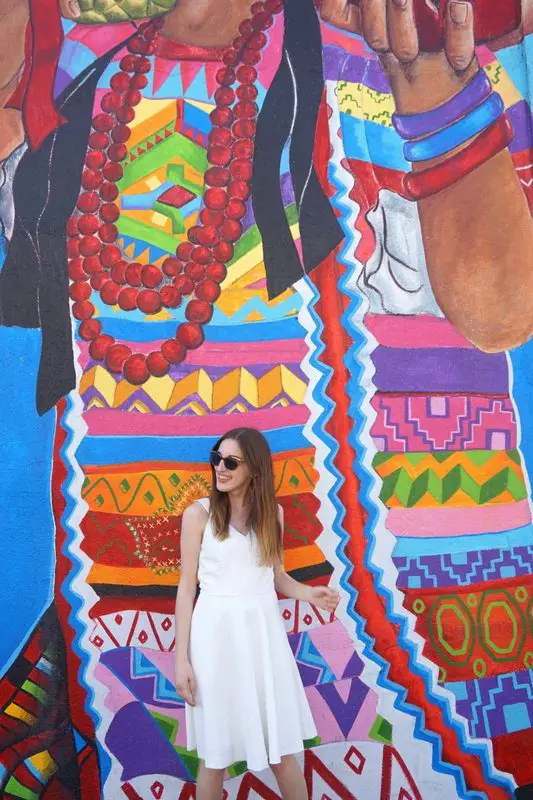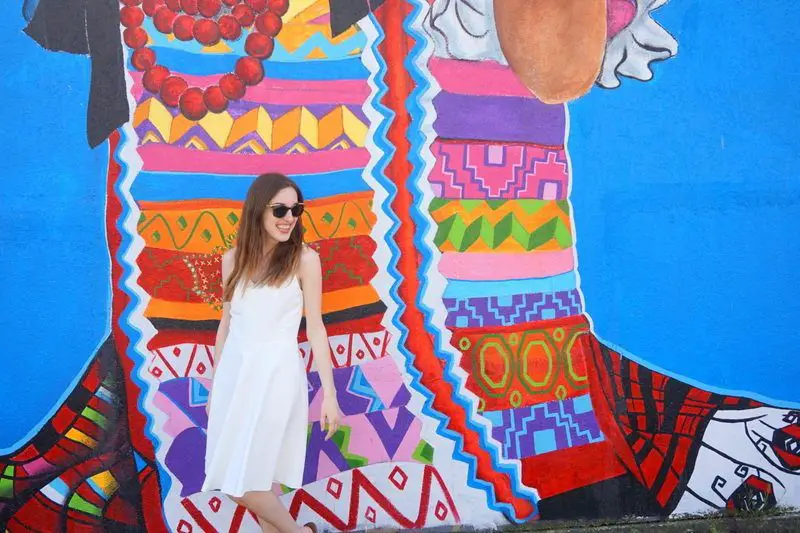 Trees Burn While Flowers Bloom
In the alley around the corner from the Dance the Dance My Girl mural off East 3rd Avenue, you will find this long black and white mural painted by Tyler Keeton Robbins. This mural represents the impact on B.C.'s natural ecology. It was also created for the 2017 Vancouver Mural Festival.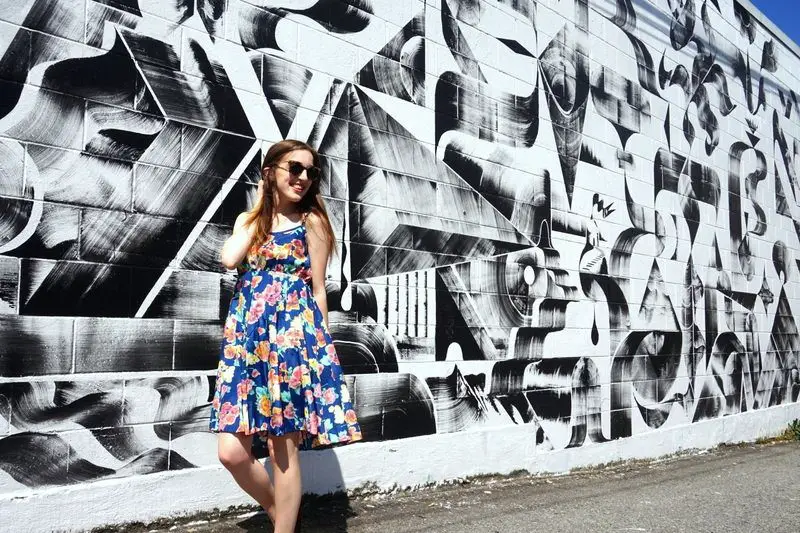 We Are Croutons Floating in Cosmic Soup
Keep walking down the alley away from East 3rd Avenue toward East 4th Avenue, and you will find possibly the happiest mural ever. It is full of fun shapes, bright colours and happy faces. So cute! It was painted by David Shillinglaw for the 2017 Vancouver Mural Festival.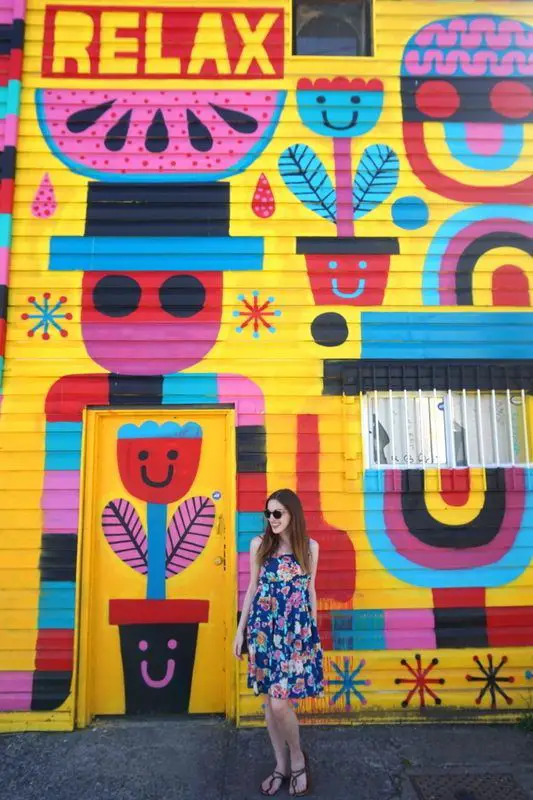 Community Mural
Across the alleyway from the previous mural, between East 3rd Avenue and East 4th Avenue west of Main Street, is this monochrome blue painting along the fence, created by Jenny Ritter. The painting, which was done for the 2017 Vancouver Mural Festival, was actually filled in by community members using a paint-by-numbers technique. What a creative way to get the community involved in public art!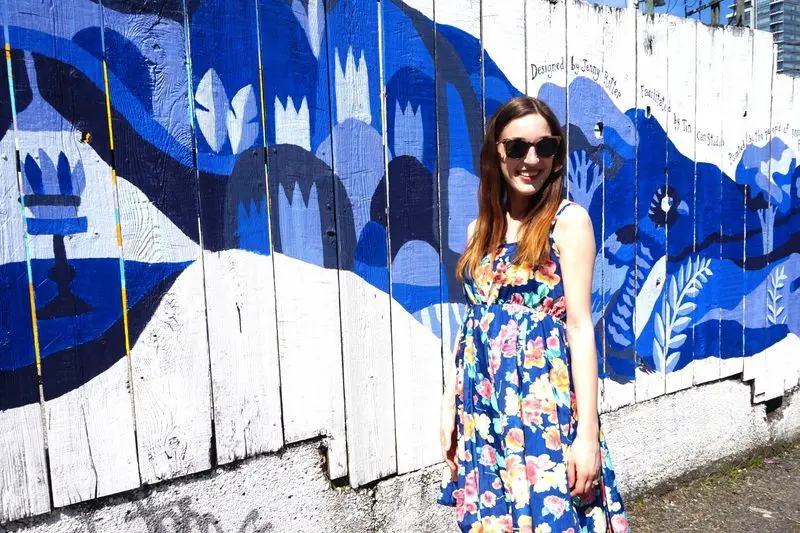 Holograph
Continuing down the alley, just before East 4th Avenue west of Main Street, you won't be able to miss this kaleidoscopic mural! It was painted by Jane Cheng for the 2017 Vancouver Mural Festival.
[edit: as of 2019, this mural has been torn down!]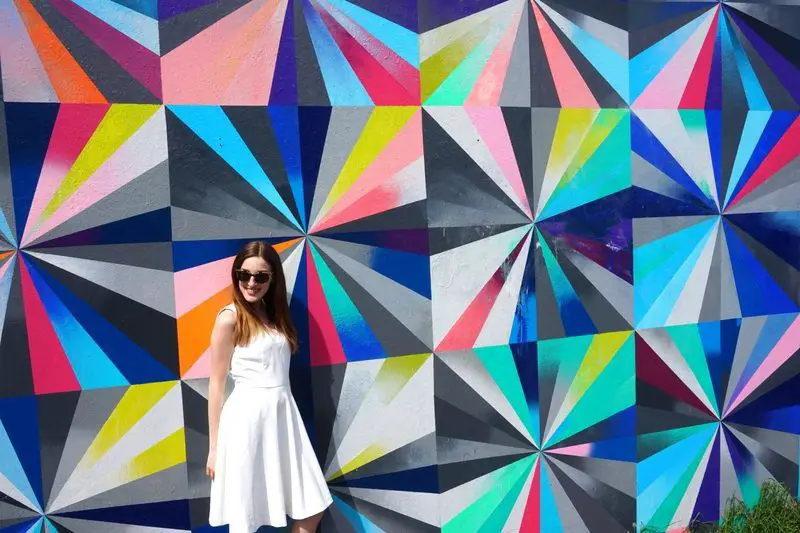 Peacock
If you've been walking down the alley with the previous murals on this list, turn left onto East 4th Avenue toward Main Street to find this huge blue peacock mural, painted by Nick Gregson. There is an ugly parking sign in the middle of the painting below the windows by my head, but my husband angled the photo so it would be hidden behind me. So clever!
I haven't seen it at night, but apparently this mural glows in the dark!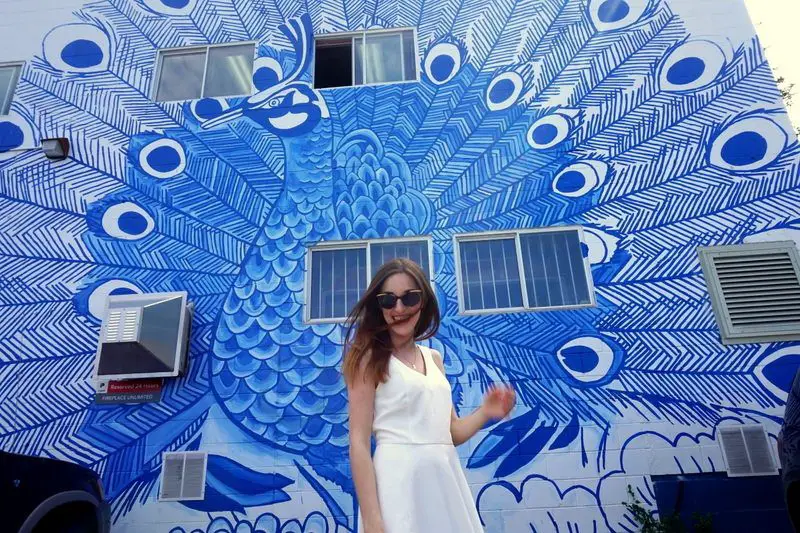 Scolder Dives for Berries
This is a painting of a Stellar's Jay, a native bird to the West Coast of North America. I really like the use of shapes in this mural, which was painted by Carrielynn Victor for the 2017 Vancouver Mural Festival. It is located right near the peacock mural, near the corner of Main Street and East 4th Avenue.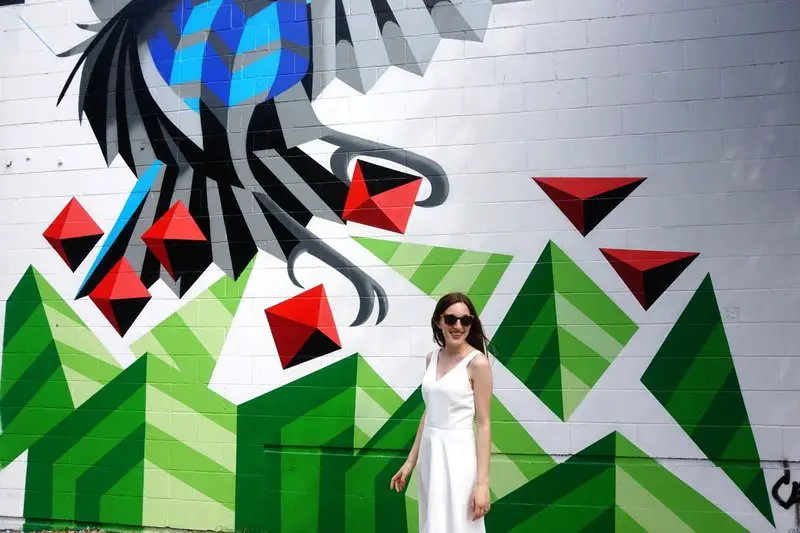 Lady Mermaids
Across the street from the Stellar's Jay mural on East 4th Avenue west of Main Street, you will find a mural depicting four mermaids. They were painted by Lani Imre, Bronwyn Schuster, Amanda Smart and Tia Rambaran as part of the 2017 Vancouver Mural Festival. Ultimate female collaboration! This mural wraps around the wall, so be sure to turn the corner to see all the beautiful mermaids.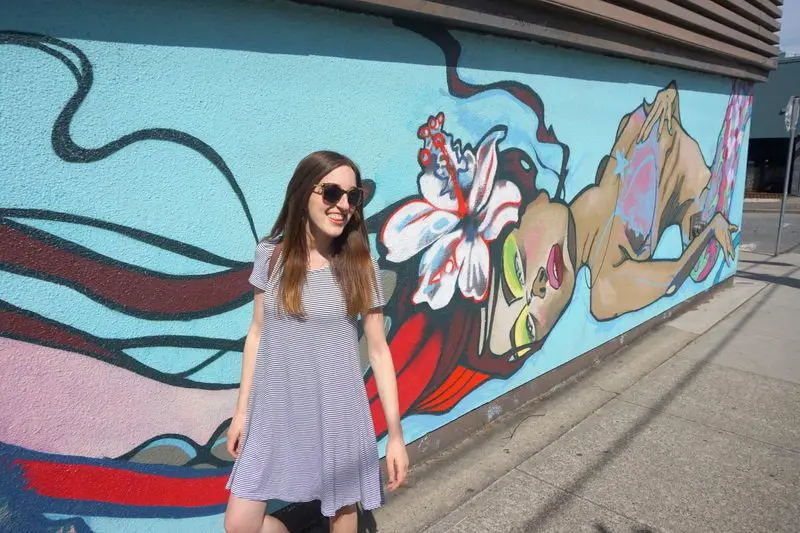 Birds off Broadway
This is the one mural on this list I don't know the name of or who painted it. If you know, please tell me! This mural is gorgeous. It is on the corner of West Broadway and Yukon Street on the side of Menya Japanese Noodle. I love the blues and pinks, and the birds are so cute!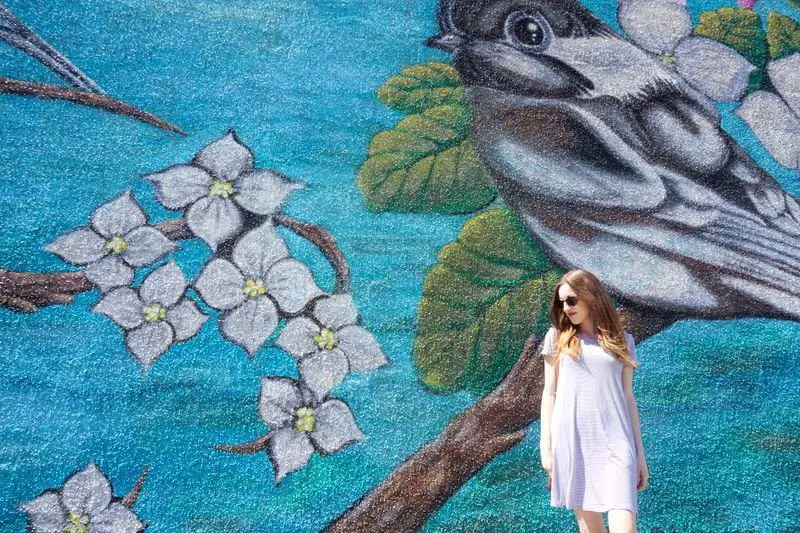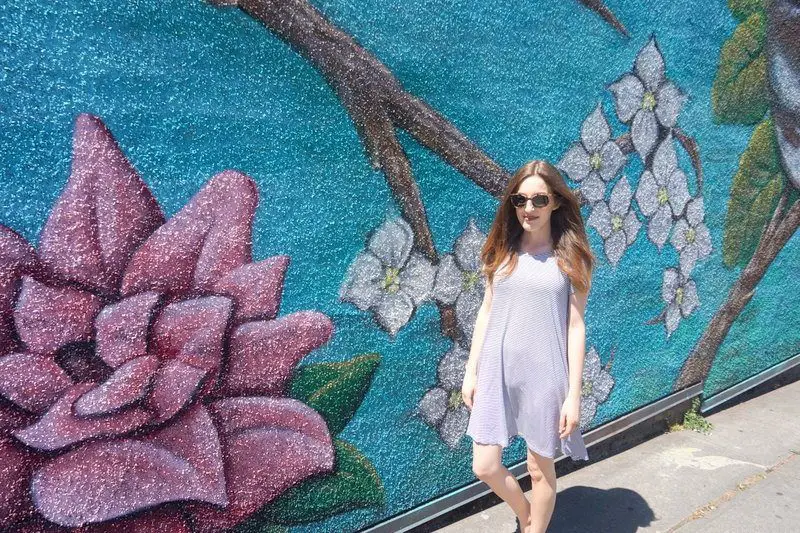 Pink Alley
This bright pink and yellow alley is south of West Hastings Street between Granville and Seymour streets. Unlike Fun Alley (see below), this is an actual working alley, so you have to watch out for the odd truck driving through.
The Downtown Vancouver Business Improvement Association hired HCMA Architecture + Design to give this alley a makeover in 2017. It totally brings life and fun to an otherwise plain old ugly alley.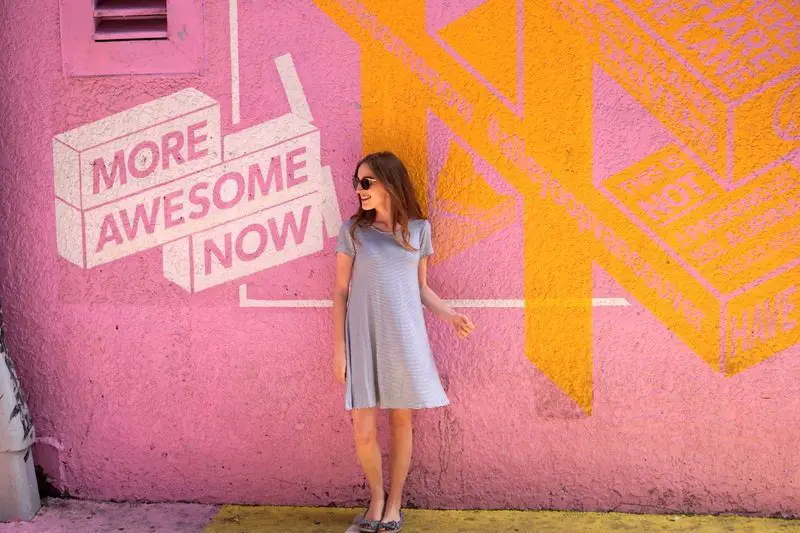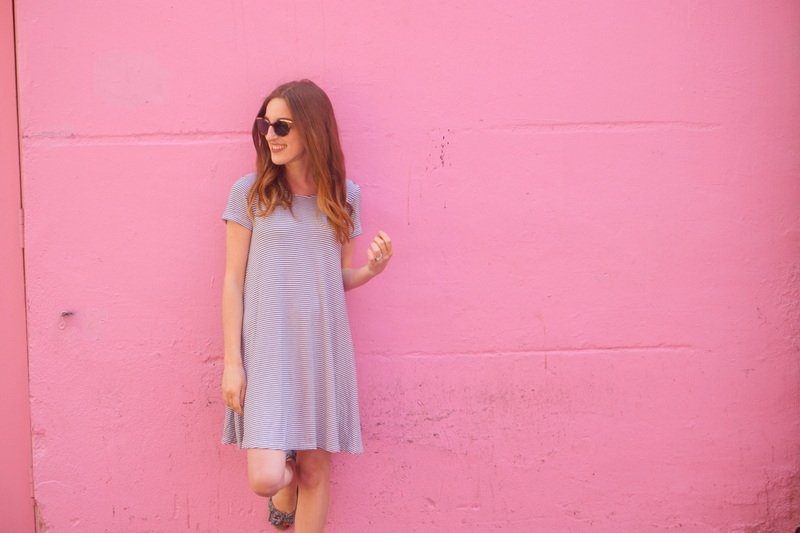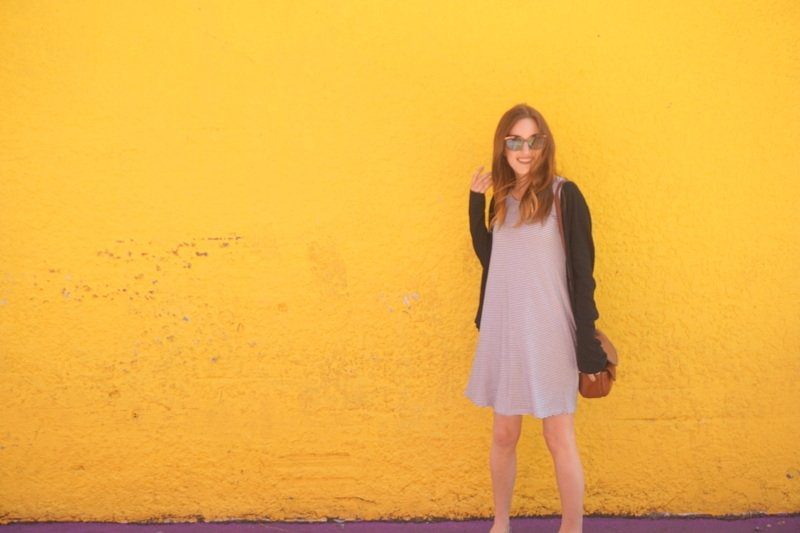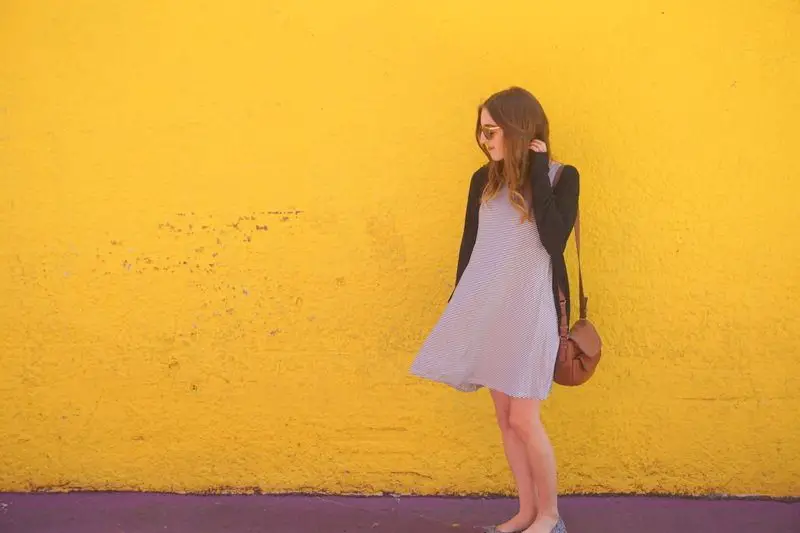 Fun Alley
This place definitely lives up to its name. Fun Alley, on West 1st Street beside Buddha-Full Lower Lonsdale (106 West 1st St) in North Vancouver, is painted top to bottom in crazy bright colours and shapes. It was created in 2017 as part of North Vancouver's public art program, Studio in the City. Artists Lukas Kasper and Victoria Sieczka created the painting, along with eight high school students.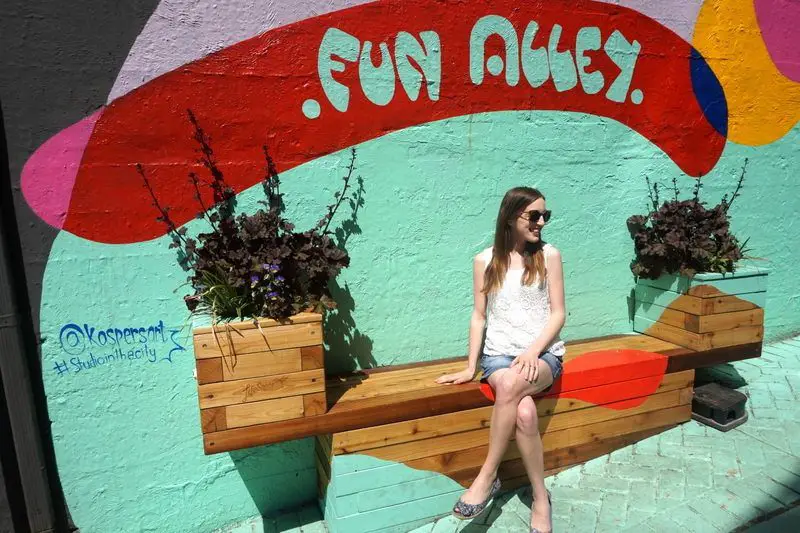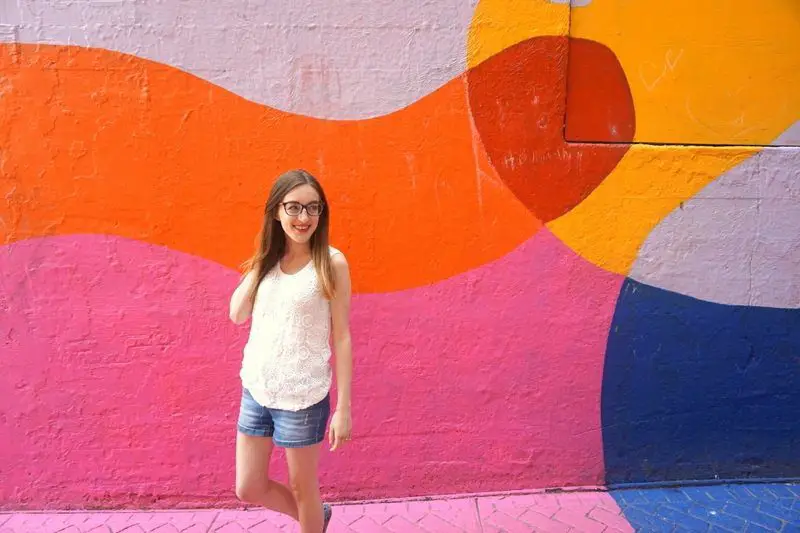 As you can tell, so many of these murals were from previous Vancouver Mural Festivals. I think this is such a brilliant idea, to bring life and fun to the city. Vancouver had another mural festival this month, and I can't wait to check out all the new murals! Which of these was your favourite?? Do you have any unique photo spots in Vancouver that you love to go to?
The following map includes murals from this post (blue markers) and murals from my second Vancouver Instagram guide (purple markers).
Check out these posts next:
25 Instagrammable Murals in Vancouver (part 2!)
Calgary's Most Instagram-Worthy Murals
Guide to Instagrammable Murals in Honolulu, Hawaii
Visiting the Love Locks in Toronto
xo,
Andrea
Follow me!
Instagram | Twitter | Pinterest | Bloglovin