Getting organized when you don't have a lot of space can be challenging. I live in a small apartment, and if everything is not in its place it can look pretty messy very easily. My love of bullet journaling means I have accumulated a decent amount of stationery, and today I am getting organized! Keep reading for tips on how to tackle stationery organization with very little space on a budget.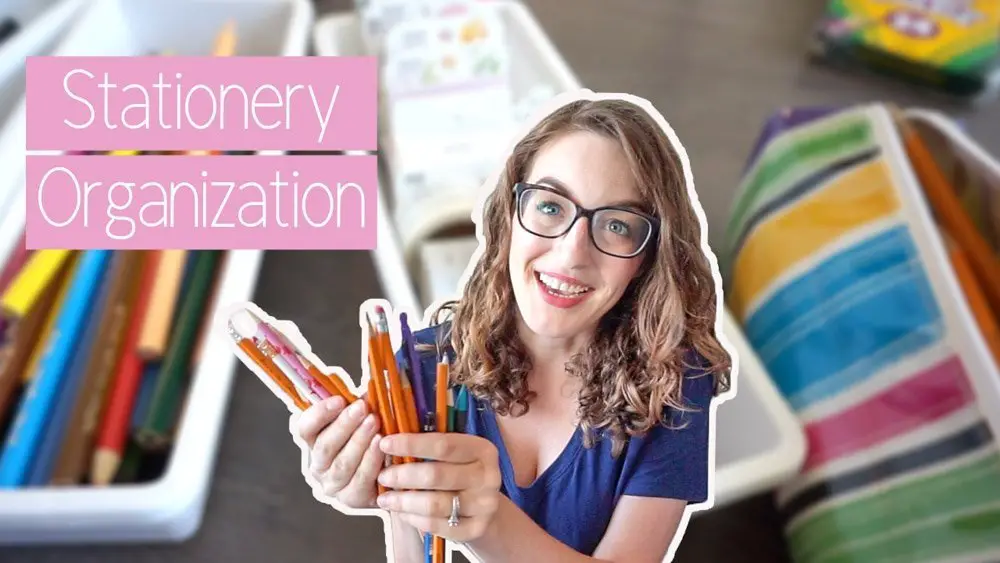 Stationery Organization on a Budget
Did you know I have a YouTube channel? I make bullet journaling and stationery-related videos every week! If you want to see the stationery organization in action, check out this week's video and be sure to subscribe to my channel!
Drawers
Since I do not have an office or a desk, my storage solution for my stationery is a set of plastic drawers. I found these on Facebook Marketplace for a great deal, but you can also find them on Amazon.
It may not be the most aesthetically pleasing Pinterest-worthy organization, but sometimes practicality has to take priority, especially when you are limited on space.
As you can see from this photo, I have the drawers in my living room beside my TV, which is really the only free space I had to work with. These drawers fit perfectly between the wall and the TV, so I was happy about that!
For me, these three drawers were the perfect amount of space for the amount of stationery I currently own. I did not show it in my video or in this post, but I store my bullet journals in the top drawer on top of the large pencil case.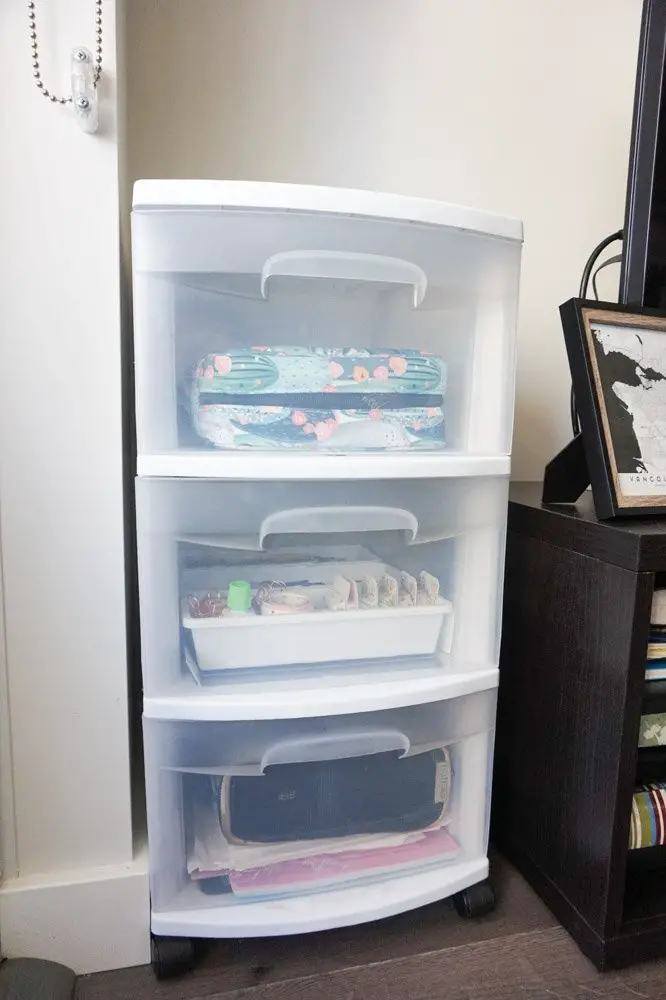 Pencil Case
I have accumulated a number of pencil cases over the years, but none of them have ever served a real purpose. They were all filled with pens and pencils and a lot of random items. It is definitely not easy to find things that way!
I went on Amazon and found this beautiful pencil case with a pastel cactus pattern, and I love it. There are several flaps with elastics to hold pens and markers.
I used this case for my Crayola Supertips, my Tombow coloured brush pens, my black Tombow brush pens, my fineliners, highlighters and more.
Each elastic band easily fit two of each type of pen, although I did put three Crayola markers in a couple of them.
I love this pencil case because not only is it super pretty, it keeps everything organized and together in one place.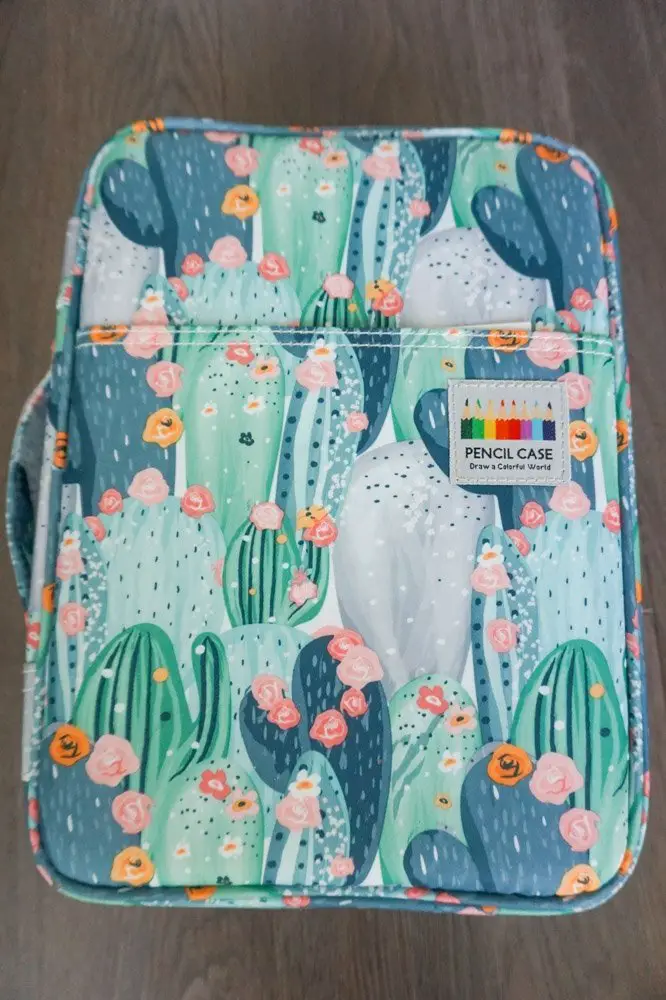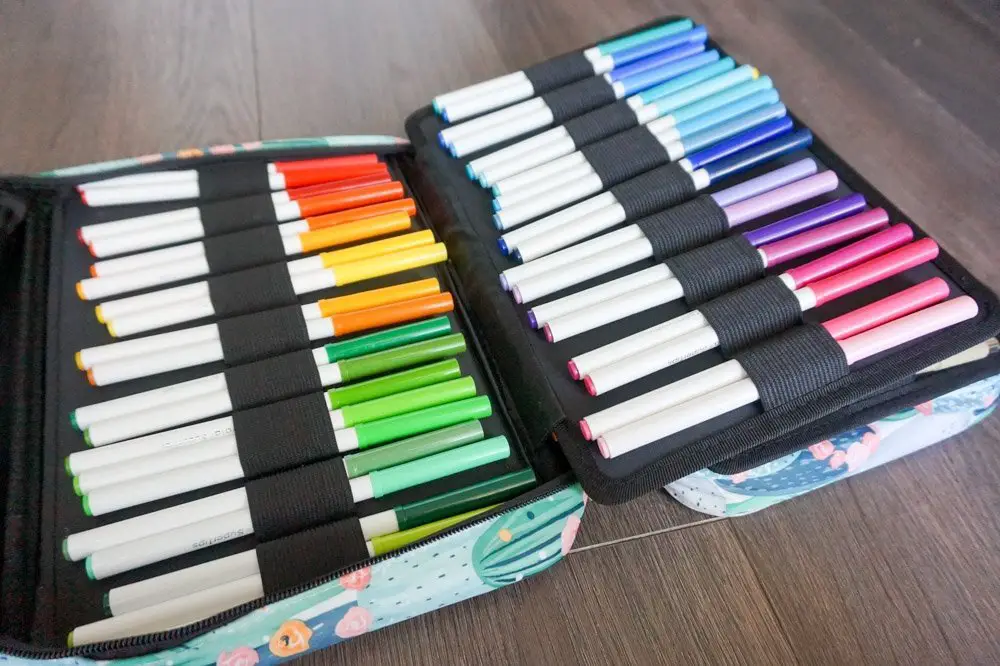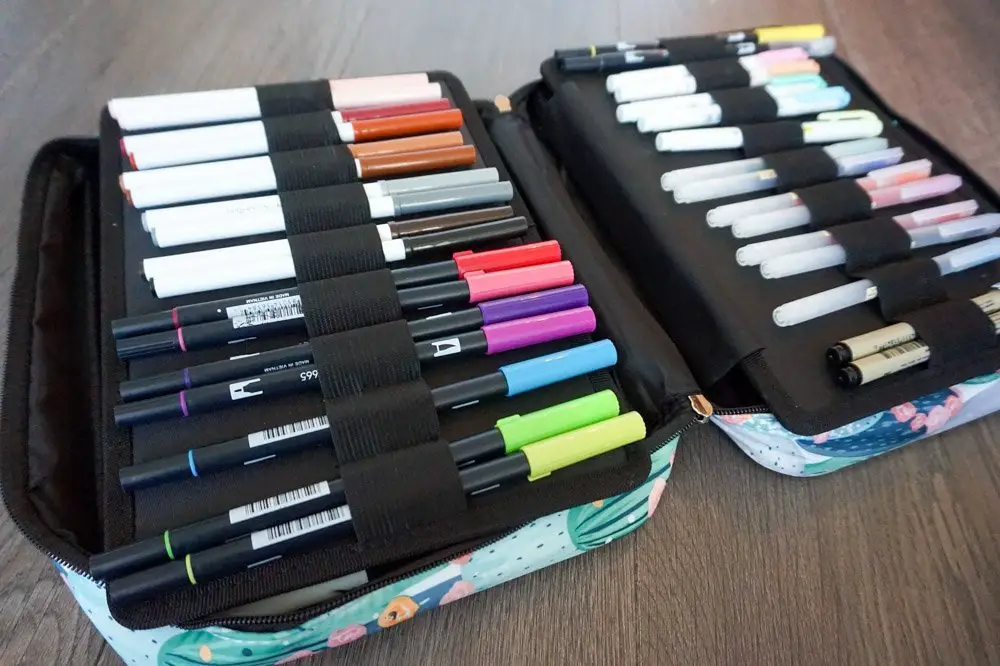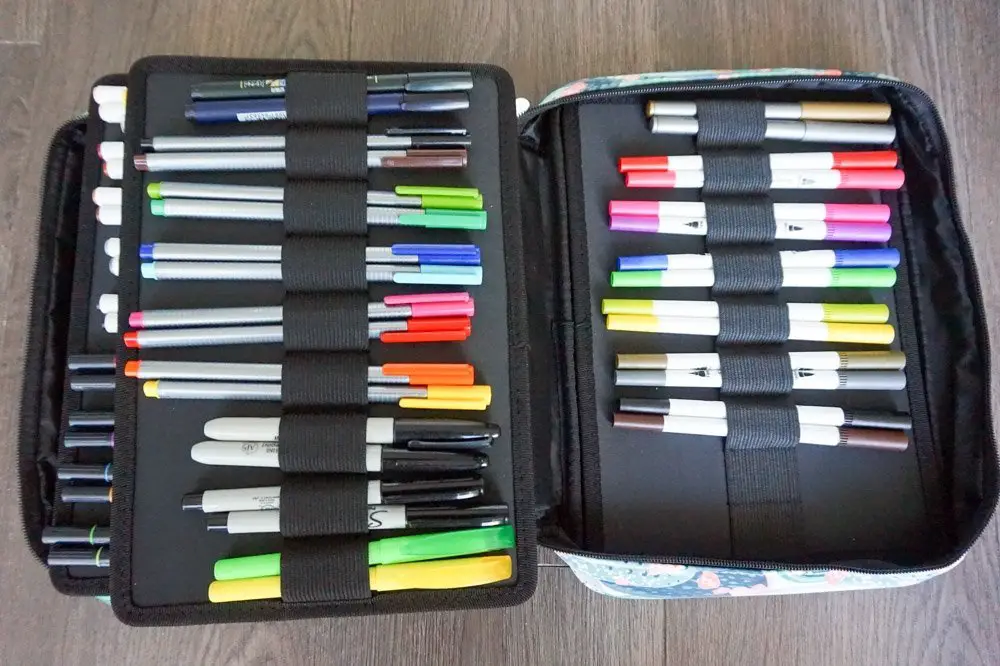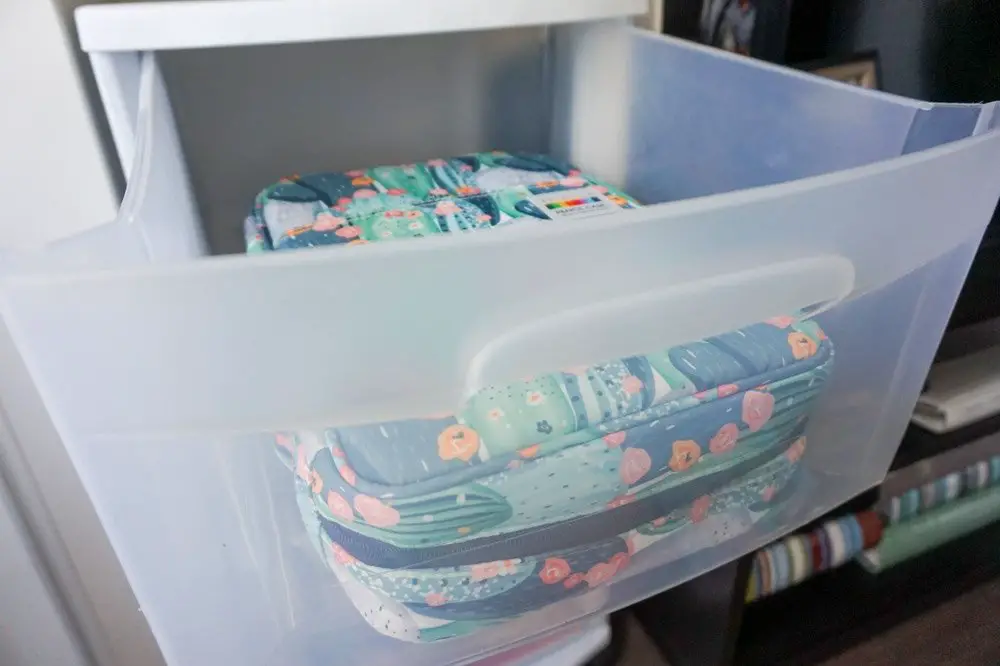 Small Organizers
In the second drawer, I used three plastic rectangular containers from Dollar Tree. In my stationery organization video you will see my struggle with decluttering my pens and pencils. How many pencils is too many pencils??
If you have any tips for organizing and decluttering stationery, let me know in the comments!
I love that all three containers fit so well into this drawer, and everything is so easy to see at a glance.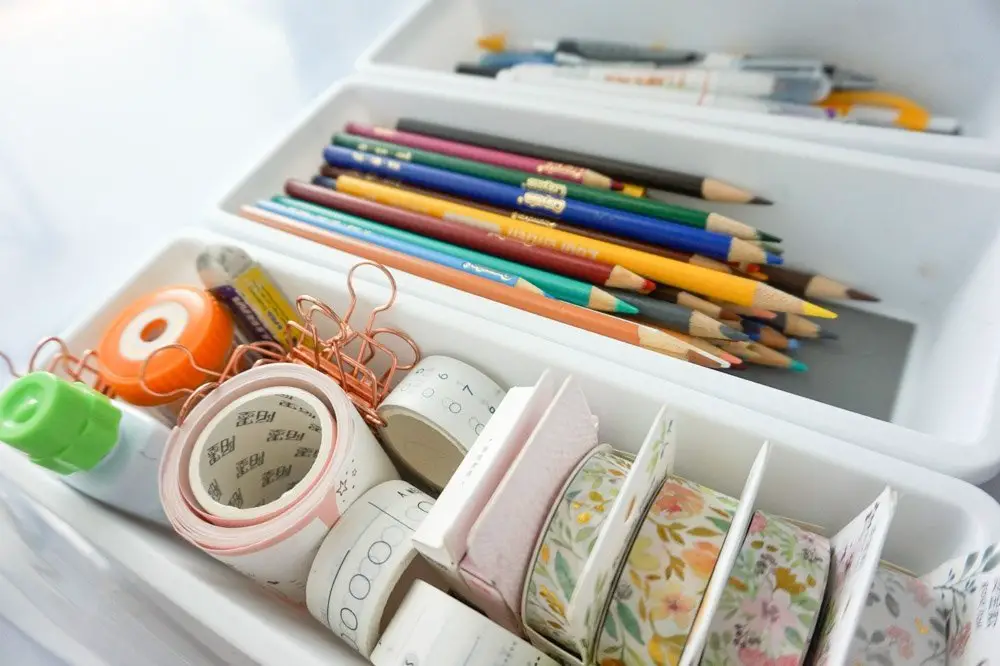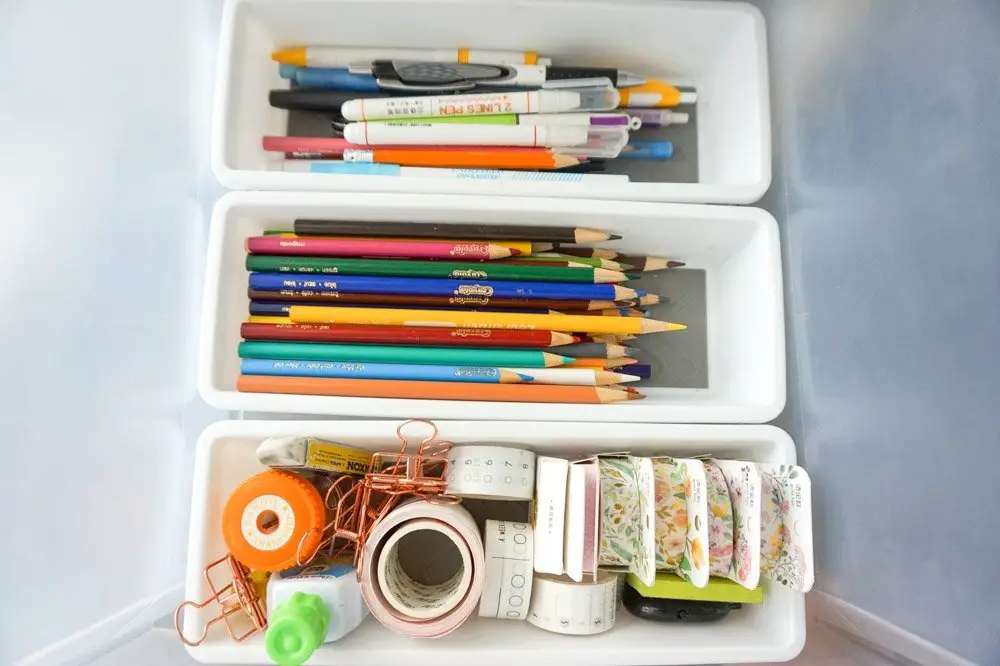 In another container I put all of my pencil crayons. I use these in my bullet journal occasionally, but I mostly use them for my colouring book.
The original packaging they came in was falling apart and barely hanging on with tape, so I think this system will work a lot better.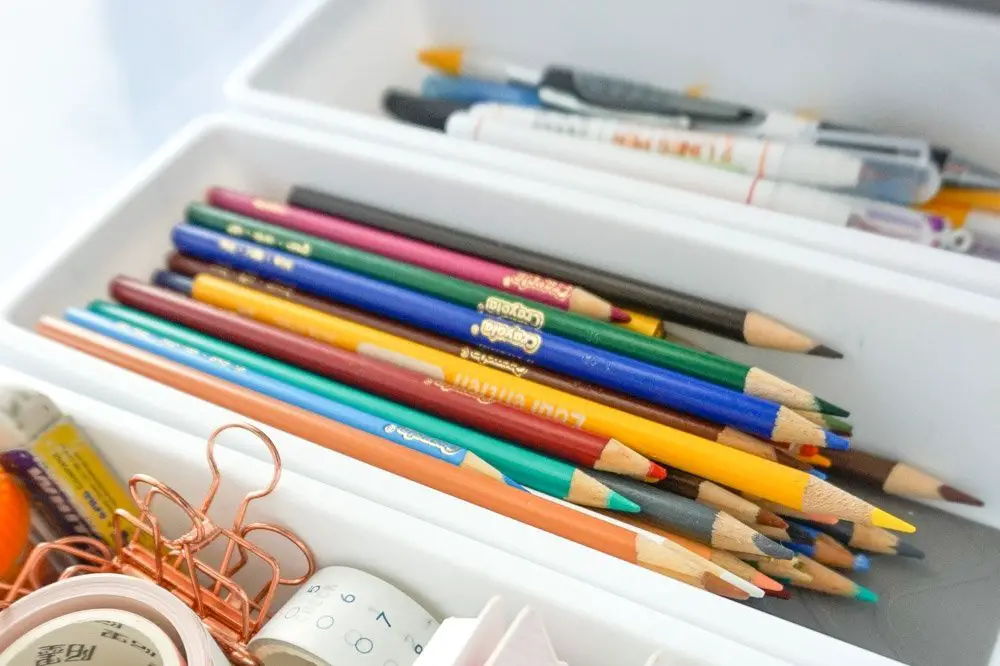 In the next container I put my ball point pens and a couple of pencils for easy access. Going through all of my stationery made me realize how many pens I owned that I wasn't using. I am happy to say I got rid of a lot of them!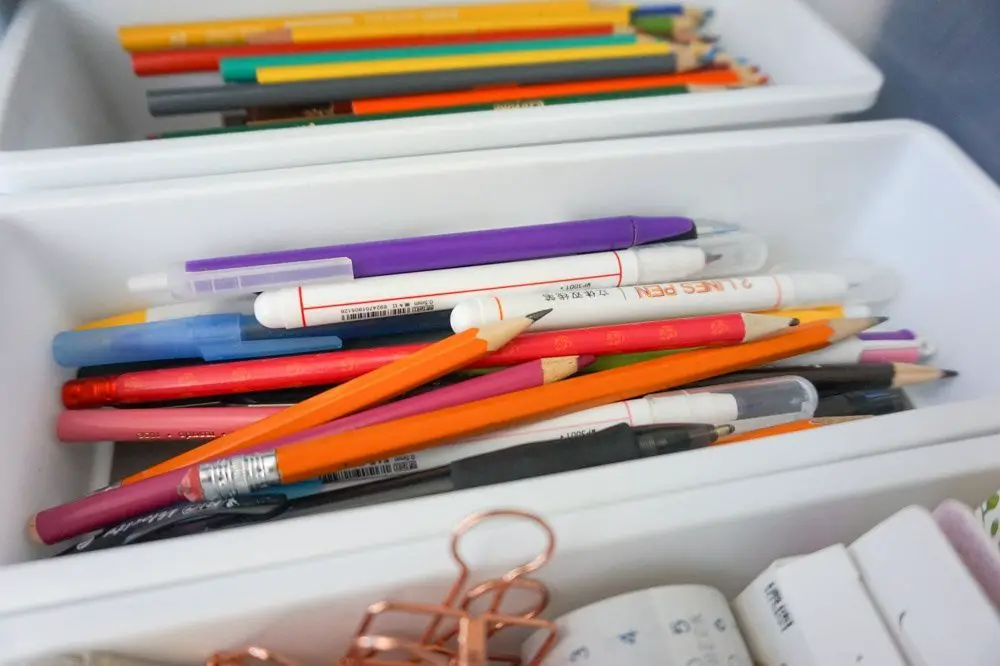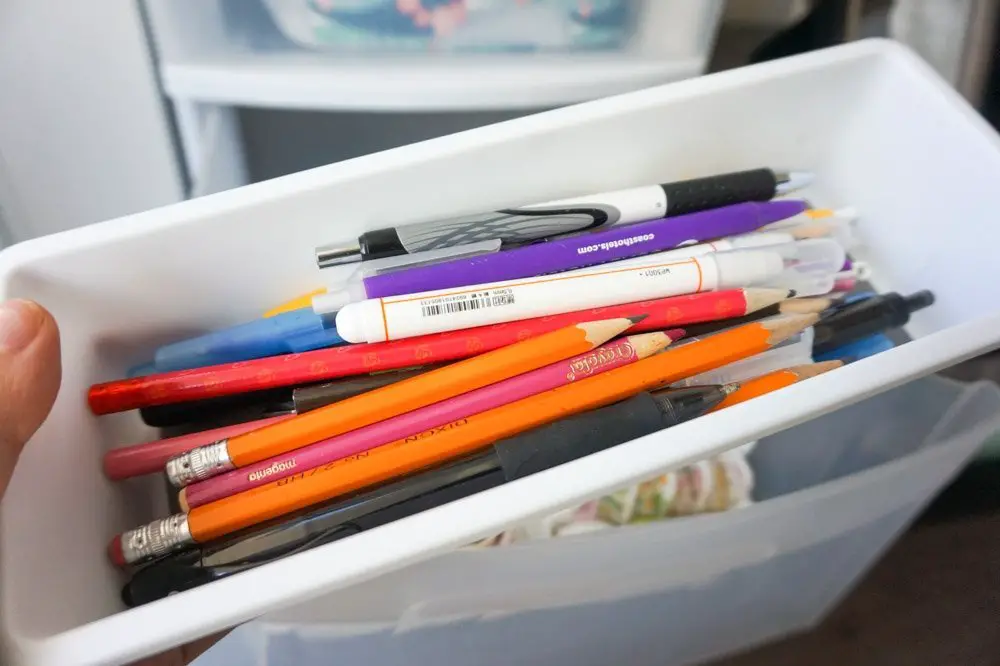 In the third container, I put my washi tape, stickers (gifted), binder clips, an eraser, a pencil sharpener and liquid paper.
So often I forget to use my washi tape and stickers, so I hope having them on display and easy to see will help.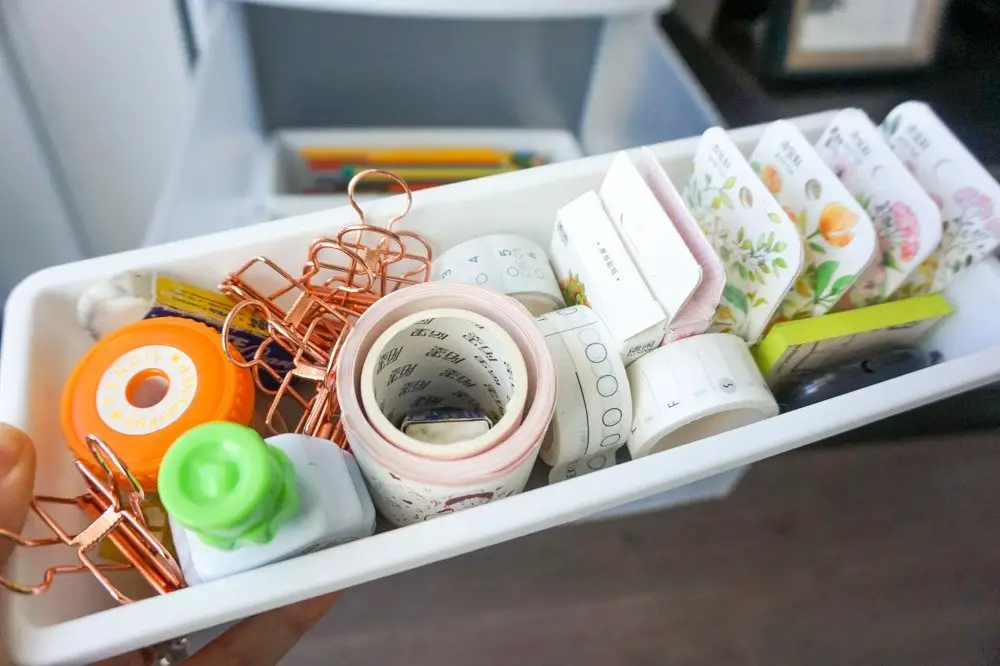 Miscellaneous
The last drawer is my version of an organized junk drawer.
None of this is actually junk, but it is a random mix of things. I have external hard drives, tape, a circle maker and stickers (gifted), which I put in another plastic container from Dollar Tree.
In this drawer I also included two pencil cases full of all of my pencils and Crayola Twistables.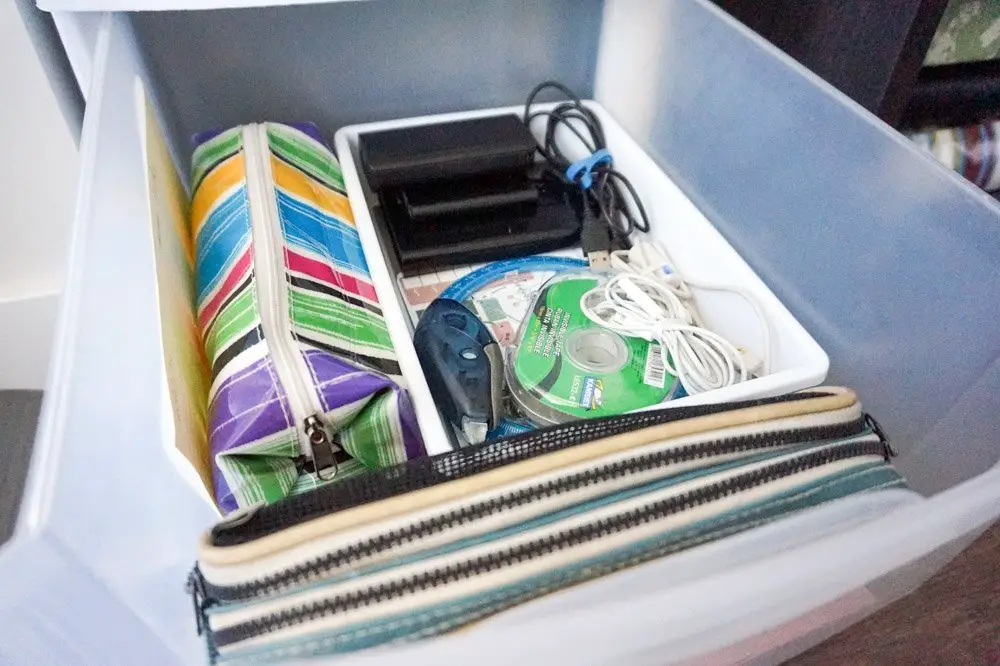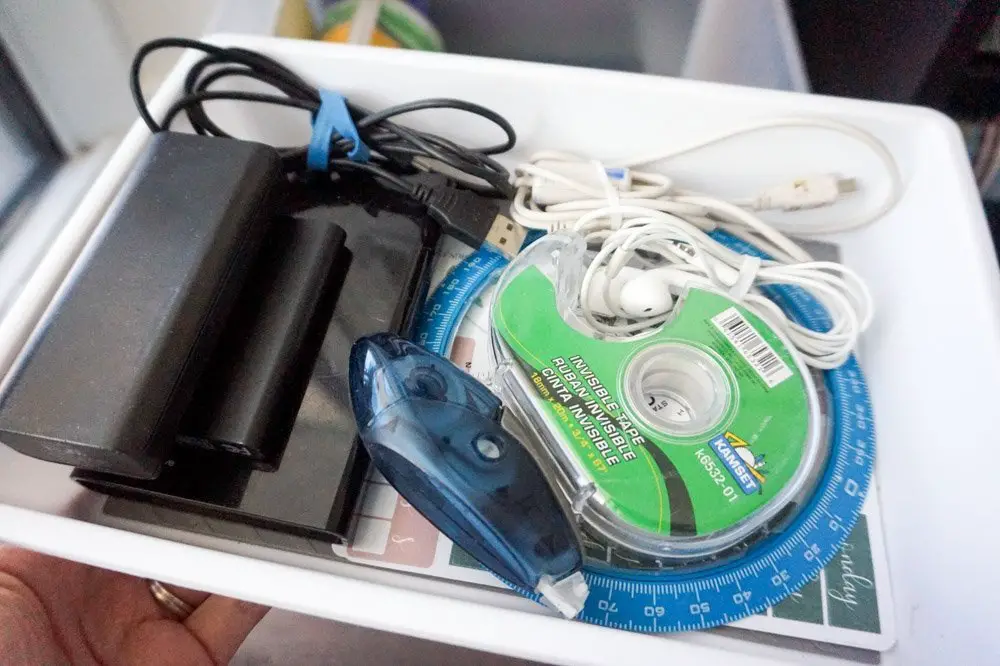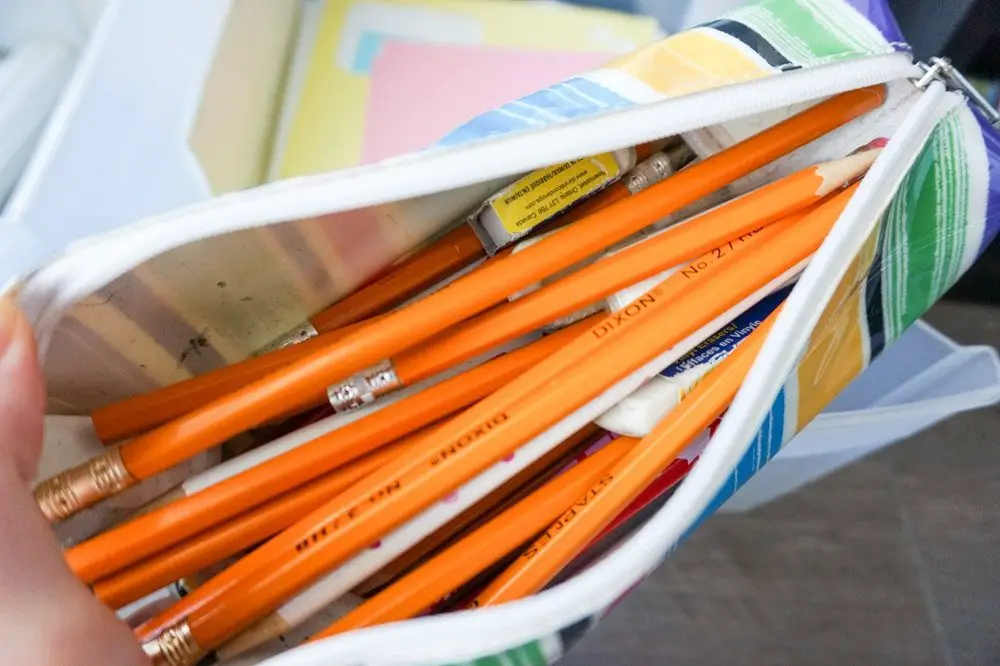 These beautiful stickers were gifted to me by Svidia Design, and I love them! You can see me use some of them in my September bullet journal setup video.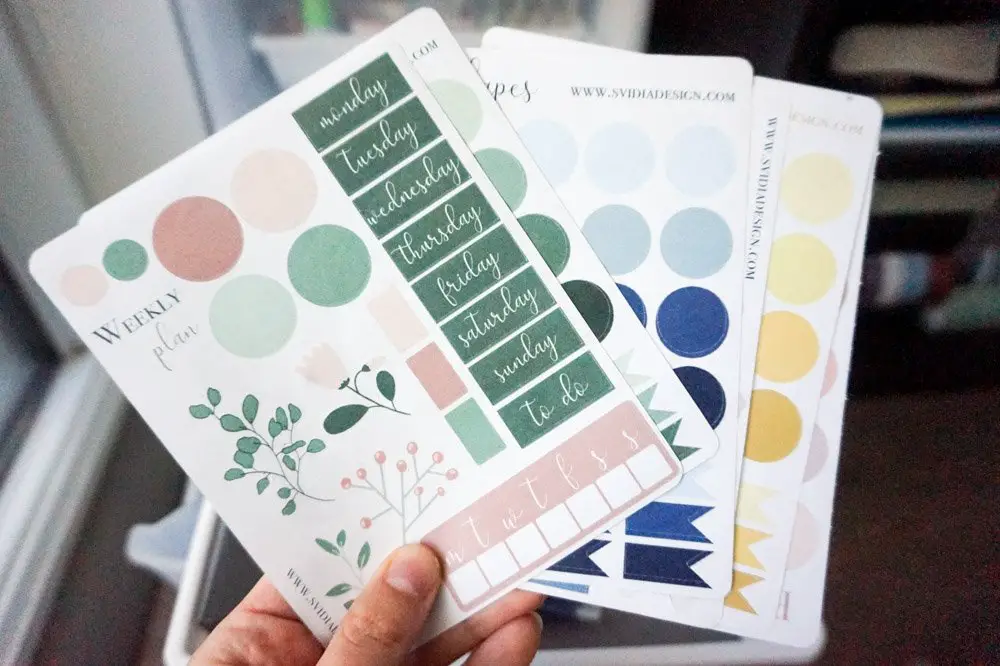 Paper
Paper is something I use occasionally, and I have a collection of lined paper, plain paper and coloured paper.
I put my stack of paper in the third drawer underneath the pencil cases and plastic container.
When you don't have a lot of space, you make it work!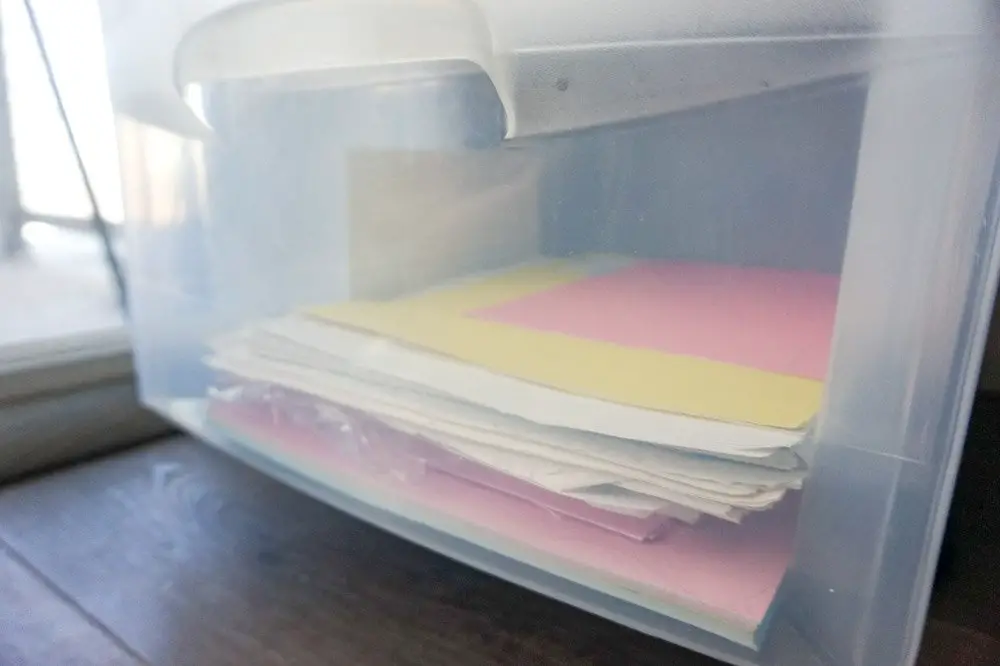 And that is how I tackled my stationery organization in a small space on a budget!
I found things I didn't even know I owned, and I managed to declutter along the way as well. Knowing where everything is makes me so much more likely to use the things I already own.
If you want to see the mess I was dealing with before, be sure to check out my stationery organization video!
In need of some more bullet journal inspiration? Check out these posts:
September Bullet Journal Setup: Honeybee Theme
August Bullet Journal Setup: Summer Fruit Theme
July Bullet Journal Setup: Ice Cream Theme
How to Set Up a Minimalist Bullet Journal for Beginners
Stationery Haul: Trying New Bullet Journal Supplies
Follow Me!
Instagram | Pinterest | Twitter | Facebook | TikTok | YouTube
xo,
Andrea