Hawaii is a dream holiday. You could easily spend a whole week lounging by the pool and swimming in the ocean. Hello relaxation! However, there are also so many more adventurous things you can do, including hikes, snorkeling and surfing! This Hawaii travel guide will give you plenty of ideas for how to spend one week on Oahu, including Honolulu and the North Shore.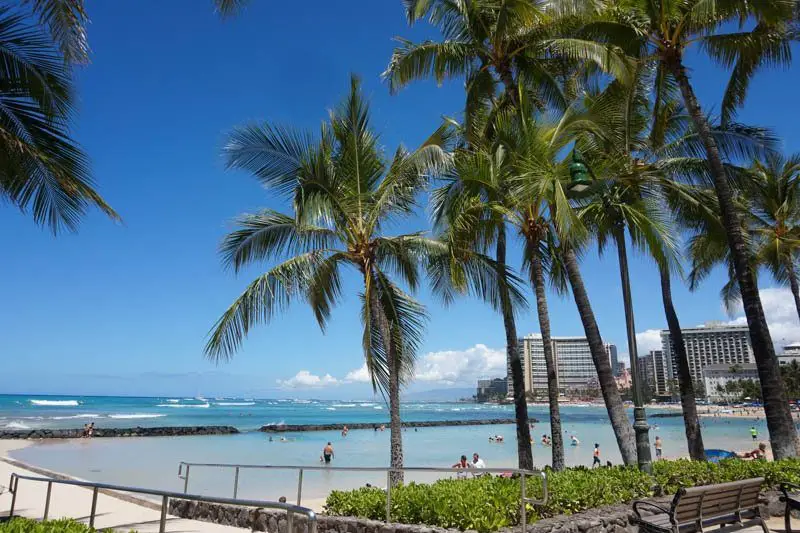 How to Spend One Week on Oahu
Day 1
Breakfast
Whenever we go on holiday, my hubby and I always hit up the local grocery store and buy breakfast food. However, for our first morning in Hawaii we decided to check out the restaurant in our hotel. A few weeks ago, I did a full review on my stay at Queen Kapiolani Hotel.

Beach
Heading straight to the ocean and putting your feet in the water is the perfect way to start your week in Hawaii. Waikiki Beach is gorgeous, and the water is so warm! (for reference, we were there in late May)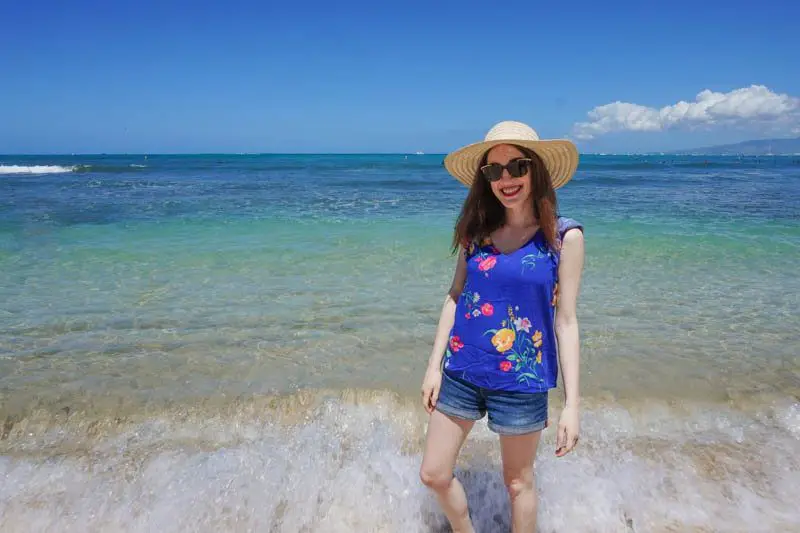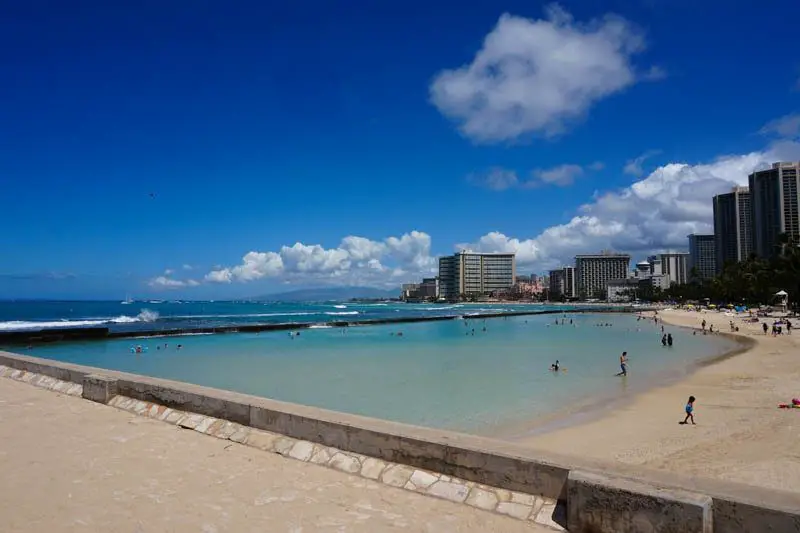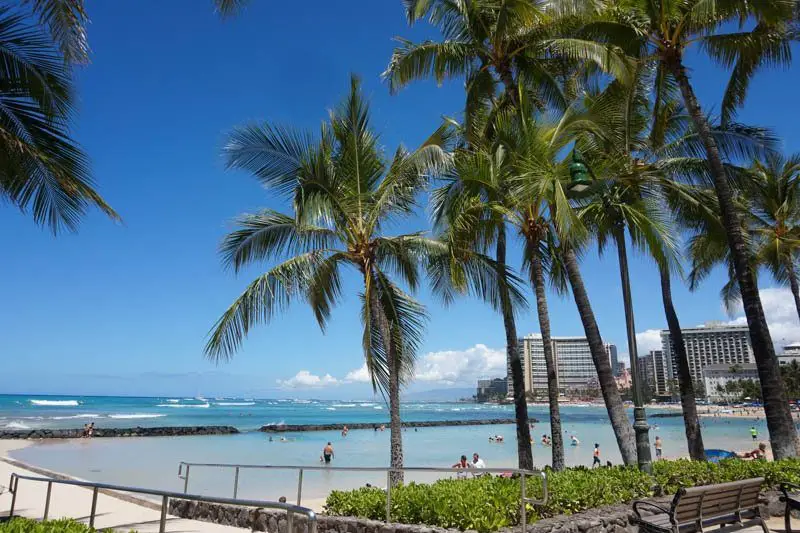 Explore
The first day in Honolulu is a good time to walk up and down Waikiki Beach and explore the neighbourhood.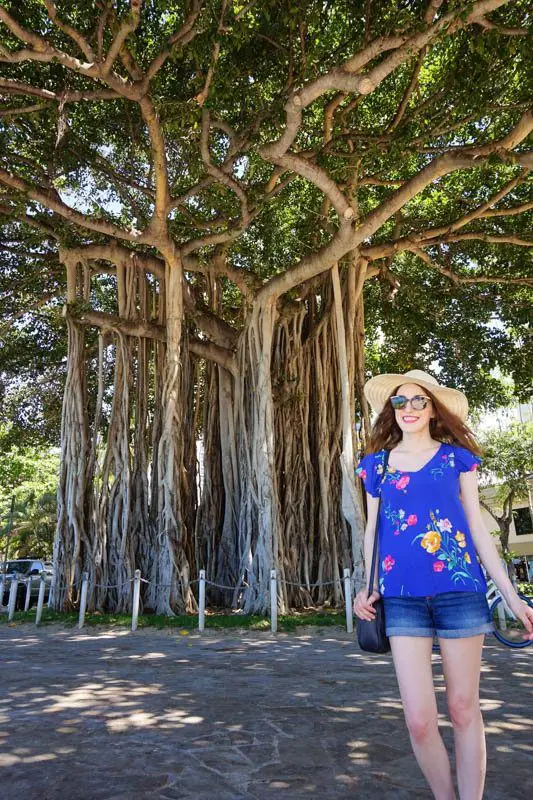 Although we were staying at Queen Kapiolani, I had to check out the Shoreline Hotel, because it is super cute.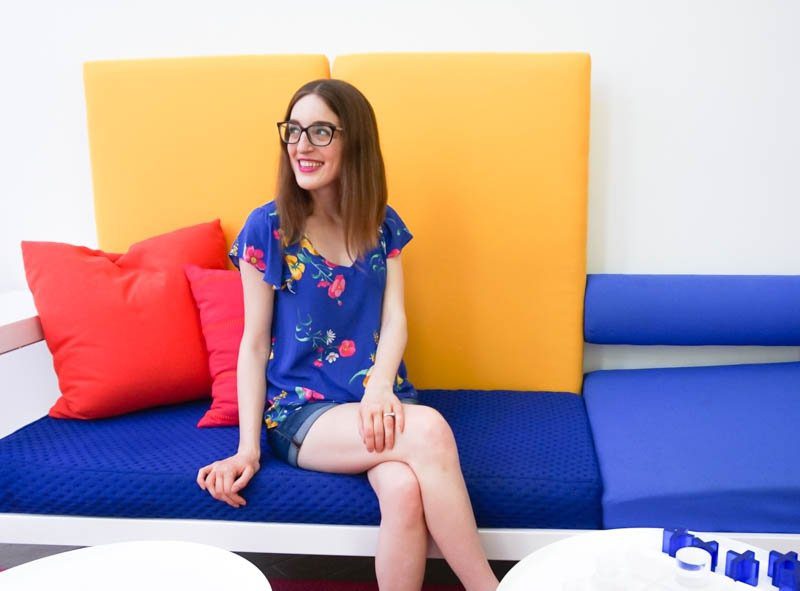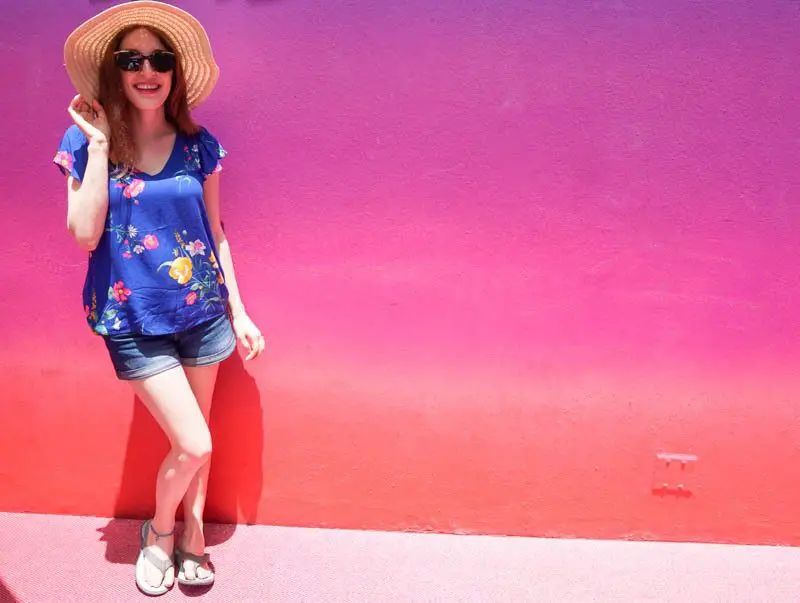 The Royal Hawaiian Hotel (below), is an iconic pink hotel in Waikiki. Even if you're not staying here, you must check it out.
Lunch
Mi Almita Cantina is a delicious taco restaurant at the International Market Place in Honolulu. Their tacos are $2 each from 12pm to 5pm every day. We loved them so much we went twice during our trip.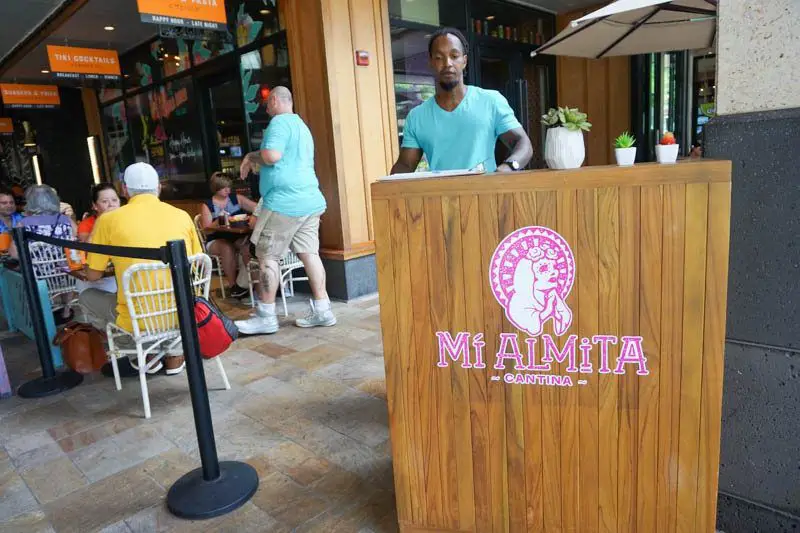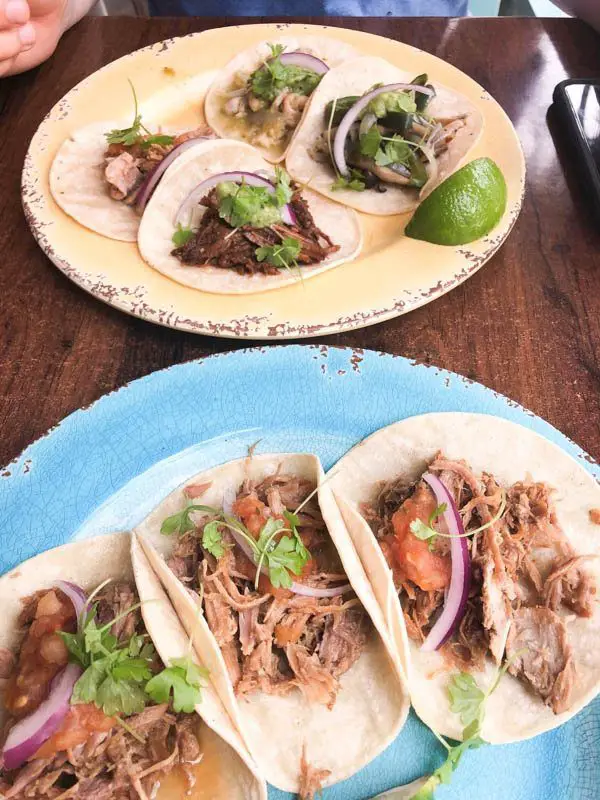 Pool
Chilling by the pool at the hotel can be a great way to escape the sun. The pool deck at Queen Kapiolani had plenty of chairs to lounge on underneath large umbrellas.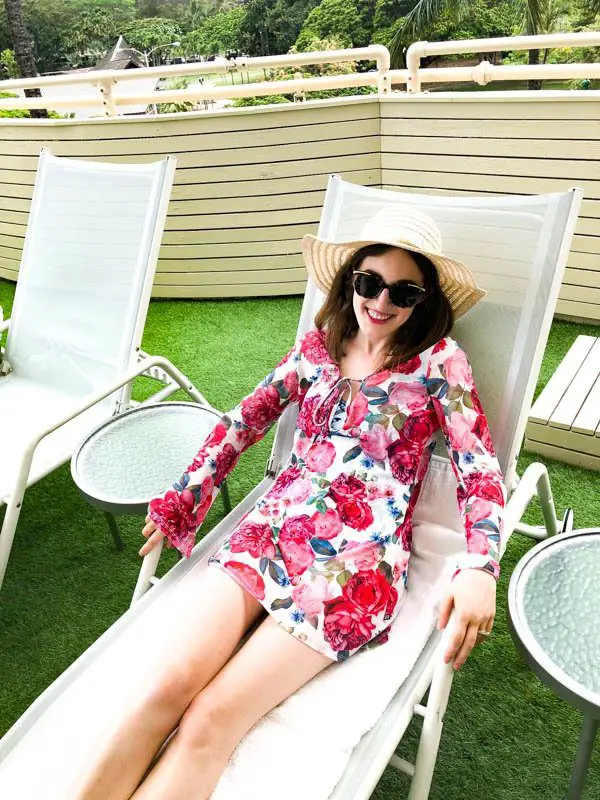 Dinner
We stopped by Teddy's Bigger Burgers for dinner, which was good.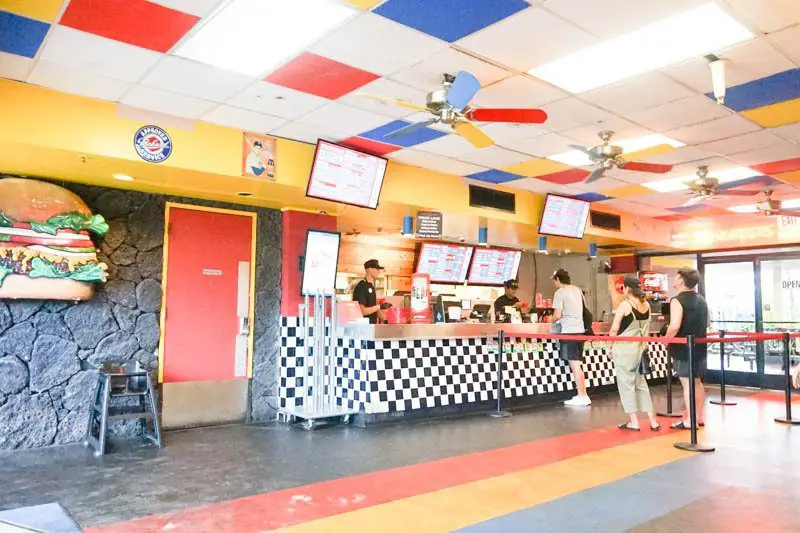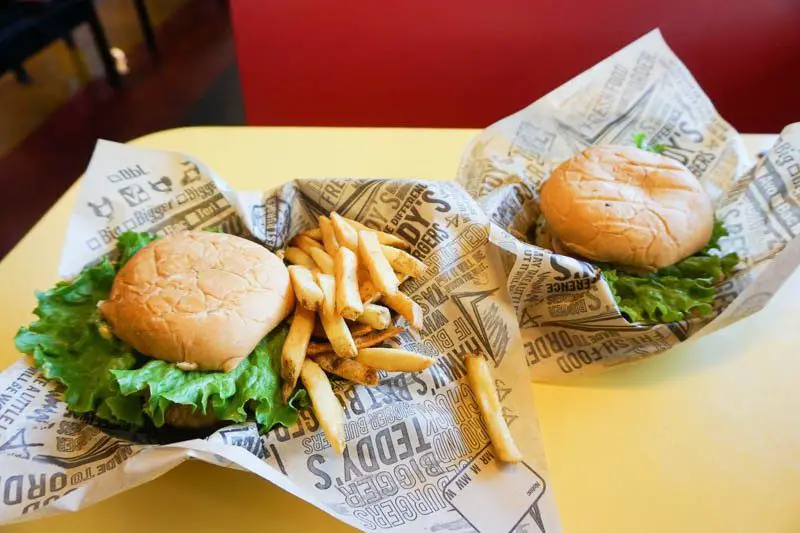 Hula Show
The Kuhio Beach hula show is a must-see, and it's free! Check out my guide to free hula shows and cultural activities.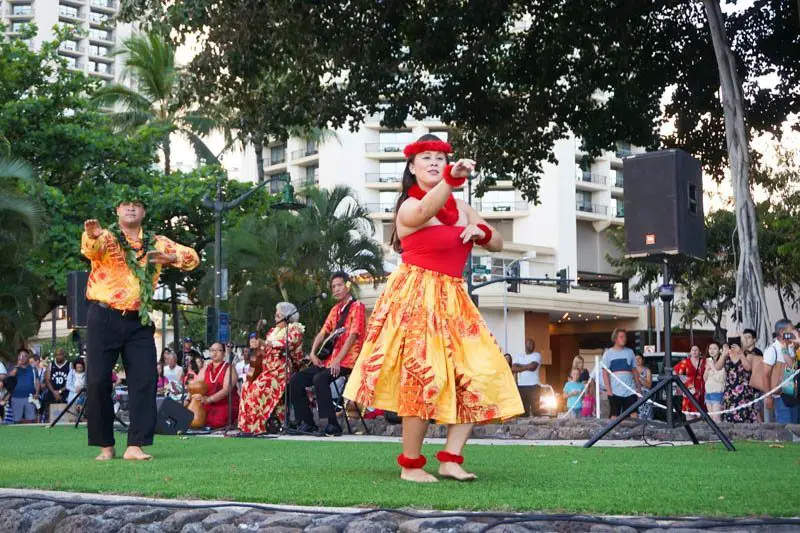 Day 2
Diamond Head Mountain
Diamond Head is a relatively short hike with a fabulous view at the top. Check out my post for all my tips on hiking Diamond Head. This is a popular hike, and it does get very hot, so get here as early as you can.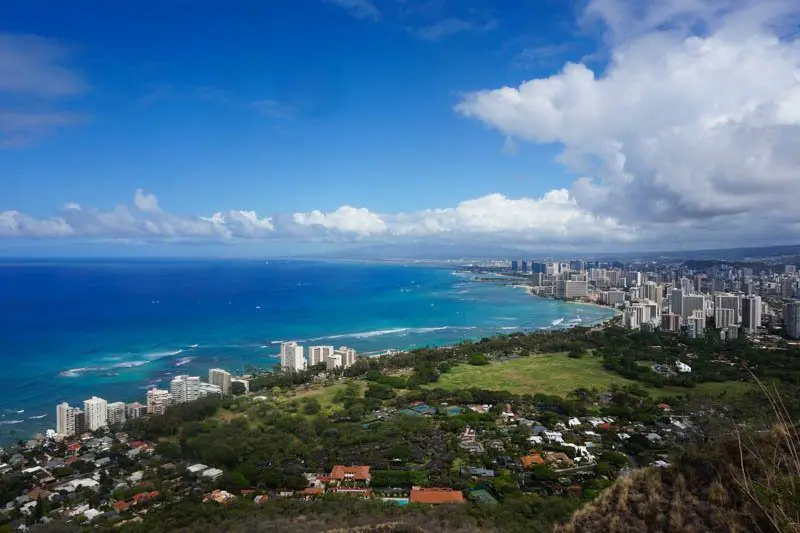 Lei-making
Lei-making is one of the many free cultural activities offered at the Royal Hawaiian Center.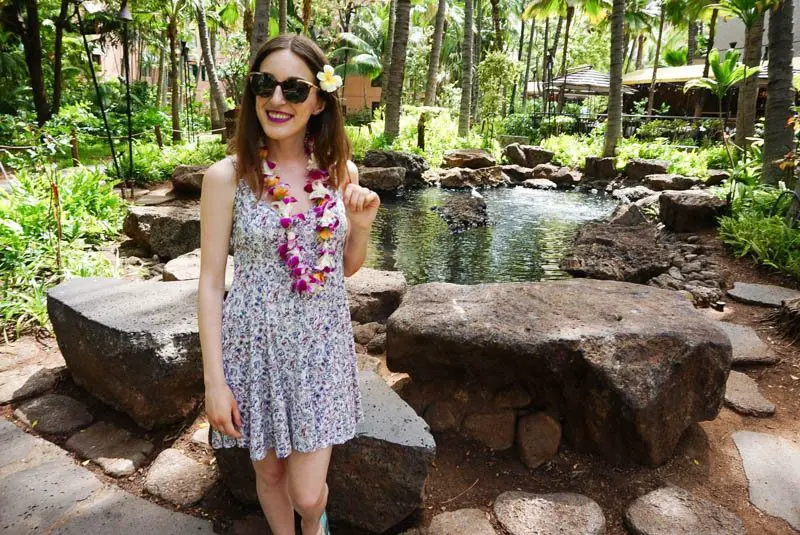 Walk Around
Honolulu is beautiful, and there are so many things to see, like this alley of surfboards!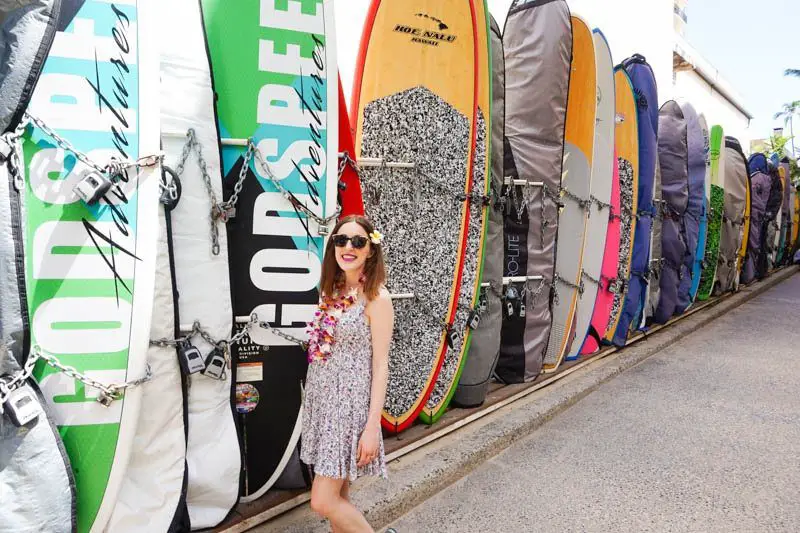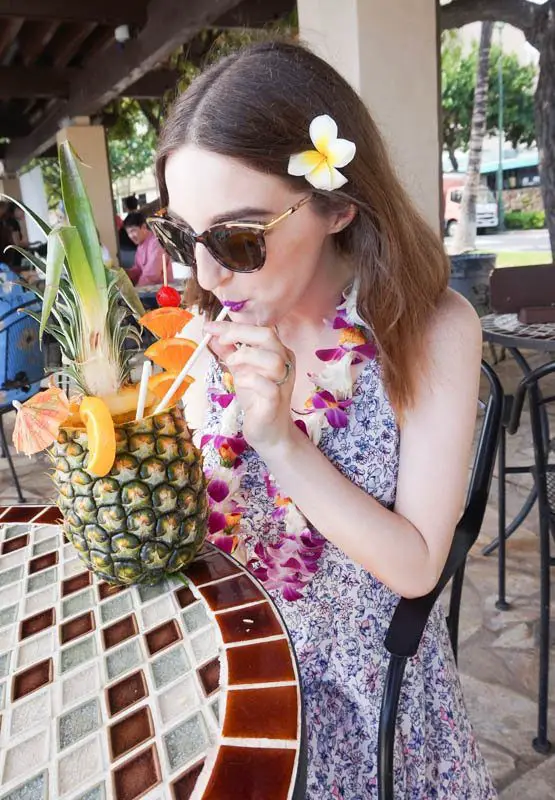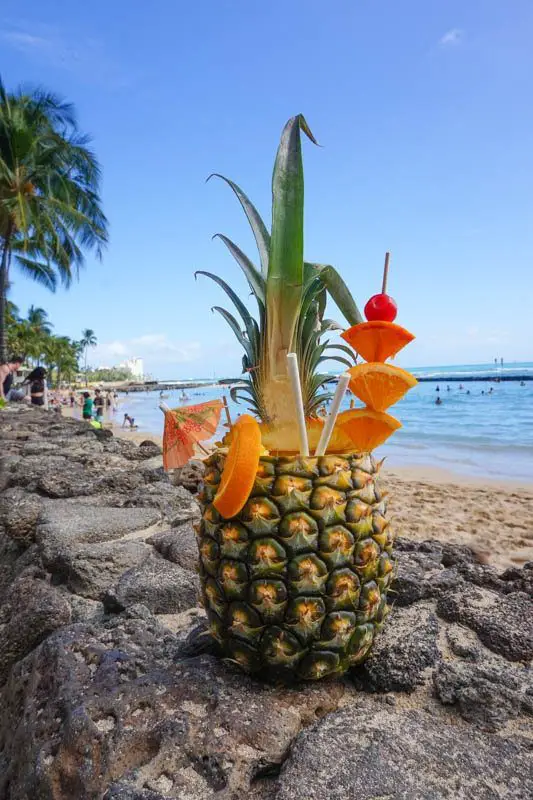 Dinner
I had heard Eggs 'n Things was one of the top places to eat in Honolulu, so we went for dinner. Apparently the wait can be quite long in the mornings, but in the evening we got in right away. I had breakfast food, and honestly I was not impressed. At least the view from our table was good!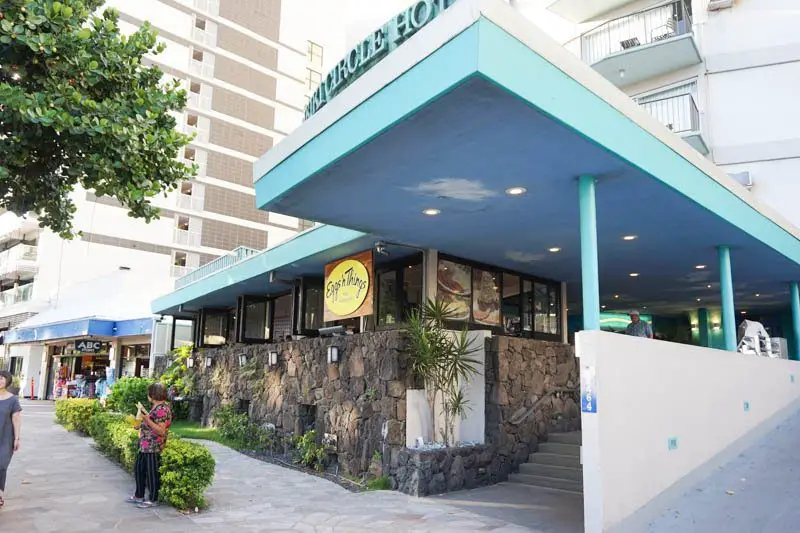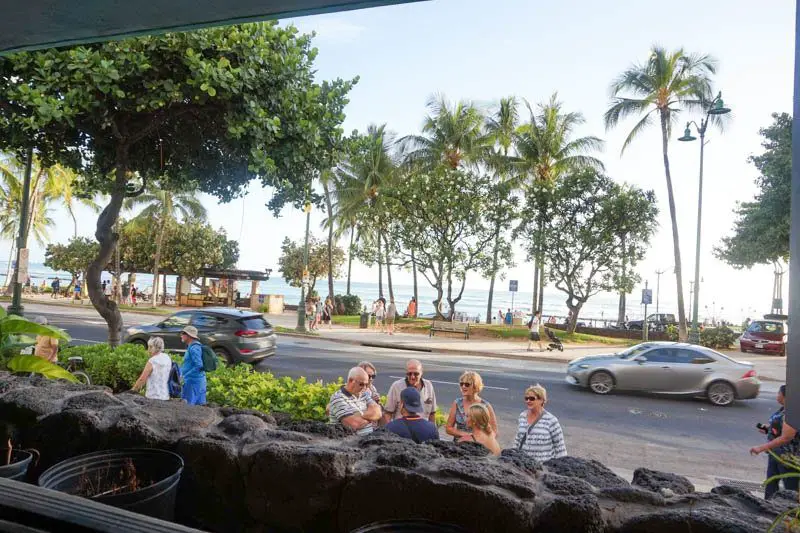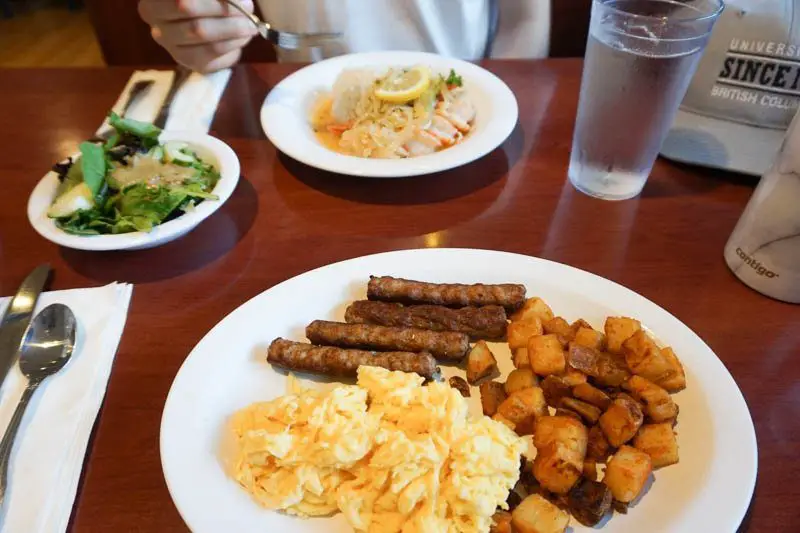 Fireworks
Every Friday night, there is a fireworks show on the beach. It's only five minutes long, but it is so worth seeing!
Day 3
Ala Moana Center
Ala Moana Center is a huge open-air shopping mall in Honolulu.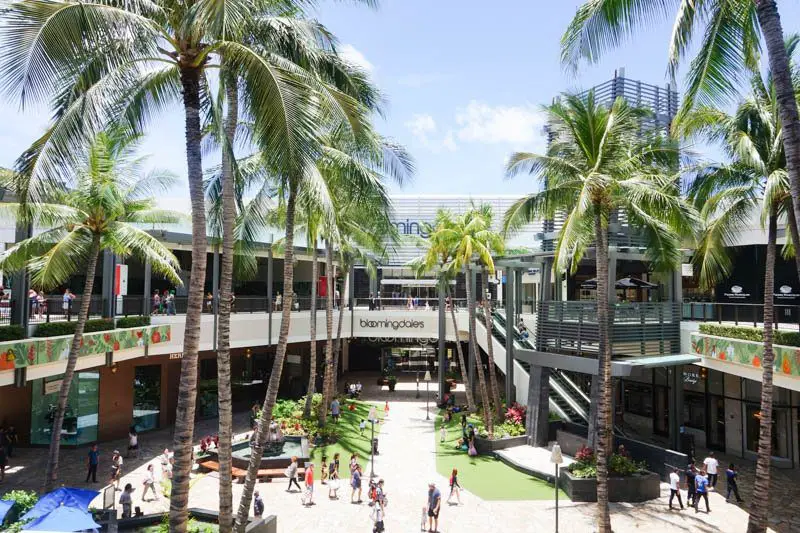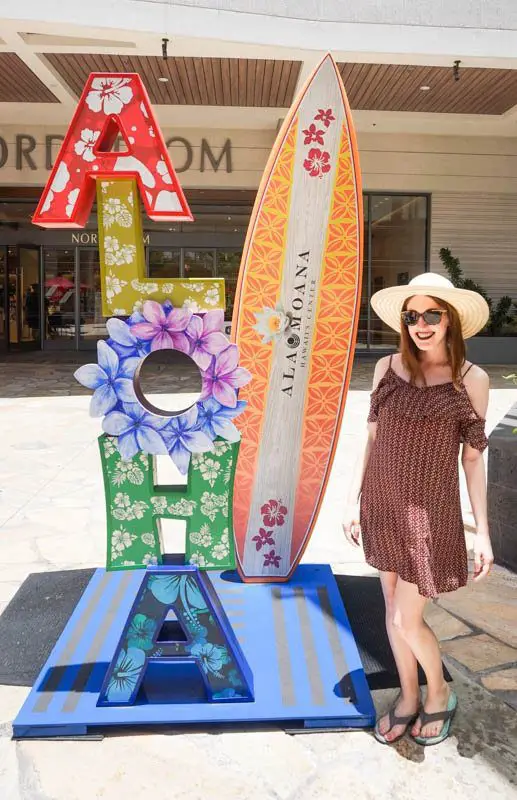 Kaka'ako Murals
Not far from Ala Moana Center is the Kaka'ako neigbourhood, where there are tons of amazing murals. It is so much fun to walk around and discover them all. Check out my guide for tons of photos and information on where to find the murals.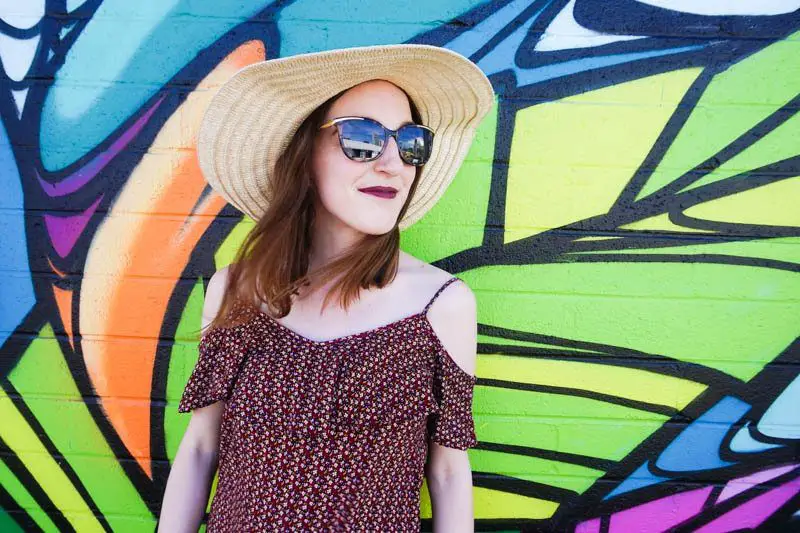 Leonard's Bakery
If you go to Honolulu, you cannot miss having malasadas from Leonard's Bakery. Malasadas are Portugese donuts, and they are out of this world. Hands down the best donuts I've had in my life. This is a busy place. but they go through the line pretty quickly. Plus, all the malasadas are made to order, so they're nice and hot when you get them.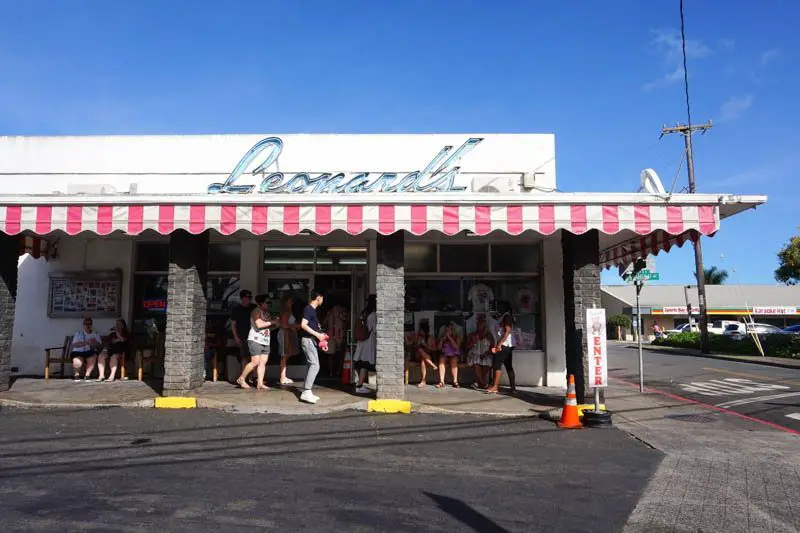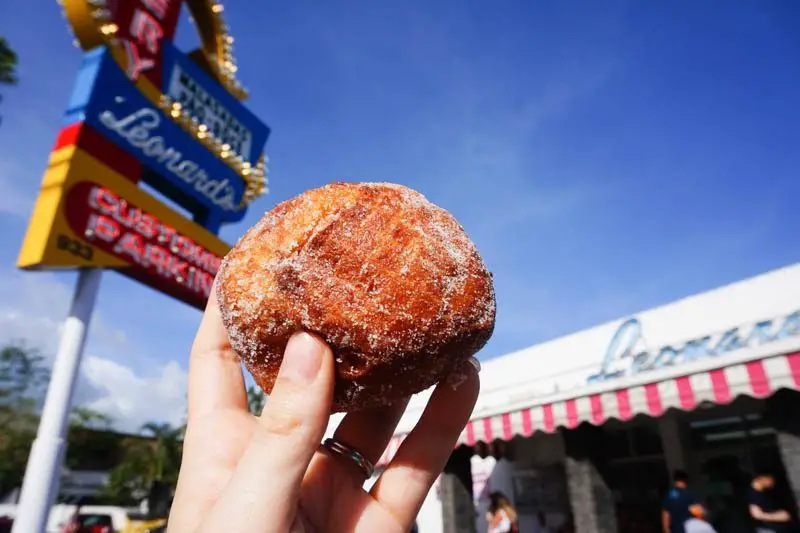 Dinner
Barefoot Beach Cafe is across the street from the Honolulu Zoo, and it is so good! It is an outdoor restaurant, and it's a great place to sit and watch the sunset.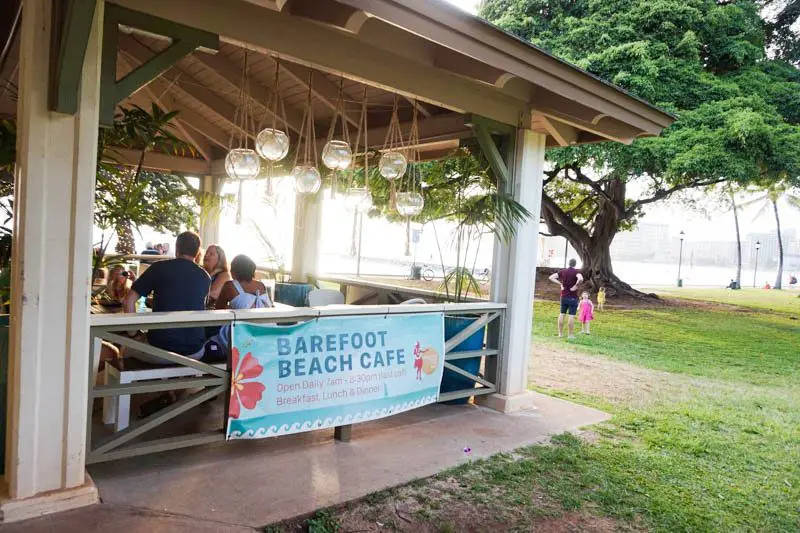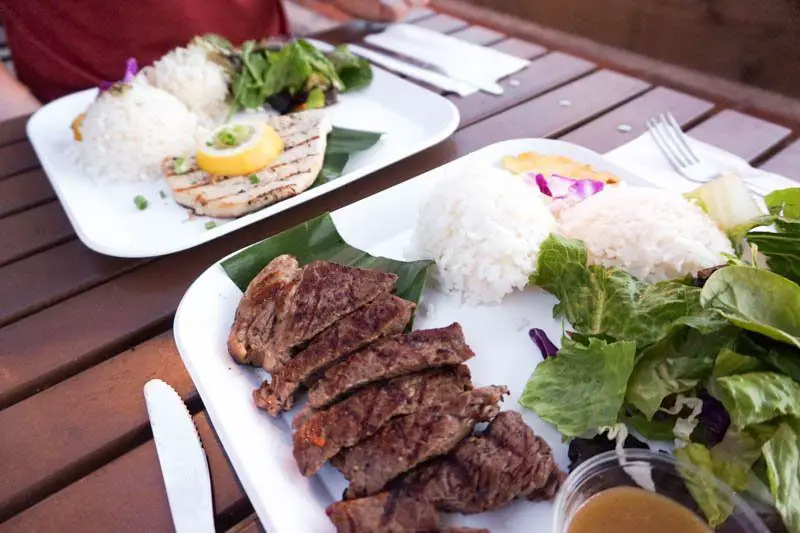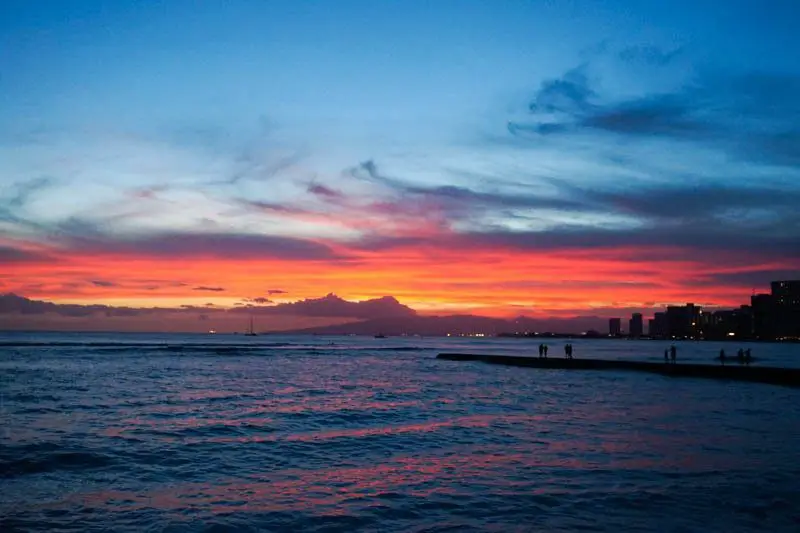 Day 4
Beach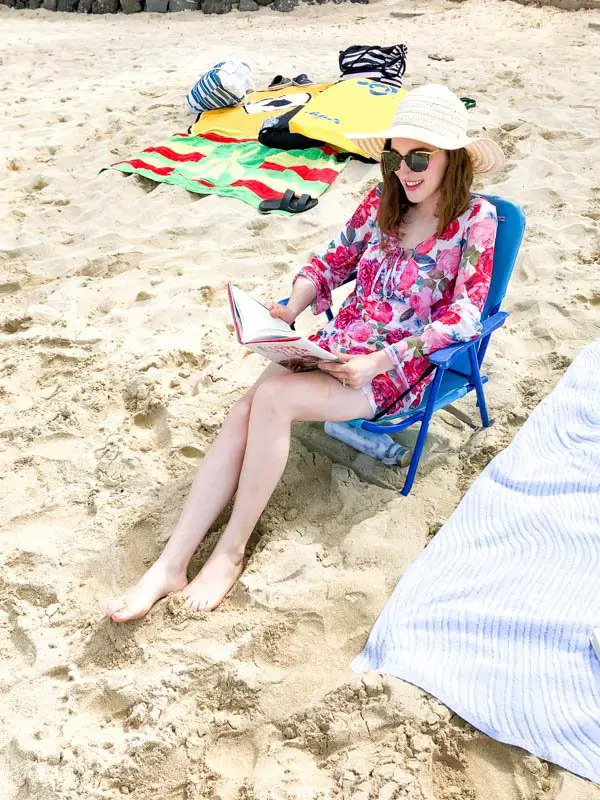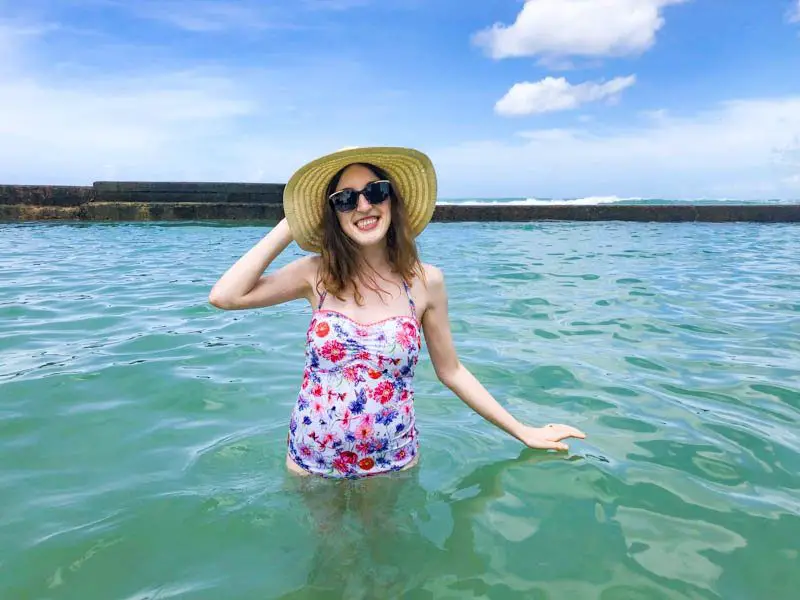 Lunch
When we find a restaurant we like, we have no problem going back. For lunch this day, we headed back to Barefoot Beach Cafe.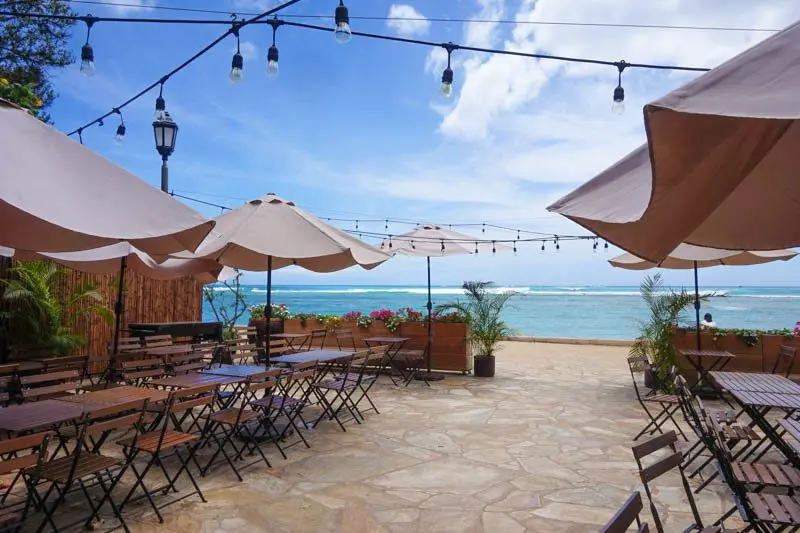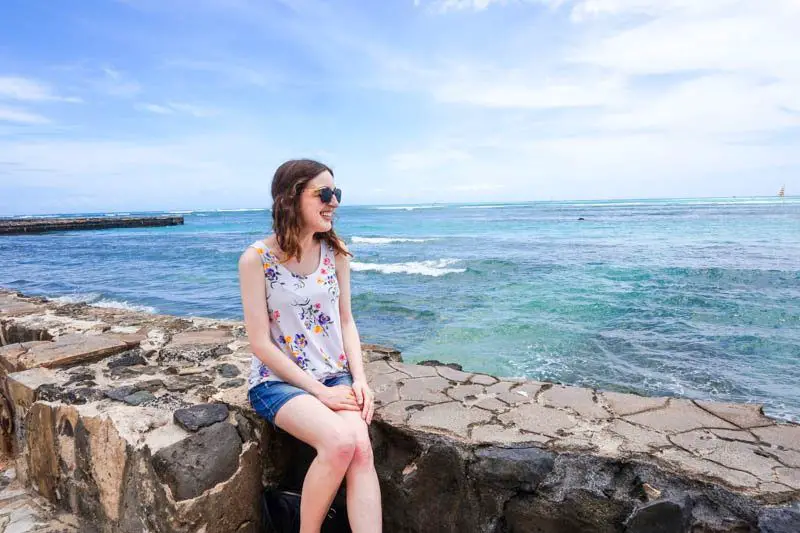 Hula Show
It amazed me how many free shows and activities there were every day in Honolulu. This evening we went to an excellent show at the Waikiki Beach Walk.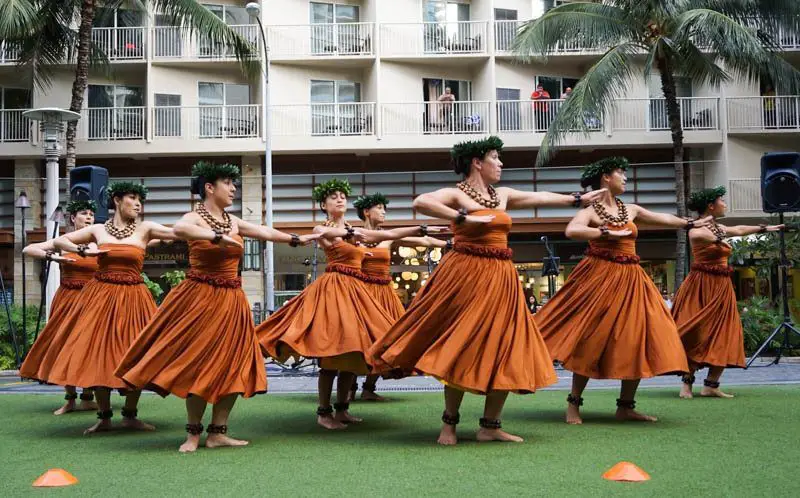 Dinner
The Waikiki Yokocho Japanese Food Hall is an indoor Japanese food court, with lots of Japanese restaurants.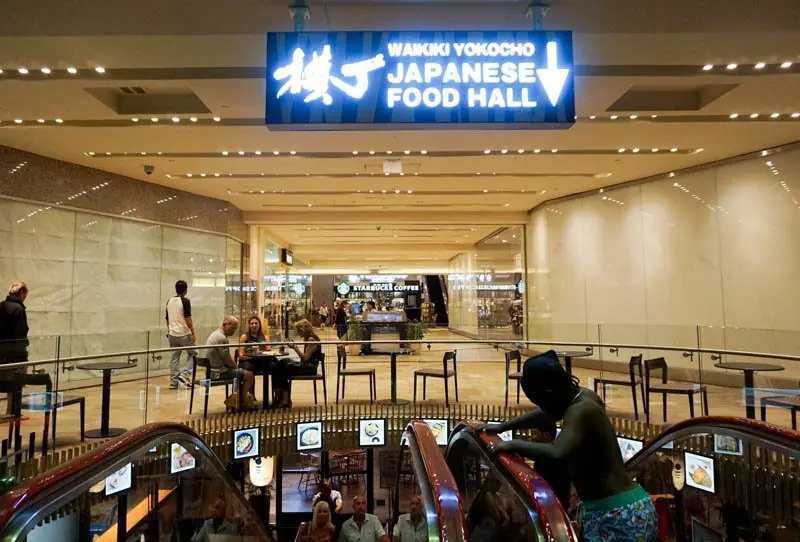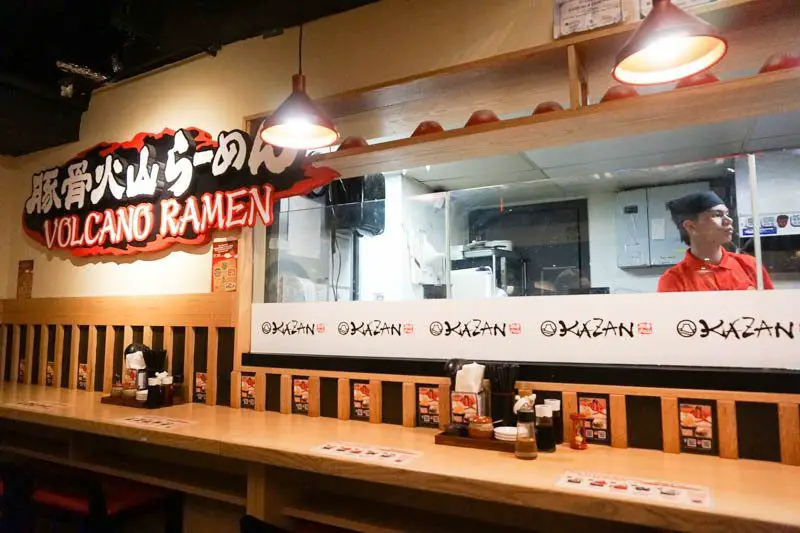 Other than the food, the best part of the Japanese food hall is the free video arcade! There are tons of arcade games, including Pac Man. They're super low down and you have to kneel to play, but how fun is that??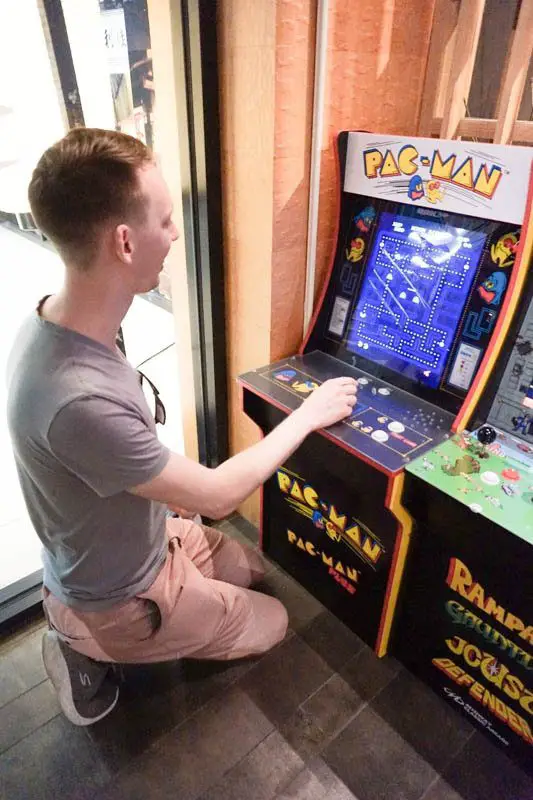 Day 5
Beach/Surfing
My husband really wanted to take a surf lesson in Hawaii, and he ended up having a great time! He actually found a private surfing lesson on Groupon, which was cheaper than a lot of the group lessons we came across.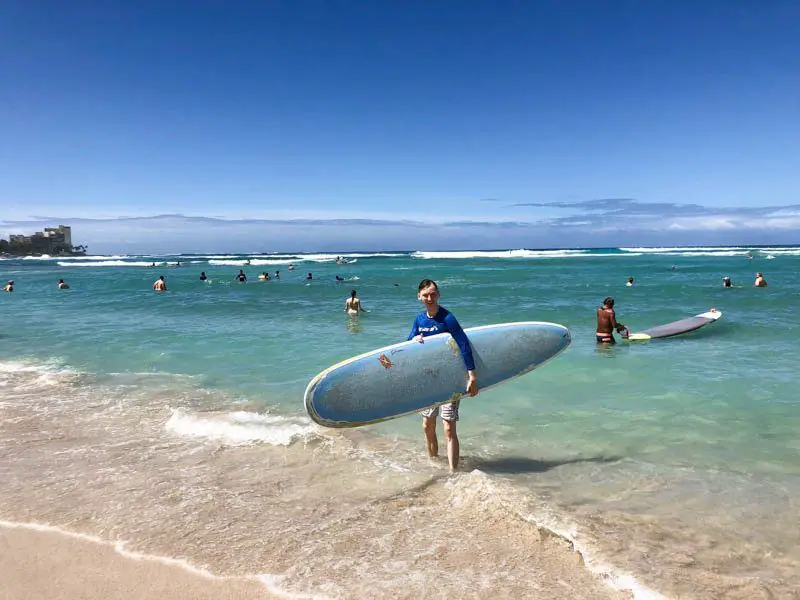 Shaved Ice
Shaved ice is a super popular treat, and we got ours at Island Vintage Shave Ice outside the Royal Hawaiian Center. The one we got was flavoured ice on top of frozen yogurt and topped with berries. So delicious!

Walk Around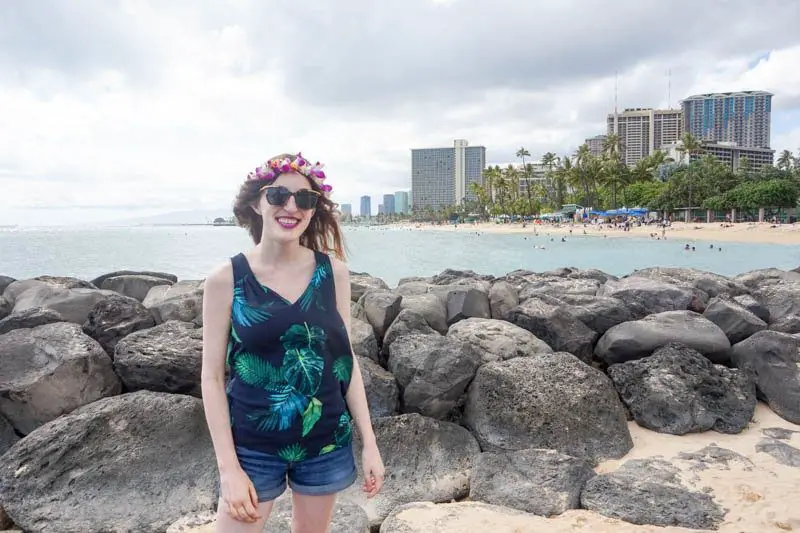 Ukelele Lesson
Another free Hawaiian cultural activity, anyone? Ukelele lessons at the Waikiki Beach Walk were so fun!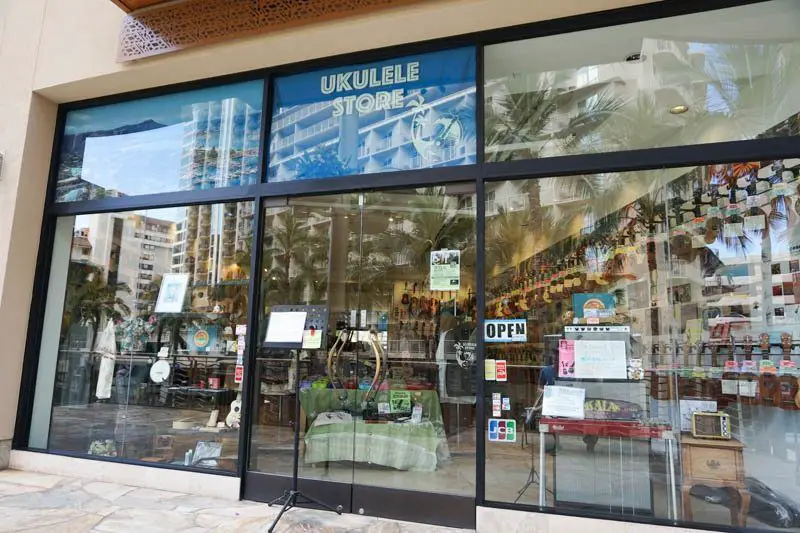 Day 6-Tour Day
On our last full day in Hawaii, we took a bus tour up to the North Shore of Oahu.
Diamond Head Lookout
Our first stop was Diamond Head Lookout, which is not on Diamond Head Mountain, but beside it. On one side is a view of the ocean, and on the other is a view of the mountain.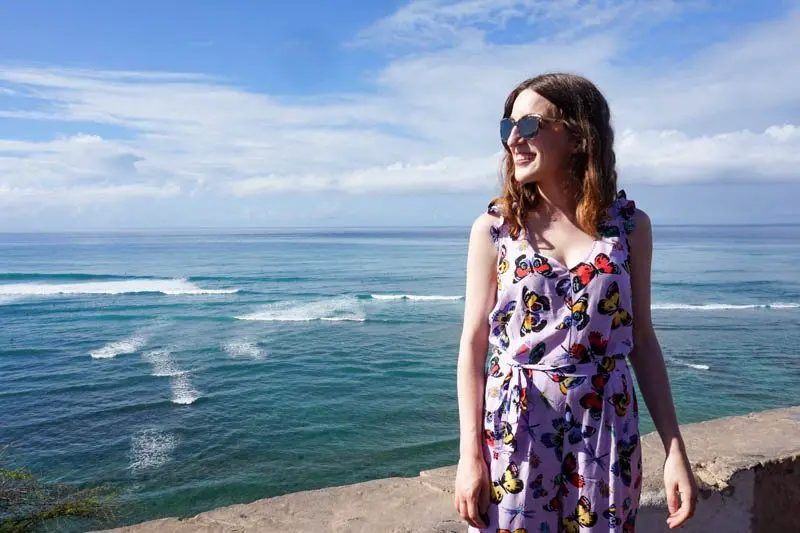 Halona Blowhole
The Halona Blowhole is a popular place to stop to see water shooting up in the air from a blowhole (2nd pic below). The water apparently shoots up 30 feet sometimes! We didn't see it go up that high, but it was still pretty cool.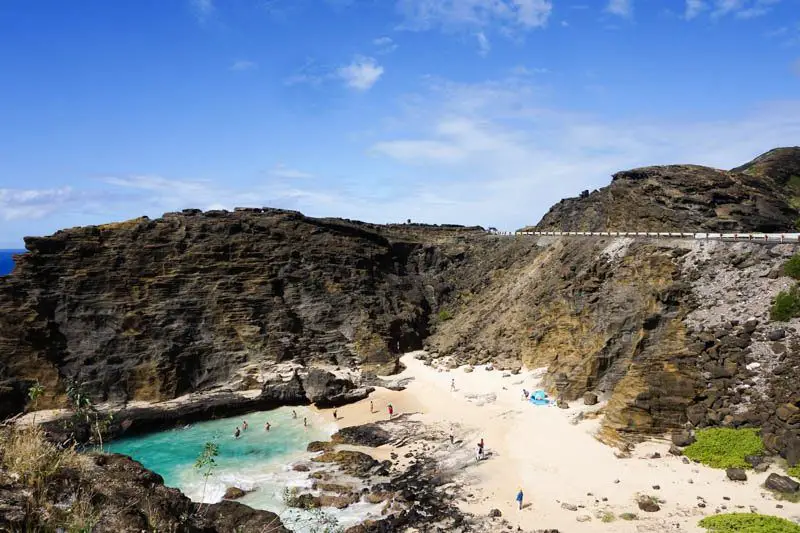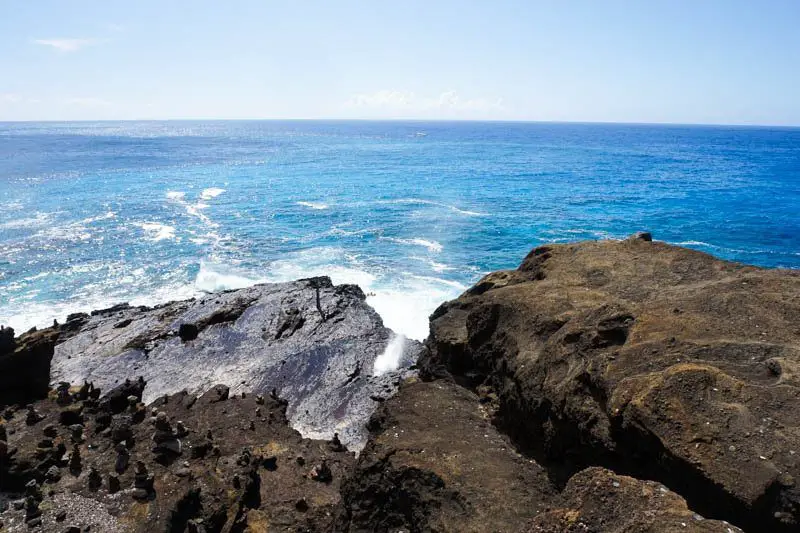 Sandy Beach Park
This picture does not show off the sandy part of Sandy Beach, but I can assure you there is plenty of sand.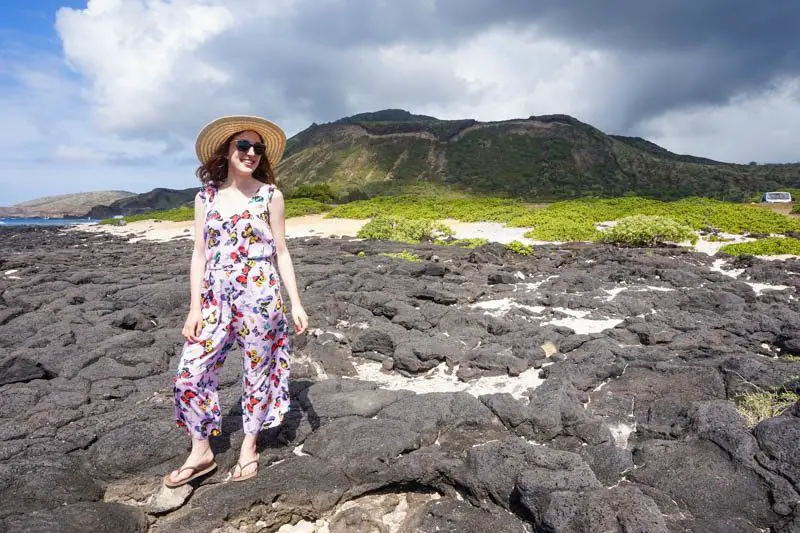 Macadamia Nut Farm
Hawaii is known for its macadamia nuts, and this shop has every flavour you could ever imagine. There are loads of samples inside, and even a station out back where you can crack macadamia nuts with a rock.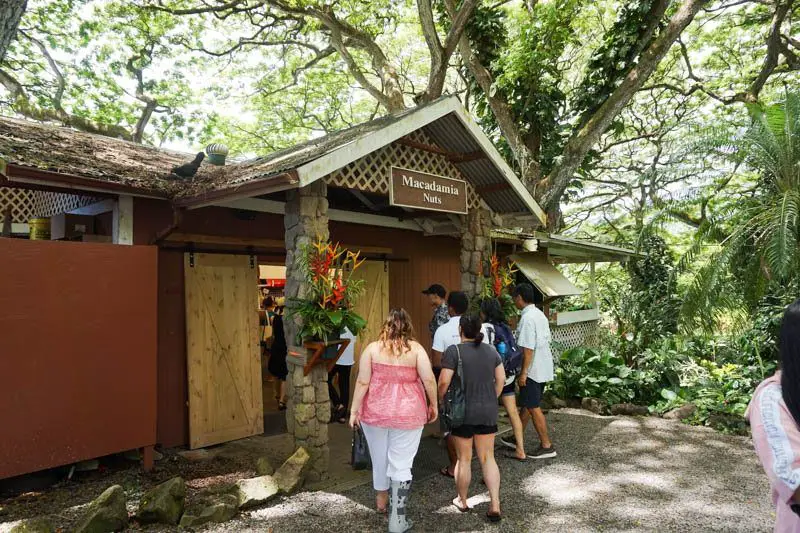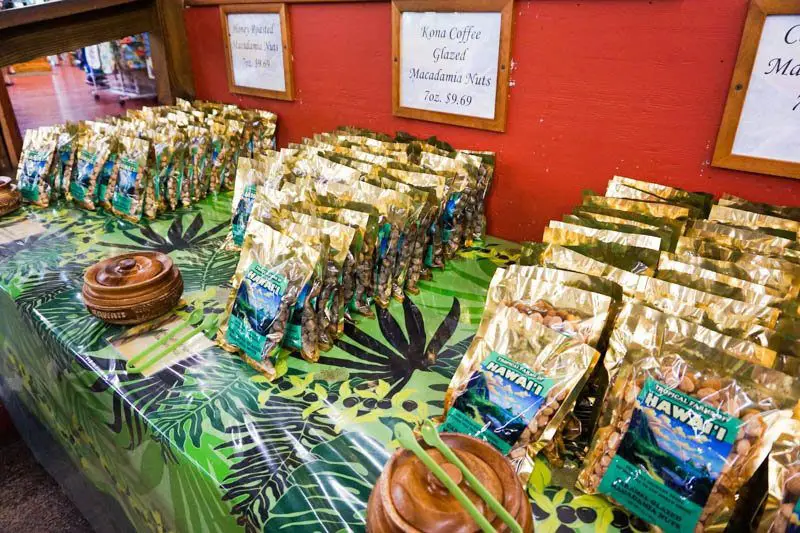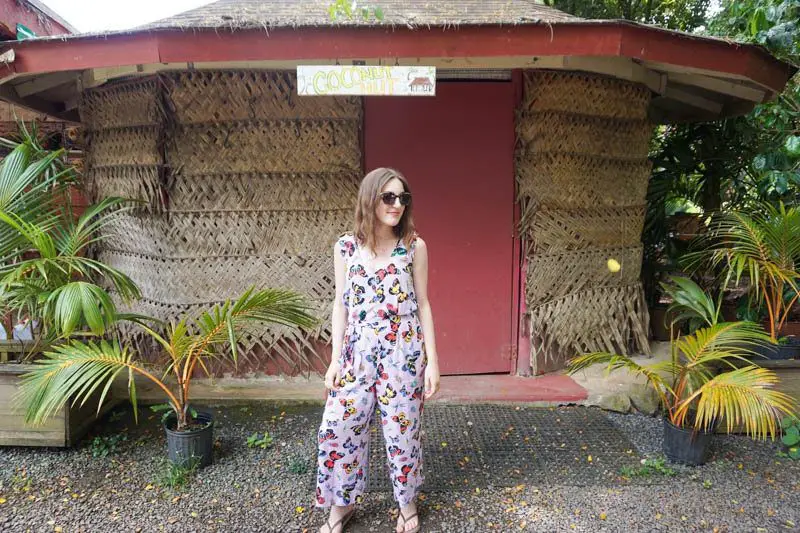 Chinaman's Hat
Mokoli'i Island, also known as Chinaman's Hat, is an island off the coast of Kaneohe Bay. On the other side of the parking lot is Kualoa Ranch, which is the set of Jurassic Park. We didn't get to go to the ranch, but even from the view we had it looked really cool.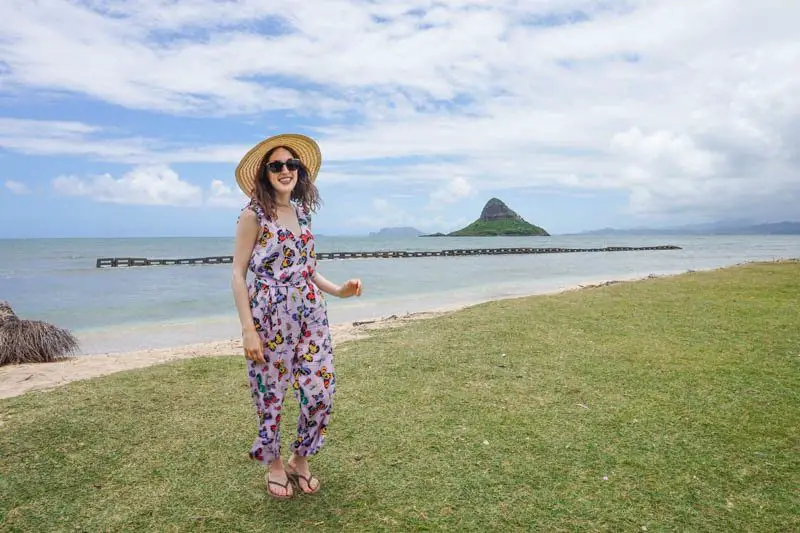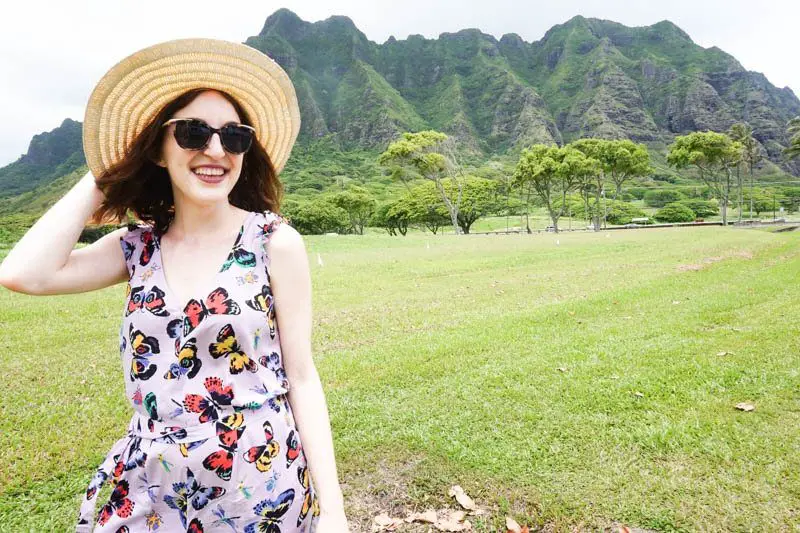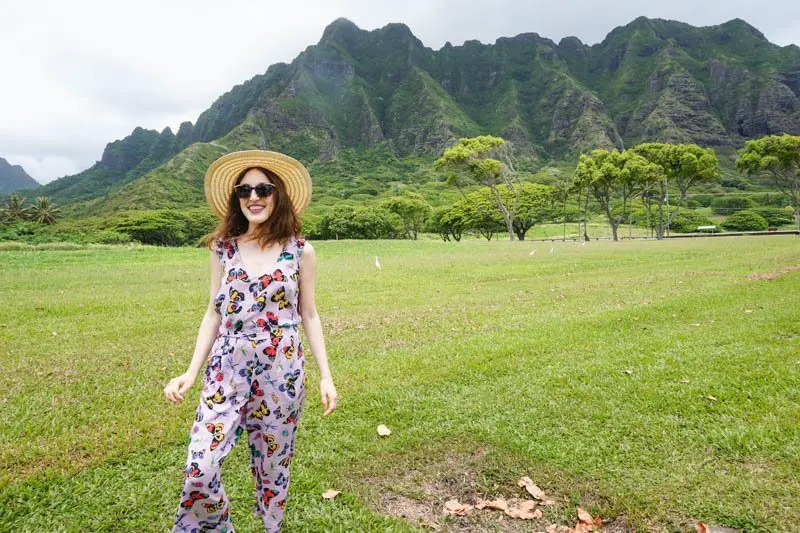 North Shore Shrimp Truck
A popular thing on do on the North Shore of Oahu is to get shrimp from a food truck. Our tour took us to Fumis. I'm not into shrimp, but my husband said it was good. They did have a breaded chicken option, which I had.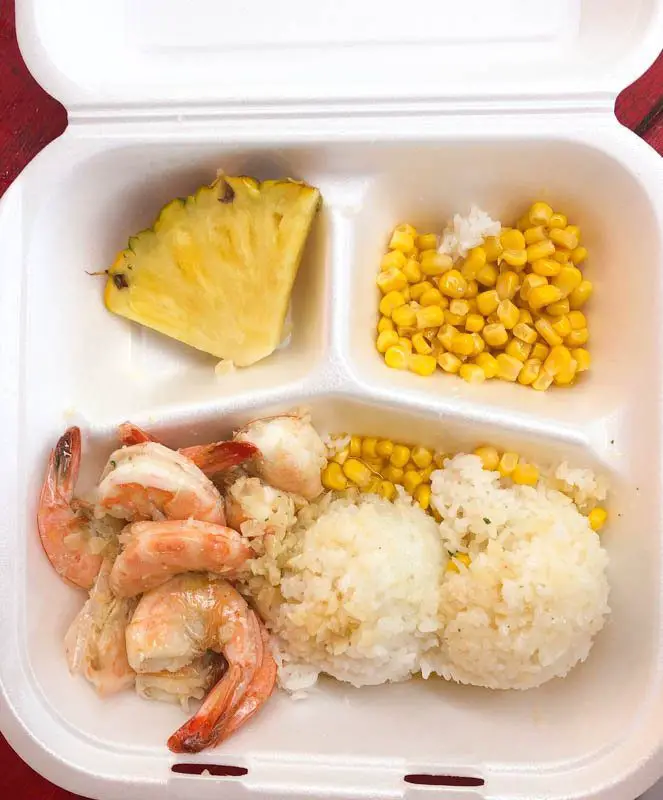 Sharks Cove
By far the best part of our day was snorkeling at Sharks Cove. It was very busy here, but we saw lots of fish. Our tour company provided us with flippers and snorkel gear. I wear glasses and don't have contacts, so I brought my own prescription goggles and used those along with the snorkel. You can also buy snorkels in Hawaii at the ABC store or Walmart.
If you don't have flippers, I would suggest wearing water shoes. You are not supposed to step on coral, but the reality is there are lots of sharp rocks, and it can be difficult to walk. We had no need for water shoes at Waikiki Beach because it is very sandy, but other areas such as Sharks Cove and Ala Moana Beach are rocky.
Unfortunately the bathrooms at Sharks Cove were atrociously dirty, so I was stuck wearing my bathing suit the rest of the day. Luckily I brought a coverup with me!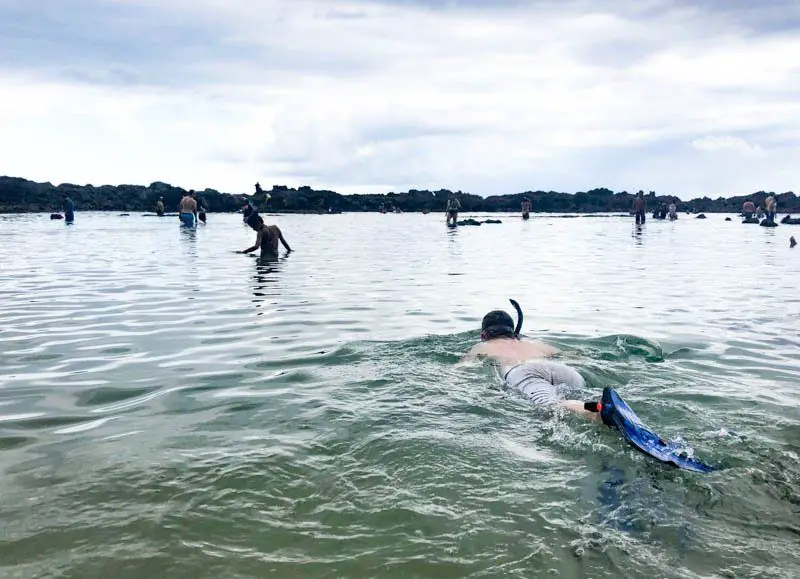 Laniakea Beach
This is the beach we went to see sea turtles! Touching sea turtles is a federal offence, and it's very important to give them space. At this beach, there was a roped-off area around the turtle, along with a sign all about her. This turtle was 44-year-old Olivia-Dawn.
The only issue here is parking. Our bus driver got yelled at for parking on the side of the road, and I have read people have gotten tickets for parking there. Apparently there is limited parking in a gravel lot across the street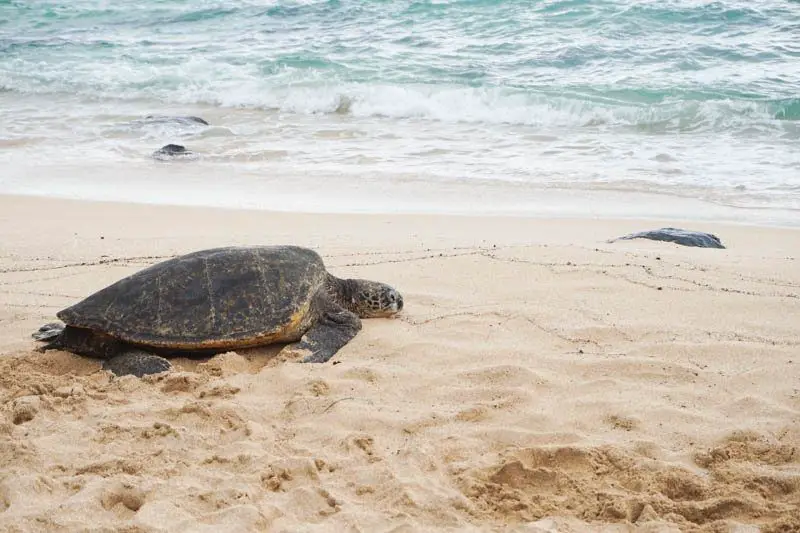 Dole Plantation
I had no idea what to expect with the Dole Plantation, but it was so much fun! The main building is mostly a giant gift shop, with more pineapple treats and paraphernalia than you could ever imagine. There is also a grill and an ice cream shop, with the famous pineapple Dole Whip ice cream.
Activities at the Dole Plantation include a train tour a garden tour and a garden maze. We didn't do any of the paid activities, but we still had so much fun wandering around eating our Dole Whip. There is a small outdoor area that is free to wander around where there are pineapples growing, and lots of signs about pineapples and the Dole Plantation.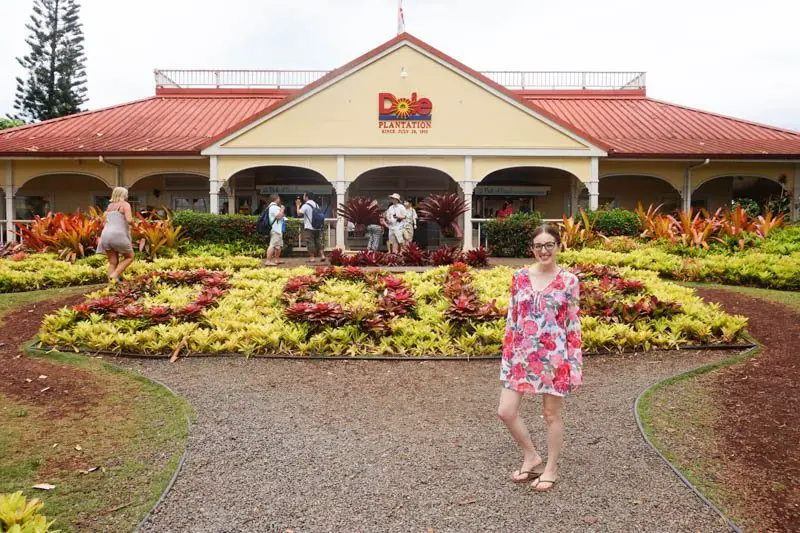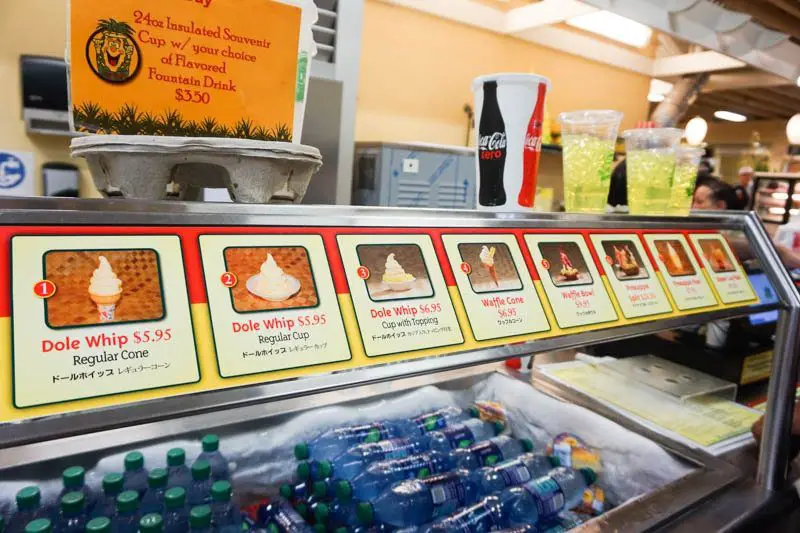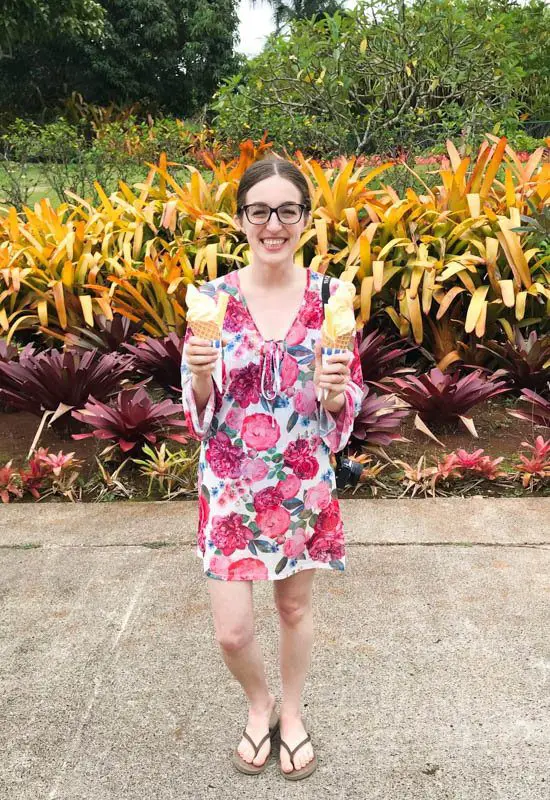 Day 7
Hanauma Bay
Hanauma Bay is a popular snorkeling spot on Oahu. It is about a 40-minute bus ride from the Honolulu Zoo. Hanauma Bay is a protected area, and it is gorgeous. You have to pay an admission fee, and they limit the number of visitors per day.
I found it more difficult to snorkel here than at Sharks Cove because the waves were a lot stronger and were pushing me into the coral. However, my husband had an excellent time and saw loads of colourful fish.
For a FULL guide on visiting Hanauma Bay, check out this post.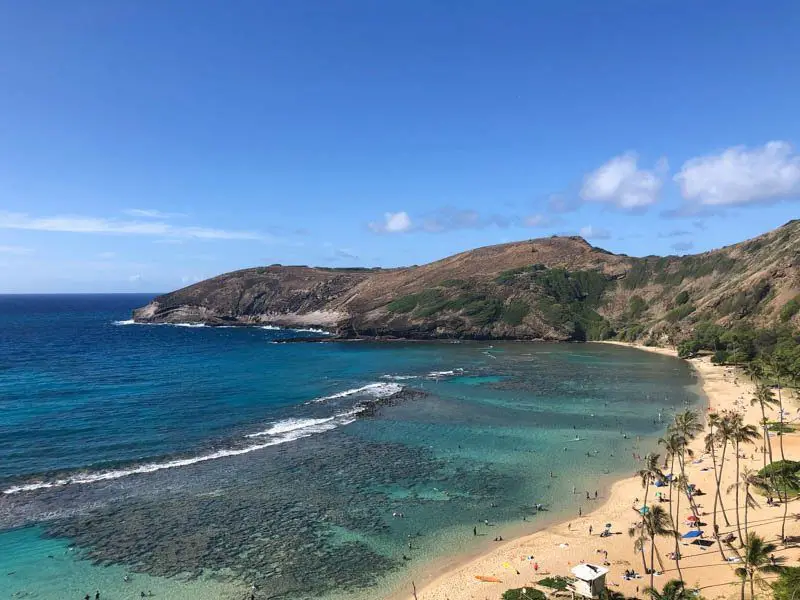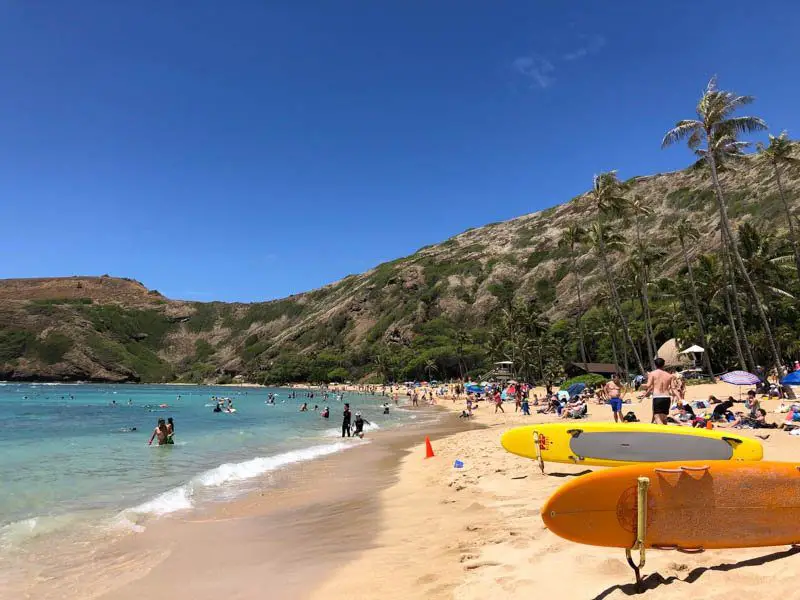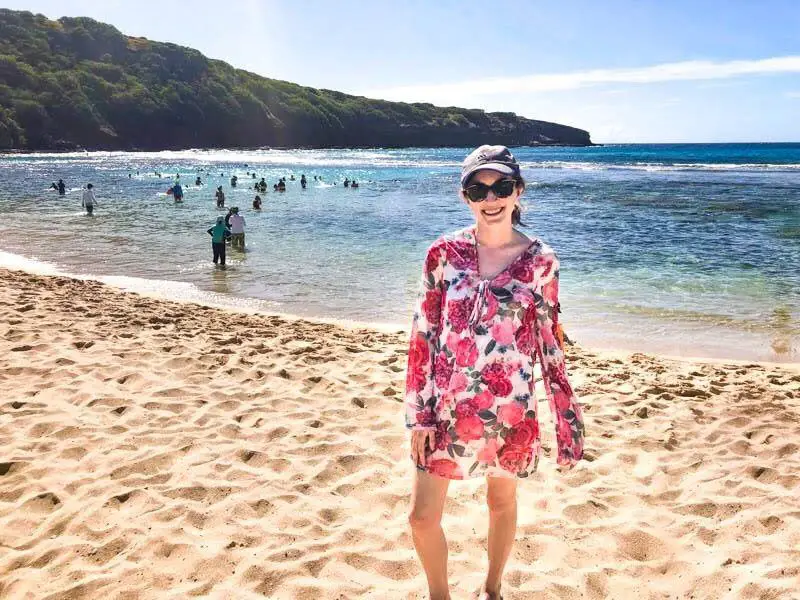 Leonard's Bakery food truck
We could not leave Hawaii without another malasada. On our route back to the hotel from Hanauma Bay, we spotted a Leonard's Bakery food truck! Oh how I wish I could have one of those hot malasadas right now…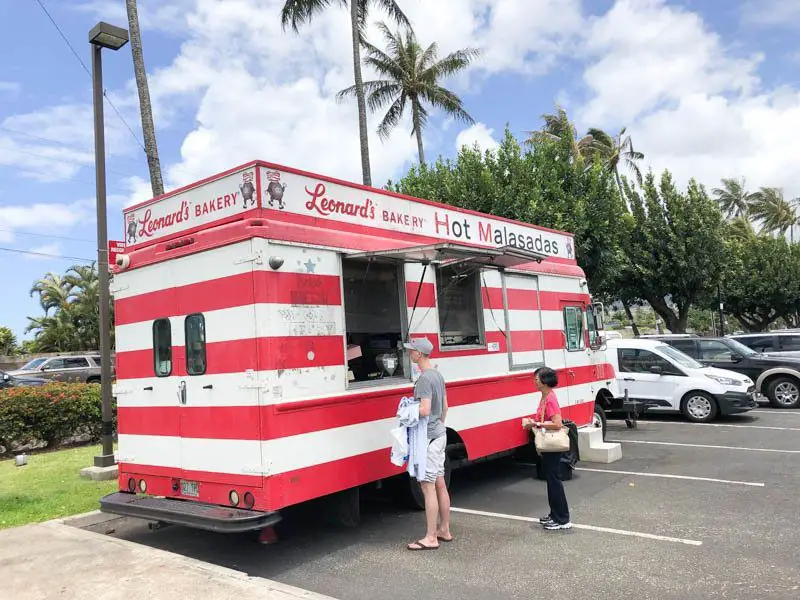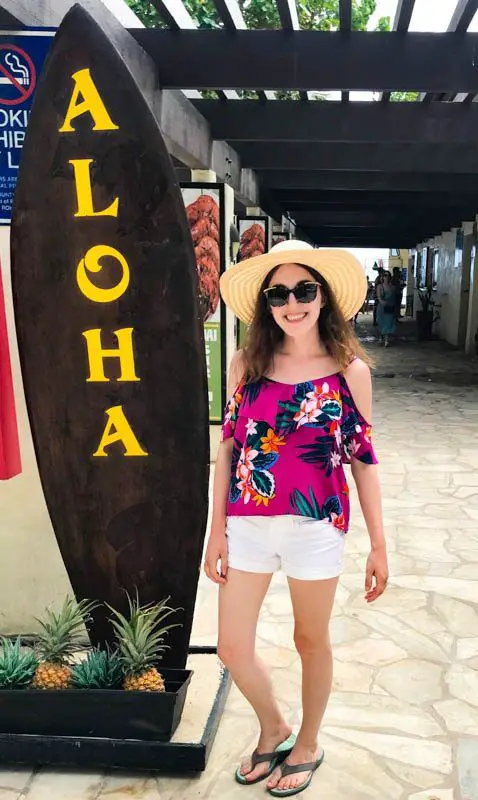 And that is how we spent our week on Oahu! Not pictured were two dinners at Red Lobster, which I definitely recommend! We don't have Red Lobster in B.C. where I live, and we were amazed at how much food you get. I've since learned how to make a low-carb copycat version of their cheese biscuits, and it's been the best thing ever!
Thank you for reading this guide to spending one week on Oahu!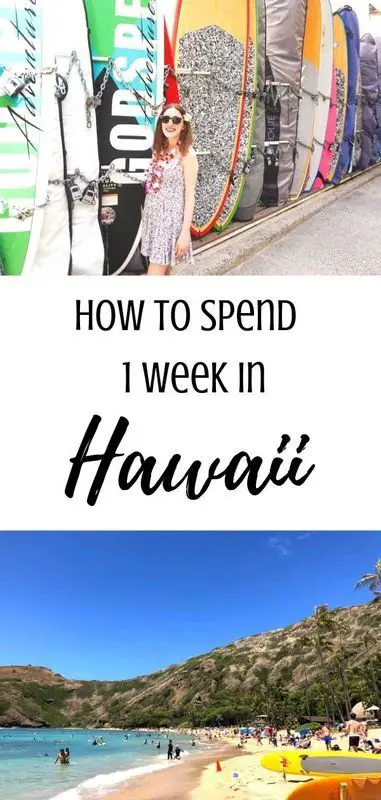 Love Hawaii? Check out these posts:
Honolulu Travel Guide: Free Cultural Activities and Hula Shows
Guide to Instagrammable Murals in Honolulu
xo,
Andrea
Follow Me!
Instagram | Pinterest | Twitter | Facebook | Bloglovin