Hanauma Bay is a beautiful state park on Oahu in Hawaii. It is a protected marine life conservation area with a sandy beach and a gorgeous bay to swim in. There are so many colourful fish in the bay, making it a super popular place to snorkel. Keep reading for my guide to visiting Hanauma Bay, Hawaii so you can make the most out of your time there!
Getting to Hanauma Bay
By Bus: The #22 bus goes directly from Waikiki to Hanauma Bay. It takes about half an hour from Honolulu Zoo. There is a stop along the highway that has a Hanauma Bay sign, but don't get off here. The #22 bus actually goes down the hill right into the park.
Tip: Check what time the bus will be leaving Hanauma Bay back to Waikiki, because it only leaves about once an hour.
By Car: Hanauma Bay is a 25-minute drive from the Honolulu Zoo. The cost for parking is $1, but there are only 300 parking spots.
By Shuttle: Hanauma Bay offers a snorkel tour/shuttle service from Waikiki. Find information about the tour on the Hanauma Bay website.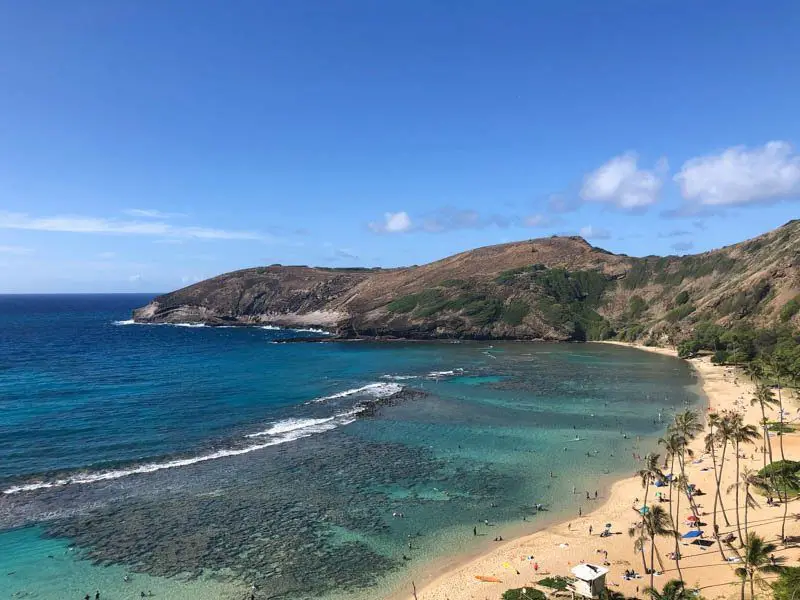 Hours
Hanauma Bay is open six days a week and is closed every Tuesday. The park opens at 6 a.m., and closes at 6 p.m. in the winter and 7 p.m. in the summer.
Hanauma Bay limits the number of visitors daily to 3,000, so it's best to get there early. We arrived about 8:40 a.m. on a Thursday in late May and it was already busy.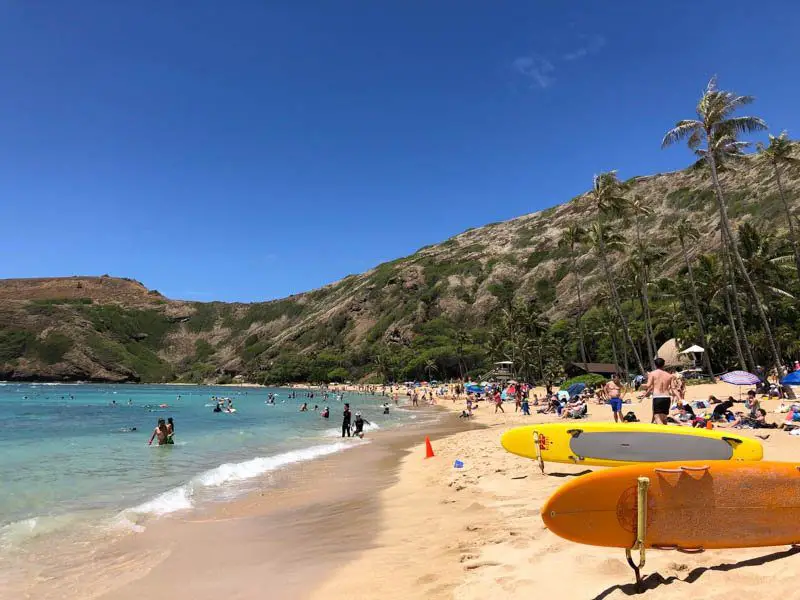 Admission
As of August 2019, admission to Hanauma Bay State Park is $7.50 for adults/teens, and free for children 12 and under. For up-to-date prices, check the Hanauma Bay State Park website.
After paying admission, you will be directed to a theatre to watch a nine-minute video about Hanauma Bay. The purpose of the video is to educate visitors about the importance of the bay and how to act while you are there.

What to Bring to Hanauma Bay
Beach towel, bathing suit, beach coverup, beach bag
Goggles, snorkel gear, water shoes and/or flippers, life jacket if needed
Reef-safe sunscreen, hat, water, snacks
Waterproof phone case or waterproof camera
Money for the admission fee, bus fare, snacks, snorkel rental, etc.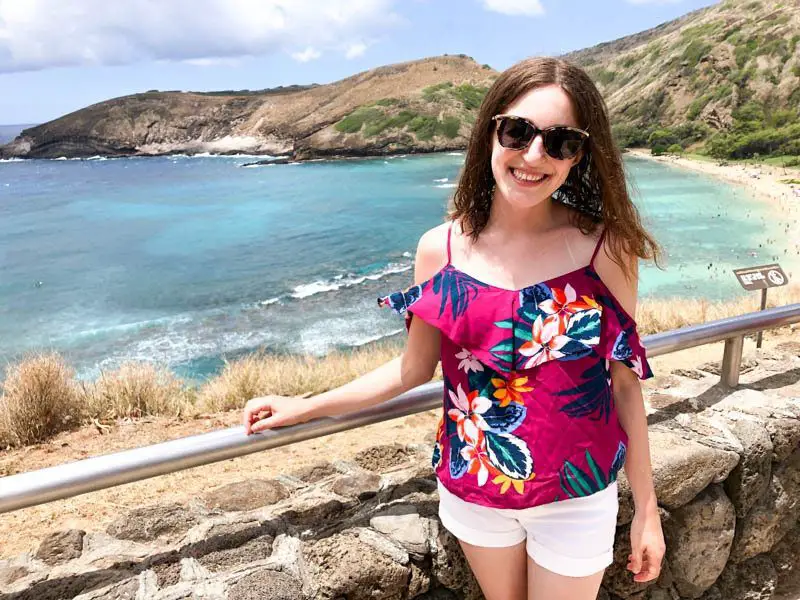 Amenities at Hanauma Bay
There are small and large lockers available at the beach if you want to lock any of your things away.
Snorkel gear is available for rent. As of 2019, the cost to rent a standard snorkel set is $20.
The beach is down the hill from the ticket booth. If you don't want to walk up or down the hill, there is a tram, which is $1 on the way down and $1.25 on the way up.
There is a snack bar, but it is near the ticket booth, not down at the beach.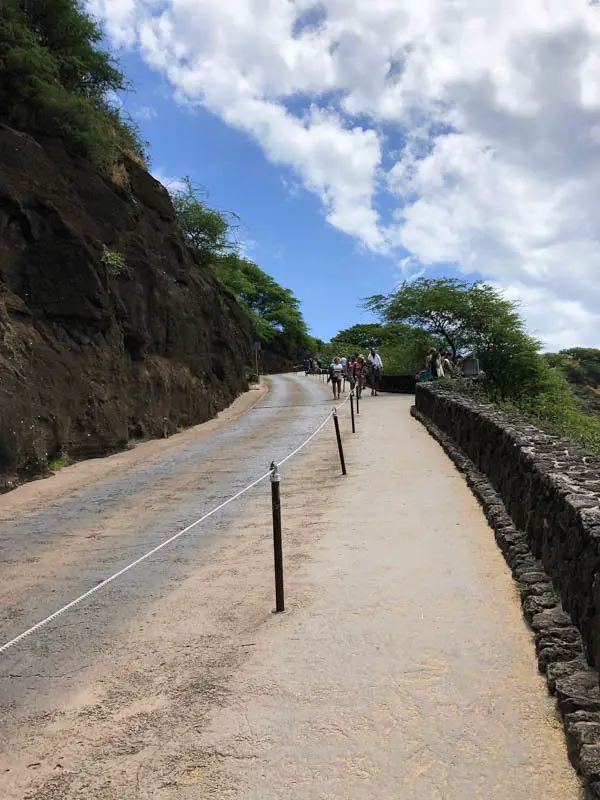 Final Notes About Hanauma Bay
Hanauma Bay looks sandy, but much of the bay is full of sharp rocks and coral. Stepping on coral is not permitted, but having water shoes would be very helpful to protect your feet.
Hanauma Bay is known for its strong currents, which can be dangerous. There are several safety tips on the Hanauma Bay State Park website. Even right near the shore, the waves were pushing me into the coral.
Thanks for reading!
Check out previous posts about Hawaii:
Guide to Instagrammable Murals in Honolulu, Hawaii
Guide to Hiking Diamond Head Mountain on Oahu, Hawaii
xo,
Andrea
Follow Me!
Instagram | Pinterest | Twitter | Facebook | Bloglovin