March is right around the corner, and I am so happy! March means the beginning of spring, and also my birthday! This month I tried a lot of new layouts, and I love how they all turned out. This month's plan with me post includes inspiration for any month, including a mood tracker, sleep tracker, habit tracker and a gratitude journal, all with a houseplant/succulent theme. Whether you're looking to find out how to start a bullet journal or just need some ideas for your existing journal, I hope this is helpful to you. Keep reading for my March bullet journal monthly setup!
Subscribe to me on YouTube for more bullet journaling content every week!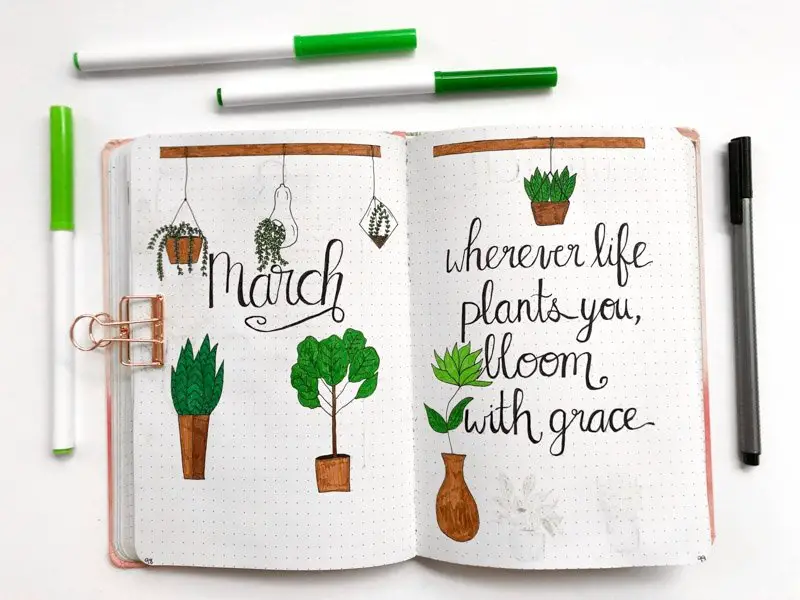 Some of the links below are affiliate links. If you choose to make a purchase, I may receive a small commission, at no extra cost to you. Thank you for your support!
Supplies
Cover Page
This month I chose green houseplants and succulents for my theme, and I am obsessed! I chose four shades of green and two shades of brown markers that I will be primarily sticking with for the month. I've loved experimenting with drawing lots of different kinds of plants.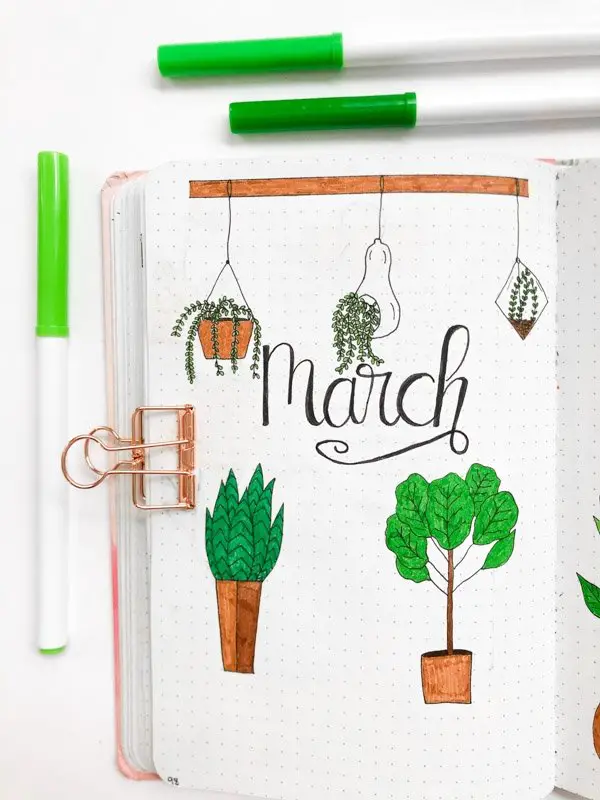 Quote Page
Wherever life plants you, bloom with grace.
Had to have a plant-related quote, and I thought this one was so sweet.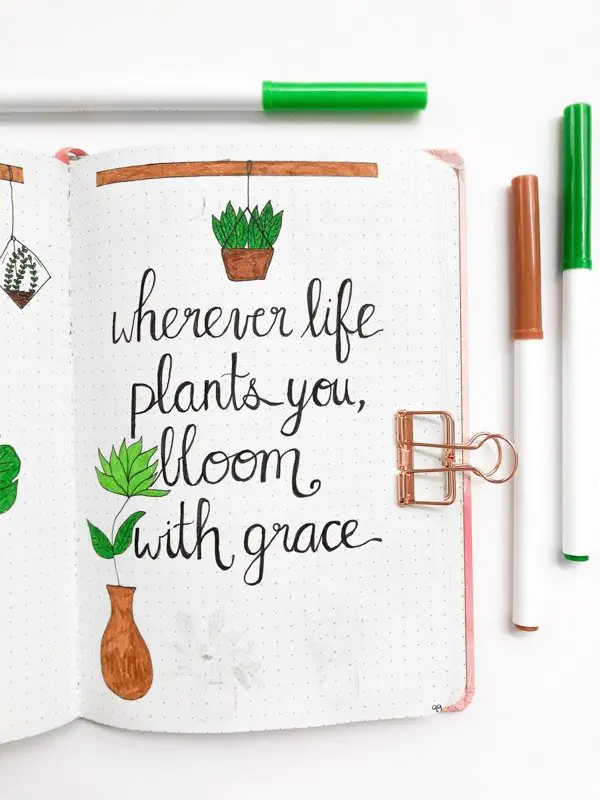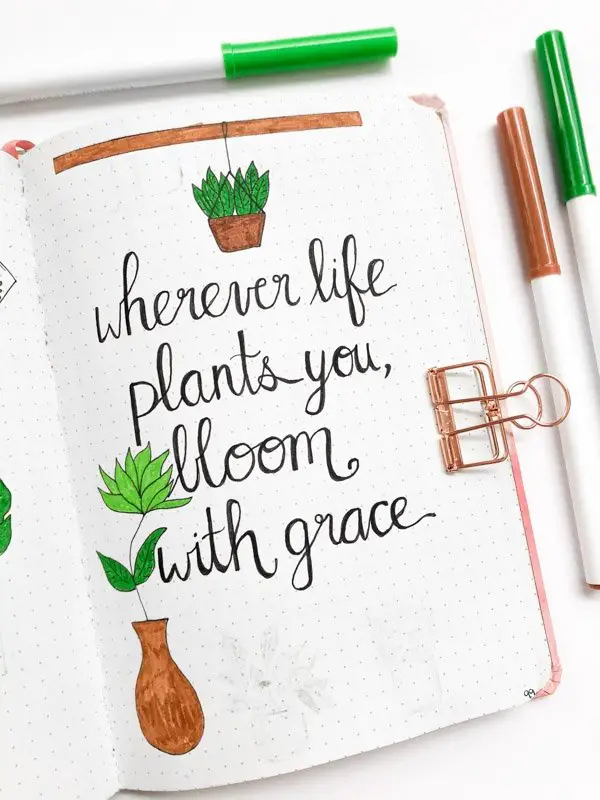 Monthly Calendar
If you saw my January bullet journal setup post, I had a two-page spread for the calendar. I wasn't in love with how it turned out, because Wednesday was cut in half by the crease of the journal. This month I tried a new two-page setup for March, and I love it!
Instead of one of the days of the week being caught in the middle between the two pages, I split it up so four of the days are on the left side and three of the days are on the right side. I thought it might look unbalanced, but with the big plant on the side I think it totally works.
What I love about this houseplant theme is how varied it is while still looking cohesive.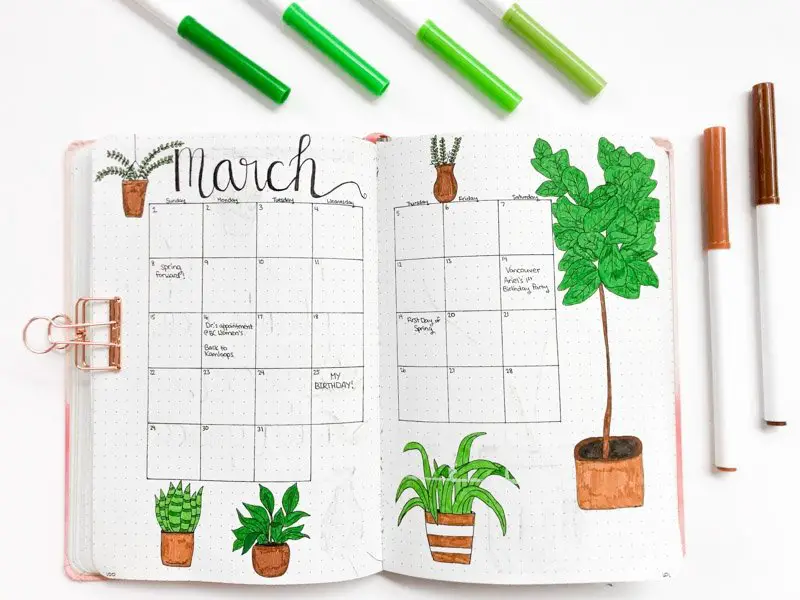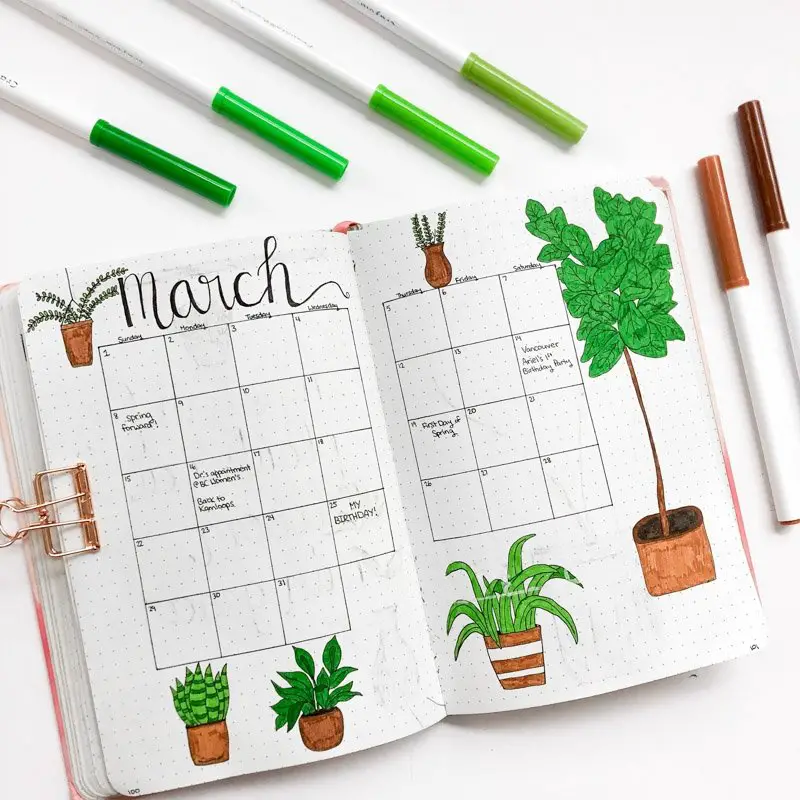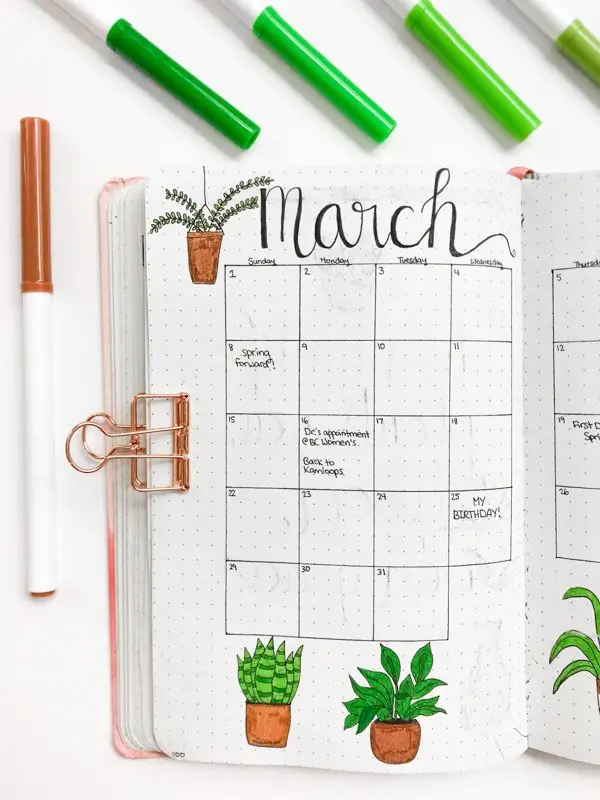 Mood Tracker
For this month's mood tracker, I tried a new design, and I love how it turned out! I drew these two large leaves and split them up into 31 sections, representing each day in March. I chose five shades of green to correspond with five emotions. I'm excited to see how this page looks at the end of the month! I post all updates on my bullet journal pages on my Instagram page (bujowithandrea).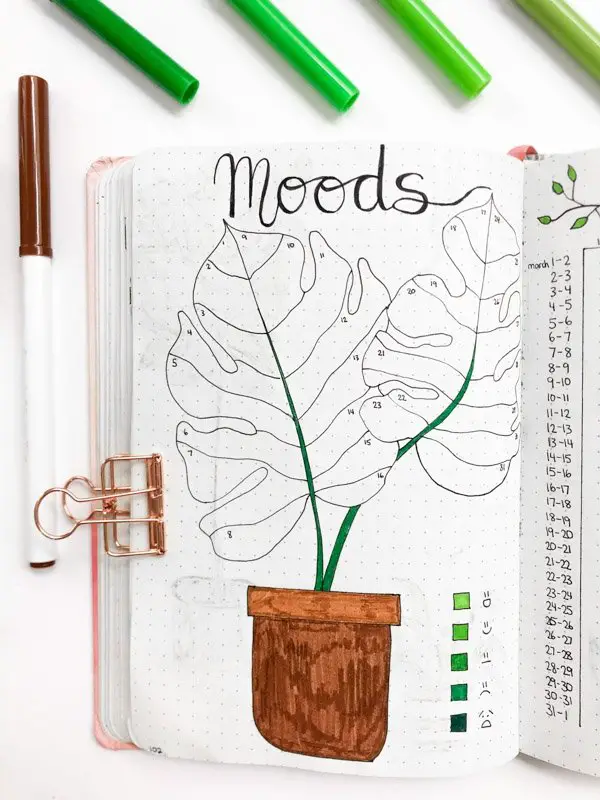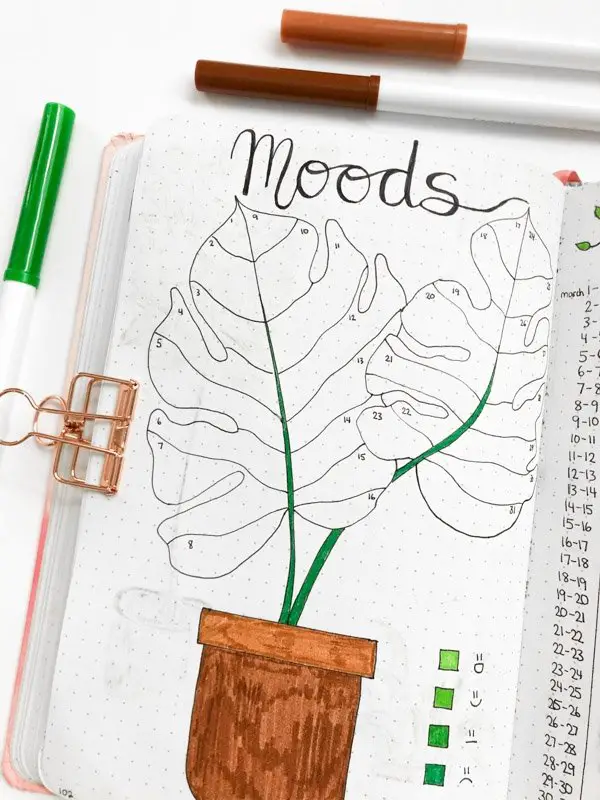 Sleep Tracker
This month's sleep tracker is very similar to my February sleep tracker, with a few minor changes. In February, there were a few times I got confused about which day to fill in. The days of the week I wrote down the side corresponded to the night before rather than the morning I woke up. It made sense when I created the page, but when I would fill it in on a sleepy Saturday morning, I would sometimes get confused if I was supposed to fill in Friday or Saturday.
All that to say, my new layout this month includes both dates so as to not confuse my tired self. I'll let you know how it goes!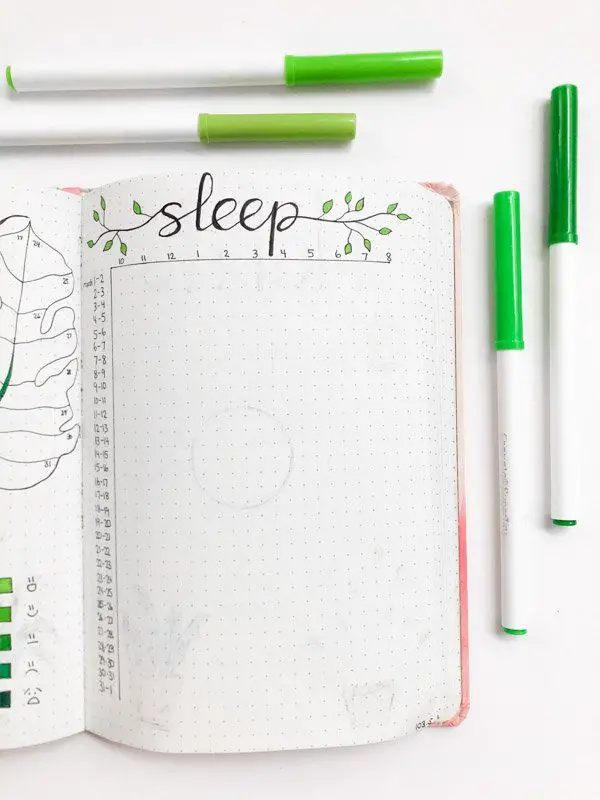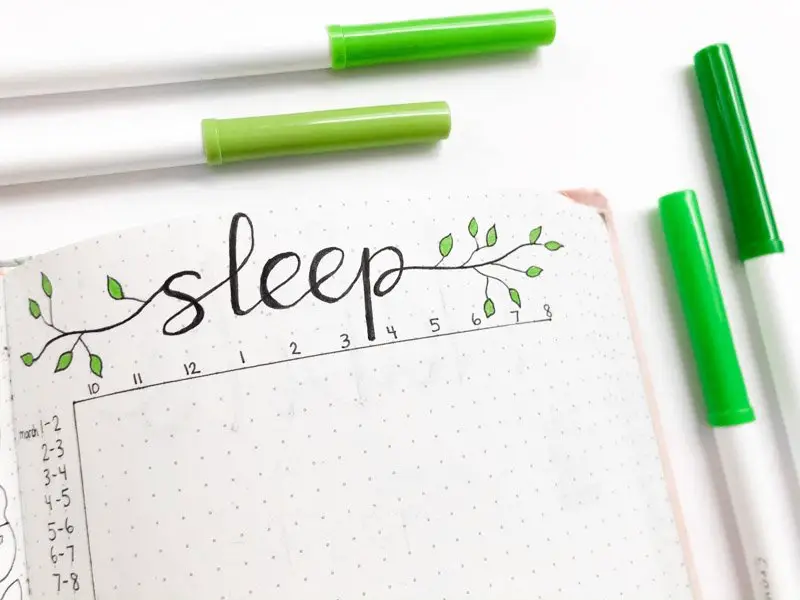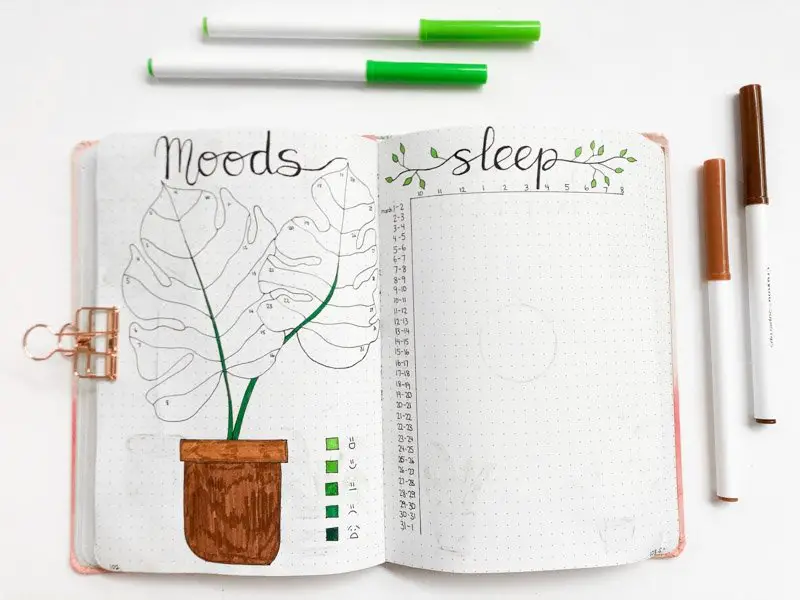 Habit Tracker
I have wanted to create a circle habit tracker for so long, but had no idea how to tackle the task of drawing so many perfect circles inside each other. That is until I found this circle maker!
I intended to make all the sections for each day even, but I also didn't know how, so I just went for it. (my husband has since kindly informed me there is a calculation haha so stay tuned for next month!)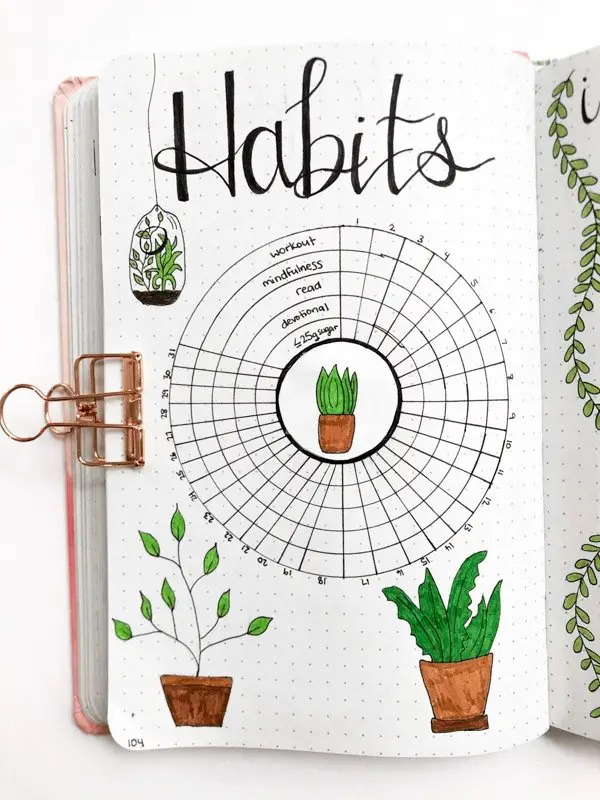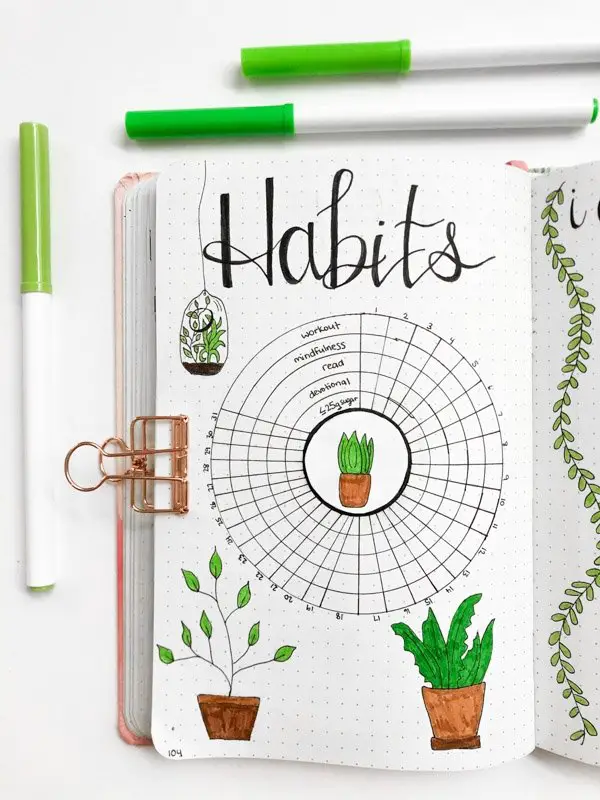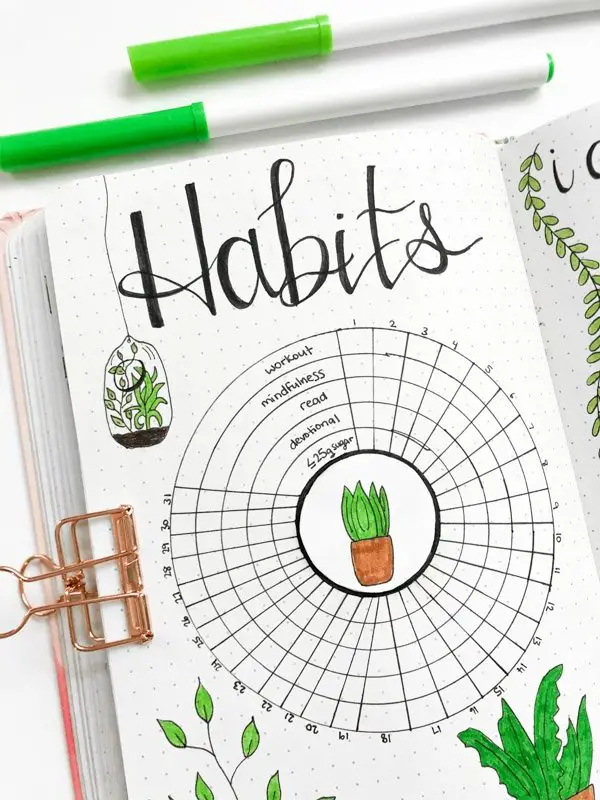 Gratitude Journal
Writing down one thing you are grateful for every day may not seem like a difficult task, but it is such a good exercise! I kept the theme more minimal on this page and went with a vine down the side.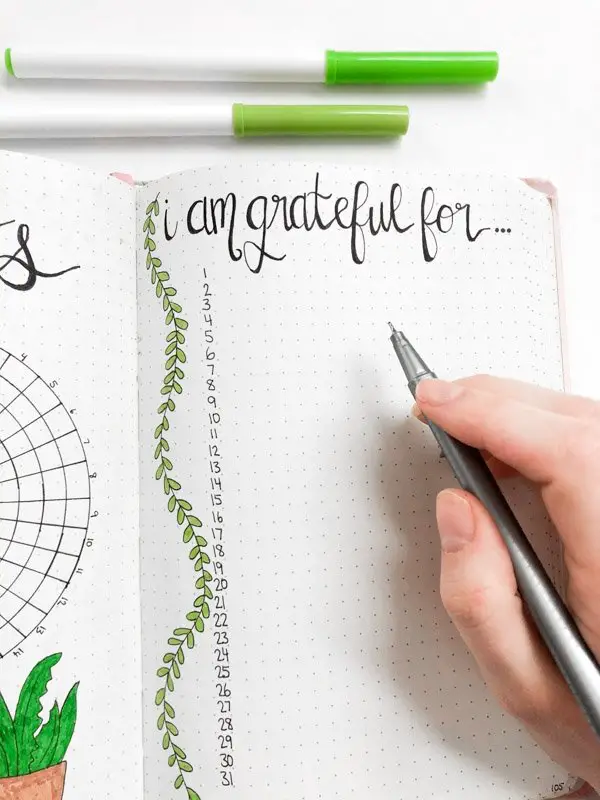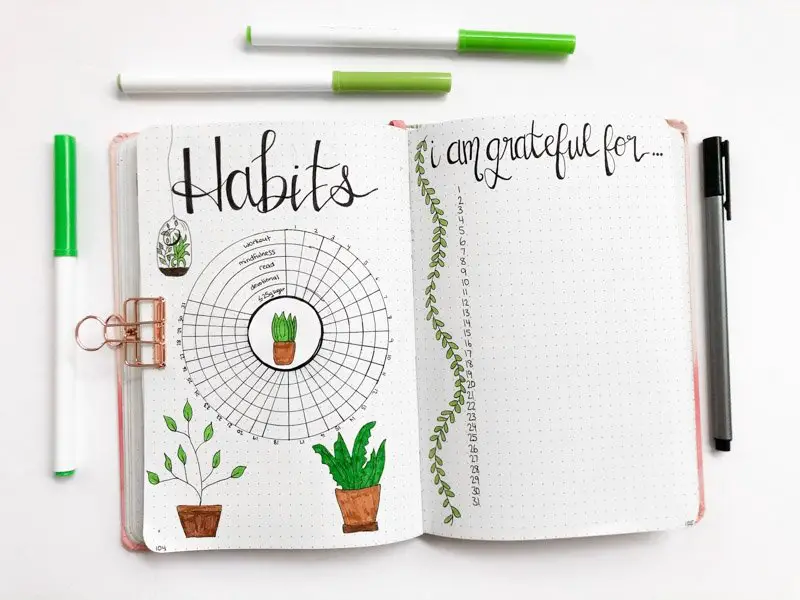 Weekly Spread
Every week in February I tried a new weekly layout, all of which I shared on my Instagram page every Monday. This week's inspiration came from Amanda Rach Lee. I love how it turned out with the days of the week inside the plant pots.
If you want to see how each week looks after it's all filled in, I post the update on Instagram every Sunday.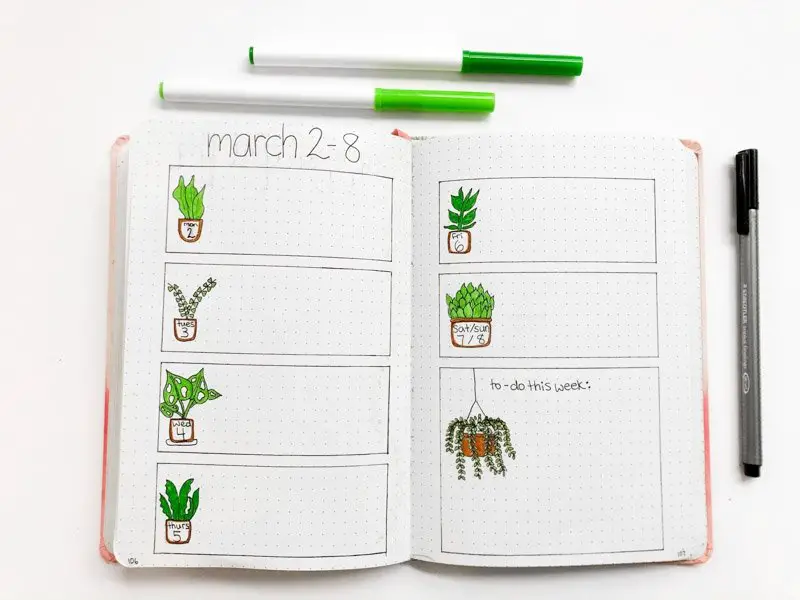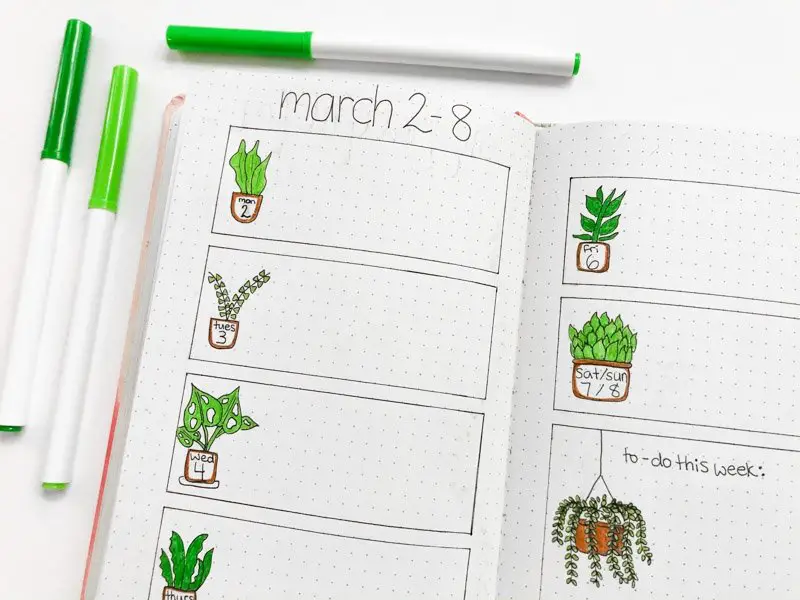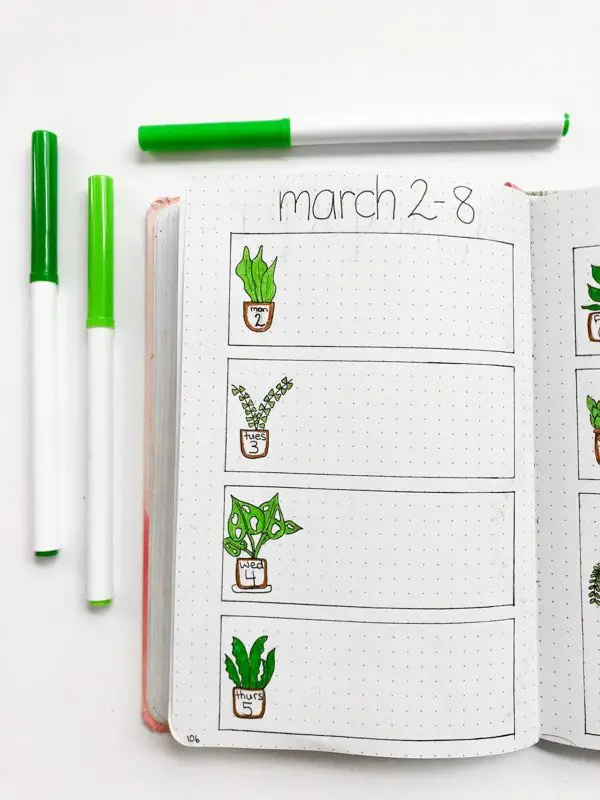 Thank you for reading this March bullet journal monthly setup post! I hope it can inspire you to create in your own bullet journal! Subscribe to me on YouTube for more fun bullet journaling content!
February Bullet Journal Setup: Rose Theme
Bullet Journal Setup for Beginners
Follow Me!
Instagram | Pinterest | Twitter | Facebook | TikTok | YouTube
xo,
Andrea