We are finally through the first part of the year, and onto spring! To me, March feels like the true start to the year: the flowers are blooming, the days are getting longer, the weather is getting warmer, and it's my birthday month! My theme this month definitely reflects the happiness of spring beginning, because I am going with a flower market theme! Keep reading for my March 2022 bullet journal setup, including two plan with me videos.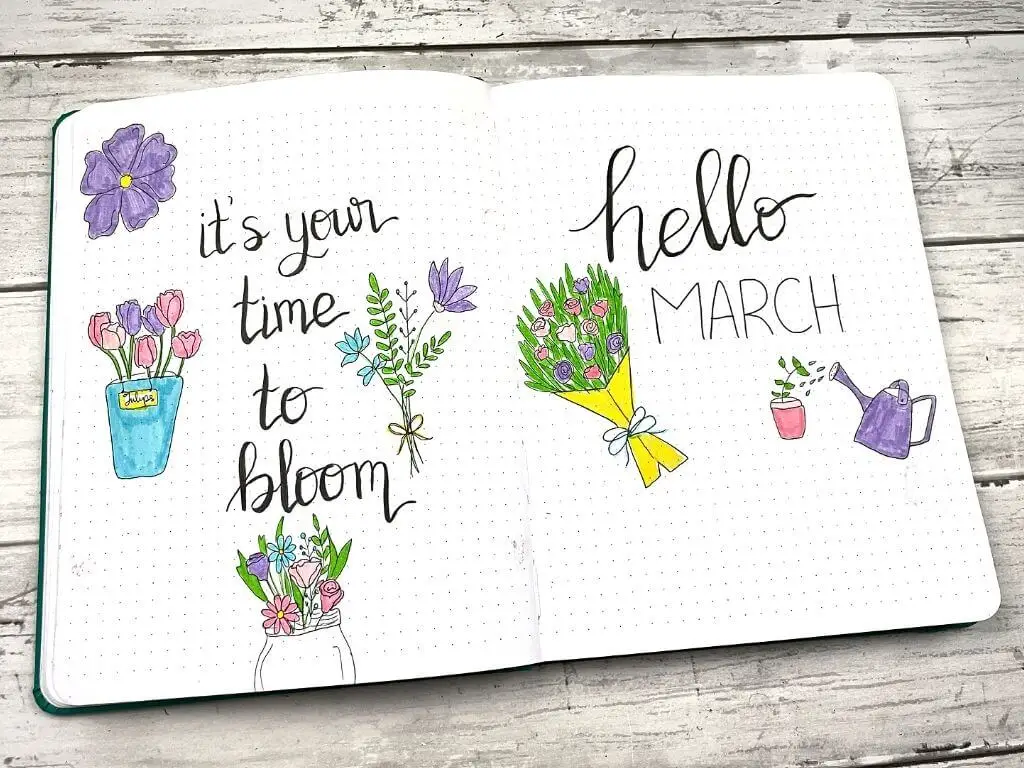 Some of the links below are affiliate links. If you choose to make a purchase, I may receive a small commission, at no extra cost to you. Thank you for your support!
Watch the Video
To watch me set up my March bullet journal with a cute flower market theme, check out this video below! And make sure you're subscribed to my YouTube channel so you never miss my monthly bullet journal setups.
If you want to journal alongside me, then this next video is for you! It is the real-time setup of my March bullet journal. You can see how long all the pages take me to make in real time as you listen to some music.
Bullet Journal Supplies
Quote Page
Since my theme this month is inspired by flower markets, I went with a flower-themed quote: it's your time to bloom. For my doodles on this page, I drew a flower bucket full of tulips, a small bouquet of flowers and a mason jar full of flowers at the bottom.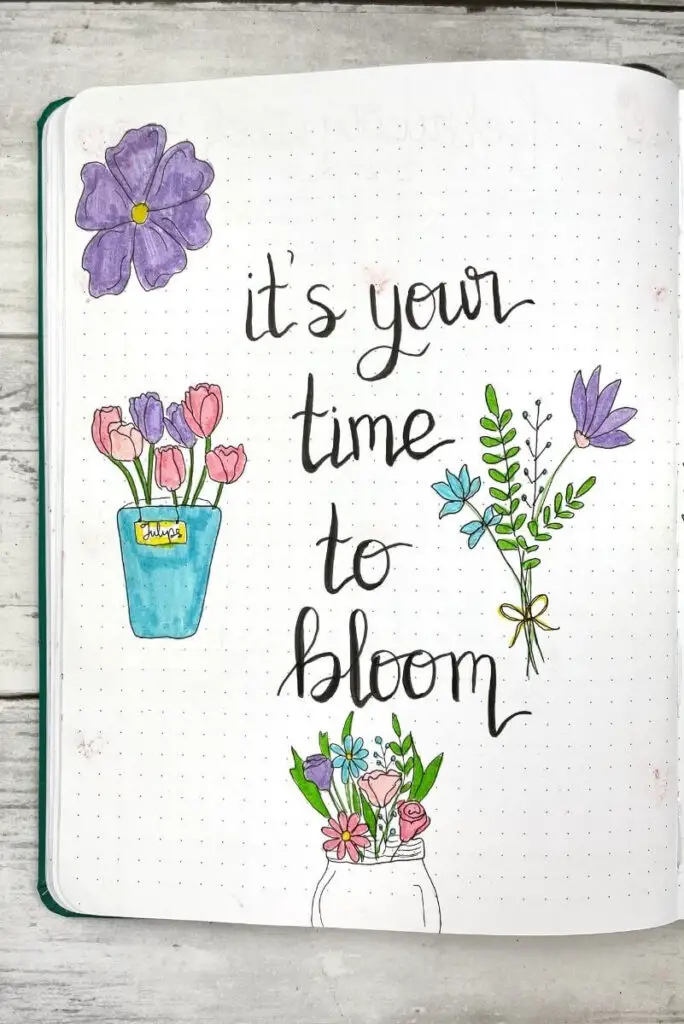 Cover Page
For my cover page this month, I wrote out "hello March" in the middle, with hello in script lettering and March in print lettering.
On the left side of the page I drew a big bouquet of flowers. Then on the right side of the page I drew a watering can watering a little plant in a pot.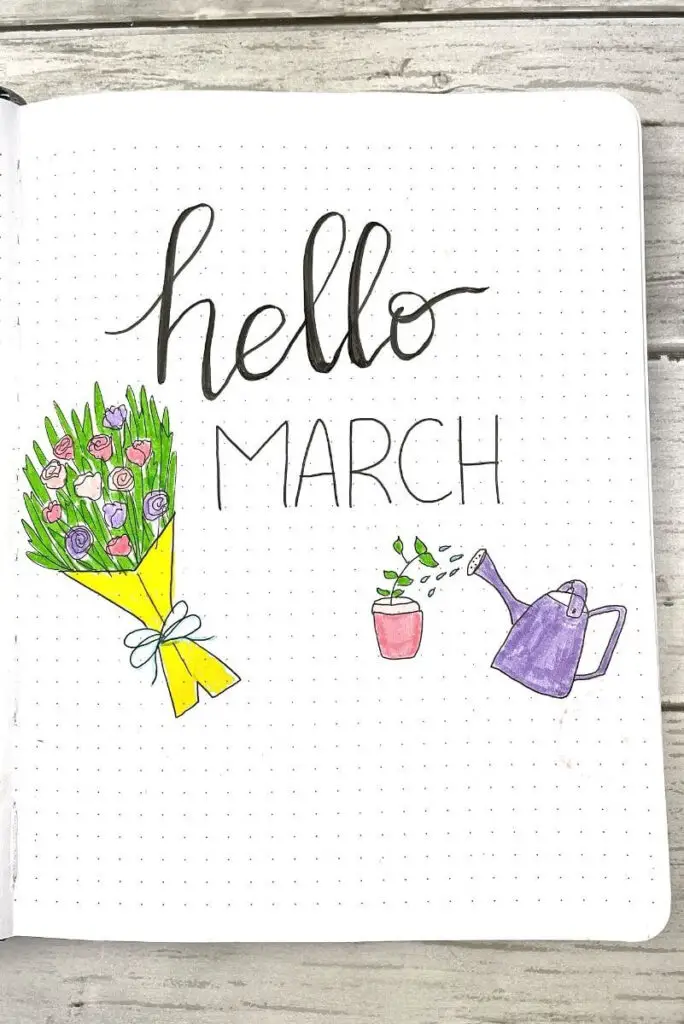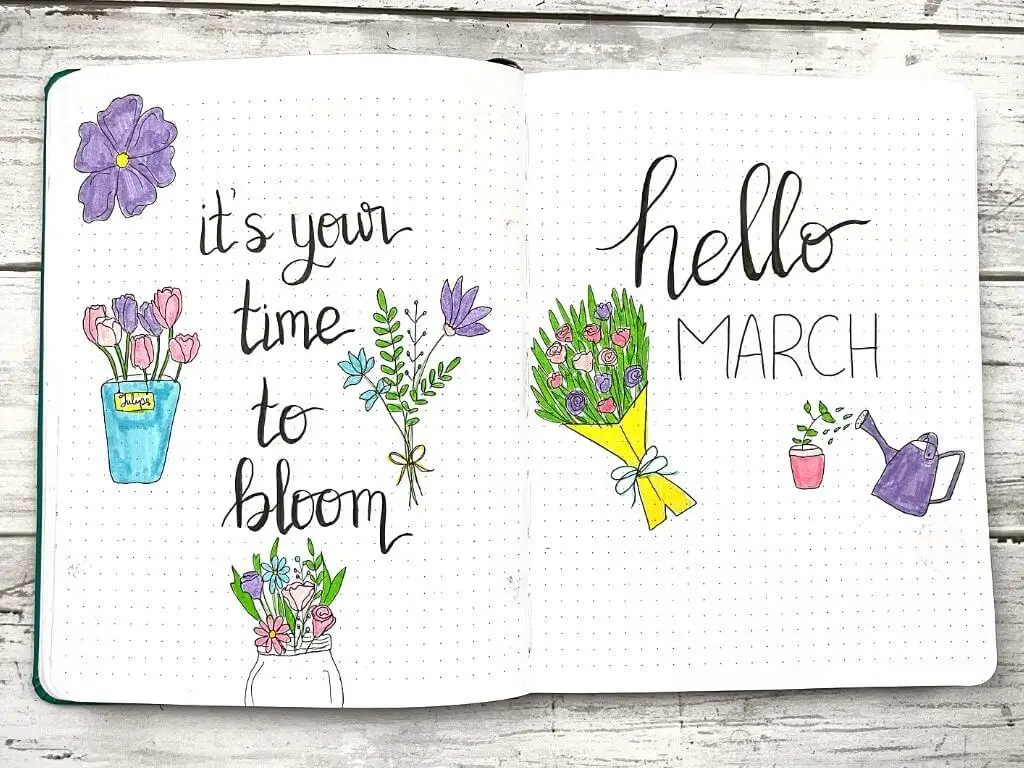 Monthly Calendar
On my two-page calendar spread this month, I wrote out March 2022 across the top of the two pages.
I drew one doodle in each corner of the calendar layout: a bouquet of flowers tied up with a ribbon, a bouquet of flowers in blue paper, a mason jar filled with flowers and a large flower.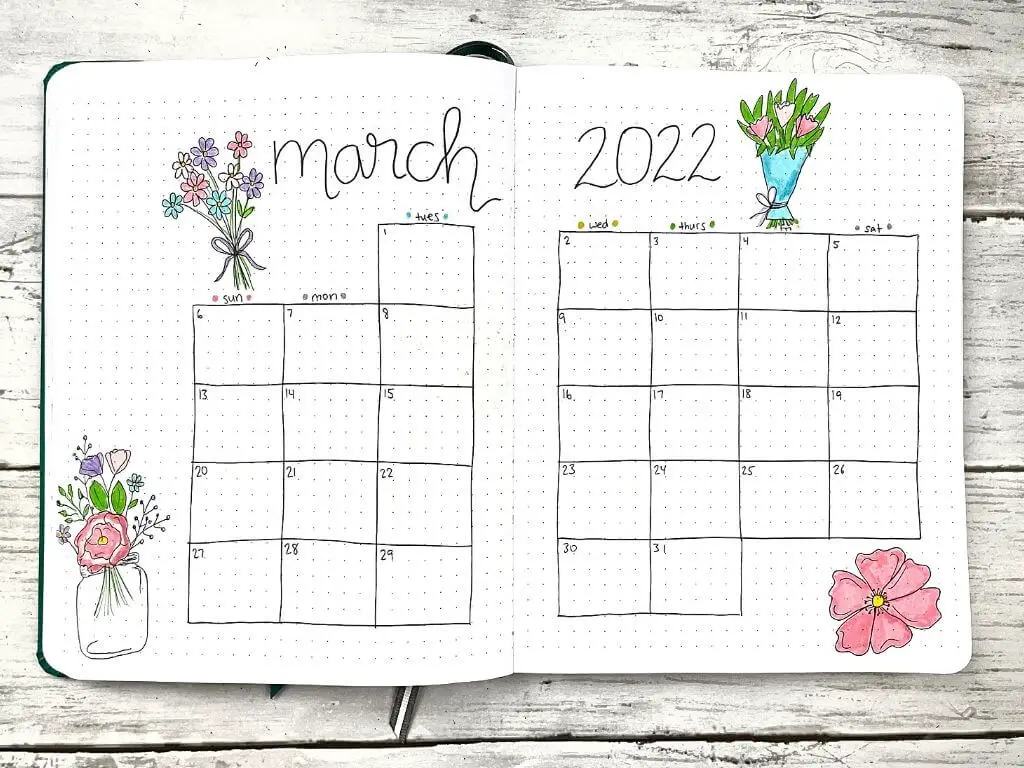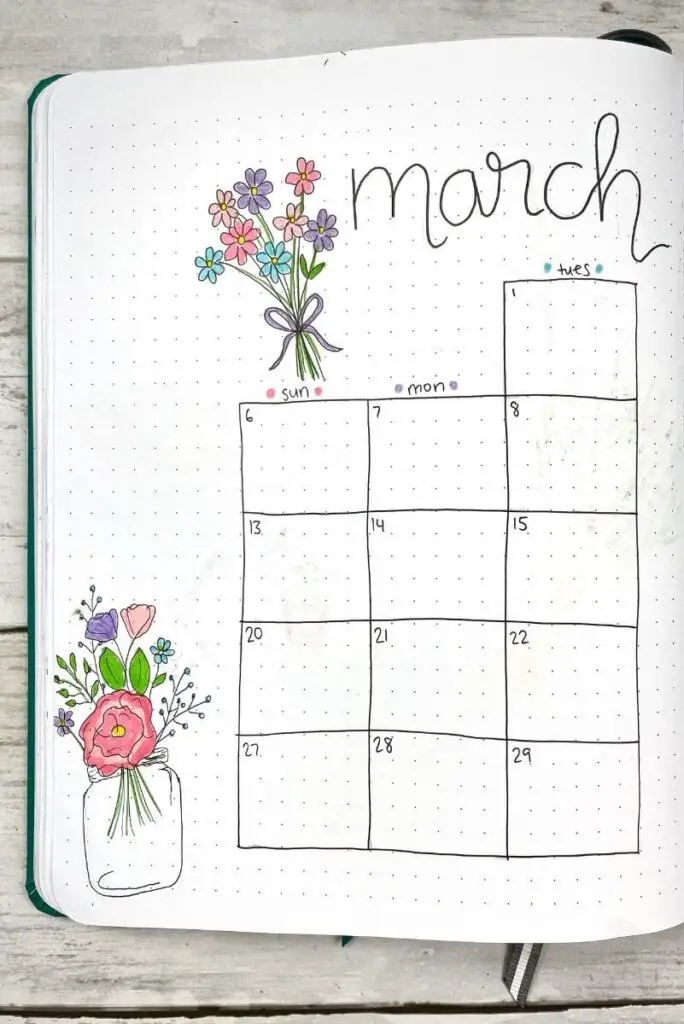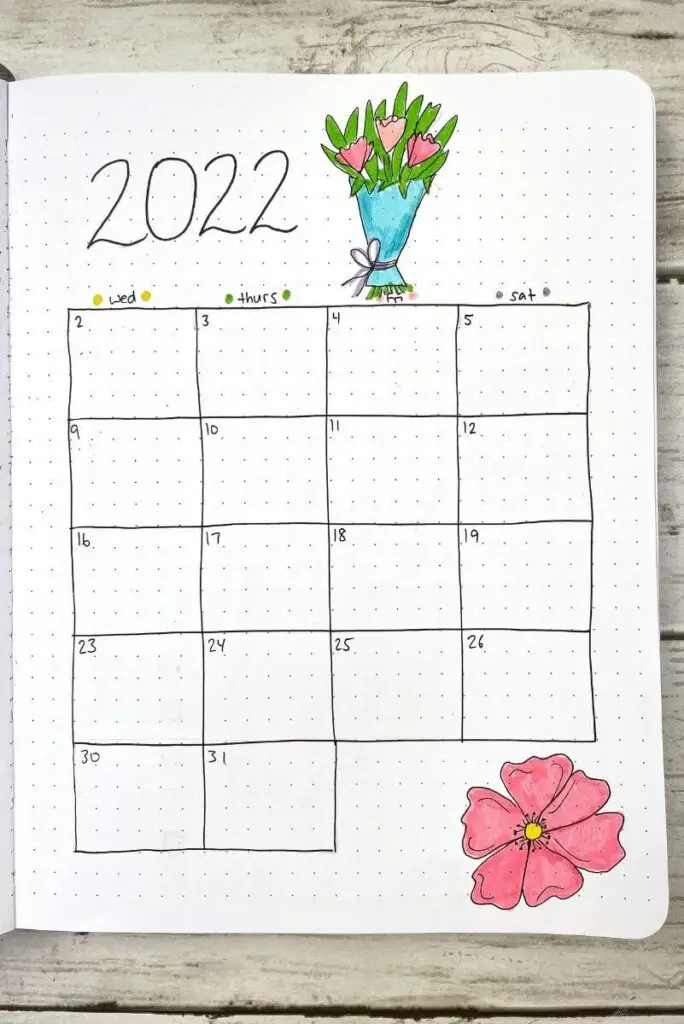 Mood Tracker
For my mood tracker this month, I drew a large mason jar with four flowers inside. I then numbered all the petals and leaves for each day of the month.
Beside the mason jar, I drew my key for the month with five different moods, each associated with a different colour.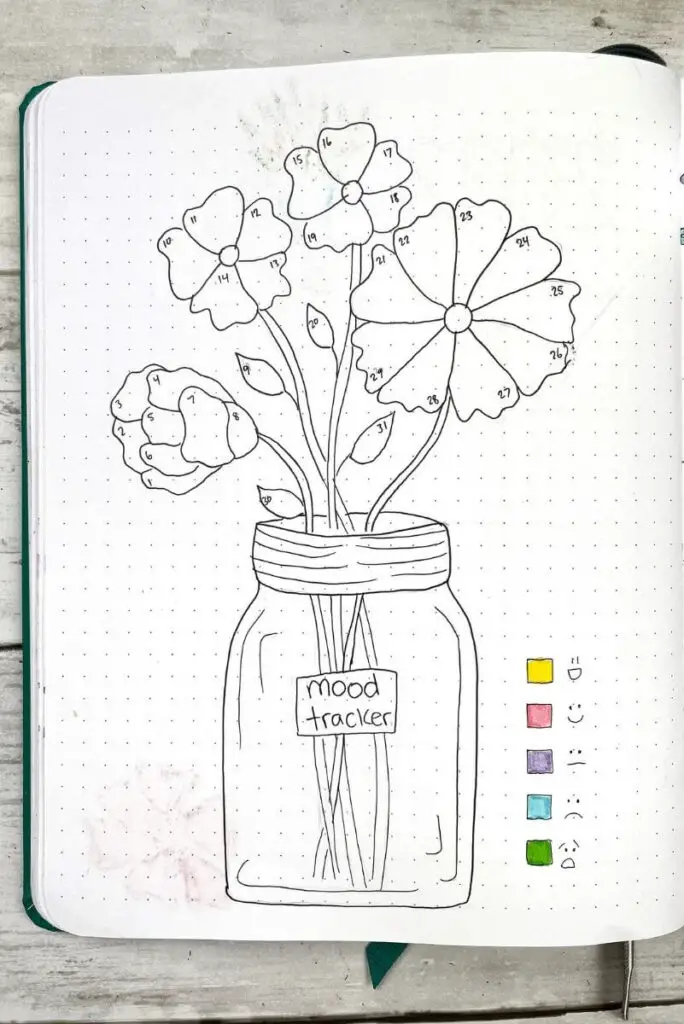 Highlights of the Day
For my highlights of the day page, I created two columns with 1 to 16 on one column and 17 to 31 on the next. I also added bouquets of flowers at the top of the page, and a watering can filled with flowers on the bottom.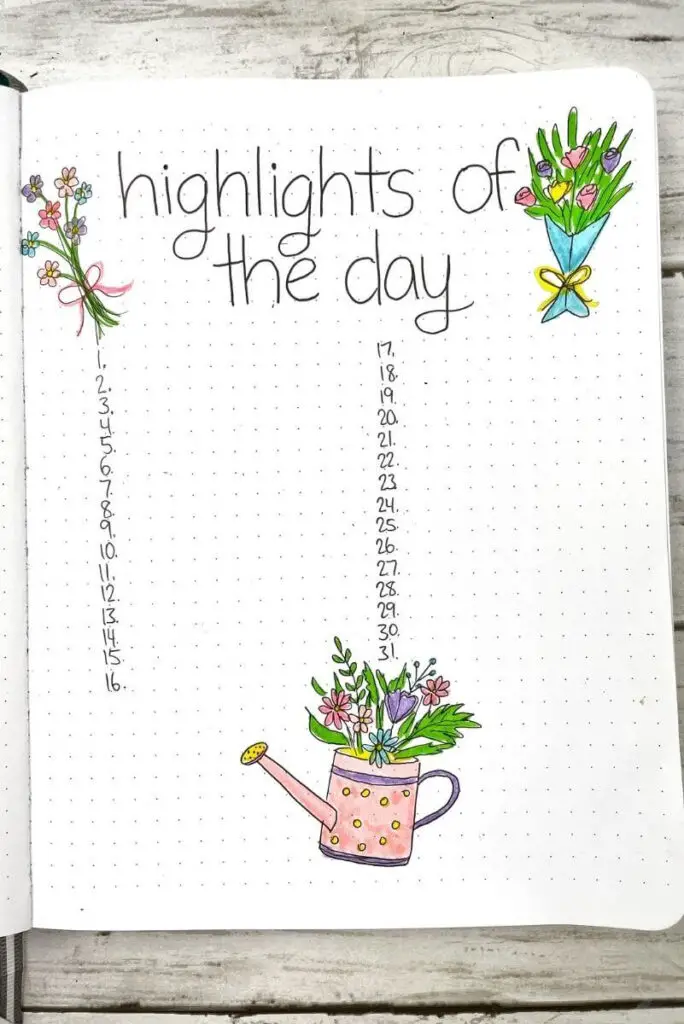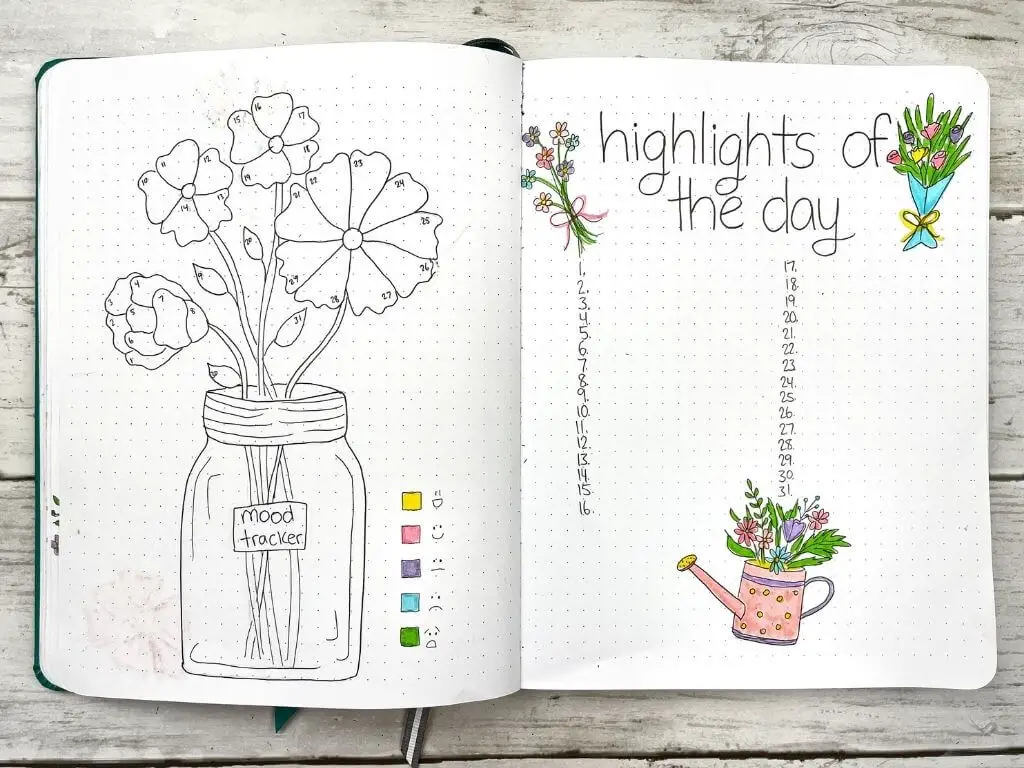 Thank you so much for reading this March 2022 bullet journal setup post! Don't forget to subscribe to my YouTube channel and follow me on Instagram to stay up to date!
xo, Andrea