Anne Frank and her family are famous for hiding from the Nazis in Amsterdam during the Second World War. Anne was only 13 years old when she went into hiding with her parents, sister and another family. The building where they hid for 2 years is now a museum called the Anne Frank House, and it is well worth a visit. Here is all you need to know before you go!
Booking Tickets
Tickets for the Anne Frank House go on sale two months ahead of time. You must buy tickets to the museum on the Anne Frank House website. They are not sold on site. Tickets cannot be refunded or exchanged, so be sure to buy your ticket for the correct day and time. While 80% of the tickets are sold online ahead of time, 20% of the tickets are reserved for the day of. Those tickets do still need to be purchased online though.
Tickets are sold in 15 minute time slots. This indicates your arrival time to the museum, not the amount of time you're allowed to spend in the museum,
Arriving at the Museum
Bring your tickets with you either on your phone or printed out, and show up to the museum a few minutes before your scheduled entry time. There is a lineup, but only people with tickets for the next entry time are permitted in the line, so there's no point showing up super early.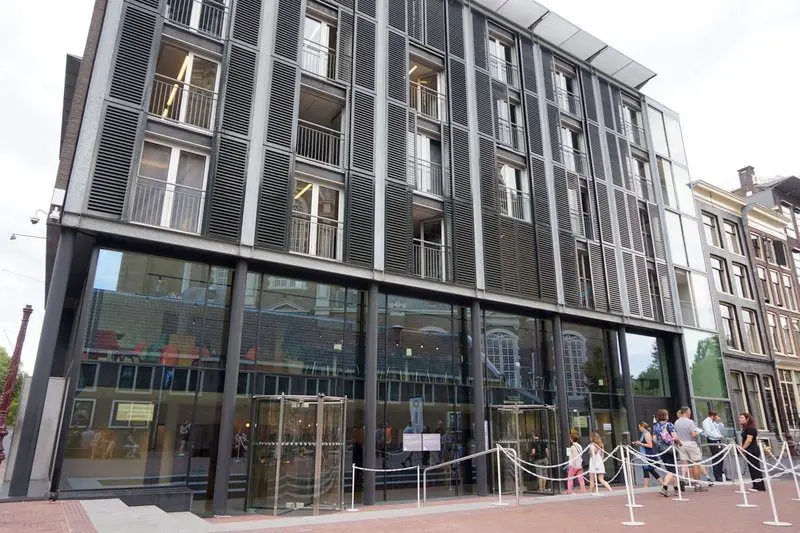 Inside the Museum
Anne's father Otto Frank was the only survivor of all eight people who hid in the annex during the War. When he returned from Auschwitz in 1945, the annex was empty. At Otto's request, it stayed that way when it opened as a museum in 1960. There is no furniture throughout the museum, only plaques and photos on the walls.
There is however a small model of the annex showing you exactly how all the rooms looked when they lived there.
A personal touch remains in Anne's room, where she pasted photos of movie stars.
For me, the most amazing part was seeing the bookcase, behind which is the entrance to the secret annex. It was also so cool to see Anne's original diary and to see her writing.
There is also a lot of paperwork displayed from when Anne and her family were registered as Jews. It makes it so much more real when you can find their names and think about what they had to endure.
Going through the museum takes about one to two hours.
Photography
No photos or videos are allowed inside the museum. However, you are allowed to bring your cameras inside with you, just leave it in your bag.
Note, they don't allow large backpacks inside the museum.
Audio Tour
The museum provides free audio tours in nine languages including English. In each room of the museum, you scan the audio tour remote near a sign then hold it up to your ear to listen to the guide. It is really useful and super interesting.
Anne Frank Statue
The famous Anne Frank statue is not outside the Anne Frank House like I expected it would be, but it is close by. It is labeled as Anne Frank Monument on Google Maps and the address is Westermarkt 74, 1016 DL Amsterdam.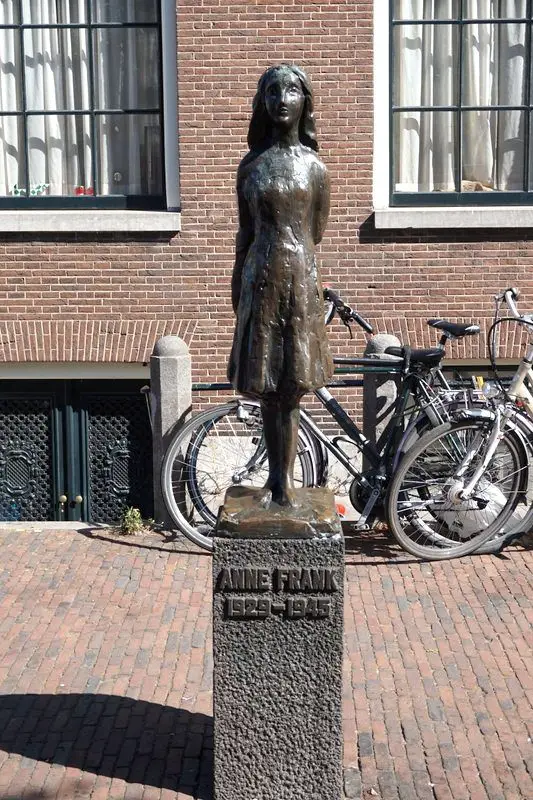 I really enjoyed visiting the Anne Frank House, because it not only gives you an insight into how the Frank family lived in hiding, but also about the persecution of Jewish people during that time.
Planning a trip to the Netherlands? Check out this post:
How to Spend One Day in Amsterdam
xo,
Andrea
Follow Me!
Instagram | Pinterest | Twitter | Facebook | Bloglovin