Happy July! We have had a wild summer already, with an intense heat wave and record-breaking temperatures at the end of June. It's already cooled down quite a bit, so in a way it feels like summer is over! I know there are still plenty of beach and pool days ahead though, which I am definitely looking forward to. This month, I created a pineapple theme bullet journal, and I think it turned out so cute. Pineapples are so fun and bright, and this theme is perfect for summer.
I took a break from bullet journaling last month, because June was such a busy month for me. I moved to a new house, got a new kitty, and got to see everyone in my hometown for the first time in 8.5 months! The only page I created last month was a monthly calendar spread. I use the calendar spreads to document important events and memories throughout the month, and I didn't want to miss out on that.
I am so happy to be back sharing my July bullet journal spread! Follow me on Instagram where I will be posting reels of the making of all of these pages. And now, keep reading to check out my pineapple theme bullet journal!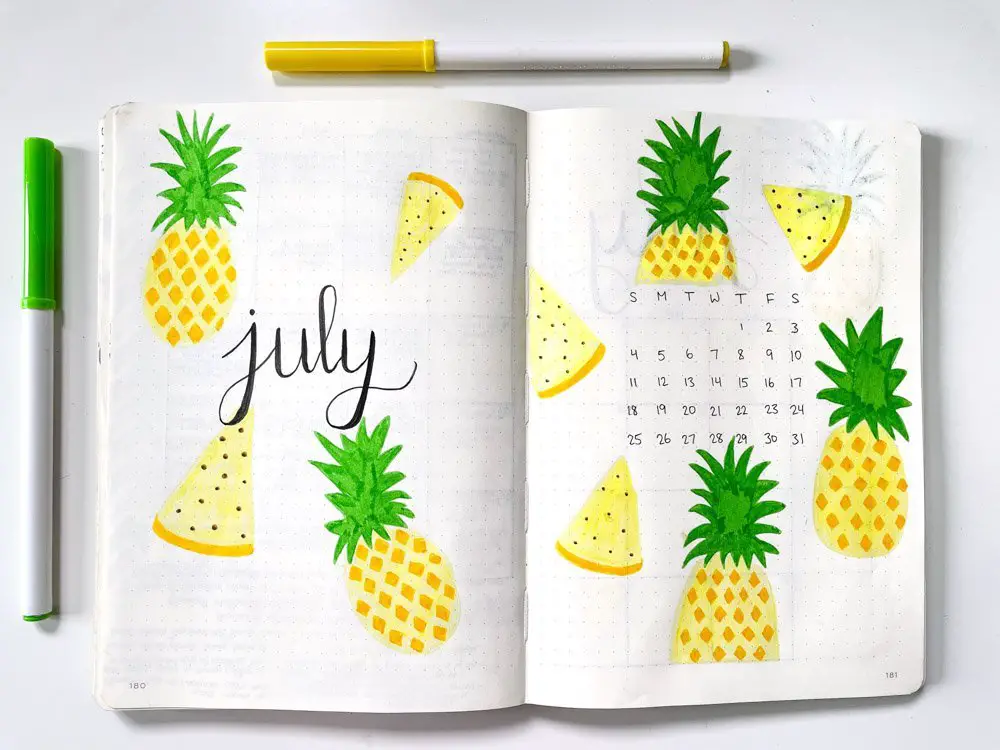 Some of the links below are affiliate links. If you choose to make a purchase, I may receive a small commission, at no extra cost to you. Thank you for your support!
Bullet Journal Supplies

Cover Page
For my July cover page, I wrote out the word July in calligraphy lettering in the centre of the page and surrounded it with pineapple doodles. I drew a variety of whole pineapples and pineapple slices.
The main colours I'm using this month are yellow and green. I just love how bright and colourful all the pages turned out!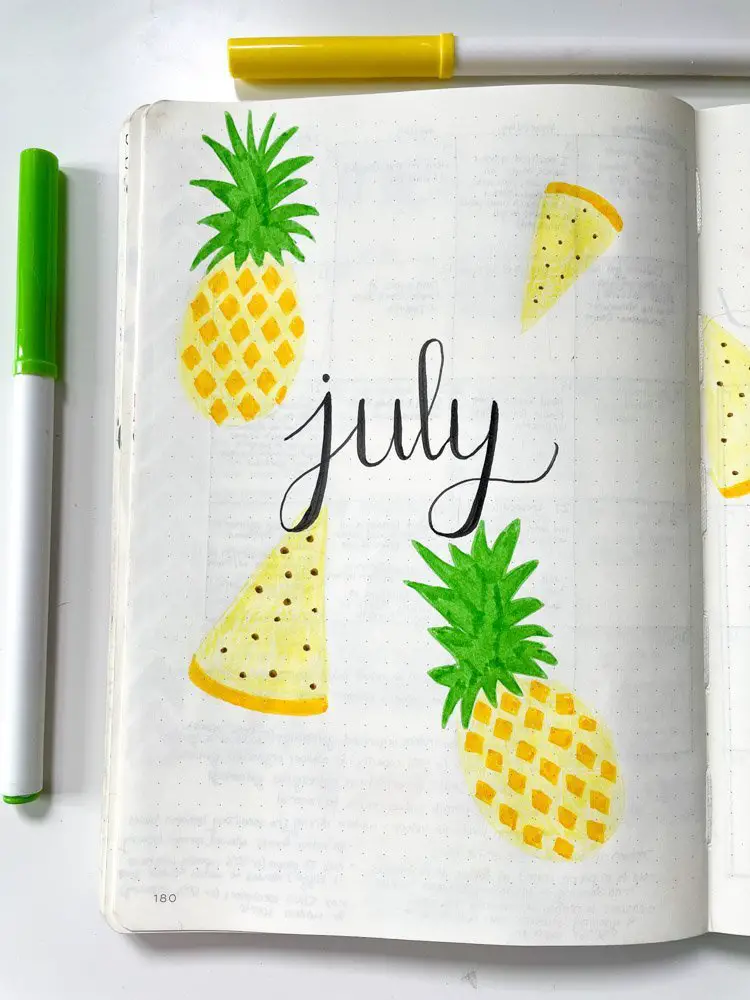 On the page opposite the cover page is where I often create a quote page. However, this month I wanted to do something different.
I drew out a mini July calendar and filled the rest of the page with pineapples and pineapple slices.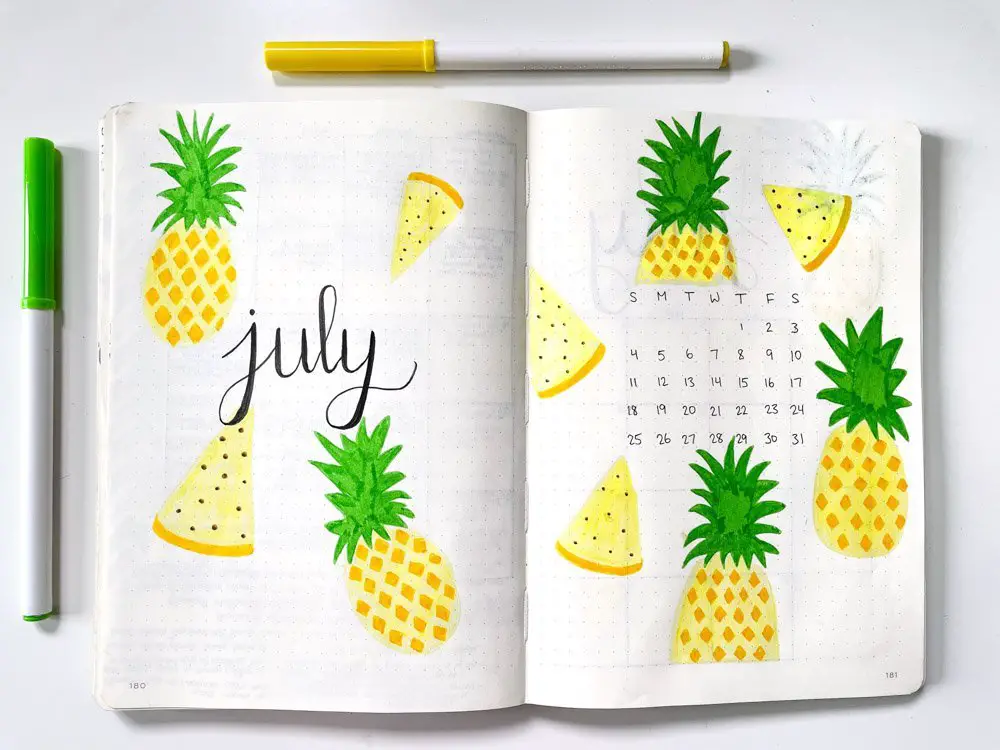 Monthly Calendar
For my July calendar, each square is six spaces wide by six spaces high. Sunday to Tuesday is on the left side of the spread, and Wednesday to Saturday is on the right side.
I kept this page pretty simple, with "july 2021" across the top and a couple of pineapples in between.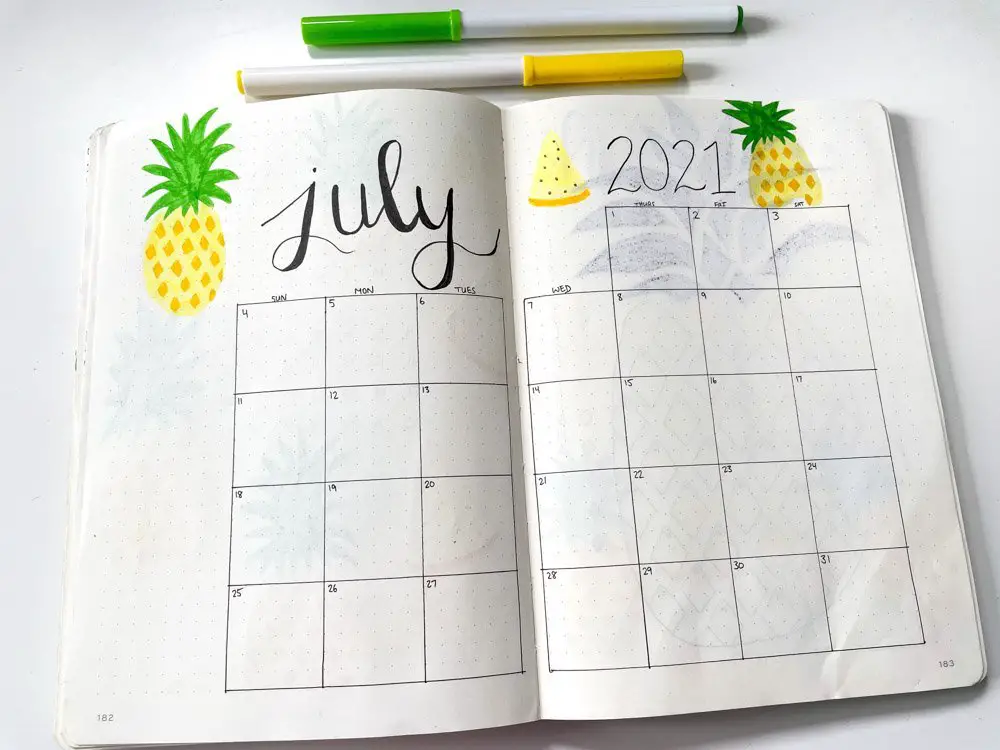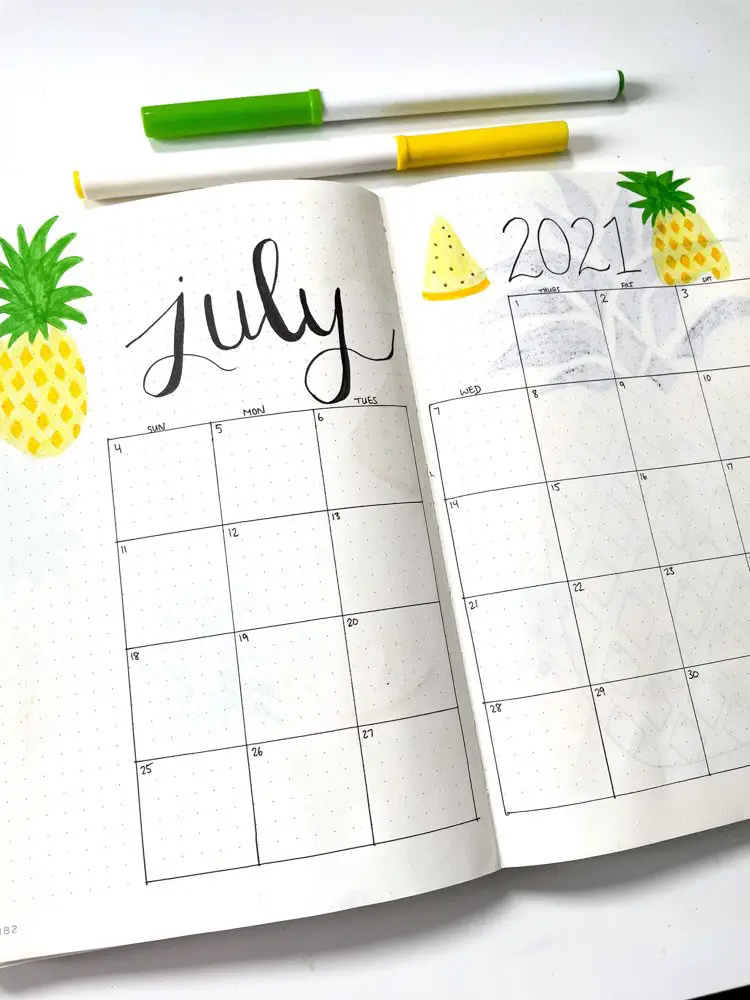 Mood Tracker
I am skipping the habit tracker this month and going straight to the mood tracker. Mood trackers are one of my favourite spreads to make every month, and this one is no exception.
I drew a large pineapple and filled it with 31 diamonds, one for every day of the month.
I coloured the top part of the pineapple black, but looking back I wish I had made the top part green. The rest of my spreads are so bright and colourful with the yellows and greens, that I think this page would have tied in better if the top had been green.
To see how this spread ends up turning out, be sure to follow me on Instagram @bujowithandrea. Toward the end of the month I will be posting the finished mood tracker!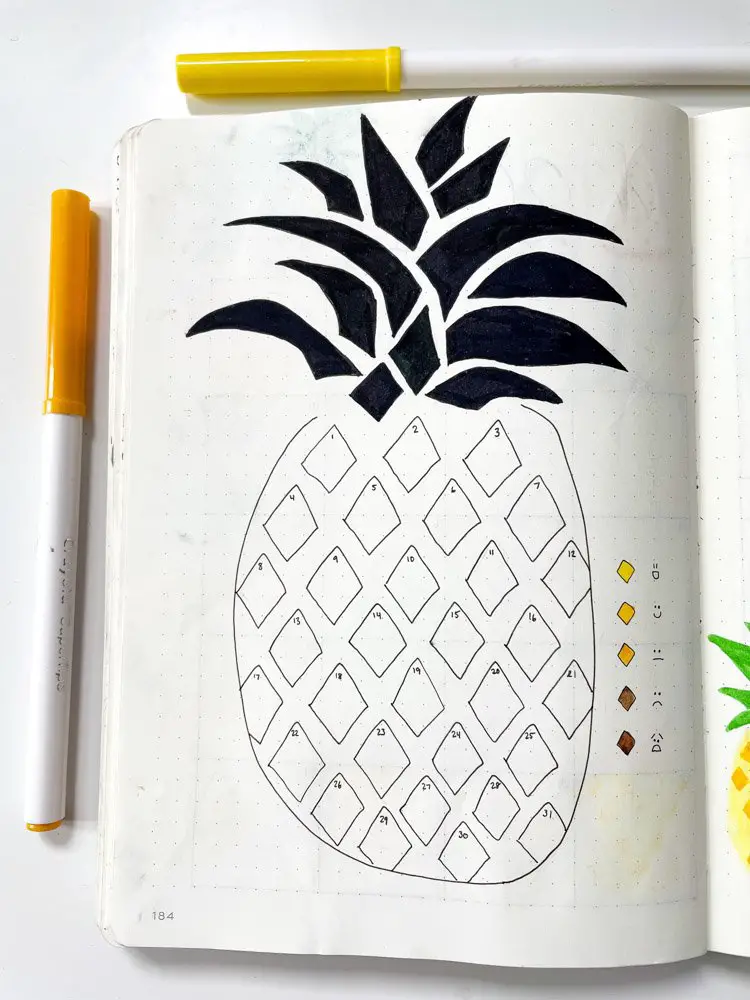 Highlights of the Day
It has been a while since I've done a highlights of the day page, and I just had to bring it back. While I always write down big events or activities in my monthly calendar spread, I love using this highlights of the day page for the smaller highlights that normally wouldn't get documented.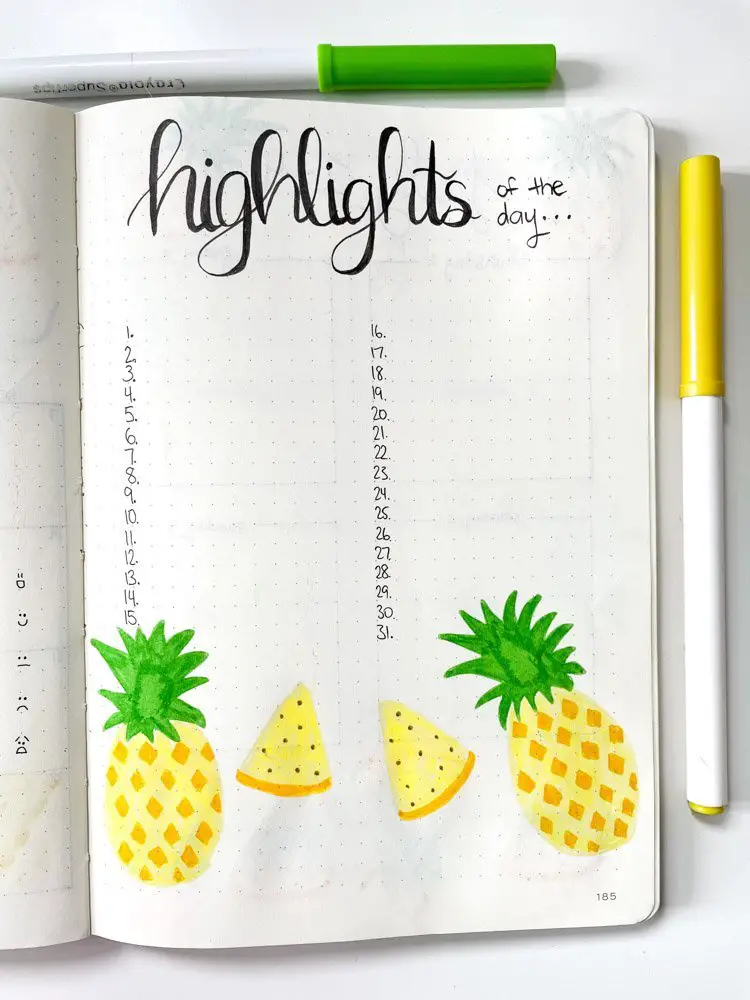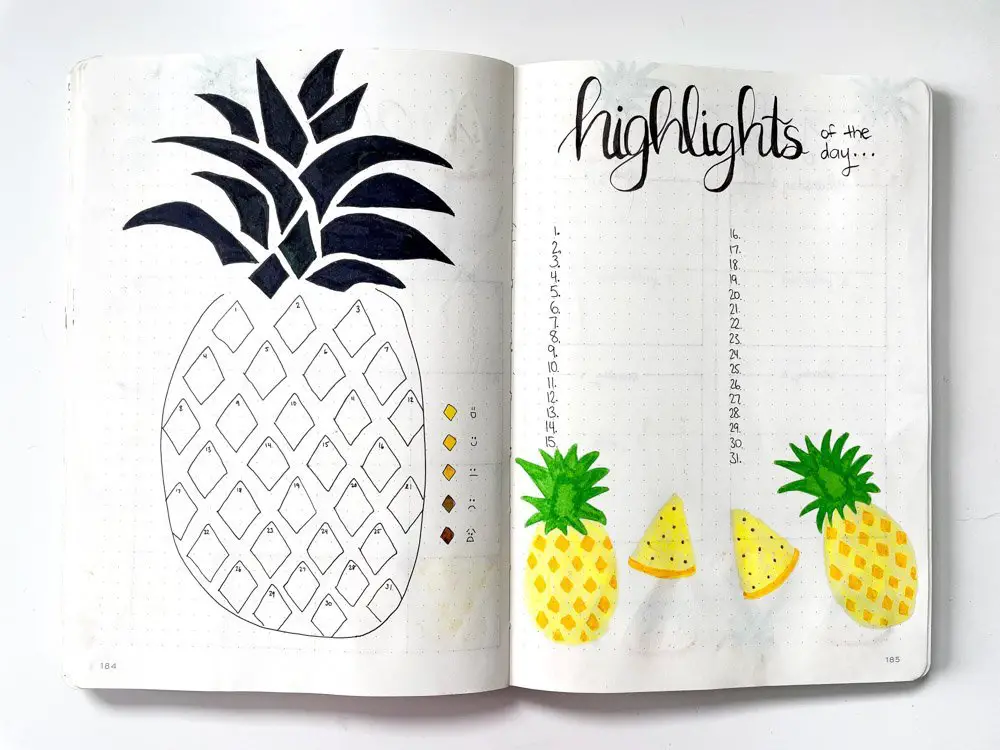 Weekly Spreads
This month, I created a variety of one-page and two-page weekly spreads. And I of course filled every page with lots of pineapples!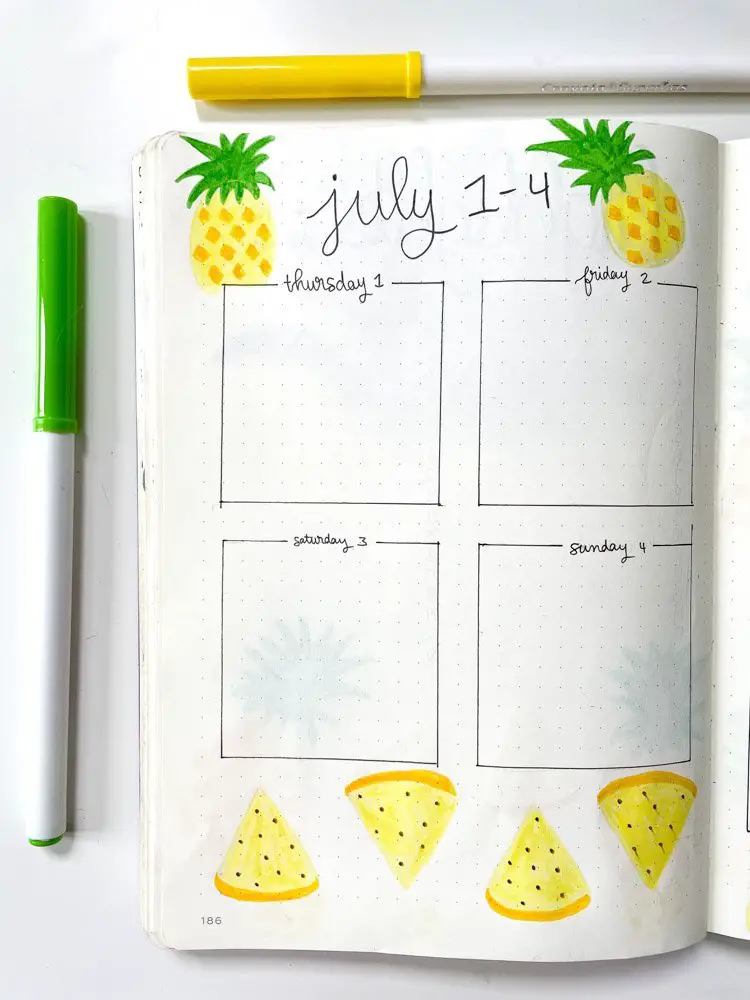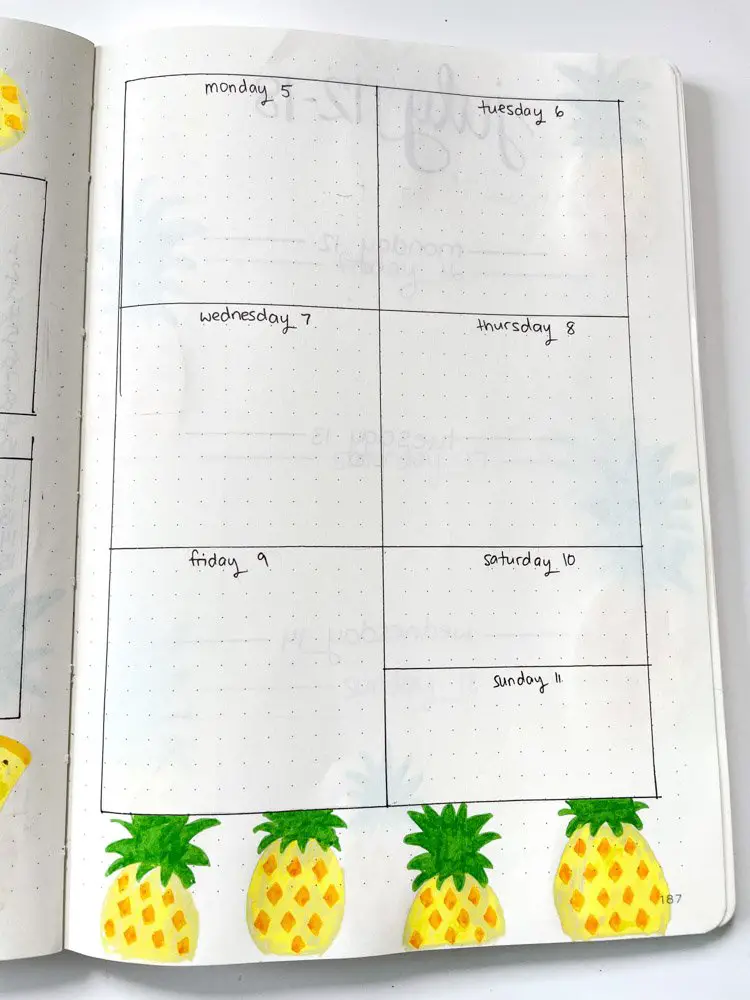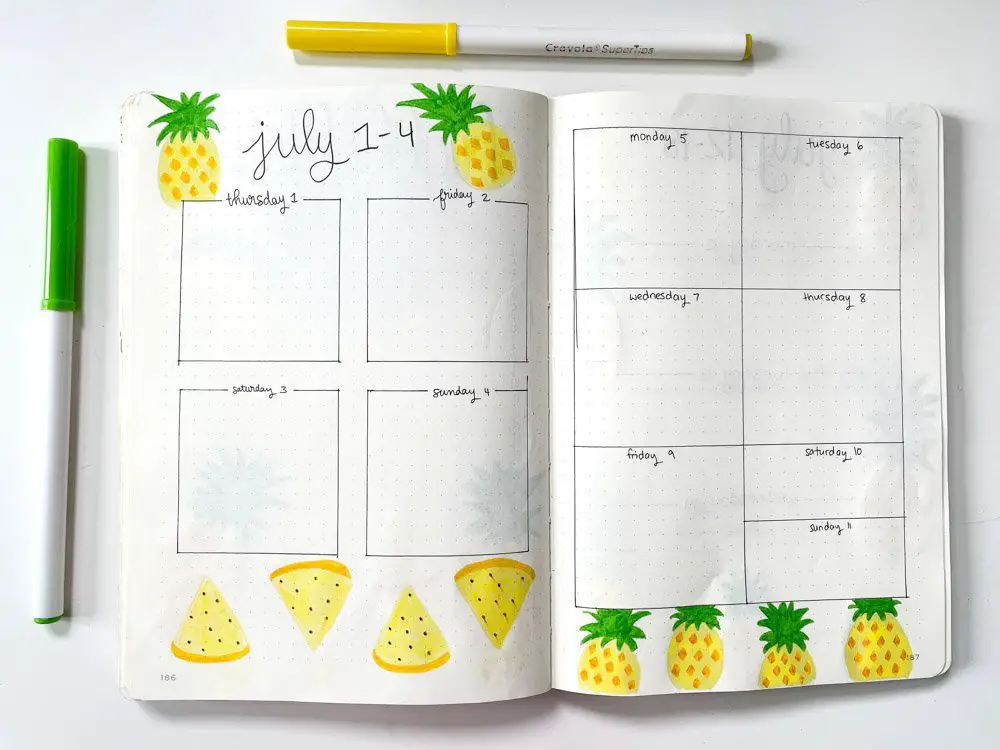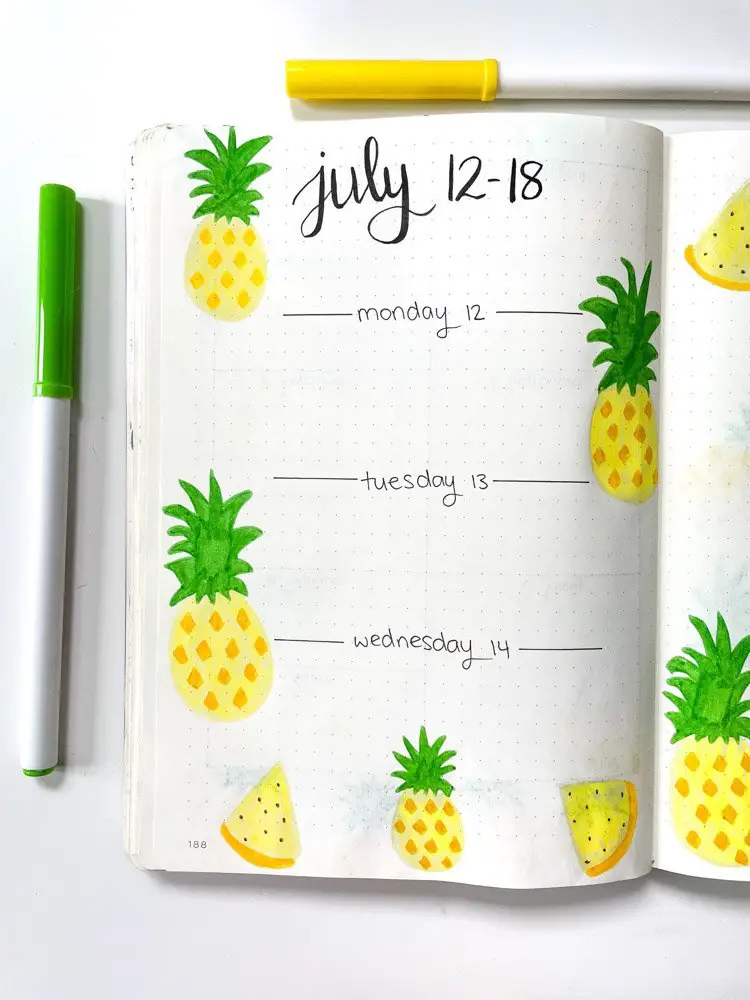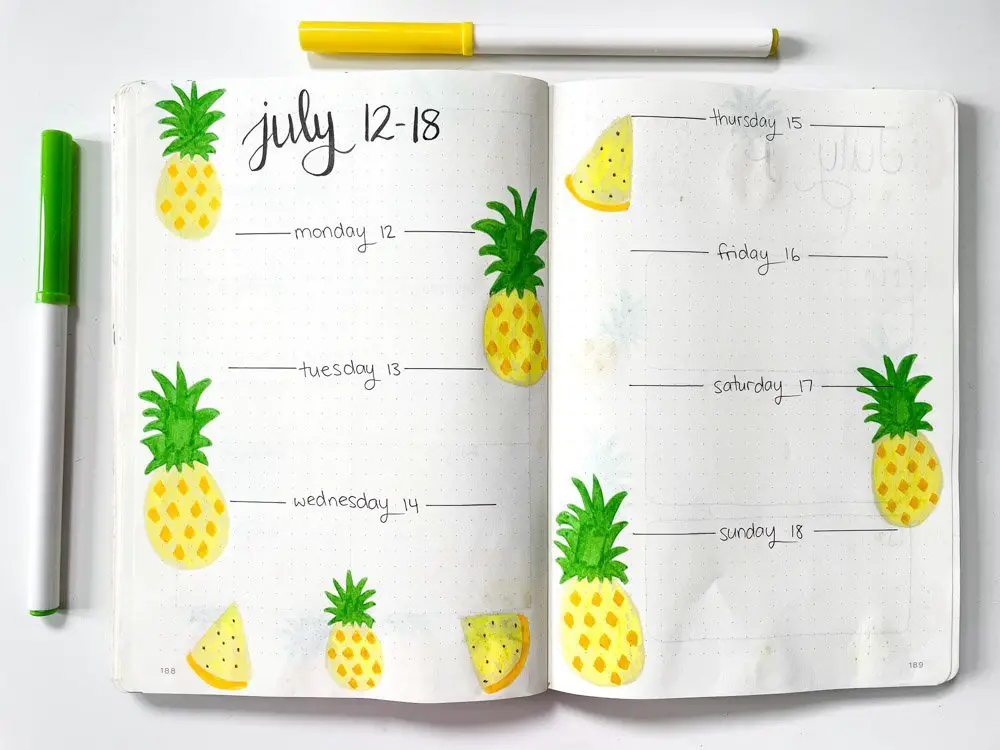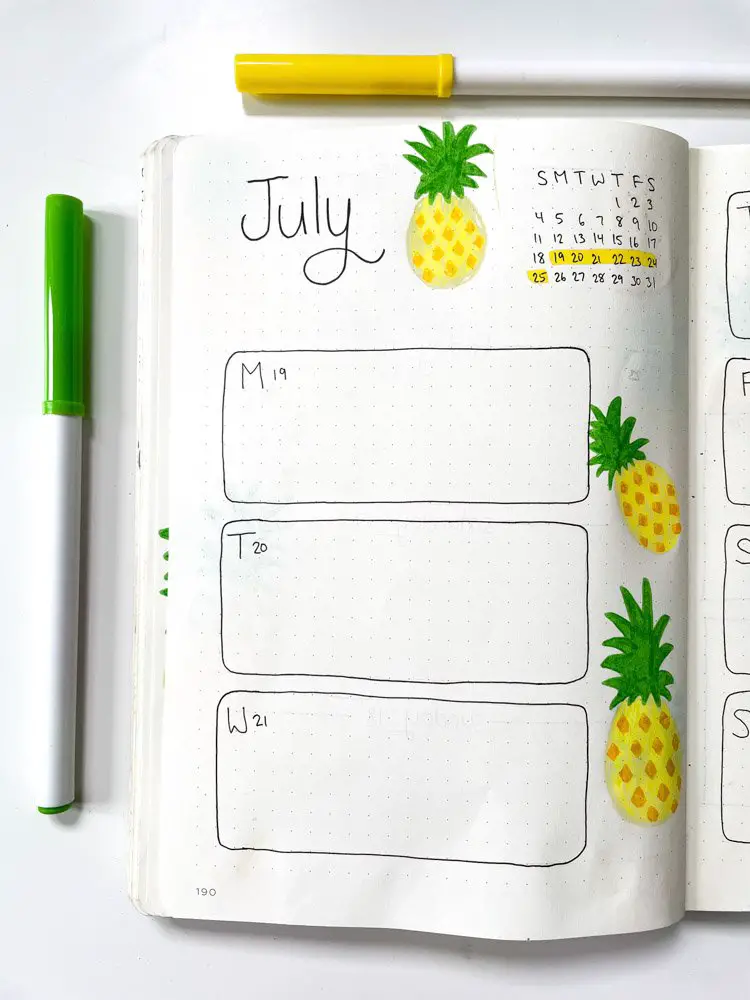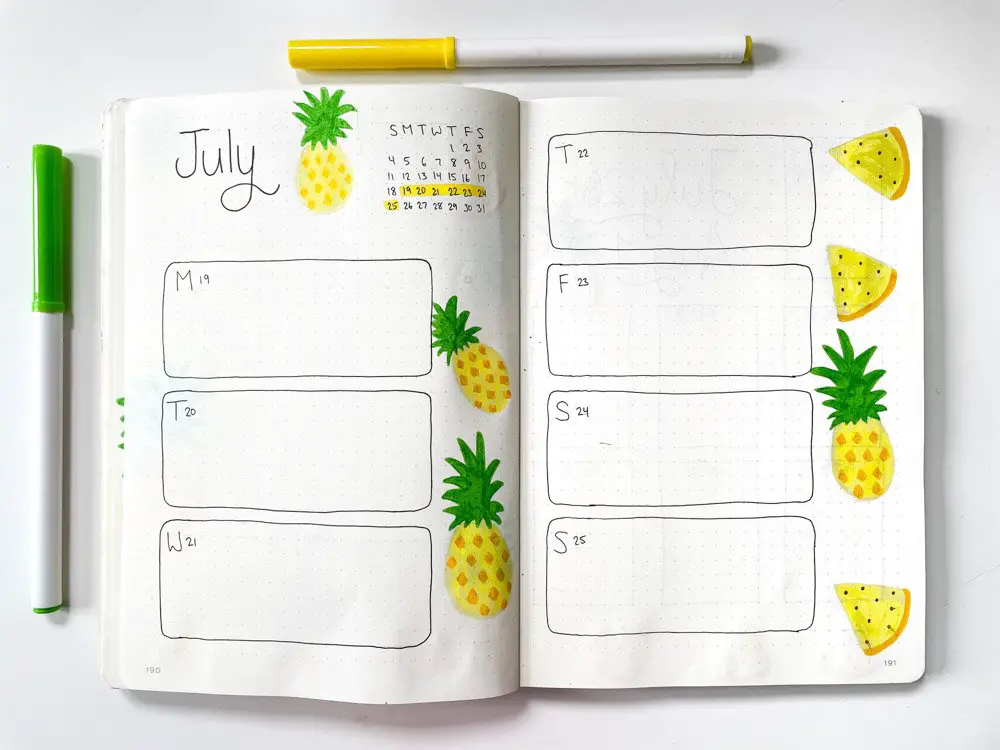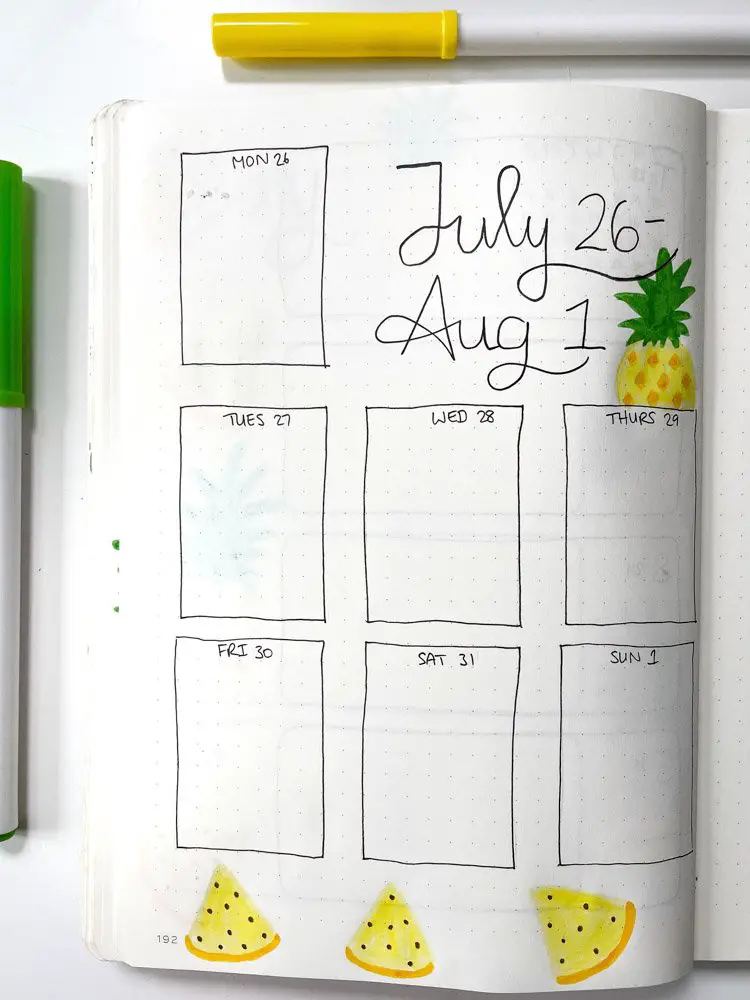 Thank you so much for reading this pineapple theme bullet journal setup for July!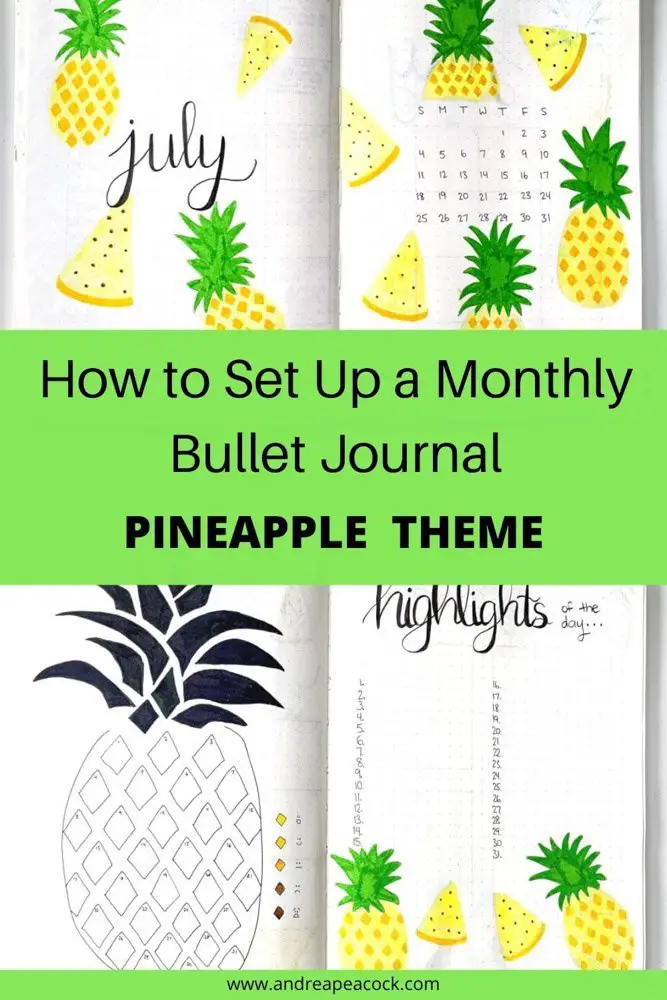 In need of some more bullet journal inspiration? Check out these posts:
May Bullet Journal Setup: Lavender Theme
April Bullet Journal Setup: Minimalist
March Bullet Journal Setup: Daisy Theme
February Bullet Journal Setup: Cherry Blossom Theme
January Bullet Journal Setup: Polaroid Camera Theme
How I Set Up My Bullet Journal for 2021
xo,
Andrea