Lisbon will forever hold a special place in my heart, because it is the first European city I ever visited in my first trip abroad. My husband and I began our Europe trip with a four-day trip to Lisbon, the capital of Portugal. This post is a run-down of how we spent our time in Lisbon (along with a day trip to Sintra).

Day 1
We arrived in Lisbon in the early afternoon, then took a taxi to our Air BnB.
TIP: Had we known Lisbon had Uber at the time we probably would have taken that instead. It's so much nicer to pay through the app rather than having to worry about cash and wondering if the taxi is overcharging you or not.
After checking in and unloading all our stuff, our first stop was Martim Moniz, which is a small square in Lisbon. We then walked to Rossio Square (see below), which is the main square in Lisbon.
Next up was Praça do Comércio, AKA Commerce Square, near the Tagus River.
After walking along the water a bit, we found some delicious gelato at a shop called Natur Ice.
Then we walked to a famous sardine shop called Mundo Fantastico da Sardinha Portuguesa. It is filled with thousands of colourful cans of sardines. Each can is labeled with a year on it, along with a couple of famous people born that year and something big that happened that year. We didn't buy anything, but it's a fun place to visit.
Day 2
One of my favourite ways to see a city is from up high, looking down over it. The hike up to this lookout spot, Miradouro da Nossa Senhora do Monte, was no joke though. We walked up a super long, steep staircase to get here, but there's also a road that goes up there, which is the way we went down. Once we got to the top and saw all the terracotta roofs, I was speechless. What a perfect view over the city, and a great way to kick off our first full day in Lisbon.
Our next stop was Castelo de Sao Jorge. I'm so glad we got there in the morning, because we didn't have to wait in line at all. Afterward when we came out and were having lunch next door, the line was huge, and everyone was waiting in the hot sun. The grounds of this castle offer amazing panoramic views over Lisbon. There isn't a lot to see here except the view though, so keep that in mind if you're thinking about visiting.
Next up was lunch at The World Needs Nata, which is a cute little place next to Castelo de Sao Jorge. I highly recommend this place! We had a pastel de nata, which is a famous Lisboan sweet egg tart, and we also had a meat pie and a spinach pie (seen in the top right of the photo), all of which were delicious!
We then made our way over to the Church of Santa Engráci, which was converted into the National Pantheon. Unfortunately, because it was a Monday, it was closed.
TIP: Many churches seem to be closed on Mondays, so keep that in mind when planning your itinerary.
I had heard about LX Factory, and how that is the place to find the best chocolate cake in the world, so of course we had to go! I definitely wish we took an Uber though, because that was one long, hot walk. It was all worth it for that chocolate cake at Landeau Chocolate though! So creamy, so smooth, so good.
Besides the cake, LX Factory is a really cool area to explore. It is much different than everywhere else we had been in Lisbon because it has more industrial. It is a former fabric production plant that has been turned into a trendy area with lots of restaurants and shops.
Day 3
On day three in Portugal, we took a day trip to the beautiful town of Sintra, which you can read all about HERE.
Day 4
One of the most popular things to do in Lisbon is to ride Tram 28. I wish we had woken up earlier that day, because we must have waited in that line for the tram for two hours. It was fun, but in my opinion it didn't quite live up to all the hype, especially after having to wait for so long. I still recommend you do it, but if it's a busy time of year, wake up early! We got on at Martim Moniz and rode it to the end, Campo Ourique.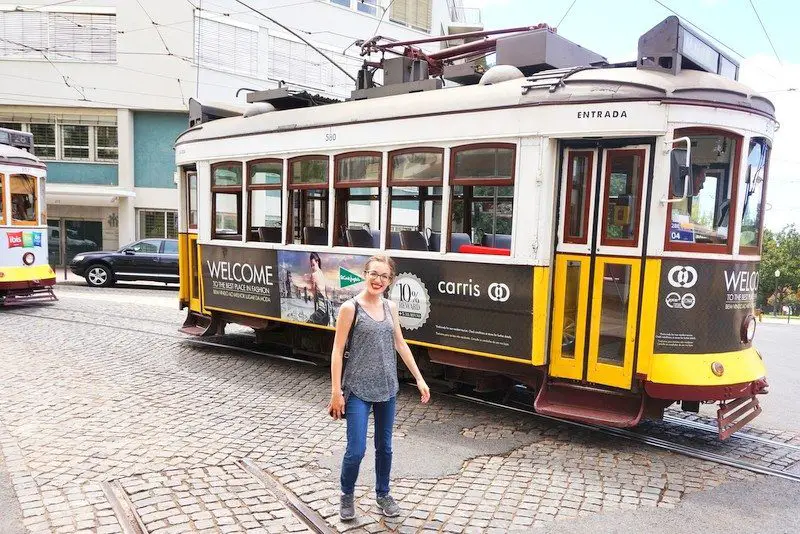 After getting off the tram, we explored and walked around different neighbourhoods. One of the places we had to see was elevador da bica. This is a really famous, super steep hill that one of the trams goes up and down. a popular photo stop!
Next on the list, was the famous pink street, which you will find on Rua Nova do Carvalho. This is apparently Lisbon's former Red Light District that they painted pink as part of a revitalization project.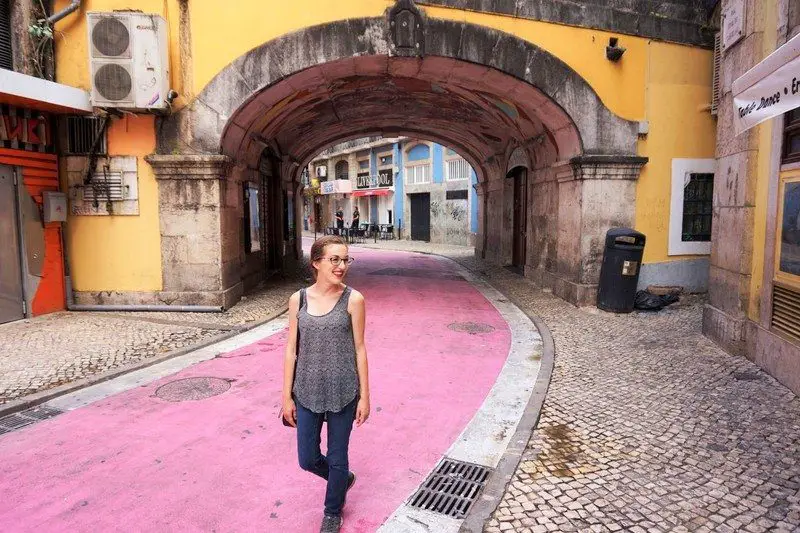 We could not have left Lisbon without another piece of Landeau Chocolate cake. Luckily, they have another location on Rua das Flores. The obsession is real.
And that's all for our Lisbon itinerary! Overall, i had a great time in the city, and it was the perfect start to our European adventure. Have you ever been to Portugal? What was your first European city?
Is Lisbon on your travel wishlist? Save this post to Pinterest!
Check out these posts next:
Taking a Day Trip to Sintra, Portugal
Spending 1 Day in Malmö, Sweden
Visiting Hamlet's Castle in Helsingør, Denmark
xo,
Andrea
Follow Me!
Instagram | Pinterest | Twitter | Facebook | Bloglovin