Welcome to May! This is going to be a busy month for me. I have lots of fun YouTube videos coming up, and I will also be preparing to move! Luckily it's not far, only a few minutes away, but moving is always a lot of work. I do appreciate the opportunity to go through everything and get rid of things though! This month, I created a lavender theme bullet journal setup. I also tried out a new habit tracker and some different weekly layouts. Keep reading for some bullet journal inspiration!
Lavender Theme Bullet Journal Setup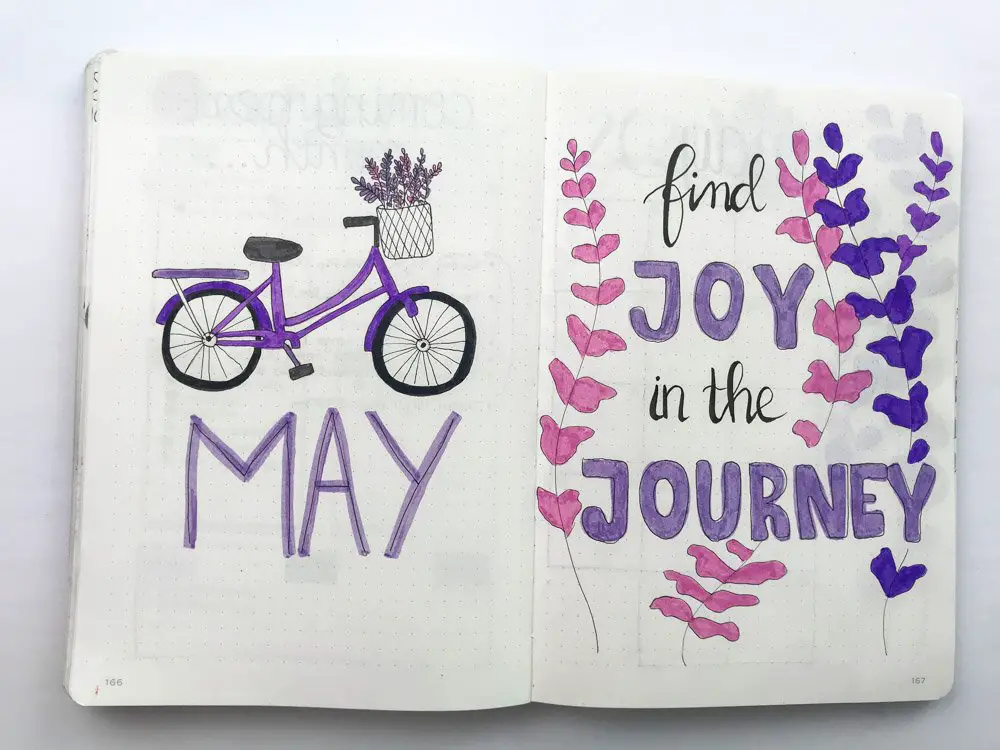 Some of the links below are affiliate links. If you choose to make a purchase, I may receive a small commission, at no extra cost to you. Thank you for your support!
Bullet Journal Supplies

Cover Page
Even though I'm doing a lavender theme this month, I wanted to do something more than just a bunch of lavender for my cover page. The rest of my pages are filled with so much lavender, so I think it's fun to switch it up a little bit. On this page, I drew a purple bicycle with a basket filled with a bunch of lavender.
Underneath the bicycle I wrote out the word May with a Crayola supertip marker, then went over it with a black fine tip marker.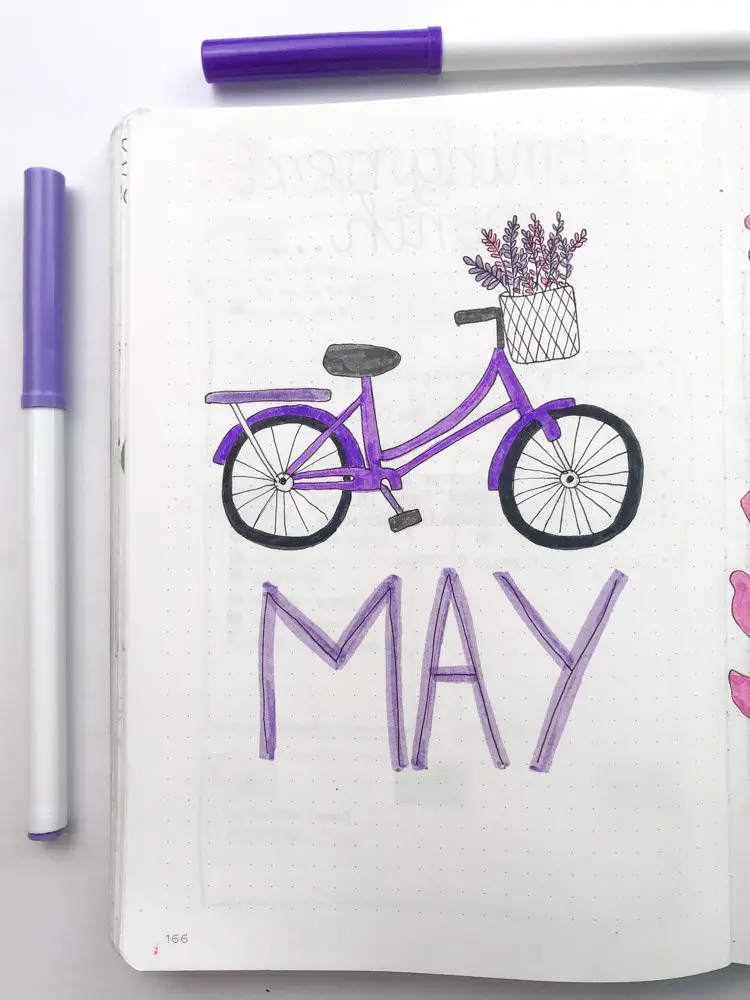 Quote Page
Find joy in the journey.
This quote goes along more with the bicycle on the cover page versus the lavender theme, but I thought it was a cute quote. I did a mix of script font and block lettering, and filled the sides with lavender.
Monthly Calendar
I ended up doing the same layout for the May monthly calendar as I did for April because I really liked it. I always do two-page monthly calendar spreads because I like to use all the squares to write down important or memorable things that happen throughout the month.
If you like to use calendars as more of a month-at-a-glance tool, then you could do a one-page spread.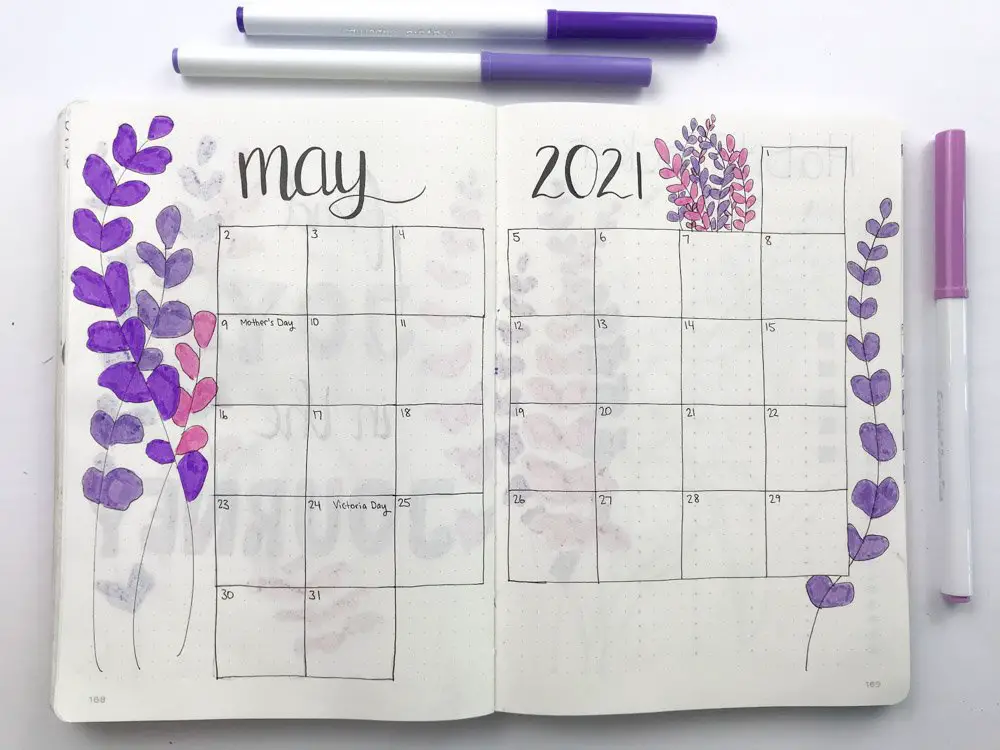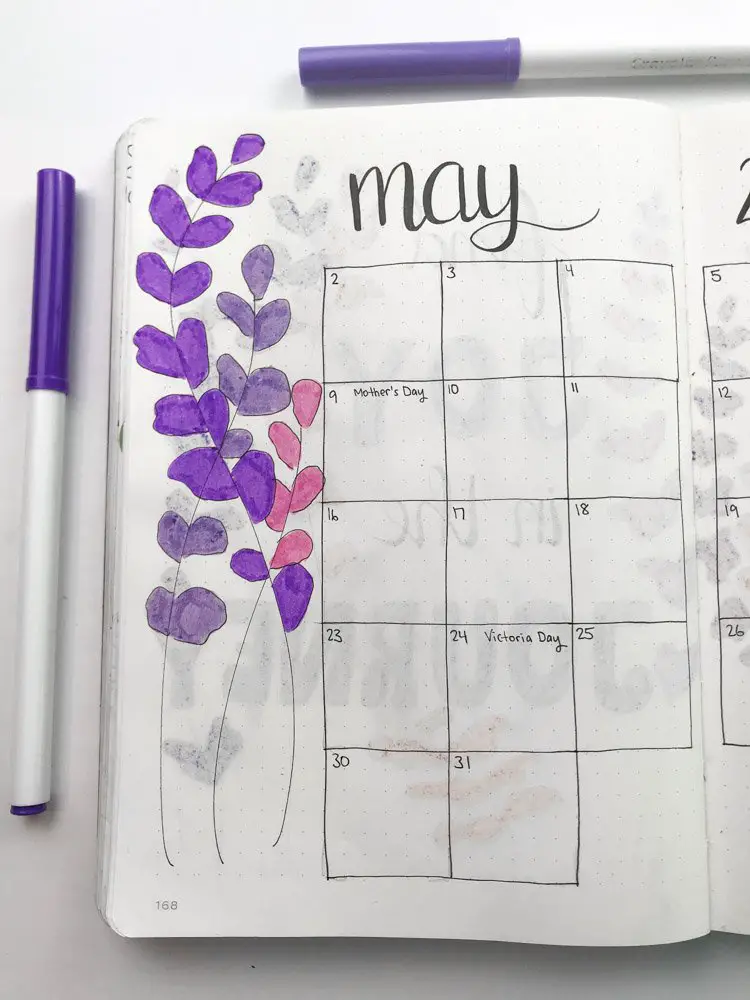 Habit Tracker
This is a brand new habit tracker layout for me this month. I spotted this layout when I was scrolling on Pinterest, and now I cannot remember whose it was!
This month I am tracking four habits: reading, working out, physio and walking 6,000 steps.
I wrote out the numbers 1 to 31 down the side of the page for each day of the month, then wrote out each habit across the top.
For each habit and each day of the week, I drew a small black dot. You could leave this part out and use the dots as your tracker, but I am going to make a larger purple dot overtop of the black dots whenever I complete a habit.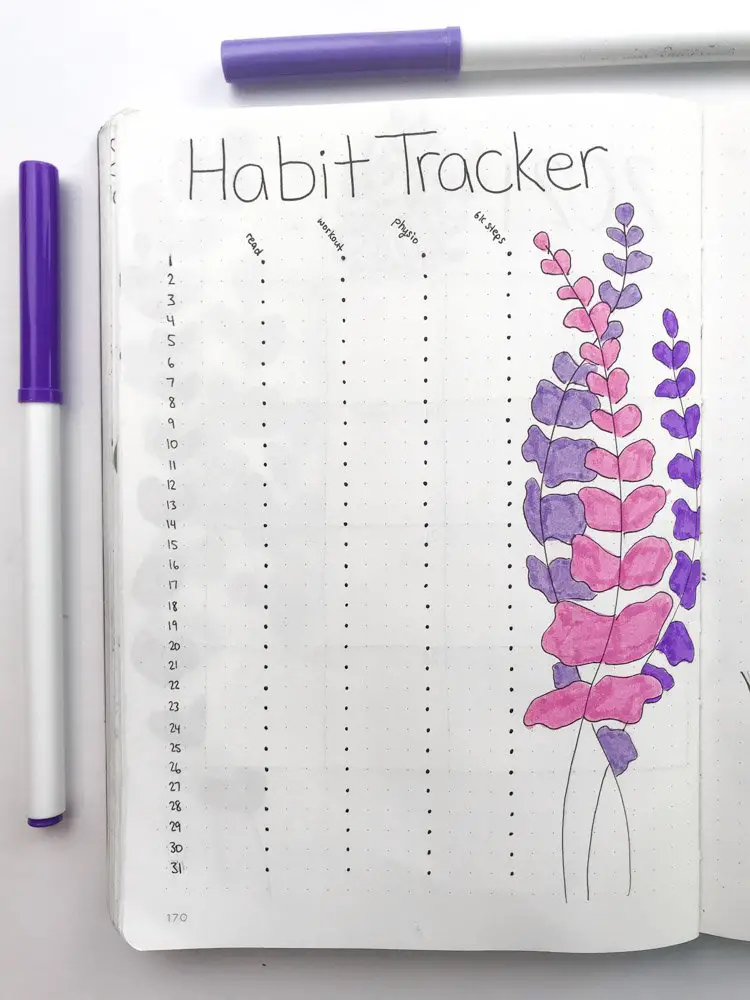 Mood Tracker
For my mood tracker this month, I drew two large lavender stems, with one petal for each day of the month.
I then added a legend on the side, denoting which colour represents which mood.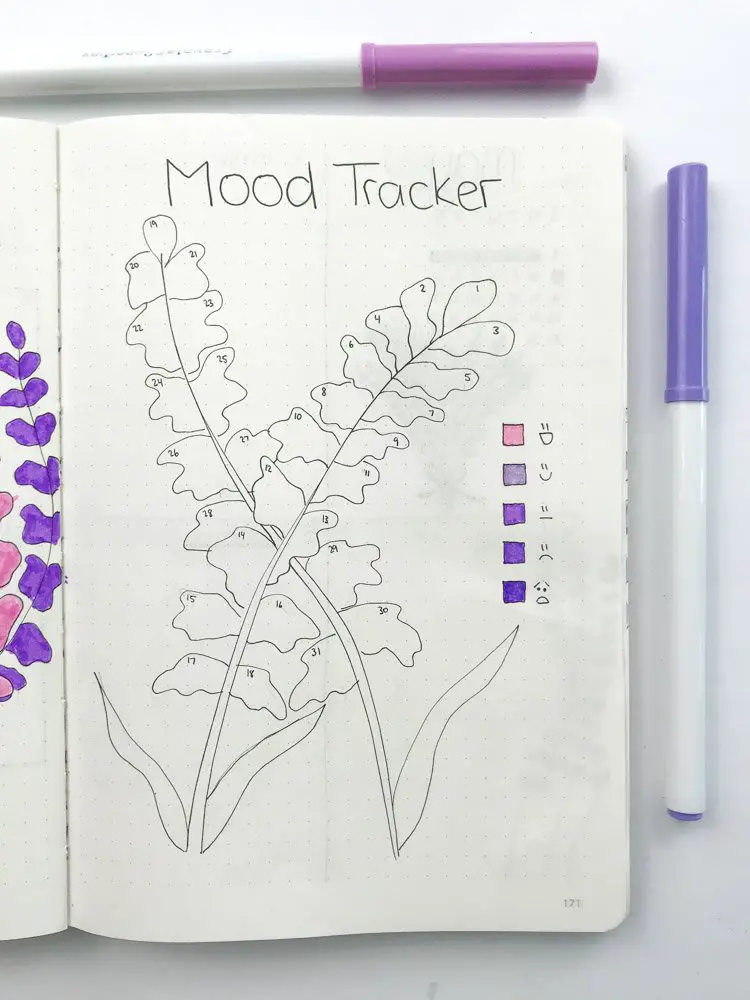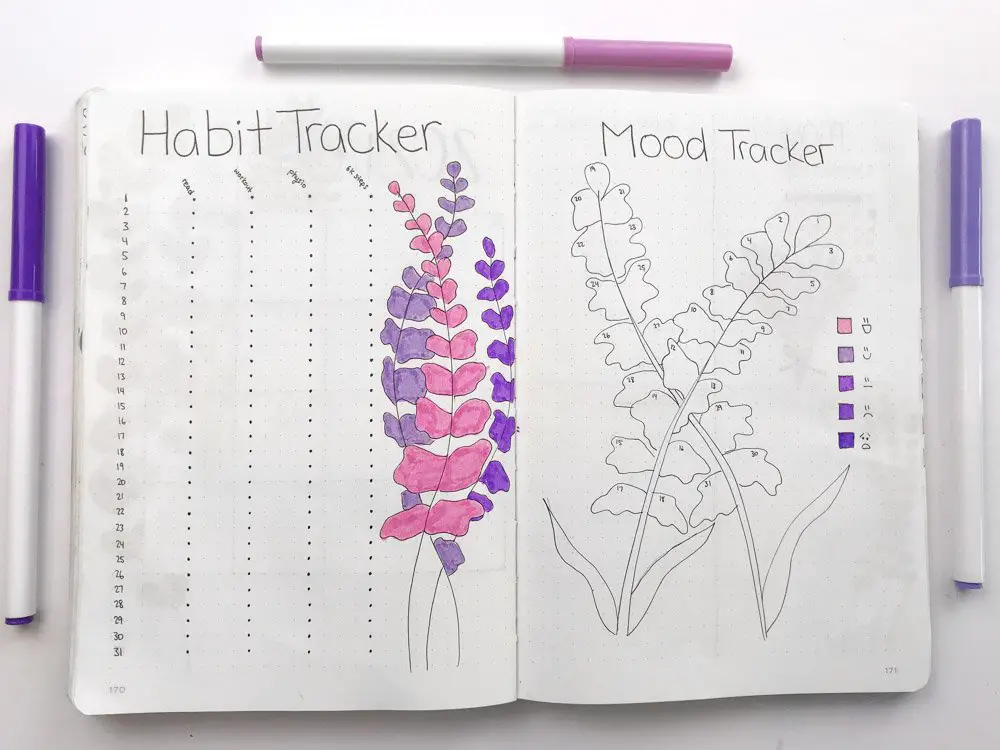 Weekly Layouts
For the month of May, I made four weekly spreads. I like to mix up the weeklies into one-page and two-page spreads each month. This time around I made the first two weeks two-page spreads, and the last two weeks are one-page spreads.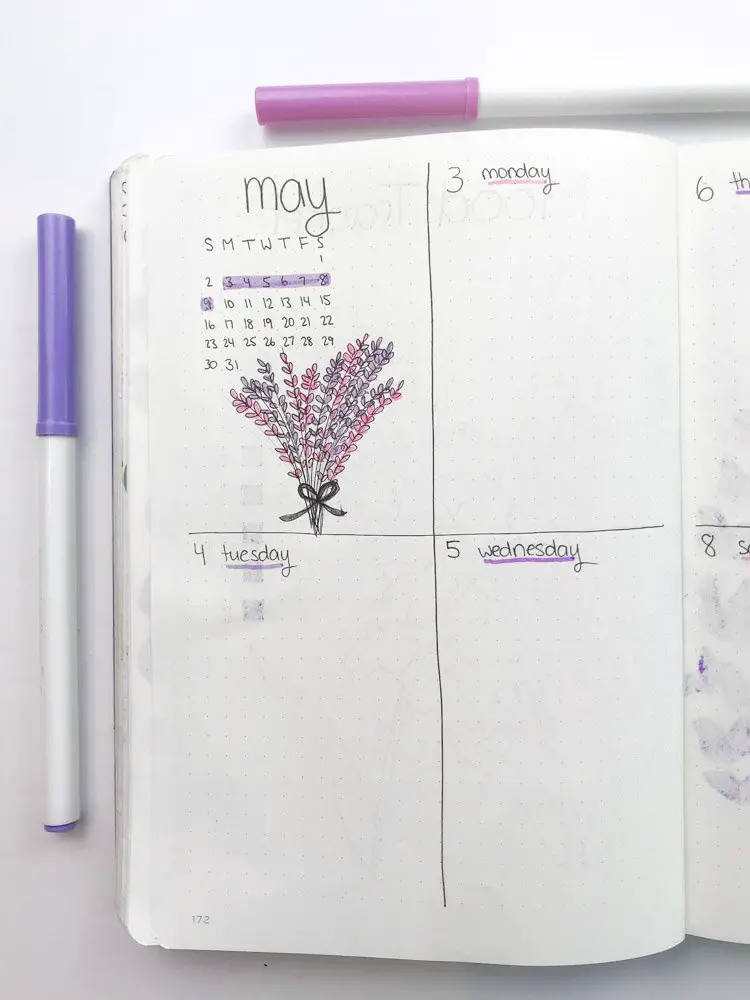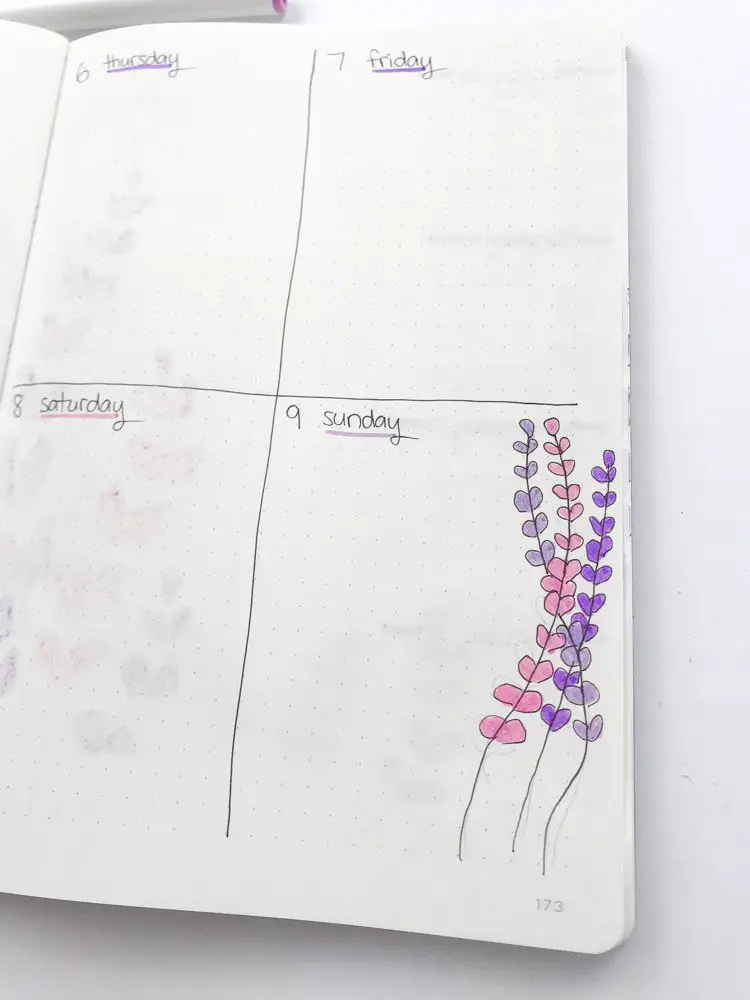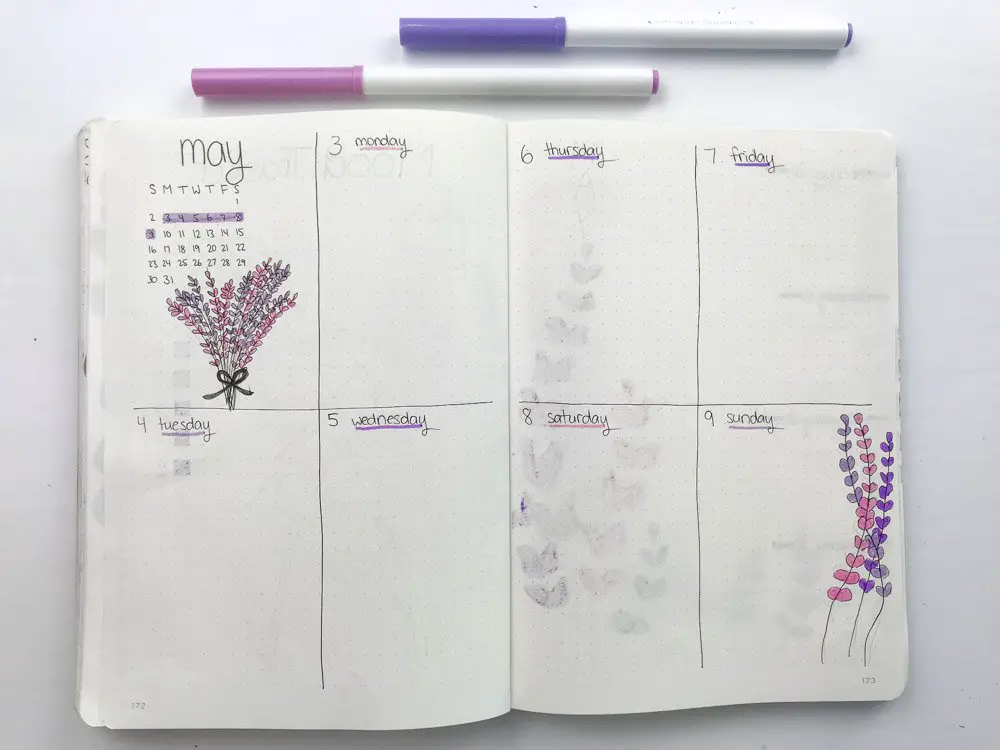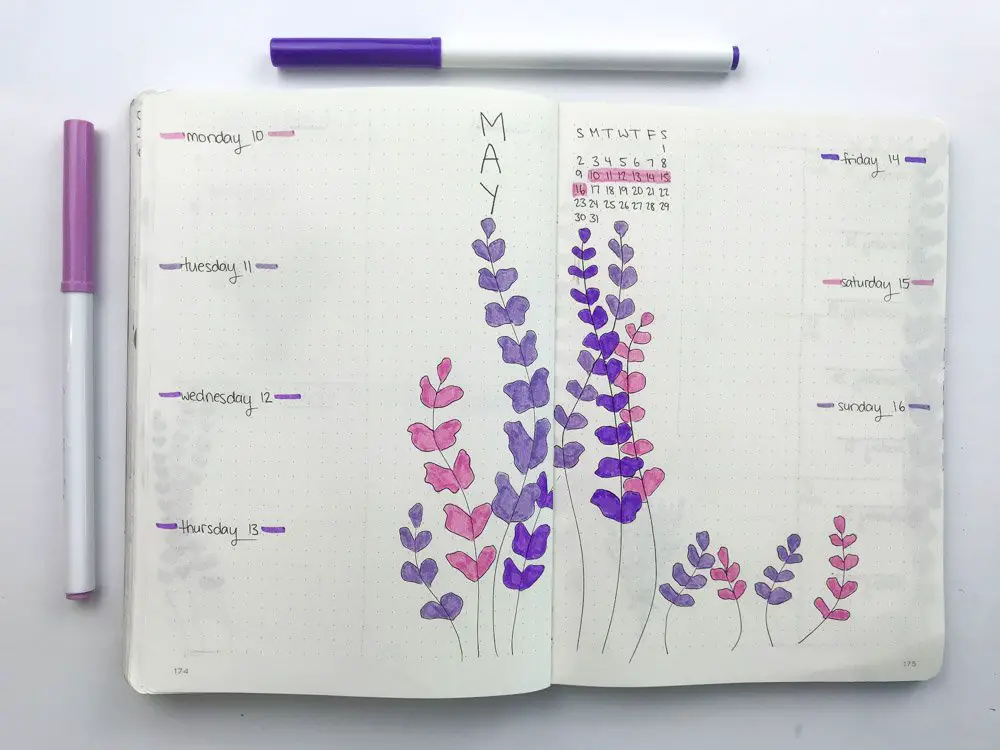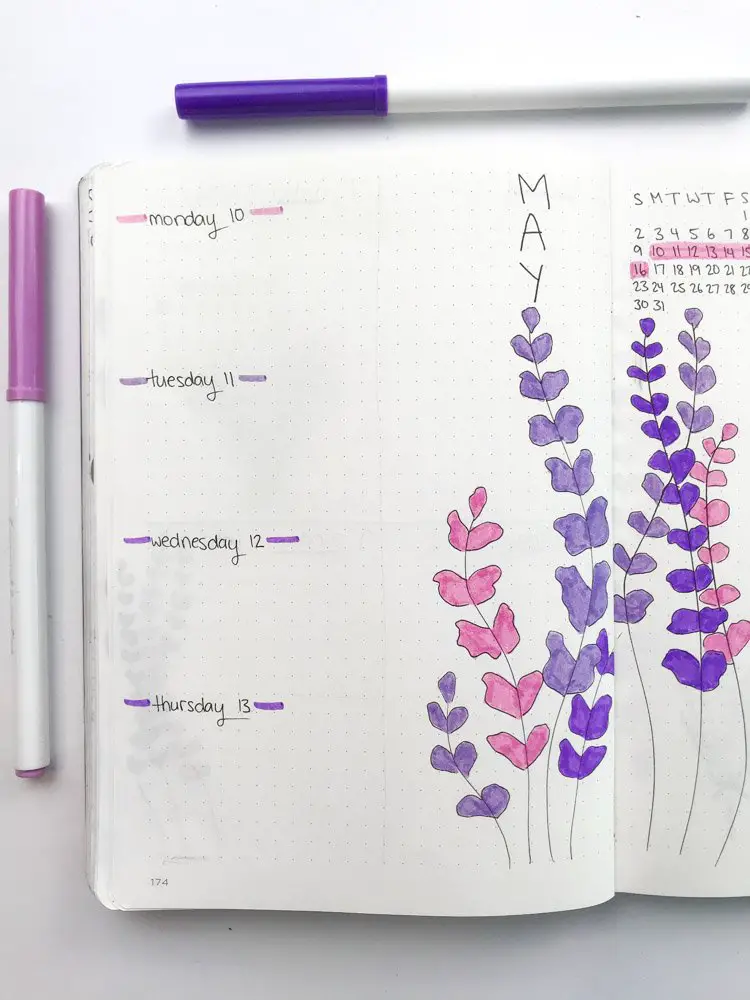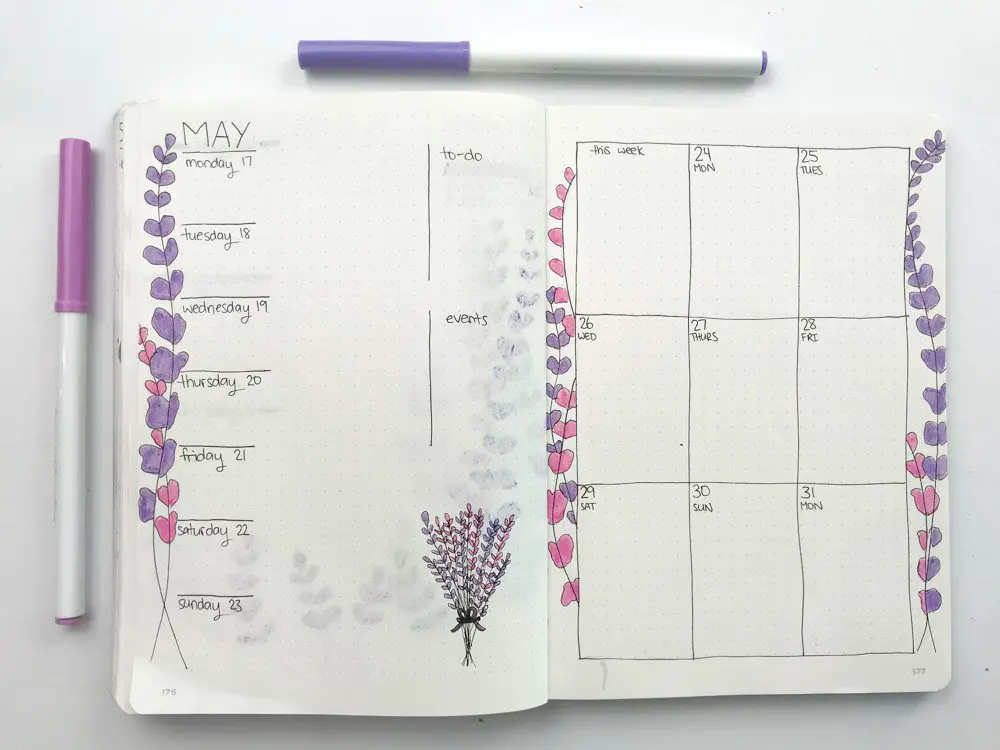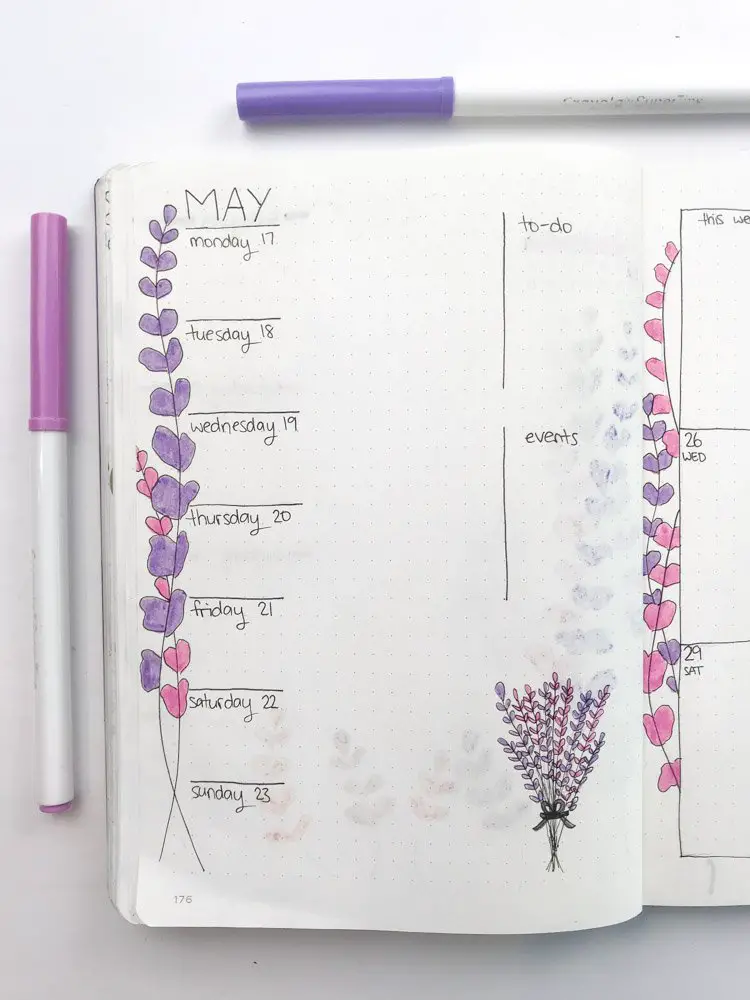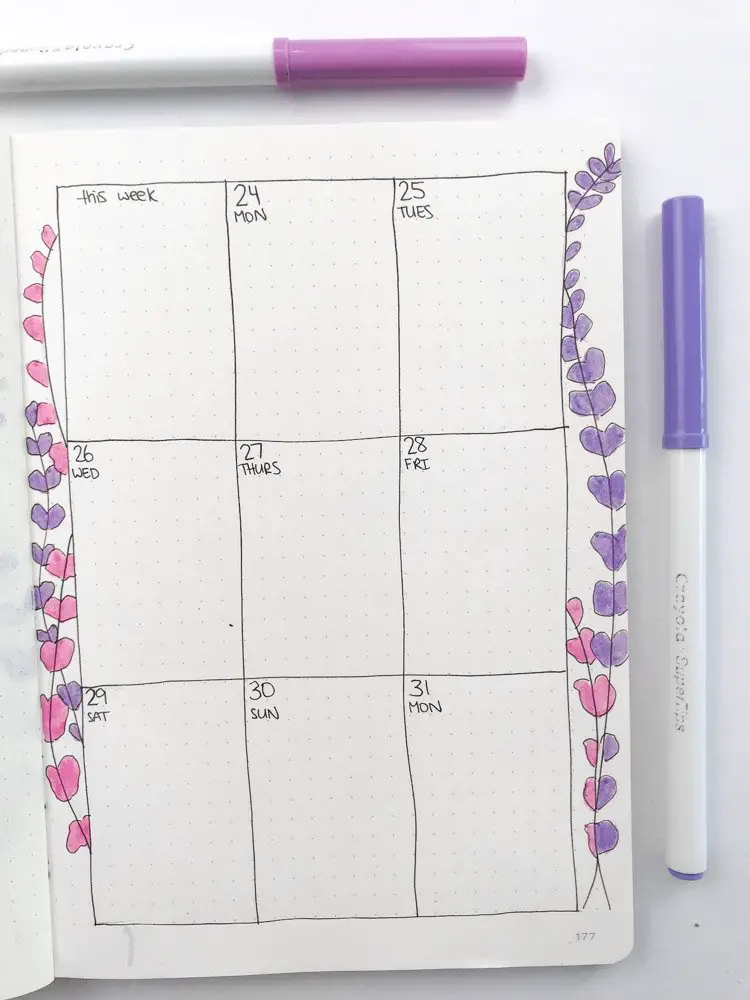 Thank you so much for reading this lavender theme bullet journal setup for May!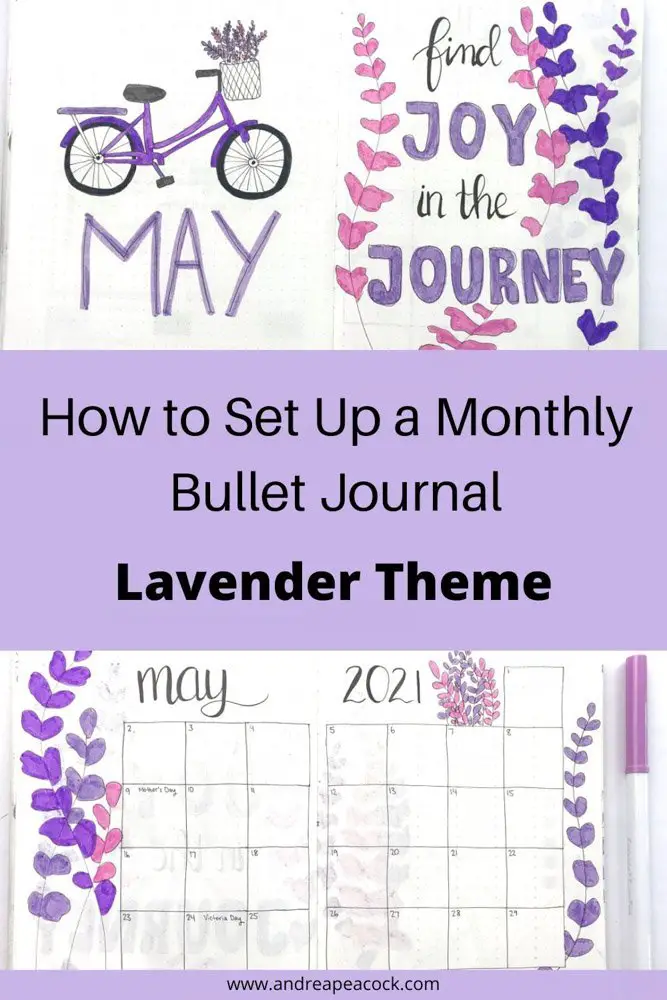 In need of some more bullet journal inspiration? Check out these posts:
April Bullet Journal Setup: Minimalist
March Bullet Journal Setup: Daisy Theme
February Bullet Journal Setup: Cherry Blossom Theme
January Bullet Journal Setup: Polaroid Camera Theme
How I Set Up My Bullet Journal for 2021
xo,
Andrea