My husband and I moved into our current apartment in Vancouver at the beginning of August, and lately I have been decluttering and reorganizing some of the spaces that have gotten disorganized over the past few months. In my last post I shared my bathroom organization project, and today I am tackling a dollar store pantry organization. I purchased several things from the dollar store for this pantry makeover, and I also used a couple of items I already had. Keep reading for tips and tricks on organizing your kitchen pantry on a budget!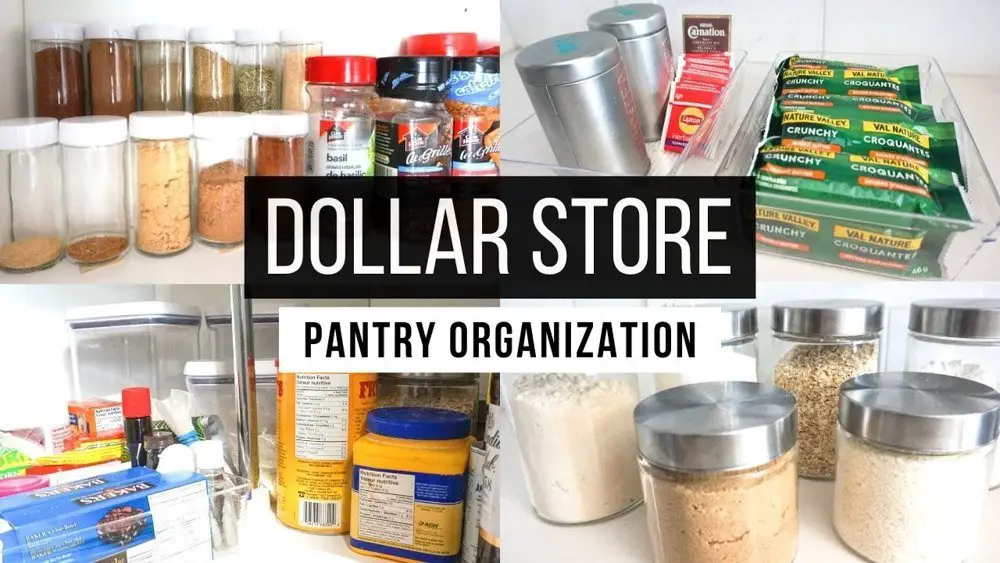 Watch the Video
Check out the video below to watch as I organize my kitchen pantry using supplies I found at the dollar store! I used items from Dollar Tree and Dollarama, and I am so happy with how it turned out!
Be sure to subscribe to my YouTube channel for more organization and DIY videos!
To see how I customized my pantry containers and spice jars, check out my post on making DIY pantry labels with my Cricut.
Before
The following photos are what my kitchen cupboards looked like before I started the organization project. The main issue was my spice shelf. These shelves are very high for me, making it difficult to find what I am looking for. I also had several spices in bags, which I think get even more disorganized than spice jars.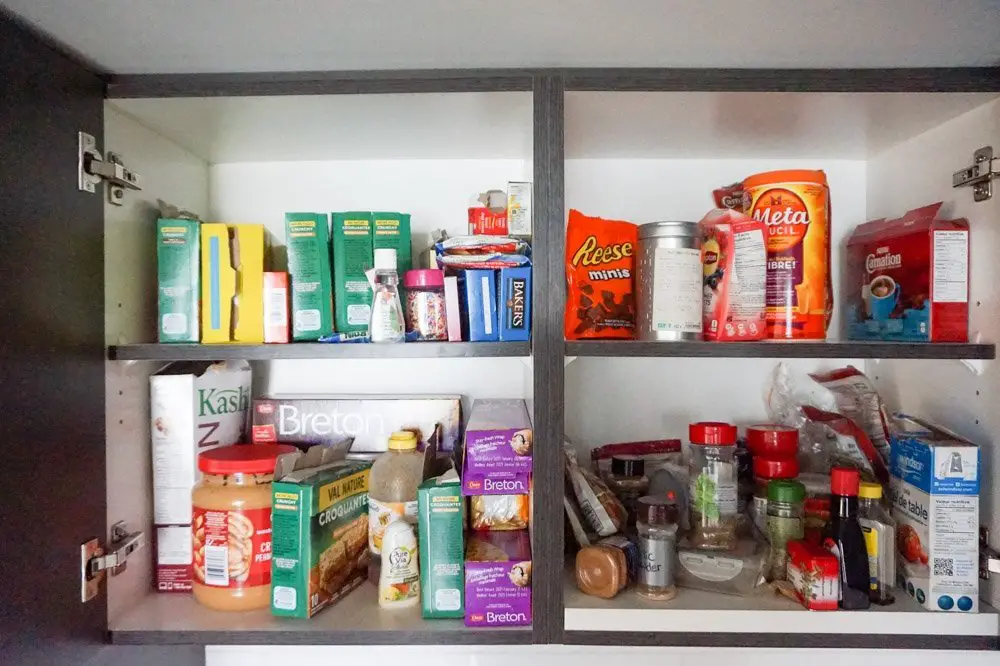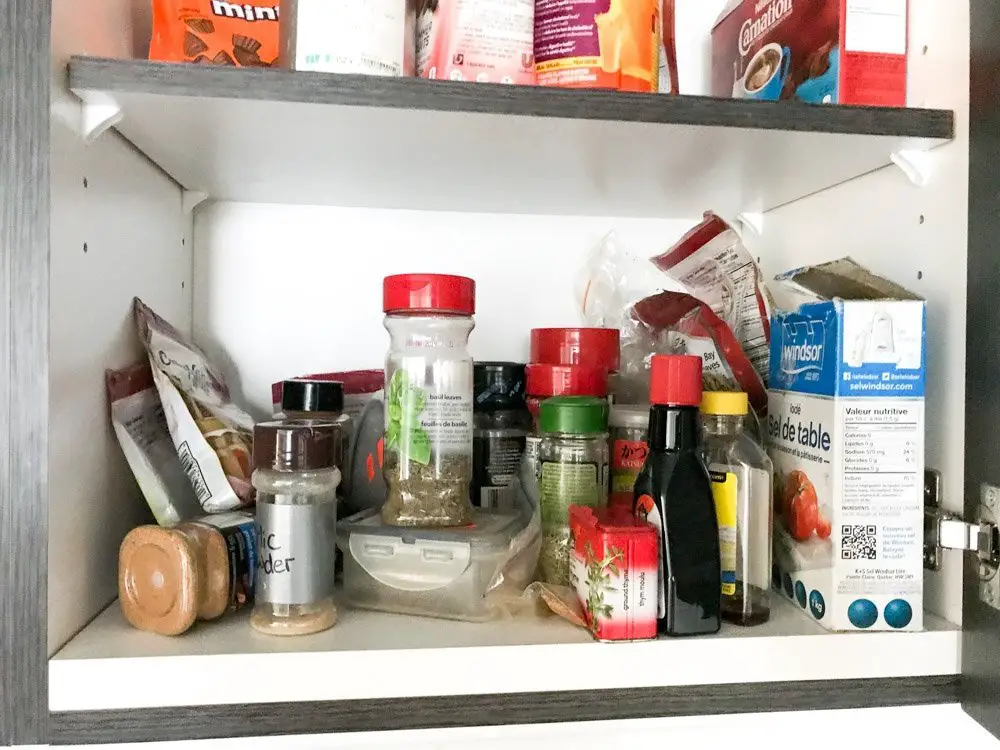 In this kitchen organization project, I am also tackling this corner cupboard, where I have baking supplies, pop and extra food. I had so many things stuffed in this cupboard that the lazy Susans barely even spun around!
After!
I bought these clear glass spice jars from Dollarama, and I love them. There were three jars in a pack for $1.25. Each jar comes with a shaker lid and a twistable lid to go on top. I chose to leave the shaker lid off for most of the spices, but I did put it on for the cinnamon.
I have not gotten proper labels for the spice jars yet, so I made makeshift ones on the bottom of each jar using duck tape and a Sharpie.
To make it easier to find the spices in the cupboard, I made a DIY riser using an empty cracker box. I covered the cracker box with a white piece of paper and taped it in place. This was such an easy, inexpensive way to create an upscale-looking spice cupboard. I think having one row of spices above the other will make it a lot easier to find what I am looking for.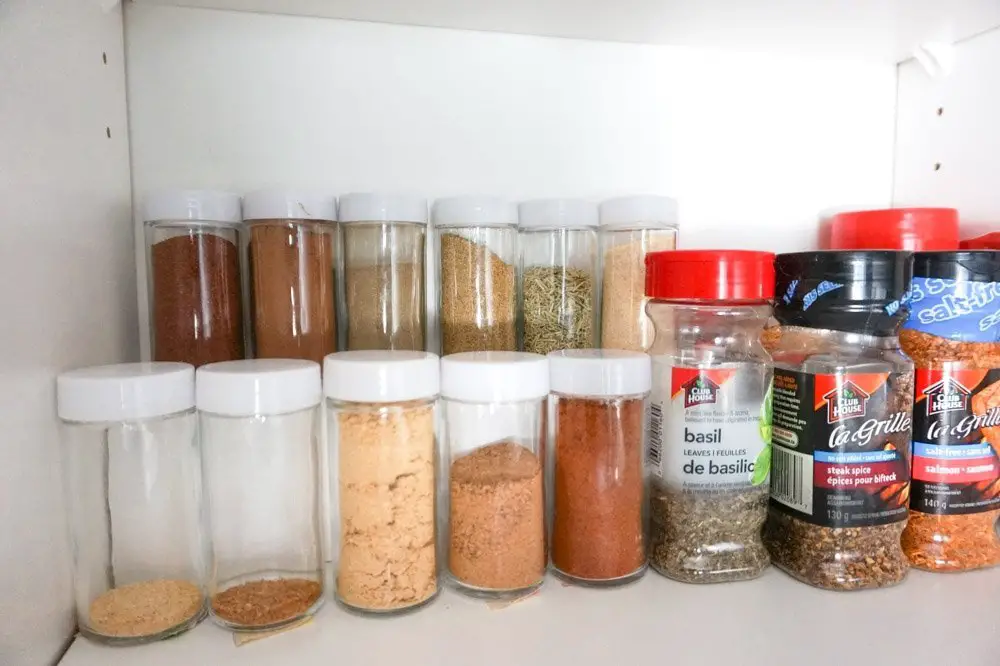 The clear plastic containers shown below are from Dollar Tree. I emptied granola bars, hot chocolate and tea bags from their respective boxes into these plastic containers. I love this look so much, because I think it looks a lot cleaner and more organized in the cupboard.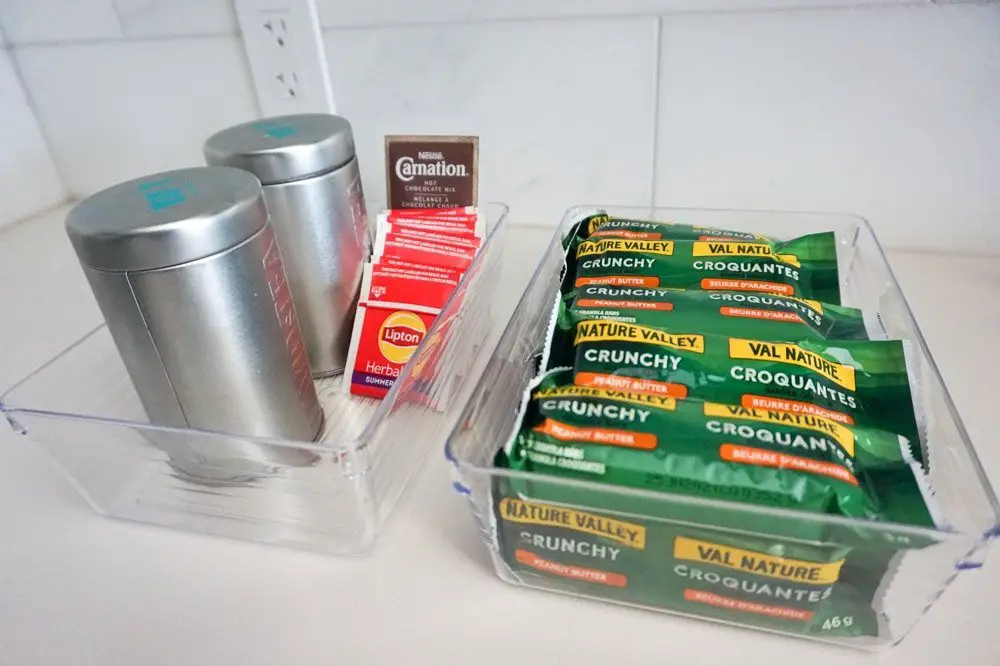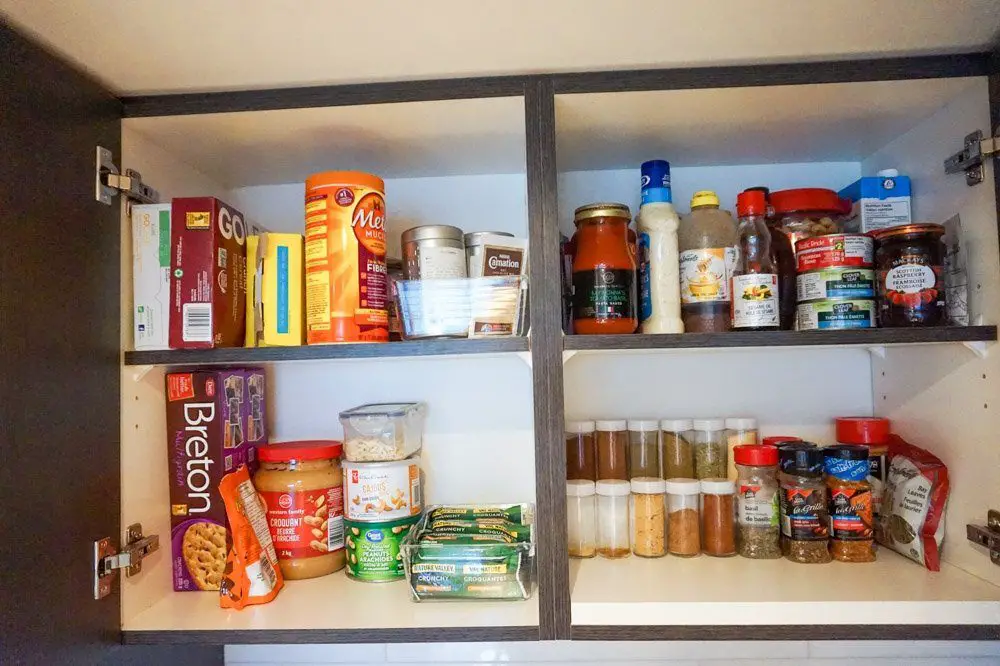 These glass jars with silver lids are from Dollarama, and I love how they look. The larger jars were $2.50 each, and the smaller jars were $2 each.
I transferred my flour, sugar, oats, coconut and other baking supplies into these jars. I love how these look and that I can see how much I have left of each product.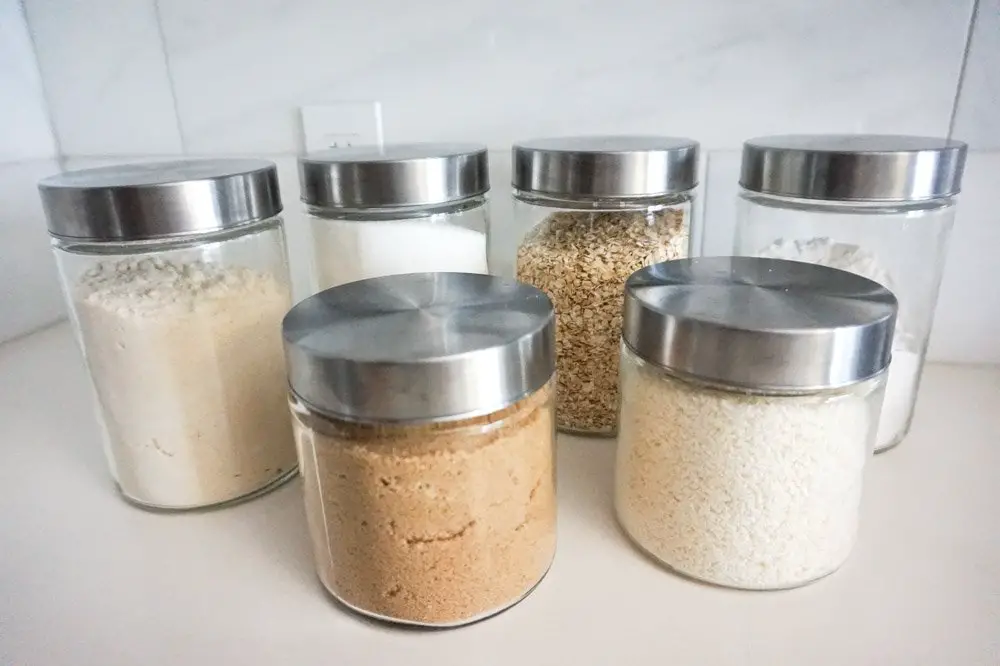 This is what my corner cupboard looked like after the organization. On the left, you can see the two plastic containers from Dollar Tree with baking supplies and other miscellaneous items. In the back I also have three OXO containers which I already had, along with the glass jars from Dollarama.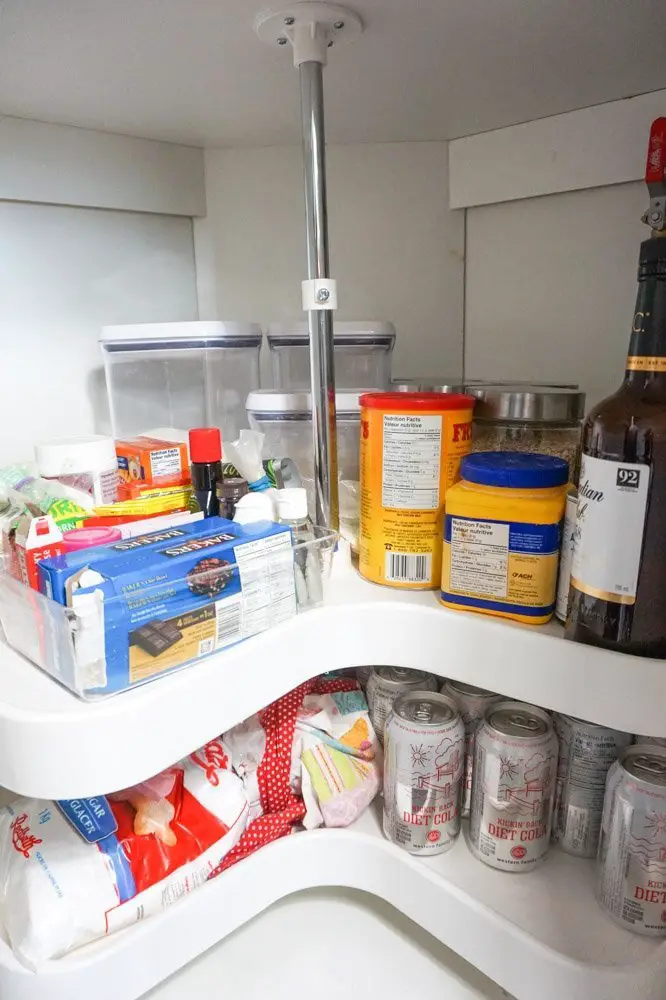 Save this post for later!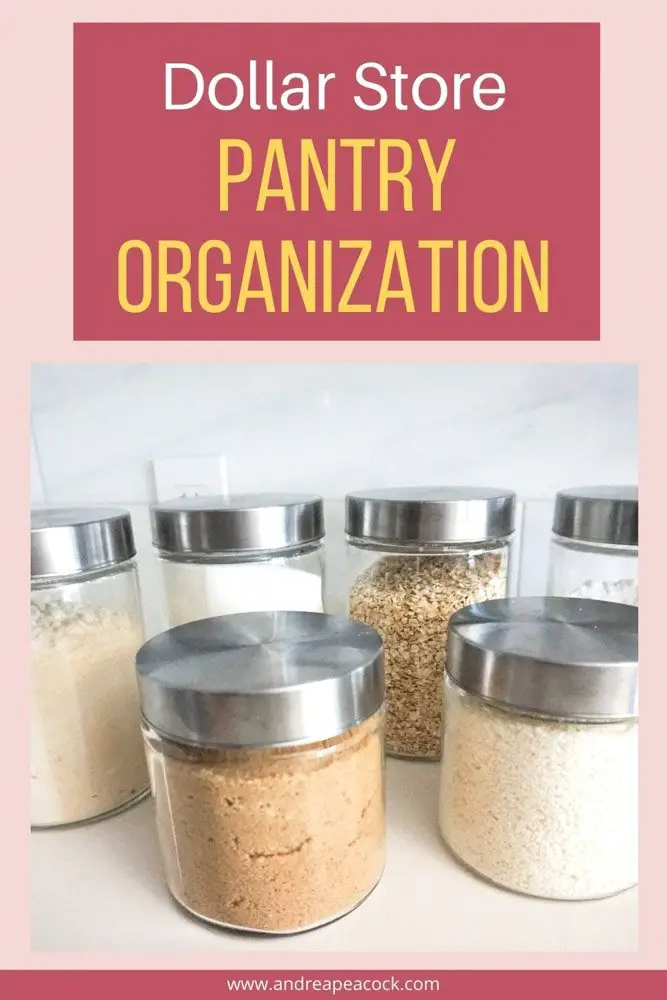 Thank you for reading this dollar store pantry organization post!
Check out these posts next:
Bathroom Declutter and Organization
DIY Dollar Store Pumpkin Decor
How to Set Up a Minimalist Bullet Journal for Beginners
Follow Me!
Instagram | Pinterest | Twitter | Facebook | TikTok | YouTube
xo,
Andrea