I started my first bullet journal one year ago, and I am proud to say I kept it up all year! I was super overwhelmed by all the elaborate and creative spreads I saw everywhere online. I didn't feel like I was artistic enough, so I played it safe and kept my bullet journal super minimal. However, I found my bullet journal really helpful and totally fell in love with the whole process. In this post I am sharing a guide to bullet journal setup for beginners, along with tips I've learned from my year of bullet journaling.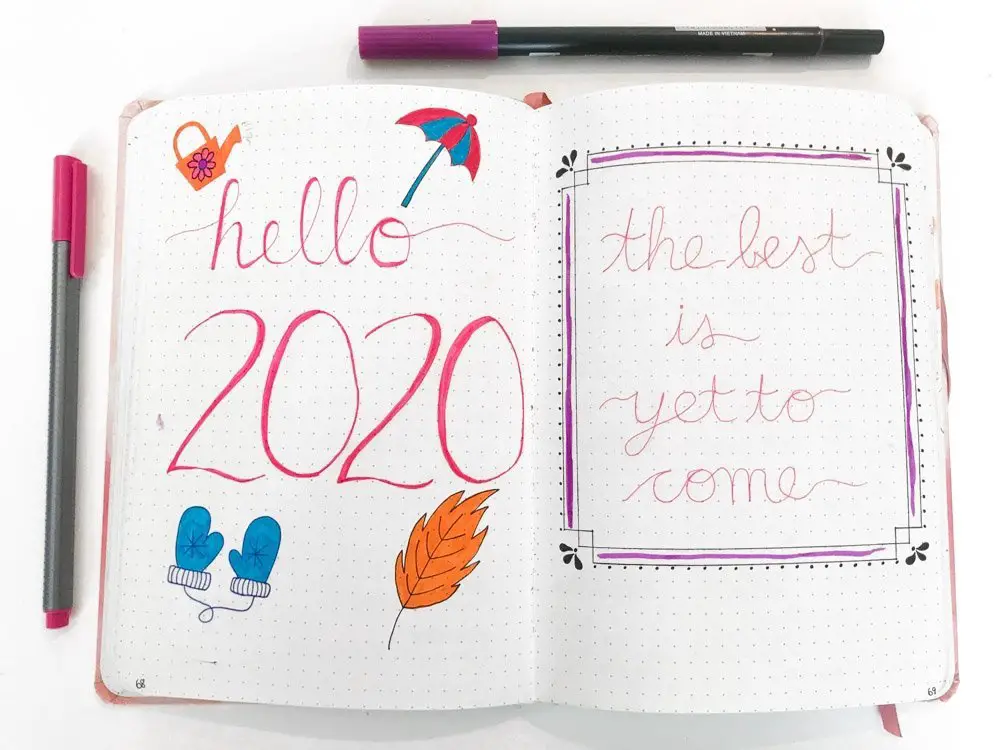 I will be sharing monthly bullet journal setups, stationery hauls, doodling tutorials and more!
*Some of the links below are affiliate links. If you choose to make a purchase, I may receive a small commission, at no extra cost to you. Thank you for your support!
Supplies
The only supplies you need to start a bullet journal are a journal, a pen and a ruler. However, some of the fun in using a bullet journal is in the creativity and the different supplies.
When I started my first bullet journal one year ago, I had this dotted Peter Pauper Press journal* and these Staedtler triplus fineliner coloured pens*.
Dotted journals are the standard for bullet journals, because they offer so much freedom. I recently bought a Leuchtturm 1917 dotted journal*, but I have yet to use it, since I still have room in my first journal. When I do, I'll be sure to update you on the differences and similarities between the two.
After using the Staedtler pens for a year, I can say I still love them. They work really well for bullet journaling because of how thin they are. The black pen is starting to die because it is my most used, but all the other colours are holding up well.
Also pictured below are my latest addition to my bullet journaling, Tombow brush pens*. I am so excited to learn about using these pens and to get more creative with my bullet journal.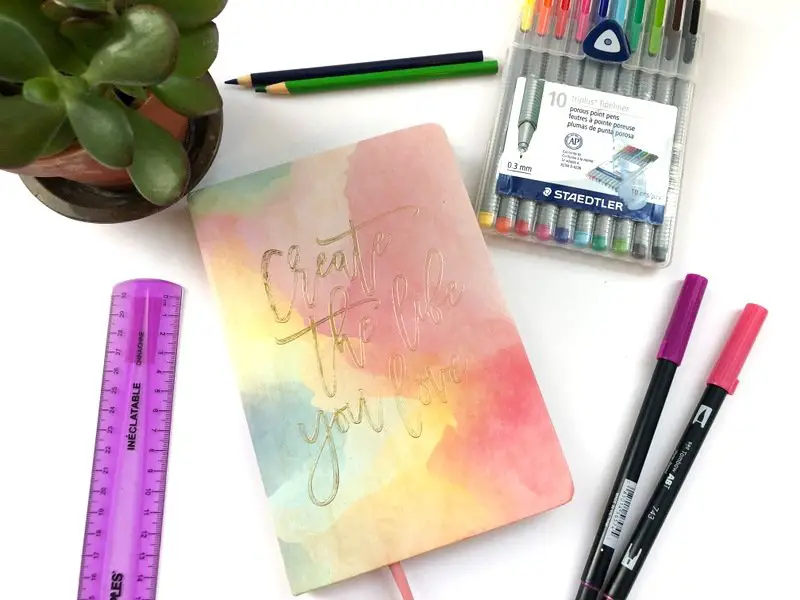 Keep up-to-date with my monthly bullet journal setup posts! In February, I started creating my spreads around a theme. I love getting creative with new layouts and sharing them with you. Check out all my bullet journal posts here!
UPDATE: At the end of July 2020, I filled up my first bullet journal, and it was time to set up a new one!
To see how I set up a brand new bullet journal with a minimalist style, check out this blog post! You can also watch the video below. Don't forget to subscribe to my YouTube channel for more bullet journal inspiration!
Year-at-a-Glance
These year-at-a-glance pages are some of my most used pages in my bullet journal.
I love having the annual calendar in one place. Having all the holidays and birthdays listed here is also useful to make sure I don't forget any important dates.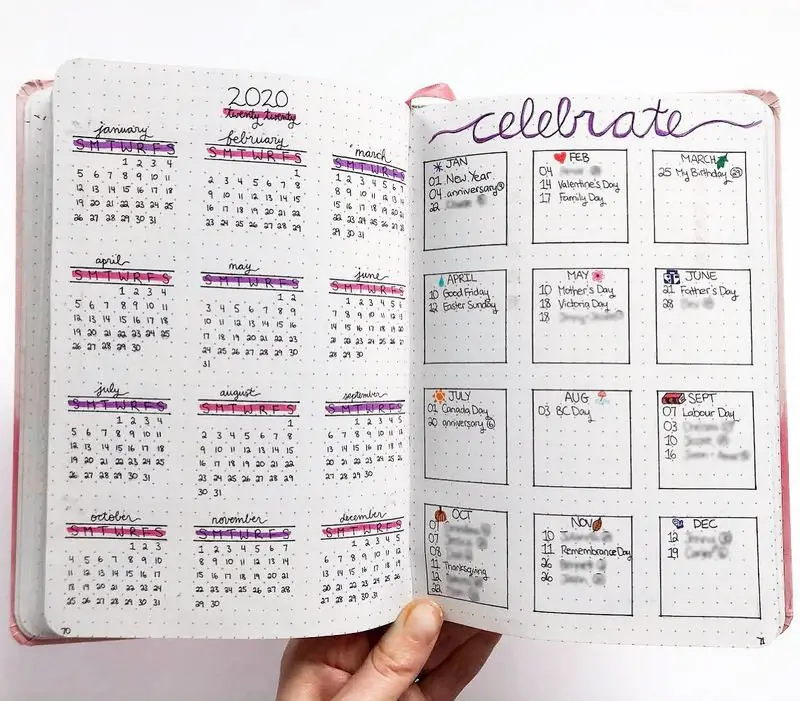 Monthly Setup
Monthly calendars are great for both planning the month ahead and keeping track of memories throughout the month. Last year, I put my monthly calendars on one page (see January 2019 calendar below).
This month, I am experimenting with a two-page spread. I like that it's not as cramped as the one-page calendar, but I also wonder if it's a waste of space if it happens to be a slow month with not much to write down.
I'm also not loving how Wednesday is split in the crease of the journal, so I may have to try something new for February. If only there was an even number of days in the week! 😉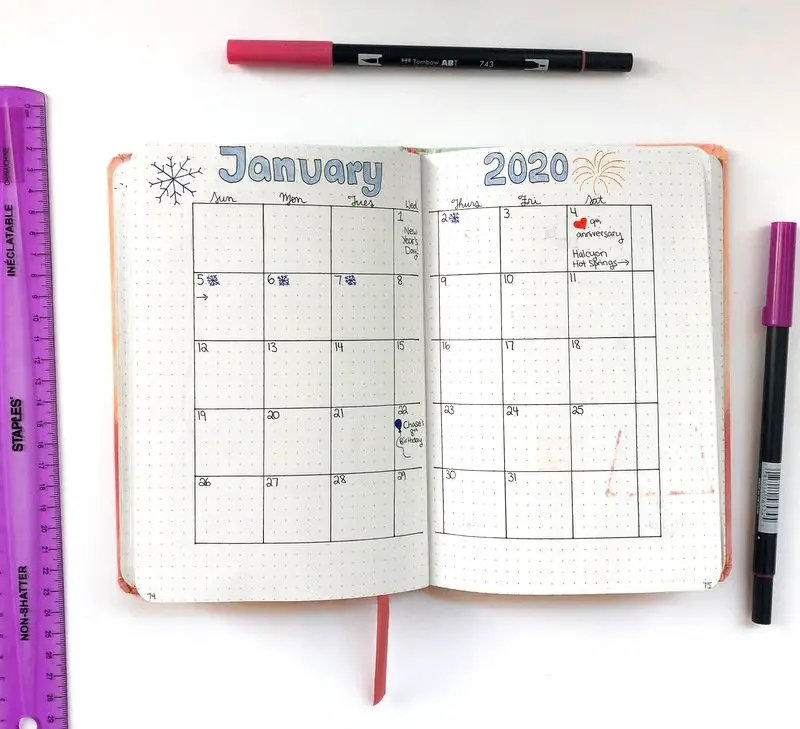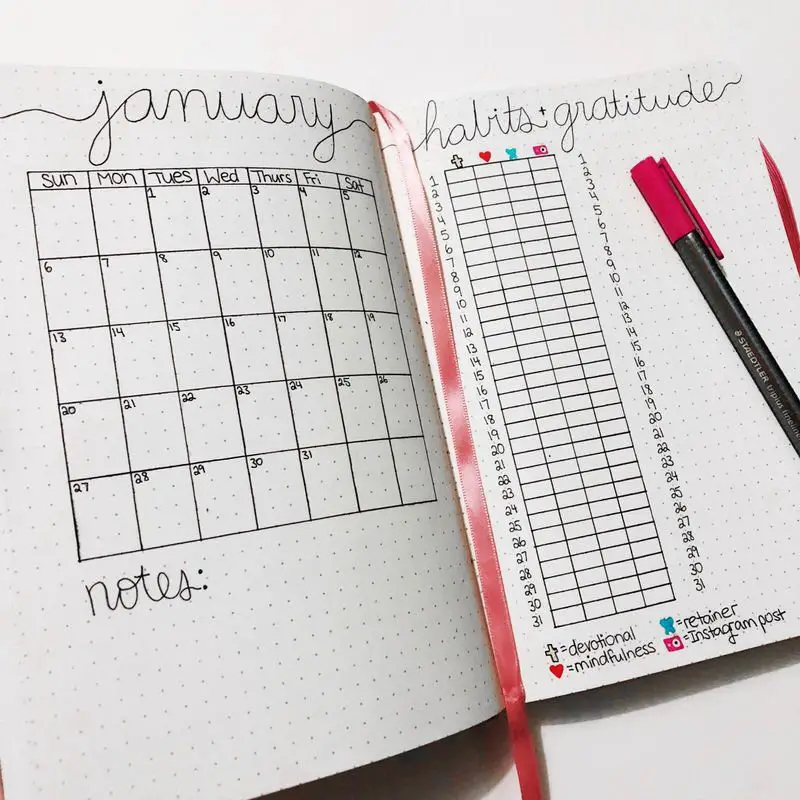 Year in Pixels
This page is new for me this year. It's called "year in pixels," and is a way of tracking emotions over the year. I think this could be very interesting to look back on if I manage to keep it up.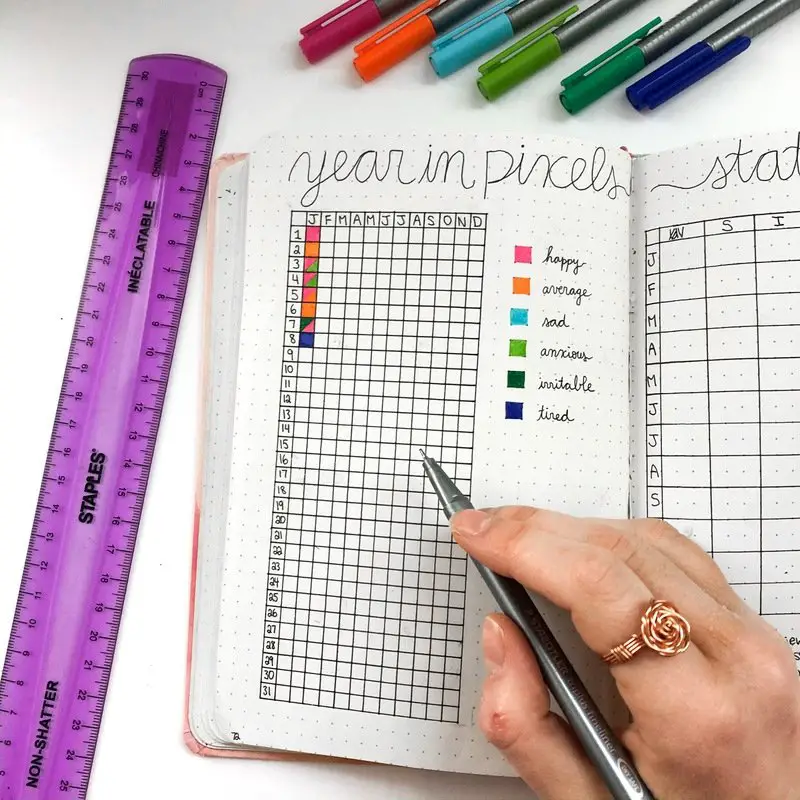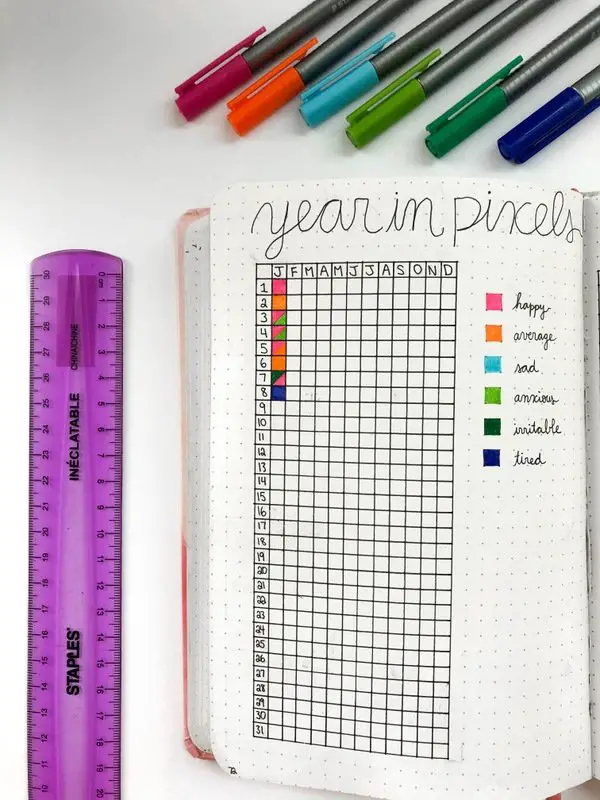 Blog Statistics
This one's a little niche, but there may be other statistics you want to keep track of throughout the year, even if you're not a blogger.
I updated my stats page every month last year. It was really neat to look back on and see how much had changed and grown, and what I needed to work on.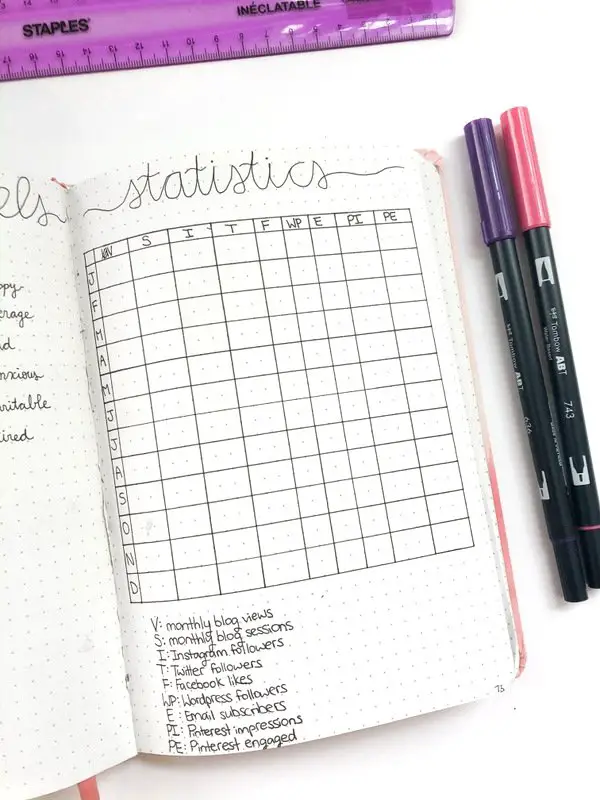 Habit Tracker
My monthly habit trackers impacted my life in a big way last year. The amount of times I did a workout or read a chapter of a book just so I could colour in my journal is more than I could count. I can't believe how much this motivates me, but it really does!
This month, the habits I am focusing on are: working out, wearing my retainer (the biggest struggle!), doing a mindfulness exercise (the Smiling Mind app is my fave, and it's free!), eating less than 30 grams of sugar a day, reading a devotional, reading a chapter of a book and writing/colouring in my bullet journal.
The bullet journal one isn't really something I'm focusing on, but I had an empty space and couldn't think of anything else!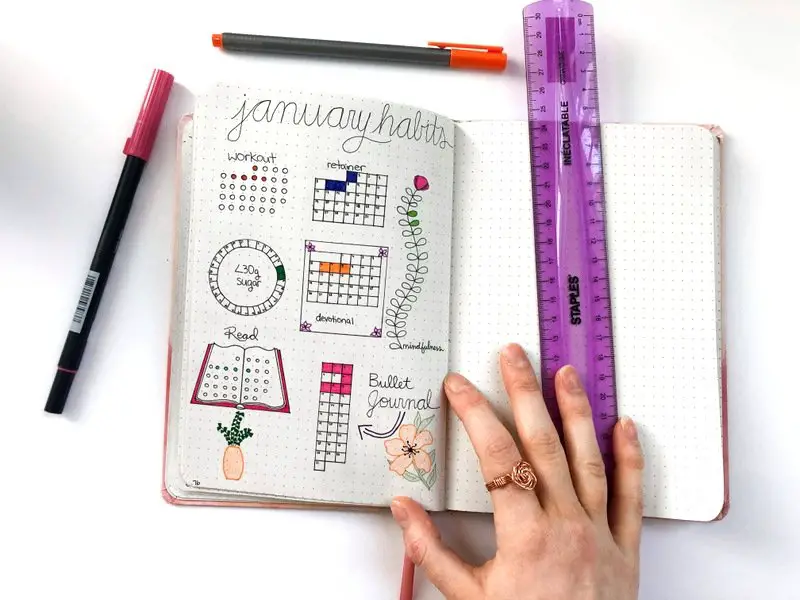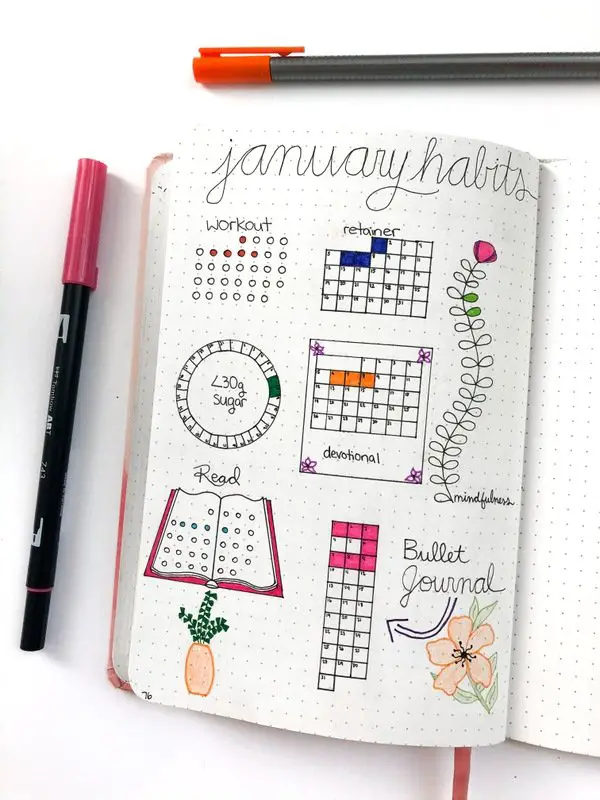 Other Pages to Include
Since I am using the same bullet journal as last year, there are a few pages I am continuing to use but did not have to redraw.
Index
Last year, I was not convinced an index would be a useful tool. I don't use it all the time, but I definitely refer to it from time to time to find a certain page. The index in a bullet journal is the table of contents. Some bullet journals come with numbered pages, but the one I am currently using does not, so I number the pages.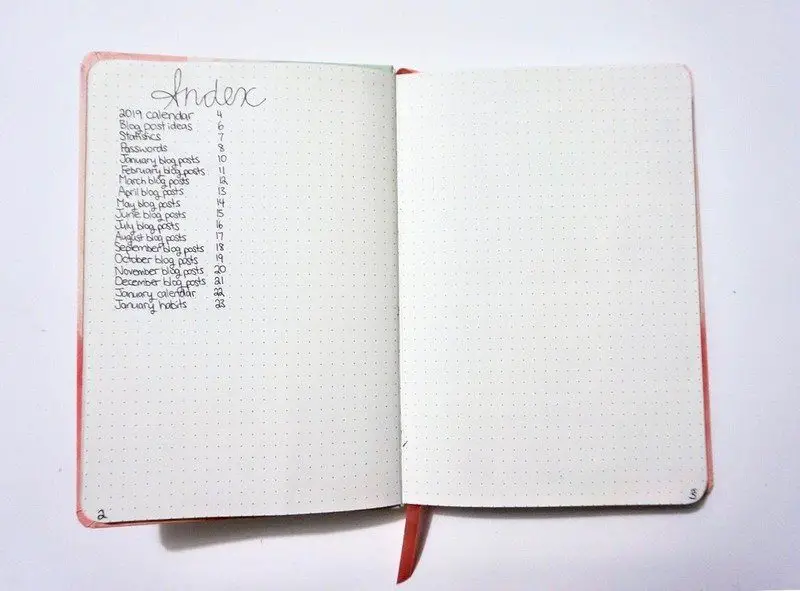 Blog Post Ideas
I have used this page a lot over the year as a brain dump for blog post ideas. Bullet journals are the perfect place for lists, no matter what you want to keep track of.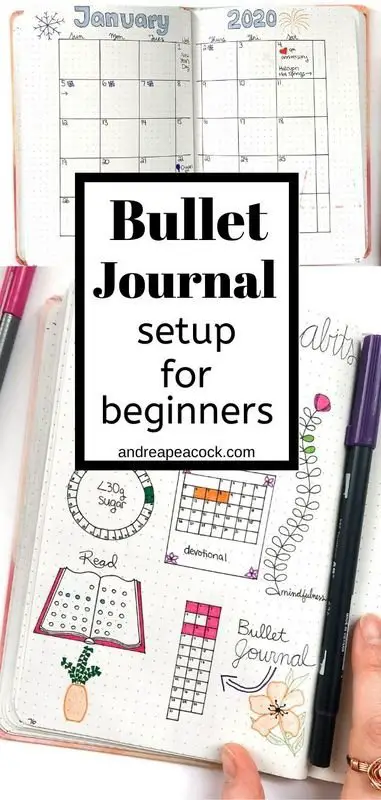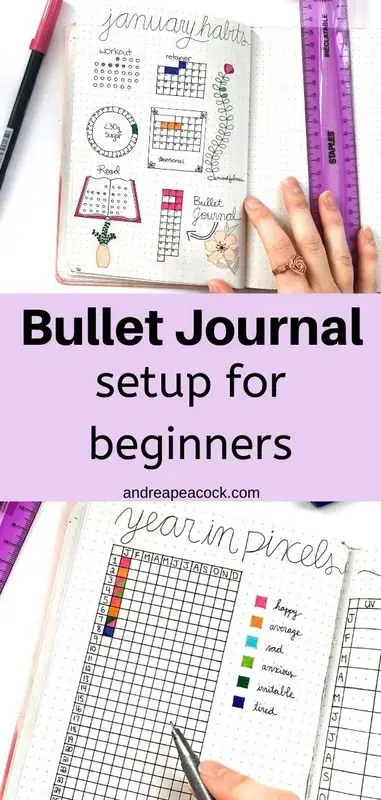 Thank you for reading this guide to bullet journal setup for beginners. I hope it was helpful!
For more content on bullet journals, check out these posts next:
How to Set up Your First Bullet Journal
Tracking Habits and Goals with a Bullet Journal
February Plan With Me: Monthly Bullet Journal Setup
xo,
Andrea
Follow Me!
Instagram | Pinterest | Twitter | Facebook | YouTube