Happy August, everyone! I can't believe we are already halfway through the month! I am late sharing my August bullet journal setup on the blog, but I did share it on my YouTube channel a few weeks ago. Be sure to subscribe to my channel so you don't miss out on all my new videos coming out every week.
I had so much fun with my August bullet journal setup, which I did with a fun summer fruits theme. Keep reading to see how I set up my bullet journal this month and to get ideas for your own bullet journal!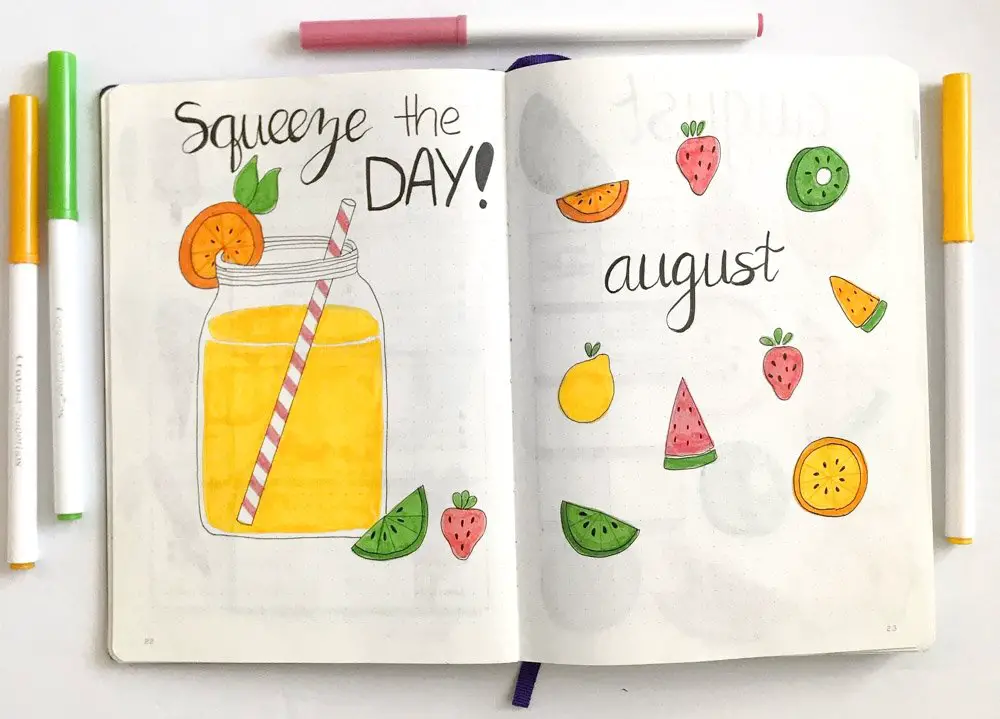 Check out my August plan with me video below, and subscribe to my channel!
Quote Page
Squeeze the day!
For this month's layout, I took a lot of inspiration from Amanda Rach Lee, including for this page. To go with my summer fruits theme, I drew a jar full of lemonade with an orange slice on the jar and a strawberry and a lime slice on the side.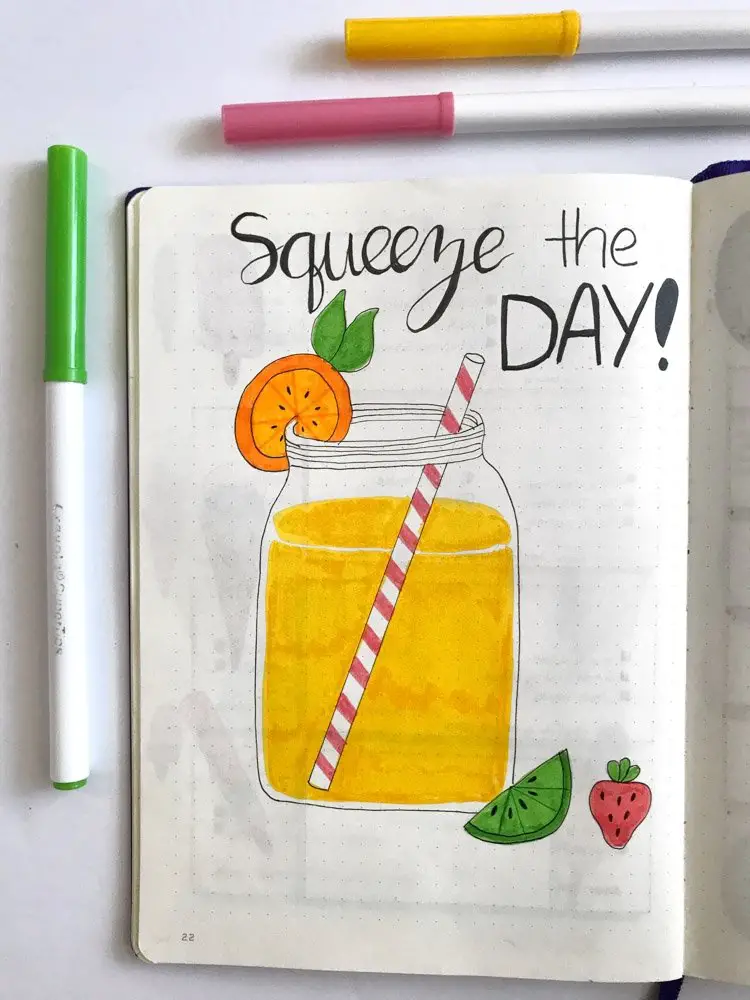 Cover Page
My August cover page is a simple design, with the word August in the middle and lots of fruit all around it.
My colours this month are yellow, orange, pink and green. As part of my fruit theme, I am filling my pages with oranges, lemons, limes, strawberries, watermelon and more.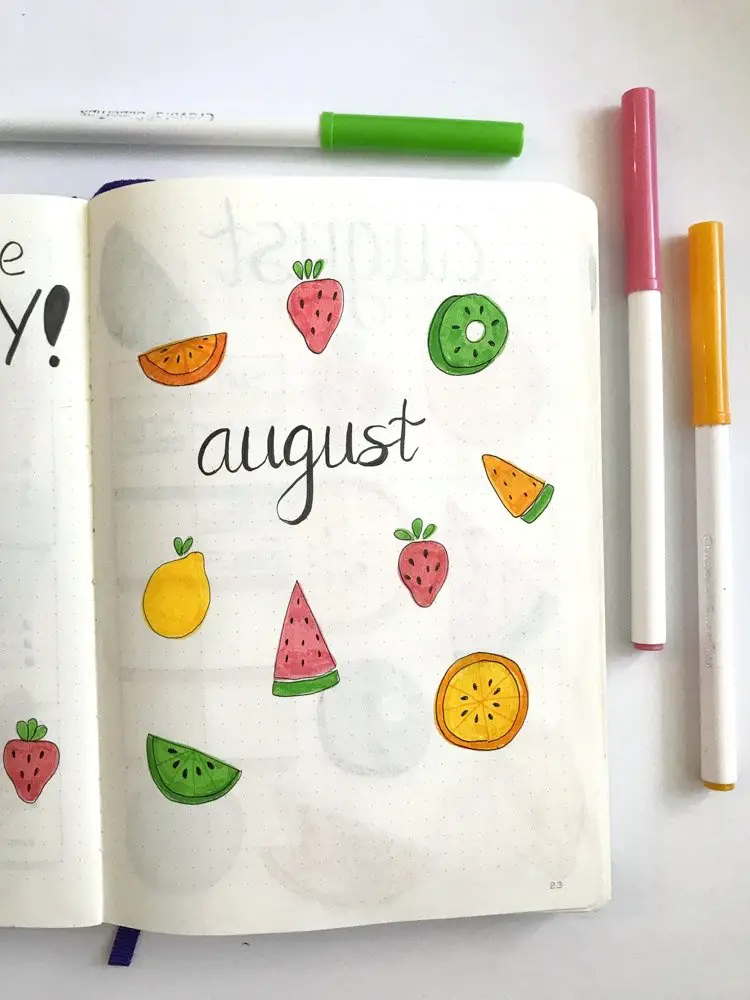 Calendar
My monthly calendar for August is over two pages, with Sunday and Monday on the left and Tuesday to Saturday on the right. I filled all the spaces on the left and the bottom of the spread with fruit.
To bring some colour to the page, I added strips of colour to each line of the calendar. When I created this calendar I thought August started on a Tuesday. These mistakes happen, and sometimes I will try to cover them up, but this time I left it, and I still think it turned out really well.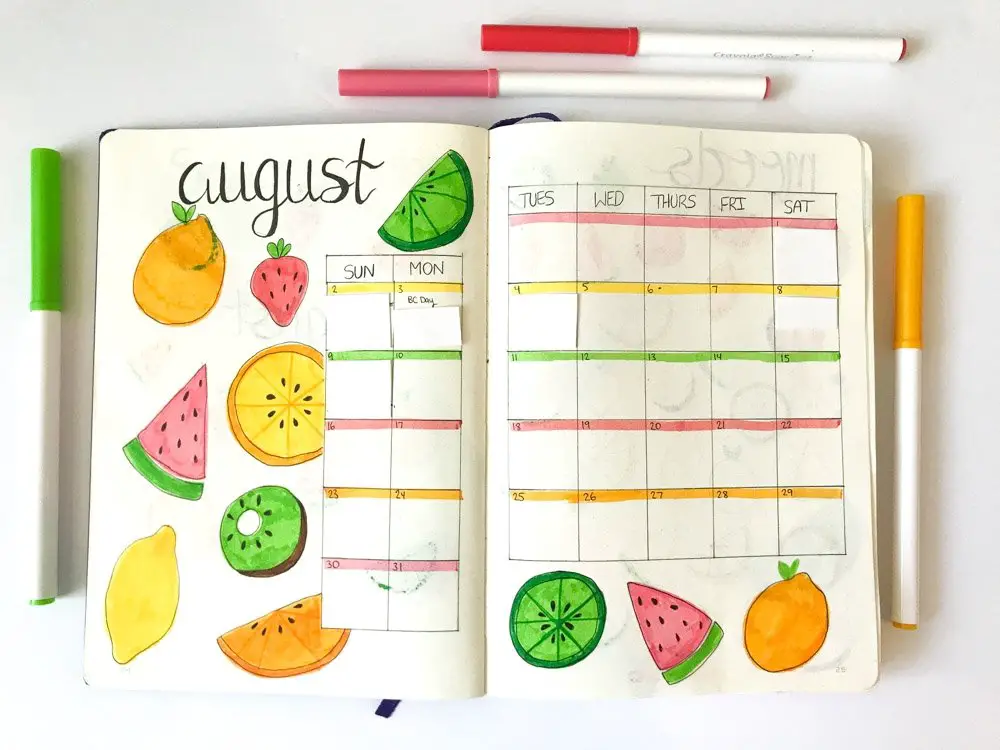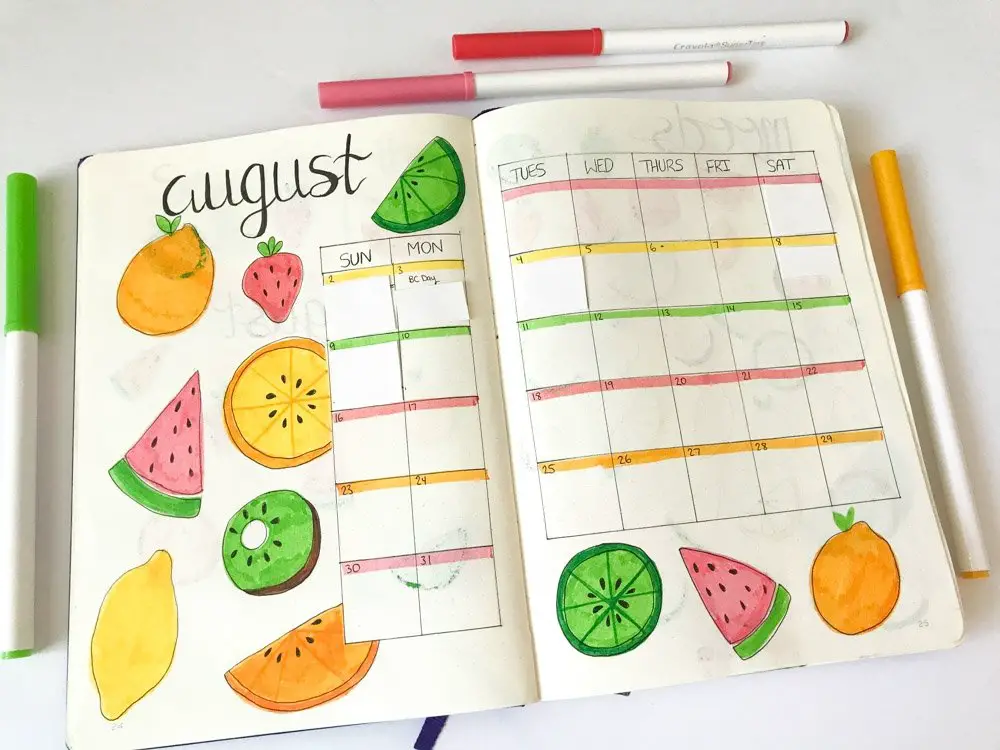 Mood Tracker
For my mood tracker, I drew 31 different fruits for each day of the month. I created a key at the bottom of the page with the five colours I have used throughout this month's spread.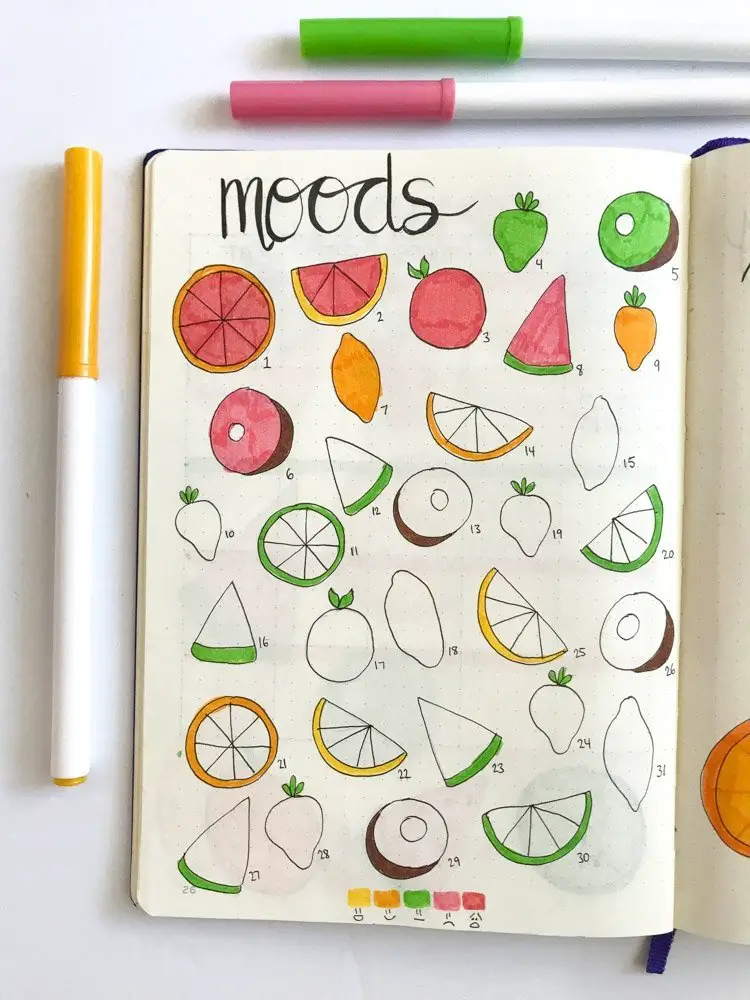 Habit Tracker
This month, I created another circular habit tracker. These are getting easier and easier for me to make every time I do it. I'd definitely love to keep experimenting with my circle maker.
To keep with the fruits theme, I coloured the middle of the circle to look like a lemon.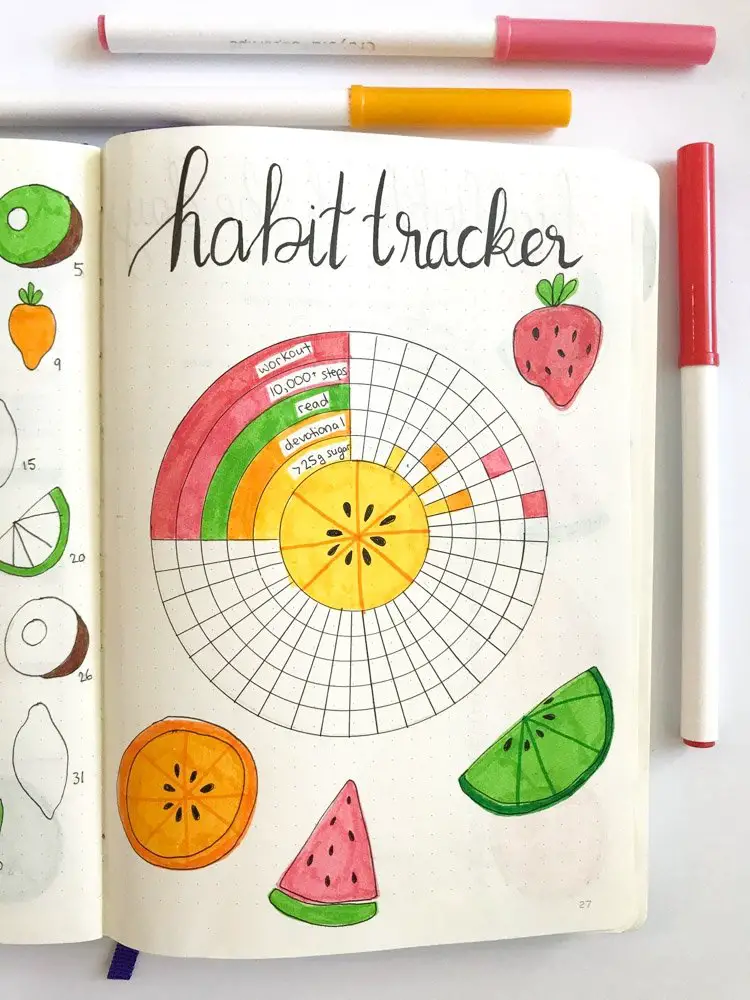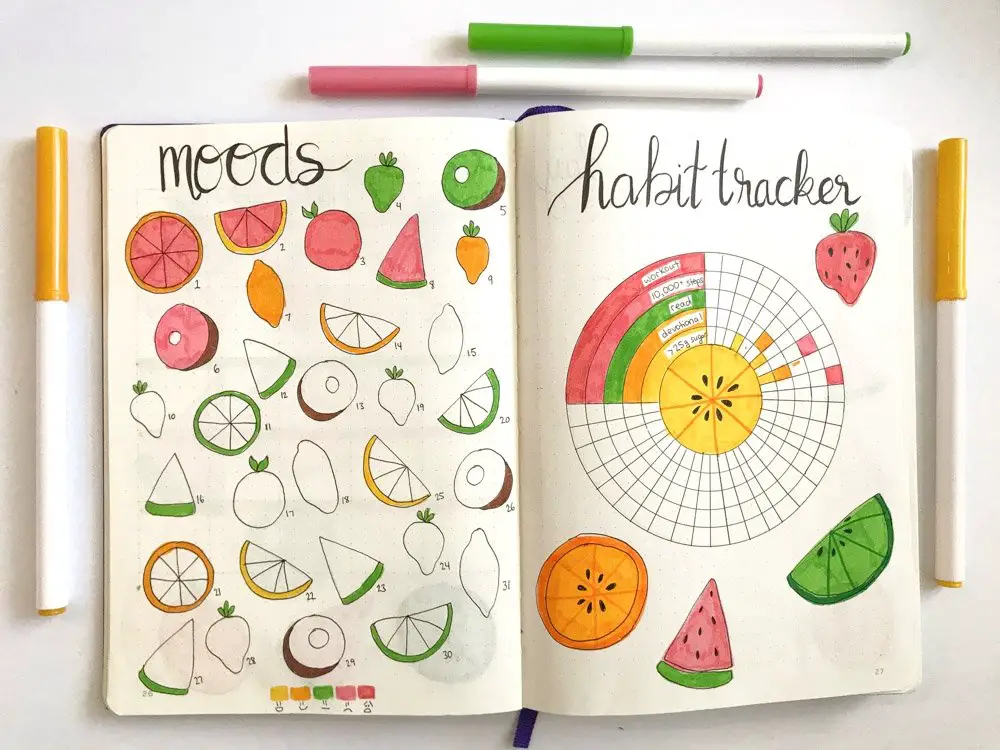 Highlights of the Day
My monthly highlights of the day page is the easiest page to create, but it is one of my favourites. This is a page where you can write down a good thing that happened that day, which is always so nice to look back on.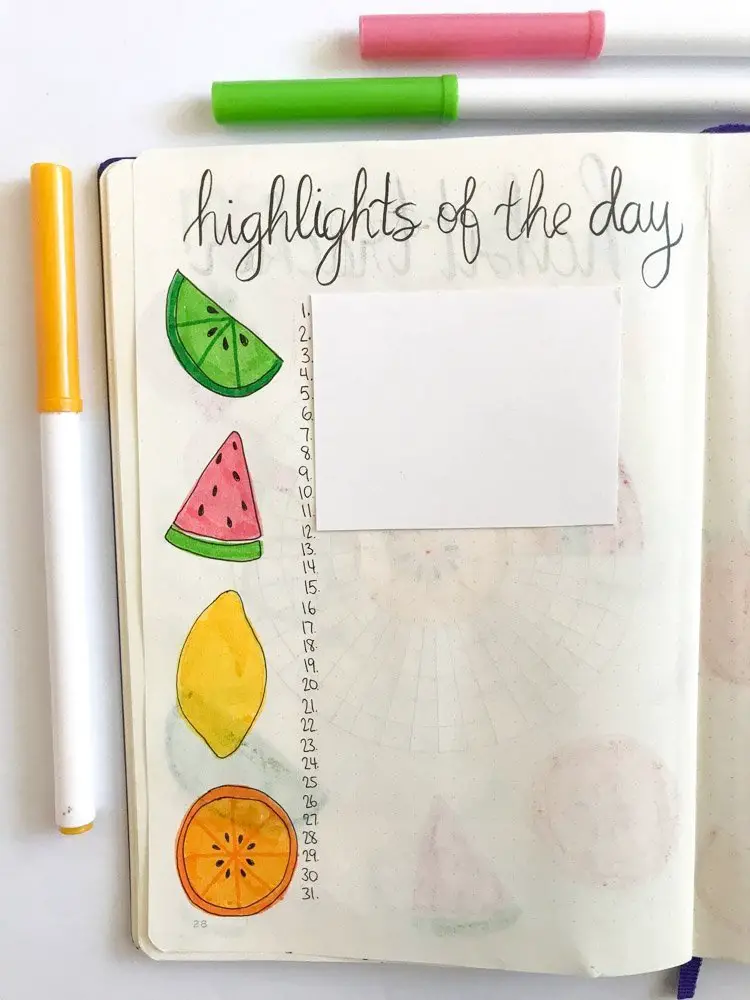 Brain Dump
A monthly brain dump page is a space where you can write down anything that needs to be done that month.
Not everything always fits into a certain day or week, so this is a great place to get things out of your brain and onto the page.

Weekly Layouts
Along with my August bullet journal setup video I shared earlier, I also have a video with the weekly spreads for the month. All my weeklies this month are one-page layouts, and they are all super easy to recreate.
Check out this video to watch me create the weekly layouts for August. There are also photos of all the weekly spreads below.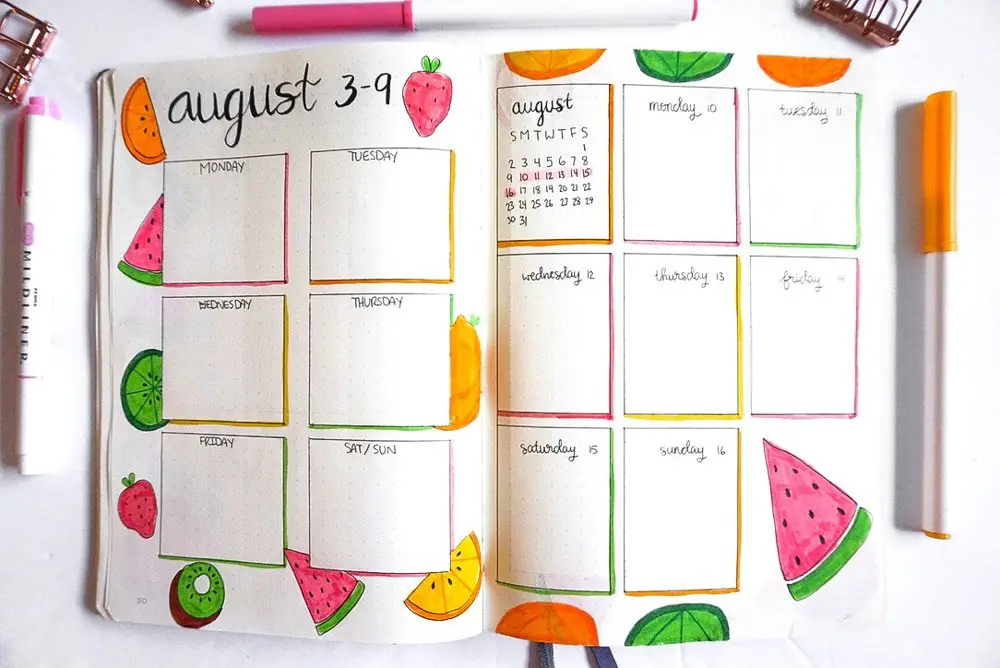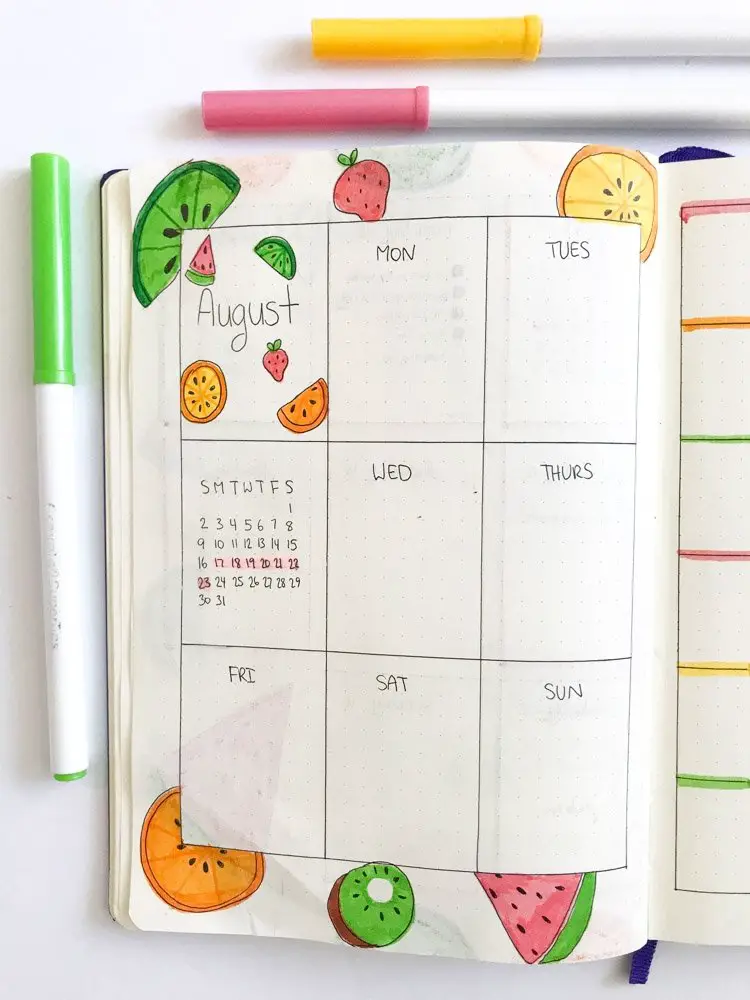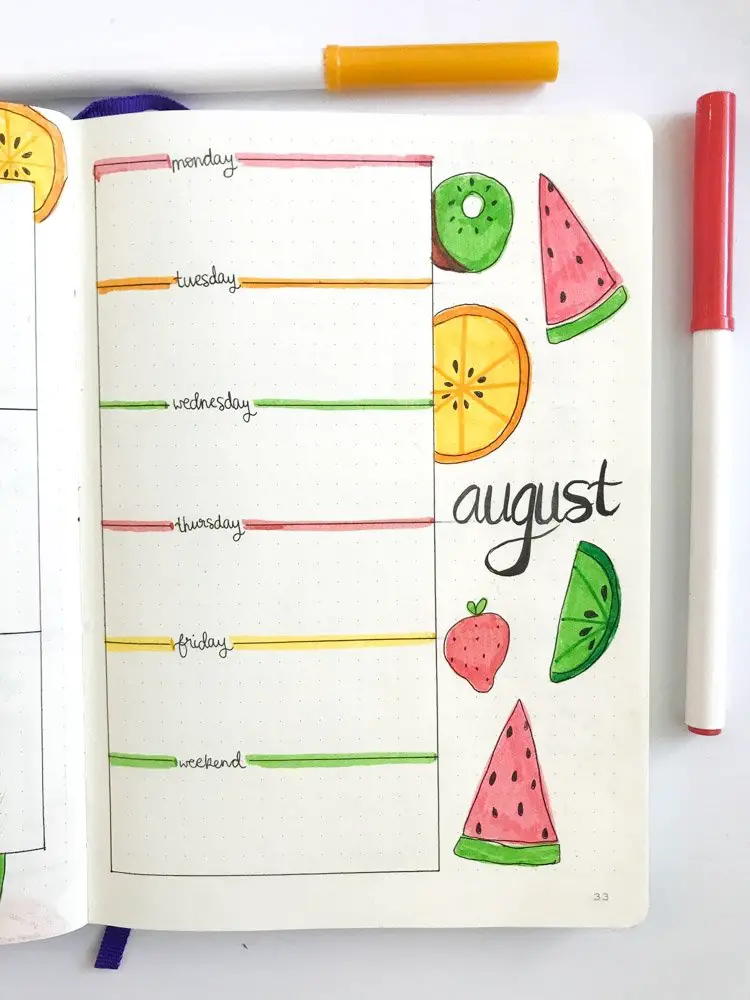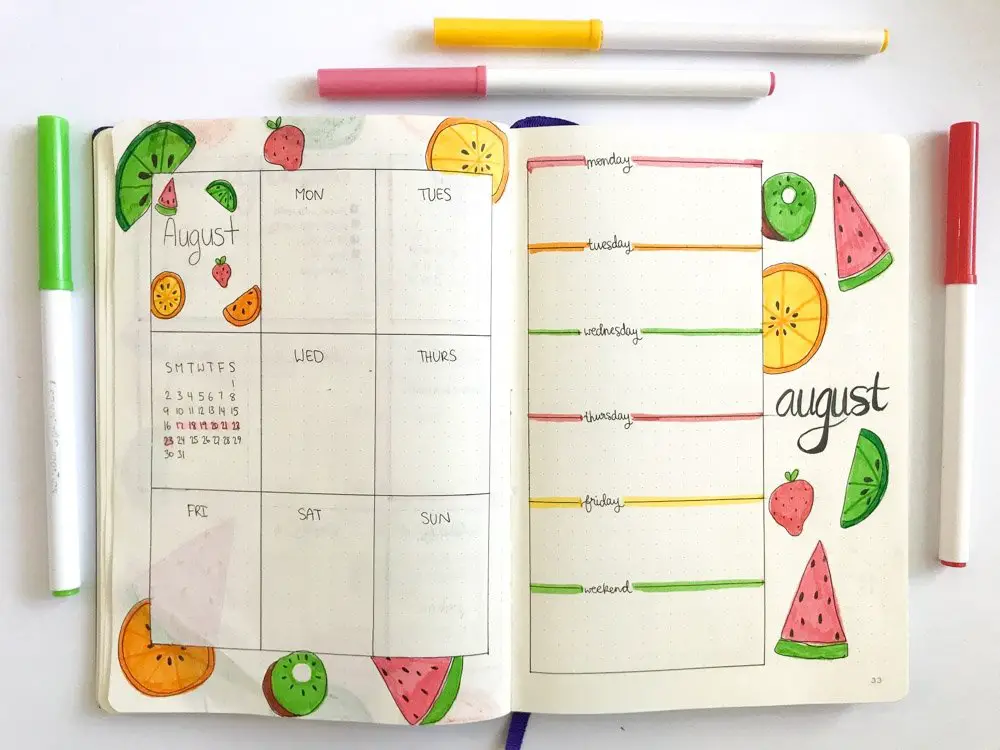 In need of some more bullet journal inspiration? Check out these posts:
July Bullet Journal Setup: Ice Cream Theme
How to Set Up a Minimalist Bullet Journal for Beginners
Stationery Haul: Trying New Bullet Journal Supplies
Completed Bullet Journal Flip Through
4 Weekly Bullet Journal Spread Ideas
Follow Me!
Instagram | Pinterest | Twitter | Facebook | TikTok | YouTube
xo,
Andrea